Educational games: 6 examples of how they enrich your child's learning
I enjoy writing these articles for my readers, you guys. I don't accept payment for writing reviews, my opinion on products is my own, but if you find my recommendations helpful and you end up buying something through one of the links I may be able to receive a commission on that.
More information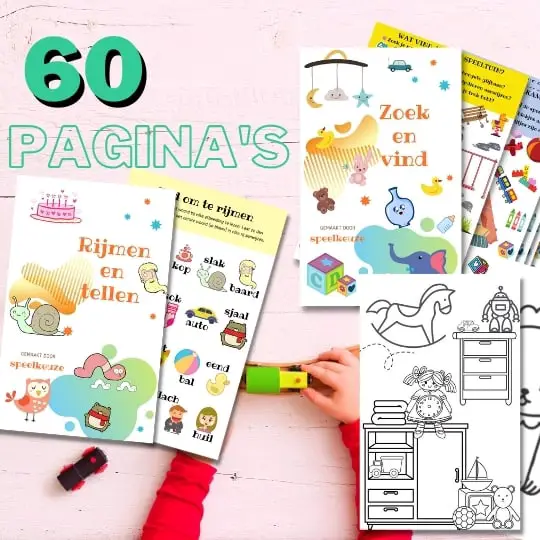 Always something to do for the holidays or rainy day?
Play Choice now has the ultimate activity book collection, with over 60 pages of fun coloring pages and educational puzzles.
A computer game, video game or in English also called game, is an electronic game that is played on a computer, console or handheld. Increasingly, these games are also available for other systems and computers, such as PDAs, mobile telephones, tablets and portable game computers.
But let's also consider how educational games can facilitate learning.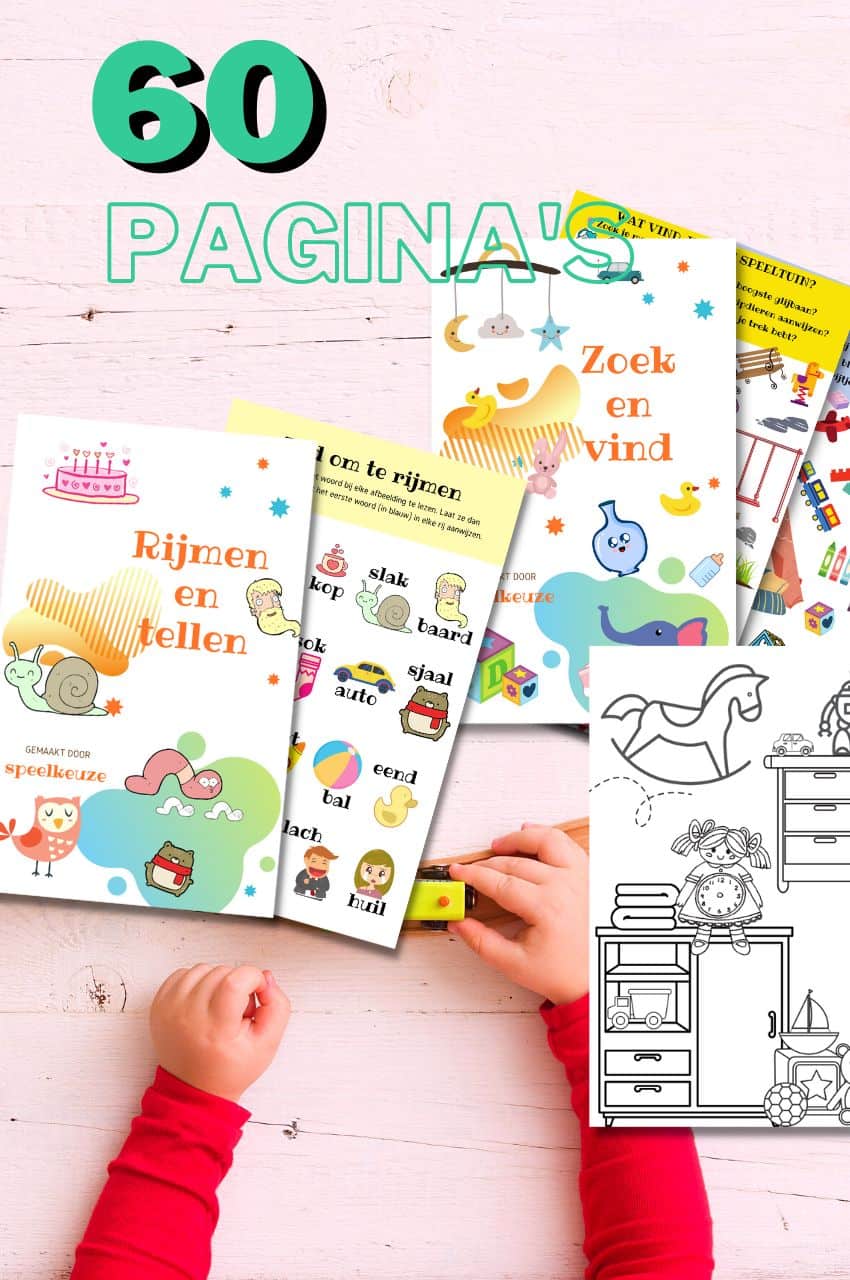 A play theme in your mailbox every month?
Fun play tips, activity books and more, with the first email being our free mini-guide "educational toys"
We will only use your email address for this newsletter and respect your privacy
The benefits of educational games for children
Educational games offer many benefits to children learning to read, write and count. Research has shown that this interactive way of learning has many advantages. Below are some advantages of educational games:
Interactive and fun
Educational games are interactive and fun. Unlike books or other old-fashioned ways of learning, games are made interactive on purpose. This makes your child absorb the information better. The motivation to continue learning is also higher because it is fun.
Game element
By having the game element present, learning is not seen as boring. By gaining points, moving on to the next level and having the feeling of winning, children are more motivated and more positive about the information provided.
Invitation to learn
Educational games invite children to learn rather than "force" them to learn. This gives your child the freedom to decide how long he wants to continue or when it's time for something else.
Connection to real life
Through educational games, the subject matter has more connection with real life, because learning takes place through experience. For example, the sums are not very abstract from a book, but give an example of real life. This makes the material learned more applicable in real life.
Cons
While there are many advantages, there can also be disadvantages. For example, your child may be anticipating the material that is on school is offered. But by responding to your child's individual level, you ensure that you get the most out of the subject matter.
Games as enrichment for learning
It's no secret that games play a big role in many people's lives. But what about using games for learning? Can games be an enrichment for learning?
Why games?
Games can enrich learning because they encourage students to put in a lot of effort to achieve their goals. It is important that students are willing to put in the effort to learn, and if a game can do that, why not?
How can games help?
Games can help students achieve their learning goals by:
Increasing their motivation to learn;
Improving their concentration and focus;
Increasing their understanding of complex concepts;
Improving their problem solving skills;
Strengthening their memory;
Improving their social skills;
Increasing their self-confidence.
Research on games
To determine whether games are an enrichment for learning, it is important to research what works and why it works. Only on the basis of research can we determine whether games are a useful tool for learning.
How play activities help you achieve your learning goals
The magic of motivation
Educational games have a special magic. They are challenging, stimulate your imagination and make you curious. In short, they motivate you to keep playing the game and thus achieve the learning objectives. Because that is ultimately what it is all about: making an effort to acquire knowledge and skills.
The power of play activities
Play activities have a powerful influence on your motivation. They ensure that you find your learning interesting, that you keep playing the game and that you achieve your learning goals. They are a great way to acquire your subject matter because they interest you and encourage you to keep going.
How can you use game activities?
There are plenty of ways you can use play activities to achieve your learning goals. For example, you can solve puzzles, write stories, take quizzes or explore a virtual world. It is important to remember that the game activities should be fun, but also that you really understand what you are learning. Using the game activities correctly will help you achieve your learning goals and increase your knowledge.
How finding the right balance between play and learning makes you a better student
The perfect blend
Finding the right balance between play and learning is essential if you want to become a good student. Having too many game elements in an educational game can distract your attention from the learning task. When you alternate playing and learning, you can also interrupt the flow, a state of deep concentration, in which you are. But game elements are necessary to hold your attention. That is why it is important to integrate game elements and learning activities.
The secret of the flow
The flow is the secret of successful learning. When you are in the flow, you want to keep going with the learning task. The actions you have to perform to progress in the game are equal to (the use of) the knowledge and skills to be learned.
How to find the right balance
Finding the right balance between playing and learning is an art. Here are a few tips to help you:
Try out different educational games to see which one suits you best.
Make sure you understand the material before you start playing.
Make sure you find the right balance between learning and playing.
Take regular breaks to refresh your mind.
Stay focused on the subject matter.
Why feedback is so important
Promoting self-regulation
Educational games are more than just fun. They help players to improve their self-regulation ability. Feedback is the key to success. Through feedback, players get a clear picture of what they are doing well and what they need to work on. This helps them improve their performance and achieve their learning goals.
Informative value
To be effective, feedback must be informatively valuable. This means that it should help the player to improve his performance and achieve his learning goals. Feedback should be clear and detailed so that the player knows exactly what to do to improve their performance.
Essential part of the game cycle
Feedback is an essential part of the game cycle. It helps the player to understand where he stands and what he needs to do to achieve his learning goals. Through feedback, the player gets a clear picture of what he is doing well and what he needs to work on. This way he can get closer and closer to his final goal.
Educational Games: How they are changing education
Educational Games in the World
Educational games have been used for a long time in different environments. For example, doctors use custom games to master techniques for surgery. Pilots and soldiers play simulation games. Soldiers play games to think more strategically and the government also uses games to research and practice different scenarios.
How Educational Games Are Changing Education
Educational games are a great way to connect theory with practice, increasing motivation to learn. By orienting themselves towards a clear goal in a game, children are more motivated and have more perseverance. Moreover, a computer has infinite patience with a child.
Last year, a special educational variant of the popular game Minecraft was even announced. Minecraft: Education Edition is intended for use in the classroom as a teaching aid for a variety of subjects, from history to physics.
The Challenging Education
Our education is still focused on learning in uniform groups. With educational games, children can learn better at their own level, but they can also transcend others faster.
It is therefore difficult for teachers to keep an eye on everyone individually in a class with 20 children aged 6 and 7. Classroom learning often comes in handy with educational games in education.
What Educational Games Are Available?
Educational games are mainly available for tablets and mobile phones. They mainly focus on children aged 4-6 or 7-9 years. The emphasis in these games is on reading and math.
Examples of educational games for children aged 4-6 are playing shop with Jip and Janneke, spelling words with the Spelling app and learning to read with Miss Jannie's Reading Train.
For children aged 6-12 who want to play math there is Robbie Rabbit Math Race. Robbie Konijn is a completely Dutch app (with nine other languages!) for iOS and Android, specially developed to make learning fun.
Games: the ultimate learning tool?
Why games?
Games are a great way to understand something, learn skills and change attitudes. Consider, for example, the popular game Civilization: it allows you to understand historical processes, instead of just learning dates.
Practice or learn?
When using a game, it's important to ask yourself if you want to practice or learn something new. Practice games are often of the 'broccoli with chocolate sauce' type, so if you're using them to automate skills, choose a good one that provides feedback, tracks progress, and makes the game goal worthwhile.
Functional gameplay
In good development games, the gameplay is functional to the learning goal. Take Prisoner or Echo, for example: here you use sound waves to deceive the (blind) robots in a maze and thus find the exit. So you learn all about sound waves by using them strategically and you understand how they work. This makes the game suitable for physics.
Another example is You make me sick: in this you are a bacteria or virus and you have to infect your target by strategically choosing and applying properties. This game is perfect for biology.
How do you choose the right game for your learning goal?
Think about what your students need to learn
Before you start searching, it's important to know what your students need to learn. What is the aim of the game? Do you want them to practice or develop something? Or does it have added value if you use an educational game?
Educational games
Educational games are often content-oriented, which means that the 'flow' disappears. Alternatively, you can use entertainment games. Think of an 'oldie' like Rollercoaster Tycoon. This allows you to challenge students to build rollercoasters, but also for HRD, management, marketing and more.
Write like a master copywriter
It is important to use the content as research material for a layman's article. Write the heading in a neutral tone and use relevant h3 headings. Then completely rewrite the content in a funny tone to fit those headings. Do not use any of the original sentences and use contractions and bullet points where possible. Make sure you don't say "we" when you talk about a company or "I" when you talk about a person.
6 Educational Games for Kids
For the Lower School (4-6 years)
Lola's Math Train: In Lola's Math Train, the panda bear asks Lola for help solving math problems during a train ride. Children learn to recognize numbers and shapes, to count and to reason logically. They also discover the difference between numbers and letters. If the assignments are done correctly, the child can put a new animal friend on the train. The difficulty level is adjustable.
Noa magic pond: In Noa magic pond, the girl Noa lies comfortably on her stomach, at the edge of the pond. But suddenly she sees colored bubbles in the water. Together with frog she looks where these magic bubbles come from. Children are involved in a special way in this story about friendship. For example, Noa must first put on a bathing suit before she can swim and the child can make the bubbles appear herself. The assignments are made clear with the help of visual or verbal clues.
Jip and Janneke, playing shop: Jip and Janneke are bored, but then they get a good idea: they are going to play shop. They use the cart to look for things to sell. By performing various searches, you help Jip and Janneke fill the store with clothes, flowers, vegetables, fruit and more.
For Middle School (7-9 years)
Spelling app: With this Spelling app, children learn to spell with the one-eyed monster Gerrit. He gives assignments such as: 'write four words that start with a v' or 'make five words with a long sound'. Gerrit always puts forward a word. If your child can't figure it out, he can turn on the spelling aid. The nice thing about this app is that you play for points and you can add multiple players, so your child can play with his friends.
Reading train Juf Jannie: In the Reading train of Miss Jannie, children learn to read better wagon by wagon. It is a clear app for beginning readers. Each wagon contains a story that children can read independently. The story closes with two control questions. If the children answer these questions correctly, the next carriage will open and the level of difficulty will increase. Words and sentences become longer and letter combinations more challenging.
Arithmetic Runner: As a player, you take on the role of a meerkat that stole an egg during Arithmetic Runner. By solving sums quickly, your child will stay ahead of the pursuer. The momentum in this game ensures that children learn to automate sums, which is beneficial in math lessons at school.
Conclusion
Educational games offer many benefits to children learning to read, write and count. They are interactive, fun and motivate children to continue learning. Children also learn through experience and they can decide for themselves how long they want to continue. Some parents see gaming at school as too much, but if you play at your child's individual level, you get the most out of the learning material.
There are five benefits of educational games: motivation, learning through fun, authenticity, applicability in real life and the individual level. If you combine these benefits with a good balance between gaming and other learning activities, educational games can make a valuable contribution to the learning process.
If your child is interested in educational games, it's best to check out what's available. Choose a game that matches the learning material your child receives at school. For example, the games can be an addition to the learning material that your child is already receiving.
Educational games can be a fun way to help children learn. They are interactive, motivating and can make a valuable contribution to the learning process. Done right, educational games can be a GAME-CHANGER for your child!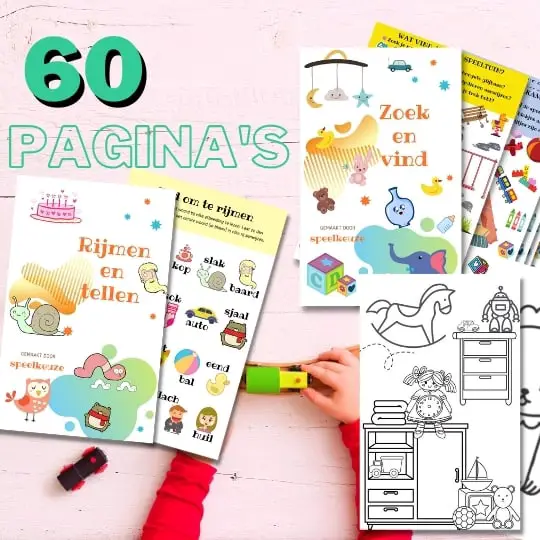 Always something to do for the holidays or rainy day?
Play Choice now has the ultimate activity book collection, with over 60 pages of fun coloring pages and educational puzzles.
Joost Nusselder, the founder of Speelkeuze.nl is a content marketer, father and loves trying out new toys. As a child he came into contact with everything related to games when his mother started the Tinnen Soldaat in Ede. Now he and his team create helpful blog articles to help loyal readers with fun play ideas.