Kurio Tablet: everything you want to know (plus reviews)
I enjoy writing these articles for my readers, you guys. I don't accept payment for writing reviews, my opinion on products is my own, but if you find my recommendations helpful and you end up buying something through one of the links I may be able to receive a commission on that.
More information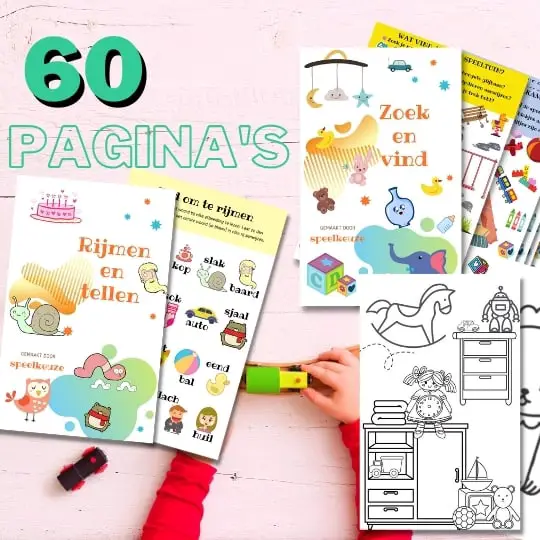 Always something to do for the holidays or rainy day?
Play Choice now has the ultimate activity book collection, with over 60 pages of fun coloring pages and educational puzzles.
Technology has become an integral part of our world, and even the littlest ones are more and more likely to have a tablet in their hands.
That can be quite exciting, because as every parent knows, it is practically impossible to have constant supervision.
You do what you can, but what if, in an unguarded moment, they suddenly stumble upon something that is not intended for children's eyes?
The Kurio Smart tablet is a device that can help parents with this.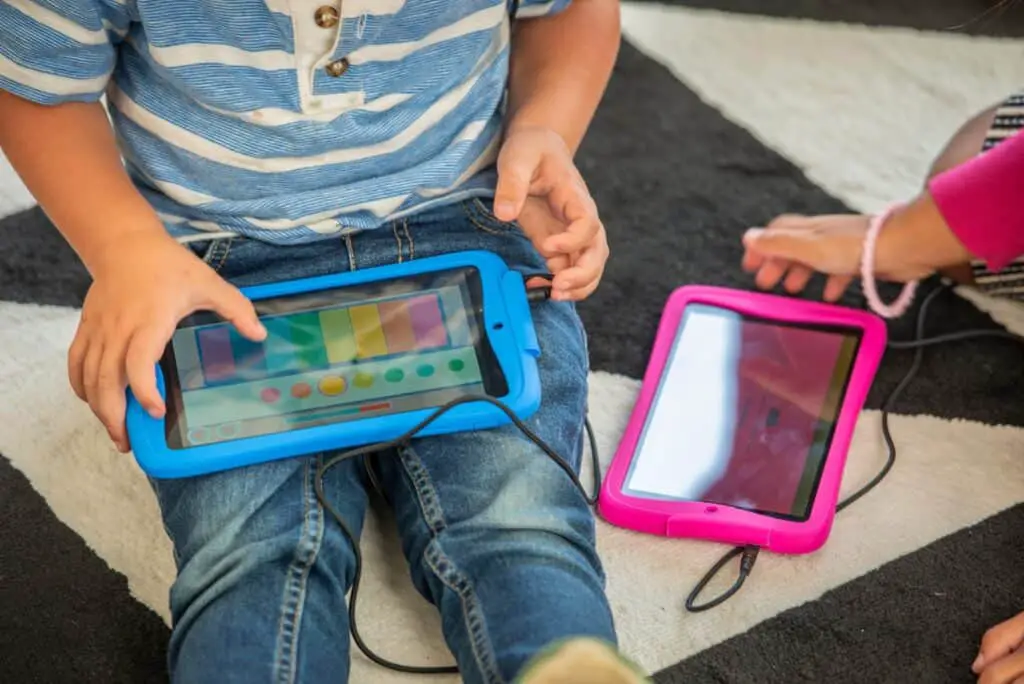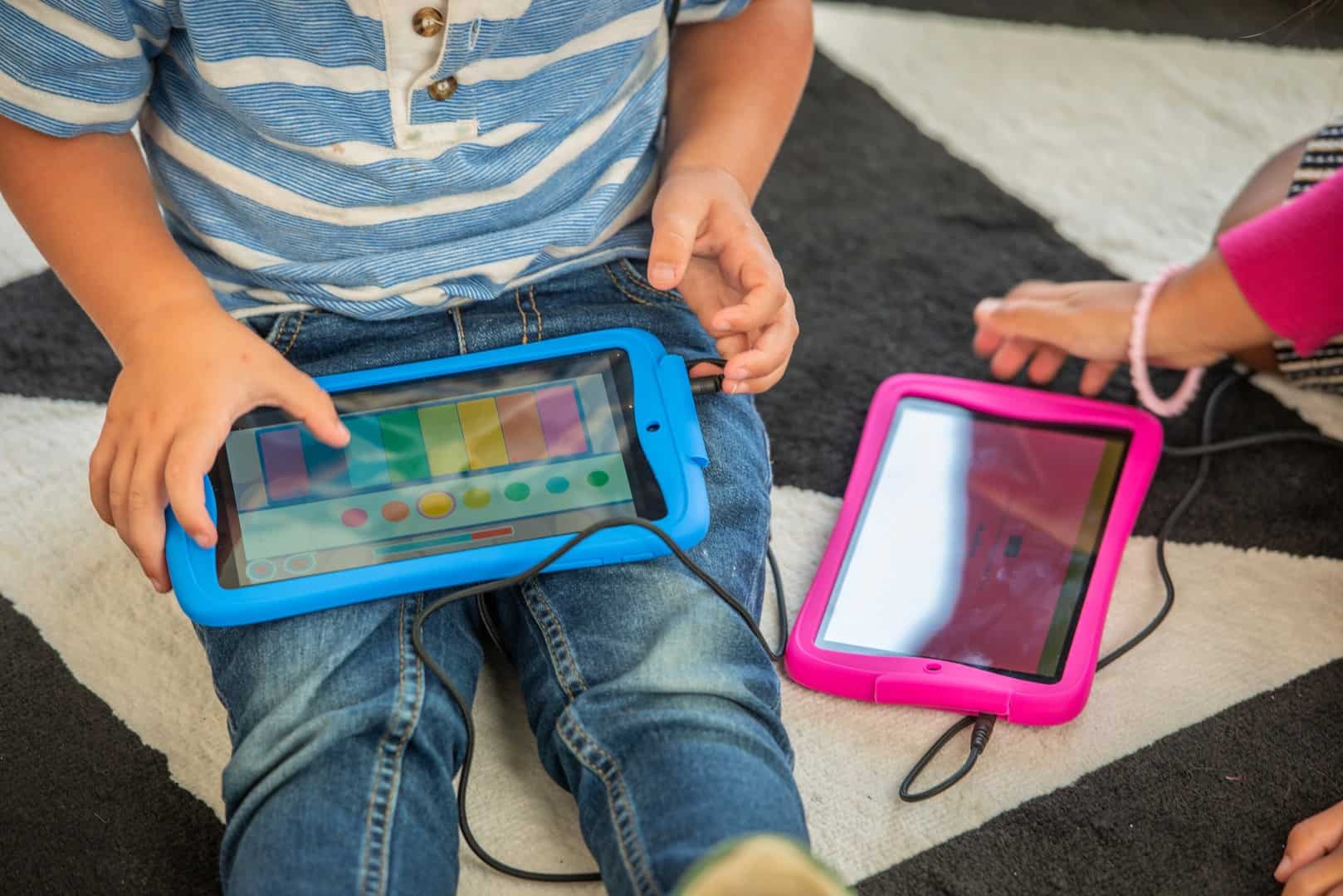 As a parent, you can easily set exactly what your child can do on the tablet and let your child play on the tablet with peace of mind.
The colorful cover also ensures that the tablet can take a beating, which is of course very important when it comes to child-friendly use!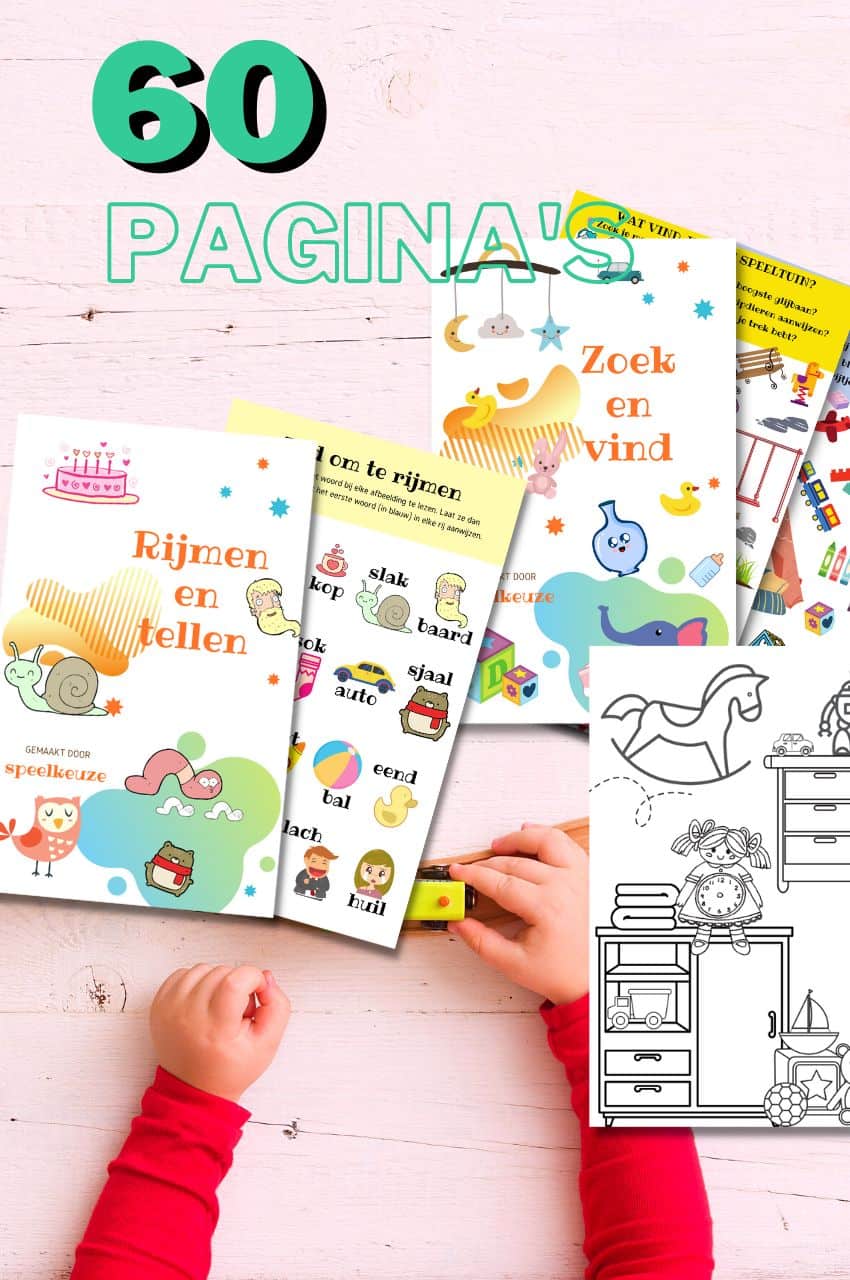 A play theme in your mailbox every month?
Fun play tips, activity books and more, with the first email being our free mini-guide "educational toys"
We will only use your email address for this newsletter and respect your privacy
Kurio Kids Tablets
Kurio actively checks which websites are safe for children, so they can only surf on Kurio-approved websites – very nice.
These so-called 'whitelists' also depend on the age of your child and as a parent you can also set exactly how long they can surf the world wide web.
General specifications
De tablets has an 8,9-inch screen with a Rear Webcam resolution of 2 MP, Windows 8.1 operating system (so you can understand how it works, just like your Windows computer or laptop), a very long battery life of up to 9 hours and a quad- core 1,33GHz Atom Z3735G.
With this, you can effortlessly run any app currently available for kids without any lag.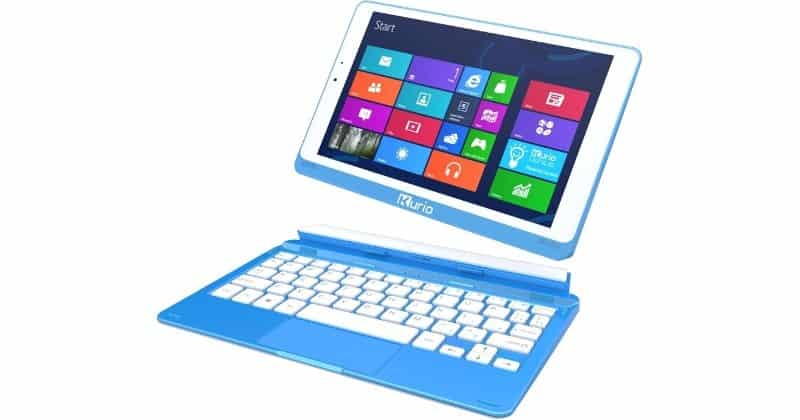 It also has 1 GB RAM and 32 GB internal memory for photos, videos, and the really bigger apps.
And also a front camera to use for video chat (like with grandparents, for example), Bluetooth connectivity, 2 stereo speakers in the back, a built-in microphone and internet access with Wi-Fi.
Watch videos on the tablet via the HD video player, or even on the TV via the micro HDMI connection, something that not every tablet for children on the market has.
And it's also handy for you, you have the easy-to-connect keyboard: write emails, surf the web, take photos and videos, play music and much more!
It is also filled with a lot of pre-installed content such as games, ebooks, videos and apps to get you started.
A good tablet can help them gain knowledge and teach them basic hand-eye coordination. It can also help develop reading skills and show them early on that learning can be fun too.
It is also rated as the best kids tablet with keyboard.
The Kurio Smart was made with children in mind
The Kurio Smart is therefore completely made for children.
As we already mentioned, as a parent you can easily monitor with this tablet, namely via the parental control on the unit. This allows you to observe what the child is doing and above all let you set restrictions on how they can use the gadget, which is ideal in their ever-changing environment.
It is possible to set access for your child by means of password-protected Microsoft Family Safety controls.
The system contains a database of more than 450 million websites, which are filtered and updated daily.
The parental controls can be configured from the tablet, and are very easy for parents to understand and set up.
On a daily basis you can set the time for how long they can use it, this keeps children from getting too attached, and you as a parent can let your children surf and play without having to be there all the time.
And the nice thing is that it doesn't have to be used exclusively for learning. Long car journeys can be made much more fun (and quieter) by playing a movie on a tablet.
Also read: why you shouldn't buy a large XL kids tablet
Adjust child profiles
With the Kurio Genius application you as a parent have access to all profiles. Via this app you can create or change a child profile.
In addition to the default settings per age category, the following things can be adjusted:
Time: In our current digital age, children grow up with screens. In order to manage the healthy use of these devices, it is important to set a clear time limit. The Kurio Genius app gives parents the option to set how long the tablet is allowed to play. Furthermore, the time management function makes it possible to monitor children's tablet use in various ways.

Usage time: The usage time option allows parents to set when the tablet may be used. This specific time can easily be indicated in a dedicated time bar.
Playing time: A maximum playing time can be set for each profile. For example, it is recommended not to place toddlers behind a screen for more than 30 minutes a day, while the advice for eight-year-olds is 1,5 hours.
Session use and pause duration: In addition to setting the playing time per day, it can also be checked how long the tablet can be used per session. In addition, the pause duration indicates how much time there must be at least between two usage periods.
Educational apps: The apps in the education category can also be used by the child outside of regular playtime. Time management gives parents the option to make the Kurio Tab 2's educational apps available to the child at all times. The tablet also includes 30 pre-installed educational apps and games. More apps with educational value can be easily downloaded from the Google Play Store.

Application management: The application management submenu gives you as a parent control over the apps that can be used by the child. For example, you can check which apps the child has access to or block specific applications. This can be set for each child profile, so you can fully adapt the app use to the age of the child. The applications can also be categorized. Do you want the tablet to be used regularly for educational purposes only? Then you simply place the educational apps in the education category. In the submenu time management, you can then select this category, so that the child can only access the educational games at set times.
Internet access: The internet use of young people is something that you as a parent sometimes have little insight into. There is also the option to completely block access to the internet. However, the Kurio Tab 2 is equipped with an internet filtering system. This advanced system makes it possible for children of all ages to safely use
Specifications
Dimensions: 240 x 170 x 60 mm
Weight: 581 g
Warranty: 1 year
Operating System: Android 5.0 (Lollipop)
Internal storage: 8GB
Processor: 1,3GHz quad-core processor (Mediatek MTK8127)
Camera: Front [2.1 MP], and read [0.3 MP]
Wi-Fi (802.11b/g/n)
Bluetooth 4.0
Google play on Android
5mm headphone jack, microUSB port, microSD slot (up to 32GB)
Kurio Smart Review
Like many other parents, we can sometimes no longer see the trees for the forest in the technological choices that exist for families and a smart choice is very important.
The tech devices you bring into your family will affect just about every area of ​​family life, such as photos and music, family videos, entertainment and communication.
These tech devices will also make the internet available to all family members and it is important to use them wisely.
Today, the most important decision for parents of young children is figuring out the best way to safely introduce their children to technology.
Technology isn't just for playing and learning in an offline world anymore. It's about connecting to the internet and the vast amount of information you and your child can find there.
It is important to learn and understand with your child where they are able to get to and what they can see. The Kurio Smart, 8.9″ windows tablet is a device that can help anyone take these steps.
Kurio Tab Ultra and Tab Lite review: Telekids with Google Play
We take a look at both the Kurio Tab Ultra and the Tab Lite here. Read on to find out what exactly makes these kids' tablets so good.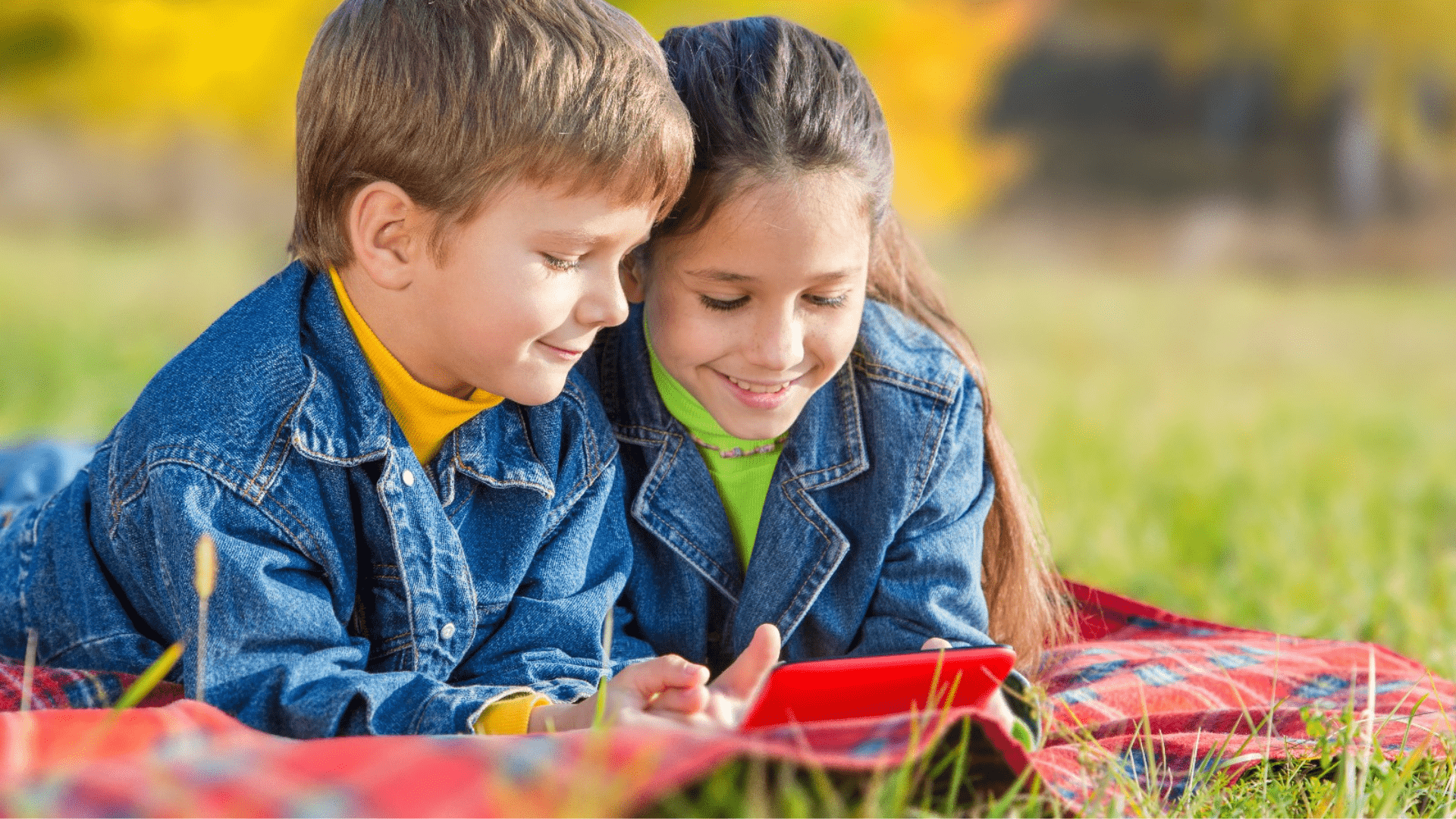 We think the best is the Kurio Tablet Ultra and here you can find it.
With the specifications it is certain that it will last a number of life phases, and that is the better choice for us so that it can also grow with the kids!
Watch our video review here:
Read on for our review of these Kurio Tablets and more background information.
Kurio Tab Ultra
The Kurio Ultra is where Kurio really unleashes its full power.
You can see this in the features, in the performance of the tablet, but especially in the child-friendly settings and the own Kurio Genius system. It is the more expensive version because at the moment it is € 119,-
The dedicated interface gives parents a high level of control, while remaining simple enough for anyone to set up in minutes.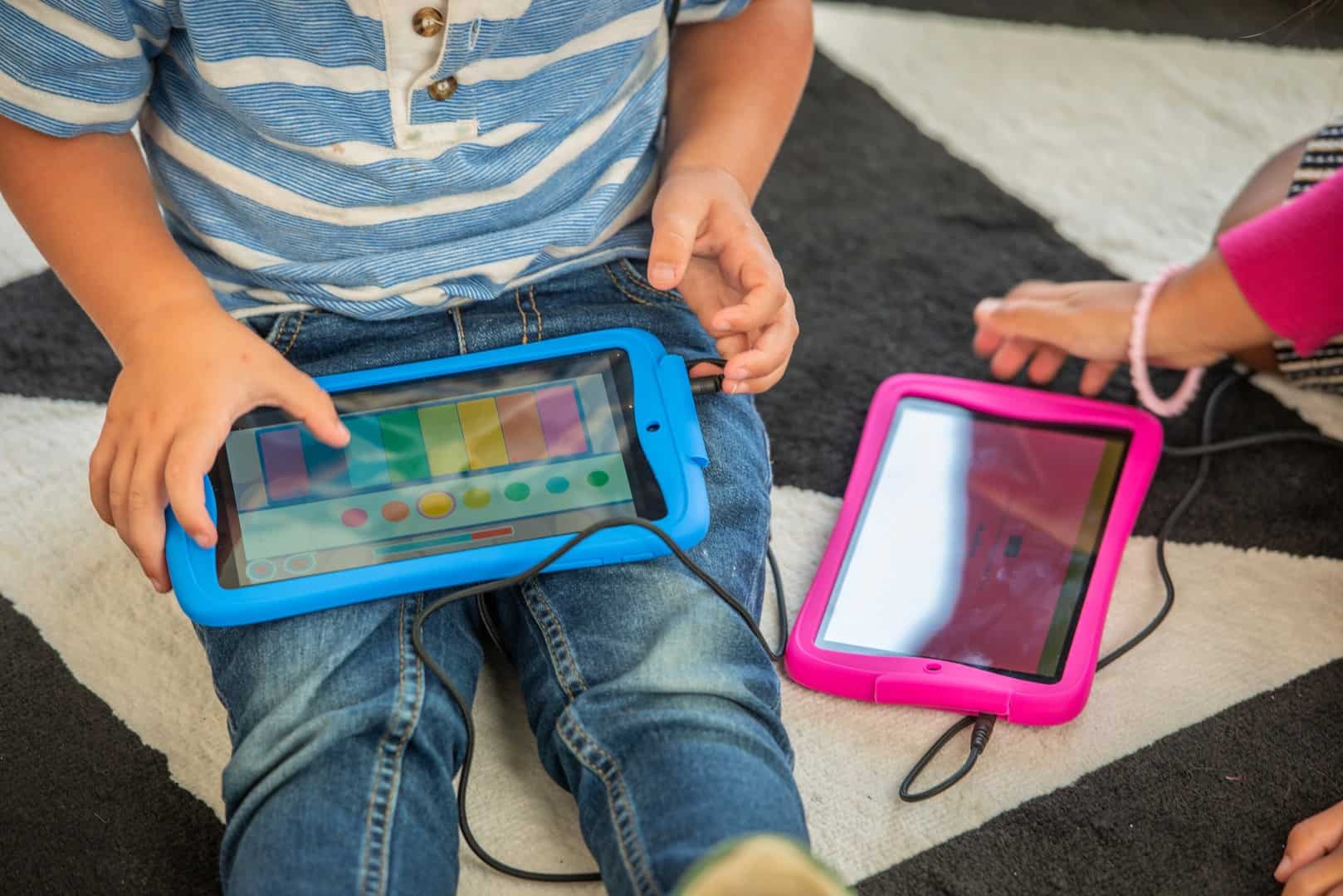 Safety for your child
Choosing a tablet that is safe for your child can be a tricky business. Yes, most have security settings and filters, but how can you be sure that the apps and websites that your little one can access are age appropriate?
Kurio offers just that, with its new Tab Ultra competing internationally against the heavyweights of the Amazon Fire Kids Edition, Apple iPad Mini 4 and the options offered by Leapfrog.
You can also use our best tablet for kids collection.
Kurio Tab Ultra: the price
You can pick up the Kurio's Tab Ultra for less than a hundred and twenty euros from a number of offline and online retailers.
It comes in two colors -pink or blue- with 16GB of storage, but this is expandable by an additional 32GB via its microSD slot.
Design and construction of the Ultra
Like many of the kids' tablets, the Kurio has a 7-inch display. It has been improved after the previous tab 2 by using an IPS screen instead of TN.
That means colors don't change terribly when viewed from an angle.
Ports are minimal, with only a:
headphone jack
and Micro USB
but once you remove the sturdy rubber protective cover, you'll also find a hidden microSD card slot
The Ultra is comfortable in the hand thanks to its slim dimensions of 189,2 x 107,6 x 9,15 mm and the weight of 250 grams means that small children's arms do not tire too quickly.
It's half the weight of the Tab 2.
The cameras have not been upgraded, so you get a 2Mp rear camera, accompanied by a 0.3Mp selfie front camera.
Performance
Battery life is acceptable rather than astonishing, with our HD streaming video test it fails in just over four hours and there are some better alternatives on the market in that regard.
More sporadic use will, of course, stretch things out a bit longer.
While it's perfectly possible to use the Kurio as a standard Android tablet, even for yourself, the whole idea is for kids to use the special interface designed for them.
If you also want to use a tablet yourself, we advise you to buy a non-specific children's tablet with better specs with less kid-friendly settings and apps.
Kurio Genius Parental Control
Once a parent has created their own account, they can tap the Kurio Genius Parental Controls icon to create a profile for their child account.
Up to eight profiles can be used with the Ultra, so the tablet can be shared by the whole family.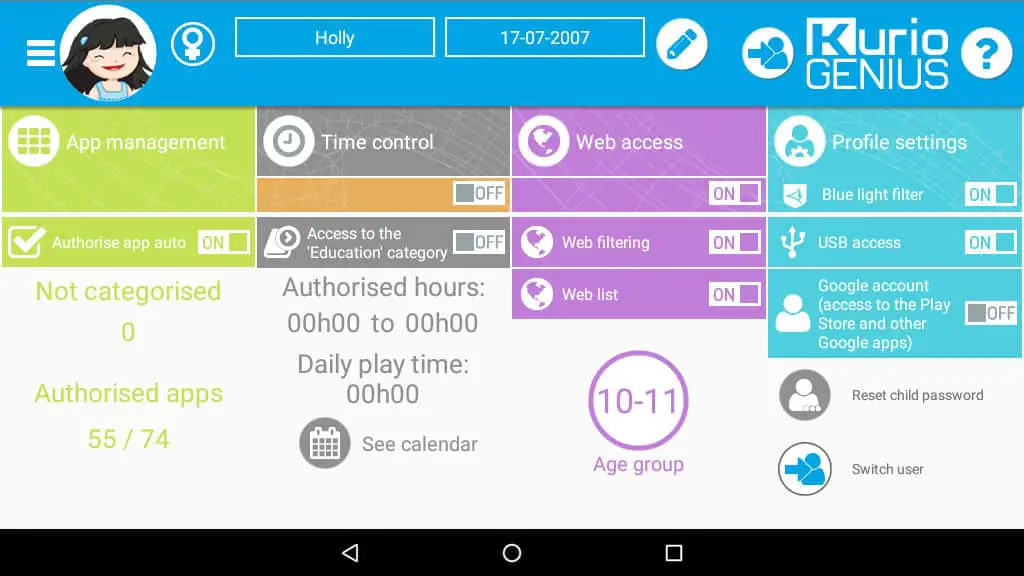 The apps available to the youngster are determined by their age, with the Genius algorithms tailoring the experience quite well.
Of course, you can still deny access to anything you'd rather not use, thanks to the App Management section.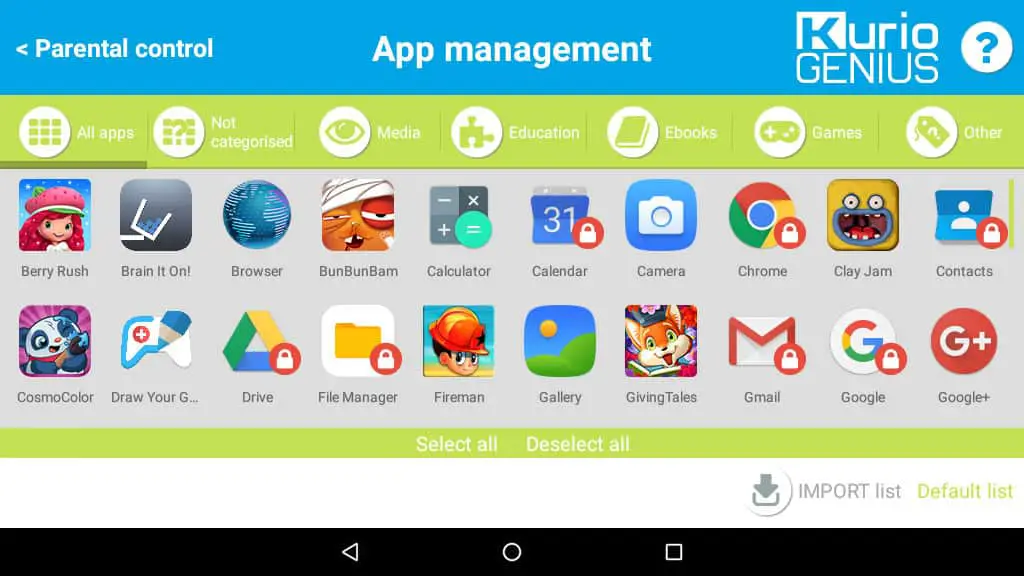 In it you can view all apps that are also restricted and choose whether to allow them or not.
In addition to choosing which apps are available, there is also the option to say when the tablet can be used and for how long.
The 'time control' section has a simple layout where you can select a general setting for the week, or adjust it every day.
This is useful if you don't want your little ones to play on the tablet before school, but would like to let them relax on a Saturday morning.
These can also be temporarily extended for 5, 10, 15 or 20 minutes without changing the general settings.
Handy if you're in the auto sitting or sitting on the bus and your kid wants to finish the current level of Subway Surfer before they get home.
Kurio has a browser, as you would expect, but implements a filtering system that excludes all sites that appear to contain mature content. This is not only graphics but also social media and adult language.
Each new tab starts with the kid-friendly KidRex search page, and even when we went to the Google search page and searched for inappropriate content, the filtering system caught pretty much everything.
As with any product with a screen that connects to the internet, our advice is that you don't leave your child alone on the internet, but that the Kurio provides at least a decent level of protection.
The apps themselves are a good mix of games, video streaming, educational focused and creativity programs. More can be downloaded from the included Kidoz app store, which has a great selection eschewing all in-app purchases.
If you can't find everything you're looking for, there's the option to turn on the Google Play Store. However, you have to check this yourself as a parent.
A unique feature of the platform is the Kurio Premium Content section, which provides educational and STEM related weekly apps offers. This means kids have something new to keep them busy every few days and hopefully stimulate their brains.
The service is free for the first year, but after that you have to sign up for a subscription.
We couldn't find a price for Premium, but since it's a year before you're supposed to start paying, it would be a better idea to check before taking it.
The Kurio Tab Ultra is currently available at Bol.com (check the latest price here).
Here's another promotional video from Kurio himself:
The Kurio Tab Lite, a cheaper alternative
The Kurio Tab Lite is a great cheaper alternative. It also has the Kids Genius Apps and the parental settings. The only thing you have to compromise on are the specifications of the tablet.
The name says it all, the Lite version of Kurio.
There is still all the kid-friendly cleverness that they actually developed for the Connect and the earlier Tab 2 with the Kurio Genius system, but the performace and the inside sacrifices some functionality, making it in particular a bit slower and fewer apps at the same time.
As a budget option, a very good choice for currently € 89,95
And while this won't matter to most younger kids, some older children sometimes a little frustrated with the longer loading times.
Nothing to deter you, but we recommend the Kurio Tab Lite for slightly younger kids, and the Tab Ultra if your kids are already 7.
The specs are a bit less and you also have to do it with 8GB internal memory, for example.
We also had a few glitches with the hardware itself, most notably the slow power button, but at this price point, it delivers what you'd reasonably expect.
It is a great device for most tasks, especially games and watching YouTube Kids. Just don't set yourself too high, and you won't be disappointed.
The Tab Lite is therefore a bit cheaper (check the latest price here).
Frequently asked questions about the Kurio
Does the Kurio have a motion sensor?
Yes, it has a built-in 3D G sensor
Can you open Office files (such as, Word and Excel) on the Kurio?
There is by default no program to open the office files, but if you search for office suite for Android, then there are free viewers to install office documents.
Can I expand Kurio's memory / storage capacity?
Yes, you can expand the memory up to 32 Gb with a Micro SD card.
Can I set up more than one user profile?
Yes, you can set up to eight profiles on your Kurio tablet.
Which processor does Kurio have?
The processor of this tablet is Allwinner Cortex A8 1.2GHz
What kind of touchscreen does the Kurio tablet have?
Kurio has a Capacitive touch screen.
Can you charge your Kurio Tablet via the USB port?
You can use the USB cable to charge the Kurio Tablet, or to load files via the PC. You can also disable the option to transfer files within the Parental Zone.
Does the Kurio Tablet have an HDMI connection?
Yes, the Kurio has a Mini HDMI port.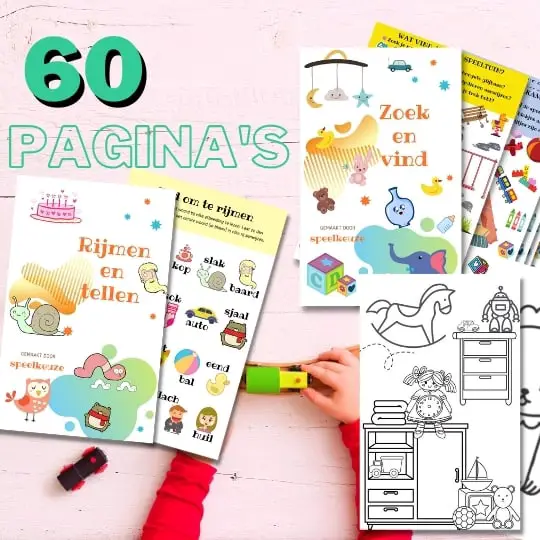 Always something to do for the holidays or rainy day?
Play Choice now has the ultimate activity book collection, with over 60 pages of fun coloring pages and educational puzzles.
Joost Nusselder, the founder of Speelkeuze.nl is a content marketer, father and loves trying out new toys. As a child he came into contact with everything related to games when his mother started the Tinnen Soldaat in Ede. Now he and his team create helpful blog articles to help loyal readers with fun play ideas.