I enjoy writing these articles for my readers, you guys. I don't accept payment for writing reviews, my opinion on products is my own, but if you find my recommendations helpful and you end up buying something through one of the links I may be able to receive a commission on that.
More information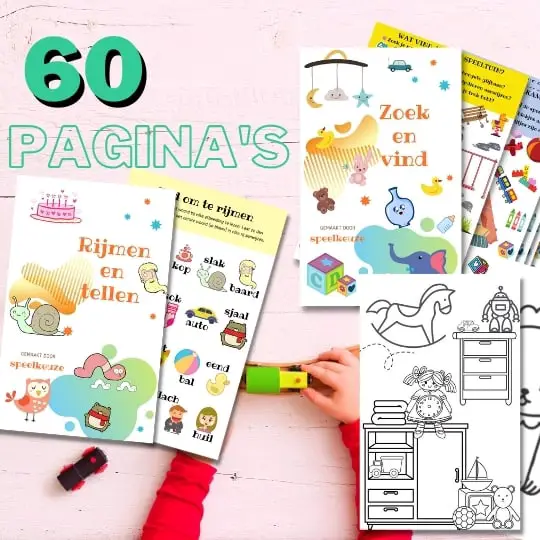 Always something to do for the holidays or rainy day?
Play Choice now has the ultimate activity book collection, with over 60 pages of fun coloring pages and educational puzzles.
Children are getting younger when they first get their hands on a tablet.
As a parent, it is therefore important to monitor the behavior of your son or daughter when the device is used.
Fortunately, there are tablets, specifically aimed at the young user, that help create a safe playing environment.
The Kurio Tab 2 was one such children's tablet, which puts the parent in control.
Kurio has developed its own child-friendly system and that is why the Tab 2 was so popular.
In the meantime, newer versions have been released and they are no longer called the Kurio Tab 2, but have given a choice of two tablets for different budgets:
I chose this Kurio Tab Connect myself and it was the cheapest here at bol.com.
With the specifications, I know for sure that it will last for several more stages of my son's life, which is the better choice for me when he is a bit older and wants to do more with it.
Watch our video review here:
Read on for our review of these Kurio Tablets and more background information.
Kurio Tab Connect
The Kurio Lite is a typical budget tablet, elevated by the well thought out software. But this Connect is where Kurio really rolls out its full power.
The full version, and the precise vision of Kurio, provide the very best kids tablet available on the market.
You can see this reflected in the features, in the performance of the tablet, but especially also in the child-friendly settings and the Kurio Genius system.
It is the more expensive variant for currently € 119.
The dedicated interface gives parents a high level of control, while remaining simple enough for anyone to set up in minutes.
Safety for your child
Choosing a tablet that is safe for your child can be a tricky business.
Yes, most have security settings and filters, but how can you be sure that the apps and websites your little one can access are appropriate for their age?
The best solution to this dilemma is to look at models specially designed for children.
Kurio is a company that offers such a thing, with its new Tab Connect competing internationally against the heavyweights of the Amazon Fire Kids Edition, Apple iPad Mini 4 or the different options offered by Leapfrog.
To help you make the most informed choice, you should also use our best tablet for kids collection.
Kurio Tab Connect: the price
You can pick up Kurio's Tab Connect for less than one hundred and twenty euros from a number of offline and online retailers.
It comes in two colors - Pink or Blue - with 16 GB of storage, but this is expandable with an additional 32 GB through its microSD slot.
Design and construction of the Connect
Like many of the kids' tablets, the Kurio has a 7-inch display. It has been improved after the previous tab 2 by using an IPS screen instead of TN.
That means colors don't change terribly when viewed from an angle.
Ports are minimal, with only a:
headphone jack
and Micro USB
but once you remove the sturdy rubber protective cover, you'll also find a hidden microSD card slot
The Connect lies comfortably in the hand thanks to its slim dimensions of 189,2 x 107,6 x 9,15 mm and the weight of 250 grams means that small children's arms do not tire too quickly.
It's half the weight of the Tab 2.
The cameras have not been upgraded, so you get a 2Mp rear camera, accompanied by a 0.3Mp selfie front camera.
Driven by
It is a pleasant package, with the bright blue or pink, rubber protective cover that will not only look attractive, but will also reassure parents who have had an unpleasant fall experience.
Performance
Battery life is acceptable rather than astonishing, with our HD streaming video test it fails in just over four hours and there are some better alternatives on the market in that regard.
More sporadic use will, of course, stretch things out a bit longer.
While it's perfectly possible to use the Kurio as a standard Android tablet, even for yourself, the whole idea is for kids to use the special interface designed for them.
If you also want to use a tablet yourself, I would advise you to purchase a non-specific children's tablet with better specifications with less child-friendly settings and apps for the same money.
Once a parent has created their own account, they can tap the Kurio Genius Parental Controls icon to create a profile for their child account.
The Connect allows up to eight profiles to be used so that the tablet can be shared by the whole family.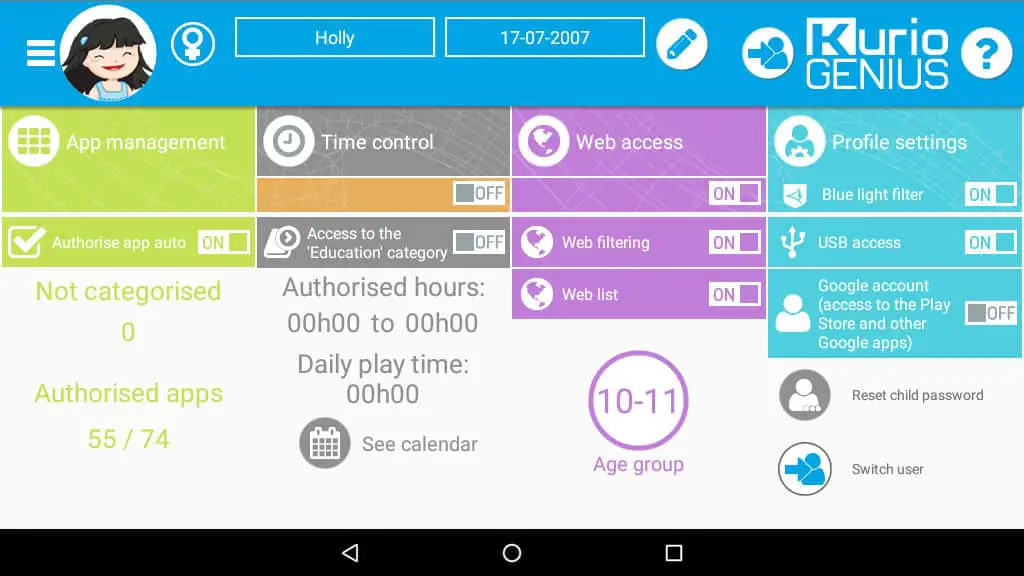 The apps available to the youngster are determined by their age, with the Genius algorithms tailoring the experience quite well.
Of course, you can still deny access to anything you'd rather not use, thanks to the App Management section.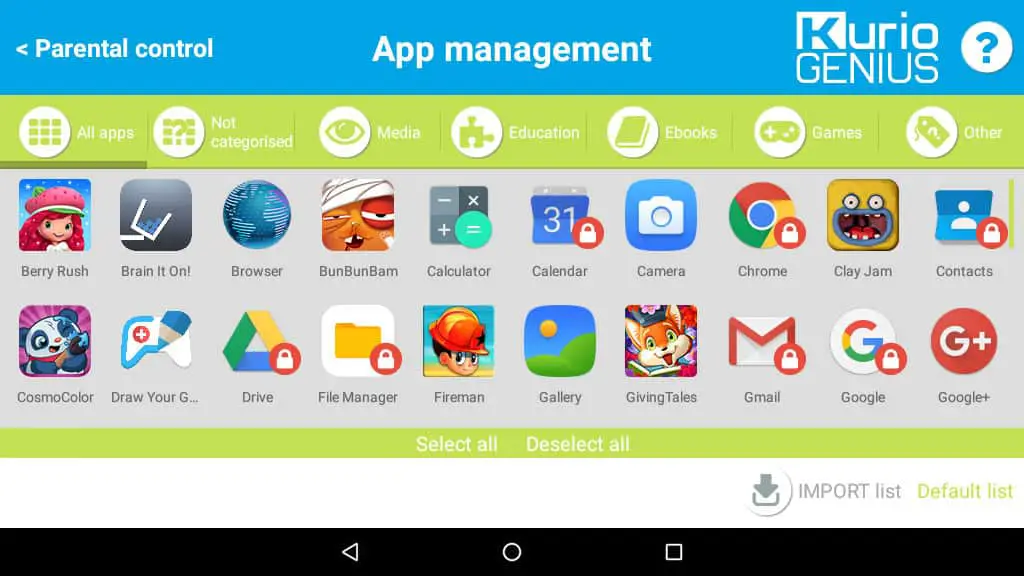 In it you can view all apps that are also restricted and choose whether to allow them or not.
It is an easy to use system that gives parents a quick way to get the tablet up and running while knowing exactly what their little one will be using.
In addition to choosing which apps are available, there is also the option to say when the tablet can be used and for how long.
The Time control section has a simple layout where you can select a global setting for the week, or adjust it every day.
This is useful if you don't want your little ones to play on the tablet before school, but would like to let them relax on a Saturday morning.
These can also be temporarily extended for 5, 10, 15 or 20 minutes without changing the general settings.
Handy if you are in the car or on the bus and your child wants to finish the current Subway Surfer level before they get home.
Kurio has a browser, as you might expect, but implements a filtering system that excludes all sites that appear to contain mature content.
These are not just graphics, but also social media and adult language.
Each new tab starts with the kid-friendly KidRex search page, and even when we went to the Google search page and searched for inappropriate content, the filtering system caught pretty much everything.
As with any product with a screen that connects to the internet, our advice is that you don't leave your child alone on the internet, but that the Kurio provides at least a decent level of protection.
The apps themselves are a good mix of games, video streaming, education-oriented and creativity programs.
More can be downloaded from the included Kidoz app store, which has a large selection, shunning all in-app purchases.
If you can't find everything you're looking for, there's the option to turn on the Google Play Store. However, you have to check this yourself as a parent.
A unique feature of the platform is the Kurio Premium Content section, which offers educational and STEM related apps on a weekly basis.
This means kids have something new to keep them occupied every few days and hopefully boost their brains.
The service is free for the first year, but after that you have to sign up for a subscription.
We couldn't find a price for Premium, but since it's a year before you're supposed to start paying, it would be a better idea to check before taking it.
The Kurio Tab Connect is currently available for € 119, - around (check the latest price here).
Here's another promotional video from Kurio himself:
The Kurio Tab Lite, a cheaper alternative
Well, the Kurio Tab Lite is a great cheaper alternative. It also has the Kids Genius Apps and the parental settings.
The only thing you have to compromise on are the specifications of the tablet.
The name says it all, the Lite version of Kurio.
There is still all the kid-friendly cleverness that they actually developed for the Connect and the earlier Tab 2 with the Kurio Genius system, but the performace and the inside sacrifices some functionality, making it in particular a bit slower and fewer apps at the same time.
As a budget option, a very good choice for currently € 89,95
And while this won't matter for most younger kids, older kids can sometimes get a little frustrated with the longer load times.
Nothing to put you off, but I would recommend the Kurio Tab Lite for slightly younger kids, and the Tab Connect if your kids are already 7.
The specs are a bit less and you also have to do it with 8GB internal memory, for example.
We also had a few glitches with the hardware itself, most notably the slow power button, but at this price point, it delivers what you'd reasonably expect.
It is a great device for most tasks, especially games and watching YouTube Kids. Just don't set yourself too high, and you won't be disappointed.
The Tab Lite is therefore a bit cheaper and at the time of writing € 89,95 (check the latest price here).
Kurio Smart Review, replaced by the Tab Connect
We bought the Kurio tablet computer for our grandchildren for their birthday.
The computer was easy to use and the directions were hassle-free and quite easy to follow, even for us as a grandparent.
Unfortunately, this is no longer available, but has been replaced for the Kurio Connect which has many more functions.
I don't know much about the settings of these things, but enough to get out of it easily.
Update: In the meantime I switched to the new Kurio Tab Connect for my son and he absolutely loves it!
It was recently tested as the best by the consumer association and has an extensive web filtering system so that your child does not end up on websites that you do not want.
I found the parental controls to be the most useful, and of course their parents thought so too.
The free apps were easy to install and there is something for everyone. This is a great first tablet for a child.
It's also robust and well-built, so I won't have to worry about a fall (which will most certainly happen).
I was happy with the ease of use and the many things the Kurio Smart can do. It's a win win, computer and tablet with the added keyboard.
This is an excellent tablet for all the family and at a great price.
Kurio Smart Review
This is just one of the many stories of satisfied customers out there. People with families can really benefit from gadgets like these.
Like many other parents, we can sometimes no longer see the trees for the forest in the technological choices that exist for families and a smart choice is very important.
The tech devices you bring into your family will affect just about every area of ​​family life, such as photos and music, family videos, entertainment and communication.
These tech devices will also make the internet available to all family members and it is important to use them wisely.
Today, the most important decision for parents of young children is figuring out the best way to safely introduce their children to technology.
Technology is no longer just for playing and learning in an offline world.
It's about connecting to the internet and the vast amount of information that you and your child can find there.
It is important to learn and understand with your child where they are able to come and what they can see.
The Kurio Smart, 8.9 ″ windows tablet is a device that can help anyone take these steps.
Kurio smart for children
The Kurio Smart, 8.9 ″ Windows Tablet with specs ideal for the whole family.
The tablet has an 8,9-inch screen with a Rear Webcam resolution of 2 MP, Windows 8.1 operating system (so you can understand how it works, just like your Windows computer or laptop), a very long battery life of up to 9 hours and a quad-core 1,33 GHz Atom Z3735G.
With this, you can effortlessly run any app currently available for kids without any lag.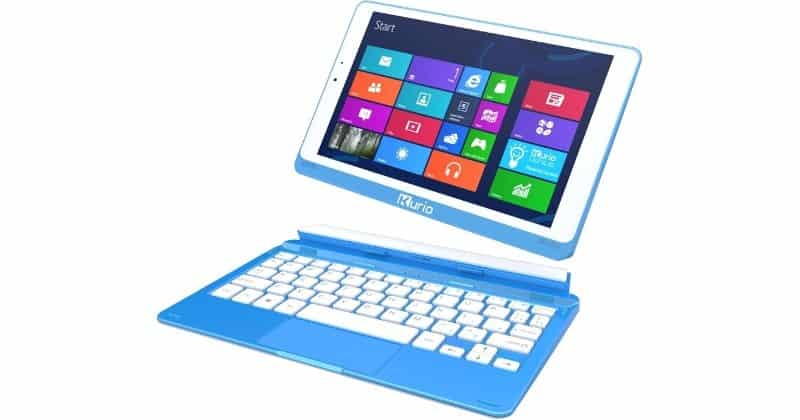 It also has 1 GB RAM and 32 GB internal memory for photos, videos, and the really bigger apps.
And also a front camera to use for video chat (like with the grandparents, they'll like that), Bluetooth connectivity, 2 stereo speakers in the back, a built-in microphone and internet access with Wi-Fi .
Watch videos on the tablet via the HD video player, or even on the TV via the micro HDMI connection, something that not every tablet for children on the market has.
And also handy for yourself, you have an easy-to-connect keyboard: write emails, surf the web, photos and videos, play music and much more!
It is also filled with a lot of pre-installed content such as games, ebooks, videos and apps to get you started.
It is much more than just an electronic babysitter for the kids.
A good tablet can help them gain knowledge and teach them basic hand-eye coordination.
Furthermore, it can help develop reading skills and show them early on that learning can also be fun.
It is also rated as the best kids tablet with keyboard.
The Kurio Smart was made with children in mind
The Kurio Smart is completely made for children, and the parental control on the unit helps parents observe what the child is doing and, above all, lets you set restrictions on how they can use the gadget, which is ideal in their ever-changing environment.
The parental controls can be configured from the tablet, and are very easy for parents to understand and set up.
These controls prevent children from accidentally surfing to sites that their parents do not want them to see.
And because the creators at Kurio know that parents often find setting controls confusing, they have provided them with easy-to-use controls that cannot be undone by children.
It's also made to be much sturdier than regular tablets, made with the knowledge that little kids are likely to throw the thing out from time to time and then maybe even walk on it.
And the nice thing is that it doesn't have to be used exclusively for learning. Long car journeys can be made much more fun (and quieter) by playing a movie on a tablet.
This makes the Kurio Smart tablet an ideal tool for both learning and playing, and due to the easy-to-use Windows operating system, older children can also use it at home and at school using Microsoft compatible software such as Excel, Word and PowerPoint.
The Kurio Smart tablet detachable keyboard lets you and the kids easily switch from laptop to tablet in seconds.
This way they will be able to easily switch to use it at home or for school work or just enjoy surfing on Youtube.
And you can also use it yourself for your own work, by means of the different profiles to be set you can then access all the content that you protect the children from.
Kurio smart frameworks
It is possible to set access for your child by means of password-protected Microsoft Family Safety controls.
This way you can set the usage time and indicate which sites they are allowed to visit.
It has a built-in feature that instantly sets the internet according to the age you entered for each child, so you don't have to worry about a child downloading unsuitable apps.
In the price range, it is a moderately powerful tablet with the best feature of providing a safe environment for children to learn to explore the online landscape.
On a daily basis you can set the time for how long they can use it, this keeps children from getting too attached, and you as a parent can let your children surf and play without having to be there all the time.
Read also: why you shouldn't buy a large XL kids tablet
Conclusion of the Kurio Smart Review
So in short, the Kurio Smart is ideal for children.
It has been recently developed with this in mind and in relation to other child oriented tablets it has many unique features.
For the youngsters they can use the Kid Zone with apps and games chosen by their parents.
For parents, you can rest assured that the kids will only play with the apps and games you have checked for their suitability.
There are more powerful tablets on the market in this price range, but it is very versatile and secure and with the added keyboard you can keep using it even if your kids have gotten a little older and need to be able to do more with it.
View the pictures of the Kurio Smart
Fortunately, there is not often something wrong with the Kurio Tablets, but read the most common problems here
What about the Kurio Tab 2 then?
It is now discontinued, as it has been replaced for these two newer versions.
But what about the Kurio Tab 2, and why was it so immensely popular?
Kurio Genius Parent Application
The Kurio Tab 2 already creates a safe environment for the child from the moment the tablet is started.
The device must be set by one of the parents.
For example, you can install the desired language, time and WiFi connection for the entire device via the Kurio Genius Parent application.
When the tablet is configured, a total of eight child profiles can be created.
It is important that the date of birth of the child is entered for each profile.
Access to different websites is namely determined on the basis of the age of the child.
Android Intel powered Tablet with Google Play
Kurio Tab 2 is an action-packed gadget made exclusively for children and its actions are facilitated by the powerful Intel processor.
This Google play enabled tablet features Wi-Fi, 8GB internal memory, high resolution front and rear cameras, speakers and unlimited parental control over your kids' activities through the Kurio Genius Internet Filtering System.
It's also instantly fun and healthy for kids with pre-installed Kurio Motion single player games like soccer, swimming and running.
This feature makes it possible for children to play, while at the same time helping to actually mimic these sports.
So they will have to get started actively!
The parental control panel is user-friendly and also password protected and you can set time limits or restrict access to certain websites.
In addition, the Kurio Tab 2 has its own predefined internet filter system with extreme caution while surfing and filtering the apps that a child can install.
For example, it is one of the most practical kids tablets with google play.
Features Kurio Tab 2
• Check how long children use it
• internal storage capacity of 8 GB expandable up to 32 GB using a micro SD card
• Web filter and the restriction to blocked websites
• demarcate which apps can be opened, such as from Android and Google Play
• Set up multiple profiles for multiple children in the household
Adjust child profiles
With the Kurio Genius application you as a parent have access to all profiles. Via this app you can create or change a child profile.
In addition to the default settings per age category, the following things can be adjusted:
Time: In our current digital age, children grow up with screens. In order to manage the healthy use of these devices, it is important to set a clear time limit. The Kurio Genius app gives parents the option to set how long the tablet is allowed to play. Furthermore, the time management function makes it possible to monitor children's tablet use in various ways.

Usage time: The usage time option allows parents to set when the tablet may be used. This specific time can easily be indicated in a dedicated time bar.
Playing time: A maximum playing time can be set for each profile. For example, it is recommended not to place toddlers behind a screen for more than 30 minutes a day, while the advice for eight-year-olds is 1,5 hours.
Session use and pause duration: In addition to setting the playing time per day, it can also be checked how long the tablet can be used per session. In addition, the pause duration indicates how much time there must be at least between two usage periods.
Educational apps: The apps in the education category can also be used by the child outside of regular playtime. Time management gives parents the option to make the Kurio Tab 2's educational apps available to the child at all times. The tablet also includes 30 pre-installed educational apps and games. More apps with educational value can be easily downloaded from the Google Play Store.

Application management: The application management submenu gives you as a parent control over the apps that can be used by the child. For example, you can check which apps the child has access to or block specific applications. This can be set for each child profile, so you can fully adapt the app use to the age of the child. The applications can also be categorized. Do you want the tablet to be used regularly for educational purposes only? Then you simply place the educational apps in the education category. In the submenu time management, you can then select this category, so that the child can only access the educational games at set times.
Internet access: The internet use of young people is something that you as a parent sometimes have little insight into. There is therefore the option to completely block access to the internet. However, the Kurio Tab 2 is equipped with an internet filter system. This advanced system makes it possible for children of all ages to use the internet safely.
Design
This tablet has a 7 inch display and is covered with protective rubber to protect it from damage in the event of a fall.
The rubber also gives the tablet a slim shape.
There is a micro HDMI output, rear and front camera with 0,3 and 2,1 megapixels respectively, a mono speaker, Bluetooth, a headphone jack and a micro SD slot with expanding the available memory of up to 32 GB.
The micro USB port can be used to charge the tablet and read USB OTG (on-the-go) to retrieve files on an appropriate flash drive.
The screen is below average. Kids tablet are known for their low resolution screens, with less spectacular viewing angles. Kurio tab 2 1024 × 600 resolution has no IPS screen and so the colors don't look that vivid, especially from the side.
Kurio Tab 2's performance has also been mixed; Equipped with a quad core processor makes its operations fast although some applications take longer to run.
The screen also needs a bit more pressure to recognize the action it has to perform.
Audio
The quality of the sound is above average, but not that great.
He can't be put that hard, but this may actually be more of a relief than a limitation for you as a parent.
However, the audio does sound much better when the tablet is in its case and lies flat on the table.
For example, it is clearly primarily intended to be used in standing mode by means of the extendable part at the back of the cover.
Access to applications
Other than the pre-installed apps, this kids tablet gives you unlimited access to the Google Play Store and Android OS Lollipop makes even more applications easily accessible.
The pre-loaded e-books, apps and games can be used after creating an account as a parent and setting up the child's profile.
It also has a number of Android features as standard that you can use yourself, such as the Google apps: Gmail, Maps, photos, YouTube, and others that are automatically allowed in each profile.
It's amazing how Kurio uses the flexibility of Android profiles and not its own system to make the transition between the profiles much easier.
You don't often see this with a tablet made for children, especially with google play features.
This also means that as your child grows, they can get rid of the bumper and slowly get a full-fledged tablet with increasing access to using the Android Lollipop system.
Parental supervision
The system of parental supervision on the Kurio Tab 2 Telekids was very close to winning the best-in-class awards.
That shows how seriously they have taken this part of the design in the software.
To access the parental controls, open the Kurio Genius app from the mother mode home screen.
Here you can set up to eight profiles for everyone in your household.
The Kurio Genius app will use the date of birth you enter to make an initial pre-selection with predefined filters by measuring what is recommended for minors at that age and what they can and cannot use.
In addition, you can also choose from internet pages and apps from the google play store that are often not only suitable for a children's tablet.
Kurio Genius gives parents control over the programs children can work with and the time they can use the tab.
Applications from Google, such as Gmail, Chrome or YouTube can also be limited.
The tablet can be set to refuse to read unauthorized USB drives.
And if the time for your kids to play with the tablet runs out for the day, you can enter the key to simply (for once) increase it by twenty minutes.
The System Email app gives children access to their own email addresses.
Parents don't need to worry here either, as they can also monitor their child's use of this app, approve which messages they can see, and also add new contacts to the trusted contacts list to monitor that there are no strange contacts are made.
Development
In the past 2-3 years, tablets for children have improved dramatically from just simple toys to really good and full-fledged tablets, and the Kurio Tab 2 is arguably the best children's tablet.
According to Kurio, it is the safest tablet for children.
This tablet might not be perfect as an adult standalone, but it's a much better choice if you don't want to give your iPad directly to your child.
The Kurio Tab 2 is nice and large and equipped with a 7-inch screen with Android 5.0 (Lollipop).
Hardware
Kurio Tab 2 is a really decent Android tablet that comes with a rubber bumper for protection.
Not only does this rubber edge prevent the corners of the tablet from getting damaged, but at the same time it also protects the tablet against damage from unavoidable falls during use by your kids.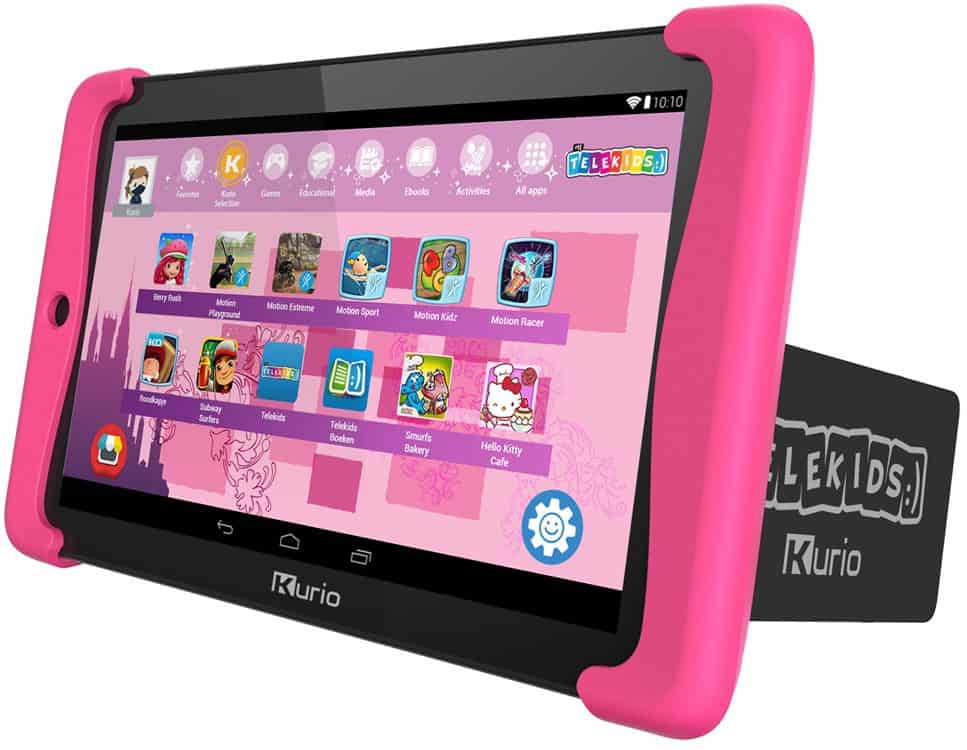 There is also a removable plastic cover on the rear that can be adjusted in two places by using slots in the bumper to provide two different viewing angles, but it is difficult to attach.
Then the camera, the Kurio Tab 2 has a camera of 0,3 MP and 2.1 MP on the front and back respectively.
It also has Wi-Fi, Bluetooth, and a micro HDMI output.
It also features a headphone jack, mono speaker and a microSD card slot for adding up to 32 GB, along with the internal 8 GB.
From this 8GB, however, only 1 GB is available for the user, the rest for the operating system and pre-installed apps.
The micro USB port is used for charging and syncing, it also supports USB-on-the-go (OTG) for access to external hard drives that you can carry with you such as USB sticks.
Memory card
As mentioned, the Kurio Tab 2 has a limited memory of 8 GB. When you want to download a lot of apps, videos or music, the memory fills up quickly.
Fortunately, this is easy to expand by using a micro SD card.
This card, with a maximum memory of 32 GB, can easily be placed in the appropriate card reader on the side of the tablet.
While it is not possible to move apps from the internal memory to the memory card, you can store a variety of movies, pictures and music on the SD card.
The tablet's hardware is well-built, but it lacks having good screen resolution. Kurio Tab 1024's 600 × 2 resolution is the same as the new Amazon Fire.
We have yet to see a tablet with better resolution in the kids segment.
Performance assessment
Beyond the performance, the Kurio Tab 2 features a 1,3GHz quad-core processor (MediaTek MTK8127), which is fast enough for apps available to kids so that it will always have a smooth transition without long waits.
The presence of a micro HDMI port means that you can connect your tablet to a television to view photos and, for example, play multiplayer games on a larger screen (for older children).
Software
The software is just as important as the hardware on a kids tablet. I would say it is probably even more important than hardware.
It comes with some pre-installed apps like some you can set in the child profile of the settings tab, so it's ready to start with hours of fun before you even have to think about installing new apps.
Completely geared to the things that children like, such as Telekids.
The tablet also has a Kidoz TV app that shows selected content from YouTube especially for children.
Likewise, another app called Kidoz Buzz also shows funny home videos of animals doing funny things, as well as experts from movies or TV shows.
Furthermore, the Kurio Tab 2 gives parents full access to the Android Lollipop operating system, unlike many such tablets available for children.
Google Apps are of course also available such as in the Play Store, Gmail, YouTube, Google Maps, and photos.
For example, the Photo app is the only one authorized by default in every kid's profile and you can add the rest as you see fit.
Another important thing to note is that the Kurio Tab 2 uses Android profiles instead of its own.
This feature makes it easy to access and manage content, as your profiles are not tied to the tablet as is often the case.
This way you can move the profiles to a new tablet and keep the profile in one place if you have multiple tablets at home.
One advantage of this feature is that once the child grows up, you can extend him or her access to the full operating system eventually.
This way you do not have to buy a new tablet later when your child has outgrown this phase.
If you want to download an app in Kurio Tab 2 from Play Store, you will be asked to assign a category such as Ebooks, Games, Media etc.
You have to give each individual app a category so that it appears in the correct place on the profile in the management interface.
Here you can easily set the access of the child again.
In Kurio Tab 2 you can also set authorized hours between which your child can access the tablet and set a daily play time limit.
That is the number of hours that your child can play on the tablet.
Although several periods in one day cannot be set, you can set different times on different days, useful for weekdays and weekends, for example.
A warning is also displayed when the time of use is running out and the parents can add a few minutes by entering a set pin code to sometimes stretch it slightly for the child.
Kurio Tab 2 also allows a parent to limit how long the child can use the tablet continuously and how long they have to wait to use it again.
Along with time control, app management and profile settings, the parent also has access to the web panel in its Kurio Genius interface where you can also create web filtering and web lists to limit access to the internet without having to block completely.
Internet filtering system
With the Kurio Genius internet filter system you as a parent have control over the surfing behavior of your child.
The system contains a database of more than 450 million websites, which are filtered and updated daily.
The Kurio Genius app contains standard filter profiles that are adapted to the age of the child.
As a parent, you also have the option of adding filters or blocking certain websites.
Specifications
Dimensions: 240 x 170 x 60 mm.
Weight: 581 g.
Warranty: 1 years.
Operating System: Android 5.0 (Lollipop).
Internal storage: 8GB.
Processor: 1,3 GHz quad-core processor (Mediatek MTK8127).
Camera: Front [2.1 MP], and read [0.3 MP].
Wi-Fi (802.11b/g/n).
Bluetooth 4.0.
Google play on Android
5mm headphone jack, microUSB port, microSD slot (up to 32GB).
Protection and warranty
The Kurio Tab 2 is equipped with the right software to create a safe play environment for children.
Young users have also been taken into account in the design of the device.
The tablets are equipped with a rubber bumper and are also splash-proof.
The protective edge, in the color blue or pink, ensures that the device can take a beating.
However, for extra protection, it is smart to provide the tablet with a protective cover or bag.
Although there is a two-year manufacturer's warranty on the Kurio Tab 2, damage to the screen is not covered by this warranty.
The Kurio tablet sleeve is a soft protective cover made of neoprene. The universal cover from Kurio is available in 3 different colors.
It gives the tablet that little bit of extra protection against scratch and impact damage.
However, do you often take the tablet with you somewhere? Then the blue or pink Kurio protective bag is the best option.
These bags are sturdy and have a handle which makes the tablet easy to carry for the little ones. In addition, the protective bag can serve as a standard.
The Kurio Tab 2 can be placed upright in the bag, leaving the child's hands free.
Conclusion of this Kurio Tab 2 Telekids review
In summary, we can say that children are coming into contact with the digital world at an increasingly younger age.
It therefore seems the most normal thing in the world to place a baby or toddler behind a tablet.
However, these developments make it difficult to monitor children's screen use.
Fortunately, there are devices that actually stimulate a safe playing environment. Apart from the camera and the resolution, everything else is just great.
The Kurio Tab 2 is a tablet that particularly stands out for its child-friendly software.
Besides the fact that the device is equipped with numerous educational apps, the Kurio Genius Parent application ensures that you as a parent are in complete control.
It gives full access for parents to set up the operating system and allows downloading apps from the Play Store, which are not available in many kids' tablets.
On this tablet you can easily set the maximum playing time, unsafe websites are automatically blocked and a suitable child profile can be created for each child.
This way, as a parent, you can introduce the child to the digital world without any worries.
It also allows the child to grow with functionalities and he is powerful enough to have to buy a new one for each phase.
So if you are looking for something worth your money, the Kurio Tab 2 is the right choice if you are considering a kids tablet with a full Android system and access to the google play apps and features.
Frequently asked questions about the Kurio
Does the Kurio have a motion sensor?
Yes, it has a built-in 3D G sensor
Can you open Office files (such as, Word and Excel) on the Kurio?
By default there is no program to open the office files, but if you search for office suite for Android, there are free viewers to install office documents.
Can I expand Kurio's memory / storage capacity?
Yes, you can expand the memory up to 32 Gb with a Micro SD card.
Can I set up more than one user profile?
Yes, you can set up to eight profiles on your Kurio tablet.
Which processor does Kurio have?
The processor of this tablet is Allwinner Cortex A8 1.2GHz
What kind of touchscreen does the Kurio tablet have?
Kurio has a Capacitive touch screen.
Can you charge your Kurio Tablet via the USB port?
To charge the Kurio Tablet, or to load files via the PC, you can use the USB cable.
You can also disable the option to transfer files within the Parental Zone.
Does the Kurio Tablet have an HDMI connection?
Yes, the Kurio has a Mini HDMI port.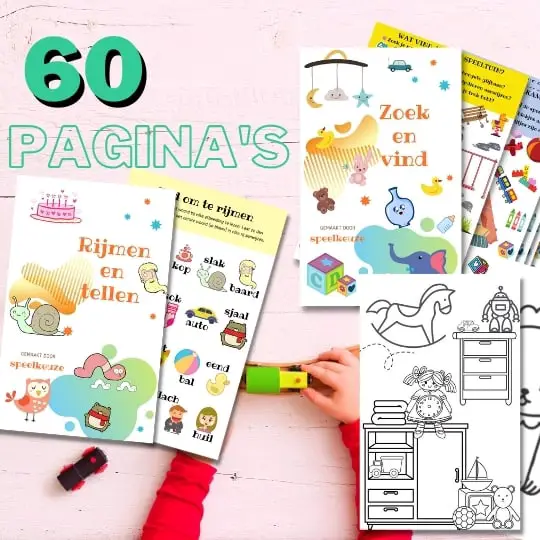 Always something to do for the holidays or rainy day?
Play Choice now has the ultimate activity book collection, with over 60 pages of fun coloring pages and educational puzzles.
Joost Nusselder, the founder of Speelkeuze.nl is a content marketer, father and loves trying out new toys. As a child he came into contact with everything related to games when his mother started the Tinnen Soldaat in Ede. Now he and his team create helpful blog articles to help loyal readers with fun play ideas.