I enjoy writing these articles for my readers, you guys. I don't accept payment for writing reviews, my opinion on products is my own, but if you find my recommendations helpful and you end up buying something through one of the links I may be able to receive a commission on that.
More information
I would like to read but….
I don't have time to read books.
I've said those words many times, especially since I became a mother.
Gone are the days of lounging for hours with an engaging novel, inspirational biography or transformational self-help book.
During my childhood and teenage years I devoured one book after another.
I traded favorite books with friends, spent hours in the library, and saved my money for trips to the American bookstore in Amsterdam, which had almost everything.
I've always loved reading, but because my life is full of beautiful things like family and work, I find my time to read very limited.
As my son was born and decided to use his first year of life to bless me with severe sleep deprivation, my attention to reading seemed to shrink from entire books to entire magazine articles and I lost the energy to read.
Today, I am happy to report that my toddler loves to sleep and will even sleep in if I let him.
At the beginning of this year, I returned to work full time for the first time since my son was born. Quite a transition!
Now I try to balance my time between work, family, blogging, shopping and trying to maintain a decent living environment while avoiding insanity.
No small challenge.
Hello books, I missed you!
I have less time than ever, but last year I rediscovered books. Oh what did I miss reading!
My mind expands, my imagination fires, my negative thinking patterns are challenged.
Every good book I read makes me grow in one way or another.
When I started reading books again last summer, I couldn't believe I'd let myself go for so long without reading whole books.
For several years now I have read only two books a year, but in six months I have read more than a dozen books.
That might not sound like much to an avid reader, but to this busy working mom, it's a lot!
How do busy women find time to read books? I do this as follows:
Audiobooks
Don't hate me for sharing this tip, and before noting that "audiobooks are not the same as real books!" let me stop you ... it changed my life.
I commute almost an hour a day during my work week. I spend no less than 10 hours a week in my car.
At first I saw audiobooks as a way to make sure all this time wasn't a total waste, but once I started listening I was totally hooked.
I was practically giddy with the excitement to learn new things and get inspired and I fell in love with books again because of audiobooks.
For me it is more important to get the information in my head than to wait for actual printed books.
When I have time but can't read a book, I "read" an audiobook.
What time do you have time to listen to books? Why not listen during mindless tasks like folding laundry or doing the dishes.
Try to take a long walk while listening to a book. You can fill your mind during car rides.
And my number one tip: listen to a book while I find the time to exercise and lose some of those pounds.
I love Storytel for my audiobooks. With the app on my phone, I can easily listen at any time.
I strongly prefer books recorded by the author himself. I recently listened to a message that was read by a professional storyteller and I really thought it was a lot less.
Authors record your own books, if possible. It means more to the reader, it's more personal and just feels a lot more authentic.
Fortunately, there is plenty of choice on Storytel!
BJEB (bring your own book)
When I tried to read a book, I took it everywhere.
That book came in my bag so I could read during my son's 45 minute dance class, or while I waited to pick him up from the swim club, or during the lunch hour, any quiet moment to read I knew I had my book with me had.
With an audiobook I have that everywhere with me anyway, and I can immediately start a new one when I have "finished" one.
It's a great service that changed my life and gave me more time for myself, and the great thing is that you can try it for free for 14 days:
Education audiobooks
The great thing is that you can even improve your parenting skills, for example with these audiobooks:
(view more books on parenting)
Also nice to read with Storytel
What does your ideal story time with children look like? Do you remember how it used to be for us as children?
Our grandmothers would always sit and tell a story in all its glory with different voices, modulation and we would listen in awe for hours.
Besides that Storytel has audiobooks, they also have a ton of ebooks that you can read aloud so that you have an endless inexhaustible source of new story material (view the offer here).
Yet the audiobooks are also a very good addition to your child's learning and imagination.
For example, I remember exactly what it was like to listen to the audio books of Suske en Wiske and the records of Bert and Ernie (on tape) in the car, and now you can do that again with audio books.
Back to the current scenario, and our kids are now watching a cartoon series or a movie before reading a book. Not the ideal route, don't you think?
We know as a parent that the best way to get your kids to enjoy reading is to expose them to a world of books.
And once they have chosen what they want, the idea is to bind them to the story through narration.
Learning, as we know, is of three types: auditory, kinesthetic, and visual, and auditory learning helps best. But how and why?
Audiobooks help work on your child's pronunciation and modulation, building their vocabulary.
Visual aids are great, but when kids are tuned in to listen to stories, their imaginations have no bounds.
Admit it, we all made a mental sketch of the great gentle giant or of Peter Pan long before we saw what they actually looked like, right ?!
As a huge fan of audiobooks, I can't recommend it enough to my kids to make them fall in love with books too!
If you are a parent, consider audiobooks for your kids. You will love it as much as they do!
Here is the app you should try as a family when you fall in love with audiobooks and ebooks.
About Storytel
Storytel is a streaming subscription service with the largest selection of audiobooks and ebooks and approximately 6000+ books for children!
Now you will never be short of good books for your family! Storytel is a world leader in audiobooks with a large presence in Europe.
What can I find here
From children to adults, there is a lot for everyone to read and listen to here, at Storytel.
With books in a variety of genres such as Classics, Fiction, History, Sci-Fi, Non-Fiction, Thrillers and many more, we hear that Storytel adds about 100 books to their collection every month.
Why does every parent find it helpful
As a parent, I liked the most about their wide variety of regional and international books for children.
Whether you're planning a trip with the kids or want them to relax and delve into a good story, their collection of audiobooks and ebooks caters to kids from toddlers to tweens.
From Roald Dahl to Champak, from Peppa Pig to Heidi, you get the best of children's books here.
You can adjust the audio speed to help children of different ages and also set a sleep timer, a feature common with most streaming services.
Hand over the phone or tablet to your children while driving? Here's the good news.
With Kids mode, where you can set a password, Storytel presents children's books under a filter that comes with a pin, and kids receive recommendations and a custom bookshelf based on their reads and nothing else random and age-appropriate .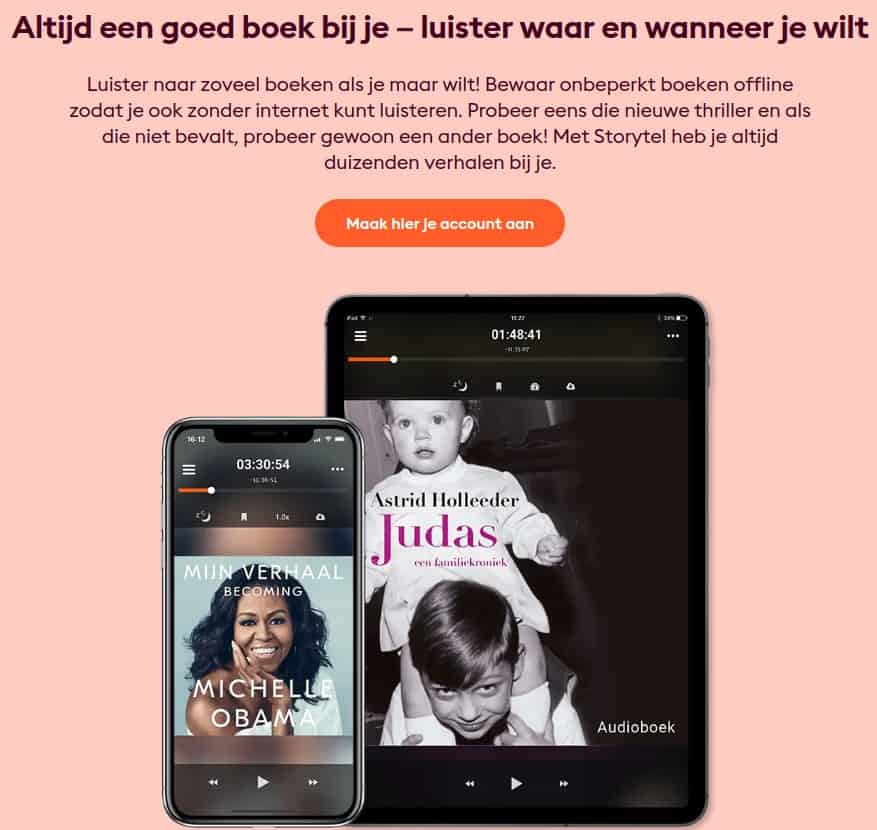 An account for multiple devices
What I liked about this app
It gives me the opportunity to read and listen wherever I want so that I can finally get to books again.
What I liked the most was the auto sync feature between audiobooks and ebooks.
Suppose you want to continue with a book you were listening to, the ebook version (if available for that title) opens in the exact line to help the reader proceed seamlessly.
Not just novels, they also have short stories, poems and other series for book addicts making this a preferred app on your phone or tablet.
The part I liked the most, they are available on iOS, Android and Windows.
So if you don't want your kids staring at your phone or tablet for long, just download it on your Windows desktop and they can read or listen to it for hours.
Are you afraid of air travel with children? Then get smart, download their favorite books in advance and listen to them seamlessly, even when your phone is in flight mode.
What's not to love about this app? Try the free trial now and see if you love it as much as I do:
Joost Nusselder, the founder of Speelkeuze.nl is a content marketer, father and loves trying out new toys. As a child, he came into contact with everything around games when his mother started the Tin Soldier in Ede. Since 2016, he and his team have been creating helpful blog articles to help loyal readers with fun play ideas.