Record the best toys with voice: 5 toys & 2 apps
I enjoy writing these articles for my readers, you guys. I don't accept payment for writing reviews, my opinion on products is my own, but if you find my recommendations helpful and you end up buying something through one of the links I may be able to receive a commission on that.
More information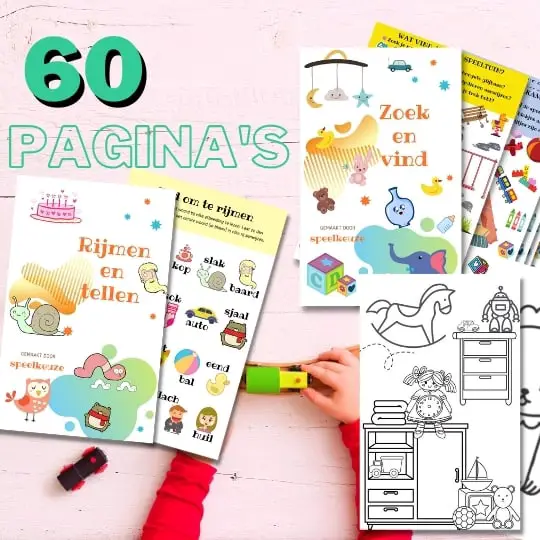 Always something to do for the holidays or rainy day?
Play Choice now has the ultimate activity book collection, with over 60 pages of fun coloring pages and educational puzzles.
How nice is it for a child to record his own voice and listen to it?
Nowadays you can find a diverse range of toys with voice recording function.
In this article, I'll take a look at some of the coolest toys that let you record and listen to your voice, and then some apps too.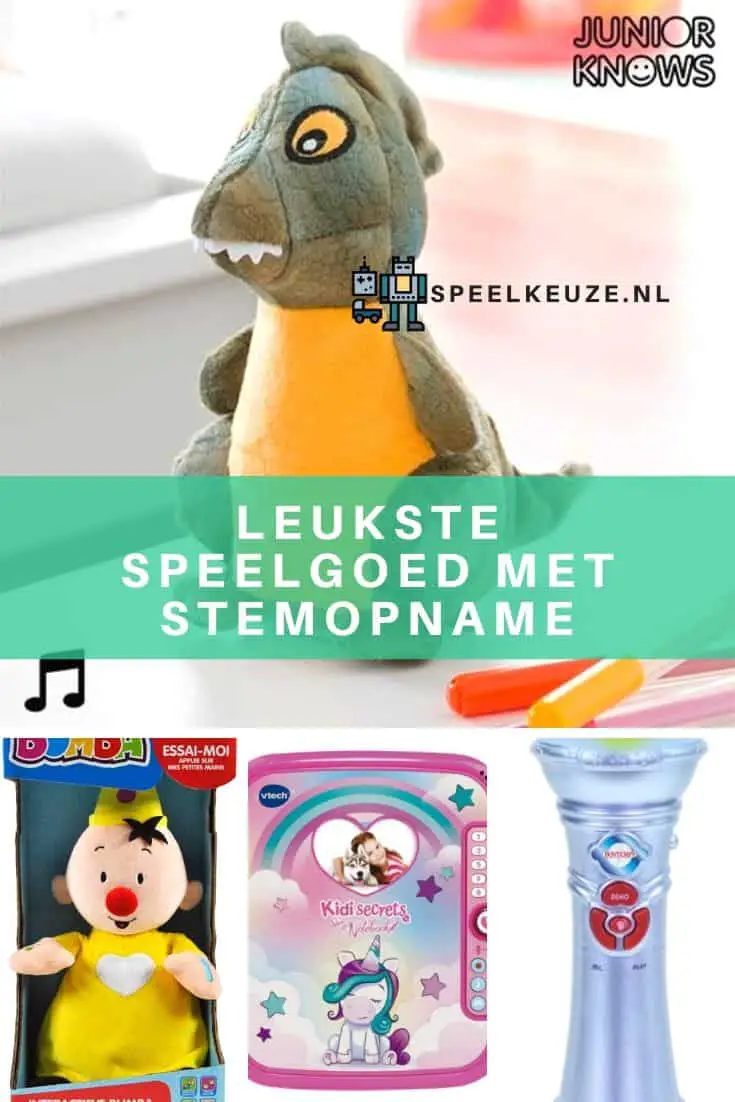 Children often love to sing songs through a microphone, record their own voice and then listen to it back.
In addition to microphones, there are also plush cuddly toys that are equipped with a voice recording function, so that mum or dad can, for example, record sweet messages and the child can therefore sleep peacefully.
The well-known toy brand Vtech has also released a diary with voice recording, in which all your secrets can be safely stored.
What are fun toys with which a child can record his voice?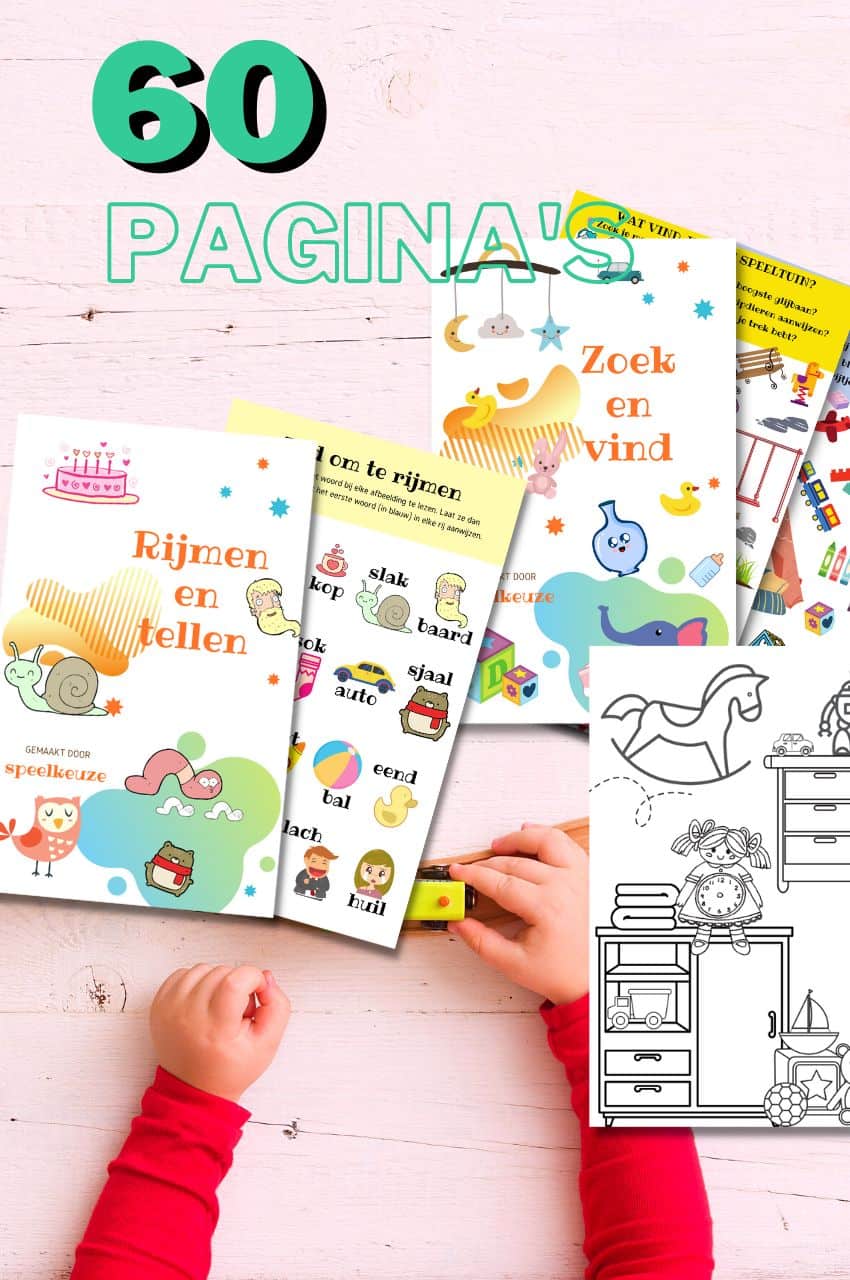 A play theme in your mailbox every month?
Fun play tips, activity books and more, with the first email being our free mini-guide "educational toys"
We will only use your email address for this newsletter and respect your privacy
What can children learn from voice recording toys?
Technical toys sometimes require a bit of research, which can be good for a child's development.
They can find out all the functions of the toy by experimenting with it.
By singing songs through a microphone, children learn the lyrics of these songs, which can be good for their vocabulary.
Singing and talking promote speech development.
In addition, children build up quite a bit of self-confidence when they jump and dance their favorite songs through the microphone, and then listen back.
Kids can put on a show for friends and family thanks to microphones and karaoke sets!
A child can also improve his sense of rhythm by means of music.
Furthermore, a microphone or other toys with which they can record their voice makes children curious.
During development it is important to continue to arouse a child's curiosity and to expose him to, among other things, technical toys.
Research has shown that technical learning early in development is often linked to success at a later age.
We will highlight below some popular products that allow a child to record their voice.
5 best toys with voice recording rated
Cutest cuddly toy with voice recording: Junior Knows Plush Dinosaur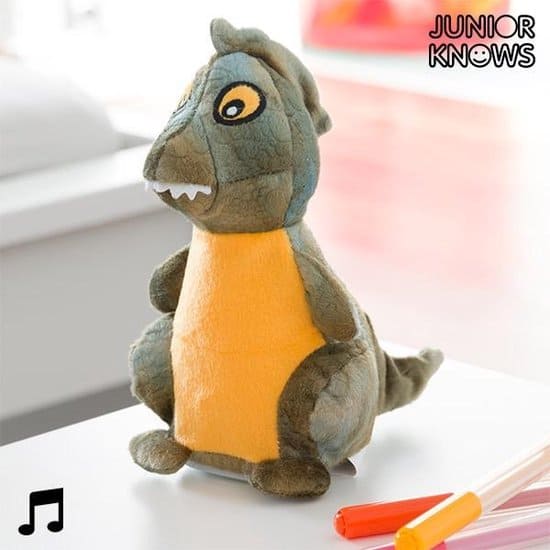 This beautiful, sweet dinosaur feels wonderfully soft! Will this be your new sleeping buddy?
The Plush Dinosaur (more prehistoric picks here) with Voice Recorder and Playback function has an on/off button, and has a voice recording plus playback function.
Let this Dino wish you good night, or let him sing a song with your voice! The Dino works on batteries (3 x AAA), which are included with the toy.
The recommended age for the toy is from three years old. Children love this dinosaur, it works well and has a nice size.
Best children's music: Studio 100 Bumba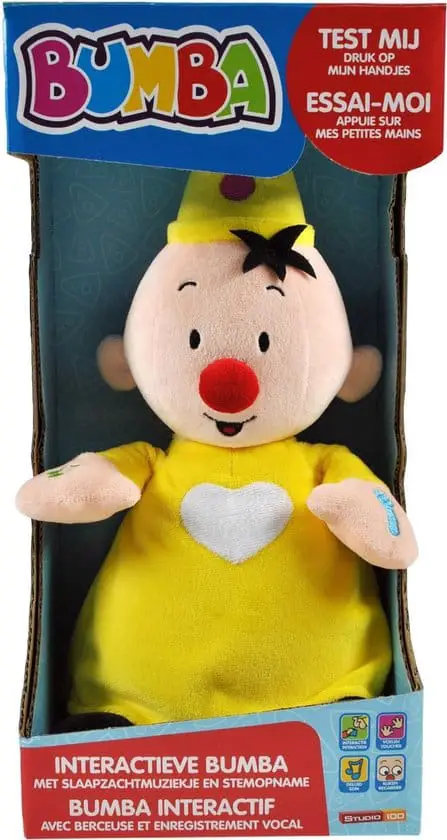 Is your little one a Bumba fan? Then he will probably get excited when he sees this Bumba with Voice Recording with Music Cuddle!
The Bumba has a red heart that gives off light and it plays a melody that is intended for bedtime.
This Bumba is your new favorite cuddly toy: cute and wonderfully soft.
Thanks to the voice recording function, you as a parent can record sweet messages yourself, which Bumba then transfers to your little one.
This way you can be sure that your little one will not feel alone at night and will have a quiet night ahead.
The luminous heart also offers a sense of security in the dark.
A child can play the music by pressing Bumba's hand and watch the luminous heart.
If you press the other hand, you can hear the recorded voice sounds.
Check the most current prices and availability here
Best microphone with voice recording: Vtech Kidi Superstar lightshow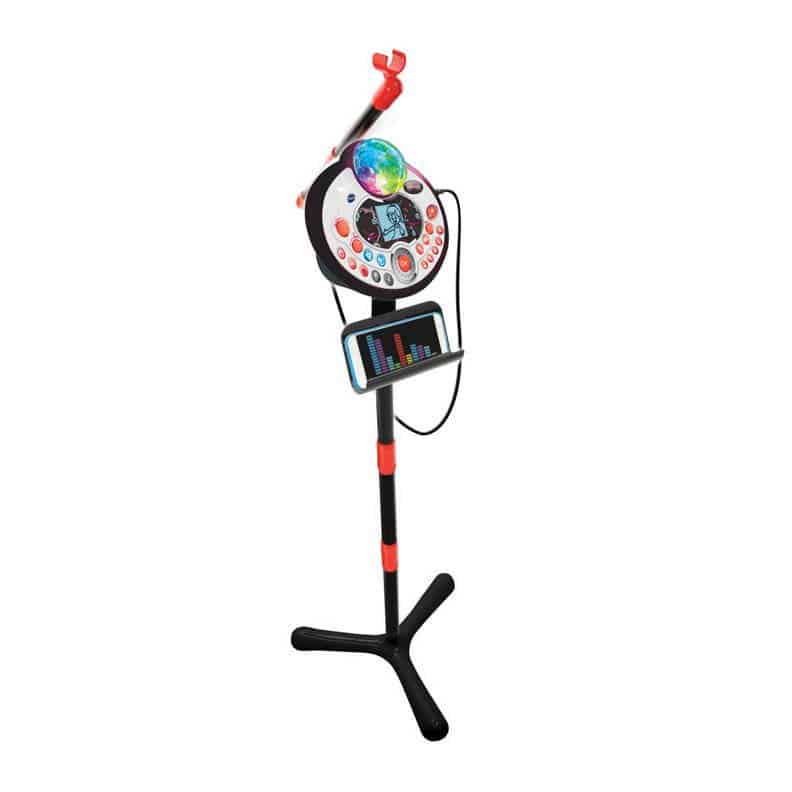 Do you have true superstars at home who like a little attention?
Then this Vtech Kidi Superstar lightshow complete microphone with adjustable stand is the ideal gift!
Thanks to this microphone, your child can sing along with eight built-in songs.
In addition, it is possible to connect an external music player to the microphone so that your kids can sing along to their favorite songs.
With the help of a magic button you can dim or even remove the voice of the original artist. Now you are the star and you can sing the song yourself!
You can record your own voice and distort it with four different effects.
The set even includes a rotating disco lamp, so that the show becomes an unforgettable experience time and time again and a real party atmosphere is created!
You can also play music games with this special set, among other things to improve your sense of rhythm and to practice your pronunciation.
This toy is not only great fun, it is also very educational. The karaoke set is suitable for slightly older children.
Check prices and availability here
Best Budget Karaoke Microphone: Bontempi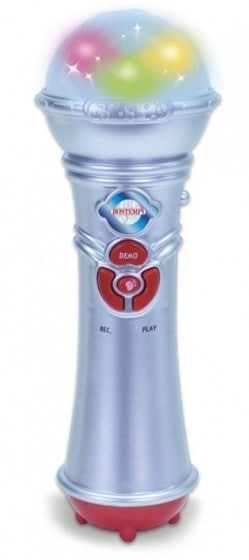 The karaoke microphone 21 cm silver (335148) is a nice microphone for children to start with.
The Bontempi microphone gives you the opportunity to show everyone how well you can sing.
The microphone contains four demo songs and has a recording and playback function.
The microphone also produces cool light effects that make any performance complete.
Take a deep bow after your performance and you will receive a standing ovation!
The microphone is silver in color and works on batteries (3x AAA). The batteries are not included. The microphone suitable for kids with an age from 3 years.
Best diary with voice recording: Vtech Kidisecrets notebook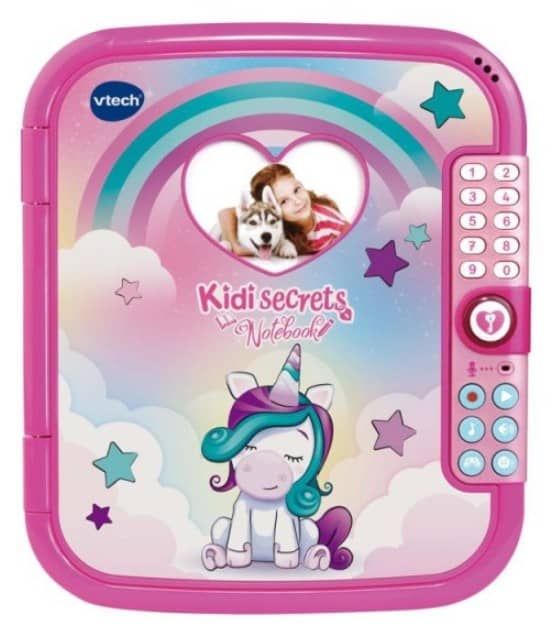 Did you know that there is even a diary that you can use to record your own voice?
This Secret Vtech diary with code and voice messages is the perfect diary where you can keep all your secrets!
The diary is secured with your personal, 4-digit code, so that really no one can read your notes.
With the diary you will receive a notebook with a marker, but you can also record and distort your voice!
You can also play a guessing game with this diary. The diary has a cute pink color.
View it here at the cave toy store
What apps are there for kids to record their voice?
Nowadays kids also play a lot of games on the computer. For example, there are apps that can be downloaded with which your child can record his voice and that do not require any equipment or toys.
Peek-a-boo Barn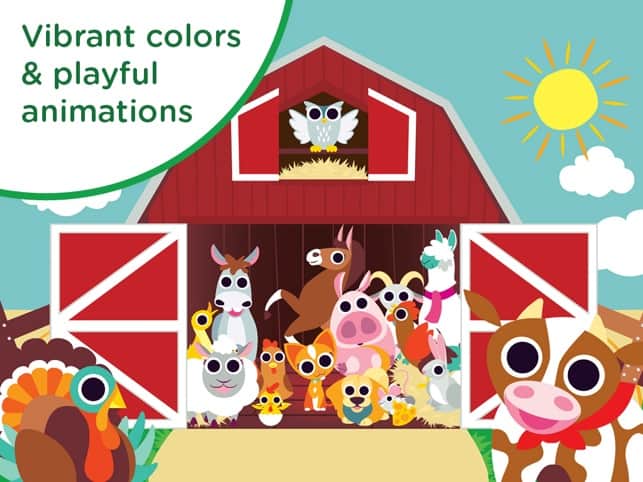 A good example of such an app is the Peek-a-boo Barn.
Sweet farm animals are waiting for you! If you tap on the doors, you can find out which animals they are.
Thanks to the app, your child will be able to learn the names of animals and the sounds they make.
Children will also learn what cause and effect are: by opening the doors they understand that they are seeing an animal.
Animals can also be guessed by sound. They are the perfect activities to develop reading and writing skills.
The app comes with built-in voice recording function.
This makes playing on the farm extra fun, because all friends or family members can record their voice and play the star in Peekaboo Barn.
So you can record the animal names with your own voice, or with the voice of your grandfather. You can save everything you have recorded.
The app can be set in different languages, and you can also choose between a child and adult voice.
Singing and recording karaoke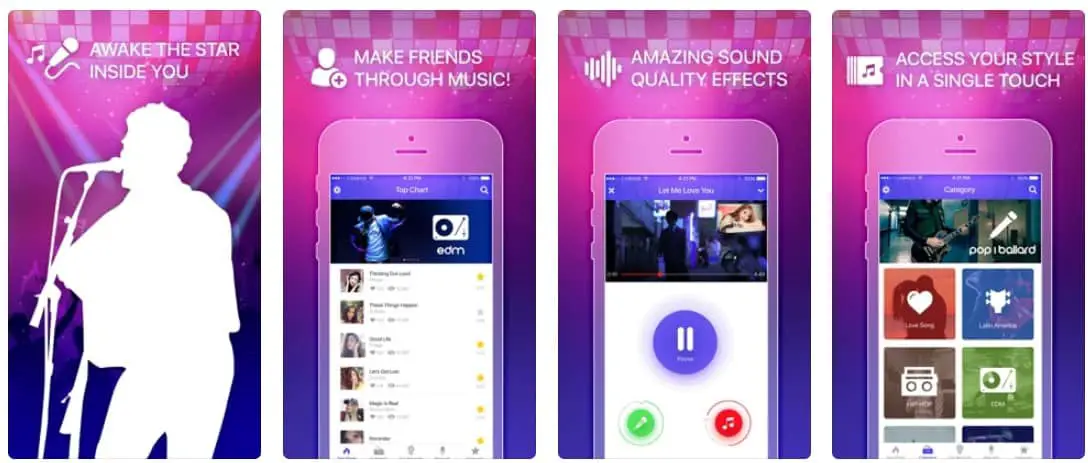 Then there is also an app, the "sing & record karaoke"App, which is totally awesome for kids (or adults!) Who love to sing and perform.
With the app you have the option to sing all your favorite songs, with the fun sound effects. And all without a microphone or karaoke set!
The app is very easy to install on any smartphone. This means that wherever you are and whenever you want, you can sing karaoke at any time!
You can also record your own voice, save it and then listen back. Thanks to the app you can easily upload your video or audio on Youtube.
You can even add video filters and vocal effects (adjust pitch, reverb, etc.) to give your movies a professional twist.
The app also makes it possible to sing karaoke karaoke with your friends or share your sung songs with them, and chat with other 'artists'.
The app is suitable for older children who can read and write and know how a smartphone works.
Music is nice to listen to, but it goes much further than that. You can create music and connect you with other people.
You can convey feelings or inspire others with music. This app is fantastic!
Conclusion
Toys with voice recording function not only provide a lot of fun.
It's also part of a child's development: playing with tech toys will give your child an edge.
It is very important that the toy catches the child's attention so that it does not have to be forced to play with it.
The child will explore for himself and a world will open up for him.
In the case of slightly older children, microphones or karaoke sets with recording function can give children the opportunity to test their voice, learn songs, develop a sense of rhythm, and boost their confidence.
If they like to be in front of an audience at a young age, it might mean a career in music later on!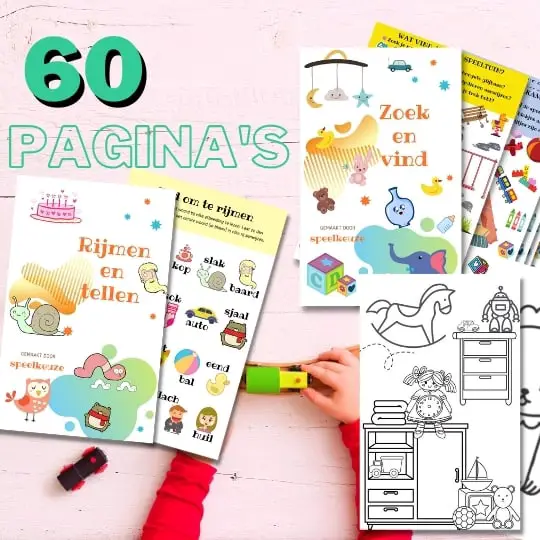 Always something to do for the holidays or rainy day?
Play Choice now has the ultimate activity book collection, with over 60 pages of fun coloring pages and educational puzzles.
Joost Nusselder, the founder of Speelkeuze.nl is a content marketer, father and loves trying out new toys. As a child he came into contact with everything related to games when his mother started the Tinnen Soldaat in Ede. Now he and his team create helpful blog articles to help loyal readers with fun play ideas.