A children's tablet on holiday | 5 benefits to consider
I enjoy writing these articles for my readers, you guys. I don't accept payment for writing reviews, my opinion on products is my own, but if you find my recommendations helpful and you end up buying something through one of the links I may be able to receive a commission on that.
More information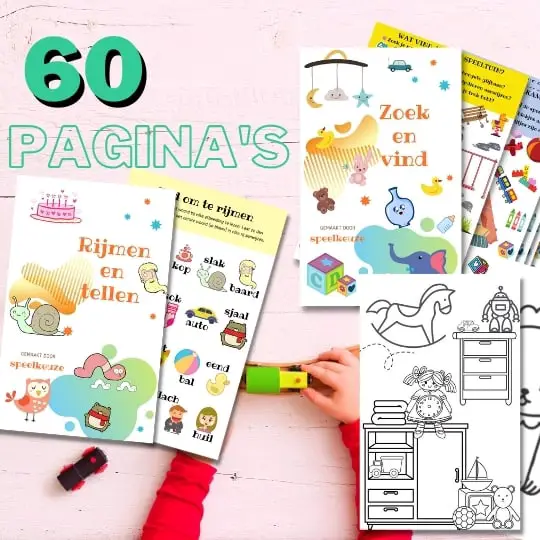 Always something to do for the holidays or rainy day?
Play Choice now has the ultimate activity book collection, with over 60 pages of fun coloring pages and educational puzzles.
It is undeniable that we live in a digital world as adults. Even during the holiday months, we often do not leave our screens alone.
But our children can often no longer ignore it.
Especially during holidays, tablets can offer a solution to, for example, make long journeys in the back seat of the car a lot more pleasant for both parent and child.
* After the 5 days it stops automatically and you can always unsubscribe
But the special children's tablets today are more than a simple sweetener.
This is evident from the fact that today's devices are equipped with many different functions.
You can read here which functions these are exactly and why it is wise to take a children's tablet with you on holiday.
We took the Kurio tab Connect with us on a trip, it was slightly more than our budget of 100 euros, but you can Read all about the best kids' tablets and our pick here.
Battery life is nice and long and we have two children so the function to be able to set profiles was essential on the road because in the car we could not continuously monitor what they were doing and our youngest is not allowed to do everything the oldest can do.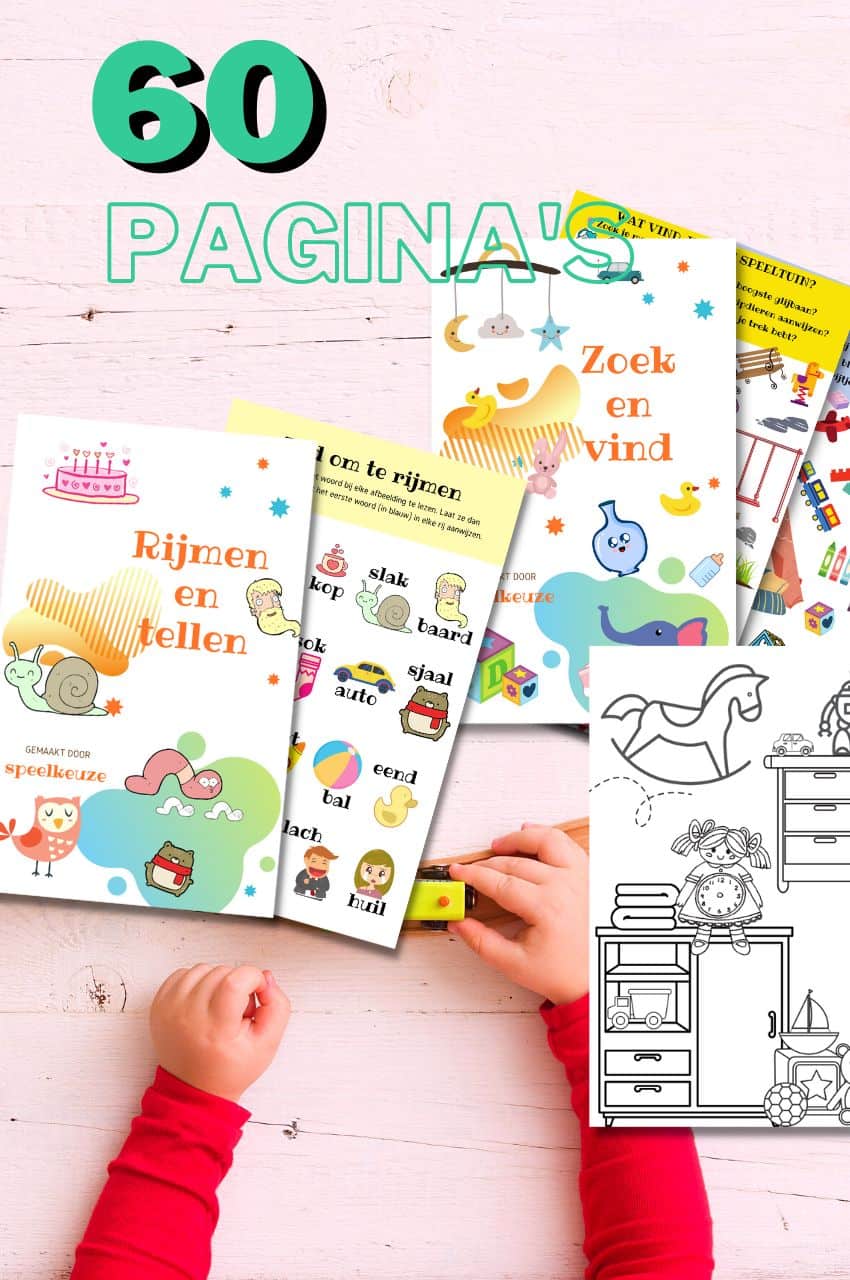 A play theme in your mailbox every month?
Fun play tips, activity books and more, with the first email being our free mini-guide "educational toys"
We will only use your email address for this newsletter and respect your privacy
Tablets for children
There are plenty of people who question the use of tablets by children. Is it healthy if toddlers are placed behind a screen at such a young age?
The media often comes up with negative reports about screen use.
Yet studies do not indicate that it actually has harmful consequences for young children to use a tablet every now and then.
On the contrary, the functions with which a child's tablet is equipped can actually stimulate the development of the child.
Of course it is important to control tablet use and to ensure that it is not at the expense of the child's well-being.
Also read: the best games for in the car
Children's tablet benefits
Children learn very quickly. Even toddlers can unlock a smartphone in seconds.
They also found the wrong videos on YouTube or games that are suitable for teenagers.
Fortunately, in addition to the regular tablets, there are also devices that are specifically aimed at young children.
The use of a children's tablet therefore offers many advantages. Both for the child and for the parents.
Control: An important advantage to the children's tablet is the control you as a parent have over the tablet use of the child. In addition to a time limit that you can set on many of these tablets, as a parent you also have a view of the apps and sites that are available for the toddler or preschooler. Even when you are not directly watching the screen, you are still in control. You as a parent can easily protect the sites or apps that are not suitable for the child.
Handy: A children's tablet is designed in such a way that the device can be used safely by any child. This means, among other things, that the tablets can take a beating. They are often a bit more compact, so that children can easily hold them. The light devices are also easy to take with you on the go. They also often have a sturdy, rubber edge and they are provided with fun colors.
Development: Tablets can play a role in the development of the child. Especially in young children, technology can help to express creativity. There are also many educational apps available for all ages. This way you can adapt the apps to the living environment of the child. While playing, the children can reach higher levels, which challenges them. As a result, they develop a sense of competence, which improves their self-confidence.
Versatility: Tablets are versatile devices that can do much more than just play videos. In addition to entertainment, the children's tablets offer numerous possibilities. For example, there are apps that can stimulate the child's communication skills. The device also provides a interactive way of learning. Educational games are automatically adapted to the level of the child. This can also improve performance at school. In addition, there are children's tablets that make it possible to play music and download e-books.
The choice for a holiday: Kurio Tab Connect
A children's tablet that certainly delivers the above benefits is the Kurio Tab Connect.
It is a handy device, with a sturdy cover in blue or pink. Both are available at Wehkamp.
The tablet particularly excels in the possibilities it offers parents to create a safe environment for the child.
When children come into contact with new media at a young age, control is very important.
With and under the guidance of a parent, they can safely become familiar with the digital world.
Functions of the Kurio Tab Connect
The tablet is already suitable for children from 3 years. Due to the extensive functions, the tablet can also offer older children sufficient challenge.
What features make the Kurio Tab Advance a good kid's tablet?
Parental supervision: The tablet is easy to use for both parents and children. With the Kurio Genius app you as a parent have full control over the tablet use of your child. This way you can set a time slot and determine exactly which apps can be used by your child. In addition, the tablet contains standard settings, which often already offer sufficient protection. These settings are adapted to the age of the child, which means that some websites and apps are automatically blocked.
Profiles: By setting different profiles, multiple children can use the same tablet. Each profile is adapted to the age and level of the child. A different time limit can then be set for each child. For example, a toddler can have a time limit of 30 minutes per day, while an 8-year-old child can play for an hour, for example
Game options: The device comes standard with a variety of games for children of different ages. Besides the fact that you can download various apps from the Google Play Store, the Kurio also contains apps that cannot be downloaded anywhere else. There are the Kurio Motion Games; games that react to the movement of the player that are registered via the webcam. The argument that the use of a screen by children ensures less movement does not apply in this case!
Read: The ability to download e-books on this tablet is a great advantage. Children nowadays read less and less, while this is important for their development. By putting children's books on the tablet, they can use the device to read books. As a parent, you can also read stories together with the child. You can also download audiobooks, where children can read along with the spoken text themselves. This has especially positive effects on children with reading difficulties or language deficiency.
Blue light filter: The addition of the blue light filter ensures that the light from the tablet is less harmful to the sleeping rhythm of the child. The blue light of many screens can really mess up the biorhythm later in the evening. Even when you give the child the tablet in the morning, this filter provides a more pleasant light for the eyes.
View the most current prices here at Wehkamp
Take a children's tablet on a trip
Whether you board the plane or the car, it can sometimes take a while to arrive at the holiday destination.
Children can often enjoy themselves for an hour, but boredom quickly sets in on long journeys.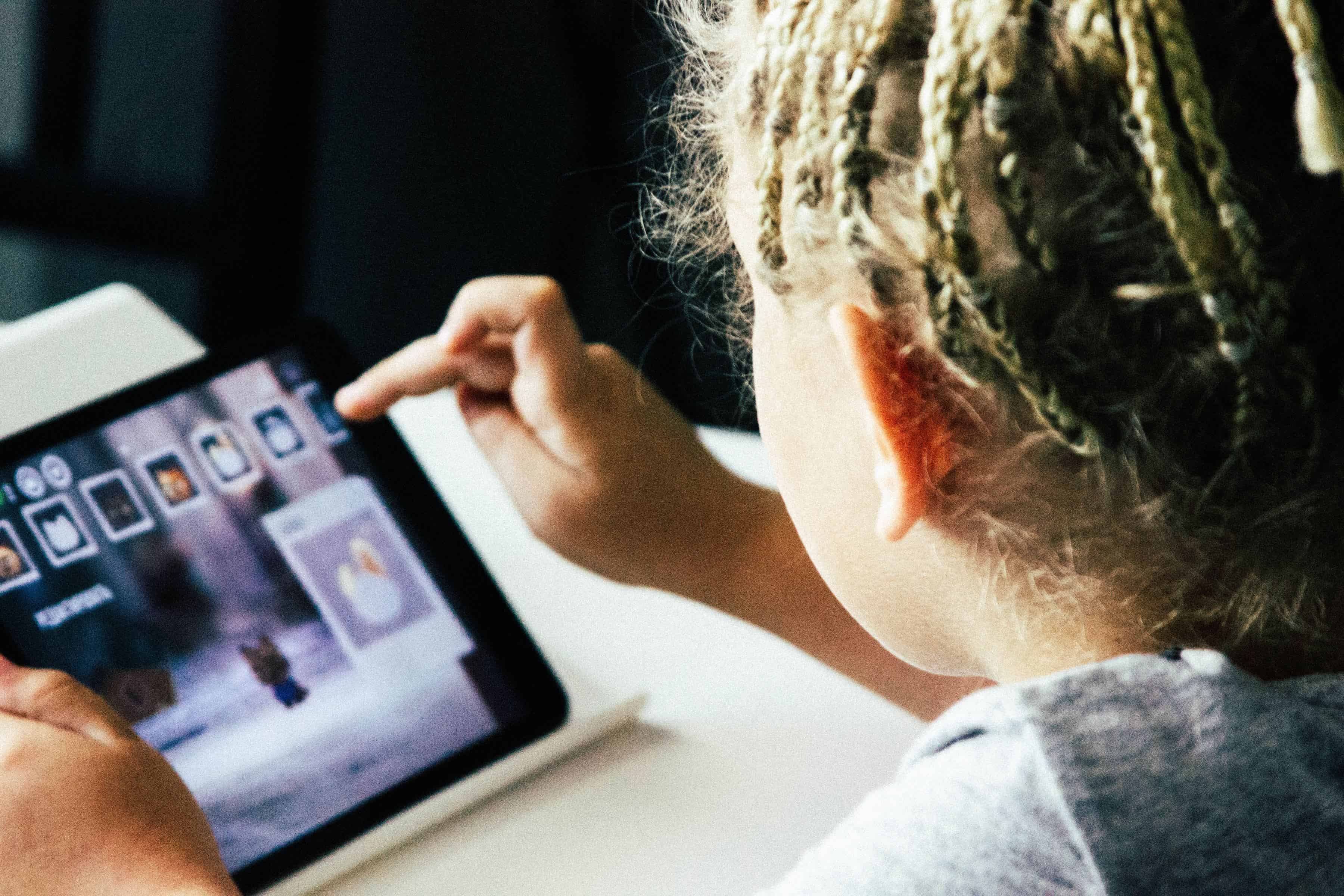 Nowadays you can choose to take the tablet in your hand and keep your child sweet for a longer time in this good way.
This does not only apply to the journey there.
Even when dining out, long lines at check-in or an afternoon at the pool, the device offers a solution against impatient or restless children.
The device is therefore often used when parents want to have their hands free.
As mentioned earlier, a children's tablet offers more than just entertainment.
Besides watching videos, books can be read or listened to and educational games can be played.
However, the use of these apps often depends on an internet connection.
Connecting to WiFi
Almost every hotel or campsite has a (free) Wi-Fi connection.
There are also free Wi-Fi hotspots, which are also offered abroad by some Dutch providers.
By connecting the tablet to the internet, all online apps are also accessible to the children.
The Kurio Tab Advance can easily be connected to the internet.
By tapping the Wi-Fi icon and entering the correct password, the tablet is suitable for online use.
It is also a compact device that is easy to take with you on a trip. A matching protective bag ensures that the tablet can take a beating.
Are you traveling by car or are you on a plane for hours? Then there is not always a working WiFi connection available.
However, the tablet can be used offline in this case, provided you install a number of things in advance.
Using the tablet offline
The Kurio Tab Advance works with an Android operating system. The device is equipped with as many as 60 apps as standard.
New apps are also easy to download from the Google Play Store.
However, the applications may only be available when the tablet is connected to the internet.
To be able to use the device during the trip, it is important to download apps that can be used offline.
In the Google Play Store, it is often stated with the apps whether an internet connection is required to use them.
For example, you can download games that can be played offline prior to the holiday.
The Kurio Tab Advance also offers the possibility to download e-books, which can also be read without an internet connection.
The fact that the device can also be used to read books demonstrates the versatility of the children's tablet.
SD card
When you download a lot of movies, music and books on the tablet, the memory will quickly fill up. Fortunately, you can expand the memory with an SD card.
Before the trip, you can put a number of children's films on this card or download the children's favorite playlist.
This will certainly keep them busy for a few hours, without the need for a WiFi connection.
Did you know that even Netflix has an offline mode? These offline films and series can also easily be placed on an SD card.
So before you go on vacation, make sure you download enough apps, games and movies, so that the tablet also provides sufficient entertainment on the plane or in the back seat.
Responsible tablet use
It is well known that children spend a lot of time per day looking at a screen.
There is still a lot of debate about the possible adverse effects of screen use by children.
Many parents therefore experience a feeling of guilt when they put their child behind the tablet.
Especially when they do this, to simply have a moment of rest themselves.
Rested and relaxed parents, however, are worth a lot.
In addition, it can be beneficial to teach children how to deal with technological developments at a young age.
Dealing with these modern devices ensures that they are well prepared for the constantly changing world.
In order to experience the positive effects of the children's tablet, it is important to monitor the child's behavior.
Young children in particular benefit from clear agreements and rules.
When they are aware of the rules regarding the use of these devices at a young age, they will also be able to keep their screen use in check later.
Nowadays there is an extensive range of tablets specifically aimed at children.
Children's tablets, such as the Kurio Tab Connect, respond to responsible tablet use, because you as a parent have control.
In addition to the importance of clear agreements, there are a number of other points on which you can stimulate healthy screen use.
Interaction: By watching the child while it plays on the tablet, you build a good relationship of trust. While playing you can ask questions or link the situations of the game to 'real' life. This stimulates them to learn and to look beyond just the screen in front of them. It can also have a positive influence on social and cognitive development in toddlers and preschoolers.
Reward: The tablet can be a means of rewarding good behavior. It earn extra screen time for example after cleaning up their toys, the child learns to be responsible.
Educational apps: There are plenty of games that are not only fun, but also very educational. A game with different levels challenges the child. This way children are encouraged to learn in a fun way.
Preview function: As a parent you naturally have an exemplary function for your child. Denying the child the tablet, while you yourself are on the smartphone all day, does not set the right example.
Long queues for the check-in desk at the airport or a 15-hour drive to the south of France; boredom can set in quickly.
Especially when traveling with younger children, it is important that they have plenty of fun on a long backseat ride.
A children's tablet can therefore be the perfect choice to give your children and yourself some rest.
It is the perfect 'babysitter' who ensures that young people learn to deal with new media in a safe way.
Can children just visit unsafe websites on a regular tablet, watch incorrect YouTube videos and read your mail?
With a tablet that is specifically aimed at young children, the unsuitable websites and apps are automatically filtered.
In addition, these devices offer sufficient offline functions, so that you are not always dependent on a WiFi connection.
The children can read books, play educational games or watch a movie on Netflix together.
The versatile device can also stimulate the child's creativity and communication skills.
With the right agreements and a clear time limit, you certainly do not have to feel guilty when you keep the children sweet.
With the right tablet, the chance that both you and the children will arrive at the holiday destination relaxed is a lot greater!
Also read: review of the best travel games for 2 people or more
* After the 5 days it stops automatically and you can always unsubscribe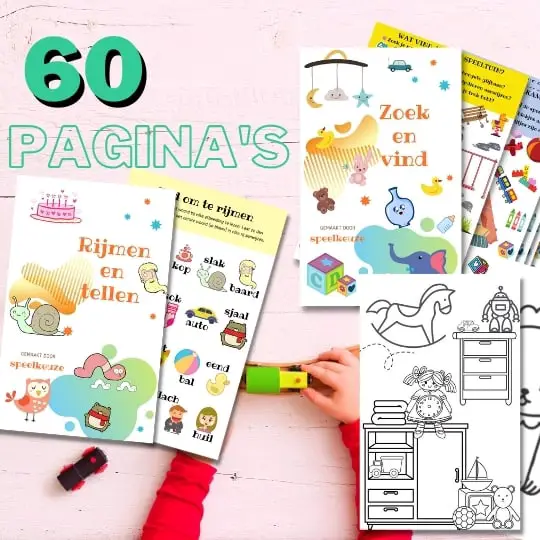 Always something to do for the holidays or rainy day?
Play Choice now has the ultimate activity book collection, with over 60 pages of fun coloring pages and educational puzzles.
Joost Nusselder, the founder of Speelkeuze.nl is a content marketer, father and loves trying out new toys. As a child he came into contact with everything related to games when his mother started the Tinnen Soldaat in Ede. Now he and his team create helpful blog articles to help loyal readers with fun play ideas.