Everything about the Donald Duck | Weekly, Junior, Pocket & games
I enjoy writing these articles for my readers, you guys. I don't accept payment for writing reviews, my opinion on products is my own, but if you find my recommendations helpful and you end up buying something through one of the links I may be able to receive a commission on that.
More information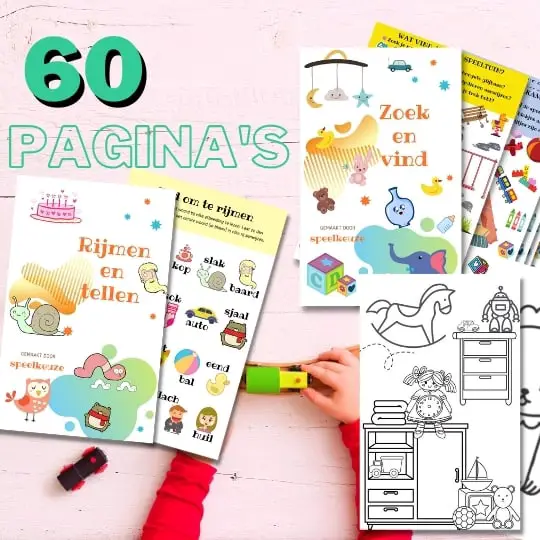 Always something to do for the holidays or rainy day?
Play Choice now has the ultimate activity book collection, with over 60 pages of fun coloring pages and educational puzzles.
Nice to receive and nice to give. But above all it is very nice to read, also for yourself.
I am now 39 myself and I am not ashamed to say that I still enjoy taking a can in it myself, even though I bought the Donald Duck subscription to the weekly magazine "officially" for my son :)
I have found a good site where you can take out a cheap subscription to the duckstad weekly.
You will receive a copy every week and you can cancel it whenever you want.
You can easily choose a number of numbers in advance, which you then pay for, it expires automatically so you are not tied to it and after that you can always decide whether you want to order again.
You will then be reminded that the period is almost over. You can order one at readmap.nl.
Of course there are a few other options for following Donald, I'll cover all of them in this article.
The options at a glance are: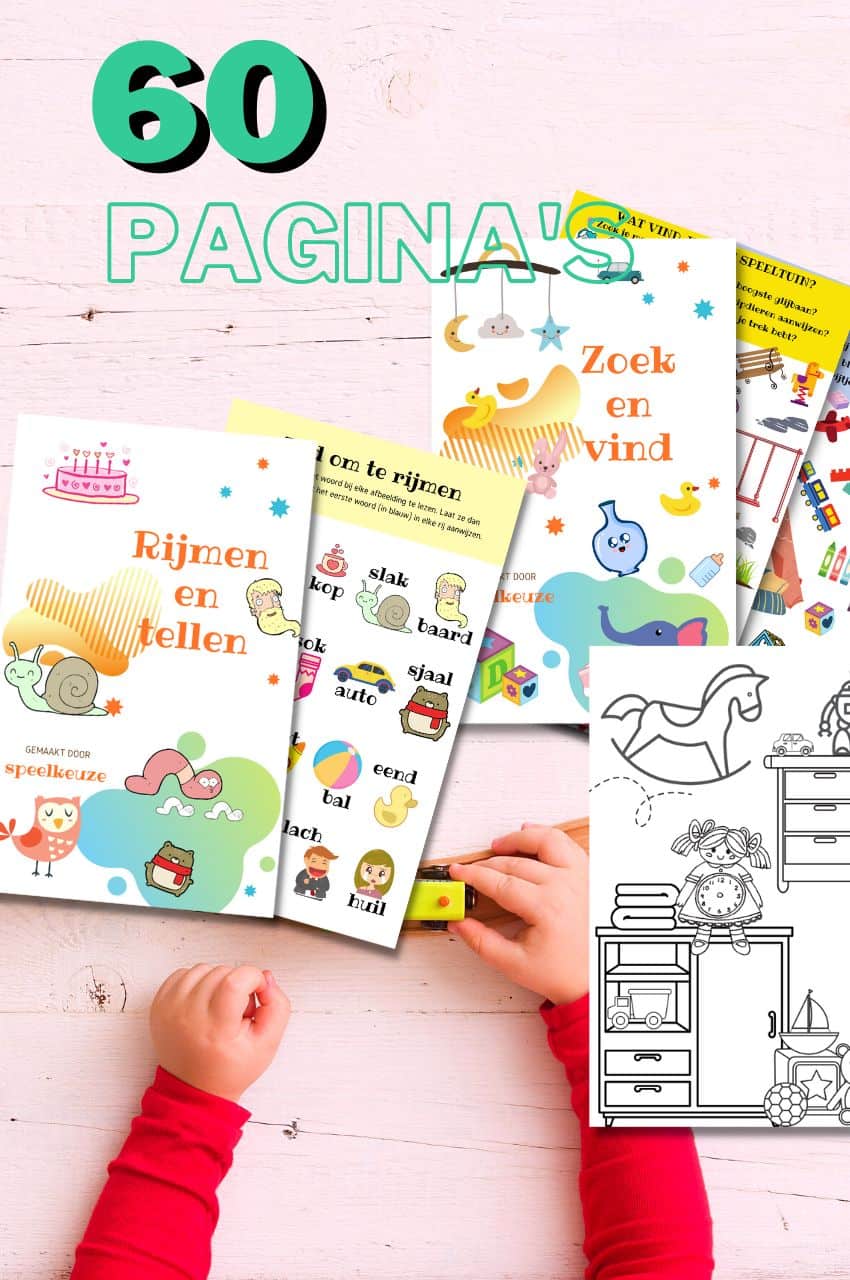 From toddler to toddler activity book collection
Educational games and coloring pages for 3 to 6 years
Your toddler and preschooler will love this e-book, along with the accompanying printables. He or she can play with it at every stage of development, together with mom and dad.
Buy at Bol.com
Reviews of the Donald Duck weekly magazine subscription
We also found some nice reviews from really enthusiastic people using it and reading it. See the reviews from real customers below:
Just like myself, I immediately see some like-minded people. I think a lot of people taking it now come from our generation.
We've all read it ourselves before, and maybe a few of those magazines are still lying around.
The kids got hold of them and liked it and now they want one every week, recognizable?
Donald Duck magazine, the happiest weekly in the Netherlands for years!
I used to like it best on vacation. My mother often bought a subscription to the weekly and then saved them up.
We took them then in the car to have something to do, often also together with the pockets of Disney. I only now know that we actually had them for weeks and they were being held back.
Otherwise I would of course have read them much earlier, but in the end it was much more fun. A nice holiday feeling with a "duckje".
And Donald himself often traveled in the books.
A rich history of duckstad stories
It is not surprising that we are now also hitching a ride with the success of the duck city. The weekly magazines have been around for more than 60 years.
The figures were already known before, the success had not started with the magazines. Walt Disney had first created the characters for the cinema.
At the time, many people went to theaters for all kinds of movies, including short ones.
What you used to see in the theater is now more likely to be seen on TV. And Donald and his friends are still doing very well on the TV.
The first time in print, however, was in the newspapers where he, interspersed with Mickey Mouse, appeared in short stories of a line.
That was later expanded into a real weekly! In 1952 the first version of the magazine was published in the Netherlands in black and white.
It had been four years earlier that such a magazine had come onto the market in Scandinavia, and the publisher of the Margriet (yes, it already existed at the time) came up with the idea to simulate the success in the Netherlands.
Even their own stories were drawn in the Netherlands and the front of the ducks was made entirely in Dutch style, with for example Dutch houses and even a Sinterklaas.
There were also a number of stories very popular in the Netherlands that quickly lost their popularity in America. So it was with Hiawatha and with the Big Bad Wolf and the Little Pigs.
In America they had quickly lost their shine and just continued with us.
Another fun fact: in the 70s our version of the duckstad newspaper was voted the best in the world.
Just like with Bert and Ernie, where we also have the best voices and stories at the top, it is the same with the Donal Duck weekly.
Lots of own stories and also lots of reissues and adapted pieces by the original writer Carl Barks.
That is something to be proud of. You can even see our self-made stories all over the world in the various weekly magazines of those countries.
You can also recognize in which country a story was made. You can see this from the code written in the first picture of the story. If the code starts with "H", then that story is made in the Netherlands.
A code starting with a "D" originated in Denmark and stories from the United States usually have a code starting with "US" or "WDC"
Unique stories by Douwe Dabbert and Olivier B. Bommel cannot be found in other countries. These are truly unique by Dutch writers and illustrators such as Marten Toonder and Thom Roep.
That also explains the diversity of stories that are still being released for it. Partly reinterpretations of old American and Danish stories and also largely original Dutch additions.
Now you also know how it is possible that so many real Dutch figures pass in review in the storylines, and why they are always so topical. These are clearly the stories of our own authors and drafters.
This way you can unmistakably recognize them, even if you missed the code at the start because you were just enjoying reading.
Donald Duck magazine, the happiest weekly in the Netherlands for years!
Donald Duck Junior Weekly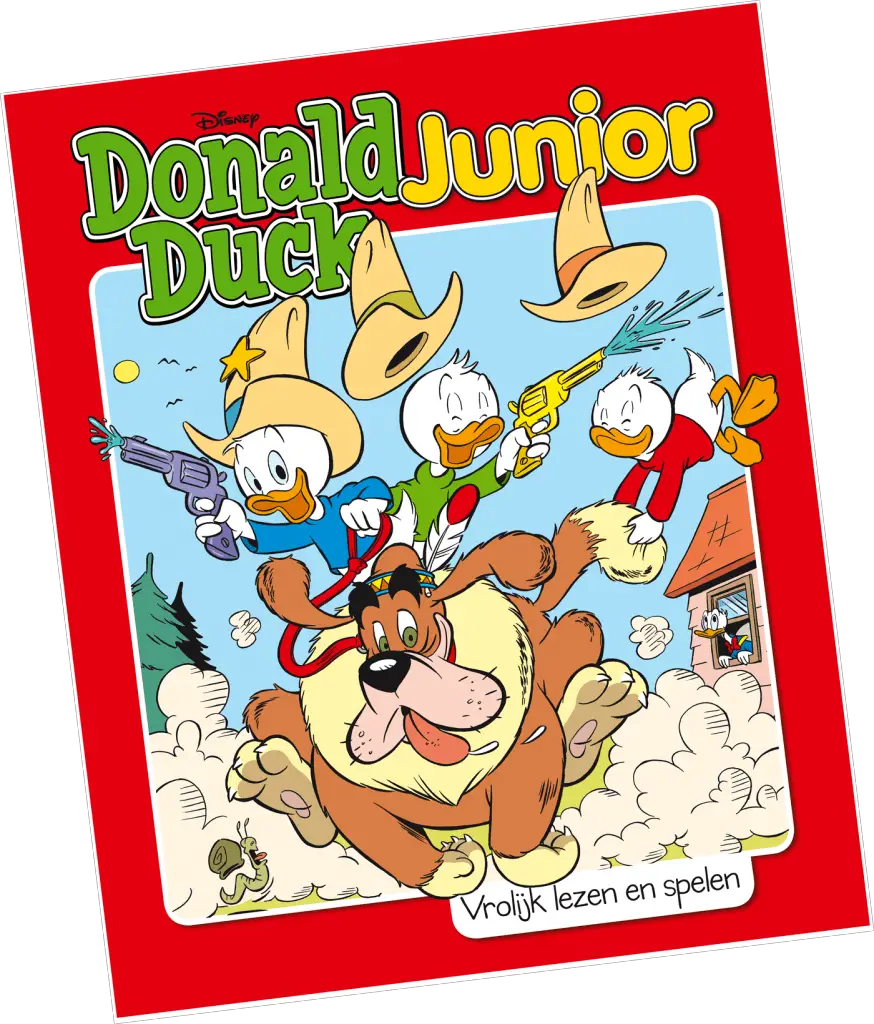 The Donald Duck Junior weekly is especially for the even smaller among us, who have yet to learn their first steps in reading.
For example, you can help by reading aloud, but they will be able to read more quickly because of the specific content than with the regular duckstad weekly.
Subscription to the Donald Duck Junior repeats
A subscription to the Donald Duck Junior is different from its big brother. This weekly repeats itself over and over again and is published over and over again.
It is a pre-made set of 52 songs that, after your child has read them all, are ready. Your child can then switch to the regular weekly.
New ones come out every time, so you can switch at any time. So it is a kind of stepping stone to the real magazine.
The nice thing is that your child gets all the basics of duckstad because it is a fixed series with sheets.
This way he or she will also get to know all the characters immediately and it is nice that they are recognized in the later editions when they are ready for it.
It is suitable for children from 5 years old. Then they can learn to read for two years and then after they have completed the Junior series switch to the Donald Duck weekly as a 7-year-old.
Just like the original, there are many comics in which the level is tailored to the 5 year old fan. Furthermore, there are also many games that are fun to perform for a child.
The Junior is actually not really a weekly as it is published once every two weeks.
That means 26 editions per year for a total of 52 editions for two years. You can of course also just take a shorter subscription or give it as a gift.
And possibly then decide whether you want to continue with it.
The Junior is easier and with larger letters
Part of this separately released youth magazine for the smaller readers are the larger letters and clear pages so that your son or daughter can easily follow the pattern and participate.
The level of language use is also completely tailored to these young readers and readers.
Furthermore, time in duckstad has of course not stood still, so you also digitally on your ipad follow the adventures, and even link directly to fun extras such as online games and more content about Donald and his fellow townspeople and even his social media channels.
Precisely suitable for children when starting grade three I would say.
They can already read a lot, and with some puzzles they might need a little more explanation to get started, but if you are a little loose with it, that shouldn't be a problem.
Or they skip one for a while until you have time to watch (this is also fun to do if you still know Donald Duck from the past, a bit of nostalgia).
You can pick it up in most magazine stores if you want to test one out.
But you can also already take small subscriptions of 3 issues to give it a try if you are not sure yet and whether it is something for your child.
Then you can make further decisions. You can also choose to save more per number when you take out multiple numbers at once as a Junior subscription.
The Junior is easily read by the smaller members of the family, but in the end adolescent children often enjoy flipping through it too.
The puzzles and games may be less because they are really aimed at smaller children, but the stories are easier to write, but still very fun and entertaining.
Of course I would not buy it if you only have older children, then you better take the weekly, but if you have a mix with an older child, then he can also handle the stories in it.
You can start with it in group 3 with AVI read level 2 (1, instruction level 2 is also possible) and progress to group 4 to AVI level 3 and instruction 4.
I have even heard many success stories with children with a reading disadvantage in group 4 that you still get to read in the hope for a step to a more difficult level and to books.
I also read on the internet on blogs a number of people with dyslexic children. They often don't like reading at all because it takes too much effort.
But the clear pages and large fonts give the Donald Duck Junior more peace of mind and they enjoy reading through it.
Donald DuckPocket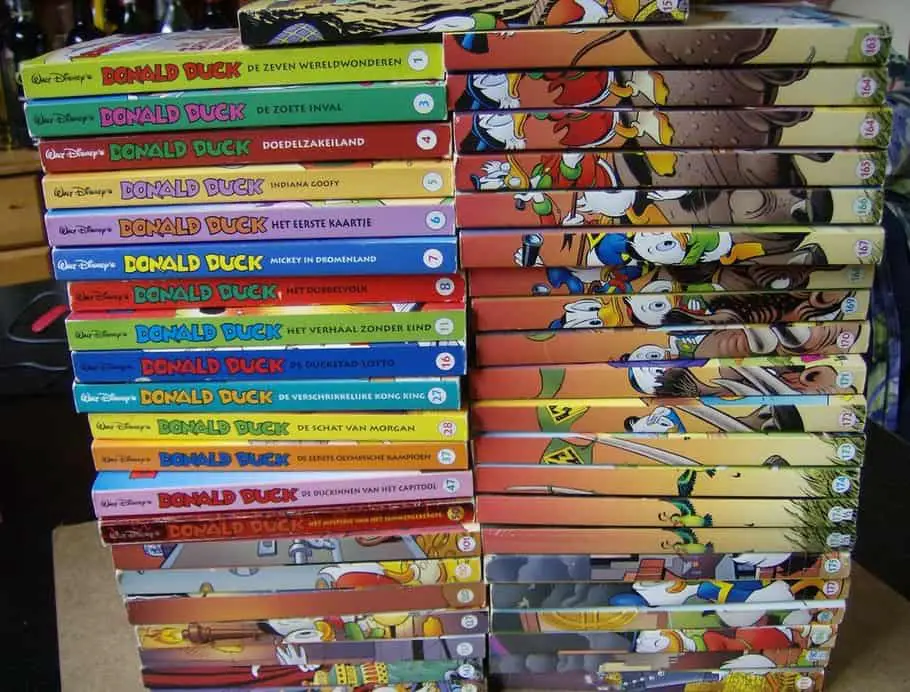 Because there are so many fans of the Donald Duck Pocket, we have dedicated a separate section to it here. A lot has been added in the meantime and the first are really sought after by collectors.
But if you just enjoy reading them, you can of course just buy a bunch in the store.
At bol.com for example, they have quite a number and you also have the second-hand market online for the somewhat older ones.
But you can also register for a subscription to receive the newer pockets, view the offer here.
Perhaps what makes them even more fun for collectors is the cover. The cover of the book is in line with its predecessor in order to create an image in the entire series.
That looks nice in the cupboard and is also the reason why collectors want the entire list complete.
Which Donald Duck Pockets are there?
You can divide the pocket editions of Donald Duck into three series. The oldest series dates back to 1970 and can therefore be quite rare and collectible.
I will first start with the most recent books in series three, as you will still see and buy them regularly.
Donald Duck pockets list
Series three started in 1992 and actually continues until now.
This series also contains the most books, perhaps you already know quite a few that you have seen somewhere over the years (at the dentist or hairdresser, for example while you wait), or maybe you have had them yourself :
The Seven Wonders of the World
Fight in space
The sweet idea
Bagpipe Island
Indiana Goofy
The first ticket
Mickey in dreamland
The double people
Looking for the fire
The impossible journey
The never ending story
The wild city
The reverse time
Secret Agent 006½
The flying scooter
The Duckburg Lotto
Love sickness
The dragon's treasure
The stone crown
The mountain sirens
Hero without money
Christmas in Duckburg
The tinderbox
Swindling boars
Wild west, at home
Under the giant's spell
The terrible Kong King
Morgan's treasure
Courier of the Tsar
The minstrel from Sheep Island
A white Christmas
The lost world
Dinosaurs adrift
The gold of the two beaks
The toddler billionaire
The melting money
The first Olympic champion
The maelstrom of time
Balloon ride with obstacles
The true Christmas spirit
An unforgivable celebration
The sewers are haunted
The magic duel
The uninhabitable island
The ghost of Fantomius
The simulating simulator
The Duckins of the Capitol
The unmasked Santa Claus
The icy battle
The Mystery of the Jammer Mountains
The magic mask
A criminal powerhouse
The waking sleepyhead
It's a matter of luck
A shadowy surprise
The crazy Christmas present
A frozen hothead
The lost luck double
The Law of the Windigo
SOS for Duckburg
Father for a day
The terror of the desert
The chunky pilot
Santa against will and thanks
The Millennium Madness
Travel in space
The helpless court painter
Noise about a necklace
The Sgorrie Morries are coming
On the way to Euro 2000
Donald is going for gold
One night in the haunted house
A super Christmas
Stars, gangsters and jewels
The hypnosis mask
The mysterious disappearance
The Secret of Shangri-la
Frenzy in Duckburg
A dime on its side
Trammelant in fairy land
Mail for Santa
The monster of the forest
The terrible tidal wave
Danger from space
Gold does not buy happiness
The mascot
Scoundrels, rogues & rascals
Chunkers in the air!
Donald and the zebra mussel
Santa's Secret
The lost fortune
The curse of the black lagoon
The giant rats of Hamelin
The black sphere
Race through the desert
The ideal uncle
The mind-boggling powerhouse
The terror of the seven seas
The Christmas billionaire
Party in Duckburg
Guus finds happiness
The day of the ants
Panic in the money store
Treasure hunt in the past
The disaster relief worker
The Olympic marathon
The wild water horse
A voice out of thousands
Santa's toys
Spies without fear
Shudder with ghosts
Whale for rent
The failed musician
Battle among the stars
A lucky double can roll in a strange way
Superdonald you've been there!
The dragon knight
The legion of the brave
Dreams and deception
The Christmas robbery
The vengeful rascals
The flying garbage cans
The fun pants
Flares and greasy gravy
The magician of the swamp
Star football
The smaller the finer
A paid vacation
Green fingers
It's a matter of money
The Mystery of Cactus City
The Christmas pastry
The mysterious parchment
Ready for demolition
The knight errant
Noise around an air tower
The spirit of the north
Donald's big brother
The fairground pirates
The hot dog money
Lift on the run
The hunt for the treasure
Forty years of confusion
The last Christmas present
Bonje in the mountains
The lucky unlucky guy
Greetings from Dagoland
The big competitor
The terrible nurse
Philosopher's stone
The Battle of Duckburg
The sweltering sea serpent
On the way to Beijing
Hoop for a coin
The color hunters
Darter in the snow
The great Mik-Mik
Choose and cheat
The night of the werewolves
The raging robot
Genius for one day
A picnic full of surprises
Fight on the beach
Gold makes you happy
Danger underground
The swamp monster
The Robot War
Christmas in space
Santa Clauses galore
Uncle Scrooge's first million
Monsters in the amusement park
The reverse plane
The Unlucky Bird
The failing striker, 174½ Football fever
The unstoppable wabblewap
The battle for fries
The haunted house
Donald versus Donald
The unmasked superhero
An icy Christmas
The terrible Dutchman
A cruise full of surprises
Spy hunt
The Hammurabi hammock
A pirate's revenge
Lost in the past
A giant of a duck
Bumblebees in Amsterdam
The mysterious space warehouse
Dangerous Business, 190½ Halloween in Duckburg
The monster from the money warehouse
Christmas with hurdles
The Battle of the Money Warehouse
An impossible mission
The hour of the werewolf
The ghost of the mine mountain tunnel
Adventure in Puindorp
The hero of the field, 198½ Duel for the ball
Visit from space
Tumult on Fun Island
The most you can buy here
That they still managed to come up with titles after all these pocket series, right? In the meantime already reached the two hundred in the third series with pockets, great! And it is still running now so there are more and more (excuse if we are not quite complete).
Have you also seen that there are quite a few Christmas titles in between? That's because of course it has been around for quite a few years and every year at Christmas, for the kids holidays, a new Donald Duck Pocket was released.
Slightly fewer titles were in series number two, but still quite a number. This series ran from 1977 to the last in 1991:
Donald Duck in search of the magic eye
Uncle Scrooge McDuck and the crescent moon coins
Mickey Mouse as a super sleuth
Fantomerik against the mad Fantomina
A duck with many notes to its song
For Uncle Scrooge on the edge of the abyss
Mickey Mouse and the mystery of the lost necklace
A touchy duck and many Beagle Boys
Donald Duck and the pursuers
Mickey Mouse versus Hortensia Witch
Donald Duck in the South Sea area
Mickey Mouse in the Wild West
Donald Duck takes to the skies
Mickey Mouse and the red dragon
Treasure hunt with Uncle Scrooge
Mickey Mouse and the Time Journey
Donald Duck in Ancient China
Mickey Mouse and the Fourth Dimension
The curse of the gold
Mickey Mouse in the Universe
Donald Duck in Secret Service
Panic about the money warehouse
Donald Duck on track
Mickey Mouse and the Paintings Theft
Uproar in Duckburg
One shot for open purpose
Around the world with Mickey Mouse
The magical stardust
Uncle Scrooge and the money fever
Mickey Mouse on a ghost hunt
The invincible Uncle Scrooge
Great Donald
Uncle Scrooge in the land of gold
Donald Duck in dreamland
Happiness is a virtue
Uncle Scrooge is kidnapped
Donald and the Devil's Mountain
Knight without fear or blame
There is Mickey again!
What a family!
The double
Donald it totally is!
Uncle Scrooge looking for more!
Make way for Donald Duck
Gone by the wind
Somersault without a safety net
Uncle Scrooge at full throttle
The Duckburg parade
Who laughs last ...
Traveling with Donald
Scrooge McDuck for all your money matters
The tiger of Malacca
The New Ice Age
I notice that in the beginning the titles were often very long, and they gradually opted for a somewhat shorter title.
In addition, there were a lot of Mickey books in the beginning of pocket series 2, and they were later less and less represented in the whole. In the third series they have completely disappeared.
Donald's very first collection of books also had a number of Mickey's, longer titles :)
Donald and the zebra mussel
Ali Baba's treasure
The land of the rising sun
Mickey Mouse and the Riddle of Kariba
Mickey Mouse and the Secret of Zonnestein
Donald throws himself on the mineral water
Uncle Scrooge McDuck and the antagonist
Donald Duck and the Blacksmith's Secret
Donald Duck and the atomic comet
Donald Duck and the double mirror
Uncle Scrooge in Gik's garden
The attentive reader may have noticed that a number of titles appear twice as reissues. What you may have also noticed is that there are names in the titles that you may not know from other stories.
There are also a lot of characters that you don't see anywhere else. This is because the books with these stories are almost all made abroad (Italy that is).
The characters that we do not know but appear in these books are in alphabetical order:
Characters that only appear in a Donald Duck Pocket
Atoompje, assistant of professor Wonderling (read more about the professor here)
Bertus the butler of Dagobert
Betoompje, also assistant of Professor Wonderling, but unfortunately he does not make it to the end of the story
Boem Boem Breedbek, a clumsy moody friend of Donald and Willie
Brigitta, business partner of Linke Lowie and in love with Scrooge McDuck, referred to in older editions as Gitta Gans
The Black Shade, a villain clad in black, is sometimes also called Flat Nose
Dick Dubbel joke used to go to school with Mickey and as his name suggests, he really liked playing pranks
Diederik Duck as Donald's clumsy cousin
Ega Beva appears in the Mickey Mouse stories and is also called Gamma in certain editions (translation from German)
Fantomius, the gentleman thief and scoundrel. He was the inspiration for Super Donald here further down the list
Gideon McDuck is Donald's great uncle
Humfrie Bogaard, Detective
Indiana Goofy, famous archaeologist and Goofy's cousin to the Indiana Jones movies
John Rockerduck, Scrooge McDuck's competitor and the third richest duck, is also called Leopold Kwartjesvinder in certain editions from the first series, also Klaas Klever (translation from German) and even accidentally Govert Goudglans, but that is a completely different character
Leo de Beo a friend of Goofy
Linke Lowie also known in the earlier books as Karel Kaalkop or Flip Florijn
Lusky, Rockerduck's secretary
Opaatje is the grandfather of the Beagle Boys
Otto van Drakenstein is the learned uncle of Donald Duck, this character also appeared in the weekly magazine in the sixties and seventies
Pflip de Tnukkelboe, Ega Beva's pet, is also called Fips (translation from German) in certain editions
Plottikat is a scoundrel and sometimes he also appears as one of Boris Boef's henchmen
Professor Wonderling was a professor and friend of Mickey. His name was also Dr. Kwakbol, Professor Bunsenbrander and Dr. Bibberbuik
Super Donald, that's Donald Duck as a superhero, in older editions he was also called Fantomerik (which you also see coming back)
Trudy Boef, friend of Boris and in older editions Boris's sister (which is a bit strange when you think about it. How can she go from sister to friend ??)
Case, colleague of O'Hara's; is also referred to in certain publications as Inspector Weetal or Inspector Van Puffelen
You can already tell from the huge lists of titles. The Donald Duck Pocket is extremely popular, and that is with both young and old.
Donald Duck Ecards
Sometimes it is nice to send someone a nice gift. This is of course possible with a physical card, but you can also send a nice card by email: with Donald Duck Ecards for example.
For example, it is nice to send a nice message from perhaps the recipient's favorite Disney friend without investment.
A picture says more than a thousand words could ever do. So is anyone down? Let Donald share a nice message that might cheer him up.
At www.hallmark.nl we have found lots of different digital cards to choose from, and if you like it you can have a look there to pick and send one for the right occasion.
For example, also at festive occasions such as a birthday or the transfer to the next class or school can be a nice reason for an e-card.
There are many Happy Birthday Donald Duck and Mickey Mouse cards to send. Especially if you can't be there when you expected it. You will then no longer be able to get the gift from someone today.
Also, you can no longer receive a physical card by post with the birthday boy or girl today, a disney ecard can still offer a solution so that you are a little bit there.
In any case, you show that you have thought of it and then the rest, such as a physical attention, will come another time. Maybe you can put in a new promise when you can come by.
The Donald Duck Ecards from Disney
The nice thing about a card via email is that the recipient can immediately open and view it, or you can send it at a preset time so that he or she receives the ecard on the special day.
But what makes it especially nice is that it can be opened again and again. So if you really make a sweet and memorable card, the reader will enjoy it for a long time to come.
And nowadays he always has it with him because you can often check your mail on your mobile phone. Which card do you always carry with you? This way it can also be easily shared with friends and for example with grandpa and grandma when visiting.
It can also be easily forwarded if you would like to show it to someone else or post it on social media. For example, a birthday card from Disney or other types of cards is always fun to receive and to share.
Donald Duck games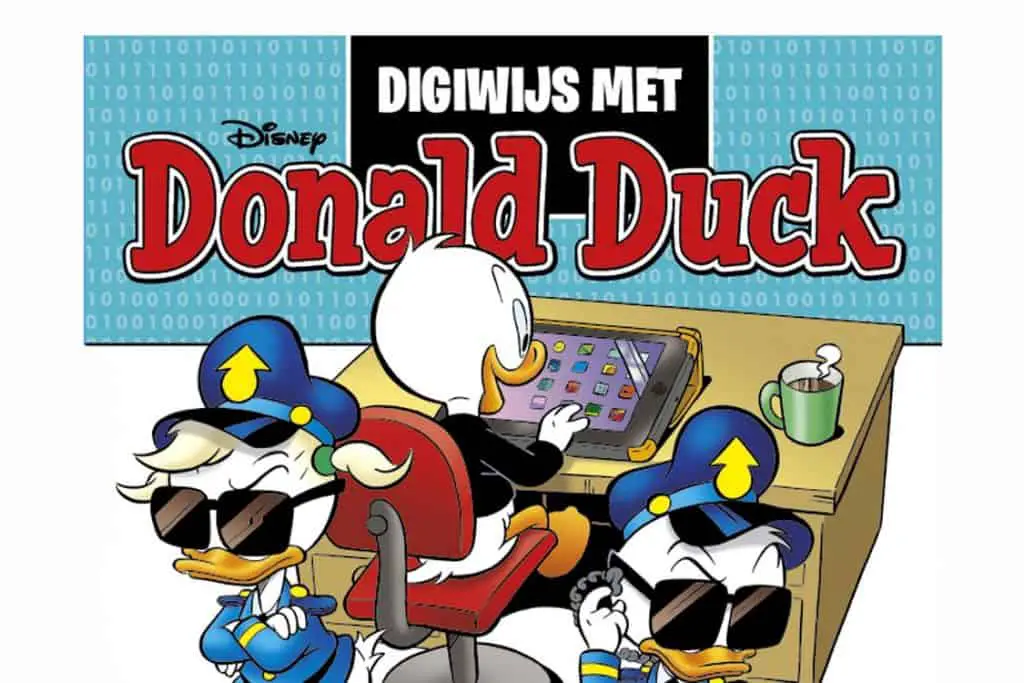 I am sometimes asked where I found a certain game that I often play with my children. It's one of the Donald Duck games we play regularly. We have two but the best one is Donald Duck Board game.
Here it is on bol.com but I thought I saw it was sold out:
You can indicate that you want to be kept informed when he returns. I think he went badly because of the popularity.
You can at least take a look and otherwise watch one of the other Donald Duck games of course.
The Donald Duck Game as a board game
The reason I liked this one so much (yes, I also enjoy participating with those kids) is that it contains a lot of the figures.
This way you can go all over Duckstad to carry out all kinds of assignments and eventually find the lucky coin.
So all the important things from the weekly magazines and the pockets come back and so it is fun and recognizable for the kids.
My children also enjoy working on the questions. I like it best when you get a new question that you have never had before to see if I still know everything about Duckstad.
However, they like it best when they get a question they've already asked again. Then they shout "Yes, I know!". Haha, so cute.
There are 600 questions so you can go ahead for a while.
Other fun duck city games
There are also other fun duck city games though.
Sometimes they have enough patience to puzzle, but usually they are cleaned up halfway through for dinner when we want to put it on the table and they do not have enough attention span to finish it completely. But the start is often fine.
They also really enjoy building things together. Anyway all LEGO build at the moment.
The nicest thing I can give them is lego blocks so that they can get going again. But Disney and Donald are still pretty favorites.
Donald Duck games on the digital tour
If you are tired of playing with it yourself (or if you just don't like it that much of course), you can also get them going on the iPad or Tablet.
For example, you have a lot of nice flash games on the official site donaldduck.nl
You have a game of Duck vs Bolderbast, Mr. Bear Sort, Smeermeer, Tunneltocht and Why. Plus you can play it on your own tablet.
On a good safe children's tablet you can indicate what your kids are allowed to see and what not and you could also specifically release donaldduck.nl so that they can play those games.
I here in this post the best kids tablets of the moment reviewed so that's definitely one more to read.
You can play them all directly in your browser (such as internet explorer), so you can do it on your laptop as well as on the tablet.
You also have a site called GamesXL.com. They also literally have just about any game. Also six Donald Duck games so that is also nice to watch.
They are not all equally good, but they might be entertaining for a few hours for the kids.
I also tried one myself. Donald Duck football. It is a "separate" game, which does not necessarily mean much good.
It plays in a flash video browser and the goal is to keep the ball high by bouncing up and down and back and forth with your mouse with Donald.
I played it for a while, just because it was actually so stupid and I was a bit fascinated by it.
Furthermore, a good game is always find the differences. My children always like that and at elkspel.nl there is also one of them. Still some fun for a while to find all the differences, plus good pattern recognition for them.
Another super cool game is Donald Duck Super Ice Cream. It already starts in the title screen with all Japanese characters, so clearly not of Western origin.
The goal is to scoop ice cream onto a cone that floats at the bottom of the screen without dropping the ice cream. It's really nothing, and still I played a few more minutes, weird.
Another nice thing was Daisy builds houses.
So if you have a kid who likes to build and dress things up, this one is nicely made and you can also have Mickey's demolition come back to tear it down and start over.
This way you can decorate your house to your taste with some crazy items.
Those online games are not very educational, but if you just want some simple entertainment for your child, what can it hurt.
Who uses a laptop in Duckburg?
The first possible answer to this question that comes to mind is probably everyone in Duckburg! Duckburg is a bit like reality, because they imitate everything that is in the real world.
In my childhood fantasy I see the story of Digital Duck Drama. The story begins with a serious Uncle Scrooge from his small glasses on the tip of his beak, staring at the rising and falling graphs on the screen of his laptop.
What will Uncle Scrooge be doing? Maybe he's studying bonds and stocks? Do they go up or down and does he have a profit?
As smart as he is, Uncle Scrooge wants to see everything on paper, because he is of the old school. So he asks Donald.
As Uncle Scrooge's assistant, Donald Duck cannot escape the digital challenges that come with using a laptop. Now Uncle Scrooge asks that Donald run a report of the current fluctuations.
Knowing Donald Duck it will not go without effort and annoyance. I see it this way… a stubborn Donald Duck trying to understand where the report should come from. He searches and he searches, he taps and he taps.
Still nothing.
Every 15 minutes Uncle Scrooge comes out of his office to ask where the report is. Over and over, Donald says he's almost done. He doesn't want Uncle Scrooge to think again that he's a good-for-nothing.
So he tries again, he examines the laptop from all sides and still doesn't understand where the paper should roll out. Finally he decides to call the nephews Kwik, Dewey and Kwak. Hopefully, he dials their number 123-KKK-DUCK.
It rings! Donald grows more and more hopes that his laptop problems will soon be solved. It keeps ringing and ringing again. However, it is school time and the boys are not answering. Donald starts to get annoyed. Yes, you know that face.
Diligently he starts tinkering and fiddling with the laptop again. Still nothing. Donald is now flushed with rage. Steam is coming from his ears, he can't understand why it won't work.
And in one second of frenzy, he throws the laptop to the ground with enormous fury. Bam! Laptop split in half and broken! "Oh no, what have I done!" he thinks now.
Fortunately, Uncle Scrooge is gone for a business lunch for a few hours and still has some time to fix this. He calls his friend Willie Wortel, who can certainly help him make up for this.
Willie arrives at the office to find the broken laptop and a desperate Donald. He does his best to fix the broken device and help Donald with it. He screws and hammer, he glues and welds.
Finally done!
The laptop turns on, yes success! "Now that annoying report," Donald thinks. The printer turns on and paper rolls out. How happy Donald is! Uncle Scrooge will not resign him.
When checking the prints, he does not see any graphs, but only pictures of factories. His eyes widen with disbelief and smoke comes out of his ears again! "Aaah I don't want this!" he shouts.
And without thinking, he breaks the laptop again. What a drama duck, that Donald!
Willie Wortel is shocked and amazed. He says very coolly to Donald that he better buy a new laptop from Duckstad computers.
If you want more fun indoor activities, then be these 25 things you can do when it rains very nice to try out.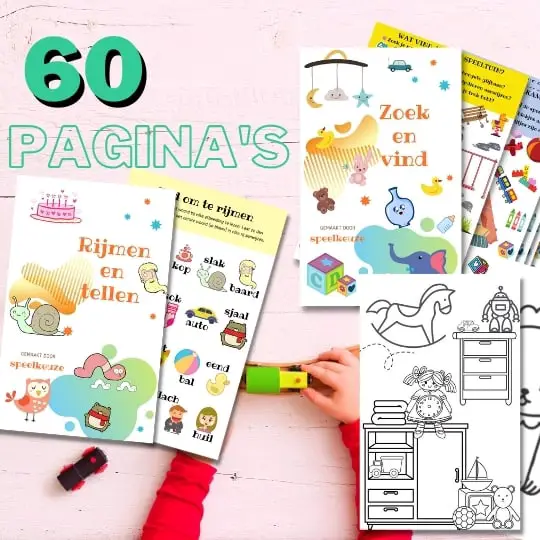 Always something to do for the holidays or rainy day?
Play Choice now has the ultimate activity book collection, with over 60 pages of fun coloring pages and educational puzzles.
Joost Nusselder, the founder of Speelkeuze.nl is a content marketer, father and loves trying out new toys. As a child he came into contact with everything related to games when his mother started the Tinnen Soldaat in Ede. Now he and his team create helpful blog articles to help loyal readers with fun play ideas.