Affordable children's parties: 7 tips & 2x as many fun ideas
I enjoy writing these articles for my readers, you guys. I don't accept payment for writing reviews, my opinion on products is my own, but if you find my recommendations helpful and you end up buying something through one of the links I may be able to receive a commission on that.
More information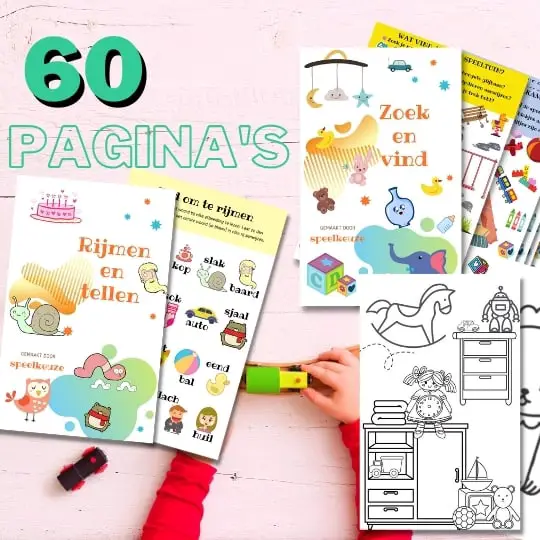 Always something to do for the holidays or rainy day?
Play Choice now has the ultimate activity book collection, with over 60 pages of fun coloring pages and educational puzzles.
Organizing a children's party is great fun! We all want to put a smile on the face of our (birthday) child.
But there is not always a high budget, so that a cheaper children's party is often chosen. Why not?
Self-organized, cheap children's parties are simply the best! Furthermore, these types of parties are often much more unique, and this special party will remain with the kids for a long time.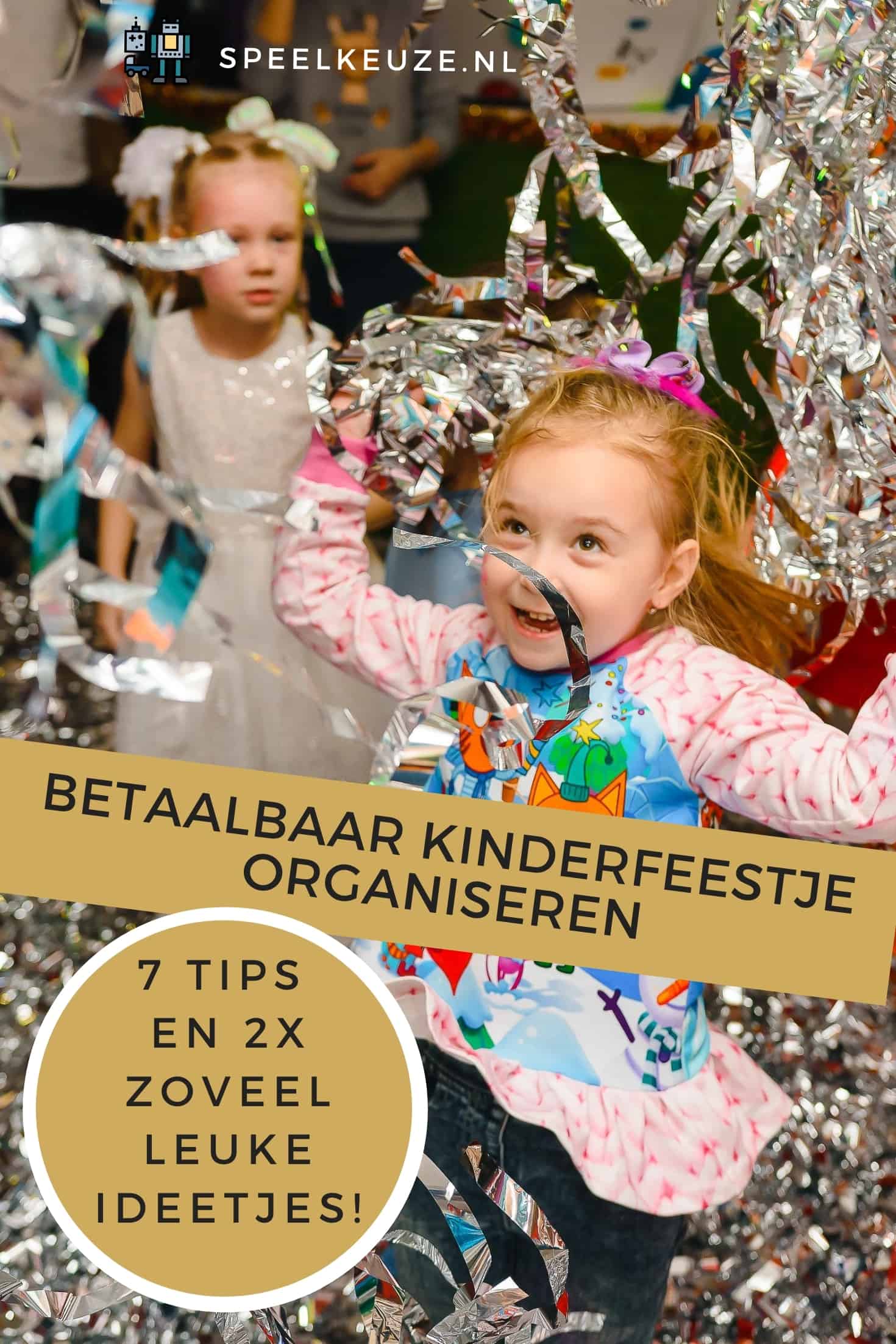 It is important to first discuss with the little birthday boy what he or she would like to do on his or her special day.
After the consultation, preparations can begin. There are several things to consider when organizing an affordable children's party.
In this article we will tell you exactly what you should take into account when organizing an affordable children's party.
We also give you fun, various tips for affordable children's parties, both indoors and at a location!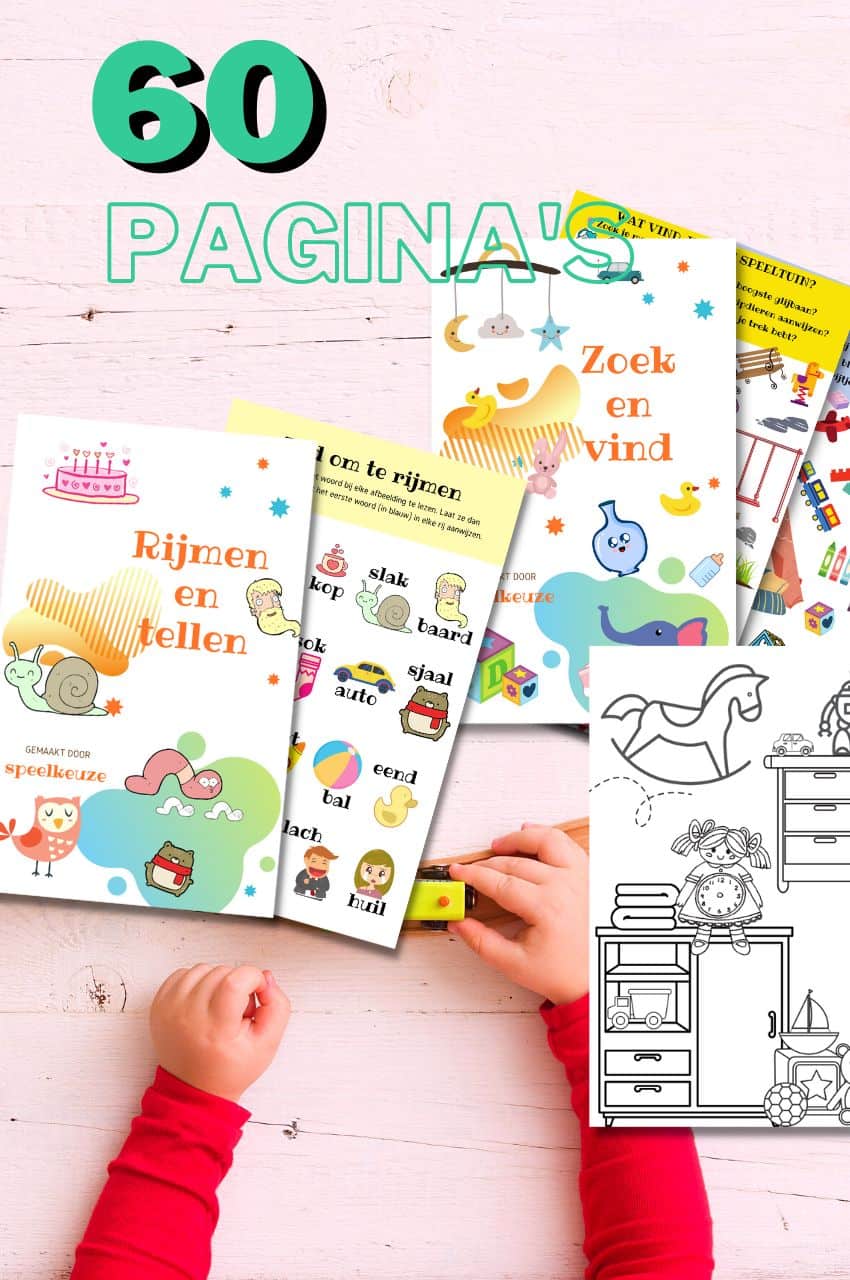 A play theme in your mailbox every month?
Fun play tips, activity books and more, with the first email being our free mini-guide "educational toys"
We will only use your email address for this newsletter and respect your privacy
What should you consider when choosing a children's party?
How many children can be invited?
This may be the first question you should ask yourself and the birthday boy or girl. Well, your child would prefer to invite the whole class, plus the children from his or her sports team!
But then we also know immediately that the children's party will never be cheap or affordable.
It is important to clearly agree with your child in advance how many children they can invite, so that no one has to be disappointed afterwards.
For example, look at the mutual friendships between the kids, you don't want quarrels to arise during a cozy children's party.
The point is that your little one-year job has an unforgettable day ahead.
If you decide to invite only a few kids together, suggest inviting the best friends from the birthday boy or girl birthday.
What is the budget?
Just because a party is less expensive does not necessarily mean that it is less fun than a party that costs a lot of money.
Children are easily satisfied with less, as long as they are surrounded by their favorite boyfriends and girlfriends on their special day!
To keep the party cheap and affordable, it is important to check in advance how much you can and want to spend.
When drawing up the budget, you have to think about food and drinks, but also possible entrance costs (if you organize something outside the home), transport, decorations, a cake and you name it.
If you choose to organize something at home and you suddenly start spending a lot of money on food, drinks and the decoration, you could have organized a children's party outside!
So think carefully in advance what your budget is and stick to it strictly.
Also read: these are the best games and themes for a successful children's party
Are you going to do something yourself?
Together with your child you should discuss whether you want to hold the children's party at home or at a location outside the home.
If you choose to do the children's party at home, do you keep it inside or outside in the garden (if there is at all)?
When the party takes place in the summer, you will be more likely to choose outside, provided you have a decent garden at your disposal.
If it is your child's birthday in the winter, it will go without saying that you celebrate the party indoors. But if a child's birthday is in the spring or autumn, for example, the weather can be changeable.
It is essential to take the weather into account and from there decide whether to celebrate the children's party indoors or outdoors.
Also take into account the space (both inside and outside) that you have at your disposal.
If you have a small house and invite 20 kids, that will be difficult. So invite a number that matches the space in the house.
However, if you have access to a huge garden, your little one can of course invite more kids.
In general, parties at home are cheaper than outdoors, unless of course you can find a location where the entrance is free.
A party at home: which decoration do you use?
A party is not complete without beautiful decorations. Ask your child what decoration he or she would like for his or her party, and whether a specific theme is desired.
If you choose to celebrate the party in a particular theme, the decoration must of course be adjusted accordingly.
In most cases, a number of festive balloons and flags are enough!
If it is going to be a themed party, don't forget to inform the children who are invited about the theme so they can dress up to it!
Themes can be for example: princesses and knights, superheroes, animals, Disney, and so on!
Would you rather go somewhere?
If you prefer to do something outside the home, for example because your house is too small, or because you simply find it more convenient, you have to take several things into account.
If you are going to celebrate the children's party at a location, how many kilometers do you want to go? Do you have to have one or more cars at your disposal? Are several parents driving?
Are kids picked up at home, or do they have to be brought to the location by their parents?
Look carefully at the distance and any petrol costs, and how you let the children arrive at the location.
Discuss the options with the parents of the children who have been invited to find out if they are able to drop their children off.
If the parents are willing to help, you can easily save money and worry.
How many adults are helping?
Are you up for it yourself or are you planning to ask for help from one or more adults?
Think about who might help you with the party, maybe a good friend, the mother or father of one of the kids, or maybe a family member.
Depending on the number of adults helping you during the party, you also choose the number of children and possibly the location.
If you let your little 10 friends invite you and you have no one to help, it can be quite stressful. And of course you don't want that on such a nice day!
It is always nice to have at least one person to assist you. Having a group of children responsible for you is of course not easy.
You want everyone to have a great day and come home safe and sound.
Affordable food for a children's party
Do you let the children eat with you, and if so, do you do that in the afternoon or in the evening? If you decide to let them eat with you, think in advance what you could put on the table.
This meal does not have to be expensive!
The cheapest (and tastiest!) Is of course just a plate with fries, poffertjes or pancakes.
Make a shopping list, and don't forget to stock up on lemonade too!
If the kids continue to eat in the afternoon, you can prepare tasty sandwiches topped with cheese, sausage, or other toppings that most kids like.
You can cut the sandwiches into squares and put a skewer in each sandwich. This way it still looks a bit festive and gives you little work.
Another success number are square brown and white bread rolls where you take the middle out with tasty jam on the inside. Very cheap filled donuts actually!
If you choose not to let the kids eat with you, at least make sure you have some small snacks and a drink. Of course, the kids get hungry from that many games.
Thirteen activities to do for an affordable children's party
Thinking up a children's party is fun, but can also be difficult at times. Indoors or outdoors, there are countless options to give your little one an unforgettable day.
In the next section, we'll give you some great tips for a children's party, both at home and outdoors at a location.
High tea at home
What could be more fun than organizing a high tea at home, with delicious little snacks?
You could choose to let the children make a number of snacks themselves, and then enjoy them together.
Make a nice pot of tea (ice or plain, depending on the weather), and set the table with festive items. Go for cardboard plates and glasses, and possibly plastic cutlery (think about the environment, save on plastic).
Keep it Varied: Go for sweet and savory snacks. Especially not too many sweet snacks, otherwise you will soon have all bouncing kids in the house!
You could cut some ingredients in advance, otherwise it might take too long for the kids and they will become impatient.
Instead of a high tea, you can also choose to cook or bake something together.
With these types of activities it is better if you do not invite too many kids, and therefore stick to an intimate group. Also cozy and means less costs (and mess!)!
Easy and fun, especially with more children, is to have something that is pre-made (or pre-bought) decorated during the party and you can always turn it into a real design contest.
Pimp your garment!
Are you creatives at home? Then you could let the kids pimp their own garment! It is a cheap activity for a children's party, and it also makes for little mess.
For example, let each child bring a white t-shirt, jeans or a linen bag.
They can then let their imagination run wild all afternoon and make their garment exactly the way they want it!
For example, purchase buttons, pieces of fabric, textile paint, paint markers and other items with which children can decorate their garment.
Also, don't forget to provide drinks, such as lemonade and ice tea, and maybe some tasty snacks that they can enjoy while crafting!
(Old Dutch) games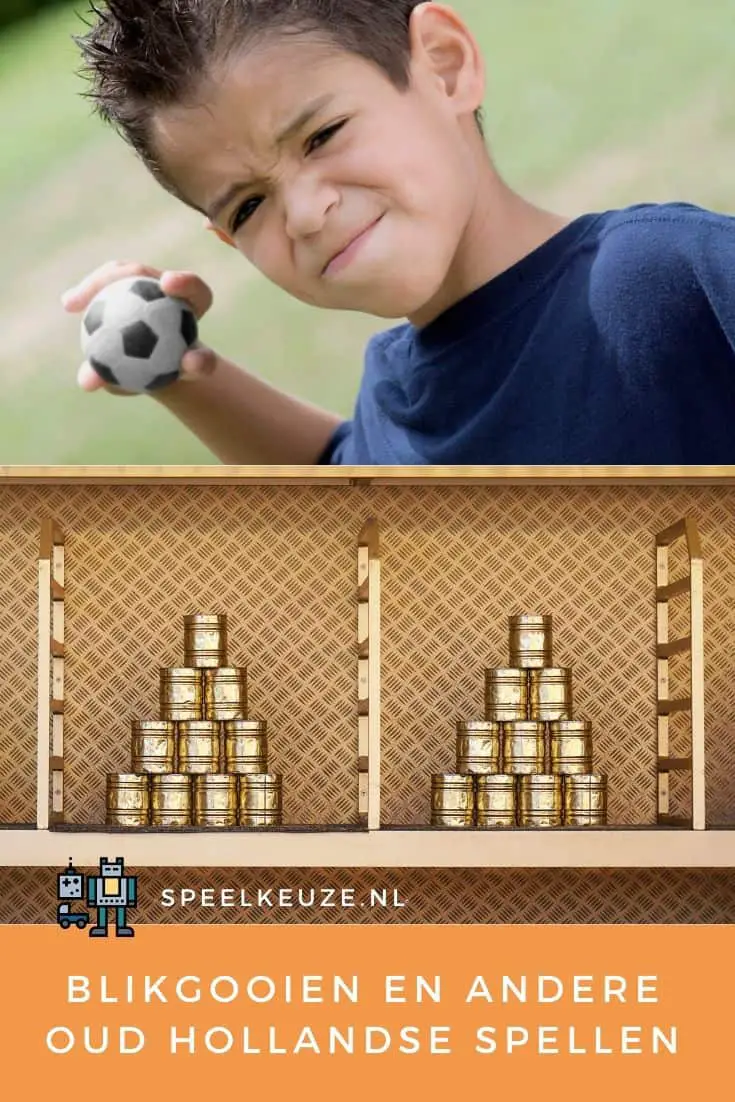 Surely you hadn't thought of that yet? For example, you could create different 'stations' indoors and / or in the garden, and children can play a game at each 'station'.
In one corner the kids can bite cookies, at another point they can poop their nails, and they can also throw tin, shuffleboard (if you have a shuffleboard), throw rings, do the musical chairs and so on.
There are a lot of Old Dutch games you can choose from.
Most games require little equipment, and often those that people already have at home (for example, use soda bottles for ring throwing, and old tins of tomatoes or beans for can throwing).
Read also our entire article on old-dutch games here for inspiration
Scavenger hunt
Organizing a treasure hunt remains a fun activity, especially for children's parties. Adults also often enjoy doing it.
You might consider letting the kids' parents participate!
If you are using is going to set up a treasure hunt for small children, you can keep it very simple. Use ribbons and arrows and sidewalk chalk to indicate the route, the old-fashioned way!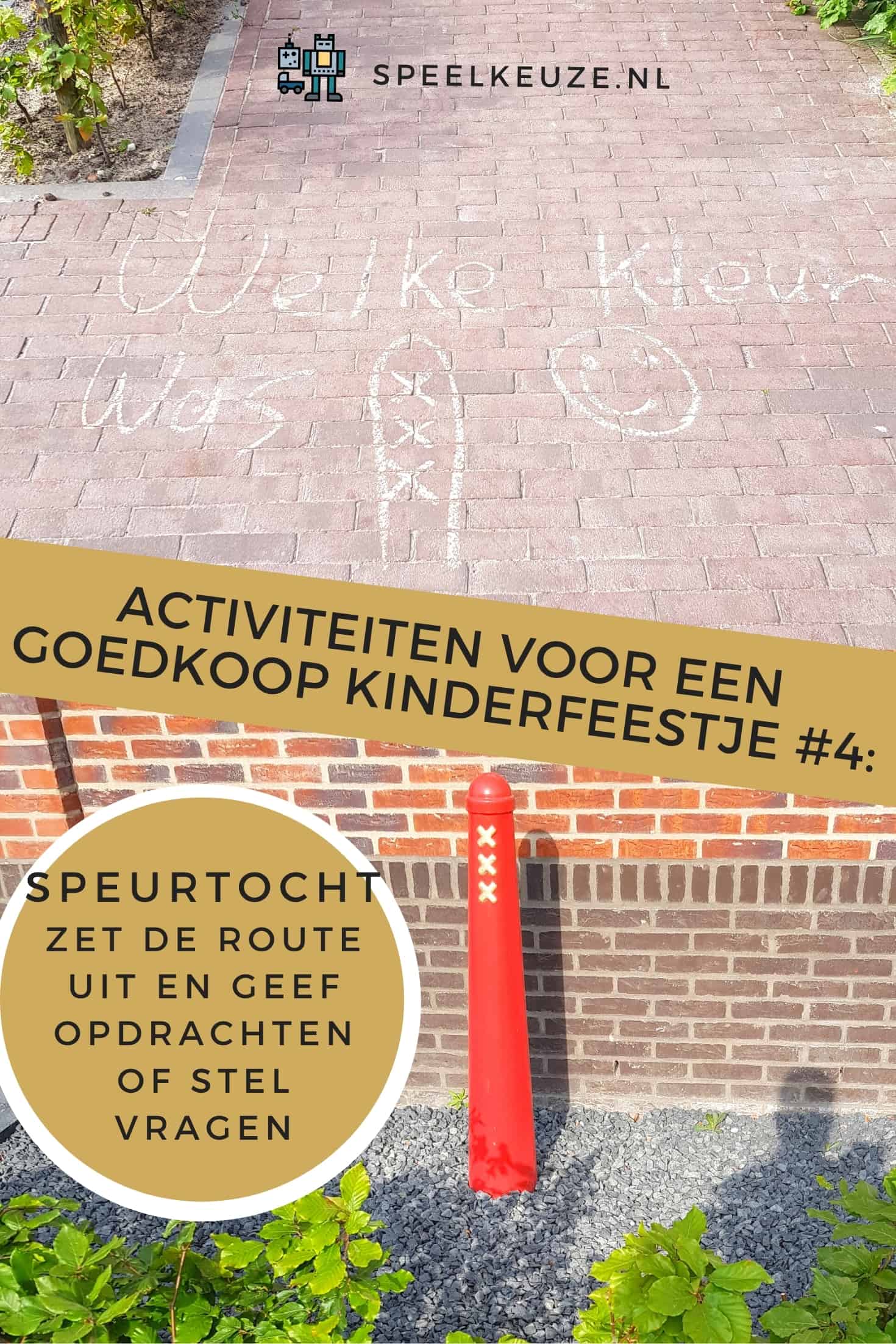 For example, create a route along nice places, such as a playground or park, or a forest with picnic tables.
There, children can take a break to eat or drink, and then continue the quest.
You could incorporate assignments into the activity, but this is not necessarily necessary for the smaller kids. Finding and following the ribbons and arrows can often be enough!
You could also have the group of kids arrive at the party location via the scavenger hunt, or a restaurant for lunch or dinner!
Natural playground
You can of course also choose to celebrate your child's birthday party in a nature playground.
In this way you can save a lot on costs, and possibly spend a little more on presents, and food and drink for the friends who are invited.
Nature has plenty to offer, so why not take advantage of it !? As long as we always leave the place tidy ..
Play forest Lorker - Borger (Drenthe)
Hamilton Franklin Park - Haarlem (North Holland)
Play forest Gagelbos - Utrecht (Utrecht)
Getting dirty in nature, children love that! Nature playgrounds can be found in the woods, in the polder and there are also adventure farms.
Make sure all kids bring clean clothes for after playing!
jump hall
Jumphallen you see more and more in recent years. A huge hall, full of kids jumping around! It's a great idea for a children's party!
A jumphal is a large space filled with trampolines. There are also often other activities to be found.
See if there is a jump hall near you! Below you will find a number of examples of jumping falls in the Netherlands.
Jump Square Nijmegen
Breda Cross Jumps
Jump Square Amsterdam
Please note that you will need to book in advance and check if there is a minimum age for this activity.
One hour, two hours at the most, is really enough. The kids will be exhausted!
If you are going to book this activity for a children's party, keep in mind that the kids will put on comfortable clothes, so that they have enough freedom of movement while playing.
It might also be useful not to invite too many kids, it is quite a responsibility and it may become too expensive.
Indoor playgrounds
Indoor playgrounds can be found in many places in the Netherlands these days. Kids can play to their fullest in such an indoor playground, regardless of the weather!
So even children who have their birthday in winter or autumn can still throw a great party in such an indoor play paradise. See if there is one near you!
Cowboy and Indian game reserve - Coevorden
Kids Wonderland - Molenschot
Play Palace Bambini - Vlissingen
These three are just a few examples of the many indoor playgrounds that our country has to offer. Of course there are also many smaller Monkeytowns and the like all over the Netherlands, even in our neighborhood in Wilnis :)
In order not to make it too expensive, you could agree with your little one to only invite a few good friends.
You can say that if he or she would like to celebrate his or her children's party in an indoor playground, not many children can come.
One because of the supervision and responsibility as a parent, and two because it might be too expensive otherwise.
If your son or daughter would rather invite more kids, it is better to go for another option, or possibly bring more adults with you for supervision.
Zoo
Every child loves animals, they love and fascinate watching them. That's why zoos are such a favorite among children.
So you could consider having the children's party in a zoo!
Apenheul - Apeldoorn (Gelderland)
Zoo - Amersfoort (Utrecht)
SEA Life - Scheveningen (South Holland)
If the weather is really bad, you could also consider an indoor zoo, such as SEA Life. The disadvantage of visiting a zoo is that it can sometimes cost a lot.
Fortunately, you can save in various ways. Firstly, it makes a difference if you buy a ticket online, instead of at the door.
If you are a member of the ANWB you can visit many zoos at a discount. Even if you are not a member, you can get tickets cheaply via Dagtickets.
Glow in the dark mini golf
Mini golf alone is great fun, but how about glow in the dark (nice accessories here) mini golf?!
The advantage is that you can also do this indoors, so even if the weather is bad, this activity can always take place.
Discover where you can do this activity near you, we will mention a few examples here.
Glow Golf Rucphen
Minigolf Black Light
Glow Mini Golf Amsterdam
It is best to book in advance, so that you can be sure that the party can continue! Take into account the minimum age of the kids and the opening times.
You are guaranteed to have a unique day, the kids will completely lose themselves in this magical world.
Bowling
This should of course not be missing from the list. Because who doesn't love a game of old-fashioned bowling?
Bowling is always fun, not only for children but also for young people and adults. They often also offer other activities at bowling alleys, such as a children's disco.
And you can always get something tasty!
Bowling Center - Apeldoorn, Arnhem, Dordrecht, Eindhoven and Lelystad.
Lucky's Bowling - Warmond
You will find bowling alleys everywhere, so check which ones are near you.
Most bowling alleys have a dedicated team ready to host children's parties and take care of the kids for an unforgettable day.
Bowling is and remains a fun activity, for young and old! And you rent a job, so the number of children makes a little less difference for the costs, although their turn is less often.
Climbing wall
Does your little one like climbing and scrambling for an afternoon with his or her friends?
Then the children's party could be held at a climbing wall! Google which one is closest to you and what that location has to offer for kids' parties.
Climbing wall The Hague de Uithof
Climbing hall Amsterdam
Climbing Wall Utrecht
Professional instructors are present at each climbing wall to guide the kids. Almost every location with a climbing wall has special offers for children's parties.
Sometimes extra activities are done in addition to climbing, and drinks and snacks are often offered. The birthday boy or girl will be put in the spotlight.
The nicest memory of this day is of course the 'climbing diploma'! It is guaranteed to be an unforgettable day!
Laser gaming
Children compete with each other, armed with cool laser guns! The group will be split in two, which team will win?
You can also play laser tag almost anywhere, including at Lasergame in Rotterdam, at the Laserloods in Nijmegen and at Paintballworld in Wehl.
Lasergame Rotterdam
Laser shed Nijmegen
Paintball World Wehl
Laser gaming can be done both indoors and outdoors. Take a look at what the nearest location has to offer.
Often you can also opt for a complete package where the kids have their own table all day, for example, can get tasty lemonade and eat after playing!
Perfect for an active afternoon!
Survival
A survival children's party is completely crazy for tough boys and girls. You just shouldn't be afraid of a little mud!
Evorsa - The Hague
Outdoorvalley - Bergschenhoek (between Rotterdam and The Hague)
Ayersrock - Zoetermeer
Invite all your favorite friends and go on an adventure! Instructors are available to help the kids with the activity.
If they fail to overcome obstacles, the instructors can always help the kids.
Book the children's party in advance, and make it an exciting day together!
Also read: these are the nicest outdoor swimming pools in the Netherlands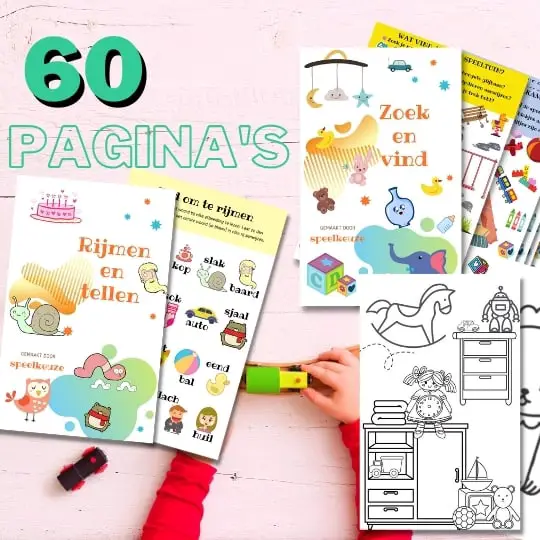 Always something to do for the holidays or rainy day?
Play Choice now has the ultimate activity book collection, with over 60 pages of fun coloring pages and educational puzzles.
Joost Nusselder, the founder of Speelkeuze.nl is a content marketer, father and loves trying out new toys. As a child he came into contact with everything related to games when his mother started the Tinnen Soldaat in Ede. Now he and his team create helpful blog articles to help loyal readers with fun play ideas.