What is the best 3D printer for the home? The top choices at a glance
I enjoy writing these articles for my readers, you guys. I don't accept payment for writing reviews, my opinion on products is my own, but if you find my recommendations helpful and you end up buying something through one of the links I may be able to receive a commission on that.
Further information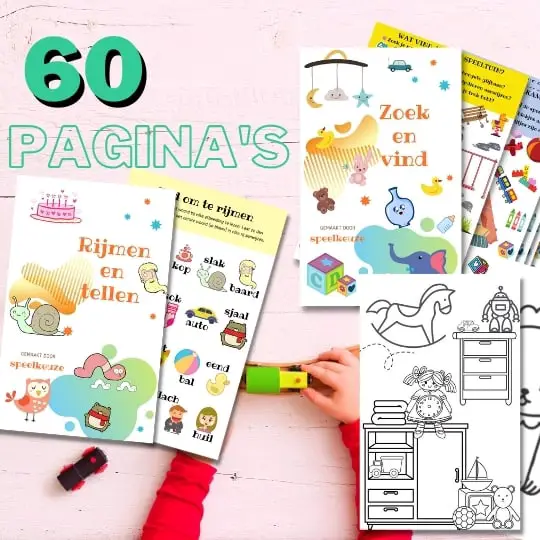 Always something to do for the holidays or rainy day?
Play Choice now has the ultimate activity book collection, with over 60 pages of fun coloring pages and educational puzzles.
Did you know 3D printer can really do a lot?
They can print from beautiful jewelry and candy, to plastic cell phone cases and flower vases. Even printing toys is possible!
This 3D printing process is also called fused filament fabrication. Want to try this yourself at home? I do!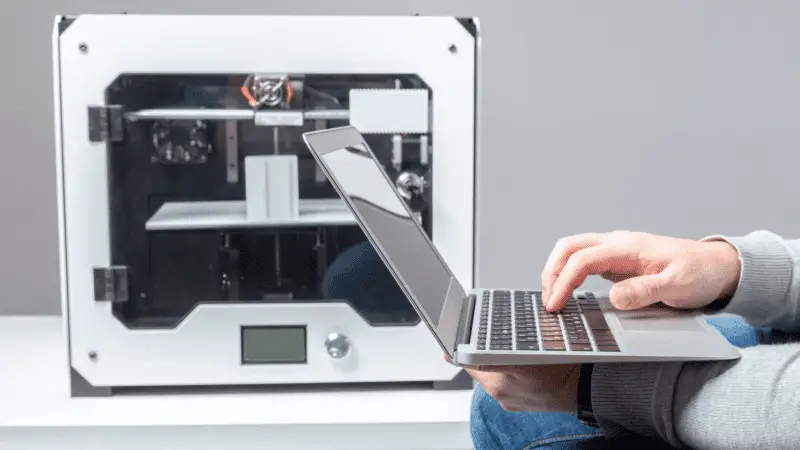 And that is possible, there are good 3D printers for home use and the price is already quite affordable.
I have researched a few things about these different 3D printers and I like to share my info with you.
In my top 6 best 3D printers, you can see the best 3D printer for different situations.
My overall best 3D printer for home is in any case the Creality Ender-3 v2 because of its easy operation and calibration, its low power consumption and the quality of the prints. A top 3D printer to start with!
I'll tell you all the details about this great printer later, but first we'll take a look at my top 6 with all the best 3D printers: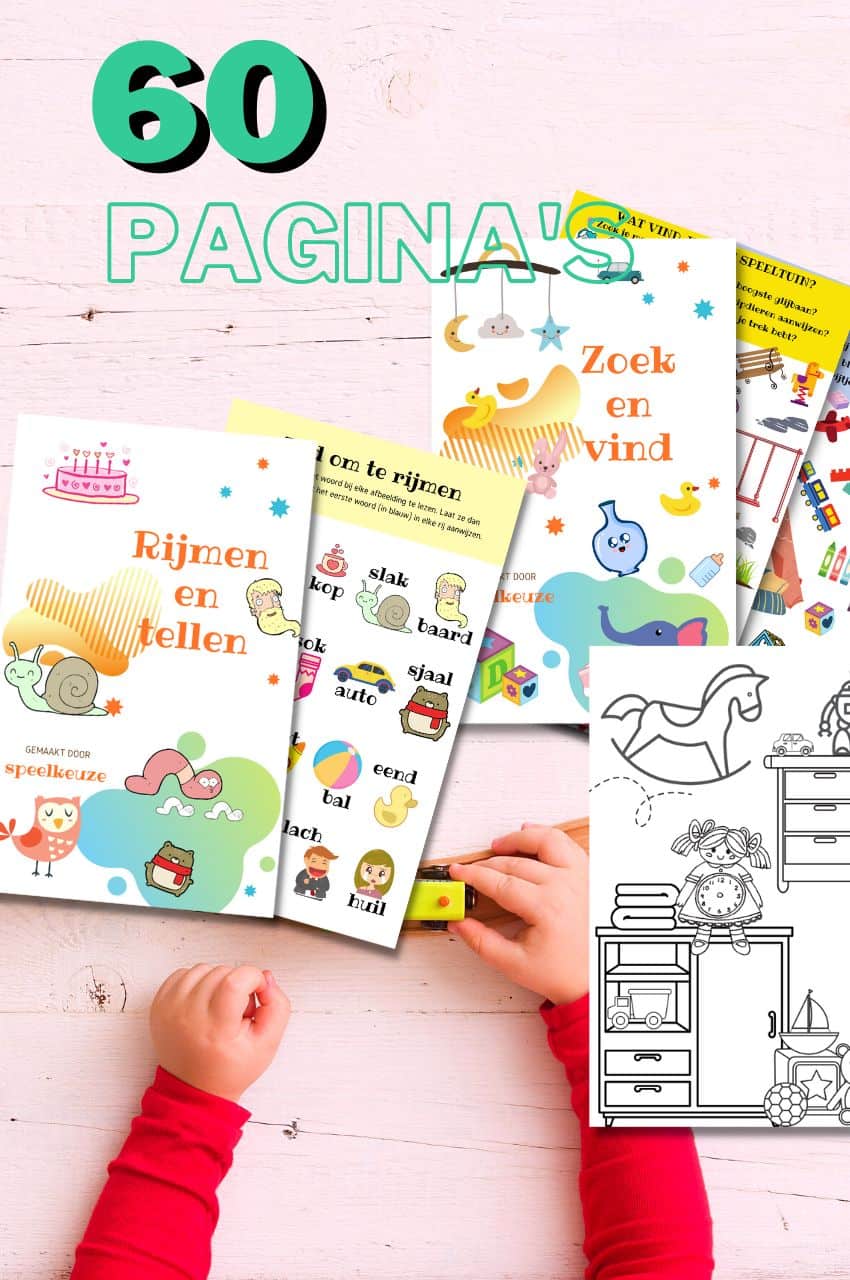 A play theme in your mailbox every month?
Fun play tips, activity books and more, with the first email being our free mini-guide "educational toys"
We will only use your email address for this newsletter and respect your privacy
Buying guide: how to choose a 3D printer for your home?
Let's start by saying that professional devices use different techniques than the desktop 3D printers.
My chosen 3D printers are more suitable for home use.
What kind of 3D printer do you think you will use, and what materials do you plan to work with?
There is still a lot of experimentation with some materials, such as salt or sand(!).
You also see that companies develop printers for their own production, for example for the manufacture of metal molds or prostheses.
Below I will tell you what you should pay attention to.
Print Dimensions
What will the dimensions of your 3D prints be?
Most 'home printers' have a print surface of max 250 mm high, max 220 mm wide and max 200 mm deep.
There are outliers like the Creality CR-10 smart – 3D Printer (H400 x W300 x D300 mm).
Materials
Which materials will you use for 3D printing? (Did you know that there are wood, metal, nylon, resin, and carbon filaments?)
To get a clear picture of the materials and their use, I would like to refer you to Which materials can be printed with a 3D printer?
Here you will also find information about what prints are used for, and how resistant certain materials are to cold or heat and whether print objects can be used (for example as tools) or 'just' as an art object.
Indoor or outdoor use
What are you going to use the prints for (outdoor or indoor?)
Not all filament materials are resistant to cold, rain, sun and wind…but not all filament types are suitable for contact with the skin, such as when wearing a printed piece of jewelry.
Resolution
Do the prints have to be detailed? The accuracy of the prints depends on the resolution (for example, for jewelry, the 3-dimensional print must be very detailed).
With an FDM printer, the resolution depends, among other things, on the XYZ axes. With a resin printer, the resolution depends on the optical spot of the laser beam or the UV projector.
Resin printers are generally more accurate than FDM printers and are great for detailed and small 3D designs, such as jewelry.
Color and material combinations
Should one print contain multiple colors or materials?
With some printers you can easily exchange the filament during the printing process.
3D printing software
Do you know enough about the 3D printing software?
The auto slice function of the printer works with software such as Easyware, CURA, Simplify3D.
However, with software like Repetier, Simplify3D, Slic3r and Cura from Ultimaker you can convert your design into a language that your printer can contain.
Furthermore, software such as anti-aliasing ensures that corners and edges flow smoothly.
Ready-made or kit
Are you going for a ready-made 3D printer or is a kit also fine?
If you want to get started right away, it's better not to buy a kit, but it's cool if you can assemble your own printer!
Always make sure that you assemble the 3D printer correctly - if you have to do it yourself - and that the bed is neatly level.
It is very important that your nozzle is also aligned at the correct height of the print bed, otherwise your print cannot have the exact size.
Also ensure proper calibration of the exruder.
Extra possibilities
Does the 3D printer have to have certain characteristics? Think, for example, of automatic bed leveling or warning when material is almost empty.
Or do you pay attention to the size and functions of the touchscreen?
For example, a resin printer can give off some smell again…
Sound
Does the printer have to be silent?
A silent printer is nice to have at home. Also pay attention to the noise of the fans.
Connection
Which connection do you prefer?
Most 3D printers are simply equipped with an easy WiFi connection. You can of course also upload a file from a USB stick or SD card.
Print technology
Which printing technology do you prefer, FDM/FFF or SLA/DLP (resin)?
FDM is suitable for most filaments, while SLA/DLP can only work with resin filament. More info about this under the heading FDM vs Resin 3D Printers.
The best 3D printers reviewed
So there is a lot to consider with a good 3D printer.
Now that you have some more information, I'll take you through my in-depth reviews of the best 3D printers currently available.
Overall best 3D printer for home: Creality Ender 3 V2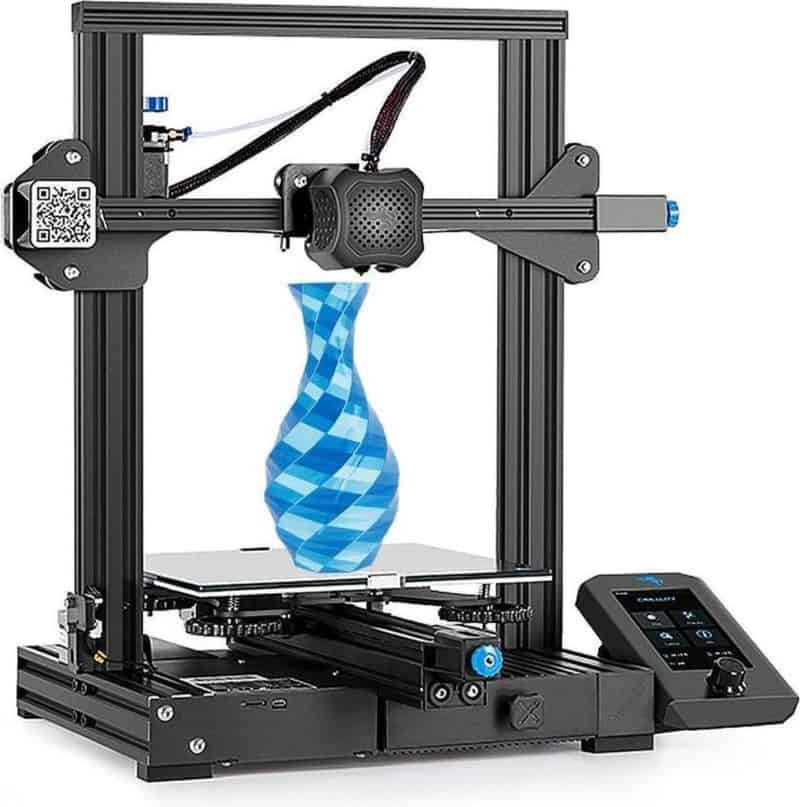 With the popularity of the Creality Ender 3 V2 and the CR-10 printer, Creality became really popular among hobby 3d printing fans.
Both the Ender 3 and CR-10 both became extremely popular due to their relatively low price, features and upgrades.
De In any case, Creality Ender 3 V2 is much quieter, has a new large control screen and a better extruder (print head) than the Ender 3.
De Ender 3 V2 smart 3D Printer is therefore 'The Best' in my opinion, because it still offers an innovative Creality 3D printing experience, at a lower price than its bigger brother, the Creality CR-10 V3.
It has advantages over the CR-10, such as being up to temperature sooner, but above all its stability is much better.
Furthermore, this printer has a flat glass plate with coating (textured silicon carbide glass) on the heating bed and handy adjustment knobs for tensioning the drive belts.
The Ender 3 V2 comes as a semi-assembled DIY kit.
What's in the box of Creality Ender 3 V2 is besides the printer itself, a USB Stick (SD card holder), accessory kit and a spare nozzle.
It is easy to calibrate the print bed. The setting 0,16 mm really gives the most beautiful prints, you set this in the slicer program.
The construction volume of the Creality Ender 3 V2 is okay for a home printer, as its installation space is 220 x 220 x 250 mm, and it is easy to control via your smartphone with the Creality 3D app.
Finally, this printer is a lot cheaper than the CR-10, taking all its functions together, this is my overall best 3d printer!
Pros
Excellent price / quality ratio
Nice print quality
Easy to use
Spacious print bed
Enough upgrades
New nozzle design
New display
Cons
Manual is not always very clear, but quite easy to assemble via Youtube!
Marling code needs some work
Features
Pre-assembled: semi-assembled DIY kit
Touchscreen: Yes
Motherboard: V4.2.2 or V4.2.7
Printing material: PLA (Additive Heroes Premium PLA is recommended), PETG, TPU
Number of print heads: 1
Introduction year: 2020
Print material diameter: 1,75 mm
Print surface height: 250 mm
Print surface width: 220 mm
Print surface depth: 220 mm
Minimum print thickness: 0,1 mm
Maximum print thickness: 0,4 mm
Maximum print speed: 100
Maximum print temperature: 260 degrees Celsius
Weight: 7,8 kg
Print technology 3D printer: FDM
Connectivity: MicroSD card, Micro USB
Check prices and availability here
Easiest 3D printer for beginners: Flashforge Adventurer 3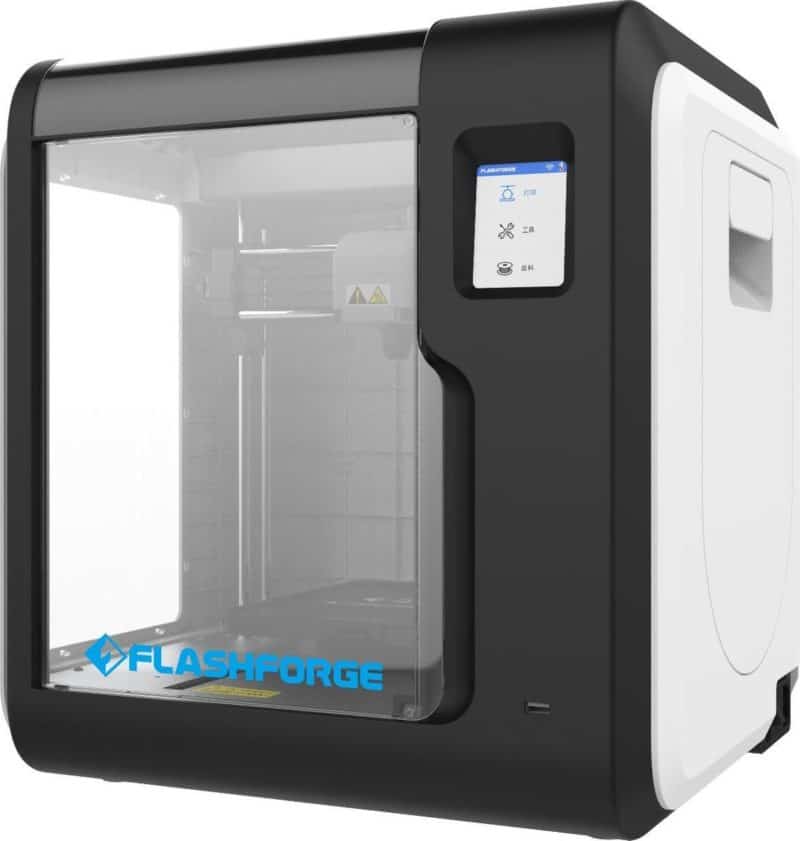 The Flashforge Adventurer 3 – FDM 3D Printer is a simple, intuitive 3D printer that is perfect for novice users.
The fused filament fabrication of this printer is safe, and it is easy to replace the nozzle.
The mouthpiece comes standard with a diameter of 0,4 mm. This makes leveling simple and possible between 0,05 mm and 0,4 mm.
Even though the print bed can be heated to 100 degrees Celsius, only use this printer with PLA filament and other simple filaments, as the print head cannot tolerate more than 230 degrees Celsius, as is the case with most printers.
The print temperature can be set via the software.
The print bed is very easy to remove, and the flexible plate makes it easy to remove your designs.
The 3D printer has a 2,8 inch touchscreen with a full color display. You view an example of your product on this display.
Its built-in camera is also networkable, allowing the user to monitor print progress.
Unlike the Creality CR-10 smart – 3D Printer, this 3D printer has a glass cabinet in which the design is printed; this Flashforge is therefore slightly more expensive.
However, this printer can print at a lower temperature (230 degrees) than the Creality (300 degrees).
This device is very quiet, which makes it suitable for use at home or in the classroom.
Print objects can be prepared via educational software. The printer's extruder is located on the side of the housing.
There is a sensor that monitors the end of the filament and automatically pauses the print.
Pros
Beautiful glass housing
Safe
Style
Unpack and print right away, no kit
Filament end monitoring
Cons
can print up to 230 degrees Celsius
Small touchscreen
Doesn't print very fast
Features
Pre-assembled: Yes
Touch screen: Yes, 2,8 inches
Printing material: PLA
Number of print heads: 1
Introduction year: January 2018
Print material diameter: 1,75 mm
Print surface height: 150 mm
Print surface width: 150 mm
Print surface depth: 150 mm
Minimum print thickness: 0,05 mm
Maximum print thickness: 0.4 mm
Maximum print speed: 100
Maximum print temperature: 230 degrees Celsius
Weight: 9 kg
Print technology 3D printer: FDM
Noise level: 50 decibels
Check prices and availability here
Best cheap 3D printer: Voxelab Aquila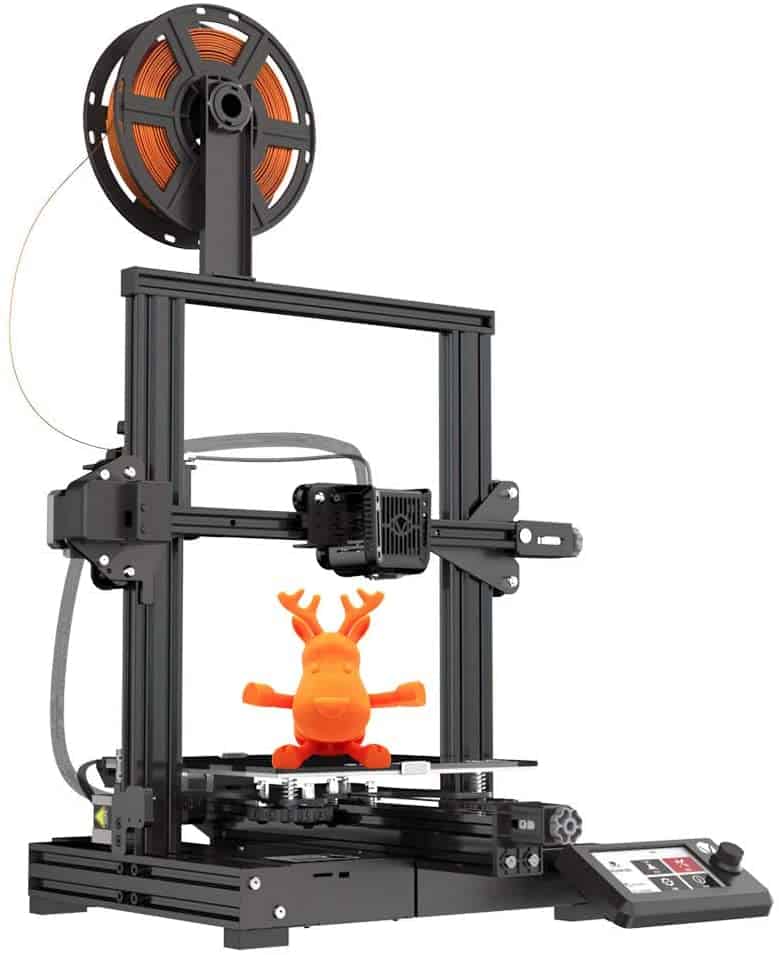 This Voxelab Aquila 3D Printer is a resin printer (resin) – just like the Anycubic 3D Photon (in a cabinet) – and has a heat bed that heats up quickly.
Its carbon glass plate provides a strong bond, so that the resin product to be printed cannot warp.
This Aquila can resume printing after a power failure, saving you time and material.
The Aquila is just like my overall best, the Creality CR-10 smart – 3D Printer an open model, without a cabinet, only the Creality cannot print resin.
It is smart to first print the toolbox that is on the SD card. This card includes several printer upgrades.
Possibly with the help of 3DPrintSOS, you can set up your own Cura slicer profile.
Pros
The print quality is fantastic
High construction volume
The glass plate is textured on one side, you can print on this side, but also easily use the smooth side
The glass plate is easy to clean with warm water soap; before printing, dry it well with a piece of kitchen roll.
A good leveling is all that is needed for the prints to adhere nicely
Cons
the PTFE tube is not always milled perfectly clean. The result is that the filament gets stuck. Check this and replace the tube if necessary.
You hear the fans
The supplied filament is not on a spool and does not work well
(Most) resin is poisonous
Features
Pre-assembled: No
Touch screen: Yes 4.3 inch
Print material: PLA, PTG, ABS
Number of print heads: 1
Introduction year: October 2020
Print material diameter: 1,75 mm
Print surface height: 250 mm
Print surface width: 220 mm
Print surface depth: 200 mm
Minimum print thickness: 0,1 mm
Maximum print thickness: 0,4 mm
Maximum print speed: 180
Maximum print temperature: 250 degrees Celsius
Weight: 8,2 kg
Print technology 3D printer: FDM/FFF
Noise level: 50 decibels
Best 3D printer for your child: Mini Desktop 3D Printer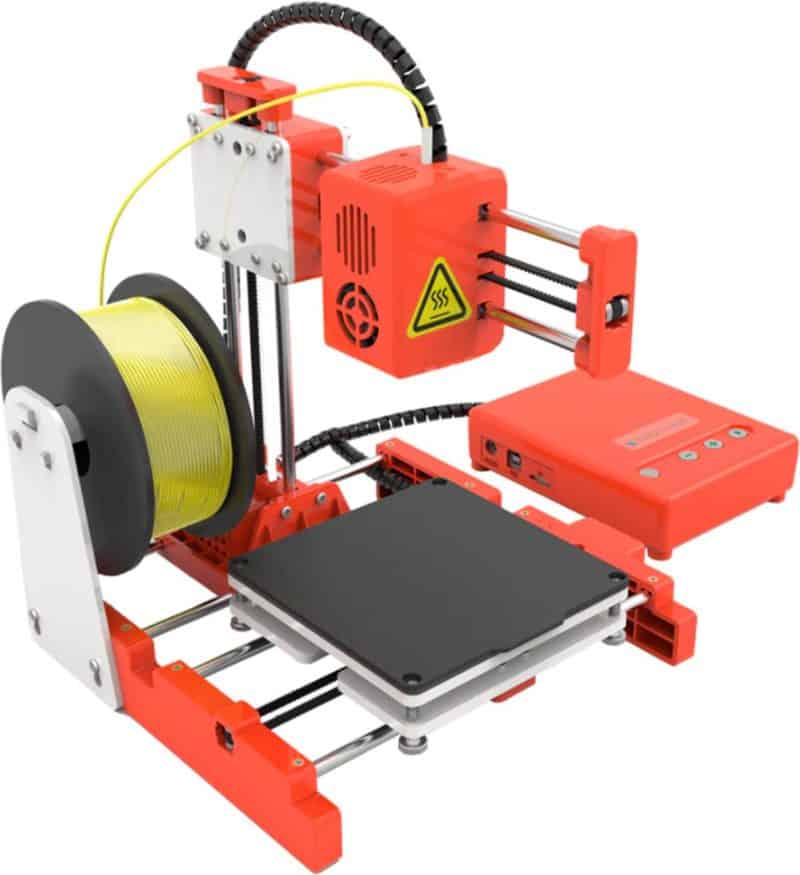 This mini printer is a user-friendly, well-priced and very compact, open 3D printer for adults and also for children.
The printer has an auto-slice function (works with software such as Easyware, CURA, Simplify3D) and comes with everything you need to get started right away.
In addition to the mini printer, the package contains a USB cable, TF card, card reader, Phillips screwdriver, 10 meters PLA 1.75 Filament with a Filament holder set.
You can easily take this mini printer with you, because it is so light.
Press the printer's 3D button after inserting the TF card and the device will automatically start 3D printing after a short warm-up period.
Its magnetic platform is removable. It is an ideal mini printer for beginners because of its safety in use.
The print accuracy of this mini printer is 0.1-0.2 mm.
Pros
Ideal for families and beginners
Mini and lightweight
Works largely automatically thanks to the auto slice function
Supplied with all necessities
Cons
Not waterproof
Small printer
Features
Pre-assembled: No
Touch screen: None
Printing material: PLA
Number of printheads: 1 (0,4mm)
Introduction year: January 2021
Print material diameter: 1,75 mm
Print surface height: 100 mm
Print surface width: 100 mm
Print surface depth: 100 mm
Minimum print thickness: 0,05 mm
Maximum print thickness: 0,3 mm
Maximum print speed: 40
Maximum print temperature: 230 degrees Celsius
Weight: 2 kg
Print technology 3D printer: FDM
Extra: Polaroid Playsmart 3D Printer
By the way, I secretly found another one for you, which also appeals to me: the Polaroid Playsmart 3D Printer.
In short: with the MultiColour function of the Polaroid Playsmart 3D Printer you simply set it to stop at certain points, so that you can change the filament.
The software indicates how much time and material a design takes.
So print with multiple filaments (and that while it only has one print head)!
This is a user-friendly but also multi-functional 3D printer.
It has the option to follow the progress of your print on your smartphone via the WiFi camera via the Polaroid Playsmart App.
You can also remotely control your Polaroid 3D Playsmart 3D Printer via this App. The print surface is 120x120x120 mm.
Best 3D printer for miniatures and model making: Creality CR-10 V3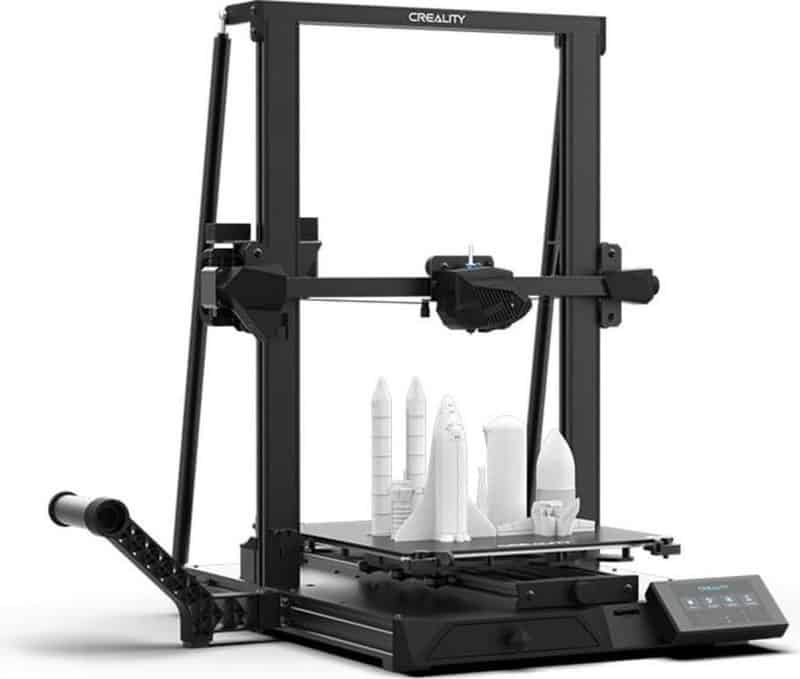 The Creality CR-10 V3 3D printer is the updated version of the Creality Ender-3 v2.
Perhaps the notable difference between these two devices is size, as the CR-10 V3 is quite a bit larger than the Ender 3 V2.
While the CR-10 V3 offers more print area, this means it takes longer for the heated bed to reach higher temperatures.
The extra Z axis on the CR-10 V3 the top of the printer makes it a bit unstable, so support rods have been added.
Still, the CR-10 V3's frame isn't nearly as stable as the Ender 3 V2's, but that's the price you pay for a large Z-axis build space.
Another difference between the two printers is that the CR-10 V3 comes almost fully assembled.
As for the extruder configurations, the CR-10 is equipped with a direct drive mechanism.
Pros
Quiet; huge noise cancellation
semi-assembled
Perfect cooling system
An optional upgrade with BL-Touch offers the possibility to upgrade the Creality CR-10 V3 with the auto-leveling function
High-quality Meanwell power supply
Cons
It takes a long time before the heat bed is up to temperature
Not too stable 3d printer
Features
Pre-assembled: semi-assembled DIY kit
Touchscreen: Yes
Motherboard: 8-bit; available ports for BLTouch
Printing material: PLA, ABS, PETG, TPU
Number of print heads: 1
Introduction year: June 2020
Print material diameter: 1,75 mm
Print surface height: 400 mm
Print surface width: 300 mm
Print surface depth: 300 mm
Minimum print thickness: 0,1 mm
Maximum print thickness: 0,4 mm
Maximum print speed: 100
Maximum print temperature: 100 degrees Celsius
Weight: 11,5 kg
Print technology 3D printer: FDM
Connectivity: SD card, Mini USB, ISP
Best 3D Printer for Jewelry: Anycubic Photon Mono 4K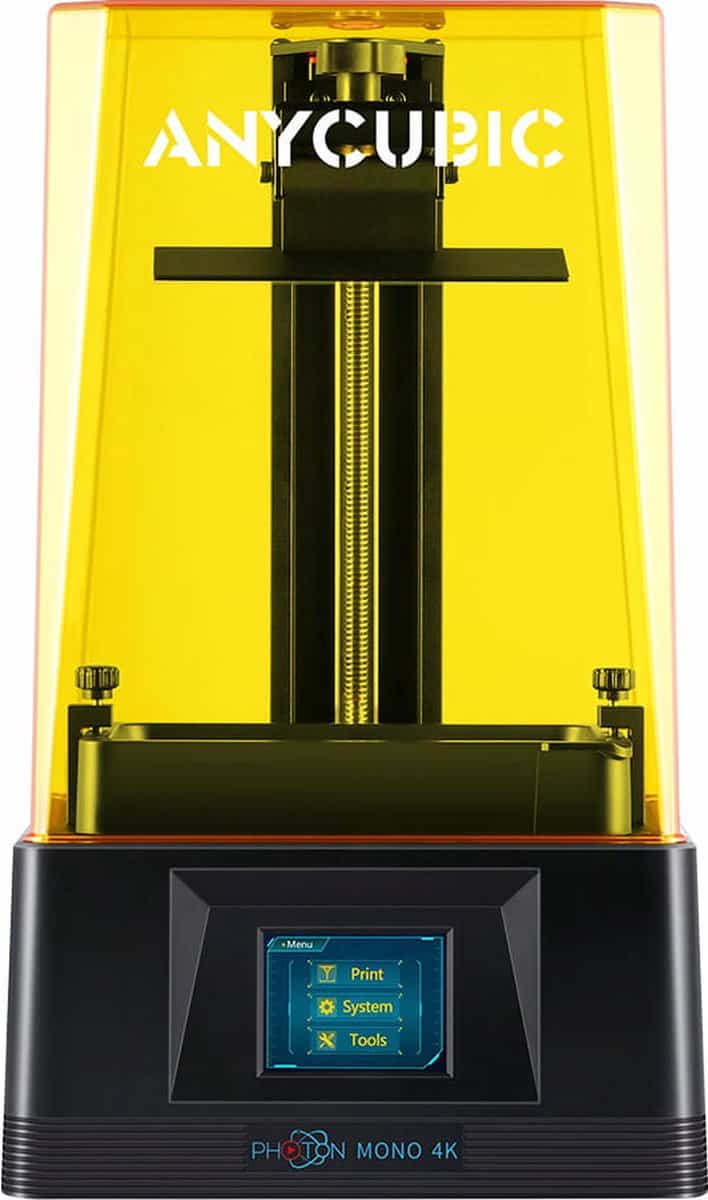 The Anycubic Photon is an accurate resin printer, which makes it perfect for 3D printing jewelry (its print bed is small).
After the success of their first affordable UV resin 3D printer, Anycubic comes with this improved model. The Anycubic 3D Photon-S is a class resin printer for a reasonably low price.
Accurate 3D printing can therefore take place by means of a UV matrix with a very high resolution. This is also because of its perfectly built frame with the double Z.
Thanks to the new anti-aliasing software, corners and edges are nicely smoothed, so that the resolution appears even higher than it is!
Thanks to a built-in carbon filter, you don't have too much trouble with unpleasant odors and gases.
Anycubic's special Photon software is included.
This 3D printer comes with 250 grams of 405nm UV resin, a USB Stick, 3 pairs of rubber gloves, spare FEP film, mouth cap and spatula.
Pros
Extra axis (Z) for a more stable and smooth print
New software
New touchscreen
Almost no price difference
Anti-aliasing
Metal Parts Replacement
Lower weight
High resolution UV matrix
Cons
(Most) resin is poisonous
strong smell
small print bed
Features
Pre-assembled: Yes
Touch screen: Yes, 2.8 inch color TFT touch screen
Printing material: PLA
Number of print heads:
Introduction year: 2020
Print surface height: 165 mm
Print surface width: 115 mm
Print surface depth: 65 mm
Minimum print thickness: 0,025 mm
Maximum print thickness: 0,1 mm
Maximum print speed: 20
Maximum print temperature: 30 degrees Celsius
Weight: 5,9 kg
Print technology 3D printer: SLA/DLP
FDM vs Resin 3D Printers
As you have seen with the printers in my top 6, there are 2 types of 3D printers: FDM and resin printers. Let's take a look at the benefits of FDM first:
Benefits FDM
Lower purchase costs
Lower printing costs
Easy operation
No post-processing required
Quick
Suitable for prototyping
Many different filaments (different colors and materials)
With this 3D printer you make spare parts, art objects, functional prototypes, molds
Resin Benefits
But what are the advantages of resin printers (SLA/DLP)?
Resin printers are now more affordable (from around €400)
Possibility of transparent prints
Detailed, fine surface
High Accuracy
Possibility of transparent models
Possibility of more complex shapes
With this type of 3D printing, the resin is cured with a UV laser.
This 3D printer is suitable for, among other things, medicine, mechanical engineering and dentistry, for jewelry and art objects
Cons of resin
In addition to the printer itself, you also need other devices for post-processing
You are usually tied to one manufacturer with these prints
Good to know that when printing resin, the print speed depends on the light output, but also on the printer and the material.
What are the advantages of 3D printers? And the cons?
In my opinion, the advantages of 3D printing do not outweigh the disadvantages:
3D printer benefits
Very detailed products can be made with 3D printers, from different materials
No material is lost
Less production time
Fewer products to ship and transport
No more packaging needed
Medical use (prostheses, but also parts for medical equipment)
Broken or missing parts are so perint
A new way of making art
3D printer disadvantages
There are also a few drawbacks to 3D printing:
Everything can be made with 3D printers, unfortunately also weapons
Overproduction and waste of materials simply because it is so easy to 3D print something
The gases released during printing can be harmful to health
Did you know that a 3D printer is suitable for make your own furniture for a dollhouse?
Which materials can be printed with a 3D printer?
The raw material that you put in a 3D printer is called filament. Think of filament as the printer paper.
Filament – ​​the base of which is usually plastic – is available in many different materials and colours.
Check whether the filament type you want to use is suitable for the extruder/dual extruder of your printer.
Consider whether you have enough experience to get started with a particular filament.
PLA or ABS is the best choice for beginners: these 'easy' filaments are therefore sometimes already supplied as standard with home printers.
With default settings of the 3D printer, a PLA print can actually not fail. After a few successful PLA prints, you can start trying ABS.
What is also very important, however, is what is printed, and what requirements your print must meet.
Each filament has different properties and is therefore suitable for very diverse applications.
For example, you need to know to which temperature (glass temperature) a print object is exposed.
Different types of filament
With 3D printing you can choose from the following filament types:
PLA
The most popular filament, because it is easy to work with and available in many colors and variations, such as glitter or fluorescent.
It is flexible, hard and heat resistant. But with a hard blow or a fall it will break.
PLA is therefore especially suitable for a print that you put down, such as an art object; not for industrial use.
The material is very easy to print and is energy efficient: the heat bed only needs to be heated to 60 degrees Celsius. The best material for beginners!
PLA withstands the least heat.
Wood filament
Wood filament is a special filament that falls under PLA filament.
This filament feels and smells like real wood, because it consists of 20% real wood.
Because this filament is based on PLA, it is easy to print, even without a heat bed. So you can use this material at home, on your PLA printer.
Make sure that the nozzle is not too small, otherwise it may clog.
metal filament
Metal filament also falls under PLA filament, but is 3 times as heavy. It feels like metal and can be easily reworked.
ABS
ABS is an oil-based filament, available in many colors. It is very strong, heat resistant and also water resistant.
A strong odor is released during printing, so ventilate your workspace.
ABS is not very strong and can deform permanently, but will not break easily.
This filament is very suitable for industrial applications, such as car bumpers. It is easy to work with for beginners.
ABS has a glass temperature of 110° and is resistant to high temperatures.
PETG
PETG combines the advantages of ABS and PLA in one filament. It is therefore user-friendly and versatile.
PETG is therefore a very strong material that is also flexible. Did you know that PETG can be stretched to twice its own length before it breaks?
This makes it extremely suitable for moving parts. It is often used in the food industry; think of PET bottles, for example.
Only people with a lot of printing experience can handle this filament, because adjustments will have to be made during the printing process.
PETG has a glass tip of 90 °C.
SO
ASA filament is a strong and somewhat flexible material that is water resistant and resistant to UV radiation and chemicals.
It is suitable for printing prototypes, but also for car parts.
GreenTEC
GreenTEC consists of 100% natural raw materials, is environmentally friendly and a sustainable filament; it is biodegradable and CO2 neutral, great!
PVA
PVA is also biodegradable, it is soluble in water.
Complex prints are made with this type and PVA adheres well to PLA and ABS.
If you want to use it as support material, this is only possible in a printer with a dual extruder.
HIPS
HIPS is well suited as a basic filament or as a supporting material.
It is easy to edit or paint. Best used with a dual extruder printer (a printer with two print heads).
Nylon
Nylon is an extremely strong, semi-flexible filament type.
A heat-resistant material, suitable for printing tie wraps, for example. Not suitable for all printheads.
Flexible TPE or TPU
TPU is a rubber-like filament for the production of, for example, phone cases or anti-slip objects.
This filament has a damping effect and feels soft. Not suitable for every type of extruder.
TPU is again easier to print than TPE filament.
To prevent FLEX materials from bending during 3D printing, you should use a direct drive extruder (which pushes the filament directly into the nozzle). Flex - just like PLA - resists the least heat (with a turning point of 60 °C).
Also when using FLEX filament, someone with a lot of insight and experience in 3D printing is required.
Build your own 3D printer
The 3D printer market is predicted to grow enormously in the coming years.
Experts whisper that there is good money to be made with the sale of print objects from homemade 3D printers.
I'll tell you a few websites where you can download designs for 3D printers for free: 3D Warehouse en Thingiverse Digital Designs for Physical Objects.
Of course you need the right software to print these 3D models, which you can also find for free!
See here what a self-built 3D printer can look like.
Tweakers takes you through the process of putting one together here:
Also inquire about the Prusa i3 mk3s, this is a semi-assembled 3D printer that is extremely suitable for very detailed, smaller batches and fast prototyping.
This printer is very expensive, but it is professional, can handle various filaments: the Prusa i3 mk3s is worth a look!
Safety of 3D printers
RIVM has conducted research into the use of 3D printers and established that the risks mainly depend on the degree of exposure to the materials and substances released during the printing process.
3D printers ensure that plastic (plastic) wires are melted and then computer-controlled to create an object layer upon layer.
Risks include, for example, getting a burn from touching the hot printer or the hot plastic. However, when used safely, these risks can be significantly reduced.
But then there are the (toxic) vapors and the small particles that we inhale during the printing process.
What should you pay attention to for safe 3D printing?
Workspace ventilation: this is very important during the printing process, in order to limit health risks.
Skin contact: After the printing process, when using the printed product, you can also be exposed to chemicals, for example when wearing jewelry, or when children's toys are put in the mouth. Perhaps the solution here is to use 100% natural GreenTEC filaments.
What do 3D printers cost to purchase and use?
The biggest expense is of course the 3D printers themselves, but you also need other things that cost money:
Filament
Stroom
Maintenance
The prices for the filament you will use are not that high; between € 20 and € 40 per kilo.
In the future, these prices will decrease as manufacturers are always looking to create filaments of different materials cheaper.
The larger your printer is, the more power it consumes. When producing 20 prints, your 3D printer will use approximately 2,6 kWh for this.
However, you will save money, since you will spend € 1,50 per print for household tools, for example, which can cost € 50 or more in the store!
If a part of your 3D printer breaks, you naturally hope that the device is still within the warranty period.
A golden tip: produce spare parts yourself! Then it is no problem if a part breaks outside the warranty period.
What are the most special objects printed with 3D printers?
Own replica
There are quite a lot of popular 3D print objects, but most people think one of the nicest is a mini version of yourself.
A scan is first made of you, which is converted into an STL format. This service is offered from €30 to €130.
This design then goes into the printer, which produces a faithful replica of you.
Voedsel
With special 3D printers you can also print cool 3D objects like food!
Foodini, for example, is a 3D food printer that can simply print 'The best pizza in town'.
See them in action here:
Medical applications
3D printers for medical applications are the most useful. In 2014, designer Karasahin created a plaster replacement for people with broken limbs.
This 'sleeve' not only looks very beautiful, but even promotes the healing process! Damaged bones heal up to 38% faster.
bioprinting; even body parts can be produced with 3D printers!
Seriously, one can print ears, bones, kidneys, and skin for humans. Use is made of a gel-like substance, made up of cells.
Pets have also been thought of: Instagrammer Kittenxlady showed off her favorite disabled kitten in 2017, with her custom 3D-printed wheels to serve as hind legs.
The kitten did quite well with this!
Read here about the beautiful project of 3D champs: making a leg for a goose by children in group 8.
props
You probably know that the Game of Thrones dragon head comes from the Netherlands, it was made to decorate a boat with this theme.
The head is even equipped with a flamethrower and smoke machine.
Weapons…
A 3D printed weapon has been in the news more than once.
It's actually crazy for words that a 3D object can be printed from 3D printers like a seriously working gun.
How long does it take to learn 3D printing?
Well, that all depends on you; how much time do you spend on your new hobby and how much do you know about 3D printers, computers and software…
In any case, start by reading the manual for installing your 3D printer, and furthermore it is good to watch many YouTube instruction videos: you get to know the basics of 3D printing so well.
You should always start with an easy, print-friendly 3D filament! Furthermore, you start with a simple print, choose the slicer software that you like.
Good to know is that with some functional prints, you can really give your printer a huge upgrade boost.
What is the largest object you can print with 3D printers?
In October 2019, students at the University of Maine printed the largest 3D boat in the world. They established no fewer than three Guinness World Records!
Named 3Dirigo, the 3D-printed boat weighs 5.000 pounds. A great achievement, although it is not a very nice boat.
The prototype printer they used for the boat is also very special. A pretty overwhelming machine that can print huge objects up to 30 meters long, almost seven meters wide and 3 meters high.
This printer will be used for rapid prototyping of civil, defense and infrastructure applications.
3D printers Q&A
Finally, a number of questions about 3D printers answered. This was questions I had!
Do I need a computer for a 3D printer?
Yes, you want to draw your design with the help of the right software.
You will also have to convert your design into a 'language that your 3D printer understands', which you can do with the help of, for example, Repetier, Simplify3D, Slic3r and Cura from Ultimaker.
Do I need a good graphics card for 3D printing?
Yes, the graphics card (also called video card) is an important part of a computer that you will use for 3D printing.
By using this card you see the output of the 3D software on your screen.
You usually have the choice of a PCI or an AGP (Accelerated Graphics Port) graphics card. AGP stands for 'mortise slot on the motherboard' and was developed for graphics cards.
So rather purchase a graphics card with an AGP interface if your motherboard supports it.
If you have a PCI-based graphics, you can place it in a bus mastering PCI slot, provided your motherboard has this, of course.
You will always need a driver for your card to work optimally, so it's a good idea to check every now and then to see if there are newer drivers available.
The technical developments of graphics cards are going very fast, because of the gaming industry that makes increasing demands on the hardware, in order to make the games more realistic.
What is 3D printer software?
This software is always included with a printer or can be downloaded from the printer manufacturer's website.
The most commonly used slicer software are Cura (Ultimaker) and Slic3r. Simplify3D is also known, but this is for a fee.
To make a 3 dimensional print, you need 'slicer' software. This is the program you use to read a 3D file and give your 3D printer the correct instructions.
The 'slicer' divides your design into different layers.
What does fused filament fabrication mean?
Fused filament fabrication is a 3D printing process. Use is made here of a filament that liquefies through the heated printer head in order to be able to form layers.
What do filaments cost?
Good filaments cost on average about € 20 to € 40 per kilo.
What is Fused Deposition Modeling?
Fused deposition modeling, or FDM, is a fairly fast prototyping technique in which layer upon layer of material is fused together.
What does the layer height of a printer mean?
The layer height depends on the 3D printer. It is the height of a single layer that the printer uses to build/print the design.
The lower the layer height, the finer the surface of the print itself.
Usually the layer height is 0,1mm to 0,4mm. However, this also depends on the software with which an object is printed, because the right 3D software knows almost no limits.
Can you control a 3D printer with an iPad?
The most useful is a computer, but it is possible. However, not all 3D printers have the ability to your iPad to connect wirelessly.
Conclusion
3D printers are getting cheaper, especially the FDM printers. Increasingly, you can also simply download useful online 3D models for free.
You can get started right away with a purchased 3D printer, but construction kits and semi-assembled 3D printers are also extremely popular.
3D printing can be quite environmentally friendly, because you simply make your desired item yourself (you don't have to leave the house and Amazon no longer has to come to your door!).
How nice is it not to be able to produce jewellery, art, useful objects (such as parts that are broken), or household gadgets yourself?! And that just from home.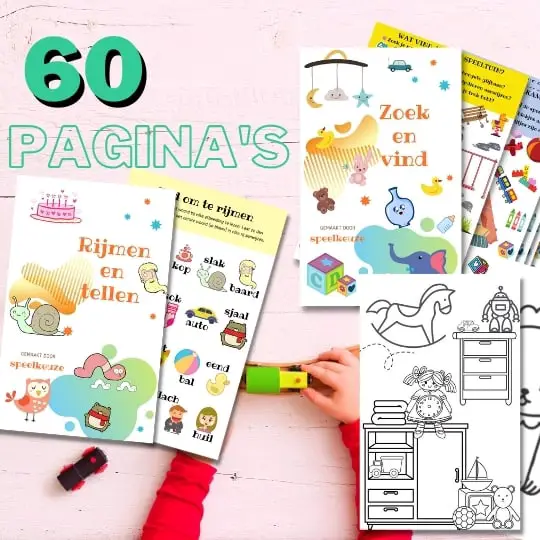 Always something to do for the holidays or rainy day?
Play Choice now has the ultimate activity book collection, with over 60 pages of fun coloring pages and educational puzzles.
Joost Nusselder, the founder of Speelkeuze.nl is a content marketer, father and loves trying out new toys. As a child he came into contact with everything related to games when his mother started the Tinnen Soldaat in Ede. Now he and his team create helpful blog articles to help loyal readers with fun play ideas.