Best Baby Tablet and Toddler Tablets | Our top 4 for your little one
I enjoy writing these articles for my readers, you guys. I don't accept payment for writing reviews, my opinion on products is my own, but if you find my recommendations helpful and you end up buying something through one of the links I may be able to receive a commission on that.
More information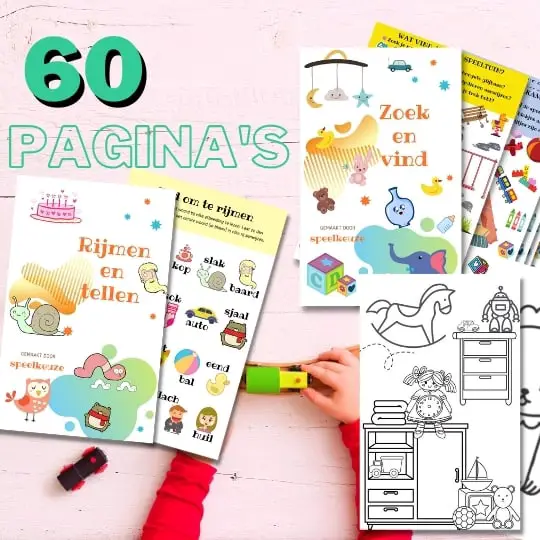 Always something to do for the holidays or rainy day?
Play Choice now has the ultimate activity book collection, with over 60 pages of fun coloring pages and educational puzzles.
Every child should have one these days, one tablets. Otherwise he is completely lost.
Regardless of gender, whether it is a 3-year-old toddler or a 7-year-old boy, every child nowadays already has their own tablet at their disposal.
If you are looking for tablets for children, you will find them in 2 broad categories:
a category consisting of tablets especially for toddlers
and another category for children between 5-12 years old
Let's take a look at the best baby and toddler tablets, then I will immediately consider what to look out for for these ages.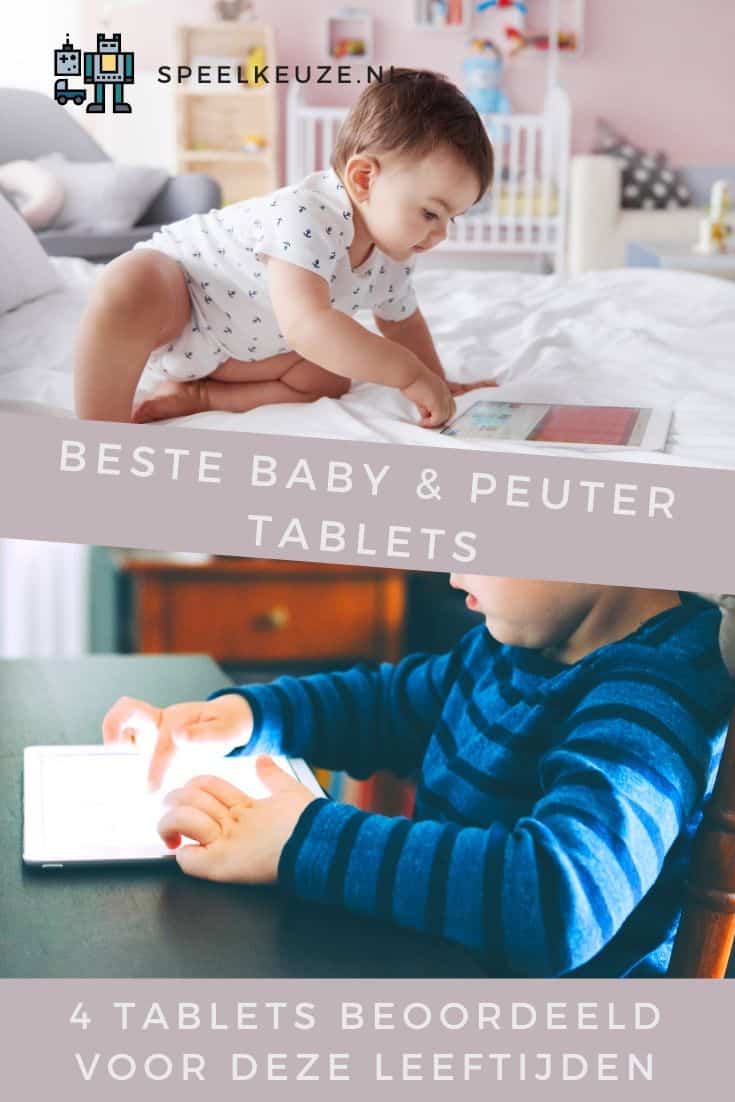 I've already had a number of tablets for my kids now that they are in different age ranges, and I think this Kurio Ultra here have a great price / quality ratio.
In addition, it is best suited for small children from toddler to maybe 6.
The nice thing about it, I think, is that it grows well until a slightly later age. It is a more extensive tablets than real novice learning tablets for children.
If you are not ready for a more extensive tablet yet, we also have a good alternative for babies here, this Vtech baby activities tablet:
Every button does something different and little users receive a musical reward for every action.
Now that you have decided to buy a tablet for your child, you will immediately come to the next topic. How am I supposed to choose?!?
Although the specifications for a children's tablet do not say much about its performance, you will still have to browse through the different features to choose a good one.
So, to ease the task for you, here is a list of the best children's tablets to consider for a purchase for your toddler.
Watch this post as a video, or read on for more detailed information and the assessment of my recommendations:
When giving a tablet to a toddler, always pay attention to the amount of screen time you give them.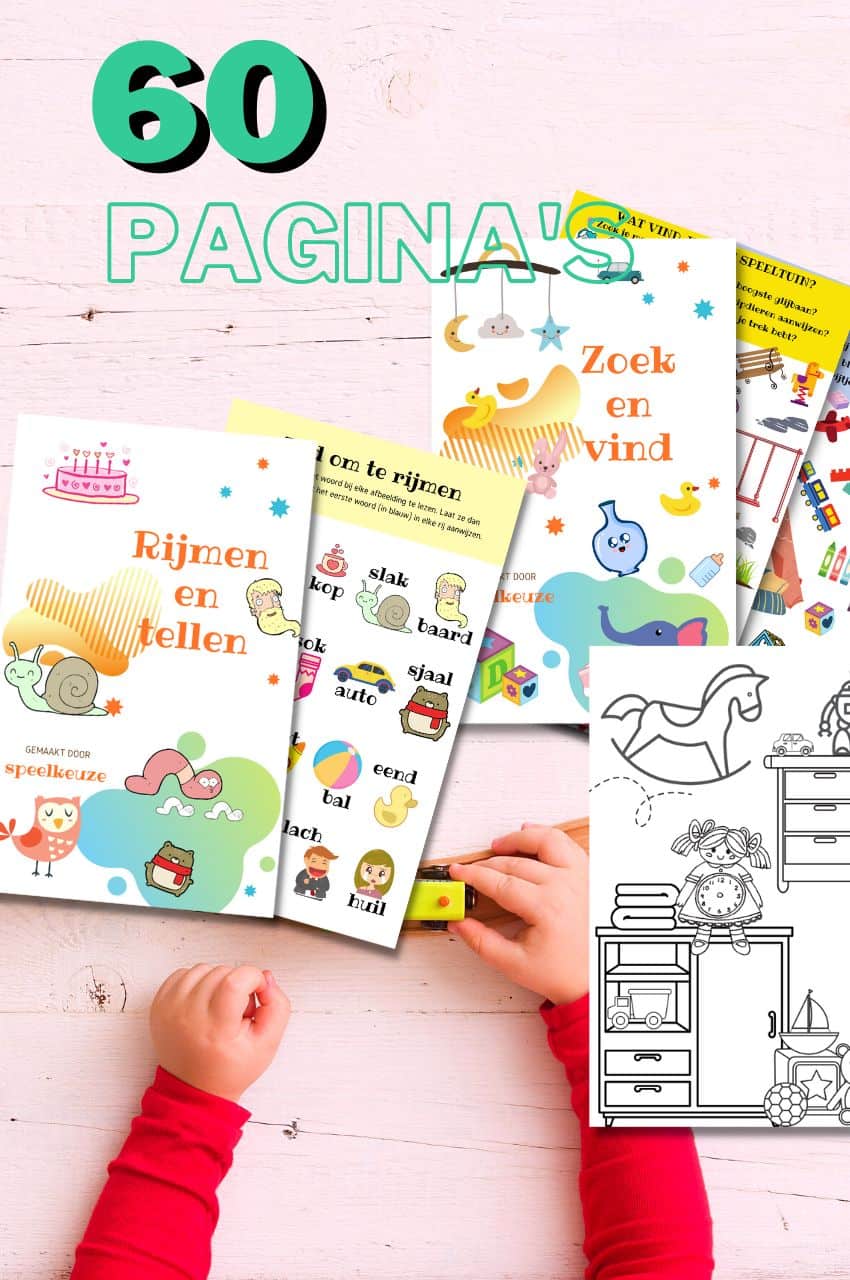 A play theme in your mailbox every month?
Fun play tips, activity books and more, with the first email being our free mini-guide "educational toys"
We will only use your email address for this newsletter and respect your privacy
Best children's tablet for baby and toddler rated
Best for your Baby: Vtech activity tablet
Perfect for: a first activity tablet to introduce your baby to buttons and cause and effect of the screen.
The educational tablet for the little ones, the Vtech baby activity tablet is suitable from 1 year.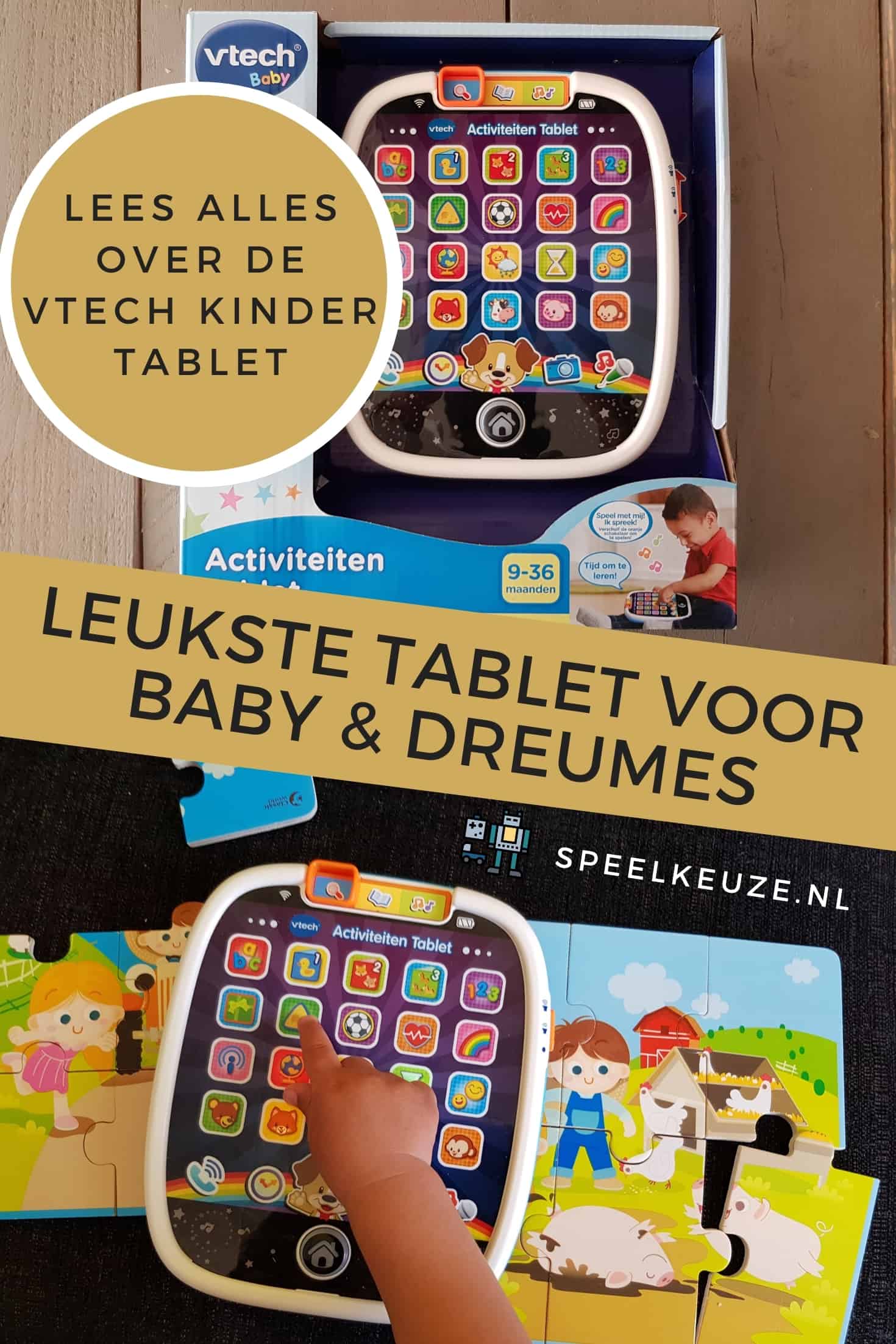 Touch the 25 interactive app keys to get acquainted with colors, shapes, animals and much more!
Listen to music and short stories, "call" a friend and learn interesting facts. The sweet Vtech puppy sings 3 cheerful songs and accompanies you while playing.
The educational tablet for the little ones!
Touch the 25 interactive app keys to get acquainted with colors, shapes, animals and much more
Listen to music and short stories, "call" a friend and learn interesting facts
3 game modes encourage you to explore
The cheerful puppy sings songs and guides little ones while they play
20 melodies and 3 sung songs
Sturdy and durable design
Adjustable volume
Automatic shutdown
This baby tablet is available here at bol.com
Then here are our favorite toddler tablets:
Nicest full-fledged toddler tablet: Kurio Ultra
Perfect for: some more apps and of course youtube (in the kids app) movies. A lot of games and a lot of educational content. Very extensive.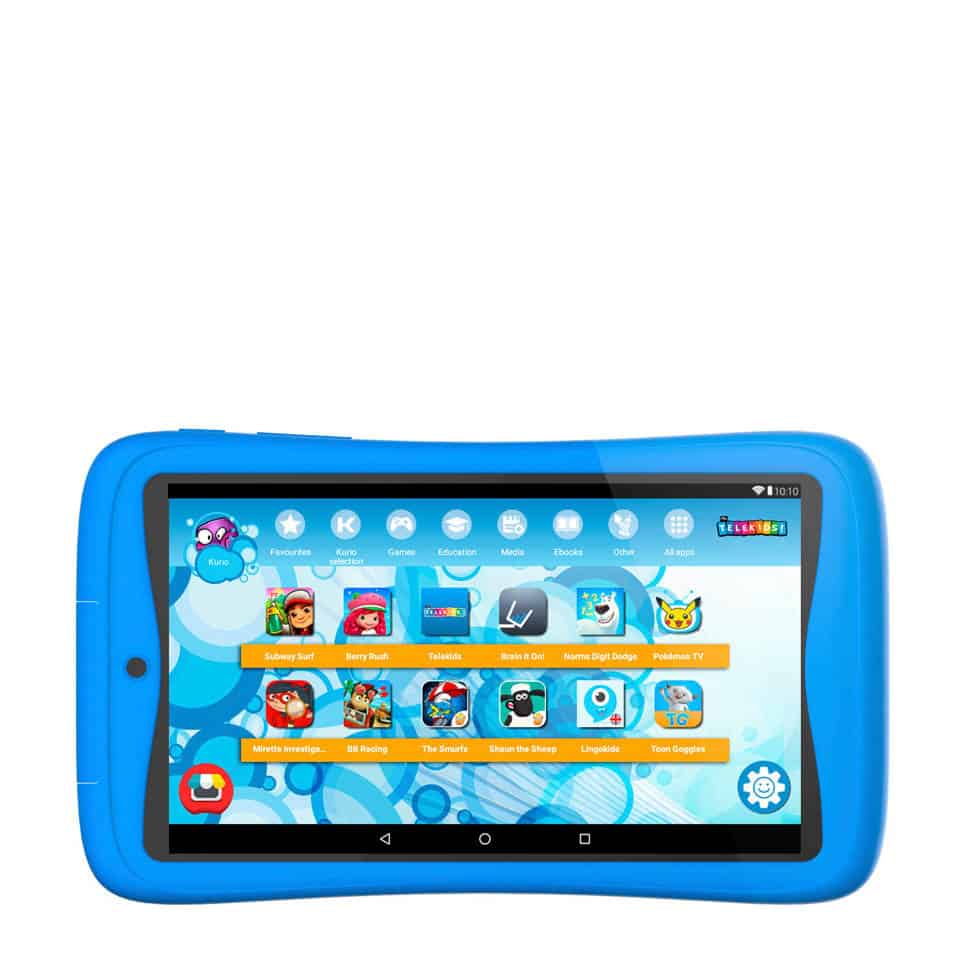 Many features and this Kurio is already leaning towards a full-fledged tablet. Perhaps best suited for slightly older toddlers from 3 years old.
Best tablet for toddler: Bumba Abc Tablet Clementoni
Perfect for: 9 games to learn to recognize numbers, letters, shapes and colors together with Bumba and his friends makes this Clementoni tablet such a fun toy.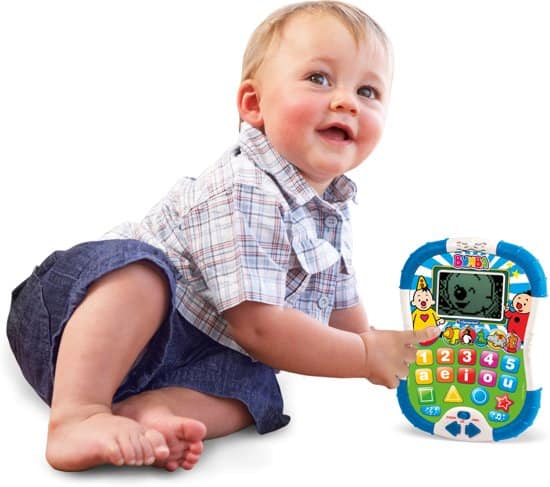 Suitable from 1,5 / 2 years. 9 games to learn to recognize numbers, letters, shapes and colors together with Bumba and his friends. With funny animations and cheerful tunes.
Check prices and availability here
Best toy tablet: VTech PJ Masks Tablet
Perfect for: Join the PJ Masks characters on an adventure through six educational activities and playfully learn the alphabet, rhyme, math and more.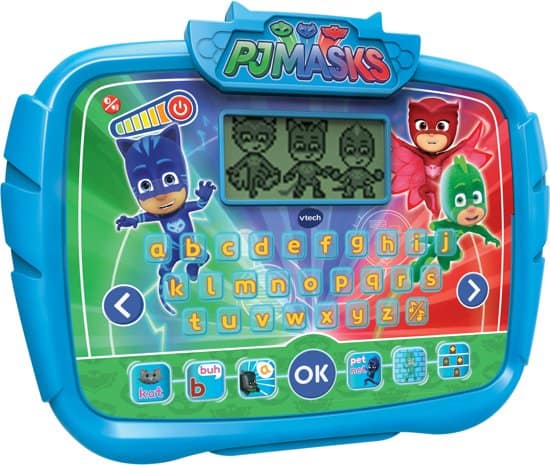 Become a real hero together with the Pajama Heroes!
Join Catboy, Owlette and Gekko on an adventure in six educational activities
Learn the alphabet, letter sounds, words, rhymes, to calculate and logic
The funny animations stimulate the imagination and encourage role-playing games
With the original voices of the Pajama Heroes
Adjustable volume
Sturdy and durable design
Automatic shutdown
It is available here from Amazon
Children's tablet alternative for the little ones
And if you don't dare to give a real tablet at this age, there is still this funny wooden chalkboard tablet with which they can play a bit: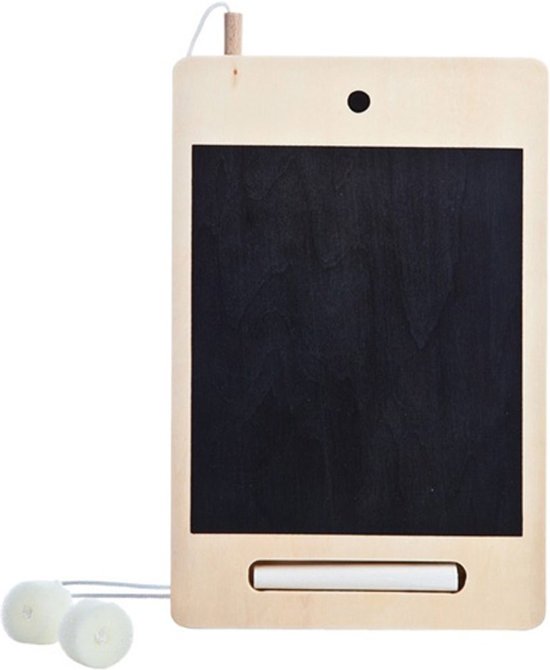 I just liked it too much not to list it here :)
It is also not that expensive so it is always funny to watch (available here)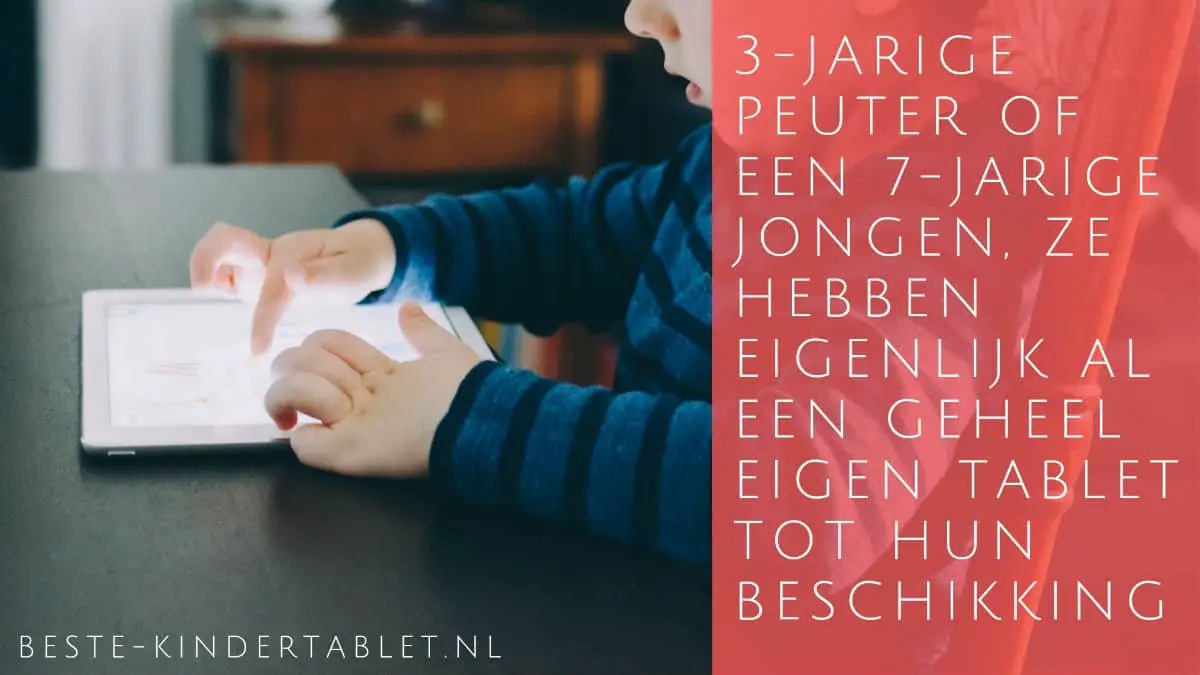 Which tablets would I not recommend for babies, toddlers and toddlers
These tablets are very good in themselves, even for children. But the features are too extensive and they are not user-friendly enough for babies and toddlers to use.
iPad Mini
I also bought an iPad mini for my older children for a while now.
It is really a more expensive purchase, but at a certain point the kids just want a little more, especially when they are no longer a toddler and also start playing games and the like.
It really costs a lot, but they certainly enjoy it! (you can find it here).
New ones come out every time so it remains a good tip year after year of course.
Preview
The iPad Mini 2 is a tablet in every way.
Although it features a 1024 × 768 resolution and a retina display with Apple's brand tag, the iPad Mini nevertheless landed at the number five position in our list of the best tablets for kids.
And that has to do with the price.
Also read all about it the best choice as an iPad for your child
Device Colors and protective cover
iPad Mini is available in 2 colors: black and white.
Although it does not come standard with a protective cover, there are a variety of options available to make an iPad Mini 2 suitable for a younger user (see also the photo).
It is not specially made for children, but due to the meadow support there are plenty of options to make it child-friendly.
Specs and construction
With a weight of 331 grams and dimensions of 7,87 "x 5,3" x 0,29 ", it is slightly thicker than the iPad Mini.
The extra weight is hardly noticeable. Equipped with a retina display, the iPad Mini is easy to use for extended periods of time.
If you have the money, the iPad mini 2 is of course a wonderful device, and one that can last from toddler to a much later age because they can do everything on it.
I got mine picked up here at Bol.com.
Colors and Screen
Given that Apple is marketing itself as a premium tech brand, it's a setback that the iPad Mini's resolution is just 162 ppi.
Even budget tablets such as Kindle Fire HD and Nexus 7 have a better pixel density.
Compared to its predecessors, the iPad Mini is sharper and characters and lines are no longer blurred and the retina display is of course sharp in every viewing angle.
Also read: limit screen time on iPad
Cameras and ports
With a 5MP iSight rear camera capable of recording 1080p video and an improved and better version of the front camera, there is noticeably less noise in the photos, even if they were taken in the dark at night.
You also see a clear difference in photos due to the presence of the retina display when you look back on the apple itself.
Performance
Having a 64-bit 1,3 GHz dual core processor with A7 processor chip and an M7 motion coprocessor helps to extend battery life when using a fitness or activity tracking app.
As usual, Apple hasn't revealed the RAM in this iPad, but this is quite a bit faster than the iPad Mini and all the other kids' tablets on this list.
Software
iPad Mini 2 comes with iOS 7 and entitles you to iPhoto, iMovie, GarageBand etc. It's a beautiful tablet, don't get me wrong.
It is actually not really made for children at all.
If you were already going to buy one for yourself, you can also give it to your child, but realize that you do not have any protective rights in the interface as with the other tablets in our list.
The fact that you can buy a soft rubber cover in cheerful colors does not make it a tablet suitable for children.
And it is actually just too good and too expensive for a kids tablet, but you can do a lot with it.
VTech InnoTab Max
Preview
The 7th and last from our list is the VTech InnoTab Max.
Because it is a direct competitor of LeapPad3, especially with its comparable price at the time of review, you will also be able to compare it best with that.
It is a tablet specially made for children with built-in child resistant functions.
Unlike LeapPad3, you can add your own movies and music to InnoTab Max.
Many customers rate it as the best choice for their younger children (read them here).
They will outgrow him at some point, but then you can switch to the Kurio Tab, for example.
Device Colors and protective cover
InnoTab Max comes in two colors: blue and pink, nothing surprising.
The cover protects the screen and also acts as a stand for better viewing angles while you set it down.
The said protective cover can be removed if you like a classic tablet.
Weight, dimensions and build quality
Weighing about 1,3 kg with dimensions of 15 "by 11,1" by 2,3 "and a hard build quality to meet the purpose of being suitable for children.
Colors and Screen
With a resolution of 480 × 272 for a 4,3 ″ single-touch capacitive screen, the resolution isn't as great as you'd ideally like, of course, but the same is the case with most of the kids' tablets.
Like the Leapfrog, the screen uses LCD and there may be a problem in viewing colors if the tablet is not held straight in front of you.
Performance
With a processor with a speed of 360 MHz and the internal memory of 4 GB, there is no such delay while using the pre-installed apps.
But at times, you might experience frustratingly long wait times.
Software
The InnoTab Max assists a child with simple math, English and pattern recognition with among other things games that are present to increase a child's spatial sense such as observations etc.
The InnoTab Max is best suited for children between the ages of 3-6 years.
They also have fun and creative games and an excellent messaging feature that kids will enjoy.
Although it is sometimes slow to load, it is a good choice for a young child's first computer.
Amazon Fire Kids
Preview
Named as the Best Budget Tablet and is also very affordable. Since its release, the Amazon Fire has been the go-to choice for many customers.
Although these tablets from Amazon are based on Android, they are not really complete Android tablets.
They do not have a Google App, but you can use Google services through the Silicon Web Browser.
On the other hand, the Fire's relatively inexpensive format is much cheaper than other tablets with similar specs, but you also see advertisements for products on the lock screen.
Device Colors and protective covers
The Amazon Fire tablet comes in 4 colors: Black, Mandarin, Magenta and Blue.
All buttons and ports are on the top so it is easier to open them even when the tablet is on the charger.
The cover of the cover is easy to fold to stand as a photo stand and you can place the tablet in either horizontal or vertical manner.
You can buy Amazon's official cover for your Amazon Fire for an additional cost and it is available as an add-on on the product page.
Weight, dimensions and build quality
With a weight of 313 grams and dimensions of 7,5 x 4,5 ″ x 0,4 ″, it is a small alternative.
Although the build quality doesn't really feel good (what do you want for that price) the device still looks modern and stylish.
Colors & Screen
The Fire Tablet comes with an IPS screen, so you don't necessarily just have to hold it straight to see the colors properly.
With a resolution of 1024 × 600 for a 6 ″ screen and with a density of 171 ppi, the colors look pretty good on the screen.
Cameras & Connections
It features a 0,3MP front-facing camera and a 2MP rear-facing camera.
Together with the internal 8 GB of storage space that you can also expand to 128 GB of external storage by means of a micro SD card.
It also comes standard with a single-band Wi-Fi and Bluetooth and a mono speaker with a built-in microphone.
Performance
The 1,3 GHz quad-core processor and the 1 GB RAM make it faster than you expect.
But with the limited amount of RAM, you have to be careful that too many apps at once or too big apps will be too heavy a burden.
The battery should last up to 7 hours.
Software
Software in such a device is as important as the hardware. It therefore has the Fire OS 5, which is loosely based on Android Lollipop.
This allows you to share user accounts just by tapping the user icon on the lock screen.
You can set up an account for your child and the tablet will give a excellent control to monitor your child's use as a parent.
You can set goals and maximum usage time per day.
Pre-installed apps in this tablet are very, very good.
For example, it has Alexa as standard, a cloud-based voice service where you can directly ask questions and perform searches, and Amazon Underground, where you have access to thousands of free apps and games (even the paid apps on Play Store are free on Underground. which is a big extra advantage).
The gaming is of course not like you on a Nintendo Switch tablet, but you don't expect that from any specific tablet.
Together with the great flexibility for the parents and extensive time control that you can set, it is, together with all its features, the number one of the best tablets for children in 2017 in this price range.
Conclusion
So, this was our list of 7 best kids tablets for toddlers and babies.
Feel free to ask if you have any doubts about anything and I hope to have helped you on your way in the jungle of choices.
Looking for more specific tablets? Also read our posts about the children's tablets with wifi, Or the best kids tablets for youtube and netflix.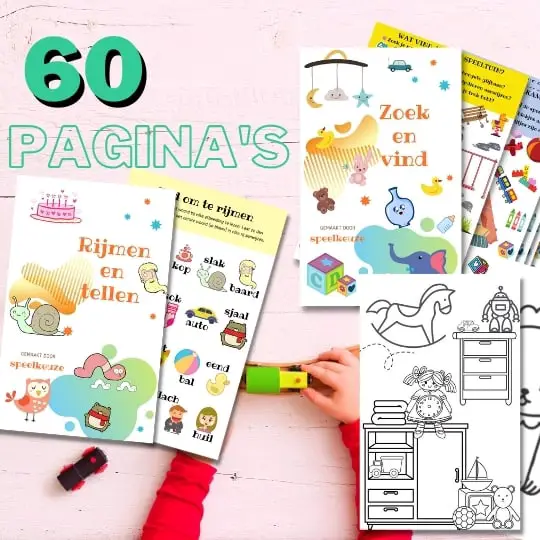 Always something to do for the holidays or rainy day?
Play Choice now has the ultimate activity book collection, with over 60 pages of fun coloring pages and educational puzzles.
Joost Nusselder, the founder of Speelkeuze.nl is a content marketer, father and loves trying out new toys. As a child he came into contact with everything related to games when his mother started the Tinnen Soldaat in Ede. Now he and his team create helpful blog articles to help loyal readers with fun play ideas.