Complete Baby Swing Buying Guide: Tips, Age & 8 Best
I enjoy writing these articles for my readers, you guys. I don't accept payment for writing reviews, my opinion on products is my own, but if you find my recommendations helpful and you end up buying something through one of the links I may be able to receive a commission on that.
More information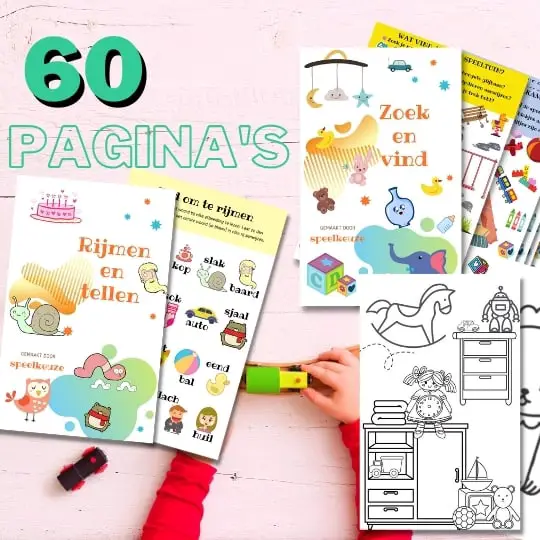 Always something to do for the holidays or rainy day?
Play Choice now has the ultimate activity book collection, with over 60 pages of fun coloring pages and educational puzzles.
We all know that babies and toddlers love to be rocked. But if you're a busy mom or dad, it can be really hard to find the time to rock your baby all the time.
That's why we have this best baby swings page created!
Our team of experts has carefully selected only the best baby swings on the market, so parents like you know where they stand with fun and quality products.
It's time for a swing! In addition to the usual baby swings, there are now even luxury, electric swings for sale!
The best brand tested was Small Foot Company, a cute brand, with sustainable certified wood in all their products, and this wooden baby swing in horse shape I would certainly recommend, to at least take a look.
But there are many more fun options, of course, and as you've come to expect from me, I'll list the best ones for you and then go deeper into each of these choices:
| Baby swing | Images |
| --- | --- |
| Best Wooden Baby Swing: Small Foot Company horse | |
| Best Electric Automatic Baby Swing: Ingenuity Everston | |
| Best Door Jamb Baby Swing: Gorilla Playsets Motor | |
| Best Collapsible Baby Swing With Toys And Music: Lionelo Reuben | (view more images) |
| Best Baby Swing Growth Model: Little Tikes Grow With Me 2-in-1 | |
| Best Baby Swing Macrame: Knit World LMX liv | |
| Best Crib Baby Swing: Chipolino Wangtao Rock a Bye rocking cradle | |
| Best MP3 Swing: rockaRoo rocking chair | |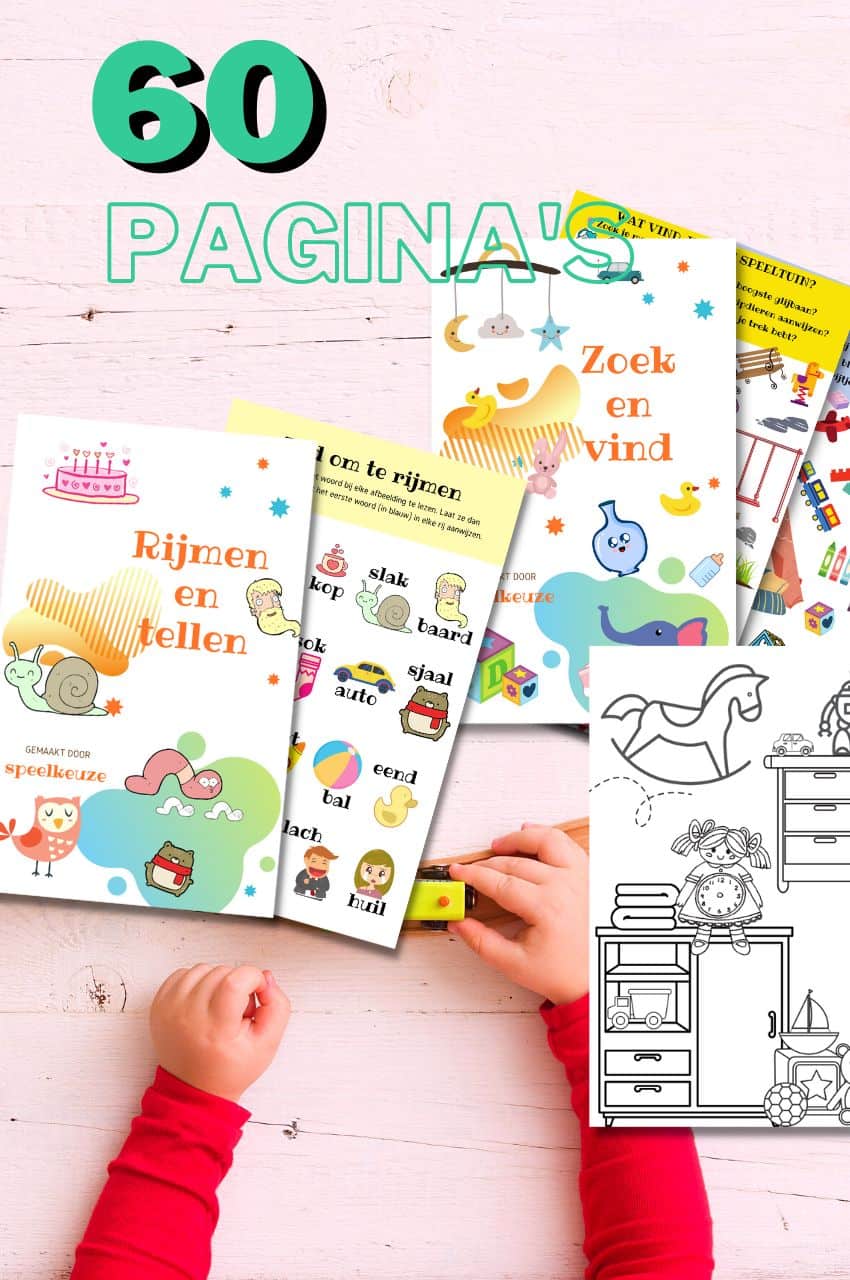 A play theme in your mailbox every month?
Fun play tips, activity books and more, with the first email being our free mini-guide "educational toys"
We will only use your email address for this newsletter and respect your privacy
Top 8 best baby swings reviewed
Best Wooden Baby Swing: Small Foot Company Horse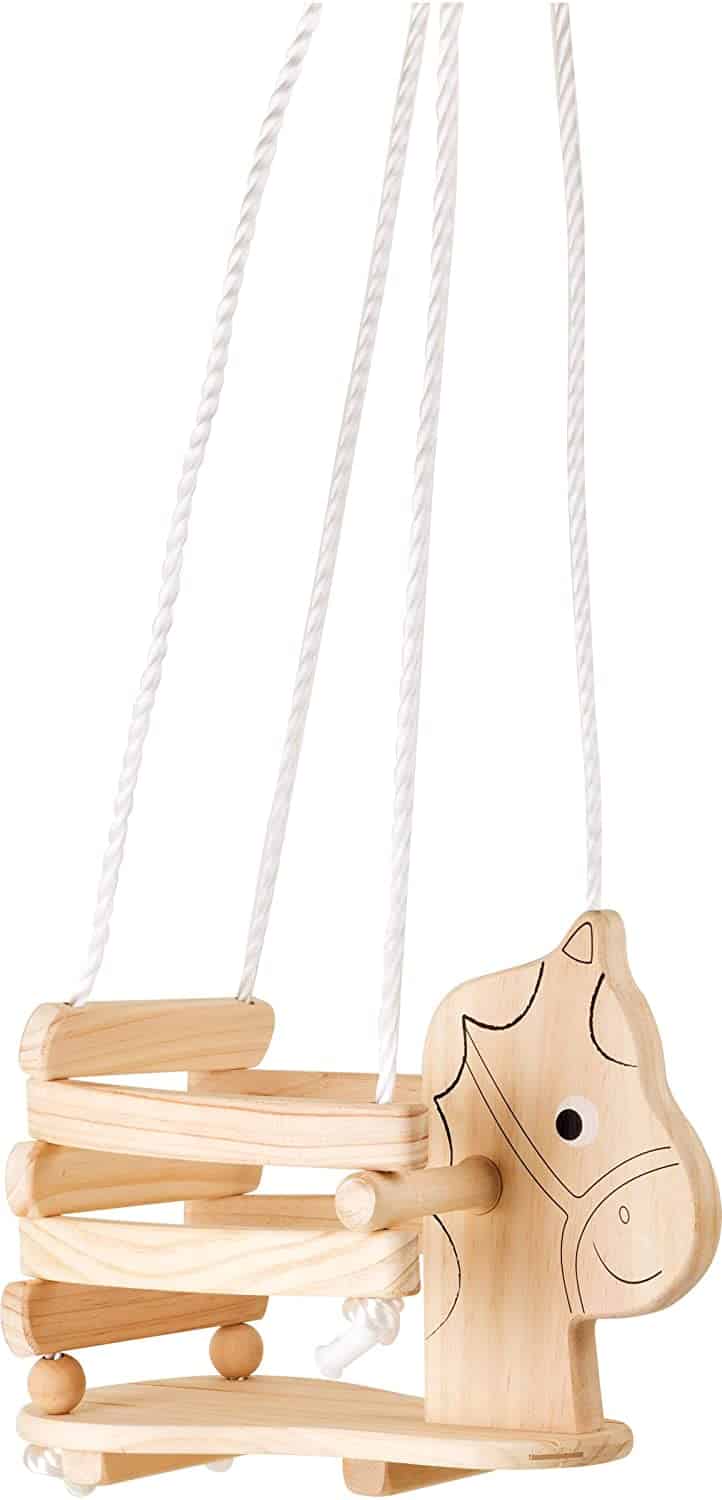 This beautiful wooden Small Foot Company swing will be a really trendy item in your home! The blank swing has good back support and is made of beautiful wood.
You can easily fix the swing in the ceiling, but it is not suitable for outdoor use.
It can carry up to 30 kilos. Simple but very beautiful!
Check the latest prices here
Best Electric Automatic Baby Swing: Ingenuity Everston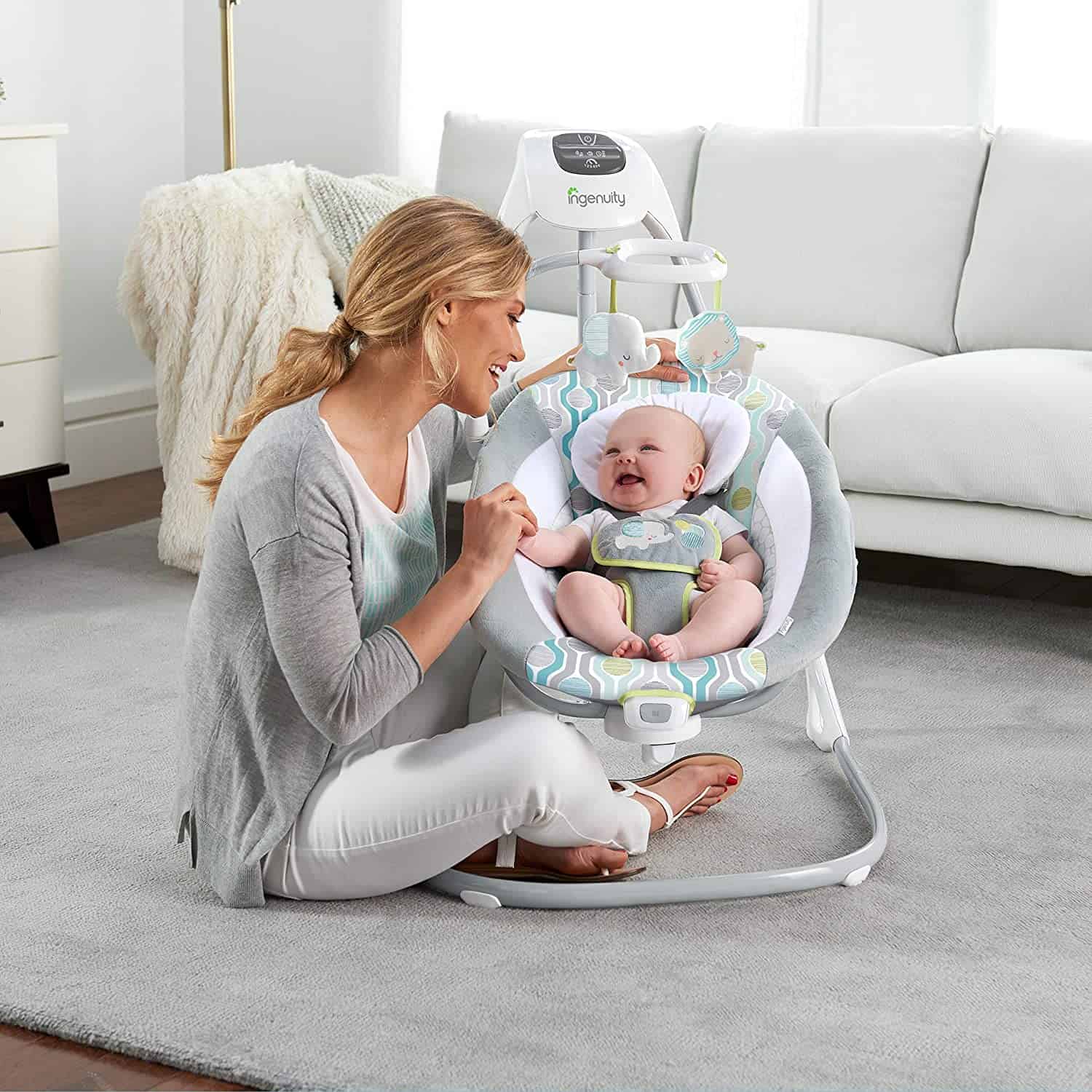 The soft, luxurious Electric Swing Ingenuity Everston Baby Swing is great! The rocking chair has a hip design, a safe three-point belt and a solid aluminum frame.
The frame is very lightweight. The swing is ideal for newborn babies from zero to twelve months!
It has a bow on which two animal cuddly toys hang, fun for your little one to watch or play with. The operation of this 'baby swing' is simple, you can choose three different speed levels.
It even has a timer function and you can play various melodies while swinging. You can even opt for soothing nature sounds! The swing works on both batteries and mains power.
The light frame is super easy to fold and unfold! A winner!
Check the most current prices and availability here
Best Door Jamb Baby Swing: Gorilla Playsets Moter
This fine green Swing-Hanging Basket Door frame swing has a very compact, round shape, like a basket!
The material on the inside is non-slip and offers your baby a lot of comfort and of course the necessary safety. The plastic hanging basket is of high quality and UV resistant.
The hanging basket swing is also suitable for outdoor use and has a long lifespan. The sturdy carrying straps in combination with the compact basket provide the necessary stability.
A super nice swing with an original round shape.
View the most current prices here
Best folding baby swing with toys and music: Lionelo Ruben
A winner, this gray Lionelo Ruben - Rocking chair with different speeds! There is a lion and a raccoon hanging from the arch for your little one to play with.
When your child takes them, they squeak! The rocking chair is handy to fold and to take with you when you go on a visit with your sweetheart. It has a five-point harness for maximum safety and the lining feels wonderfully soft for your baby.
There is a soft and washable pillow to provide good support for the baby's head. The Ruben baby swing stands firmly on its non-slip legs that do not scratch the floor.
It is available in different versions, such as the Robin:
He has no less than five melodies to choose from and five choices in speed. You can control the sound and it has a handy timer. A very luxurious baby swing!
Check prices and availability here
Best Baby Swing Growth Model: Little Tikes Grow With Me 2-in-1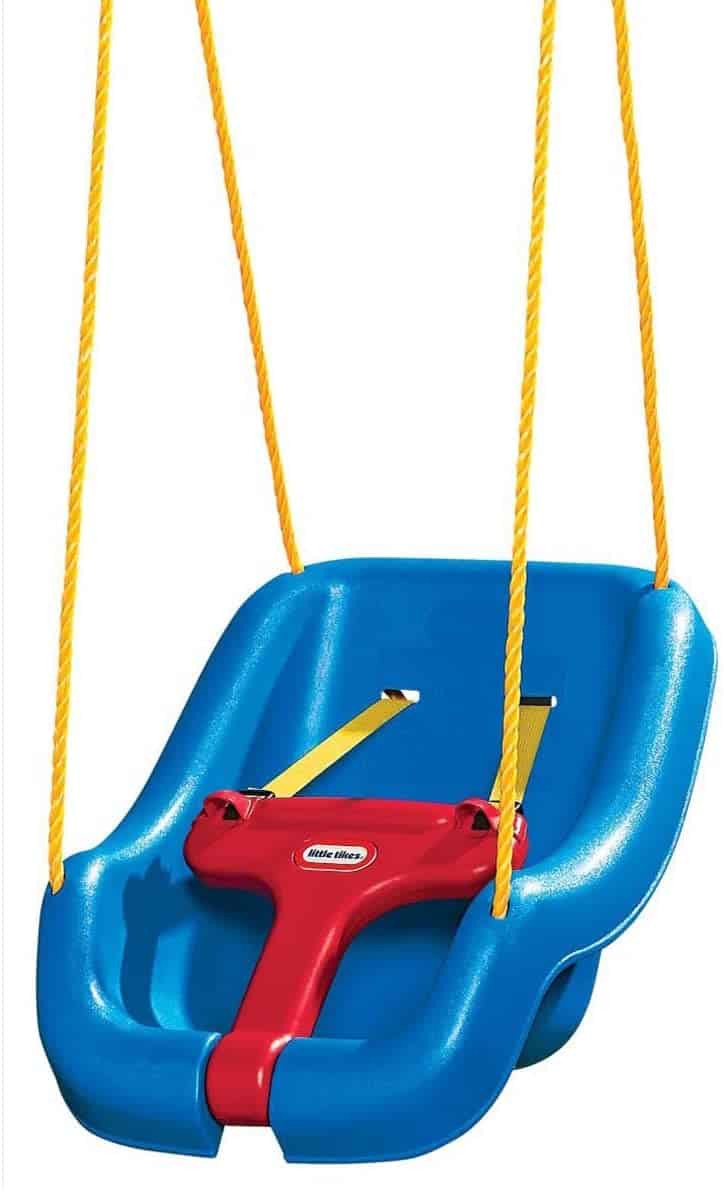 This colorful Little Tikes swing seat 2-in-1 multicolor swing is safe and comfortable too! There is a T-bar on it and with the three-point belt your little one will stay firmly in the swing!
If your child is a bit bigger, you can remove the T-bar; This swing can therefore be used as a baby swing and as a toddler swing.
The plastic material is weather resistant; The swing can be hung both indoors and outdoors. It is suitable for babies no less than a year old and can carry up to sixty kilos.
A nice, cheerful swing for large babies and toddlers!
Check the latest prices here
Best Baby Swing Macrame: Knit World LMX-liv
A lovely, trendy Baby hanging cradle - macrame rocking cradle for your baby! The unique swing is hand-knotted and will look great in your living room. The rope is very strong.
The idea behind this swing is to have a beautiful, hand-knitted variation of a traditional baby swing.
Watch it here
Best crib baby swing: Chipolino Wangtao Rock a Bye rocking crib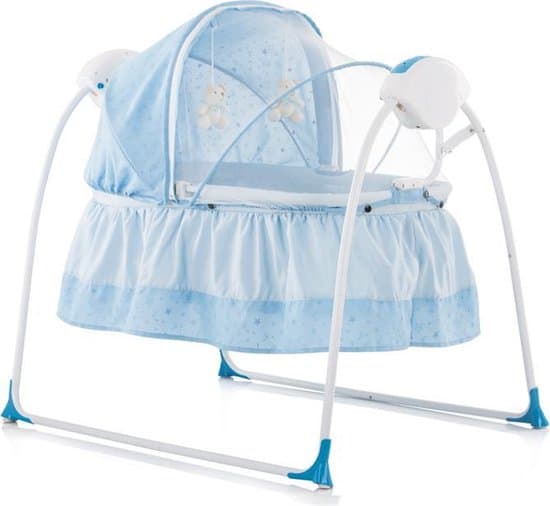 The old-fashioned cradle with a beautiful modern look, this Electric baby swing chipolino Rock a Bye blue! This electric rocking cradle is unique and offers your baby the opportunity to swing asleep in his own bed.
Your baby does not need to be moved and can sleep through! The bionic mattress and u-shaped headrest feel great and if you put the crib in comfort mode, your baby will fall asleep faster and spend the night as relaxed as can be.
The comfort mode reassures your little one, because it mimics the feeling of rocking the arm! Two sweet teddy bears hang from the detachable play arch to play with.
The fabric of the rocking cradle has a light blue color, but is also available in white or pink! The crib can also be detached, which is very handy.
The solid frame on which the cradle hangs is made of lightweight aluminum. The rocking cradle is suitable for babies from zero to three years old.
It has a timer function and you can set the speed from level one to level five. There is also a USB connection and the cradle is easy to fold and unfold.
Check the latest prices here
Best MP3 swing: rockaRoo rocking chair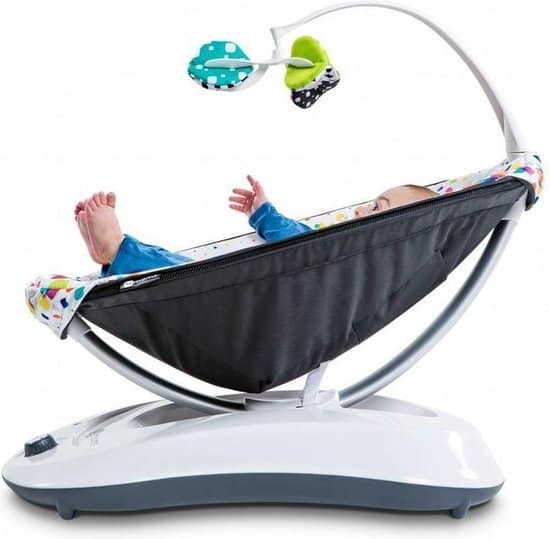 A unique swing for your baby. The rockaRoo rocking chair has five swing positions!
The super trendy RockaRoo takes up a third less space than all other baby swings and gives your little one the ultimate swing feeling! You can connect an MP3 player to it, so that you can play your own music.
For example, let your baby listen to pleasant, calming nature sounds. The comfortable 'Cool mesh' fabric is breathable and machine washable. The beautiful mobile is detachable and has a cuddly toy on it.
Babylist takes it through here in their video:
This swing can be used in two ways; in a higher position as a 'normal' swing and in the low position as a rocking bed. The Rockaroo is suitable for babies up to nine kilos!
Are Baby Swings Worth The Money?
Before diving into an in-depth review of each of these options, I will answer a few more frequently asked questions about buying a baby swing.
Babies come with a lot of stuff. There are so many things on the market that Mommy can spend her money on in preparation for the arrival of a little one. The choices can sometimes be important.
Not to worry, there will be plenty of other experienced moms just waiting to tell new moms about the must-haves for taking care of a new baby.
One of the things that is highly recommended is a swing. Many moms will recommend that mom buy or at least put a baby swing on her registry.
They swear by them, stating that they can soothe any fussy newborn. This may be true, and a swing is one of the more commonly bought items from baby stores, but are they worth it?
There are pros and cons to every baby item out there and it really is up to each individual parent to know what they think will be beneficial to them.
Many parents decide to do a lot of research before making large purchases. They want to make sure they're getting the right one and it's worth it. That is why there are such lists.
We will go through 20 very valid and important points. 10 of those will be why a swing is definitely a must-have, and 10 reasons why mom and dad should just save their money for something else.
Mimics the uterus
You hear a lot about the fourth trimester in the parenting world and it describes the first three months that the baby is out of the womb.
This is the most difficult time for a little one as they are still trying to adjust to life outside of their mother's womb. A swing can be a great way to get them through this time.
The reason is that it helps mimic the uterus. The rocking and swinging motion reminds the baby of the movement they felt while in the womb and how mother would walk and move her hips.
Swings, swaddling, and white noise are all great ways to mimic the womb and soothe a baby.
Can help against colic
Any mother who has ever had a baby who had colic knows that they are willing to try whatever they can to help a baby settle down.
Colic is an acid reflux problem that usually leads to crying for hours without the baby calming down. It can be exhausting, stressful, and heartbreaking for any parent to keep going.
Not being able to calm their baby down is very frustrating.
Fluctuations can be a great way to relieve some of the colic symptoms. This is because they usually keep the baby upright, which can help keep acid reflux down.
The swinging motion can also help soothe the baby's tummy.
Time for a nap
Newborns are great sleepers, it's one of the few things they actually do, and sleep is important for them to grow.
As the baby gets older, their sleeping patterns start to change and it can be very difficult to get them used to. When mom lets them take a nap, it can be just short naps, which is frustrating for a mom who needs to get things done and a baby who really needs to sleep.
Babies are known to sleep very well in swings, and this can go back to how they mimic the womb environment.
Mom may be able to get longer naps from a baby sleeping in their swing. That does have a huge disadvantage, which I will discuss later.
Hands-free mama!
Life does not stop when a woman becomes a mother, because there are still things to be done in the house or for work. And especially if you have older children at home you can get stressed.
Your baby may want to be held constantly, which can make it difficult for a mother to get anything done. A swing is sometimes a great solution to this problem.
When mom puts the baby in the swing and they love it or fall asleep, she just bought some time for herself. Mom can now take a little break to do some things around the house, take care of other children or even have a quiet snack.
Hours of entertainment
Swings have really come a long way in recent years.
If we look back to older versions of swings, we can see that they were quite simple. It was just a chair hanging between two legs, and that was about it.
Now swings have all kinds of bells and whistles to keep a little baby entertained.
Most swings have some sort of mobile with animals or objects hanging down. This mobile can move and thus attracts the baby's attention.
Many swings also play music and have mirrors so that the baby can look at his reflection. There is no shortage of entertainment on the baby swings you can find today.
Educational stimulation
Newborns and young babies may not seem to learn much, but they learn every day. Everything they hear and see is absorbed and converted into learning experiences.
Swings can be a very useful tool when it comes to education and most parents don't even realize it.
Swings are great when it comes to physical and mental development as it is all about placing a baby in a new environment. Every time a baby is placed in a new environment, they learn about the world around them.
Hanging up music and toys can also help the baby develop his ability to reach for and grab objects.
More information about gravity
We don't often think there are situations where people need to learn about gravity because we take it for granted.
However, new babies have no idea what gravity is. When they were in the womb, they didn't have to experience gravity because they were just always in the water, floating around and feeling weightless and free.
Swings are a great way to introduce them to gravity. They will learn by swinging in the swing and begin to feel the movement of back and forth.
It is just another thing that will aid in their development and awareness of the world around them.
Stimulates the system
A swing can also stimulate their system with the movement it has on a baby's system. Everyone has a vestibular system and this system is responsible for normal movement.
It is a sensory system, just as touch and taste are. Babies get used to the world around them and their feelings can work overtime.
A swing is a great way to exercise their vestibular system while keeping them calm and comfortable. They will get used to how different movements feel and how to think about it.
Some babies don't like the swing, but they may need more time to warm up this system.
They learn to sleep
There are many people who believe that sleep is developmental and that a baby sleeps when it is ready.
That may be true to an extent, newborns often have to wake up to eat and there's little you can do about that.
However, a swing can be an important part of teaching a baby to sleep. Sleeping is a skill, just like to crawl and food, and it's fine to teach these things to our babies.
Placing a baby in the swing when they are tired but awake can help them drift off to dreamland on their own. However, beware of using this as this can create a bad habit which we'll talk about later.
Mom and Dad's arms are not tired
It's no secret that most babies love to rock. They love the movement and it calms them down. When mom doesn't have a swing, she has to use her arms and rock her baby for hours on end, and that could very well be the case.
Swings can save your day.
A swing is a great tool for mom to use when she has a baby who loves to be swung and rocked.
It prevents mom from waving her arms most of the day with a heavy baby inside. She can place the baby in the swing and let the swing do the work for her.
Now at the end of the day she will no longer have sore arms.
Not worth it: expensive
We are now going to talk about the negative effects of a swing and why mom and dad might want to skip this item.
Probably the biggest reason for skipping a swing is due to the cost.
Having a baby is expensive enough and, unless you get a swing set as a gift with your baby shower, they can cost hundreds of dollars.
There is always the possibility to find a second-hand one, but that comes with its own risk. Buying a used swing can be dangerous as its history is unknown.
The machine may be defective or it may have a recall due to a model defect that you are not aware of.
Not Worth It: Sleep Association Problem
I mentioned before that one of the benefits of a swing is that it can lead to better and longer naps for your baby. This seems like a great thing at the moment, but it can lead to bigger sleep problems later on.
It can lead to a sleep association problem.
This means that your baby can only sleep when he is rocking. This way they will get used to sleeping with rocking and you will have a hard time getting your little one to sleep alone without being rocked.
You will have to decide if that is the price you are willing to pay.
Not worth it: big and bulky
It's really amazing how many things you collect as you get older. There will be baby stuff all over the house and it will no longer seem like your space.
A baby swing will only contribute to that. It is true that swings have become very modern and modern means that it is small.
While most baby swings are smaller, many of them are still quite large. They can also be heavy, meaning Mom and Dad might not feel like carrying it from room to room.
This is one item that is going to take up a lot of space in an already overcrowded house.
Not Worth It: Possible Recalls
At the end of the day, a swing is a manufactured product, which means there is always the possibility of a recall.
Most baby products, such as swings, must be registered when they are purchased, and that way mom and dad will know right away if there is a recall for the item.
If for some reason mom and dad forget to do this step, or if they don't get the information on time, it can cause damage.
Manufactured items can break or fail at any time, and there is always a chance that something could happen while your little one is in the swing.
Also minimize the chance of defects by buying a reputable brand and not trying to cut costs with a cheap item.
Not Worth It: Incorrect Attitude
It is very important that mom and dad pay attention when putting their little one in the swing. It is important for them to make sure their little one is sitting or lying in it properly and adopting the correct posture as they swing.
Incorrect posture in a baby can cause them to experience some discomfort and it can even stunt their development.
It is important to ensure that the baby is within weight / height restrictions and can be properly secured.
This is one of the reasons why it is always important to read the user manual that comes with the product.
Not worth it: can be a support
One of the biggest benefits of a swing is that it can give mom some free time. It is one of the main reasons why many people decide to take a swing.
The ability to put your baby down, make them happy, and put some things down is great.
Because this feeling is so great, it can lead to Mom using the swing as a support.
This feeling of freedom can lead to mom using the swing more often than she should and the baby hanging out there more than she really should.
While a swing is useful, it can never replace a mother's arm and mom should still focus on holding her baby when she can.
Not worth it: a lot of power
This one may not be important to everyone, but it matters to some people and that's how much power these things use.
Many of them now come with batteries, but if the swing is in use all the time, you will quickly run out of batteries which can lead to a lot of money spending.
You might like plugging it in, but that has its own downsides. This could mean that the electricity bill could go up.
This may not matter to many people, but every dollar adds up when raising a baby.
Not worth it: Babies grow quickly
This reason ties in with how expensive these things are.
All baby products come with weight and height restrictions and once a baby reaches a certain size they will no longer be able to use the product.
Babies are growing fast and some (like my son) are growing very fast. This means they may not be using the swing as much as you would hope.
It would be a shame to put a lot of money into buying something that your little one won't be using for long. It's such a fleeting moment and some babies are too big before even getting into the swing for the first time.
Not Worth It: Injuries reported
At the end of the day, injuries have occurred from baby swings. In 2005, there were 1.800 babies in America who were injured as a result of using a baby swing.
This may be due to a defect in the product or an error during use, but an injured baby is an injured baby.
These things can be dangerous and if the baby is not properly secured there is always a chance that they could fall out. It only takes a second for something to happen to your bab and since many mothers put their babies in the swing and walk away, the chances of something happening increase.
It might be a good idea to think about whether this is worth it.
Not worth it: can cause a bad back (in mother not baby)
Carrying a baby and giving birth to it brings a lot of pain and discomfort. Recovering from childbirth is difficult and can take a long time, and mother should not do anything that prolongs her healing or causes injury.
There is a chance that a baby swing could hurt mom.
This is not because you are using it, but the constant movement of bending down to put the baby in and out can put some stress on mom's back.
If mom already has a sore back, she might not want to risk this. Taking care of a baby is hard enough, but taking care of a baby while in pain seems even worse.
Do babies prefer a bouncer or a swing?
Both baby swings and bouncers imitate the rocking motion your baby experiences in the womb or in your arms. This has a magical effect!
Most babies are soothed and comforted by rocking, and many babies enjoy resting in a bouncer or swing.
Both imitate a rocking movement
Both can be used from birth
A bouncer is set in motion by the baby's own movements
Many baby swings require batteries or a power outlet
A bouncer is easy to move and can be taken anywhere
Baby swings are often heavy and bulky
A bouncer rocks softly and naturally
Baby swings often have different speed settings
A bouncer is easy to fold and store
Both swings and bouncers are fun for the baby
There are differences and similarities between baby swings and bouncers. For example, did you know that a bouncer naturally swings, while many baby swings are electric?
Both a rocker and a swing can be used from birth and most babies love to rest in them. So, which one will you choose? Often the terms are also used interchangeably so I've covered many options of both here on my list as well.
Most electric baby swings are battery operated, so many replacement batteries are needed unless you choose a model that is rechargeable (or has a power cord).
Electric baby swings have a motor that may be noisy, so you need to consider how this could affect your baby: will the sound be soothing or irritating?
The natural movement in a bouncer is gentle and usually has a calming effect on a very young baby.
In the early weeks and months, your baby will enjoy sitting back comfortably and looking at your face or relaxing while gently rocking the bouncer with your hand.
But it's when your baby is a little older and discovers that the rocking of the legs makes the bouncer rock that the real fun begins! It swings when the baby moves, but stops swinging when the baby wants to rest.
You can find all shapes and sizes these days, from small full-size theme parks to lighter, portable models.
The main difference in convenience is that a baby swing is usually not portable. It is electric and has a motor that makes it heavier and bigger. It can also have a tray, toys and music and can hold your baby's attention for longer.
A bouncer is often lighter and more convenient and gives parents exactly the same help as a baby swing.
Frequently asked questions about baby swings
How long is a baby allowed in a baby swing?
It is certainly wonderful for your baby to lie comfortably in the automatic baby swing, but for you it is also a moment of rest! It is very nice to have your hands free!
However, make sure that your child is not in it for much longer than two hours a day; That's what the experts say. The position in which your child lies in the swing is not a natural position.
The freedom of movement is somewhat limited and that can hinder development. So if you are wondering if you can put your baby to sleep in the baby swing at night, the answer is simple:
It's okay to let her sleep on the swing for a short while while you're around, just use common sense. Do not leave your baby unattended in a swing and therefore do not sleep in it all night. You can also do a few things to make the swing safer for a sleeping baby. Do not cover the swing with loose cushions or blankets, as they pose a risk of SIDS.
Also in the Maxi cosi or pram sitting/lying down your child in the same position, so if your little one has already been in the pram for half an hour, don't let him or her sit in the swing for more than 1,5 hours.
These two hours are just a guideline, but keep an eye out anyway! What we also don't want is for the swing to take mom's place.
Physical contact with your baby is very important for your parent / child bond! Of course it feels even better to be lulled to sleep by Mom or Dad. Everything is good, but in moderation!
Fluctuate from what age to what age?
Swinging is for everyone, from zero to a hundred, but it is the best for our kids! Children are naturally much less affected by their vestibular system than adults.
Here I will answer some questions you have about the age of your baby in front of a rocking chair that you probably have questions about, such as whether newborn babies are allowed in a baby swing and until when it will remain fun for them.
Most baby swings are suitable for up to about 1,5 years, although not every child will enjoy it for that long. Newborn babies are also allowed in, but you have to make sure there are no extra toys or blankets nearby that they could reach due to the risk of suffocation. It is best to always stick with it.
Have you never asked yourself why your child hardly gets dizzy or nauseous on the swing or on a merry-go-round? The vestibular system, or vestibular system of a small child is super sensitive and recovers immediately.
They are also so used to rocking in their mother's womb for nine months! In an adult, the fluid in the vestibular canals is much thicker and so it recovers much more slowly.
Toddlers are often already looking for activities that stimulate their vestibular system.
They flawlessly know how to find the rotating devices in the play park and can also run around in circles or doing somersaults on a trampoline and swing as high as possible.
In short, children love all the attractions and playground equipment that often makes you feel uncomfortable!
How many kilos can a swing bear?
It depends on the swing and the construction how much weight it can bear. An (electric) swing for babies from zero to six months can carry about nine kilos, a toddler swing can usually have about thirty kilos.
Swings that can grow even further can sometimes carry sixty kilos. Every swing and every construction is different, so always carefully read the instructions for use with every swing that you hang!
How to fix a swing
Attaching a swing depends on the surface you want to hang it on:
Attach to a concrete ceiling
For a concrete ceiling, use both a screw and a plug. With a plug you ensure that the swing hook is properly secured! Preferably choose a mounting with a good bearing, such as having swing hooks.
Attach to a playset or beam
A swing device is usually made from standard sizes of round timber or standard square wooden beams. A swing hook with a bracket is the correct way to attach the swing to the beams.
You fold the bracket around the beam. Use the hole in the side of the bracket to secure it with a screw to prevent the bracket from moving or turning with the swing's movement.
Attach to a tree branch
Preferably use a set of swing hooks that you attach to the tree branch with a strap. The tree branch grows naturally, so loosen the tire every year and move it a bit.
For a swing seat, use two swing hooks with a strap.
Make a baby swing yourself
It's great to make a swing for your little one yourself! You will then have to build a swing construction. You will need five sturdy, preferably round wood posts, carriage bolts and steel corner joints.
Furthermore, possibly concrete. The swing support beam will be supported by four angled posts, two on each side, mounted crosswise.
Let them intersect at an angle of thirty to forty-five degrees. Make sure the end of each post protrudes about a foot to forty centimeters. Then lay the crossbar between the support posts.
First the construction has to be straightened out, which is a lot more convenient if you do that in pairs. Allow the crossbar to protrude four inches beyond the support posts and secure with one bolt in each post.
You can choose to reinforce the construction in concrete. You will then have to dig four holes, the posts should be about eighty centimeters into the ground. Also take the slope into account.
Before placing each post, place a stone in the hole to prevent the post from sinking deeper when you pour the concrete into the hole. Fill the holes with concrete and let it dry.
To securely attach the rocking chair to the structure, you will need to attach swing hooks around the top crossbar.
Hang the swing hook around the pole. Tighten the swing hook bolt securely so that the swing hook sits securely around the post. It is best to choose a swing set with swing hooks that do not rust.
The swing hook is made in such a way that you can now easily attach the ring of the swing rope to it.
Once your solid rocker is in place, it is good to place rubber mats, tree bark, or grass underneath! In any case, that ensures a soft landing in the event of a fall!
You can buy the seat or make it yourself from wood, possibly in combination with a sturdy cotton fabric. If you can macramé, you could tie a swing with a nice, sturdy rope!
There are plenty of great ideas, use your imagination!
Here's an idea from TheRobertsSegment:
Conclusion
Rocking your baby in the very first months gives him or her an enormously safe feeling! This is of course because your baby is used to that from the time in the womb.
Learning to swing actively later is an enormous experience for your child. As mentioned before, once they can swing actively, they develop their sense of balance, coordination and strength.
The muscles of the legs, arms and trunk also become stronger by moving back and forth. So when you buy a swing, you pay attention firstly to the age of your little one, and secondly to the weight.
Do you choose one that can grow for a while or not? In any case, always check whether a swing is safe; Does it have a three-point belt or T-bar, are there no sharp corners?
Then make sure that you secure and hang the swing in a safe way. Even though it is so safe, always stay around to keep an eye out when your child is in the swing (chair).
Hopefully, after reading this article, you have been able to find an attractive and nice model, among the swings recommended by us!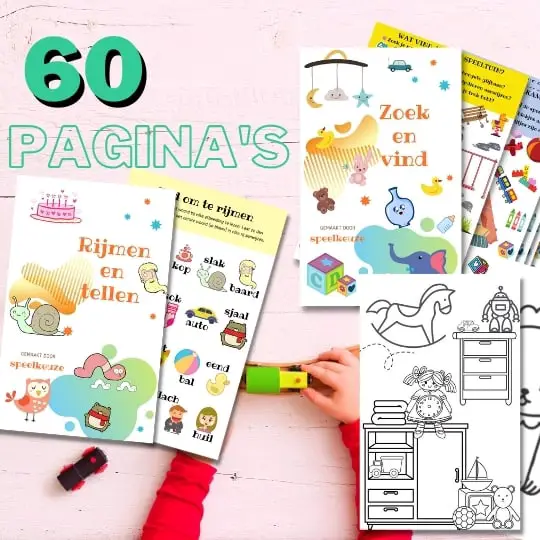 Always something to do for the holidays or rainy day?
Play Choice now has the ultimate activity book collection, with over 60 pages of fun coloring pages and educational puzzles.
Joost Nusselder, the founder of Speelkeuze.nl is a content marketer, father and loves trying out new toys. As a child he came into contact with everything related to games when his mother started the Tinnen Soldaat in Ede. Now he and his team create helpful blog articles to help loyal readers with fun play ideas.