Best balance bike: 10 best rated balance bikes toddler to toddler
I enjoy writing these articles for my readers, you guys. I don't accept payment for writing reviews, my opinion on products is my own, but if you find my recommendations helpful and you end up buying something through one of the links I may be able to receive a commission on that.
More information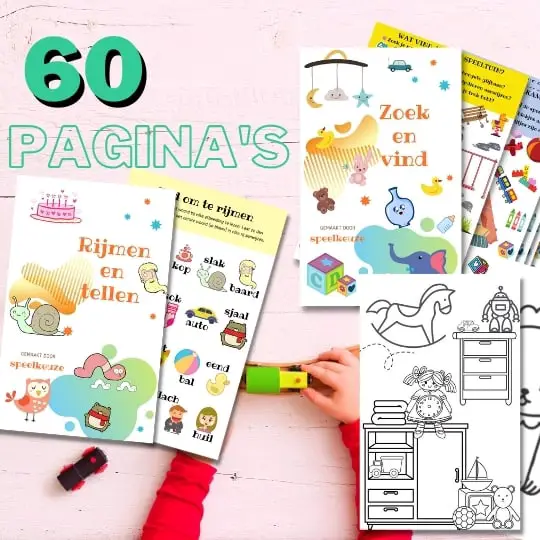 Always something to do for the holidays or rainy day?
Play Choice now has the ultimate activity book collection, with over 60 pages of fun coloring pages and educational puzzles.
A balance bike is without a doubt the best first bike for a toddler, toddler or toddler.
But…
You have to choose the right one to make the step to learning how to ride a bike shorter.
One that gives them confidence, with the right height and firmness so that they can safely learn to maintain balance, steer and estimate distances.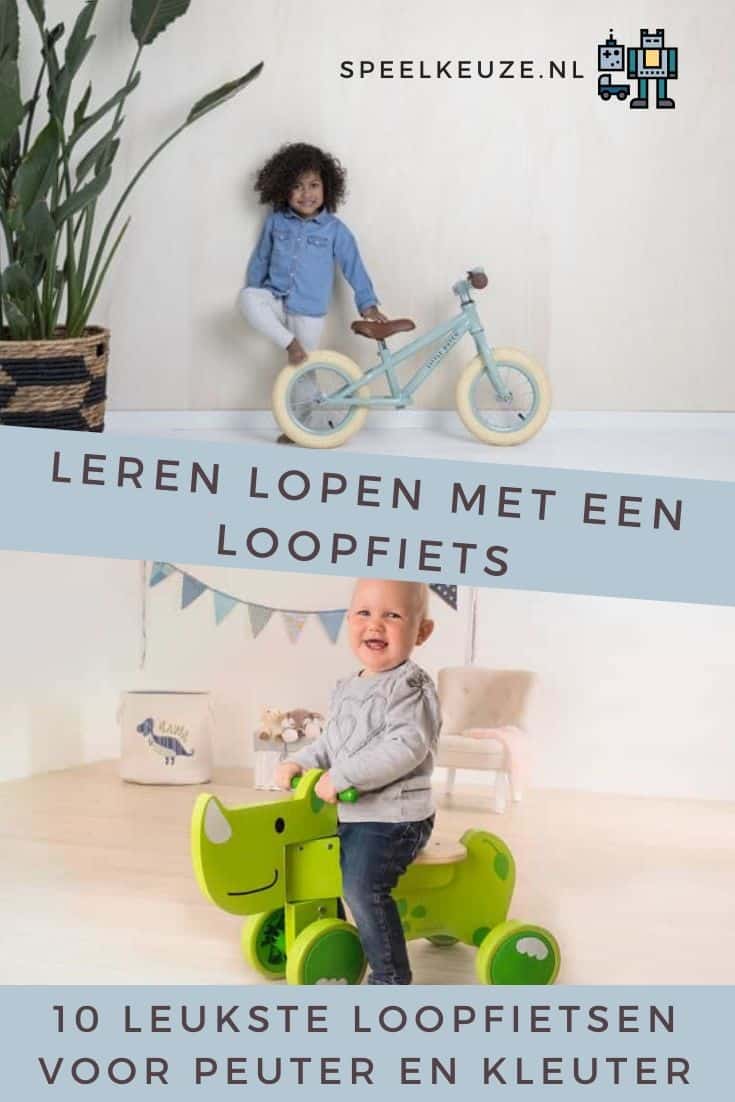 But WOW there are a lot of brands and models for sale!
Not only are balance bikes not one-size-fits-all, there are many different things that distinguish balance bikes - things like tire type, weight, size and brakes.
Some are more suitable for young children, and we have found plenty of options for that too, but the coverall is best and adjustable this Wishbone Bike recycled. It is the toughest out there, but not the cheapest either.
Super nice to see and also conveniently adjustable:
To make it easy for you, I have listed our 10 best balance bikes, why I love them and in what situation one of them would suit your child:
Overall best balance bike
Wishbone
Recycled balance bike
This is perfect to use as a first balance bike. Not only is it durable so it will last their toddler through toddlerhood, it is also just an AMAZING design!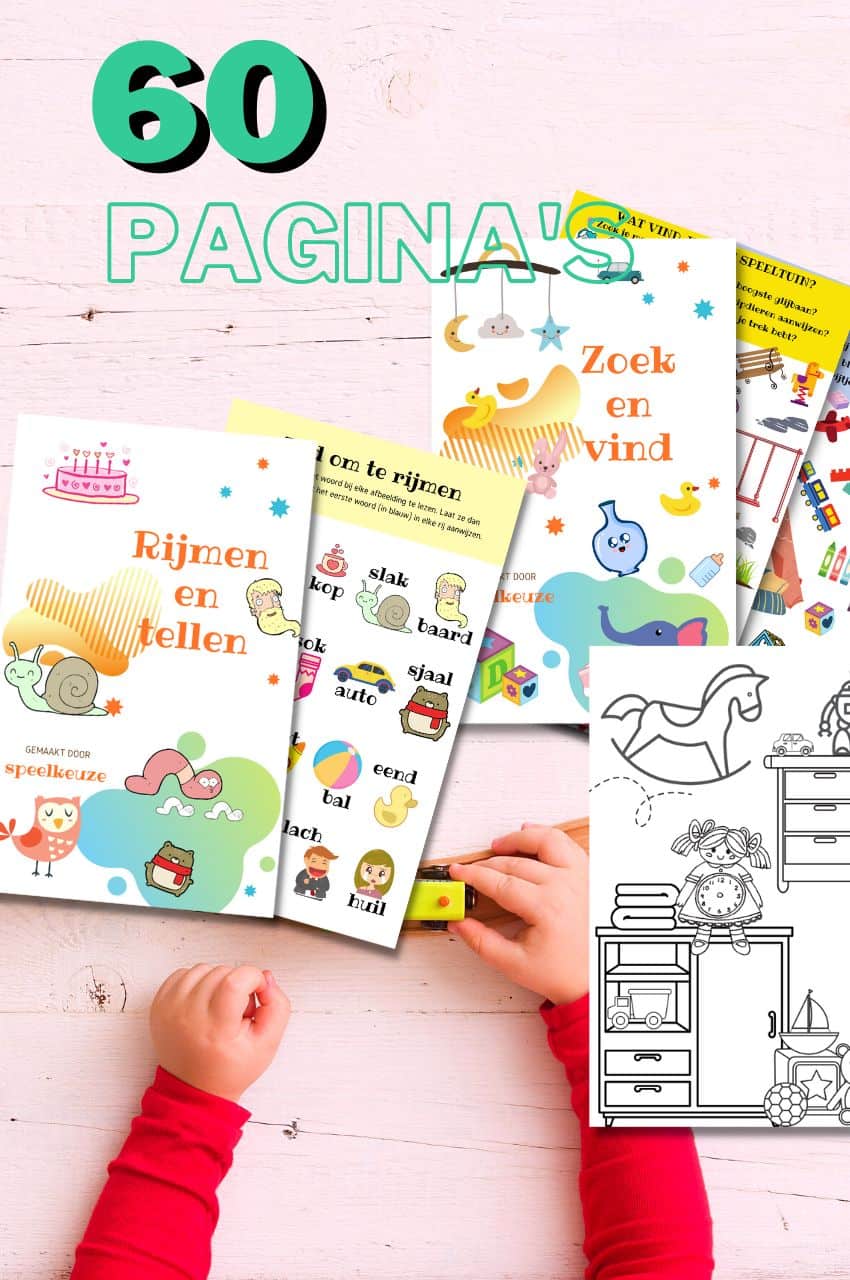 A play theme in your mailbox every month?
Fun play tips, activity books and more, with the first email being our free mini-guide "educational toys"
We will only use your email address for this newsletter and respect your privacy
Points to consider when buying a balance bike
Buying a balance bike for your child is a big decision. It's probably their first bike (unless they rode a pre-balance bike) and you want to make the right choice.
Your child also learns to estimate the braking time, your little one will already learn to deal with all these important factors before he actually starts cycling on a bicycle with pedals!
It is stimulating for the development of gross motor skills and a great replacement for the buggy.
There are so many makes and models available that choosing them can be confusing.
These are the 3 most important things to take with you:
Your child's age, height and physical maturity,
your budget
and how much the balance bike is used,
All this will help you when deciding which balance bike is right for your child.
For example, a 3 in 1 balance bike is perfect to grow with your child, whether you get in from 1 or buy one for your toddler:
I have given an age indication for each balance bike in the list. Note that the age rating provided by the manufacturer is technically correct in itself, but that the bike is probably not very fun for a child in the extreme age groups.
I have therefore given a somewhat more realistic indication.
To help you even better, here are a few questions to consider before buying a balance bike.
Are they big enough for cycling yet?
It is important that your child can put both feet flat on the ground to "scooter" with, so don't be tempted to buy one on the grow.
Most common balance bikes have 12 ″ wheels and need an inner dimension of approximately 32 cm.
Because balance bikes are all different, you should measure your child's leg length.
If they aren't big enough or don't have the coordination for a balance bike, consider a pre-balance bike like one of the above choices where they don't necessarily have to balance until they can handle a larger balance bike.
What age is best for a balance bike?
Kids can start riding balance bikes from 18 months to two years old and little ones up to about five years old still enjoy them. In most cases, children will switch to a bicycle with pedals around the age of four.
Do they need a bigger balance bike?
While most balance bikes come with a 12 wheel, there are a few manufacturers who make 14 ″ wheel and larger balance bikes for taller and older children who aren't ready to get on a pedal bike.
For example, some options for the 3-5 year old age bracket is the Puky LRM Plus.
Do you need brakes on a balance bike?
Not all balance bike models are equipped with brakes.
While this can be exciting for some parents, keep in mind that a 2-year-old is unlikely to have the coordination and reaction times to use brakes if any.
With balance bikes it is the feet that are mainly used and they are also the most important aid for braking.
Brakes obviously come at a cost to the bike and I don't think it's necessary for most kids, but some parents like the idea that their child has the opportunity or practice before getting on a pedal bike.
The Yedoo One Too is a good brand balance bike with a brake.
How heavy is the balance bike?
Very heavy balance bikes can be difficult for young children. Your little one should be able to hold and propel the bike by himself.
They should be able to pick it up when they have left the bike on the ground, even those for younger kids with three wheels, when the bike gets stuck behind something.
And you should also be able to carry it when they have had enough and decide to walk or go back in the buggy / trailer / cargo bike!
The lighter the balance bike, the better is the general rule to follow.
Where and how often do you use the balance bike?
If you are going to use the balance bike daily or in the woods or on the heath or something like that, the quality of the frame, the components, plus the type of tire will be very important to you.
Cheaper balance bikes often have components that rust when used in the rain and are tough to ride / carry.
Plus you probably want one with pneumatic tires.
Do you mainly use it at home, in the Outdoor or just around the block, then that is all a bit exaggerated and it is better to choose a lighter and cheaper model.
What is the balance bike made of?
There are balance bike models on the market, made of metal, plastic or wood, so there really is something to suit all requirements and budgets.
As with all children's bicycles, you get what you pay for in terms of quality.
More expensive balance bikes usually have lightweight aluminum frames and are equipped with pneumatic tires because they are more comfortable than sturdy plastic tires, especially when riding over bumpy ground.
The tradeoff, however, is that you run the risk of getting a flat tire, although tires and inner tubes are made more robust these days, so this doesn't happen often.
How important is the styling to you?
Balance bike design has improved significantly in recent years and now there are some very cool looking balance bikes available if you have the budget.
The coolest bikes are often a bit more expensive, so here it is purely a tradeoff of coolness versus your wallet.
Does the balance bike saddle grow with your child?
Most balance bikes have a standard saddle and pin that makes height changes quick and easy.
On some models the handlebars can also be lowered or raised to accommodate the child's size and make them comfortable for the time to come.
Consult the manufacturer's guidelines to confirm what can or cannot be adjusted.
How much do you want to pay for a balance bike?
This is probably going to be one of the most important factors when buying a balance bike.
Prices range from around € 40 to € 160, depending on the quality of the bike you buy.
Hopefully the earlier tips have helped you a bit in the meantime about what budget you should make available for the features you want.
Is a balance bike worth the money?
Unlike tricycles and training wheels, toddlers can jump right on a balance bike and start walking and scooting from day 1.
Don't feel like a lingering toddler when you go shopping? With the balance bike, your child is active, he keeps up with your walking pace and will probably find it super fun too.
Balance bikes also never come with push bars for the parents, because it is simply not necessary.
One of the biggest advantages of balance bikes is that children can ride them all by themselves. They learn to keep their balance, that happens very quickly and that is the essence of cycling.
Why not a tricycle?
Balance bikes are simply much safer, faster and more practical.
They are easier to control and children learn to keep their balance, for more information see also balance bike better than tricycle.
Your little one will not get very far with a tricycle, it is more difficult to maintain a bit of momentum, which is why they are often supplied with a push bar. Not necessary with a balance bike, such a bar.
Why not side wheels?
Training wheels discourage children from falling, instead they encourage them to counterbalance the fall.
If you counterbalance, a bicycle will tip over sooner.
In this way they do not learn to guard against a possible fall.
That is why it is so important to get off the tricycle quickly (do it right after their 2nd already!) And get on a two-wheeler.
A 3-in-1 balance bike like the Wishbone can help with this because you can easily convert it into a two-wheeler.
When will your child switch from a balance bike to a bicycle with pedals?
Let children practice, play and perfect their balance and cycling skills for as long as they want, while having fun on their balance bike.
All the time they spend on a balance bike will only make them more proficient on a pedal bike the day they decide to switch.
Best 10 Kids Balance Bikes Rated
Overall best balance bike
Wishbone
Recycled balance bike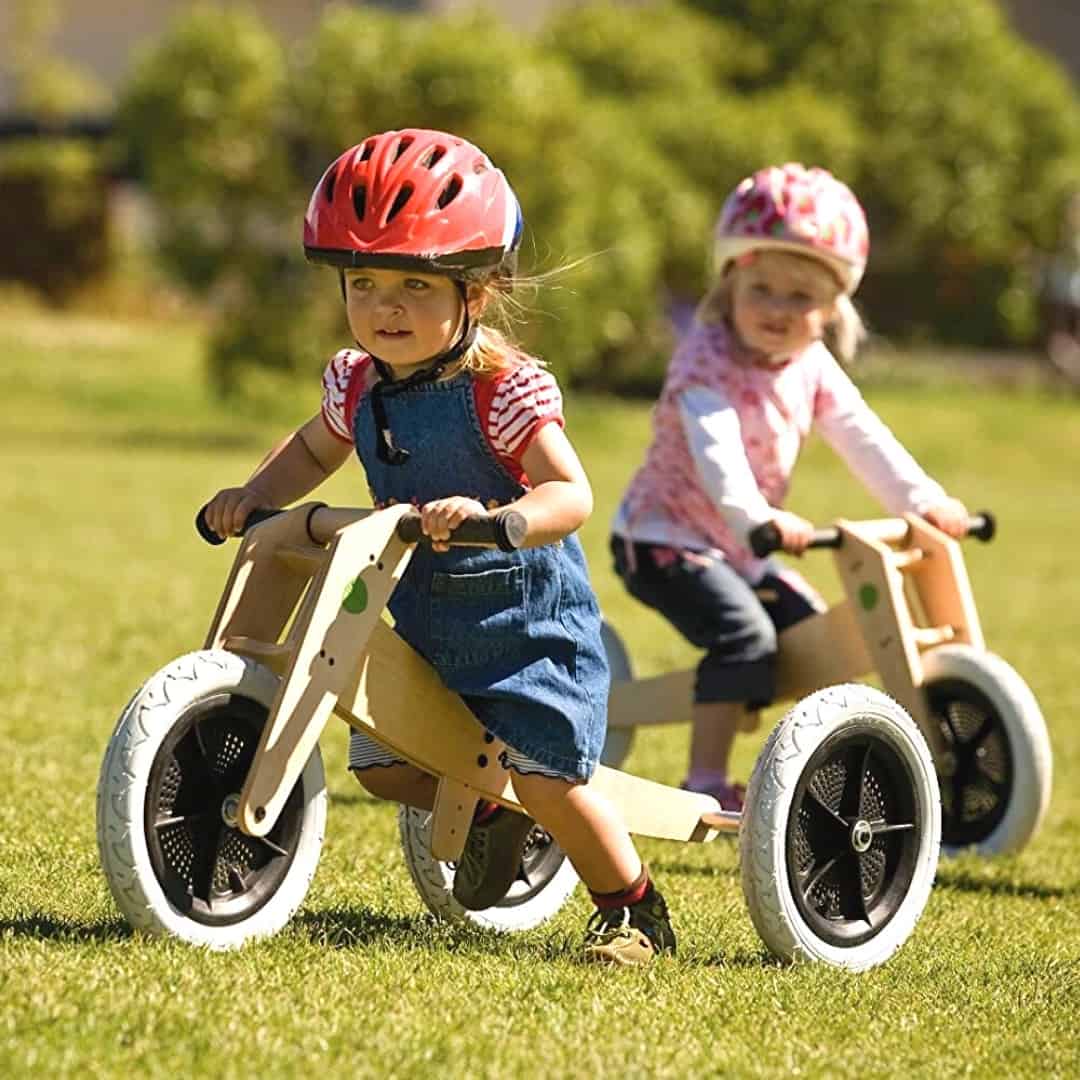 Best for
Sustainably recycled wood

Easily adjustable from 1 to 5 years
From 2 years

Best: 2 – 4 years

Until: 5 years
Material: Wood, Hardwood
Theme: Sports and outdoor toys, balance bike
Play Mode: Solo
Price at time of writing: €229 – $279,99
Sustainability: Recycled material
Production: Manufacturing
Storage: Normal
Safety parts: Safety certificates
Playtime: Extended (30+ min)
Gender inclusiveness: Gender neutral
Seat height: 28 - 46 cm
Age: 1 to 5 year
Loadable weight40 kg
This is perfect to use as a first balance bike. Not only is it durable to last their entire toddler through toddlerhood, it's also simply GREAT design. and has won several prizes such as the European Product Design Award for good reason.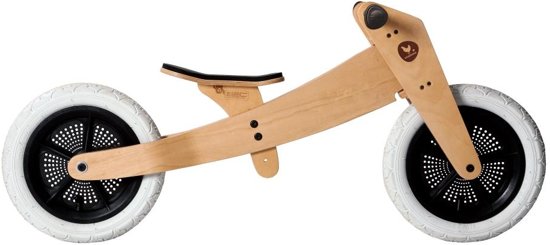 With such a first balance bike, a whole new world suddenly opens up for them full of discovery and for the first time a little further away from mom and dad. Social interaction is also stimulated with other children driving around or chasing after everyone.
The price-quality ratio is also enormous because they cannot be broken and you know for sure that you only have to buy one balance bike because it grows with them. In addition, it is an extremely environmentally friendly product made from recycled material.
Best cheap 2 in 1 growth balance bike: 2Cycle with 3 wheels
A cheaper alternative to the first 3-wheeler that grows with you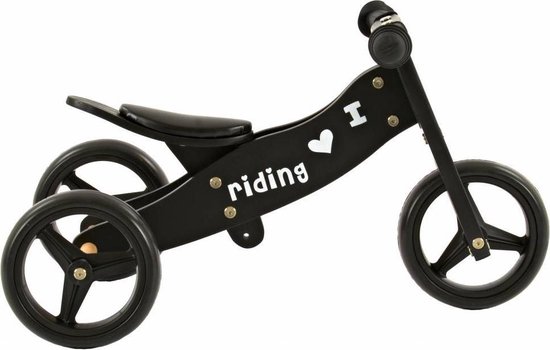 Seat height: 25 - 30 cm
Age: 1 to 3 year
Loadable weight25 kg
It is a multifunctional balance bike that you can use with both 3 wheels and 2.
It doesn't have a handy reversible frame like Wishbone, so it can only grow with your child until a lower age. Up to 3 years to be exact.
A very good alternative for people with a smaller budget. It is a sturdy bike that will last for at least 1 to 3 years with an excellent price / quality ratio.
It's a bike that everyone seems to be buying for their 1-year-old, and you'll probably see them regularly too (especially if you live in a new-build neighborhood like me!).
This is the gift everyone gives for their first birthday!
Best large balance bike: Little Dutch Sport
Best fit for older children: easy to adjust seat lets it last up to 6 years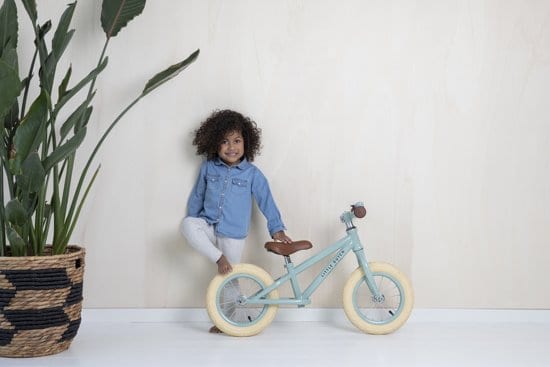 Seat height: 42 - 45 cm
Age: 3 to 6 year
Loadable weight30 kg
Built on a well-designed frame, this balance bike is built to last, perfect for the age group it is aimed at, around 3 to 4 years to buy so it can grow for a while.
Little Dutch says it can last up to 8 years, but given the height and the maximum weight I would say 6, plus I don't see a child of 8 as easily as walking bikes.
However, with an optional extended seat post and optional extra long handlebars, this balance bike is very easy to use by children of different ages, in a larger family.
For a decent price, with the Sport you get a quality bike that fits light kids, heavy kids, big kids and small kids - you generally can't go wrong with a Little Dutch.
Benefits
Adaptable for all children from 18 months to 4 years old!
Lightweight and easy to maneuver
Foam tires never leak and are maintenance free
Check the latest prices here
Best wooden balance bike for 2 to 3 years: Little Dutch wooden scooter
Best design: this wooden balance bike is very affordable and shows us a great fun retro design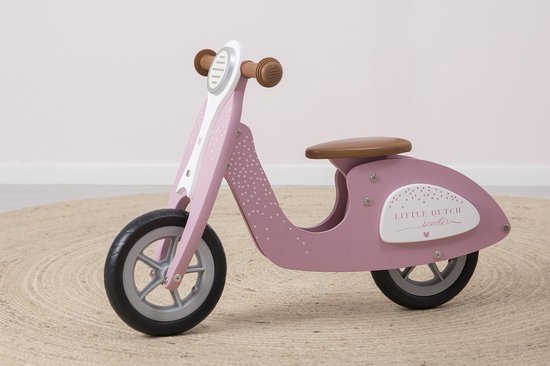 Seat height: 32 - 36 cm
Age: 2 to 4 year
Loadable weight30 kg
The best purchase for your money, the Little Dutch wooden scooter is a robust and agile well balanced bike that offers a lot compared to its small price tag.
For a surprisingly low price, you get a durable frame, solid tires, a super retro design and great pastel colored designs to choose from.
In addition to the daily rides in the area, the good tires and the steering wheel of this Little Dutch make it suitable for longer trips.
also look at our review of the best wooden toys
Benefits
Wide handlebar that offers more control when steering
Height adjustable seat
Three colorful, fun design options
Cons
Higher minimum handlebar height and heavier weight, not ideal for short riders.
View the Little Dutch models here
Cheap budget large balance bike: 2Cycle
Best budget bike: The 2Cycle is very cheap with reasonable features. The best if you want to keep your budget small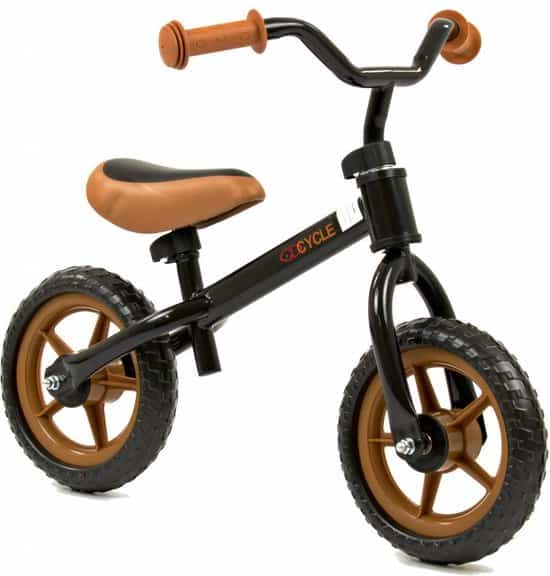 Seat height: 33 - 43 cm
Age: 3 to 5 year
Loadable weight25 kg
A well-designed frame for its price, the 2Cycle has a longer wheelbase, making it more stable than other budget balance bikes.
It is a particularly good deal for families with several little ones because it can be set in many different positions.
You have to keep in mind that this is not a bike you will use for generations, although we think the design is great.
Benefits
Surprisingly good design for the price
Quick release seatpost clamp
Pneumatic tires at a great price
Cons
As with all budget bikes, this one isn't as durable as the other bikes we recommend
Only a handle on the back of the saddle prevents the balance bike from rolling when fully lowered.
The best balance bike for toddlers: Yedoo One Too
The best for preschoolers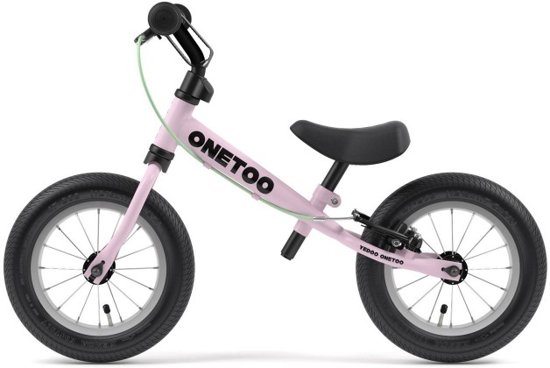 Seat height: 30 - 41 cm
Age: 2 to 6 year
Loadable weight50 kg
Fast, nimble and lightweight, even with pneumatic tires, the Yedoo Too Too is an exceptional buy for little ones, toddlers, or lighter preschoolers. The performance of the pneumatic tires is by far better than the lighter rubber tires.
With an adjustable seat height of 30-41cm, this is a great growth bike for lighter children. Once your child needs the seat height at 17 ″ or 18 ″, most other balance bikes will be much heavier.
This is the sturdiest of all the bikes on the list and can take even heavier kids, so pretty much the only option if you have an older child who is slightly overweight.
Benefits
A lightweight balance bike with pneumatic tires and a handbrake (only 3,8 kg!)
A range of 30 to 41 cm for the seat height offers plenty of room for growth
Padded saddle
Cons
Exposed bolts can potentially scratch the legs
Balance bike with best pneumatic tires: Chillafish BMXie
Best for adventurous older kids: fat wheels, thick frame. Totally cool and ready to go out!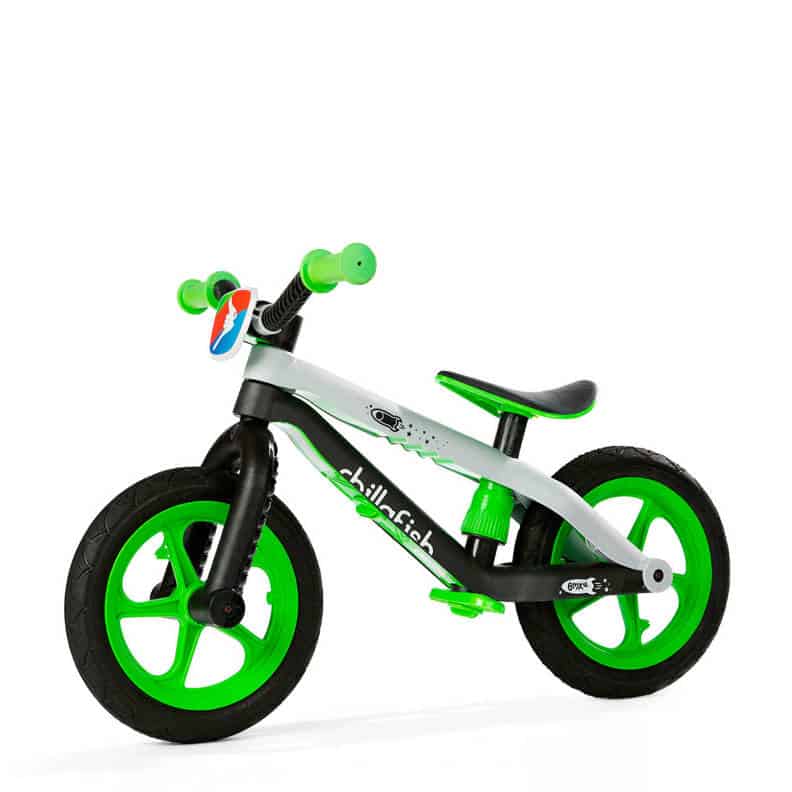 Seat height: 32 - 39 cm
Age: 3 to 5 year
Loadable weight35 kg
The Chillafish is the perfect balance bike for older toddlers or young students who have yet to learn to ride a bike.
The BMXie is aimed at children from 2 to 5 years old who already see themselves as BMXers, or who have outgrown their small balance bike but do not yet have the desire for a pedal bike.
The slightly prone body position is ideal for confident or adventurous kids who are likely to stunt even more once they get the hang of the bike.
Benefits
Wide, stable handlebar
Long wheelbase for stability and room for growth
Quality, durable plastic construction
Cons
Heavy for lighter children
Check prices and availability here
Best balance bike for timid children: Puky LRM Plus
Best for more wary older / bigger kids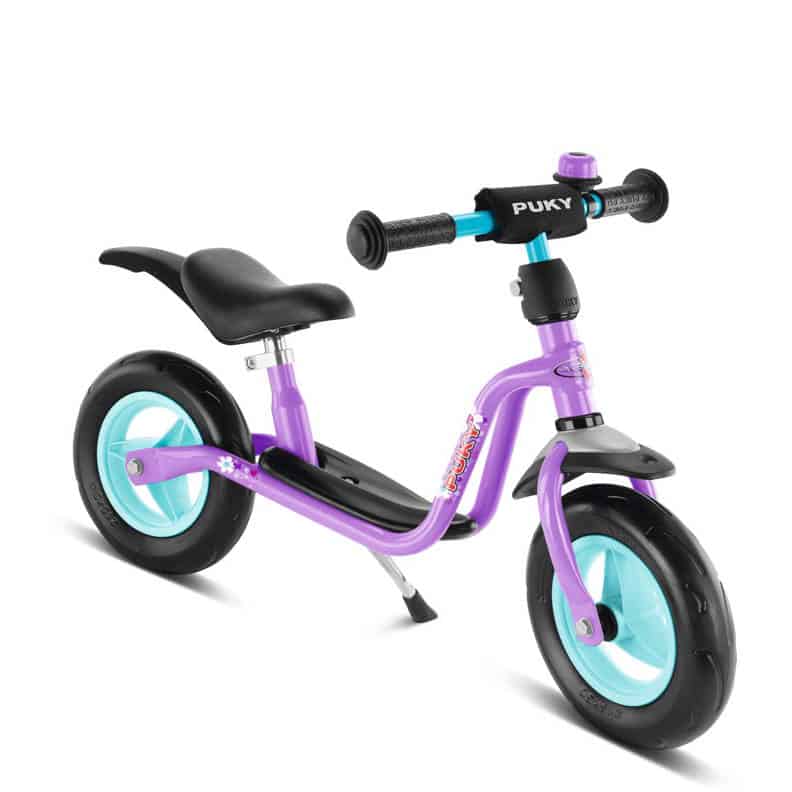 Seat height: 29 - 40 cm
Age: 2 to 4 year
Loadable weight25 kg
One of the best balance bikes has been made a size bigger, the Puky Plus has all the advantages of the popular Puky, but including a handy stand to put it away in the shed.
It is the perfect bike for prudent children who want to start cycling a little later.
With a comfortable, upright body position, large 14 "pneumatic tires, a low" surfboard "footrest and turn limiter and both the saddle and handlebars adjustable in height.
The Puky Plus is the ultimate reliable, large balance bike.
Benefits
Larger frame and 14 "tires provide ample room for growth
Light and manoeuvrable
low plank footrest
Cons
Footrest too big for small toddlers, but can be used around it
Check the latest prices here
Best balance bike for 1 year: Big Race Loopmotor
Best for adventurous younger children: This running motor looks cool, but is really just a nice safe running motor for your little one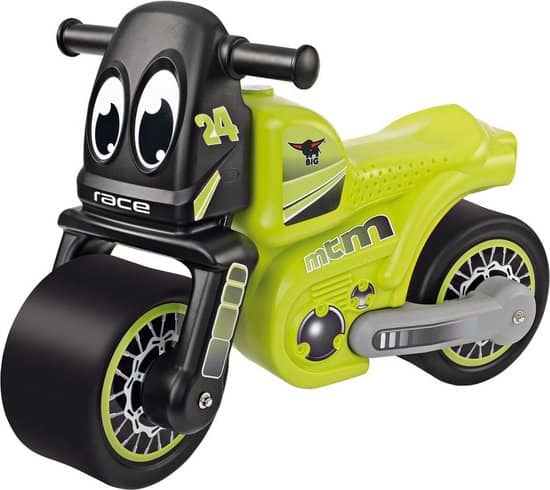 Age: 1 to 2 year
Loadable weight25 kg
The Big Race is what every kid (and let's face it, parents too) would want to get.
No flashy and busy graphics, or literal bells and whistles, just a perfectly proportioned and precisely built loop motorcycle.
This high-quality balance bike has a long wheelbase for extra stability during your little one's rides, the Big Race provides a smooth and effortless ride that will certainly give your child a taste for cycling at a young age.
Benefits
Low minimum seat height and low step-through ideal for young runners
High-quality components
Long wheelbase for extra stability when walking
Damping tires
Rounded bolts to avoid possible scratches
Cons
Check current prices of the Big Race here
Best balance bike for toddlers 1 to 2 years old: Beleduc Speedy Rhino wooden balance bike
Sturdy wood and a really cute design makes this "Speedy Rhino" the best choice for toddlers. This is the best for the smallest riders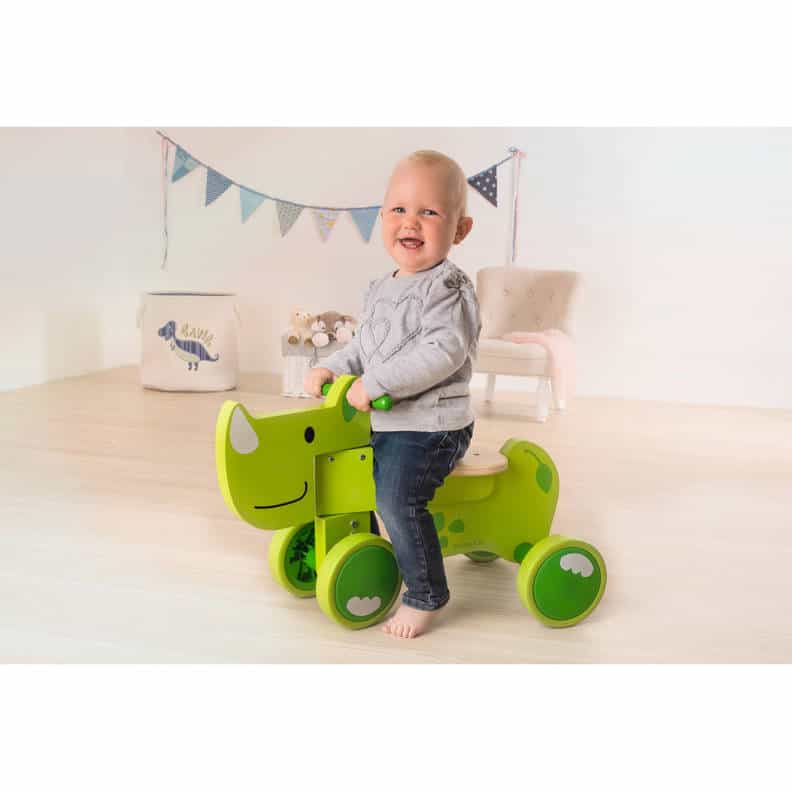 Seat height: 24 cm
Age: 1 to 2 year
Incredibly light and beautifully made, the Beleduc balance bike really sets itself apart from the rest.
With its sparkling wooden frame, it is just a lot of fun for your little one to walk around on it.
Best balance bike & scooter in 1: Scoot & Ride Highway
the balance bike can be transformed into a scooter at the touch of a button. Perfect for children in transition.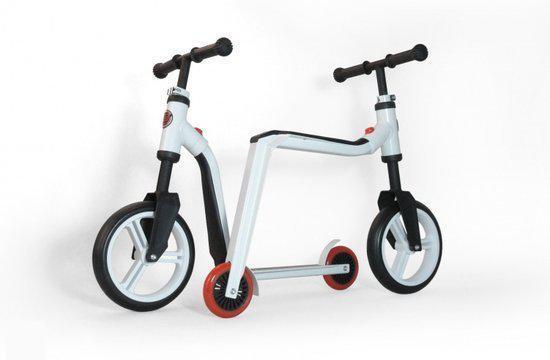 Seat height: 23 - 29 cm
Age: 2 to 5 year
Loadable weight50 kg
Although the manufacturer recommends this balance bike / scooter for kids from 1 to 5 years, based on our tests, we only recommend it for 2 to 5 years.
The idea is that you first use it as a balance bike and then start pedaling from the age of 3. The seat cannot really be high enough to sit comfortably for a child older than that.
Also check out this consumer association review:
After years of research, the Scoot & Ride Highway was born.
A great option for preschoolers who are new to the balance bike but also want to try something different every once in a while, the Scoot & Ride is a balance bike that converts into a fun bike in the blink of an eye. children's scooter.
Okay, it is not stunt scooter, but kids at this age just want to explore a bit.
Due to the larger handlebar, the Scoot & Ride is best for taller 2 year olds and for ages 3 and up.
The longer part between the seat and the steering wheel is a bit too much for smaller toddlers.
Benefits
Starts as a balance bike and easily converts into a one-button scooter
The larger frame and tire size is a good fit for children ages 3 to 5
Comfortable upright body positioning promotes confidence for beginners
Cons
Perhaps not the most stable balance bike in this article
View the most current prices here
History of the balance bike
Balance bikes are simply designed bicycles that young children learn to balance and steer.
They don't have pedals, so the kids push themselves forward by pushing their feet off the ground.
They also don't need side wheels, as the child's feet can always hit the ground.
Children learn how to balance by putting one foot on the ground when the bike starts to lean.
The history of balance bikes is unknown to most people.
Below you will find a detailed history of the origin of the balance bike.
Balance bike inventor: Karl Drais
Karl Drais deserves the credits for inventing the balance bike.
Born in Germany in 1785, Karl Drais was one of the most important German inventors of his time. He also invented the walking bike (for adults).
His many other inventions include:
a typewriter with 25 keys
a meat grinder
a device for recording piano music on perforated paper
a pedal-driven four-wheeler
and a shorthand typewriter
However, the invention that made him popular is the "Laufmachine", A balance bike that is the predecessor of today's bicycle.
Specs of the Laufmaschine
As Serena Beeley, a British bicycle historian, argues, the invention of the walking machine started the development of the bicycle.
It was the pioneer vehicle with two in-line wheels. The wheels and frame were made of wood and the handlebars resembled the modern handlebars.
The cyclists of the 'walking machine' sat on an upholstered leather saddle attached to the frame and pushed themselves forward with their feet.
The "machine" weighed nearly fifty pounds.
The popularity of the Laufmaschine
Although short lived, the "Draisine" became an instant hit on the international stage, under a variety of names.
In Germany it was known as the Draisine or velocipede (fast feet).
In France it was called the Draisienne.
In England the bicycle was referred to as the 'dandy horse' or the 'hobby horse', due to the fact that most of the riders of this 'hobby horse' were young, rich and flamboyant men, with a lot of money.
Not everyone received the loop machine with such enthusiasm. In America, critics were cynical about the invention.
An expert in the Baltimore Morning Chronicle once remarked regarding the Draisine, "any kind of overseas invention seems to arouse curiosity, however ridiculous it may be."
The idea behind the Laufmaschine
Drais's invention was based on a democratic idea of ​​finding an alternative to the horse so that many people could move faster than walking or using a horse and buggy.
After all, horses cost a lot of money, required a rider, and were generally expensive to maintain even when not in use.
The first ride with the balance bike
Drais' first documented ride on a Draisine was on July 12, 1817, when he took off from the city of Mannheim, covering a distance of nearly 13 miles in an hour, which was a surprising achievement at the time.
A few months later he created an even bigger sensation by driving 60 kilometers in less than four hours.
Drais made a marketing trip to Paris, where the 'hobby horse' also became very popular.
The balance bike quickly spread to Great Britain.
Limitations of the Laufmaschine
However, the Draisine did not enjoy its success for long. That's because the balance bikes were difficult to drive and also very heavy. Safety was also a concern.
Draisines did not have pedals and brakes. Coupled with the dire conditions of most roads, balance bikes were riding on the sidewalks at the time, often colliding with unsuspecting pedestrians.
Thus, in 1818 the Draisine slowly began to disappear in Europe. Not long after its invention, the balance bike was banned in many American and European cities.
Children's balance bike inventor: Ryan McFarland
However, Ryan McFarland has recently made an important discovery, we can say that he is the inventor of the balance bike for children.
When he gave his two-year-old son a tricycle and bicycle with training wheels, he saw his son struggling with learning to ride a bicycle and invented the balance bike as an easier alternative.
Ryan then began to think of a way to make the bike more suitable for his son.
He took the pedals off the bike, which allowed him to lower the bike's center of gravity so that the bike was stabilized.
In this way, his son could sit, put both feet on the ground and thus gain full control of the movement.
In this way, the loop machine or draisienne was reinvented!
In 2007, McFarland founded Strider Bikes, a company that has experienced explosive growth ever since.
His company has sold more than 695.000 copies, generating millions of dollars in sales.
However, there are many conflicting claims about who will be the first to children's bike (re)invented.
The German makers of the PEDObike claim on their website that they were the first to design a wooden balance bike for children in the early XNUMXs.
Only a handful of people know that the actual concept dates back nearly two centuries.
It's hard to say whether those who reinvented the balance bike did it from scratch, or stumbled upon the idea of ​​Drais.
Undoubtedly, today's balance bike and Drais' machine have many similarities.
Neither have pedals, forcing riders to push themselves forward by hitting the ground with their feet.
Most kids' balance bikes don't have stabilizers and brakes, just like Drais's elegant horse.
Conclusion
So, they were again. Our best balance bikes for any child.
Do you have a child and is his or her need just not listed here? Let us know in the comments and we'll find one for him or her.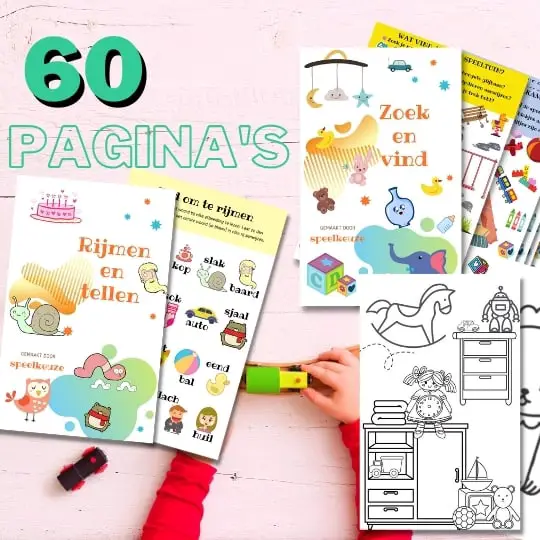 Always something to do for the holidays or rainy day?
Play Choice now has the ultimate activity book collection, with over 60 pages of fun coloring pages and educational puzzles.
Joost Nusselder, the founder of Speelkeuze.nl is a content marketer, father and loves trying out new toys. As a child he came into contact with everything related to games when his mother started the Tinnen Soldaat in Ede. Now he and his team create helpful blog articles to help loyal readers with fun play ideas.