I enjoy writing these articles for my readers, you guys. I don't accept payment for writing reviews, my opinion on products is my own, but if you find my recommendations helpful and you end up buying something through one of the links I may be able to receive a commission on that.
More information
Very simple, beanbags are hot!
There are no more boring and old-fashioned beanbags to be seen! In recent years they have become an indispensable part of our interior or our garden.
They are fine relaxation furniture and are not only purchased for the teenage bedroom, but also for the children's or living room.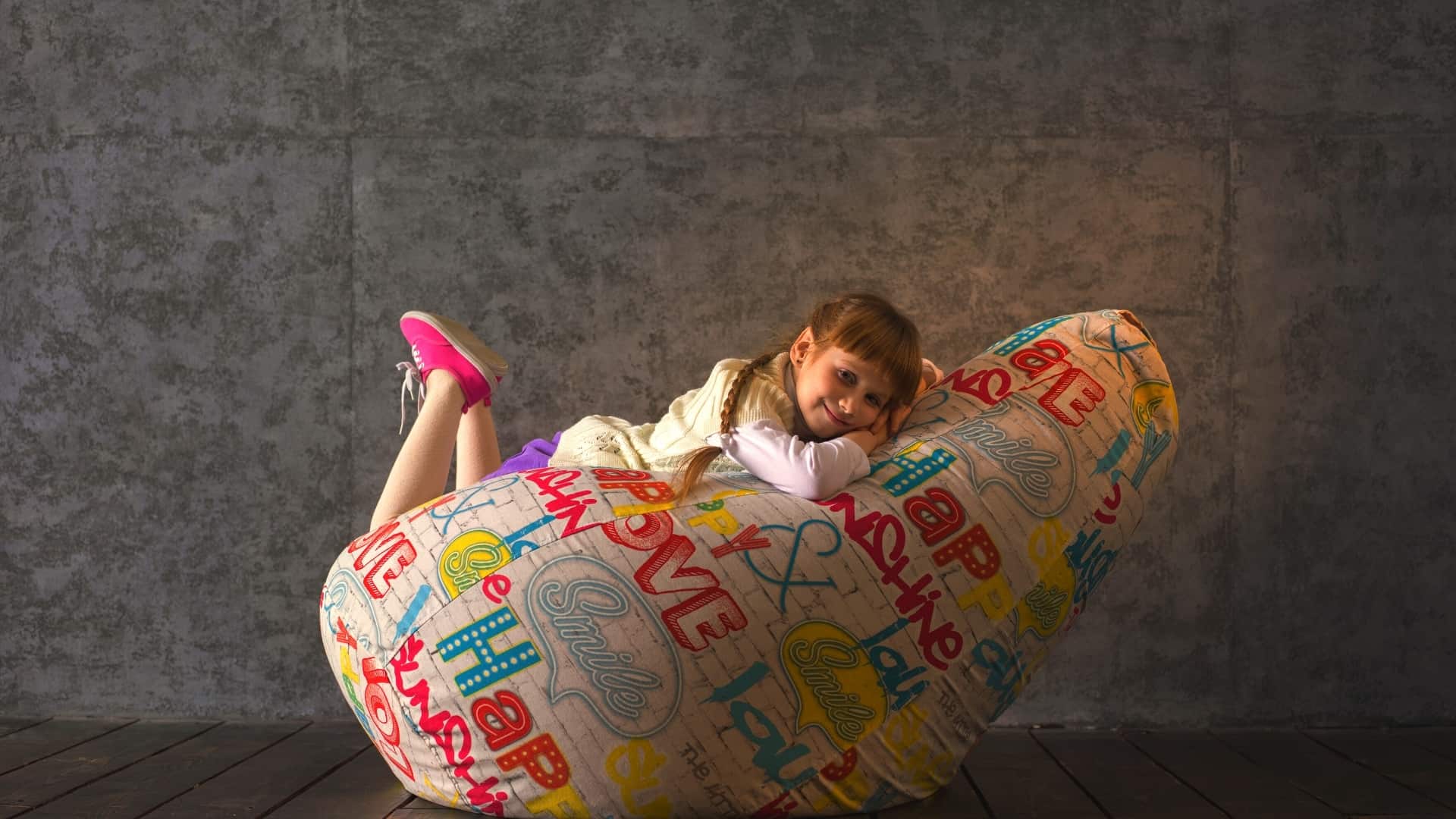 Colorful colors and patterns are of course the best for a children's beanbag. The children's beanbag completes the nursery and gives your child wonderful moments of relaxation.
Bean bags are also a great gift for a birthday. They come in different price ranges.
Our favorite beanbags for you at a glance, then I will go into each of these options in more detail and I will also give some tips about beanbags:
Best bean bags for your child reviewed
Best beanbag for boys: Lumaland football
For your soccer player! This Lounge chair - beanbag - eco leather - football is a comfortable trendy beanbag in the shape of a football, made of ecological leather.
Your child will be able to relax in this bag while reading, playing games or watching a football match on TV.
If you choose this football beanbag, the nursery will get a nice and sporty look, especially popular among our football fans of course!
The bag is 55 centimeters wide and the height is 35 centimeters.
Best beanbag for girls: Wigiwama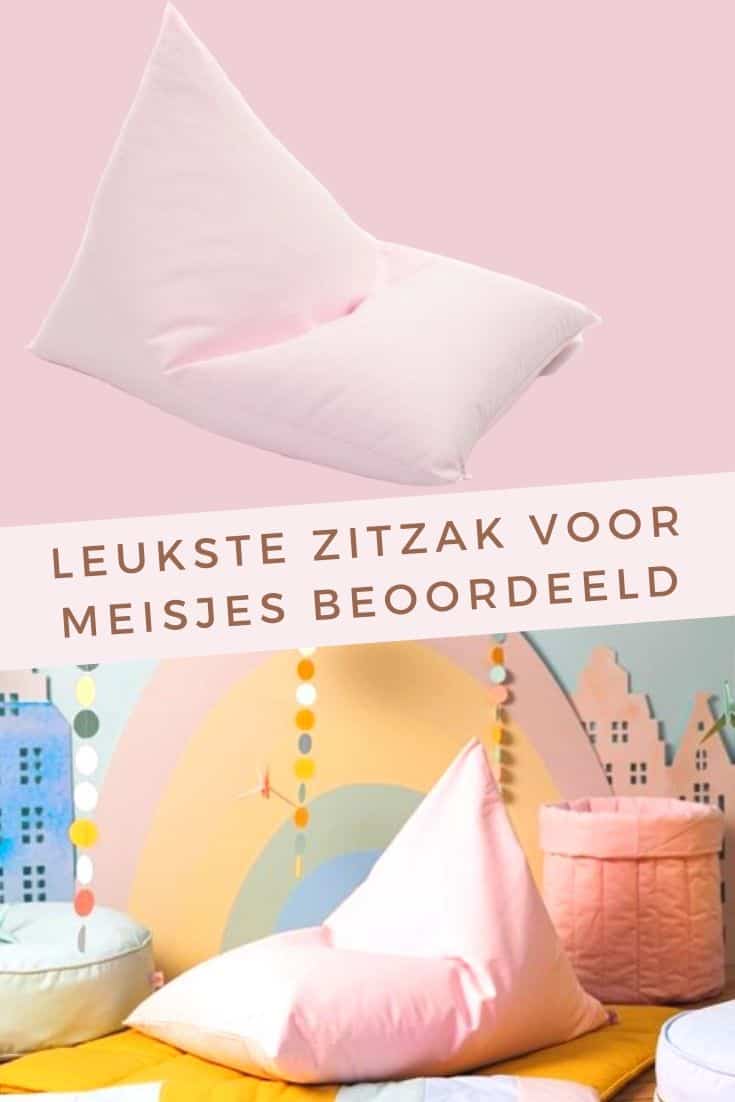 The sturdy Children's Beanbag Beanbag for the nursery is available in pink, but also in colors such as mint green and is a beautiful attention-grabber in the nursery.
The bag is great for relaxing with a book or laptop. The beautiful mint green color looks great in any nursery or play corner or choose pink for the real girl.
The washable cover is made of 100% child-safe cotton and the filling is made of 100% non-toxic EPS balls.
The balls are safely in an inner pocket, your child can rest and sink completely into it.
The beanbag is only sent by dropshipping, directly from the supplier with a delivery time of a maximum of two weeks.
Check the most current prices and availability here
Best cheap beanbag: SeatZac Junior Yellow for children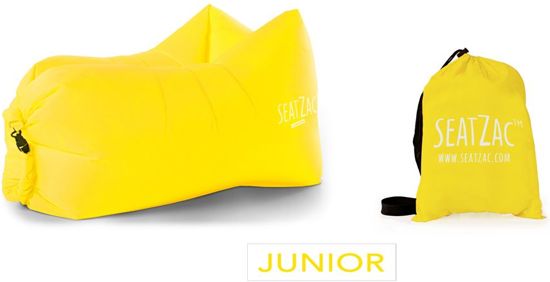 Do you want your child to be able to sit comfortably everywhere? This SeatZac Junior Yellow for children is perfect for lying comfortably on the beach or during a picnic in the forest.
It is really not difficult to fill the bag with 400 liters of air, roll it shut and put the clamp on it. No pump is needed at all!
The bag is made of parachute fabric and very solid. This beanbag comes in a handy carrying bag and can carry up to 100 kilos of weight.
Although the bag is not allowed into the water, the coating is fortunately resistant to water.
Cutest pink beanbag: Xoft Pryde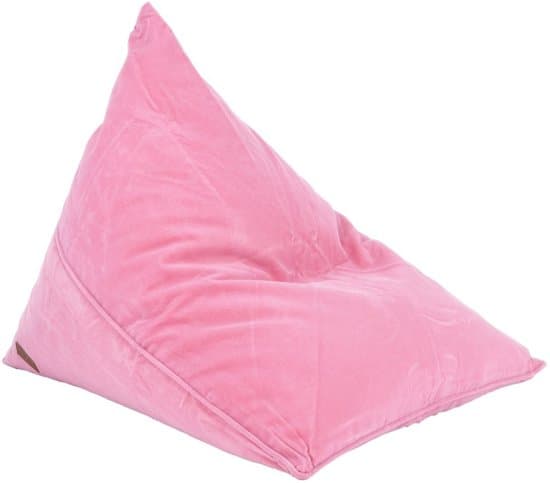 The Wigiwama has a fun light pink that will suit many kids' rooms, but if you want to go for a true bright pink, this one from Xoft is probably more for you.
This luxurious Xoft Living beanbag Pryde for boys and girls (it is also available in many other colors) to chill in has a pyramid shape.
The safety of our children is paramount, so this beanbag has a child-friendly zipper and the EPS pearl filling is safe for children.
The filling comes in a separate inner bag and is guaranteed to contain no toxic substances.
The Pryde beanbag is a feast for the eyes and made of a beautiful and durable velvet fabric. It is a real eye-catcher for the living room or the nursery.
It is available in many beautiful colors, so you will always find a color that suits your home: blue, beige, gray, pink, mint green or burgundy.
Best beanbag for the nursery: Wigiwama Velvet Bunny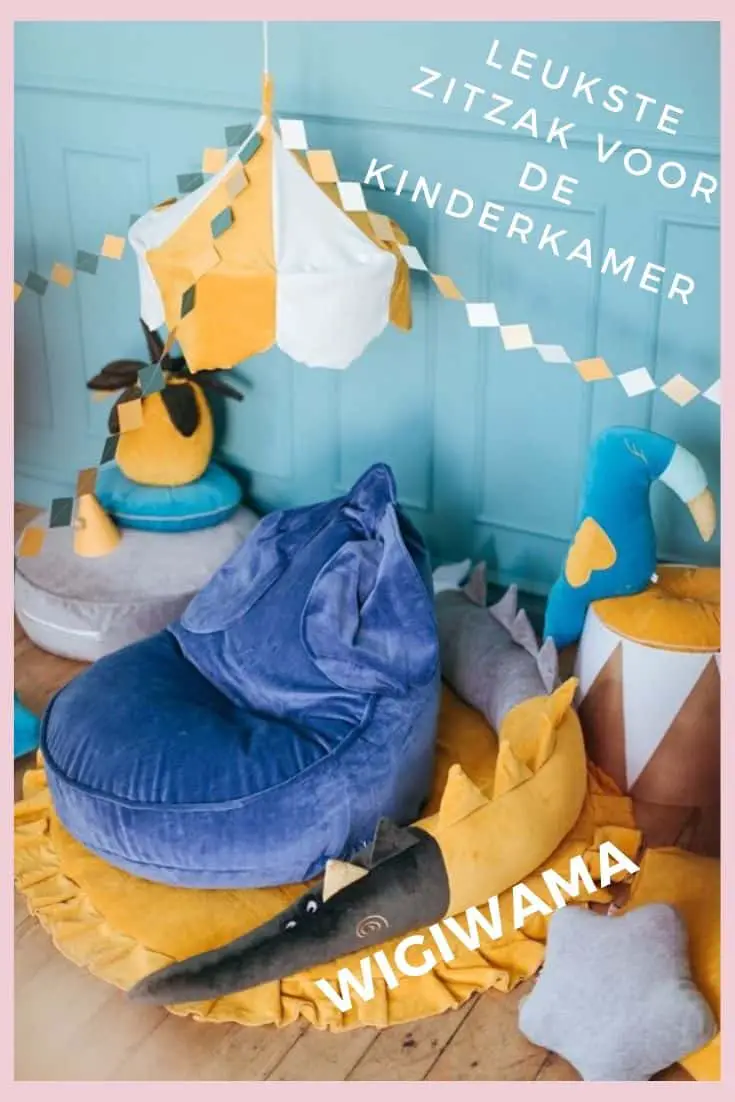 What a soft and cuddly beanbag! The Beanbag Bunny Kids Beanbag certainly attracts attention and will look super trendy in the nursery or playroom.
The soft velvet fabric gives a luxurious look and is wonderful for your child to lie in.
Your child can wrap the soft rabbit ears around them to keep them nice and warm.
The size of the beanbag is 75 centimeters long and the height is 60 centimeters, the removable cover is made of 100% OEKO-Tex Cotton (safe for children).
The filling consists of child-resistant EPS balls that are in a strong inner bag.
Your child sinks completely into the bag so that he or she can completely relax, how nice is that?
The nicest beanbag for the living room: Wigiwama Herringbone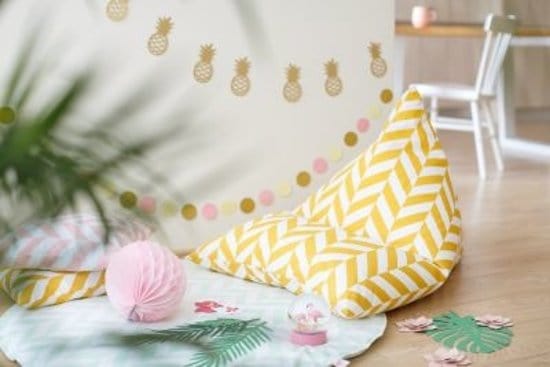 The beautiful Kids Beanbag Herringbone is a cool model beanbag from Wigiwama. So hip for the nursery, even cooler in the living room, why not?
Great for your little one to lie in and relax. He or she will love this wonderful place!
The bag is 90 centimeters long and a maximum of 60 centimeters high. It has a child-resistant washable cover with EPS balls, absolutely safe and non-toxic.
The trendy mom chooses this beanbag!
The beanbag is shipped via the 'dropshipping' principle, directly by the supplier. The estimated delivery time is one to two weeks.
Cutest baby beanbag: Doomoo Seat Giraffe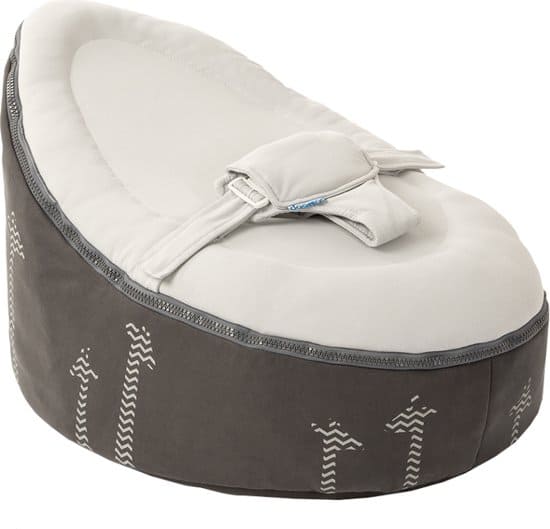 The Doomoo Seat Baby Beanbag really looks fantastic!
The Belgian company Delta Diffusion produces innovative baby products of very good quality such as this Doomoo baby beanbag.
This great beanbag chair feels soft and good, like all Doomoo products.
This name is a combination of the French words 'doux' (soft) and 'mou' (flexible).
It is important to know that the beanbag is safe and tested by international safety authorities. A must for your baby.
Check prices and availability here
Best beanbag lounge chair: LC Bali ribcord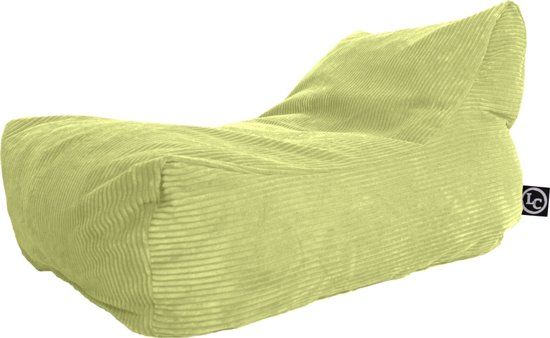 This comfi Lounge chair beanbag Bali ribcord in the beautiful pistachio color of the LC brand is made for children, but fortunately adults are also allowed on it!
You can also relax on it with your child, or watch a movie on a lazy afternoon with just the two of you.
The soft cover made of rib cord is washable at a maximum of 30 degrees and you can also buy another cover for outside.
Nice for in the garden to enjoy the sun lazily.
The filling consists of new EPS pearls, so that means good support and child-safe. The dimensions are 106 cm x 80 cm x 65 cm.
This beanbag fits great in any room and lasts a very long time, making it also suitable for relaxation areas at schools, for example.
The bag does not weigh much and is therefore very easy to move.
Why buy a children's beanbag?
A beautiful beanbag is a nice addition to the nursery, but can also be an eye-catcher for the living room.
A beanbag is easy to move, so there is always a place where you can put it.
There is always a color or design that fits in your home or in your child's room!
There are even shops where you can supply your own design to have the beanbag printed.
Beanbags are very trendy and can take a beating, so they are very suitable for your children.
Also a nice place for teenagers to play games or read because you can lie on it, hang out and of course sit, whatever you prefer.
It is better for your child's body than a sofa or chair because it takes on the body shape and relieves pressure in the spine.
Your kids can enjoy it together too!
It is also very convenient that most children's beanbags have a removable cover that can be washed at 30 degrees, but it cannot be put in the dryer because of the shrinkage.
If you can remove the stain with a damp cloth, this is preferred.
What should you pay attention to when buying a beanbag?
There are different fillings for the beanbag.
For example, you can opt for new EPS beads, also called EPC pearls. The beanbag then molds itself completely to your body and feels very comfortable and supportive.
There are also fillings with EPS from recycling, in which case the beanbag may be cheaper, but it will quickly shrink and not provide the body with the correct support.
Make no mistake when buying a beanbag; EPS from recycling is also simply sold under the name EPS, but it consists of chunks instead of round pearls.
There are also beanbags with foam flake fillings, but just like the recycled EPS chunks, these usually offer insufficient comfort and that is exactly what you want with a beanbag!
So it is certainly worth checking which filling is used in the beanbag before purchasing one.
Beanbags for the home
For the nursery, playroom or living room we see many trendy and comfortable bean bags.
For the children's rooms we often choose soft fabrics and beautiful patterns.
But we can also get chic versions for our living room, sometimes also made of beautiful leather.
The better beanbags are ergonomically sound and mold themselves perfectly to your body, your back receives very good support.
Please note that the filling is made of new EPS pearls, which stands for comfort.
Beanbags for outside
A sturdy, water-resistant beanbag that can take a beating is an asset to your garden. How nice is it to enjoy the sun in your beanbag?
Make sure you get a bag that can withstand a night out.
Of course it stays nicer if you put it inside, but in principle the outdoor beanbag must be resistant to rain, sun or other weather conditions.
Outdoor bags are available in many trendy colors. There are also the self-inflatable bags made of parachute fabric available for outdoor use.
These are great for a picnic in the park or at the beach because they are so easy to carry.
Beanbag on the case
The beanbag has also become extremely popular in the workplace.
For example, in conference rooms, where colleagues can easily meet and brainstorm together from a comfortable position in the beanbag.
Especially the young and creative companies make use of it.
No boring long table with chairs, but a beautiful lounge area to come up with productive solutions and new ideas!
There are even companies with a chill room, here too the beanbag is seen more and more often.
Catering establishments
The beanbag is of course also a great solution for a restaurant, terrace or beach pavilion. In our spare time we need comfort.
If you are ready for a moment for yourself or just want to have a nice chat with friends, there is nothing better than sinking into a comfortable beanbag with a drink in hand.
Hopefully after reading this article you can make the right choice when buying a beanbag, good luck!
Beanbags then and now
The beanbag has an Italian origin; In the year 1968 three Italian gentlemen named Piero Gatti, Cesare Paolini and Franco Teodoro designed the 'sacco'.
They had been commissioned to design a nice relax chair with the hippies as the target group. The design was very daring for that time!
The first 'saccos' were produced in Milan. It is therefore quite strange that we now often call this 'bag' in English 'Beanbag'.
In the 70s, the beanbag was extremely popular and can be found in many teenage and living rooms.
We can therefore say that the beanbag has been around for quite a long time.
Of course, the beanbag has also been less popular for a while.
Many years later, the beanbag is gaining more and more popularity with an even wider target group than before.
Now beautiful beanbags are produced in so many different fabrics, colors and shapes.
Some are made of extra soft fabric, but they are also made of leather, ecological cotton or ribcord.
Where are beanbags used today?
The beanbag is no longer a simple sitting or hanging place that only belongs in a teenage room. The beanbag no longer has a boring appearance.
There are all kinds of fantastic bags for children and adults today. The bag is an addition to your living room, garden, workplace or for the children's room.
Nowadays, beautiful inflatable beanbags, ergonomically sound, small and large beanbags and even lounger bags are produced.
Plenty of choice!
Joost Nusselder, the founder of Speelkeuze.nl is a content marketer, father and loves trying out new toys. As a child, he came into contact with everything around games when his mother started the Tin Soldier in Ede. Since 2016, he and his team have been creating helpful blog articles to help loyal readers with fun play ideas.