I enjoy writing these articles for my readers, you guys. I don't accept payment for writing reviews, my opinion on products is my own, but if you find my recommendations helpful and you end up buying something through one of the links I may be able to receive a commission on that.
More information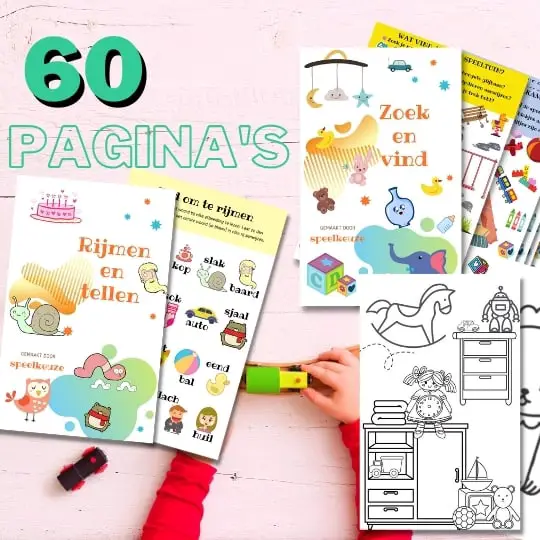 Always something to do for the holidays or rainy day?
Play Choice now has the ultimate activity book collection, with over 60 pages of fun coloring pages and educational puzzles.
Bluetooth speakers are perfect for listening to music from your smartphone in hi-fi - and they're not just for adults anymore.
Bluetooth speakers for kids are all the rage right now, and kids all over the world are discovering the joys of streaming music and even learning to interact with built-in digital assistants like Amazon's Alexa.
In this article, I look at the best bluetooth speakers for the nursery.
My own favorite is this dog Snowy from Promate which not only looks very cute for children, but is also full of functions such as streaming with bluetooth but also with cable or SD card if you want.
These are the best (and most fun) bluetooth speakers for children:
Best kids bluetooth speakers reviewed
Whether you're looking for an early learner who loves songs and games or a teen just discovering her favorite counter-culture music, you can now find a Bluetooth speaker designed for the younger person.
Here's everything you need to know about buying a Bluetooth speaker for the kid in your life - from the indispensable conveniences you need to the privacy-protecting features you'll want to know about.
Many kids' Bluetooth speakers have built-in LED lights for creating a perfect music party.
Take a look at the life of your battery, because these lamps work on the same battery and the more you use them, the more often you have to charge the battery of your speaker.
Cutest bluetooth music animal: Thumbs Up Ulla the Unicorn
Just very cute and functional too. The Promote Snowy is the perfect solution for children's parties and children's rooms.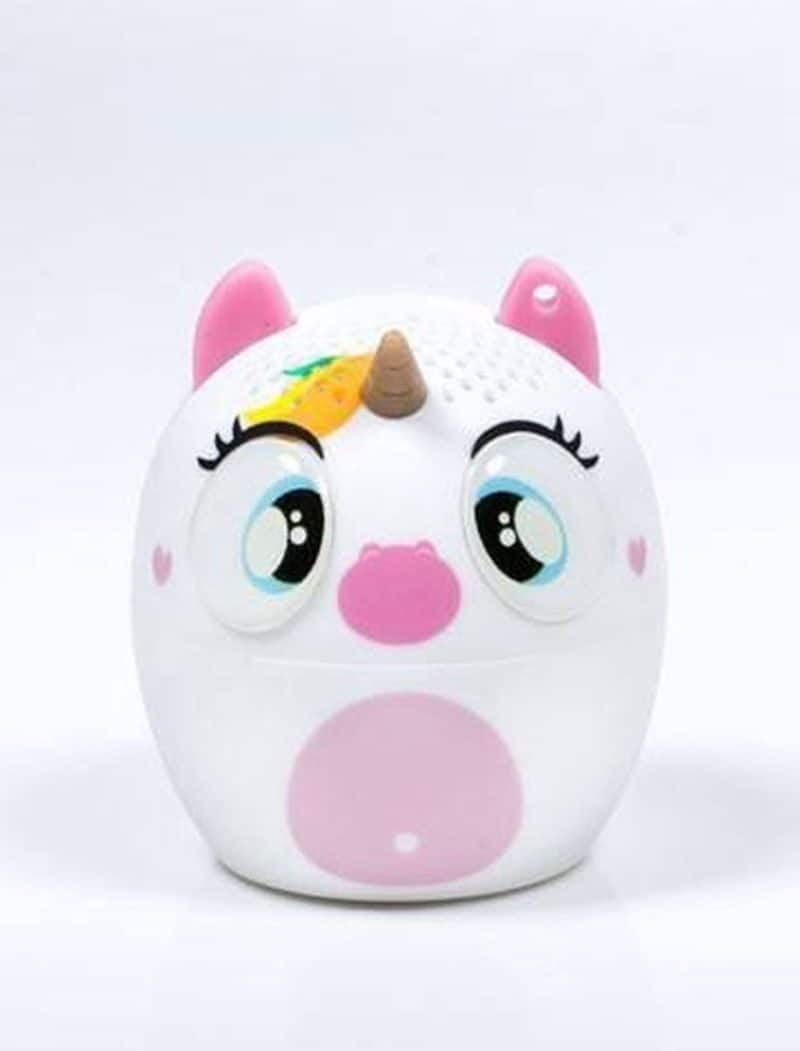 You can easily pair it with your Bluetooth device such as your phone or children's tablet to stream music up to a range of 10 meters.
However, you can always choose to use a cable or put your music on an SD card if you don't always want to make your phone available to your kids.
Cutest music box child: Bigben Bluetooth Speaker K3
If you are a K3 fan then there is nothing more fun than playing your favorite music on a music box especially for children, made in collaboration with K3!
It is a very compact and extremely portable speaker box with images of the cutest girl group in the world: K3.
It gives a fantastic sound for the money, because with less than € 20, you really can't go wrong.
Certainly not when you consider that you can also easily stream music via your Bluetooth device.
This music box also has a range of up to 10 meters, which is of course always enough for at home, so you can enjoy playing that nice music.
You can also make calls with it, which is really only useful if your own phone is connected via bluetooth and you get a conversation in between, because the design of the speaker is more suitable for smaller children who probably do not have their own phone yet.
For a small and portable music box like this, a power of 9 watts is decent, making it perfect for the nursery.
Check the most current prices and availability here
Best Bluetooth speaker assistant: Amazon Echo Dot Kids Edition
Handy and child-friendly. Specially designed for kids, this Echo Dot lets you stream music via Bluetooth, offers kid skills, explicit music filters, and other great Alexa features.
Pros: Advanced Audio Distribution Profile (A2DP) support for audio streaming from your mobile device to Echo Dot Kids. In addition to a speaker, it is a DJ, comedian and storyteller.
Cons: Audio balance is limited.
The Echo Dot Kids' Edition does a great job of providing the convenience of having a digital assistant for kids while protecting them from unwanted content and accidental purchases.
The kids edition features appropriate jokes, has access to hundreds of learning apps, and includes a built-in cover to protect it from accidental falls.
Very nice to learn and a kind of educational AI in a permanent shell, a nice one alternative to a toy robot who will roar through the room.
Check the price here at Amazon
Best small bluetooth speaker: My Audio Pet Gen 1 Mini
Fun and competent. These adorable mini speakers sound almost as good as they look.
Pros: Choice of animals. Great sound for the size. Bass is good for a small speaker. Connects easily.
Connects to any Bluetooth device. Selfie function activates the camera remotely for photos and video. Rechargeable battery provides three hours of playtime.
Cons: Does not fit properly with 7th generation iPod nano.
The My Audio Pet series speakers may look like everyday toys, but they are surprisingly capable little Bluetooth speakers that are fun for all ages.
We like the built-in camera for taking selfies. It even has a remote control for taking the perfect photo.
The three-watt speaker doesn't get very loud, but that's good news for parents who want to keep their kids 'drums safe and don't want their kids' music taking over their home.
Check the price here at Amazon
Best Bluetooth Speaker kit: Bose BOSEbuild Cube
I particularly like the Bose BoseBuild because you can make a building project together and it also gives great audio quality (what do you want from Bose).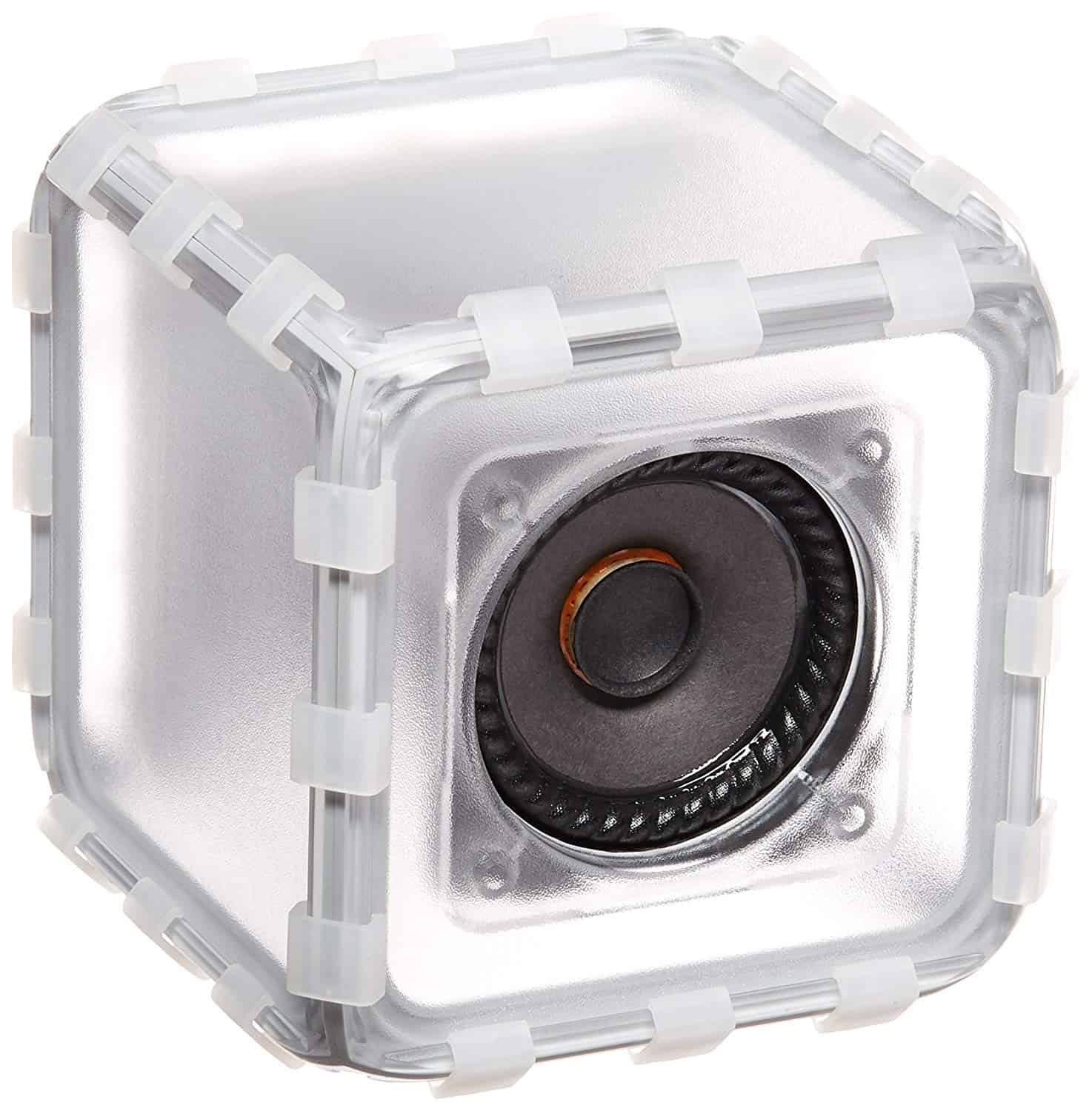 It's a cool science lesson and a Bluetooth speaker in one.
Pros: Build a Bluetooth speaker with Bose quality sound. Personalize with cool lighting and interchangeable covers.
Included app (for Apple devices) guides you through hands-on activities. For children aged 8 and up. Works with any device with Bluetooth 3.0 or higher.
Cons: Difficult to assemble without access to the iOS app.
We almost included him in our list of the best construction toys for kids, but had just not made the selection.
This way you have a model your son or daughter will like and leave behind the complicated interfaces found on models aimed at adults.
Check the most current price here at Amazon
Best bluetooth pendant: LIGHTSTORY Mini Bluetooth Speaker
Wherever you hang out, this cord-style speaker hangs with you.
Pros: Durable and waterproof with good sound. Color changing LED.
Supports Bluetooth 4.1. Can hang on a lamp, backpack, bicycle handlebar or anywhere else you want music.
Waterproof, 360 degree sound. 33 'Bluetooth connection. Play time of four hours.
Cons: Music pauses when you press the button to change the light.
Best bluetooth speaker ball: Kirobo Mini Bluetooth Speakers
A great choice for kids who feel like they've outgrown cute designs.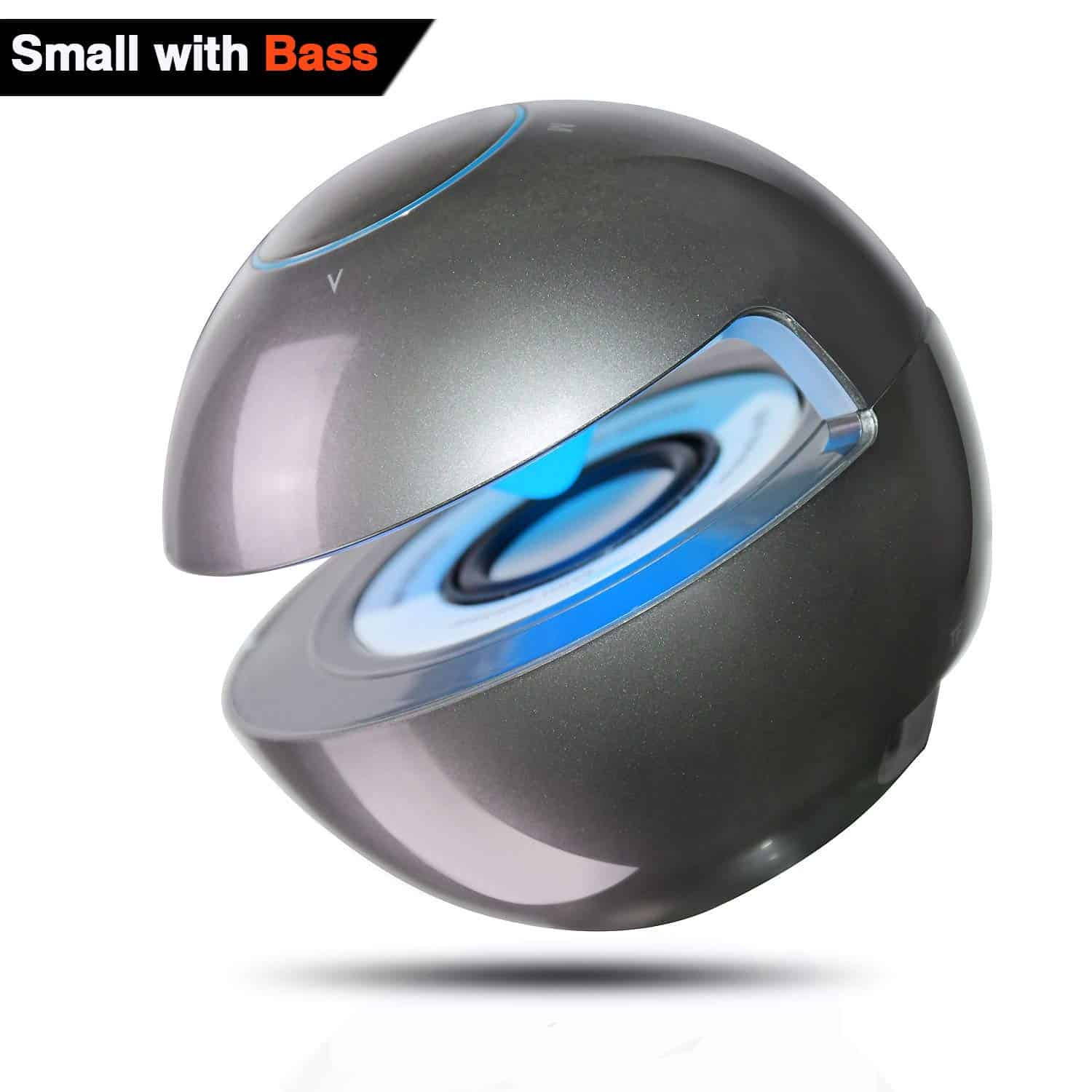 Pros: Good sound for a small speaker. Piano lacquered ball with flashing LED lights. 360-degree speaker.
Supports Bluetooth 4.0 devices. Can also play music with micro SD card. Finger touch light sensors.
Cons: Controls are a bit temperamental.
Important considerations when choosing a speaker for your child
Before comparing different models of Bluetooth speakers for kids, check out these three main questions.
What age group are you shopping for?
The most important thing to consider is who will be using the Bluetooth speaker the most.
When you buy one for a child between the ages of five and eight, look for models that are particularly durable.
Something with just a few buttons will be easier to use.
If you are looking for an older child, you will find many more suitable models, but you also have to spend a little more.
How fast should he go?
Bluetooth speakers for kids come in all shapes and sizes - and some are loud enough to fill a bedroom, while others are loud enough to fill a ballroom.
Consider the child who will be using the speaker and how much amplification you want him to have.
If you're not sure if a specific model is the right volume for you (or your son or daughter), look to video reviews for real-world examples of what different models can do.
Only stream Bluetooth or also play music from a micro SD card?
All Bluetooth speakers for kids can stream music from a smartphone or tablets, but there are times when Bluetooth isn't ideal – especially when you consider that your phone needs to be within range when you want to use the speaker.
If you want a kids Bluetooth speaker that can only play music without needing an additional device, look for one that has the ability to play music from a microSD card.
Features of a speaker that you want to pay attention to
After determining the overall size of the Bluetooth speaker, consider what additional features you want.
These are our favorite bonus features we've seen on Bluetooth speakers.
Functions of the speaker
Voice control: Using voice commands to ask for music or to control a music player certainly takes some getting used to, but once you adjust to the convenience, you may never want to go back. Parents love to be able to control a speaker when their hands are full; children enjoy playing conversation-based games that are fun and educational. When you're ready to help your little one get hip with Artificial Intelligence, buy a Bluetooth speaker with a digital assistant.
A built-in camera: Many speakers include security cameras… and selfies. If you're preparing your child to become the next Instagram lifestyle model - or if you just want to teach him how to take photos to share with family members - get a kid's Bluetooth speaker with a built-in camera.
Water resistance: if your kids are spending time at the pool or on the beach, make sure the speaker you buy is water resistant so it can survive the summer.
Price
Bluetooth speakers for kids start at around $ 30, but the cheapest models usually don't sound very good.
Buying a limited-use Bluetooth speaker like a beach trip can get away with spending $ 30 or $ 40, but in most cases it's a better idea to spend a little more to get one that lasts longer. lasts and with better sound.
The best Bluetooth speakers for children usually cost around $ 50.
Models in this price range are moderately loud (without being too loud), sound decent, and can last for about four hours on one battery while playing music.
If you're looking for a Bluetooth speaker for young children that will last for a few years but won't cost you the top prize, you'll find the perfect one in this range.
Tips when buying a bluetooth speaker for children
Before you buy a Bluetooth speaker for your kids, consider these tips.
If your child is learning to talk, buy a Bluetooth speaker with a built-in digital assistant.
Most digital assistants like Google Home (also fun games to play here!) or Amazon's Alexa are great for language learning as they can repeat words or phrases to you and they can even run kid-oriented apps that add fun to game learning.
Digital assistants are incredibly useful for adults, but for children they can be an endless source of learning and entertainment - so if you have a young learner with you, make sure to buy a speaker that can help them grow.
If you buy a Bluetooth speaker with a built-in digital assistant, turn on parental controls to prevent unwanted or accidental purchases.
One thing digital assistants are especially good at is shopping for us. In some cases, you just have to say something and the purchase will be made for you.
That's great for adults, but it can make life with a child challenging, especially if they tend to ask questions.
Don't let your child shop unattended: make sure you parental supervision and that you have disabled on-the-fly purchases.
If you take your Bluetooth speaker with you on a ride, bring a spare USB power bank.
Many Bluetooth speakers for kids are portable, and they use built-in batteries to take music with you wherever you go.
But all the batteries drain, so when you travel with your young one, bring a USB power bank, plug in your speaker when the battery is low, and never miss out on music and entertainment.
Others products we considered
The DOSS SoundBox Pro is not marketed as a Bluetooth speaker for kids, but it is so easy to use that it fits just as well.
It has great bass, which is hard to find in portable speakers, and perhaps best of all, it can be paired with a second DOSS Soundbox Pro to play music in stereo, with each speaker playing one of two stereo channels .
Don't be put off by the loud colors and crazy lights. This speaker is an incredible value and it is one of the best sounding models in its price range.
We also like the POECES portable Bluetooth speaker, which is half lamp, half portable speaker and 100% fun.
It lights up in multiple selectable colors and changing colors is as easy as tapping the top of the speaker, which is perfect for toddlers and preschoolers.
Our favorite part: it has a built-in battery, so you can take music (or more light) with you wherever you want and listen to music for hours without having to plug it into the wall.
If you buy a Bluetooth speaker with a built-in digital assistant, remember that it is always listening and you can always temporarily turn off the microphone.
Find the Mute button to pause it temporarily and prevent it from recording audio or responding to unintended instructions.
Frequently asked questions about speakers for children
Here we have answers to some of the most frequently asked questions.
How Long Do Batteries Last on Portable Bluetooth Speakers for Kids?
It depends on how actively they are used, but most portable Bluetooth speakers for kids will last anywhere from four to XNUMX hours on a single charge.
In general, you can count on most portable Bluetooth speakers to last at least four hours on a single charge - but if there are other features that use battery power, such as a built-in LED light, the battery won't last that long.
Can I use a wired connection to connect my audio source to a Bluetooth speaker?
Yes, as long as you buy a Bluetooth speaker with a 3,5mm external headphone jack.
By using a wired connection, you can hear your music in full fidelity (instead of compressed Bluetooth audio) and eliminate potential issues with wireless interference.
Read also: the best smartwatch for kids
Do I need a paid subscription to use digital assistant services like Amazon's Alexa?
No, but in the case of Amazon's Alexa, the benefits of having a subscription to Amazon Prime are worth it.
Most digital assistants can handle the basics of their work without a paid subscription, so they can tell you about the weather and local traffic, make Internet phone calls, and answer questions about anything they can search for on the web.
That said, the joy of having a digital assistant comes with music streaming and shopping, neither of which are free.
For example, if you have a subscription to Amazon Prime, you can use Alexa to stream from Prime Music's robust artist catalog and ask Alexa to buy items for you.
Lees meer: the best headphones for kids review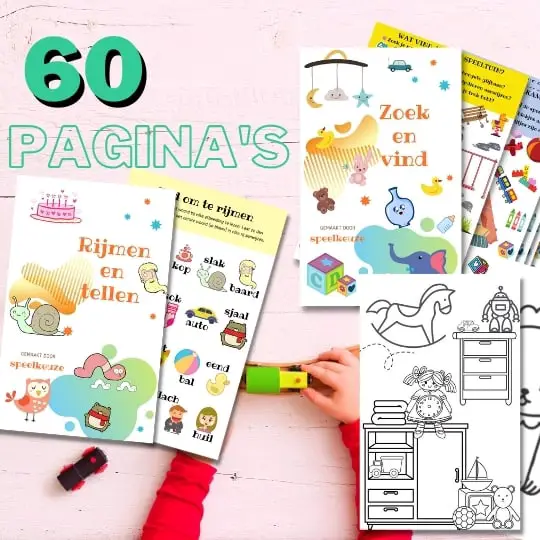 Always something to do for the holidays or rainy day?
Play Choice now has the ultimate activity book collection, with over 60 pages of fun coloring pages and educational puzzles.
Joost Nusselder, the founder of Speelkeuze.nl is a content marketer, father and loves trying out new toys. As a child he came into contact with everything related to games when his mother started the Tinnen Soldaat in Ede. Now he and his team create helpful blog articles to help loyal readers with fun play ideas.