Best Bruder construction toys: 10 trucks, excavators, forklifts & more
I enjoy writing these articles for my readers, you guys. I don't accept payment for writing reviews, my opinion on products is my own, but if you find my recommendations helpful and you end up buying something through one of the links I may be able to receive a commission on that.
More information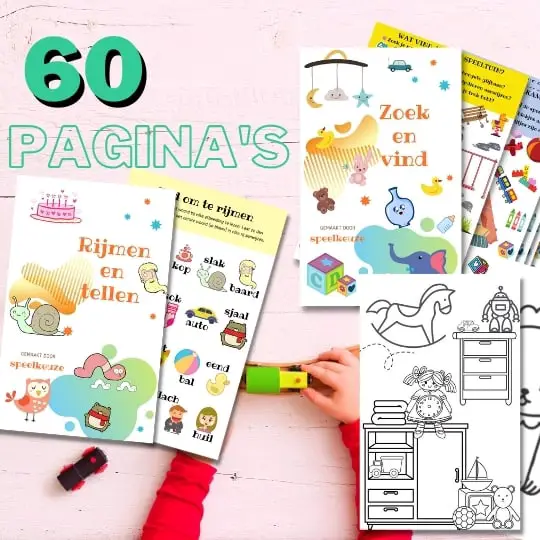 Always something to do for the holidays or rainy day?
Play Choice now has the ultimate activity book collection, with over 60 pages of fun coloring pages and educational puzzles.
I already have quite a few brother toys played, both with these construction vehicles, and also with fun Bruder farm toys that I wrote about earlier.
In this article, I want to review my top picks with you.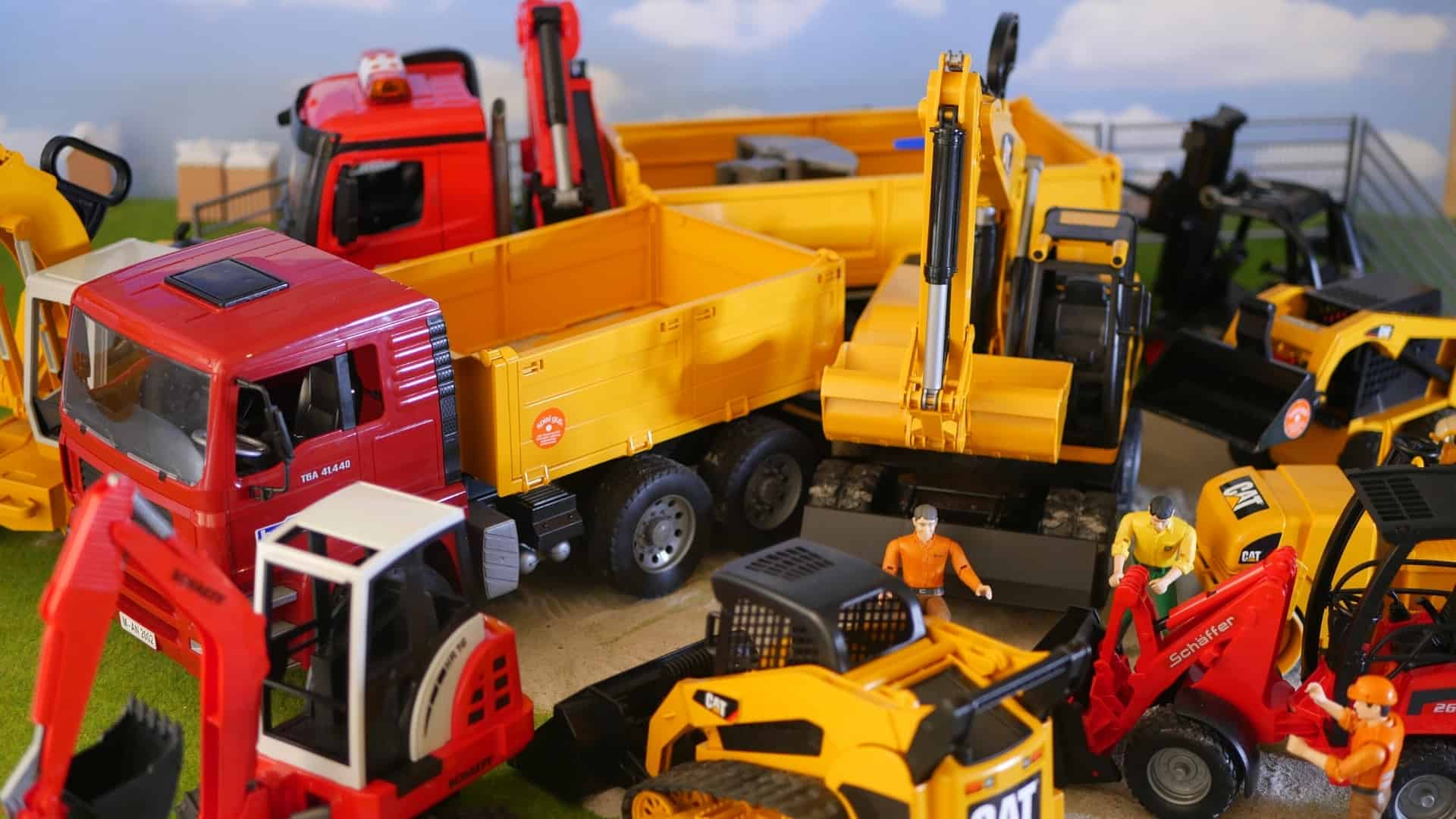 If you asked me
which machine should I buy if I only got one?
Then it is this Bruder Cat Excavator on wheels. If you buy a construction vehicle, it must actually be an excavator, that's my opinion.
I had some doubts about one of the nice dump trucks, because it is always fun to play with, but an excavator is a bit more flexible and can stay fun for longer.
Of course there are many more options and I will gladly discuss them with you, so that you'll have a good idea of ​​what is possible.
Let's take a quick look at the top picks first, then I'll dig deeper into each of these options: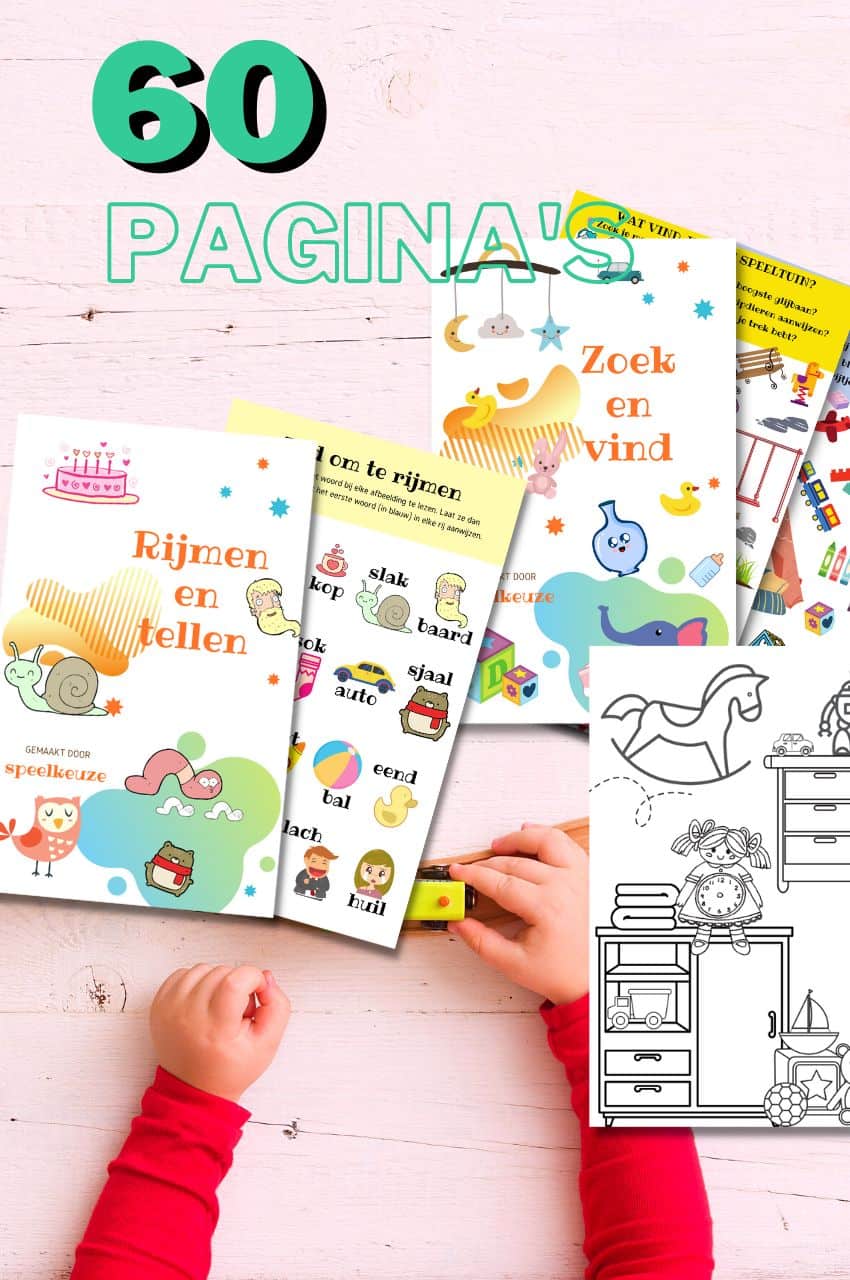 A play theme in your mailbox every month?
Fun play tips, activity books and more, with the first email being our free mini-guide "educational toys"
We will only use your email address for this newsletter and respect your privacy
Best Bruder construction toys rated
Best Roller: Bruder 02434 Cat Asphalt Drum Compactor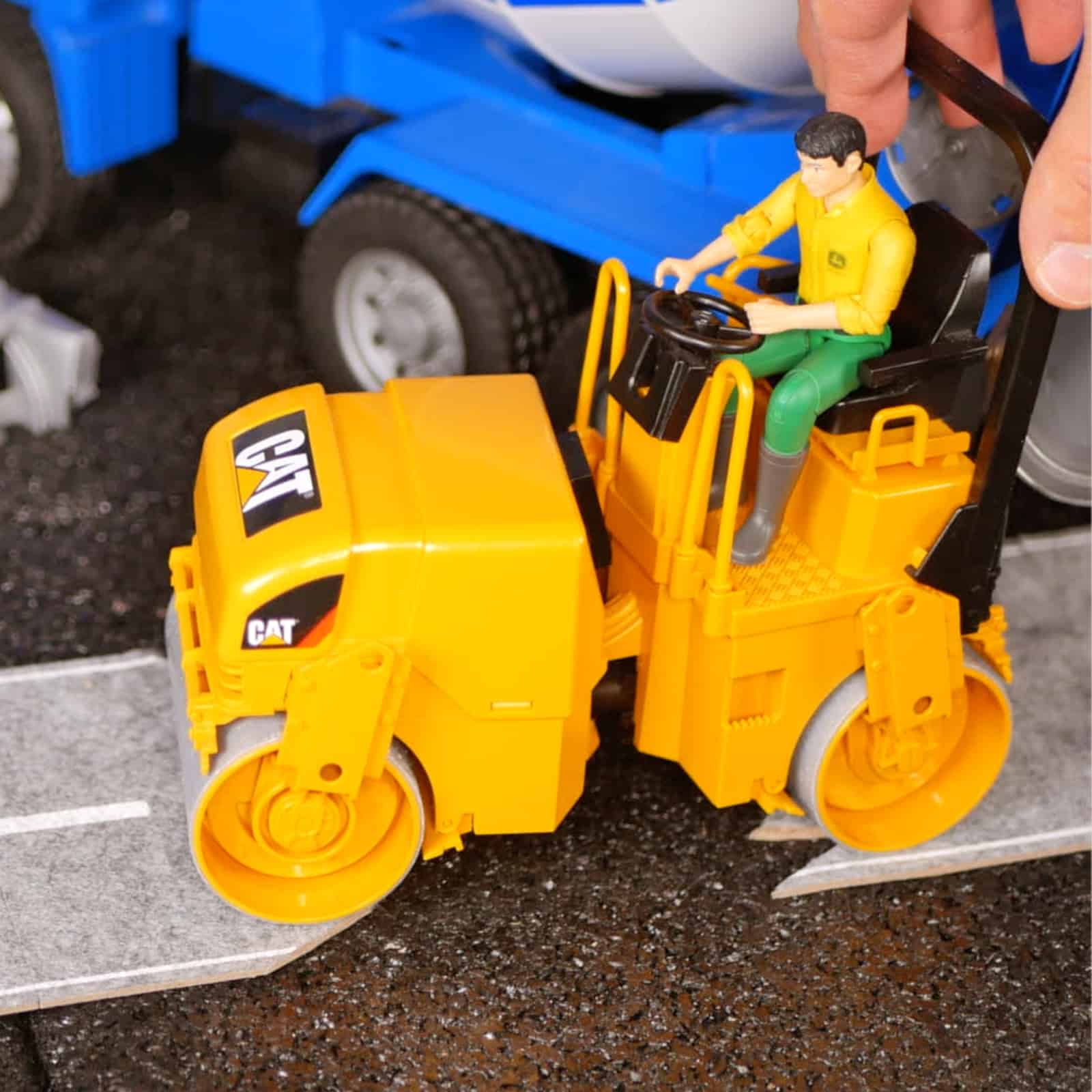 You need a roller, and this compactor is nice and small compared to many of the other cars, so it won't get in the way at home.
There are also larger models available, but in the end it is just a lot of fun, nice and flexible because it has a tandem vibratory roller model.
This means that the front is hinged with the back so your child can easily steer and roll flat everything.
At first I thought, why buy a roller when there are excavators? But in the end this is one of the toys my son plays with the most.
Especially at the table he likes to take the roller with him and to stamp some clay nice and flat!
A Bruder doll can be placed on it, but that is not really necessary, it just looks nice. The great thing is that the arms of this doll can bend exactly in such a way that the hands can rest on the steering wheel and on the control stick on the side of the driver's seat.
Bruder does that well again.
Check prices and availability here
Best Excavator: Bruder 02445/02446 Cat Small Wheel Excavator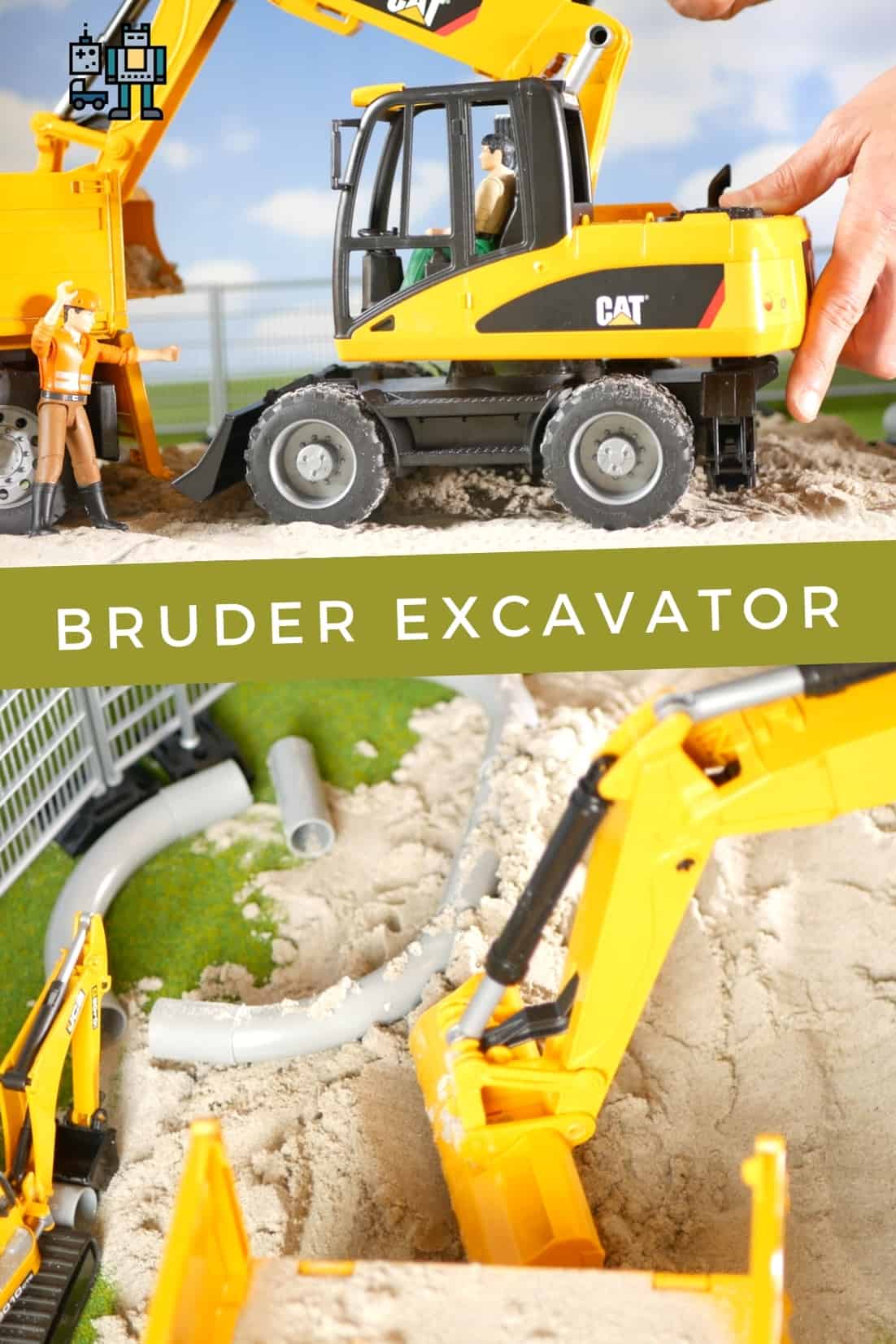 Bruder has plenty of excavators, and I have a few others on this list too, because of course they should not be missing a good toy building site.
There are some smaller ones available, or samples of excavators, but I still like this Cat excavator with wheels the best.
I find these a bit more practical than those of approximately the same version (also a CAT) with caterpillar tracks, especially because we also regularly use the excavator indoors (also check this out nice building material as an alternative to sand).
Wheels are then a lot more fun to drive than tracks, which may be more suitable for outside in the mud or in the grass.
But I thought the CAT with wheels was fine in the sandbox and could drive in the grass of the backyard. A perfect playmate for indoors and outdoors!
Check the latest prices here
Best with tracks: Bruder 02137 CAT Delta Loader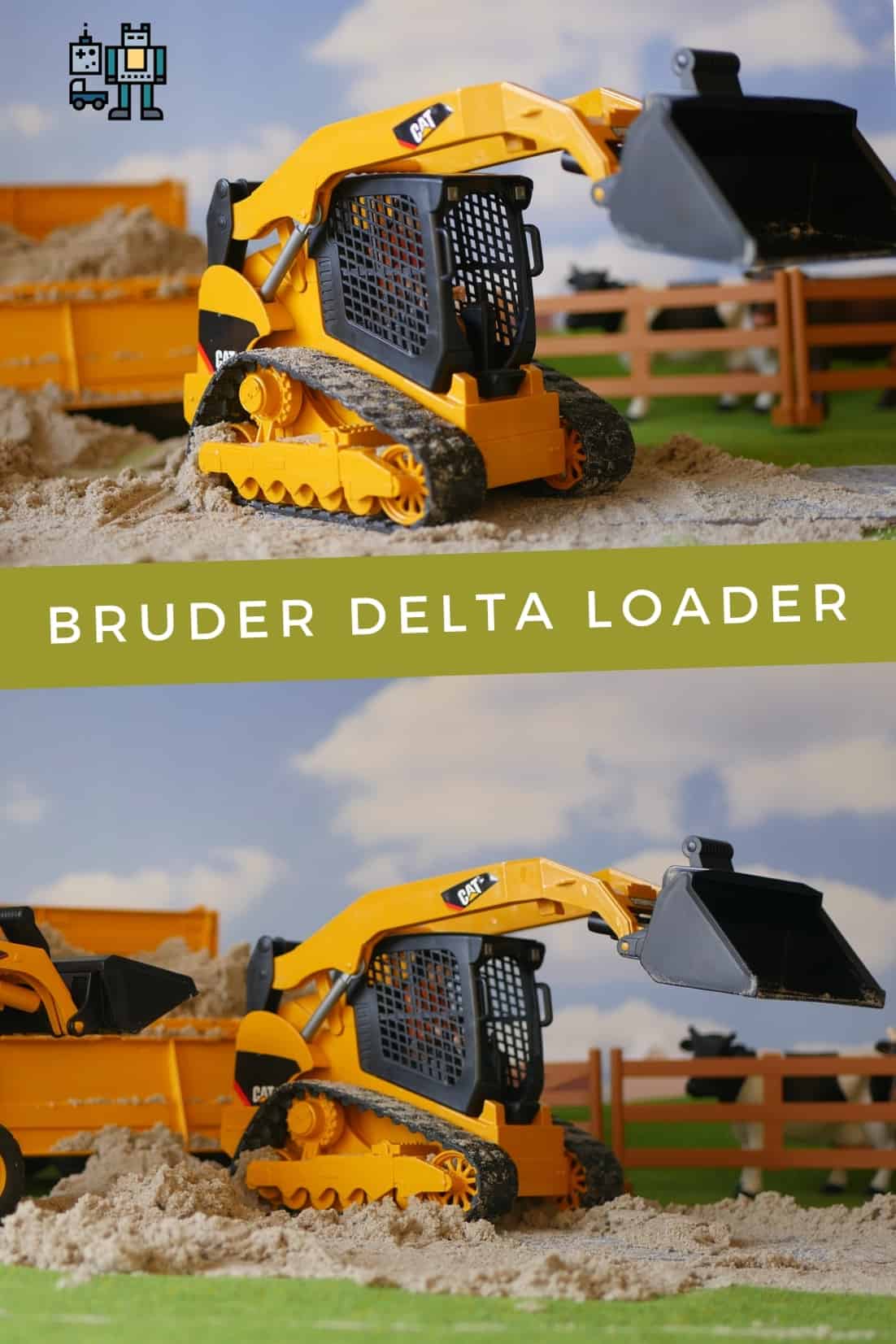 Yet I wanted to add also a construction machine with caterpillar tracks. I myself choose the more handy CAT Delta Loader.
A great fun digger with a front loader and a lever arm to scoop up all sorts of fun things, such as sand, but also building blocks and the like fit in it of course.
The tracks make it a bit more difficult to drive than, for example, the Bruder Skid Steer Loader of an even smaller size (I have reviewed them side by side here) which does have wheels: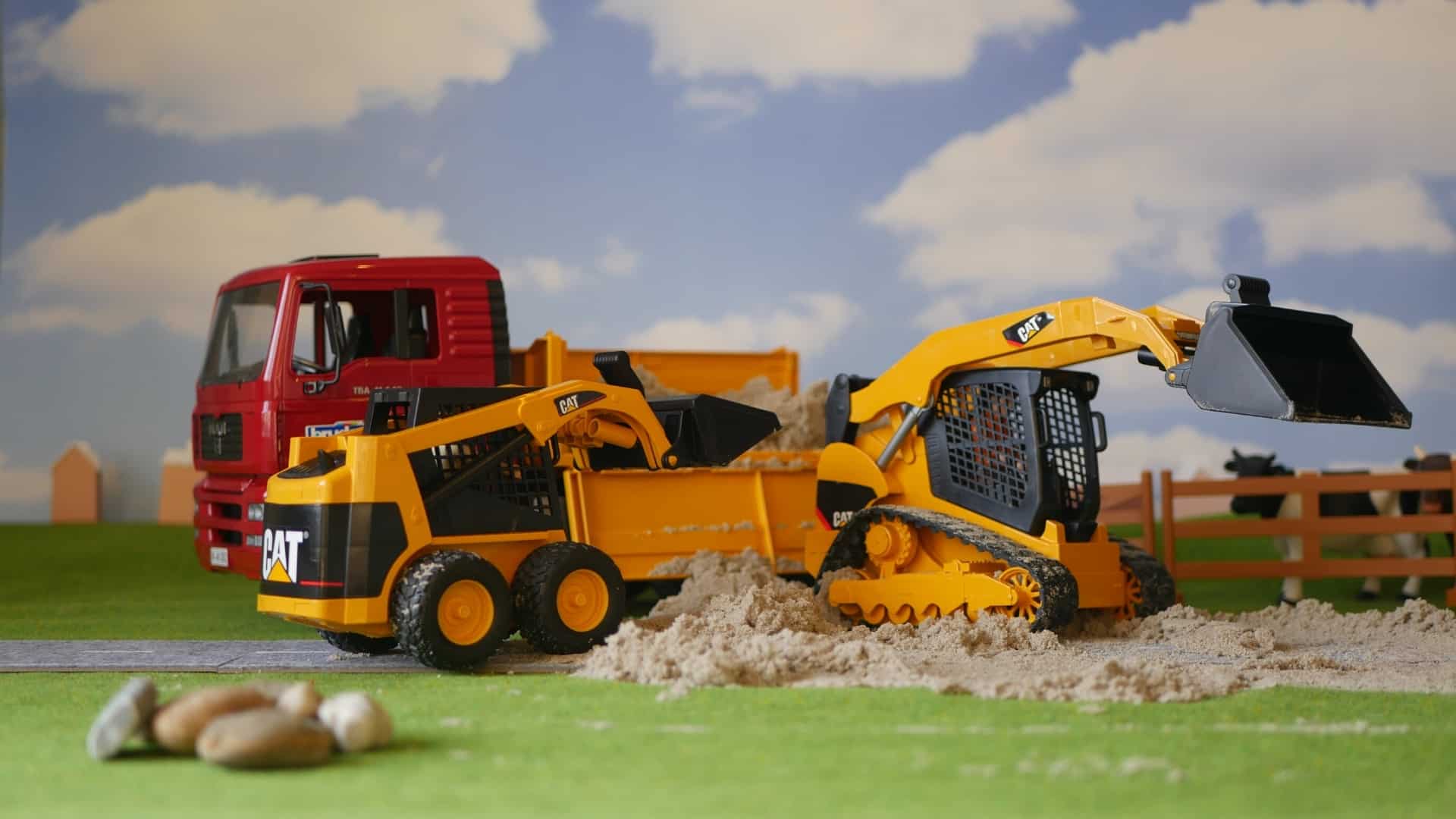 (view more images of the differences)
But if you already have some construction equipment with wheels, this is definitely a nice change and the tracks make it a bit more fun to play with outside too.
View this Delta Loader here
Best truck with crane: Bruder MB Arocs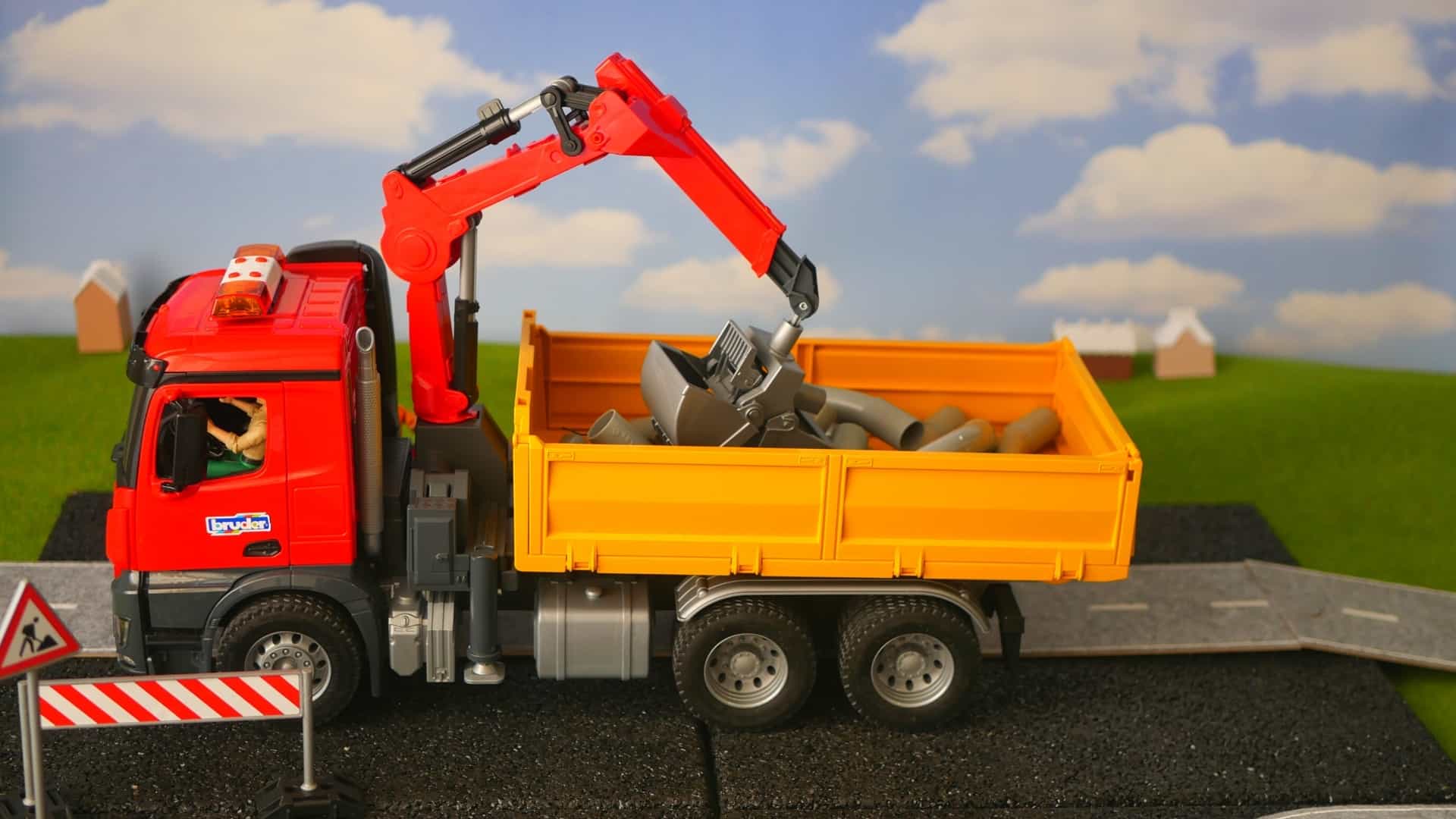 A great truck with a lot of possibilities, and not at all that much more expensive than a standard dump truck.
The Bruder MB (stands for Mercedes Benz) Arocs has a crane with accessories in addition to a tipping container!
You can use the crane with its included grab and pick up everything from sand to PVC pipes as I had done and also smaller other cars of course.
But you can also put the forks on it and so with the pallets that come with it, you can deftly get stones and other things that you want to load on the pallets into the truck.
The doors of this Arocs open so dolls can easily get in (that's quite a thing with a lot of Bruder cars getting dolls in), and it has two feet that you can place on the ground for extra strength to handle heavy grab things.
Almost real!
Check the latest prices here
Best combi set: Bruder Liebherr Power Shovel 2751 and Man TGA Tipper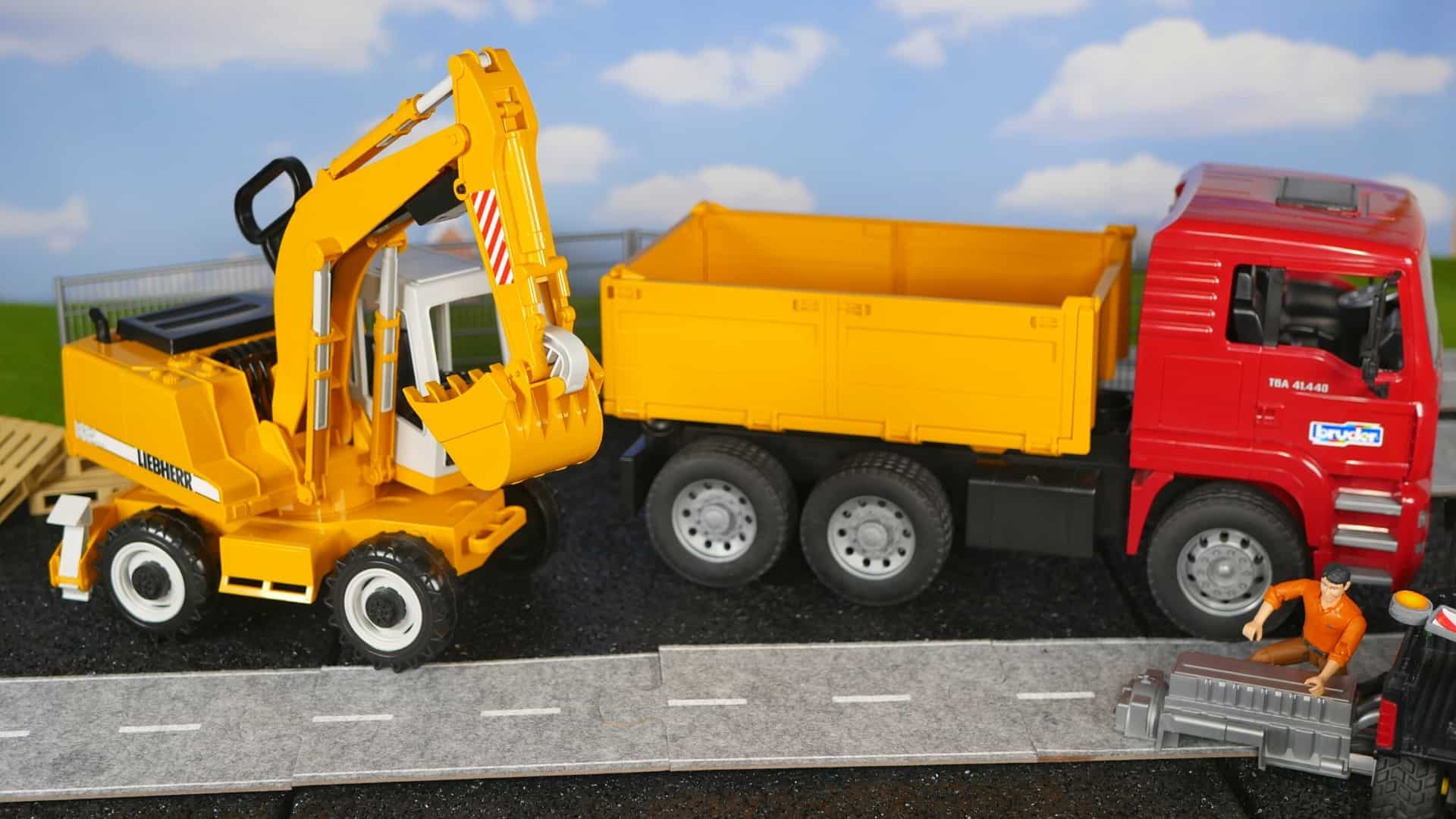 If you are looking for a nice combination of cars that you can buy cheaply that way, then the Liebherr excavator and Man TGA dump truck together are a great set.
Dig with one while the other is ready with the bucket to catch the sand or whatever you want to shovel. It doesn't get any better than that, of course.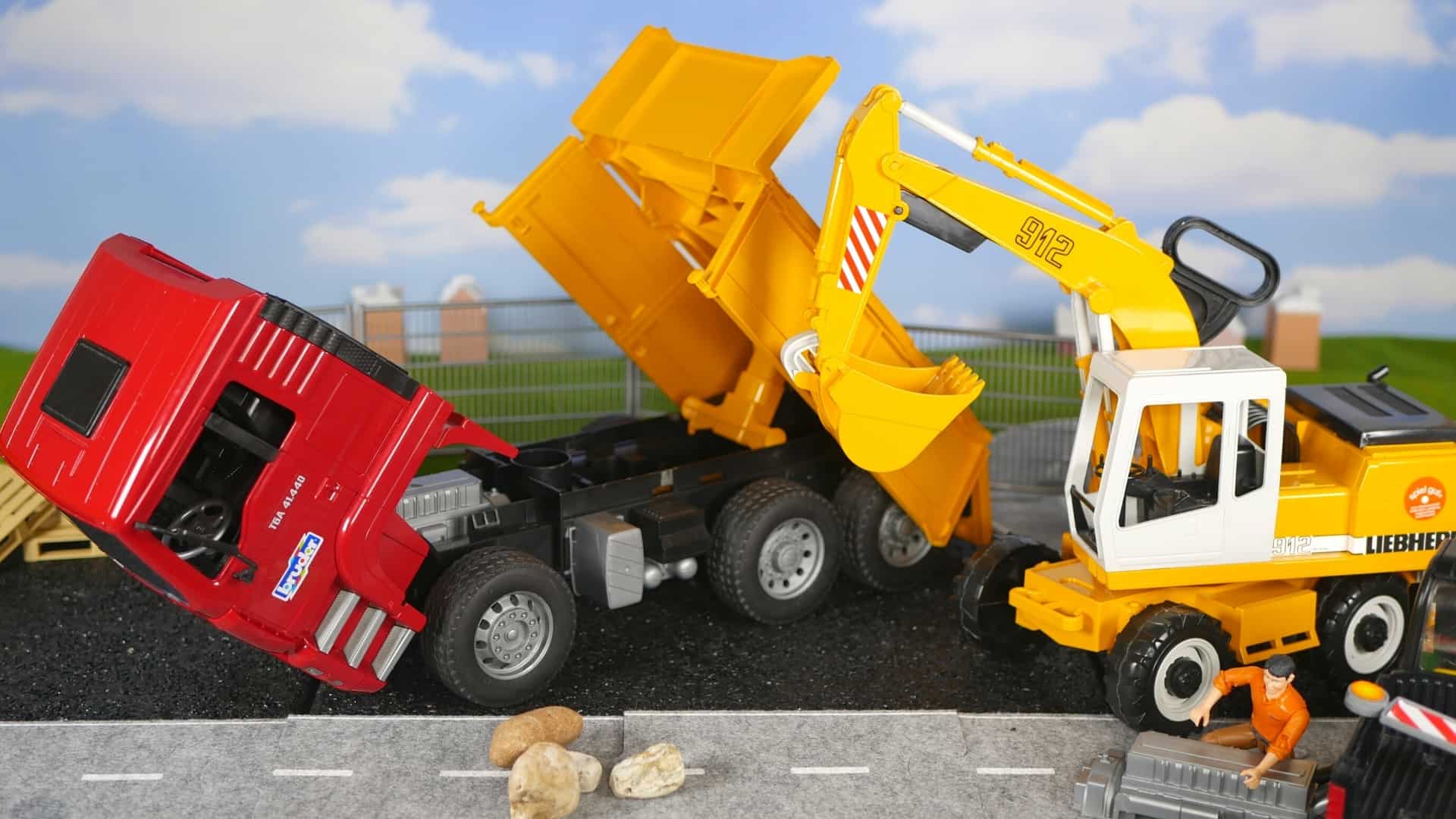 I have to say that I think the CAT Excavator with wheels is a slightly better excavator for two reasons:
the digging arm has a wider surface that allows you to scoop up a wider variety of toys
more importantly, the arm can move up and down more flexibly. Where the arm of the Liebherr can be fixed in 6 intermediate positions, that of the Bruder can be fixed on the chassis but is further flexible.
Incidentally, I can imagine that point two can work better in some situations, at least for stop motion videos like i make :)
But this set was too nice not to put on the list and together a very affordable entry into the world of Bruder construction vehicles.
For example, the engine block can also be removed from the front of the truck, which is also a nice addition:
Such a nice set and able to do a lot with.
Check the prices and availability here
Nicest little excavator: Bruder Schaeff Mini Excavator HR 16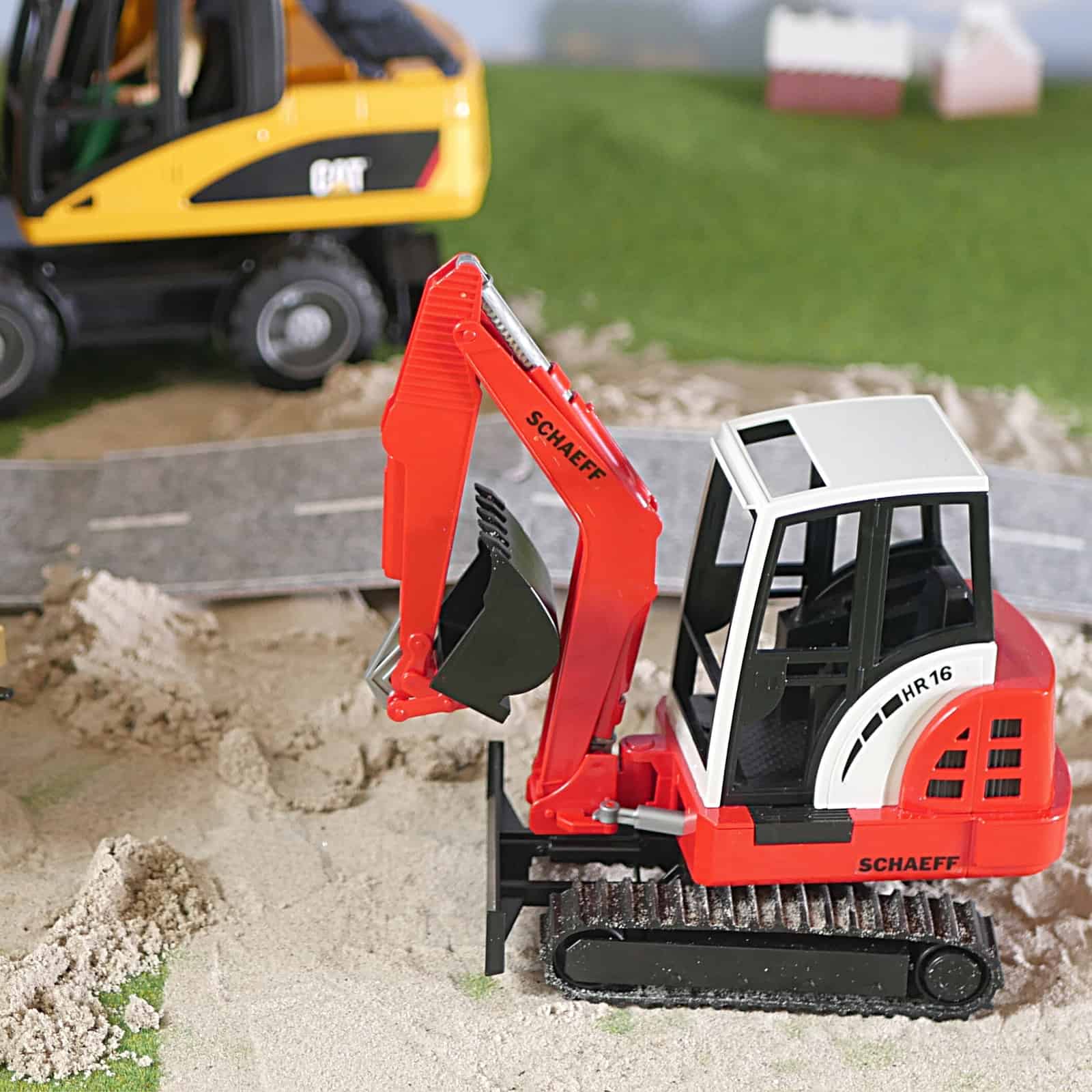 It doesn't have to be all that big, and this Schaeff mini excavator proves that.
A very handy design where the digging arm has a mechanism on one side to allow it to move smoothly back and forth.
It also has tracks, a slider at the front that can be raised and lowered and despite its small size it is also just 1:16 so the Bruder dolls all fit in to control it.
A very nice addition to other Bruder cars you may already have.
Check prices and availability here
Best extension for the construction site: Bruder JCB 8010 Cts Micro Excavator with doll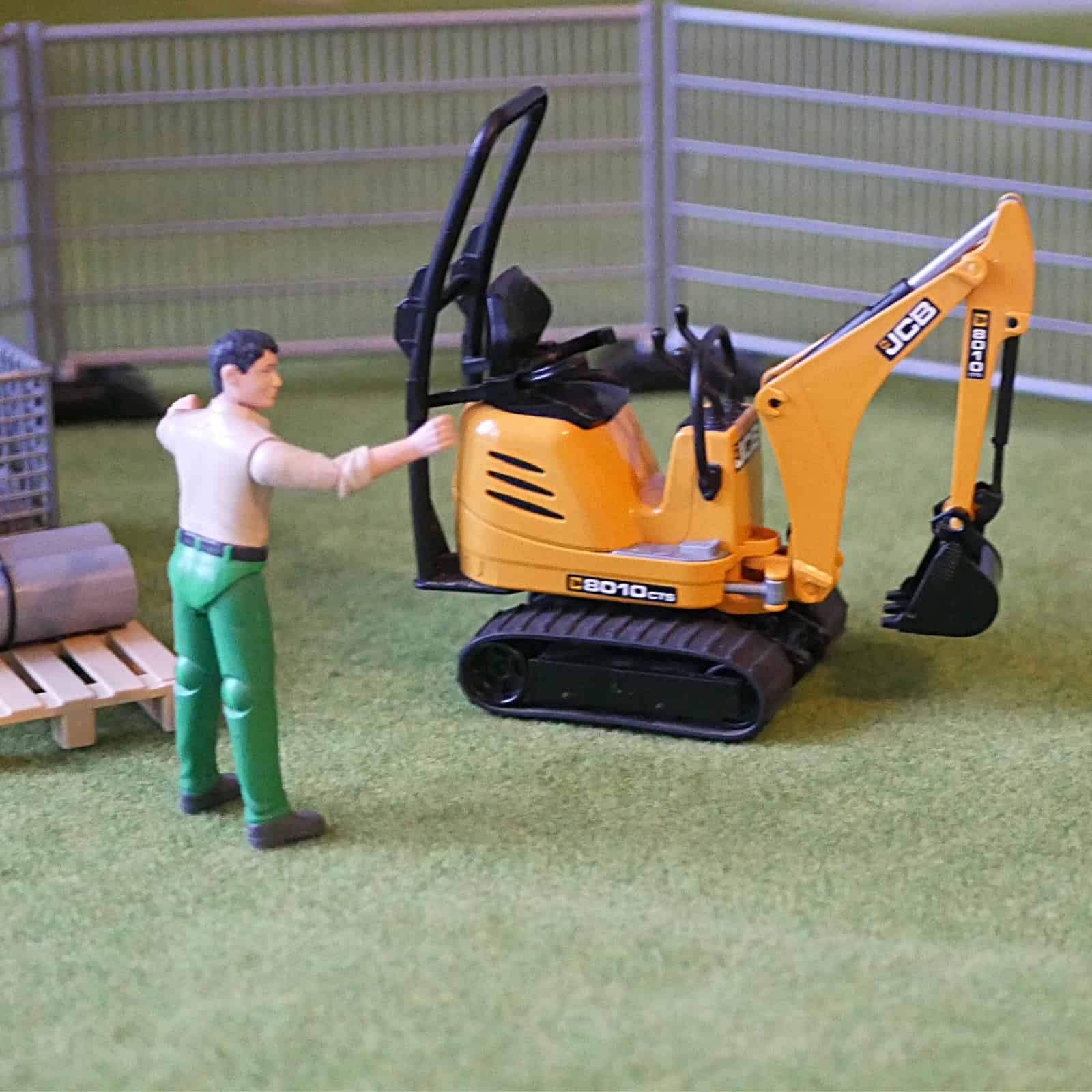 Anyone who already has some Bruder toys knows how difficult it can be to get some dolls. And those loose drivers can also be quite expensive.
Not many sets have a doll included, but a good affordable set is this Jcb Micro Excavator where you immediately have a nice little excavator where they can put up and move small things, as well as a Bruder doll with all the machines you have. to mix and match.
A very nice addition to other Bruder cars you may already have, or a very cheap first entry into excavators.
View the prices here
Best Small Front Loader: Bruder Schaeffer Compact Loader 2630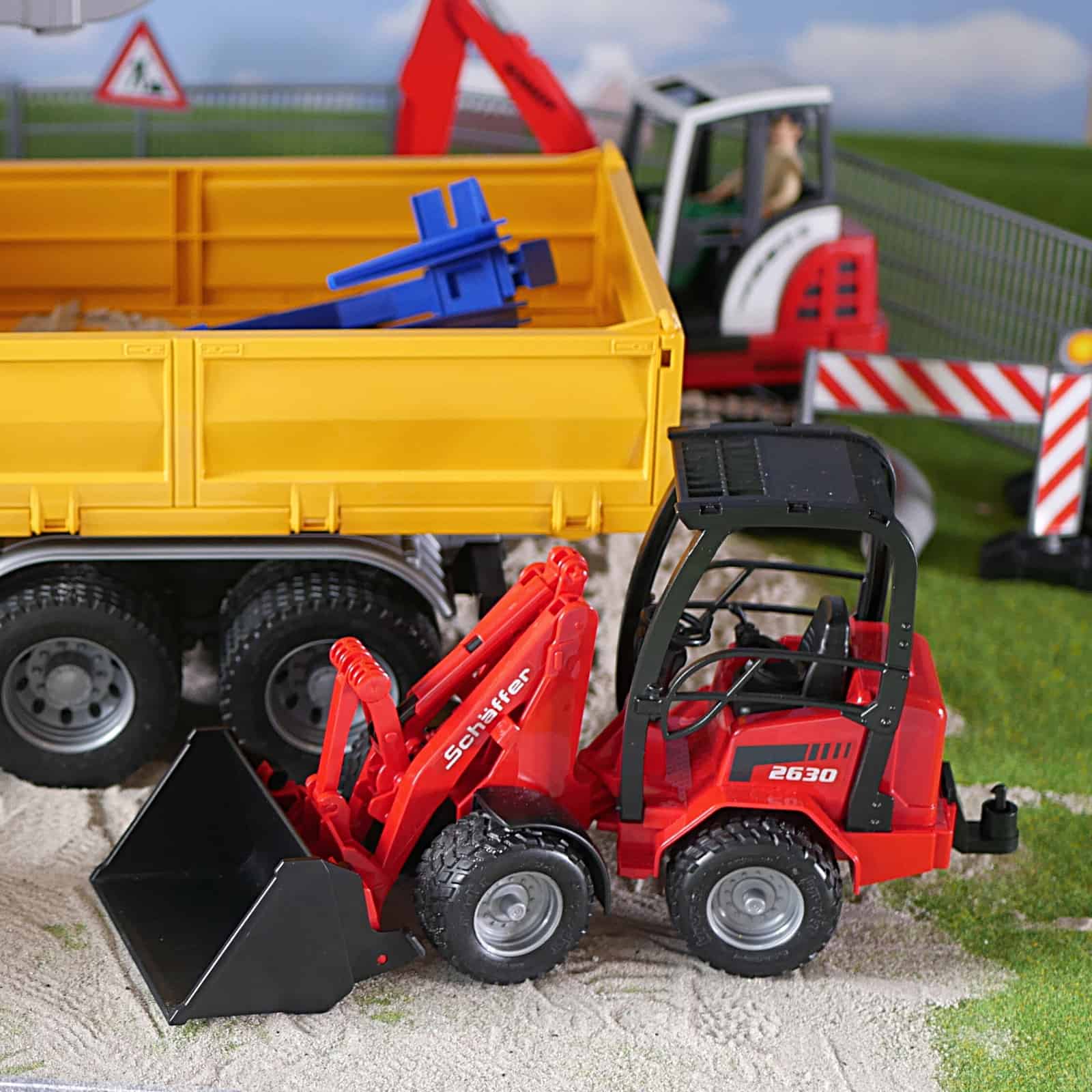 If you are looking for a car that is easy to drive with two hands for your toddler, for example, then this Schaeffer front loader is a very good option.
Not too big, a lot smaller than a lot of other front loader, but its kind of tandem design makes it easy to use the front to steer without having to bother your little one with a handlebar and wheels.
You can lock the front loader in different positions so that you can have it up, for example, with quite heavy things in it such as stones.
A very nice car to play with.
Check the prices here
Best Forklift: Bruder 02511 Linde H30D Forklift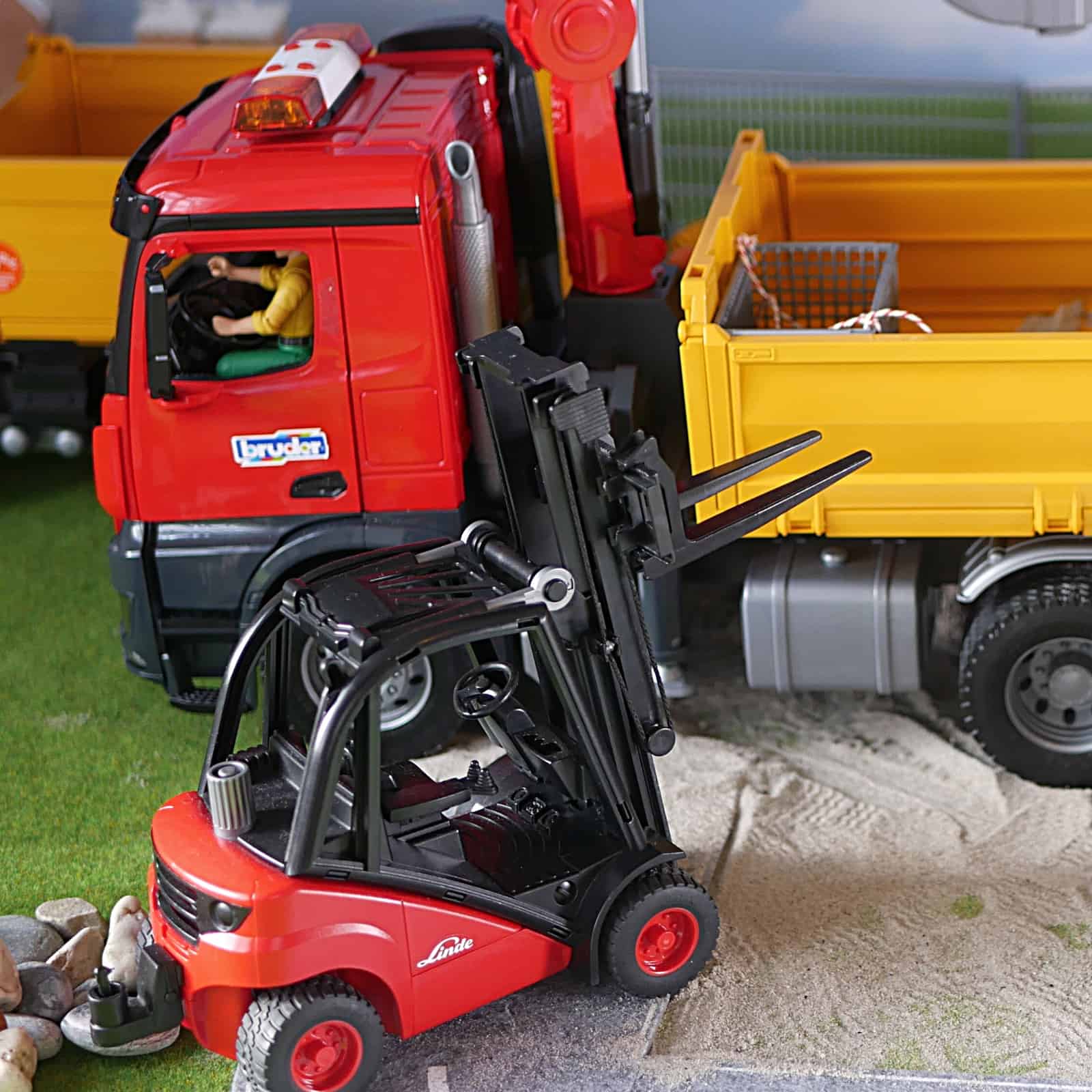 Lifting pallets up and down is just fun, and this Linde forklift makes it surprisingly smooth.
You can move the forks upwards smoothly and they kind of slide upwards.
You can click them down gradually so that you can lock them in any position
Furthermore, the fork can also move forward so that it is completely flat on the road and you can easily pick up the 2 supplied pallets. Just like the real machine!
Check availability here
Best cement truck: Bruder 02744 MAN Cement Mixer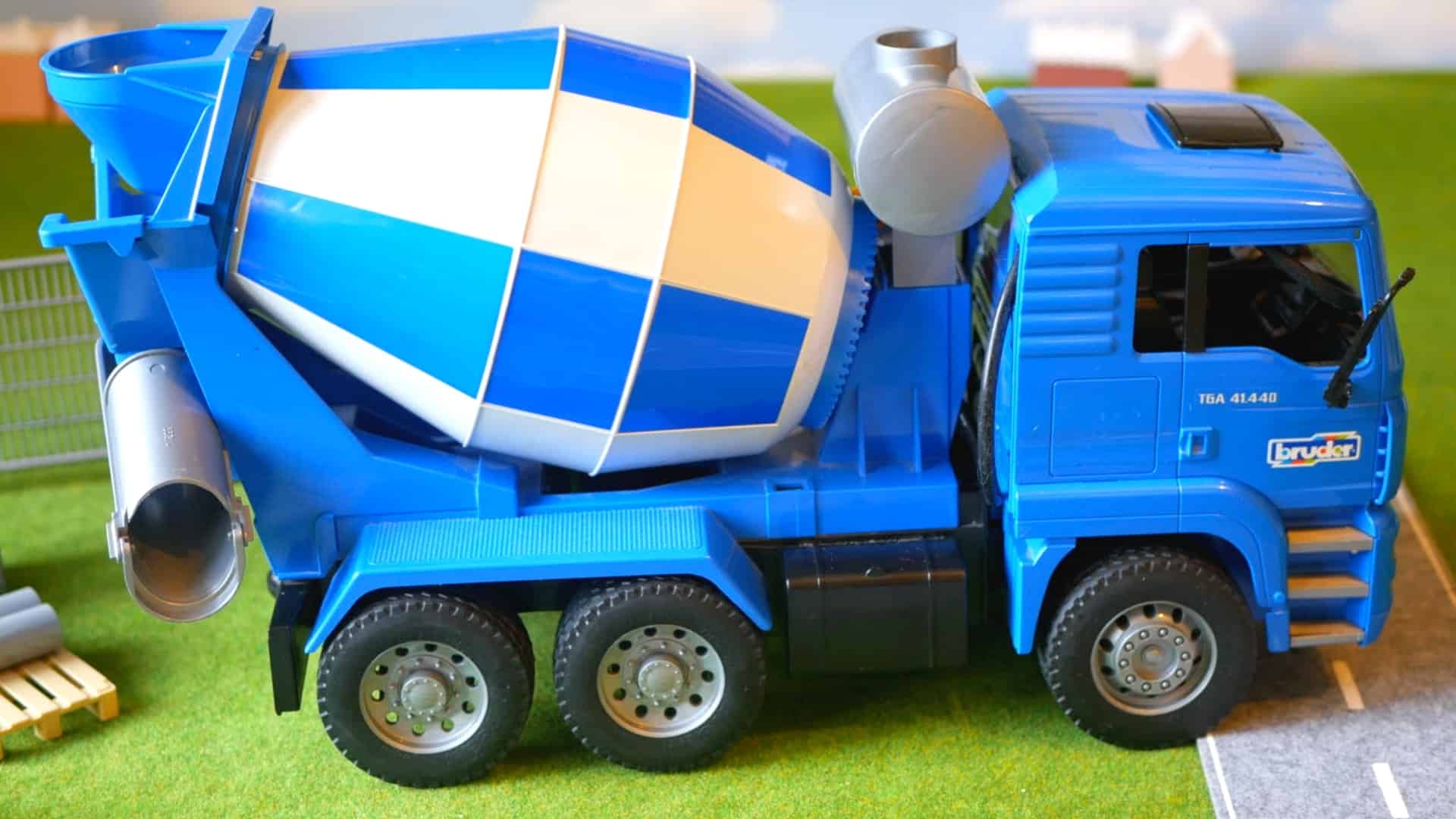 This Bruder Man Cement wagon has a lot of fun things to play with!
The most important thing is of course the cement mixer, a large barrel on the back of this blue car that you can turn around by turning the turntable, or with slightly smaller children just turn the barrel itself.
You can of course put in liquid to make it really look like cement, some thick soap is a good idea if you want to do that outside for example.
But I can imagine that not every parent thinks that is a good idea because cleaning is a hassle every time.
Fortunately, it can hold a lot more, from small dried corn to some plugs or whatever you have at home of a little size.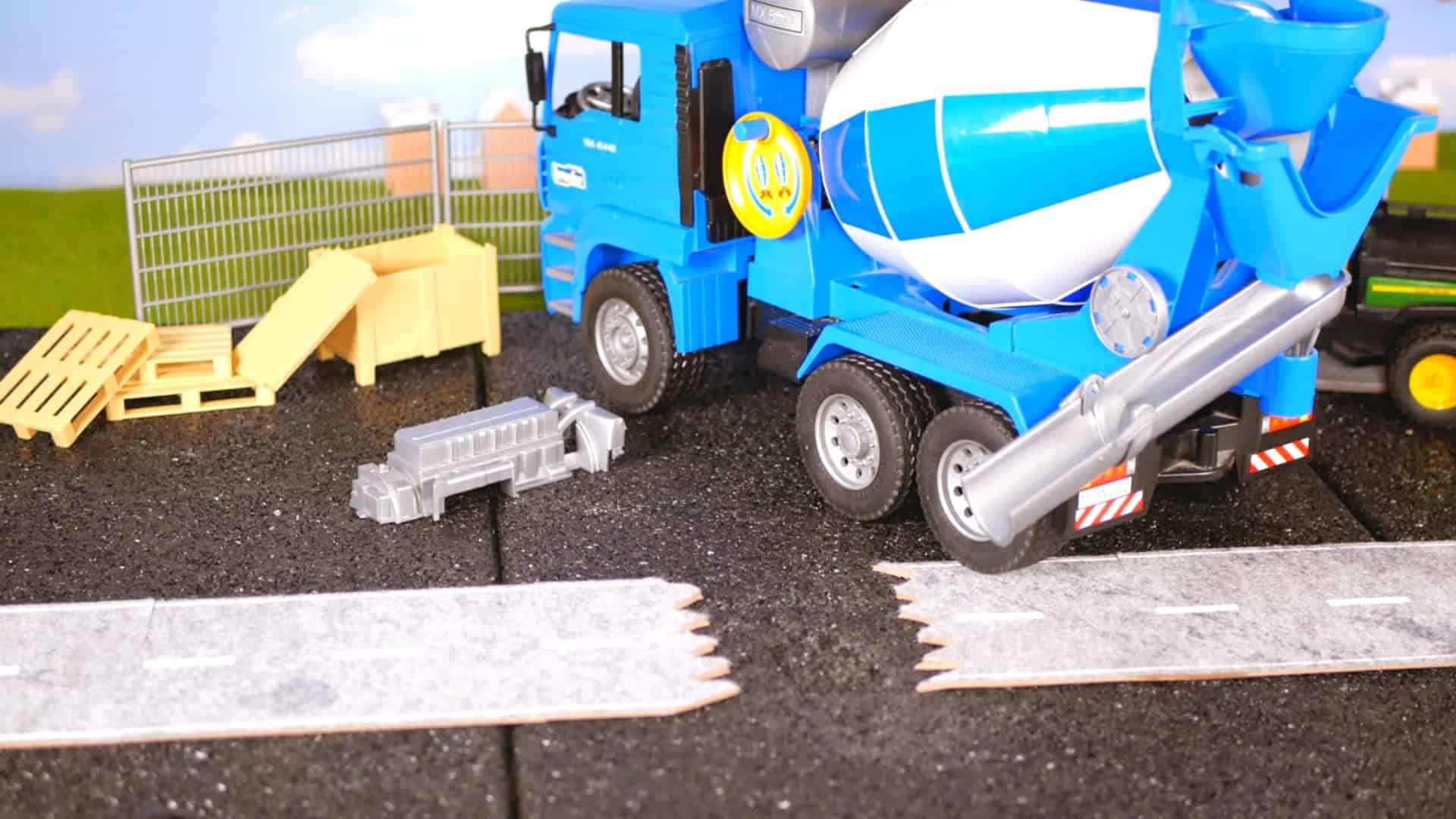 The only downside may be that you don't always have a view of what your child is putting in and you have to clean it, but it really is a really nice addition to any pretend play construction site!
Check prices and availability here
Best Trailer: Bruder 02776 Man TGA Low Loader Truck with JCB 4CX Backhoe Loader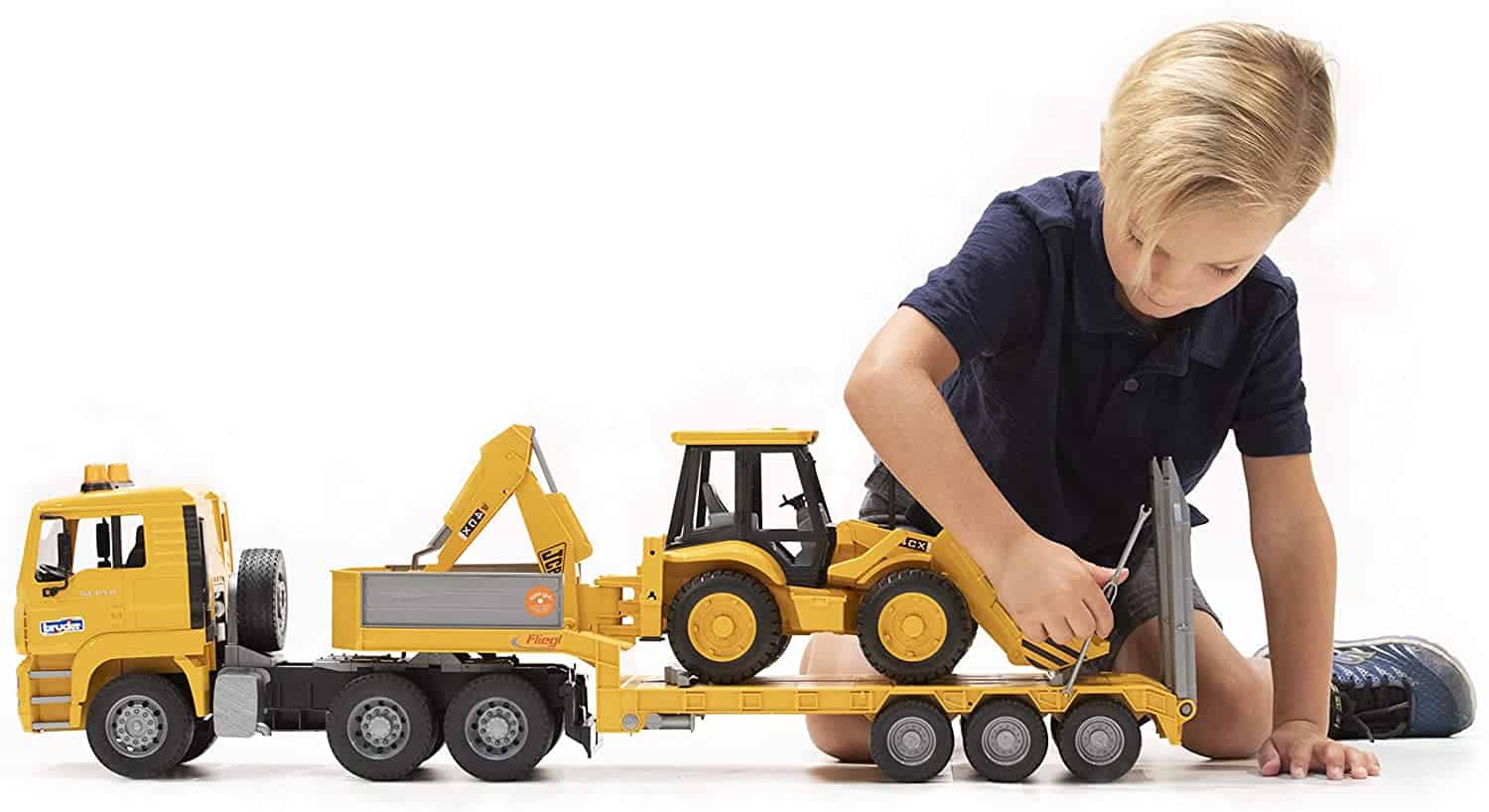 The excavators also need a way to get to the construction site, of course, so a good trailer is certainly a nice addition and to use with many of the smaller vehicles.
Fortunately, there is also an excavator with a front loader and a rear digging area to make playing a lot more fun.
Check the latest prices here
Best conveyor belt: Bruder 02031 Conveyor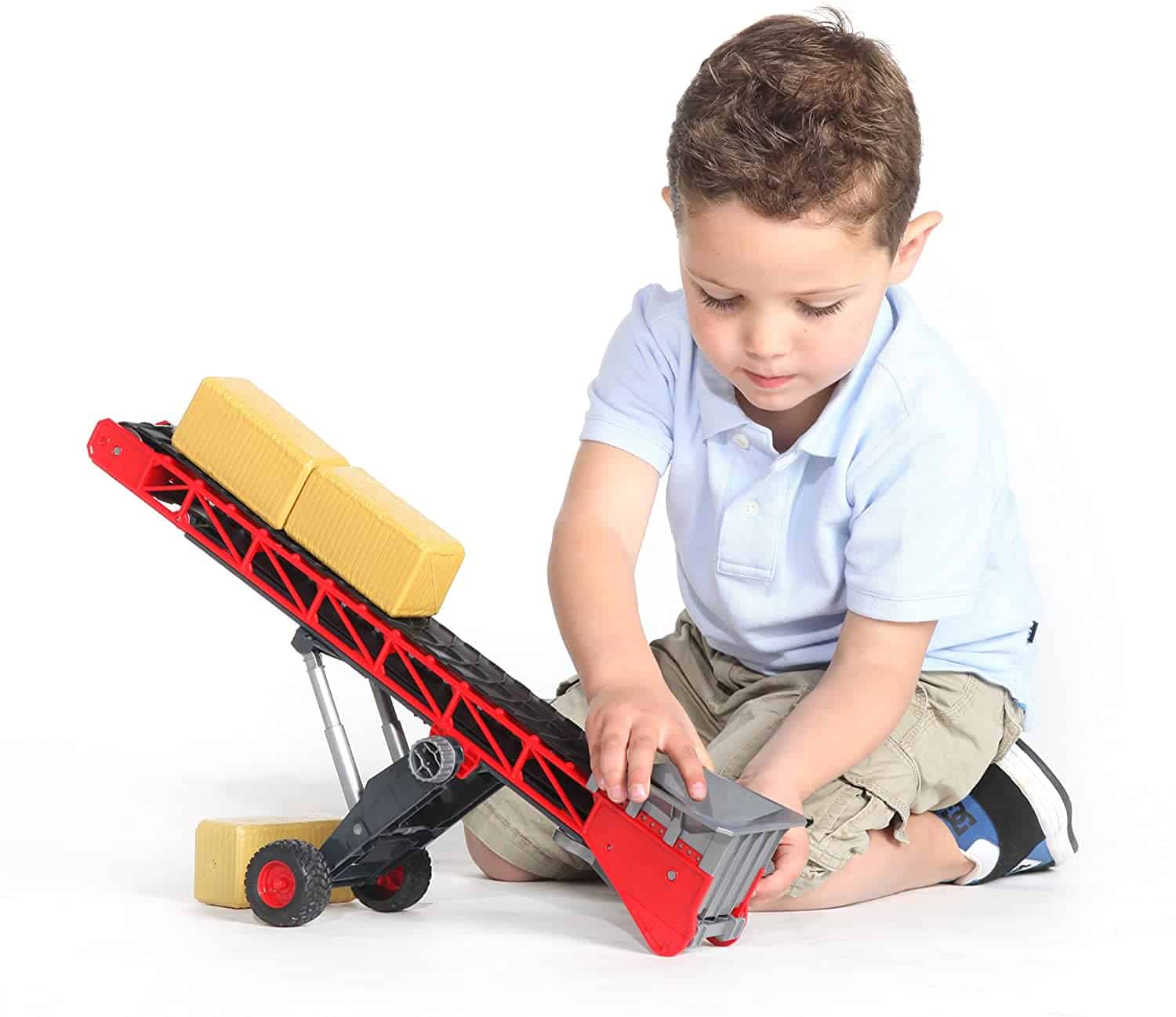 One of the nicest accessories at every truck (see more here) and Dump Truck: A conveyor belt to move all kinds of building materials and stones over it, straight into the truck!
Check out the latest prices here
Best Bruder farm and countryside toys
Bruder has a ton of fun toys and we've also written about Bruder's best construction vehicles, but in this article I want to focus on their second big line: farm machinery.
Just as much or perhaps more of their range is focused on everything in and around the farm, with the biggest names in the industry recreated.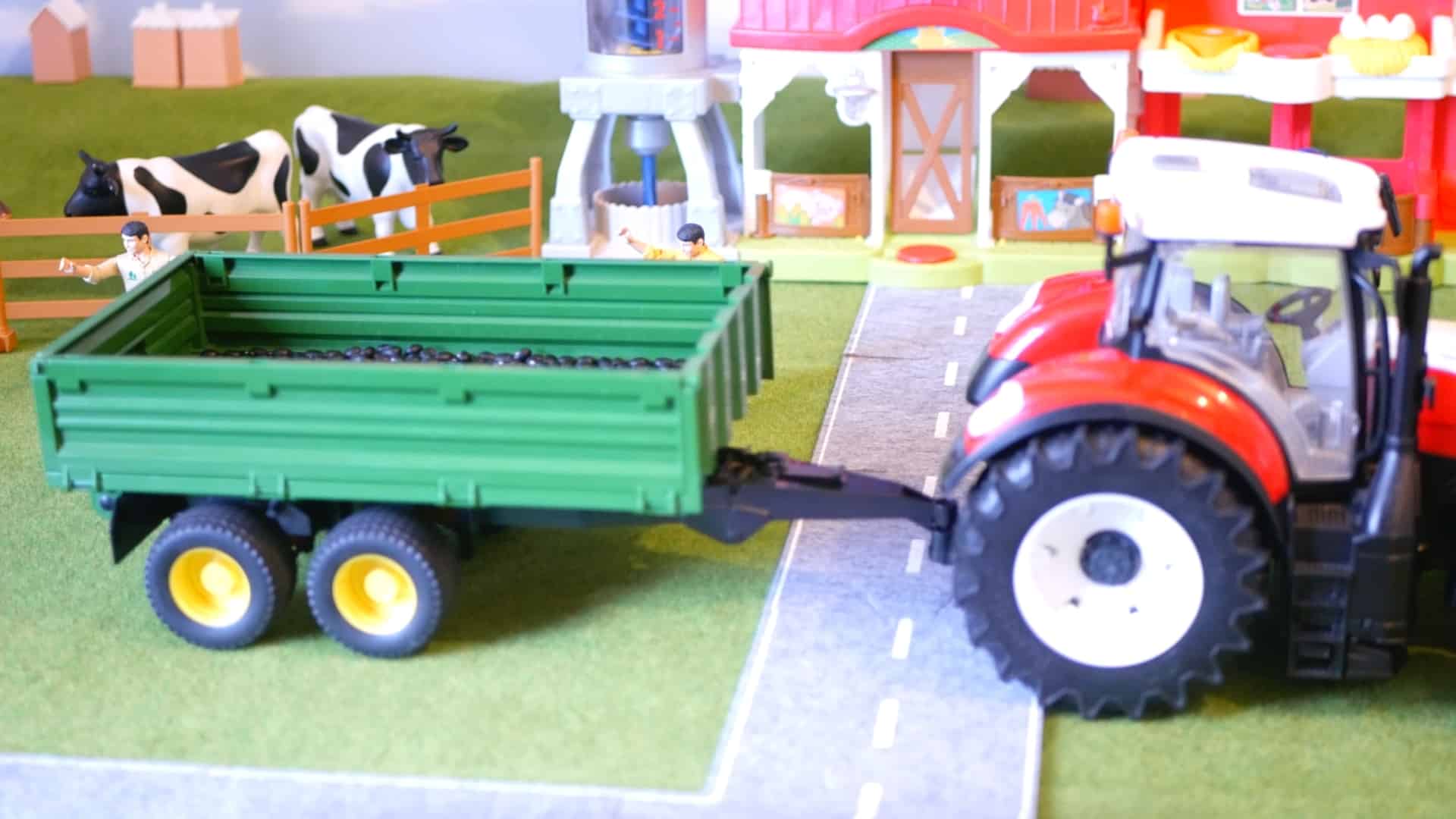 They are lifelike vehicles, on a scale of 1:16 so decent vehicles, and together with the dolls that can bend in all kinds of different ways to sit in or work with the devices, your child will not be happy.
The nicest set I would recommend is this Bruder Claas Nectis with trailer. It has a slightly smaller size than many of the other tractors, which makes it a bit more manageable plus you have a bit more for your money because there is also a great trailer with tipping box.
Of course there are many more options and in this article I want to go through them with you, let's take a look at them all:
Best Bruder farm toys rated
Best tractor: Bruder 02112 Claas Nectis 267 F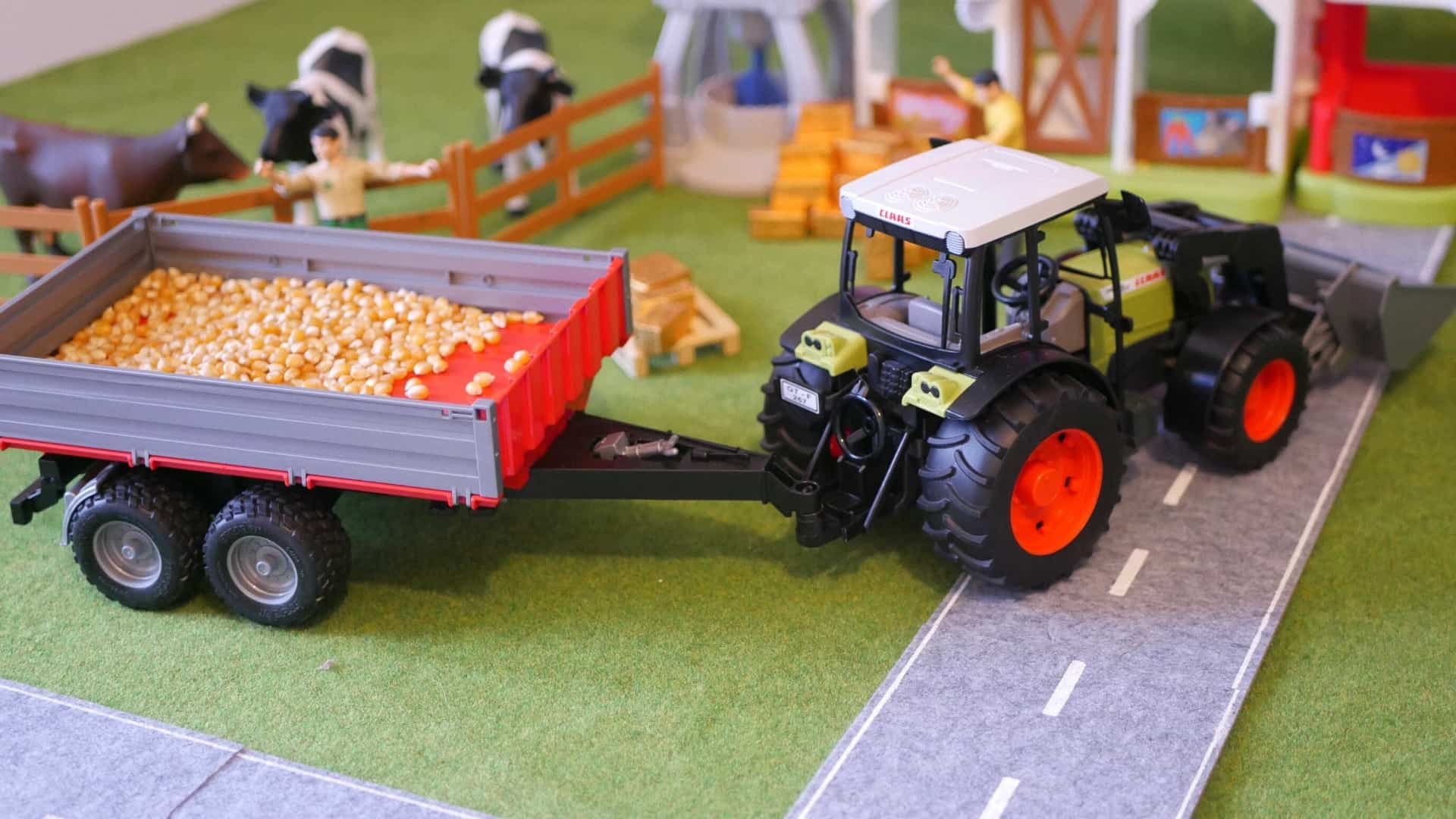 If you're looking for something to start with then I would definitely recommend this Claas Nectis.
When you think Bruder farm toys, tractors probably come to mind first, and tractors are fun kids' toys anyway (this Bruder Nectis is also one of the nicest toy tractors I wrote about here before).
But even if you already know that your first Bruder farm toy is to be a tractor, there are still so many choices!
What a lot of brands and models they have developed in the meantime, and all have been designed completely true to nature.
I like this tractor the most, because it is slightly smaller than most but still has a lot to play with.
He has his own trailer with all sides and the back flat. This way he can scoop up and dump everything with his front loader, which is also included.
Pro tip: Of course, dried corn kernels are great fun to use!
In addition, the trailer can tilt so that everything can easily slide out again when it is at its destination.
The wheels can really turn, as with many of the tractors of this brand, and there is a small steering wheel in the cabin with which you can steer them, but also a supplied steering wheel that you can put through the roof (which can slide open) so that you can control it a bit more easily.
But of course you can also just turn the wheels themselves to steer it.
My son is 2,5 at the time of writing this and he really doesn't use that steering wheel yet, but thinks it's a great car.
Check prices and availability here
Bruder Claas Nectis vs Massey Ferguson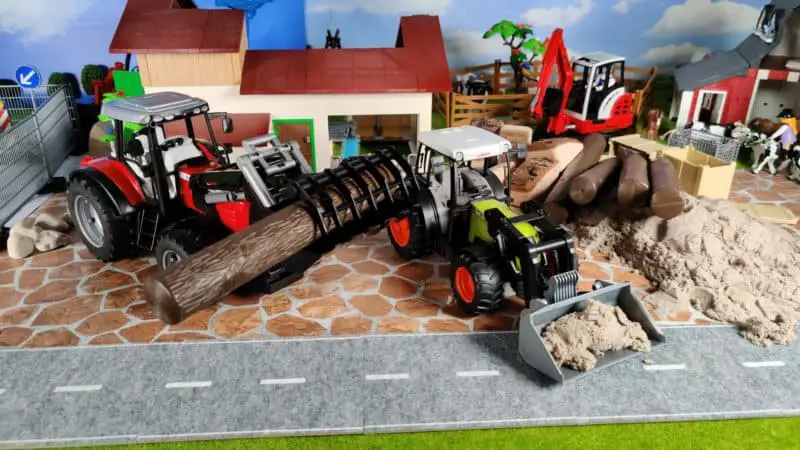 The best comparison is with this Massey Ferguson with frontloader.
It comes closest in size and is also one of the smaller Bruder cars.
Yet it is also a lot bigger, and the frontloader is also a bit more difficult to manage with a double bending system and cover that you have to open separately.
In itself a very nice tractor, and nice to use with some tree accessories (as in the photo), but a bit less versatile than the Nectis.
Best farm accessory: Bruder Pasture Fence 62604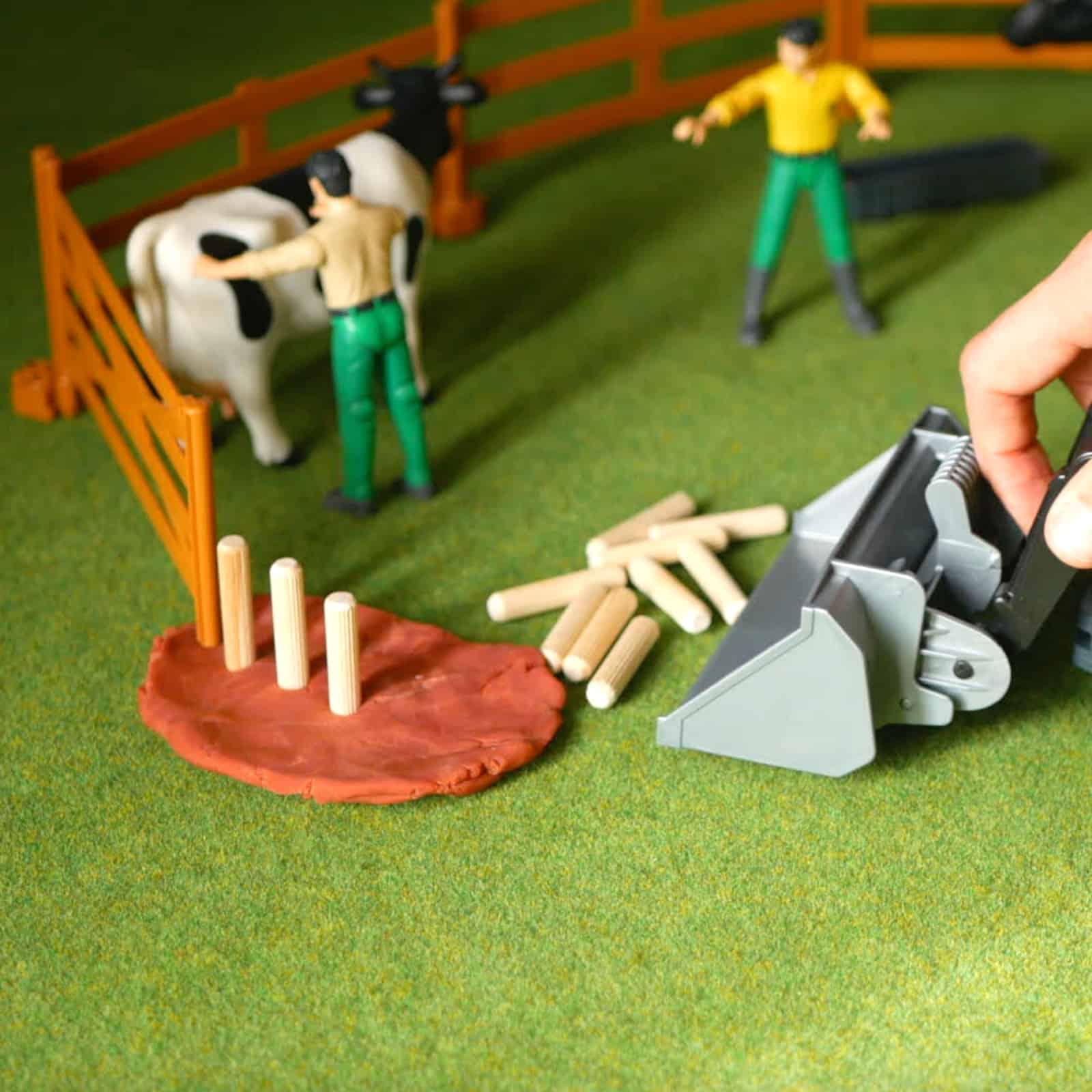 What farm could be complete without a fence to keep the animals back?
With this Bruder fencing set you immediately get a lot of fence pieces to give your farm some more background, and super nice if you have some cows or horses to put in it.
It's a square fence that you can make with the 12 fence pieces, but because you easily click everything together on small pedestals you can also shape it any way you want, like a fence on the side of your toy farm.
There is also a trough for on the ground and a feeder for the fence, and even a placard for the fence where your child can put his name or the name of the play farm on it with marker.
View all information here
Best all-terrain vehicle for the yard: Bruder 09812 John Deere Gator XUV 855D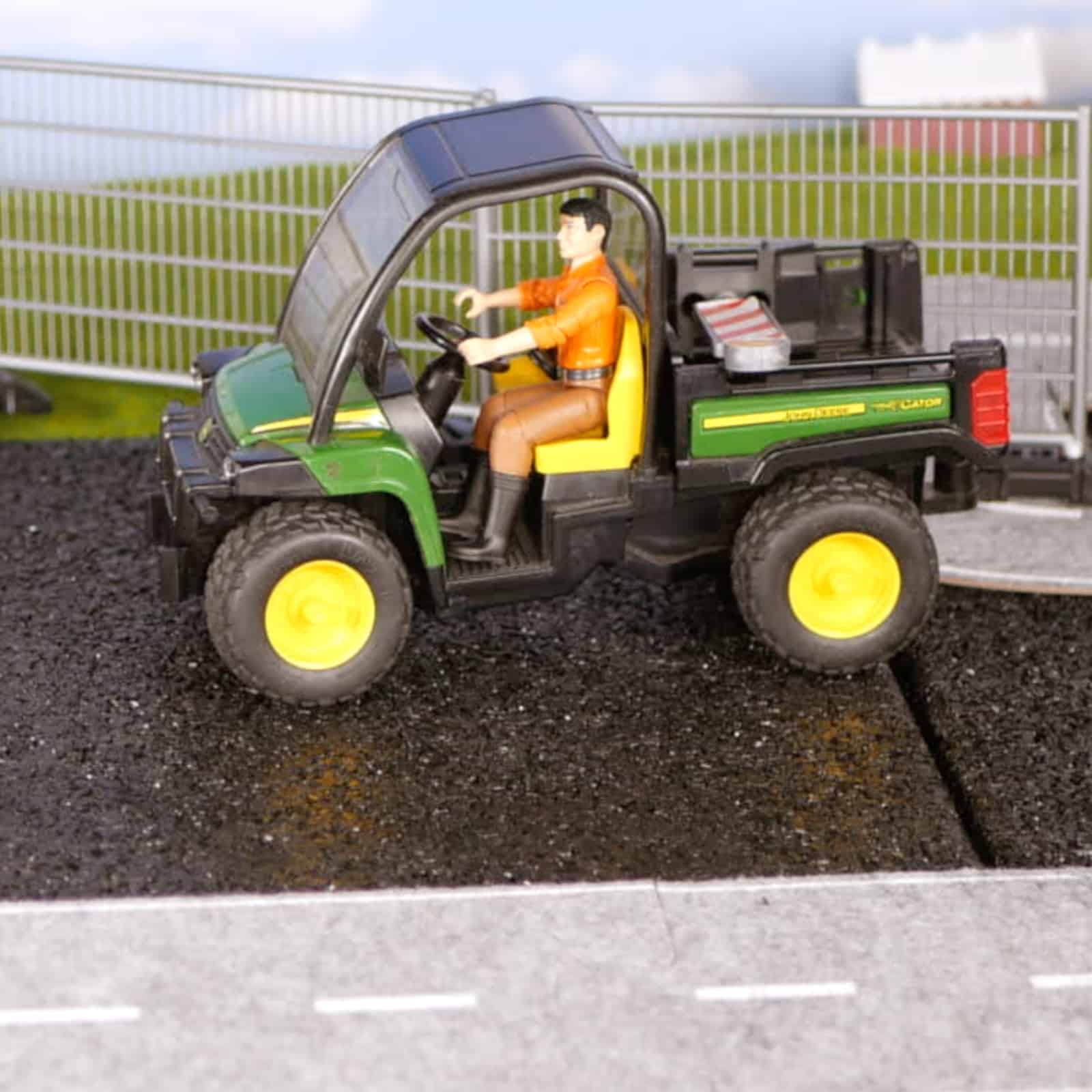 Of course the Bruders have to have a way to get around the yard a little more easily, especially if they have a big one farm with animals have.
The John Deere Gator makes it easy for them to get from one place to another, and the nice thing is that it also has a small dump box on the back.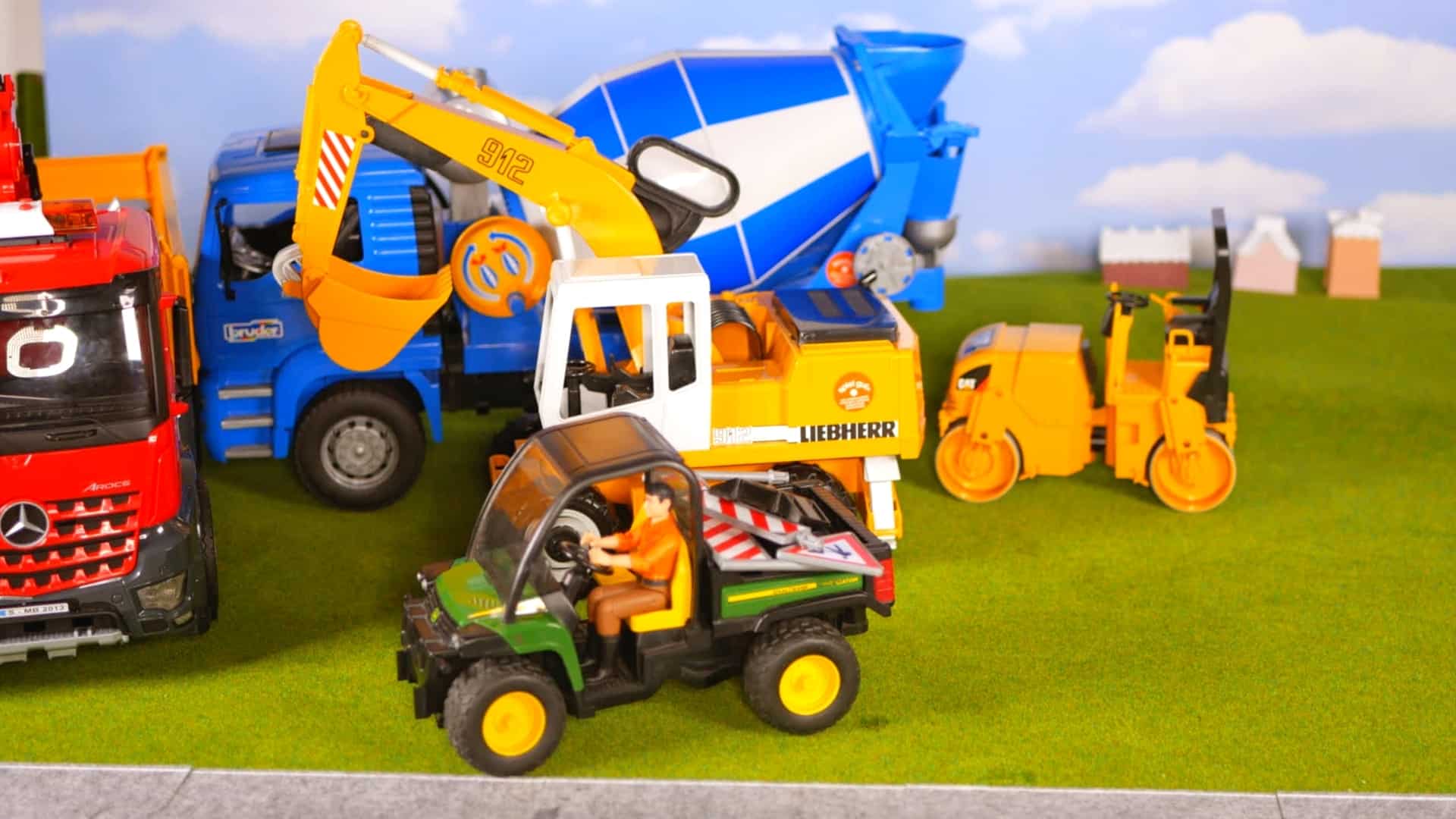 That way you can also put something in it and dump it out at the destination. This makes this utility vehicle just a bit more fun than some of the others you could choose.
Check the latest prices here
Best tractor accessory: Bruder 03340 Forestry Blade with cable Winch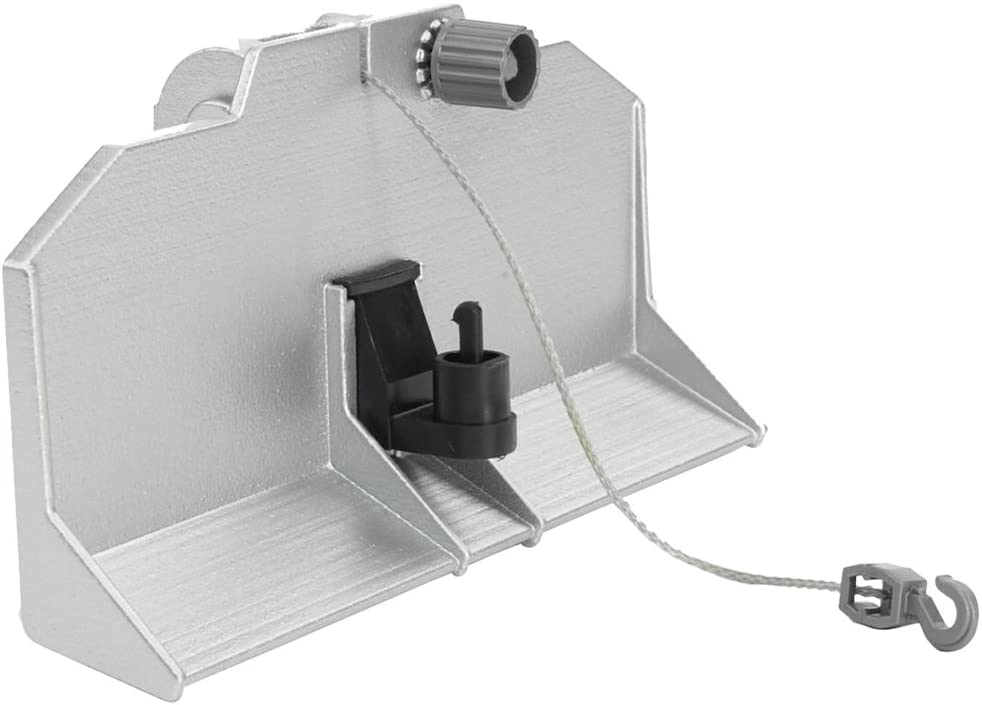 Nice to hook trees (or all kinds of other things) and pull them inside.
Check availability here
Best conveyor belt: Bruder Grimme SE 75 potato harvester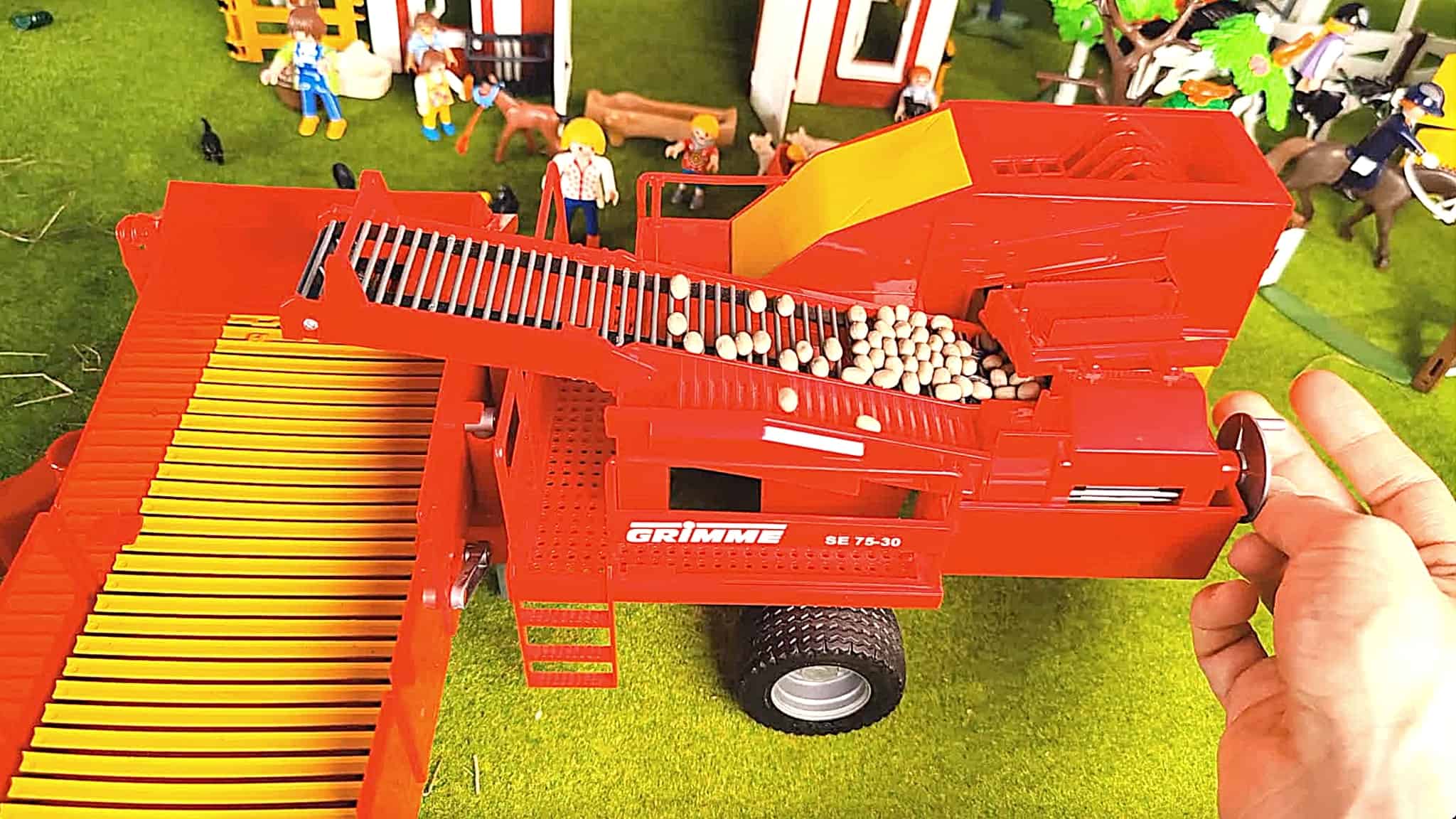 If you are looking for a conveyor belt for the farming business, this potato harvester is one of the best to buy.
The potatoes can be poured into the container from the start and then pass over three separate conveyor belts to be poured into a container at the end (completely clean).
It can be hung behind any Bruder tractor for driving, or the kickstand at the front can be lowered to stand on its own.
There are no potatoes, but you can buy them separately, plus you can put everything on them with about the same size.
We also put some dried corn in it at home, which went reasonably well, but because some corn is also a bit smaller, some corn eventually got between the tires.
You can get that out again, but that was a bit of fiddling.
Dried beans would suit me a bit better, for example.
Check the latest prices here
Best seed drill: Bruder 02347 Pöttinger Vitasem 302ADD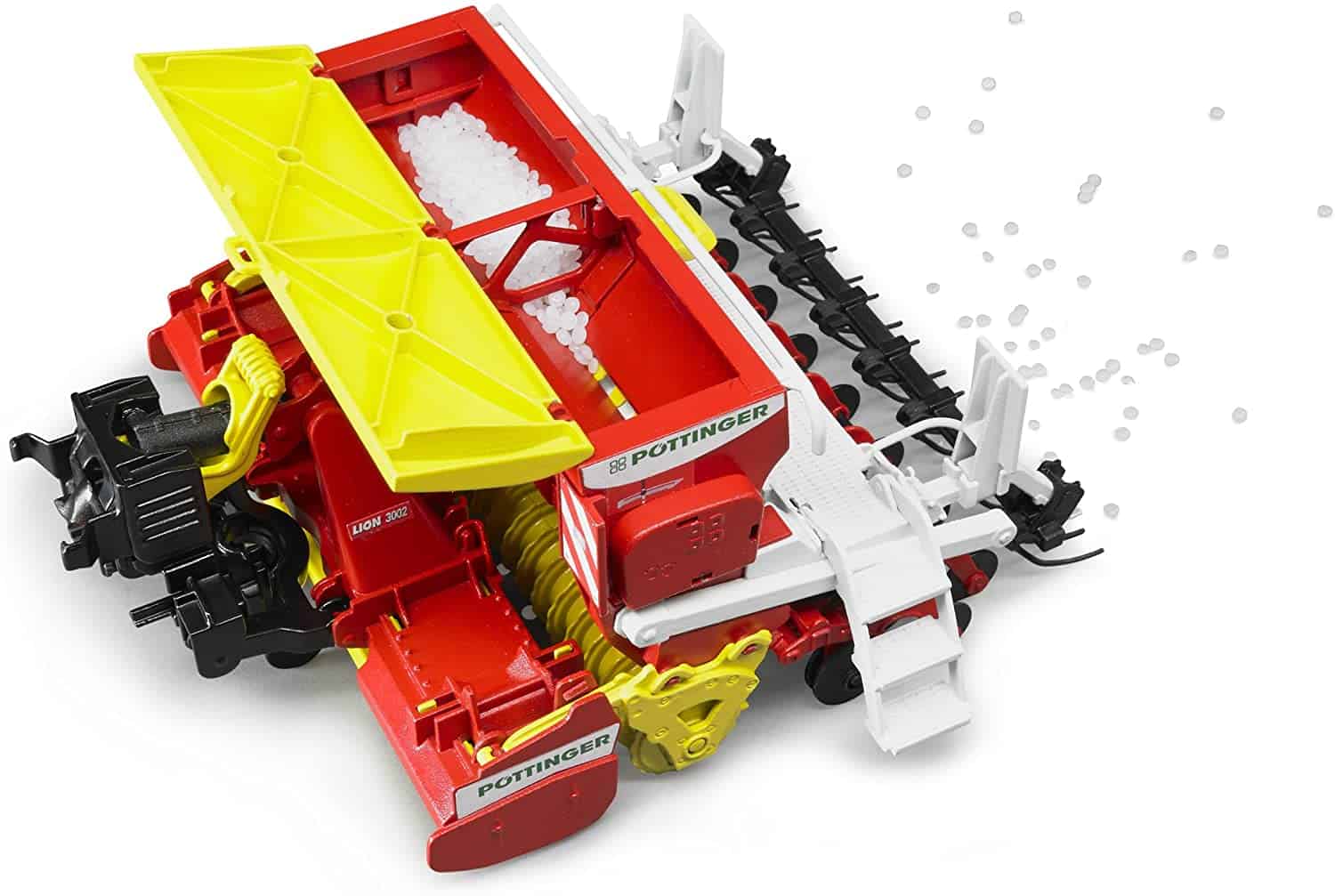 Great fun seeder from Bruder with a lot of detail.
The top hopper opens to put the seeds in for sowing while driving.
Check prices and availability here
Best Hay Bales: Bruder John Deere Baler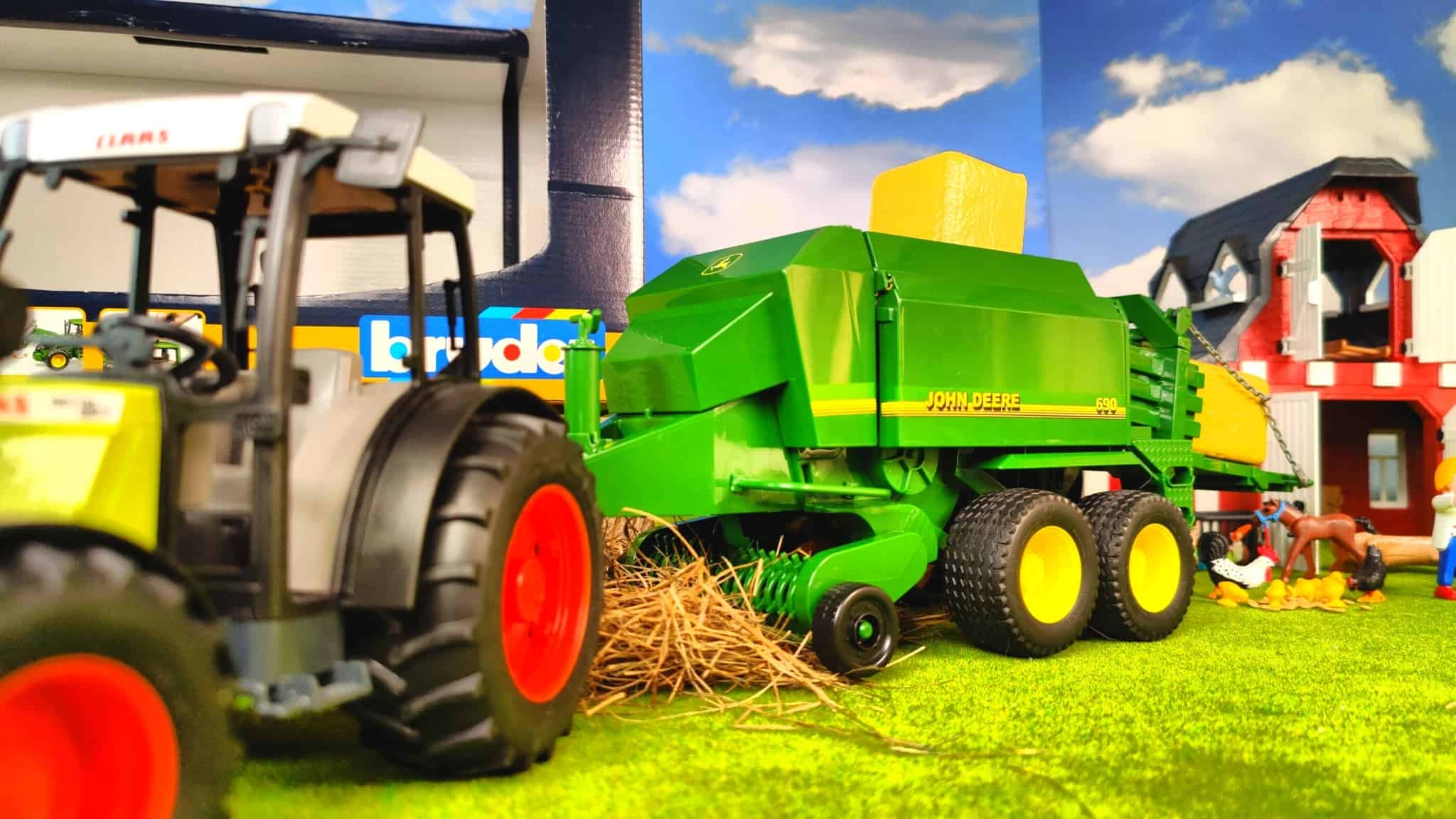 Nice with extra large hay bales and you get two more.
You can let him drive behind the tractor to pick up all the hay from the field, the baler then makes big bales for the farm.
The nice thing is that the bales are guided through the baler by themselves when you drive the cart. He doesn't really make bales of dry hay, of course, but it looks a lot like it.
For example, in my video I took some dried grass from the garden after mowing and that's super fun to play with!
It is a bit different from, say, a tractor or something, and not so much fun completely on its own, but with a tractor from Bruder where you hang it behind it is fun fantasy game.
Check availability here
Best cheap excavator alternative: Bruder Rear Hydraulic Arm with Grapple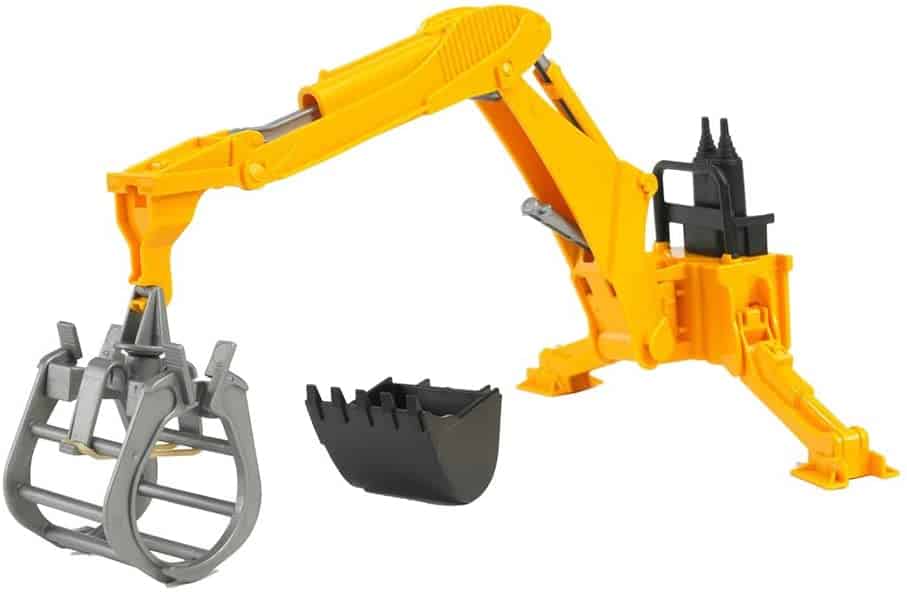 If you already have a Bruder tractor and you want don't spend a lot of money on a separate excavator too, then this hydraulic arm is a very nice addition to your current vehicle.
You can click it on the back of your tractor and dig with the bucket or even pick up some things with the grab.
Check the latest prices here
Best mower: Bruder 02132 John Deere Combine T-670i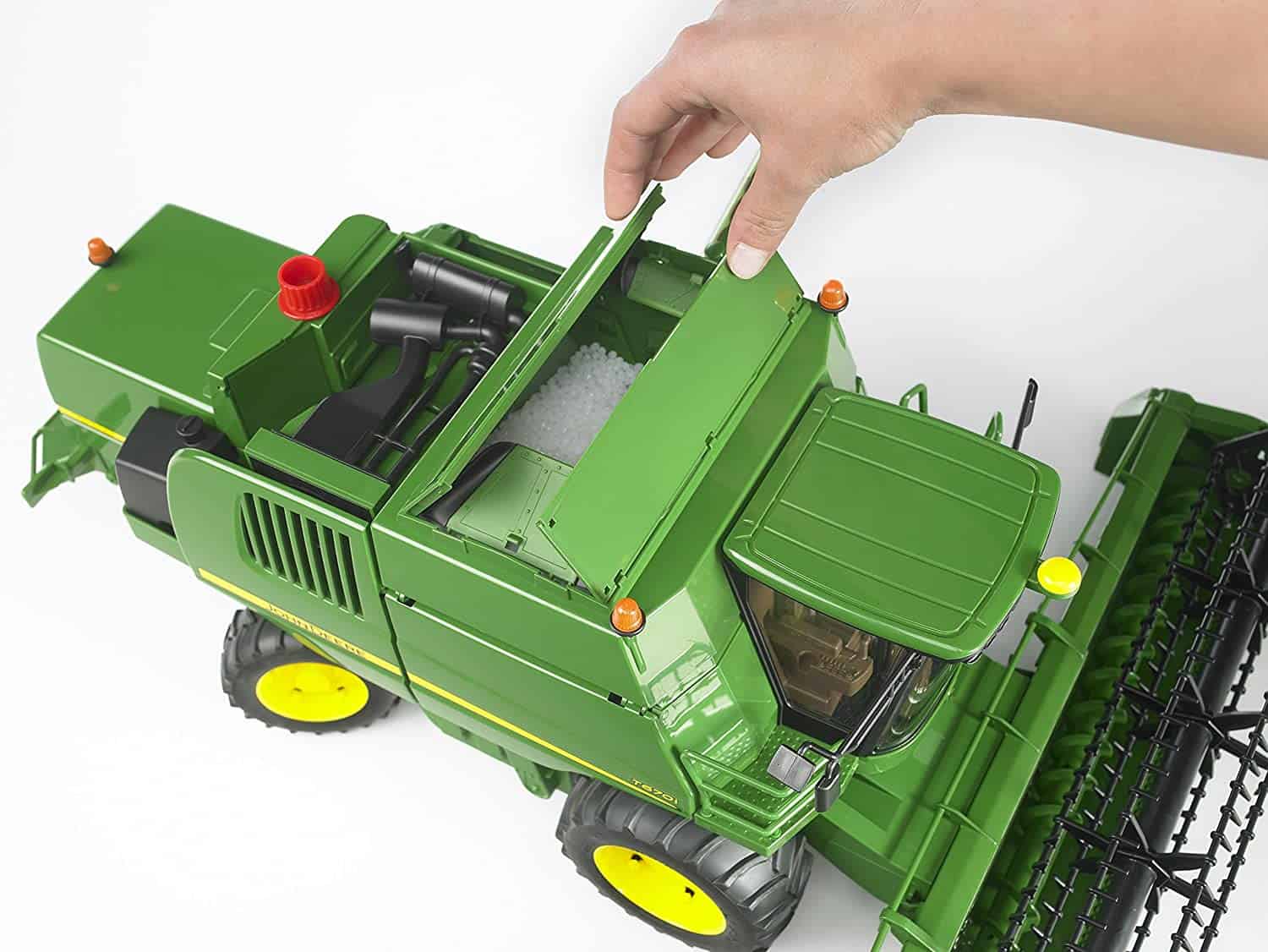 You can mow at the front, and at the same time extend the arm on the side and sow the seeds across the land.
Check the latest prices here
Best sprayer: Bruder Amazone Ux 5200 Trailed Field Sprayer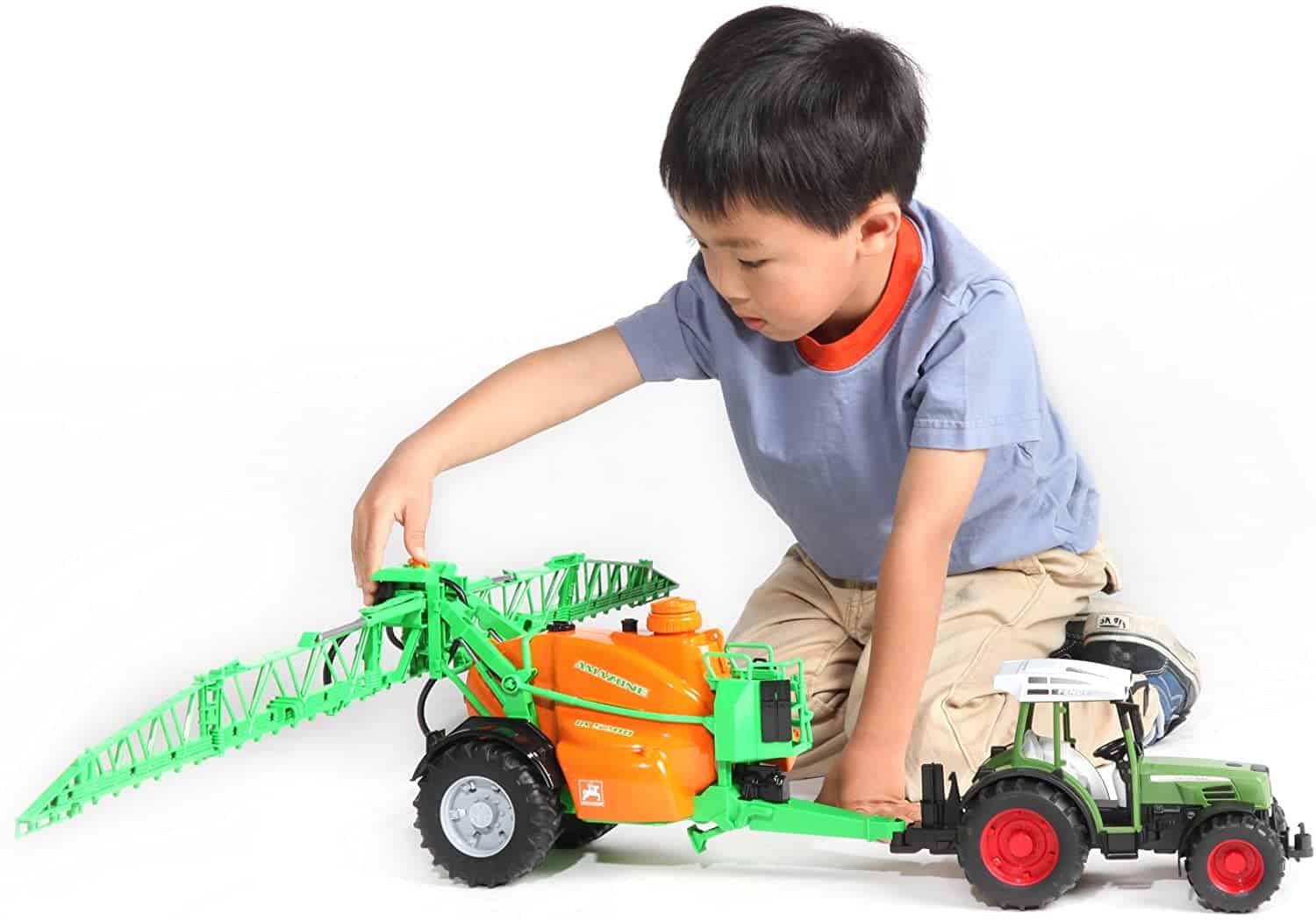 When everything is finally sown you cannot rest yet. The land also has to be watered, and of course you don't do that by hand.
That is why there is the Amazon sprinkler trailer that you can easily hang behind any tractor. Perfect for outdoor play for lifelike play (and give your grass some!).
Check prices and availability here
Best forest management: Bruder 62650 Bworld wood splitter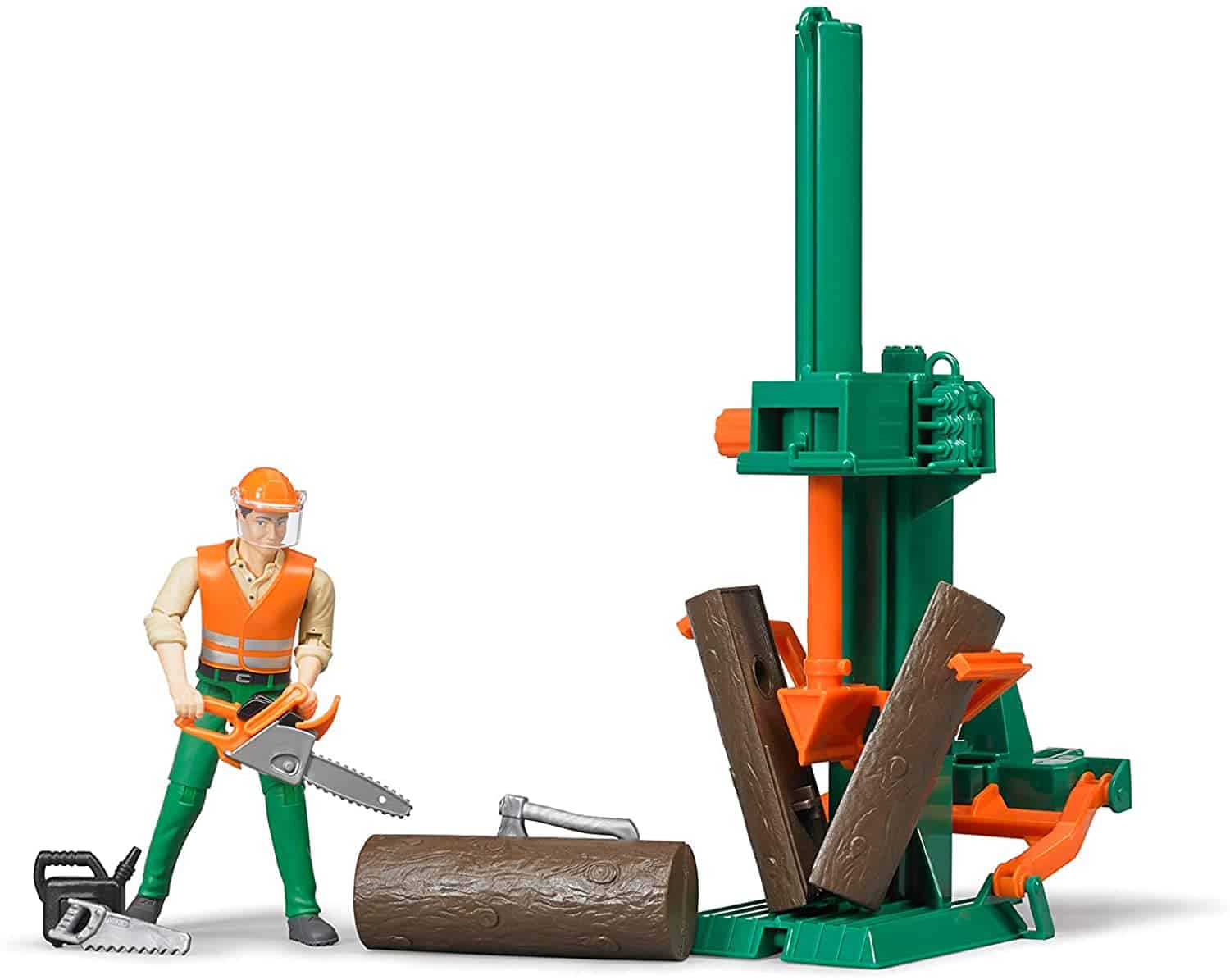 If you want to do forest management, it is not enough to just get rid of trees.
You also need to split them, and maybe use the pieces back on the farm for a fire.
Check prices and availability here
Best truck with crane for trees: Bruder 02769 MAN Timber Truck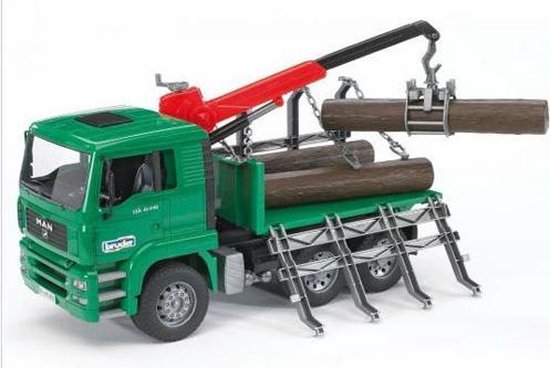 If you want to effectively clear the trees on your land, the MAN Timber Truck has to come in handy.
Check out the latest prices here
Best jobs on the farm: Bruder 04041 Fendt 1050 Vario Tractor repair kit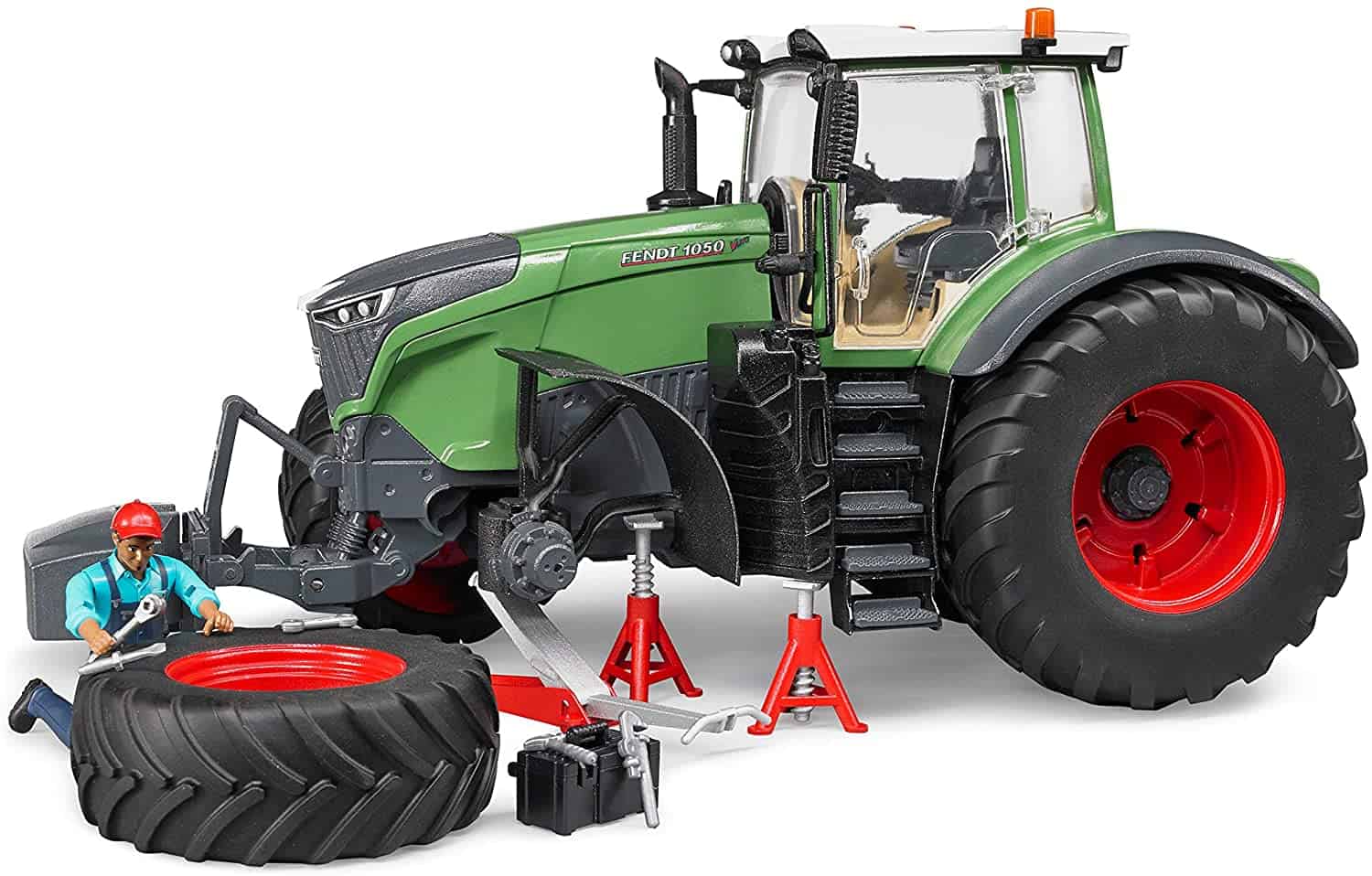 Even the sturdy tractors from Fendt sometimes break, and then it is useful to have the right tools at hand.
There is no other Bruder tractor where the wheels can take off unless you demolish it, so this is a really nice set to add to your farm.
Check availability here
Best Horse Transport: Bruder Dodge Ram 2500 with horse trailer

In any case, the Dodge Ram is a good pickup to get to and from the farm easily.
With its large wheels and high location, it gets through all the mud and dirt roads.
The tailgate at the back can also be opened and there is quite a bit of space to transport everything, such as hay for the horse!
Because although you can also buy the pickup truck separately, it is a very nice set together with the horse trailer (here's a few more) and horse so that the farm also has a stallion.
Check the price for the set here
Best horse stable: Bruder Bworld 62506 horse stable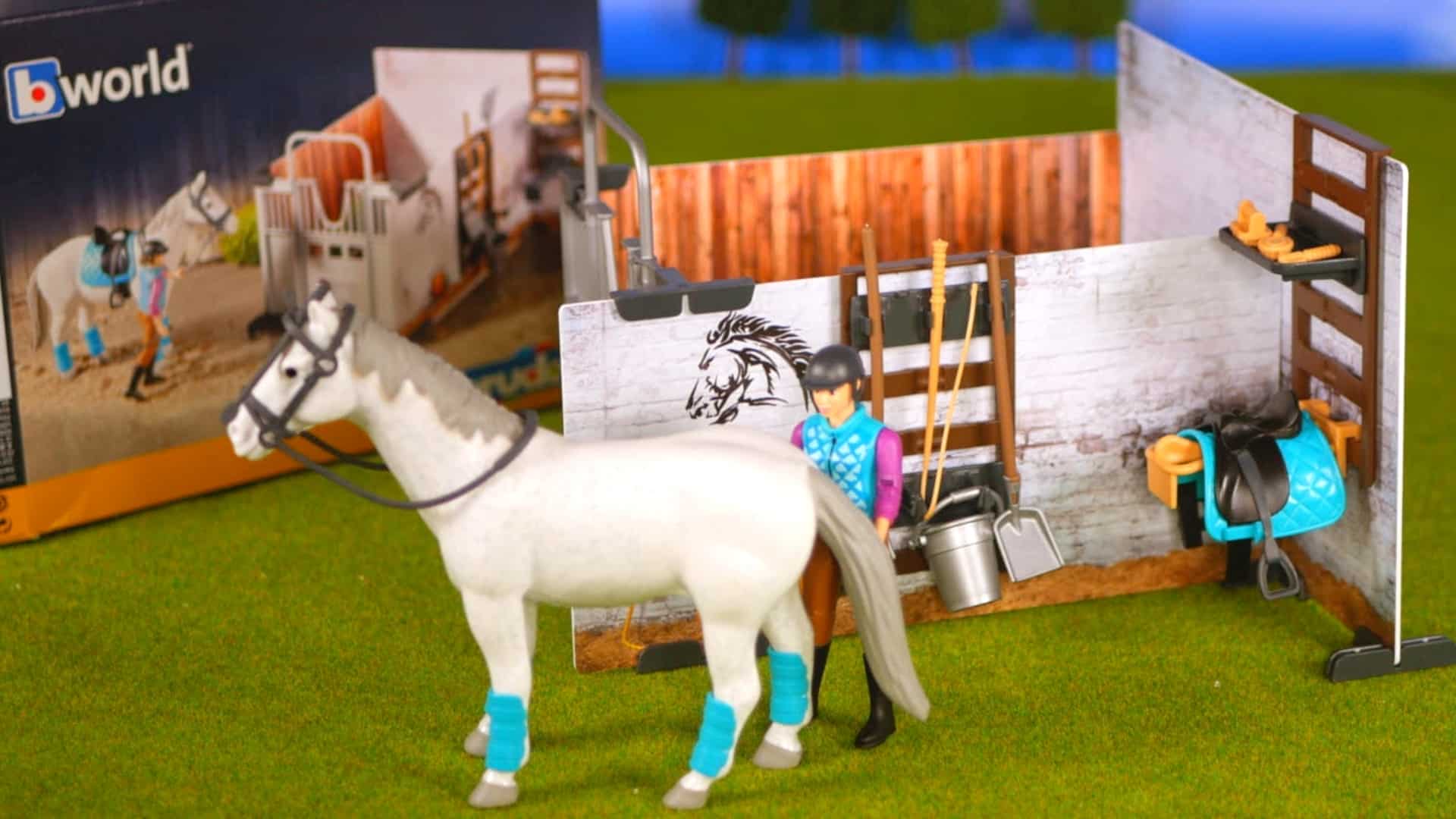 A fully equipped stable with horse and rider for wonderful fantasy play.
It is a construction set so it fits in a small box, but it really can be set up in a few minutes:
The rider can actually sit on the horse and really put her feet in the stirrups and hold the reins, so that's a nice touch.
There are also a lot of accessories such as a whip and also things to take care of the horse in the stable.
There is also a shovel and a pitchfork, everything to take care of the horse or to clean up behind the horse :)
Even the leg warmers and the horse's saddle can be removed and stored in the stable, as with all Bruder toys, so plenty of detail: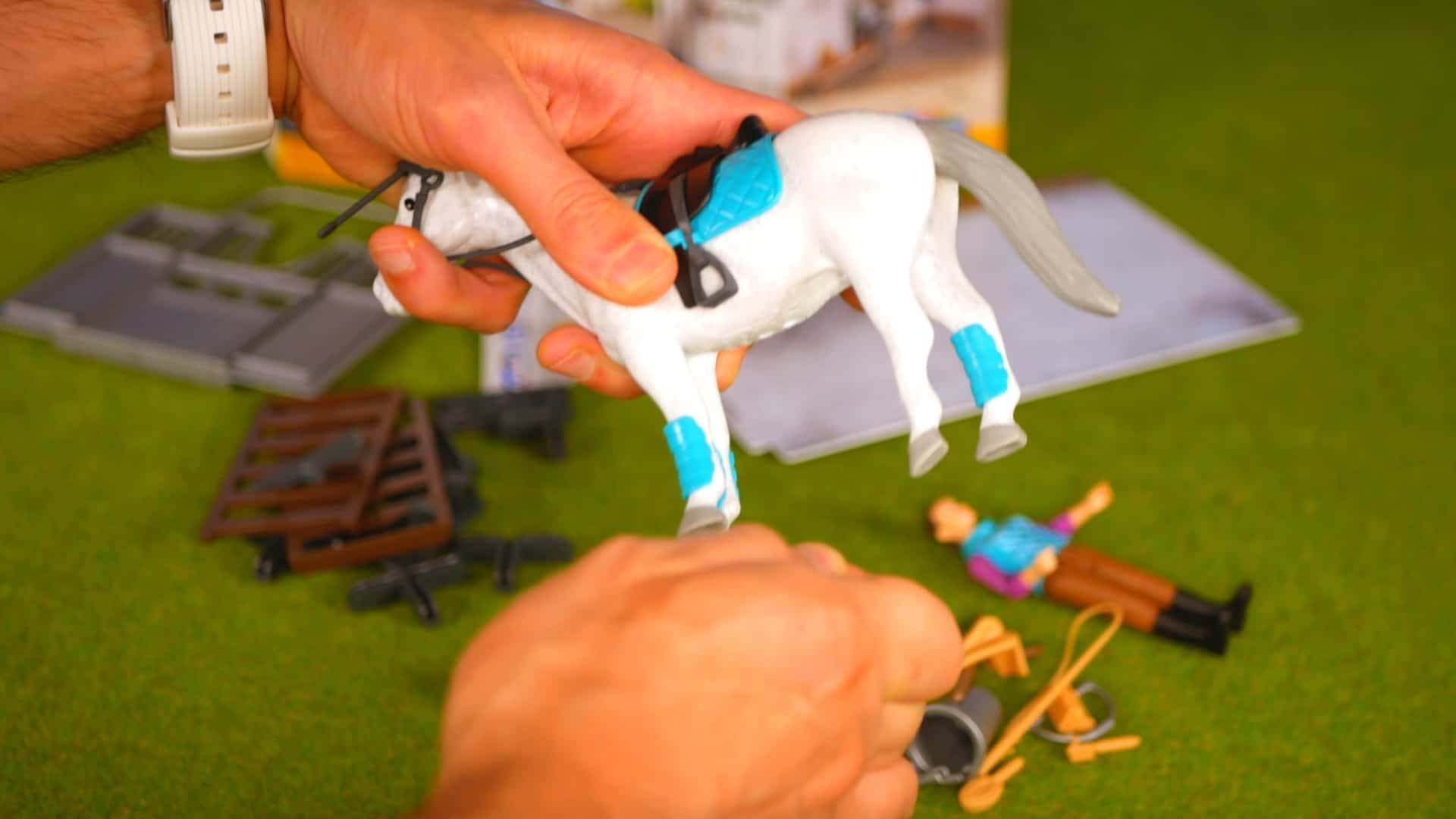 A fun complete set to add to a farm or use as a standalone horse toy.
Check the latest prices here
Best tractor in winter: Bruder Claas Axion 950 with Snow chains & Snow Blower 03017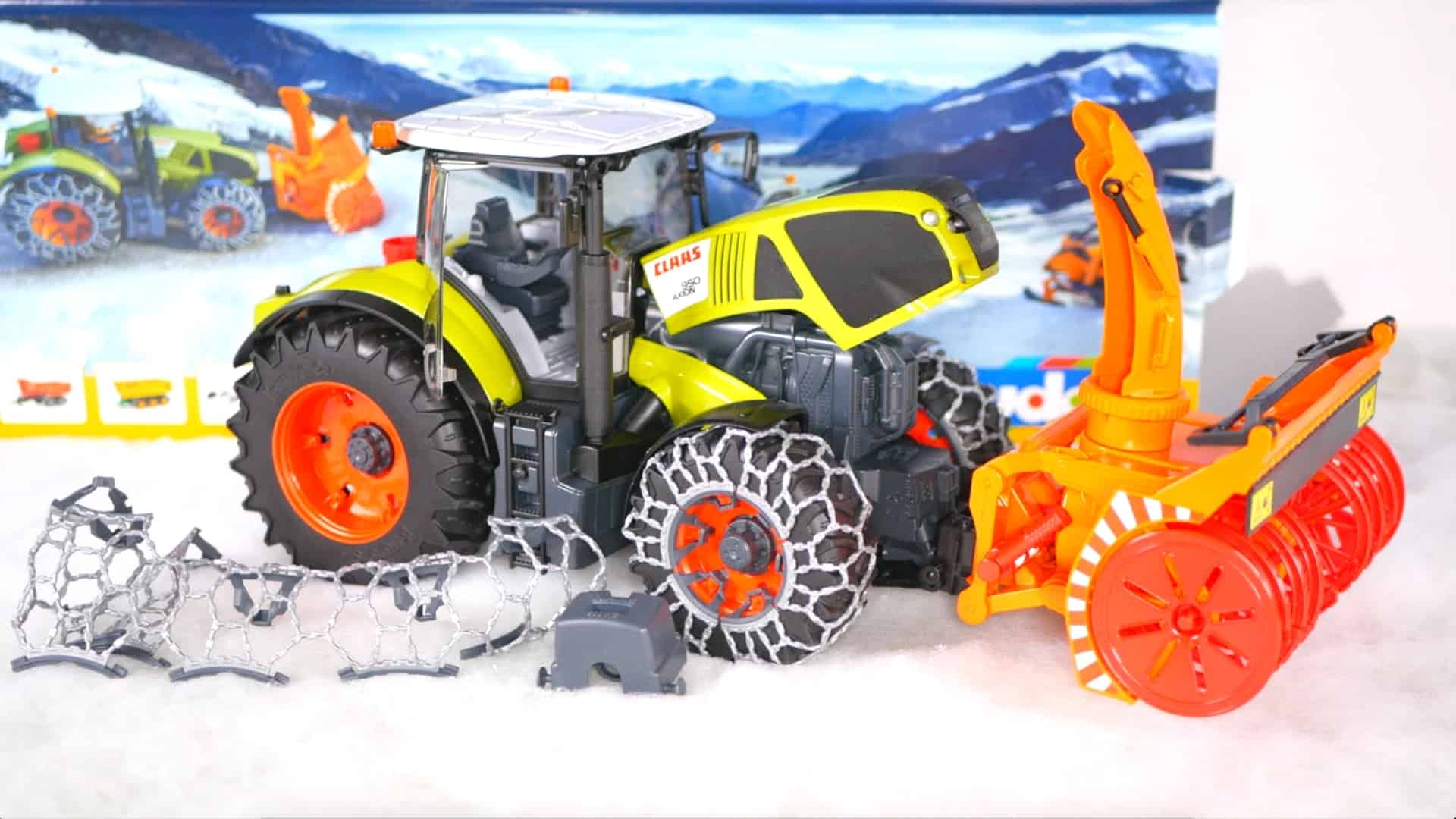 A super Bruder set where a lot happens.
In addition to a nice tractor, which you can also get loose, you have nice accessories. This way you get snow chains that you can remove from the wheels as a kind of net.
Furthermore, this is one of the tractor models where you can adjust the rear fork so that you can put it higher and lower to hang different agricultural machines behind it.
And then of course the best of the set, the snow blower to put in front of it.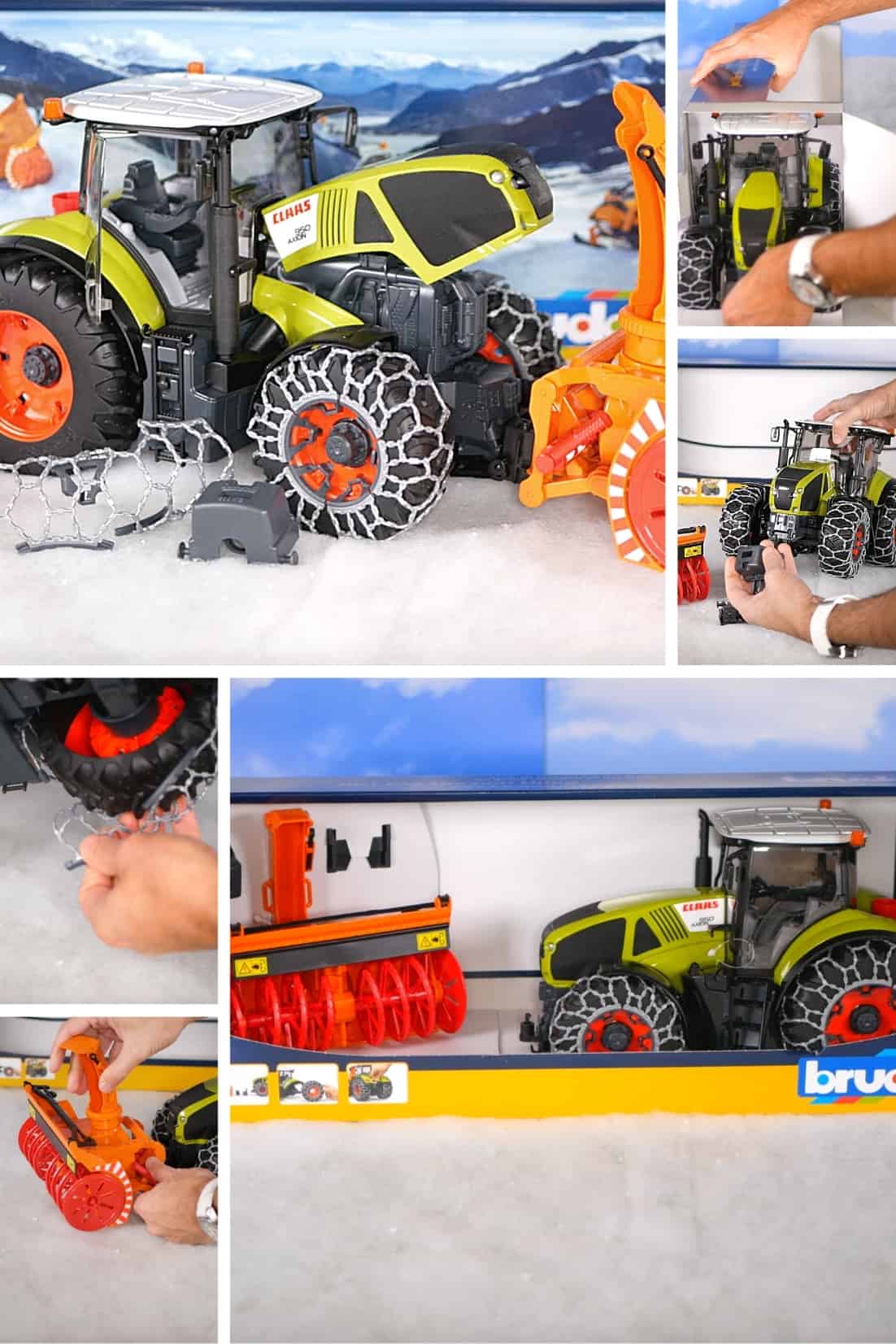 A very nice set to play through the winter with your Bruder agricultural vehicles!
Check the latest prices here
Bruder Claas Axion 950 vs Claas Nectis 267 F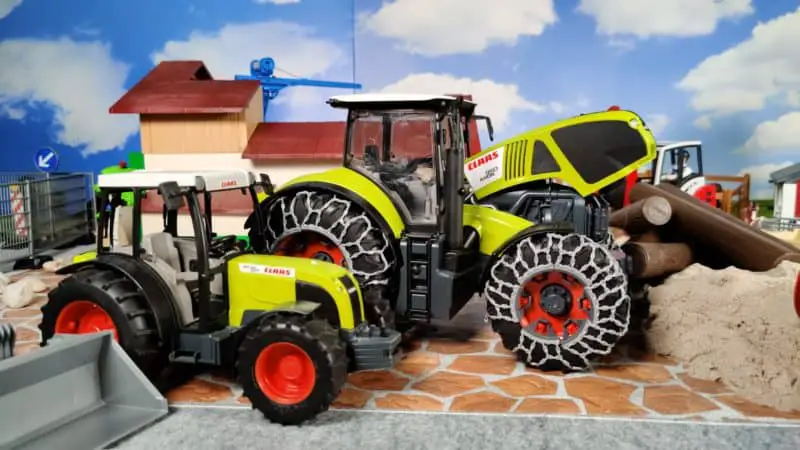 The Bruder Claas Nectis is a lot smaller than the Axion, and it's not even the largest of the Bruder tractors.
An obvious difference is of course the accessories that come with it, with a nice trailer and handy front loader with the Nectis (which makes it a bit more versatile) and the snow chains and snow blower with the Axion, but you can also get the Axion without those accessories and install it yourself. set up a front loader with the click system.
Still, I think the smaller Nectis is a lot more fun for kids to play with in many situations, it fits in a lot better with other types of toys because it's the same size.
The bigger Bruder cars are often… REALLY just a lot bigger than many other toys.
It is very nice of the Axion that the front cover can be opened to repair it, unfortunately the Nectis cannot.
Characteristics of Bruder toys
The vehicles have a tow bar and many items can be fitted with a front loader.
You can connect various trailers and agricultural machines to the towbar. You can reenact life in the countryside in a super fun way!
The toys are always based on a tractor, (truck) car or a self-driving vehicle.
As an example we take the Bruder agricultural tractor with opening doors, a detachable steering wheel and a tow bar.
Kids will immediately want to connect a trailer or other machine to the tractor!
For example, they can bring hay bales to the farm with their complete vehicle.
With Bruder toys you can create a lot of combinations thanks to the many options for add-on and add-on parts.
This way, children will never be able to play, and there is always a new combination to come up!
Bruder's toys come in different themes.
For example, you will also find toy horses, fire trucks, cranes, shovels, jeeps and mini diggers.
Bruder tractors
These fantastic agricultural tractors are recreated from well-known brands in agriculture such as John Deere, New Holland and Fendt.
These toy tractors have a front and rear linkage with a tow bar.
This way your little one has the opportunity to connect various types of agricultural machinery or trailers to the tractor. Then it will provide a lot of extra fun!
The agricultural series has two tractor series, namely the 2000 series and the 3000 series.
The latter series consists of tractors that are also available in real life. As a scale model they are designed just a little more luxurious; for example, there is 'glass' in the booths.
Horse toys from Bruder
Of course, animals are needed to complete the farm.
That is why Bruder also designed horses in miniatures.
You can also buy a toy horse stable and even a course with obstacles.
Bruder sheds and stables
Sheds and stables make the experience even more real.
In addition, these can come in handy for neatly storing all the toys after playing.
Bruder has wooden sheds and plastic sheds available.
Conclusion
There are a lot of vehicles that can work the land, or transport everything from the countryside, so there is a lot of choice.
I hope this article will help you in your choice and have fun with whatever you ultimately buy!
Bruder toys German quality
Looking for cool toys for your child? For example, nice tractors, construction machines or trailers?
Then Bruder is your brand!
The German brand started making fantastic toy vehicles in 1926.
Bruder is a leading manufacturer that we will hear a lot more about.
Became curious? Then read on!
Toy made on a 1:16 scale
Bruder focuses on the playing child.
Bruder toys allow children to gain experiences in the adult world, which they can use for their own development.
In line with this principle, Bruder develops lifelike toys that are made to a scale (1/16).
The great thing about these toys is that each miniature model is designed in detail.
Only high-quality materials are used, so that your kids can enjoy them for years to come.
With these fantastic scale models, children are encouraged to imitate the real world.
The products encourage role-play, and grasping the toys also stimulates children to understand the technical basis.
Environmentally conscious and sustainable with Bruder
At Bruder, they are very aware of our planet and its environment, and are happy to contribute to a better world.
For example, you can request replacement parts from Bruder for the repair of toys. In this way we prevent throwing away toys that are actually very good and beautiful.
Children will enjoy using Bruder toys for years!
In addition, at Bruder they are very selective in choosing the right materials for their toys.
Customer satisfaction is paramount at Bruder
Bruder strives to create the highest level of customer satisfaction.
They do this mainly by using their expertise in plastics technology and showing the innovative power of their products.
Trucks from Bruder
Bruder really has a lot of them! The series of Bruder trucks is very diverse.
For example, you will find timber transport trucks, but also concrete cars and telescopic cranes.
Bruder Roadmax
Bruder Roadmax toys are for the little ones among us, suitable for an age from 2 years.
What makes these toys so attractive are the striking colors.
Just like the other Bruder collections, the various vehicles and trailers can be very nicely attached to each other.
In this series your child will not be able to find small or loose parts, so the toy is always safe. The vehicles also have rubber tires and rounded corners.
Construction parts from Bruder
When you start with your Bruder collection, pay attention to the attachments, whether they fit the vehicle in question.
Bruder has given each add-on part a letter, so that you know exactly which add-on parts are suitable for each vehicle.
An example: the New Holland T8040 has the letters CEKM. This means that the attachment parts C, E, K and M on this tractor fit.
Attachment part M is for example a snow blade, and attachment part K is a front loader or twin pneumatic tires.
What is the difference between the Bruder CAT Delta 02137 & Caterpillar Skid Steer Loader 02482?
Bruder toys are really cool!
As you can see, Bruder is a unique toy brand.
This is the ideal toy for the child fascinated by vehicles.
If you are going to purchase Bruder toys, look especially at the possible combinations to be able to play with the same toys for a long time.
Save yourself some money as a parent!
Conclusion
There is a lot to play with Bruder construction toys and some really fun sets to get you started.
It is the nicest to have a few, that is what we have noticed at home. A few cars that can work together on the construction site, such as a excavator and a dump truck.
Hope you found this an interesting article to read and wishing good luck with your choice!
Also read: these are the best Bruder toy alternatives you can buy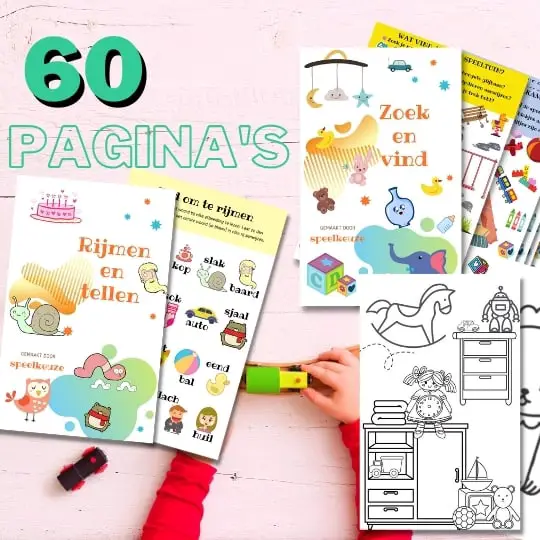 Always something to do for the holidays or rainy day?
Play Choice now has the ultimate activity book collection, with over 60 pages of fun coloring pages and educational puzzles.
Joost Nusselder, the founder of Speelkeuze.nl is a content marketer, father and loves trying out new toys. As a child he came into contact with everything related to games when his mother started the Tinnen Soldaat in Ede. Now he and his team create helpful blog articles to help loyal readers with fun play ideas.