7 Best Dodge Toy Cars: Play with your dream car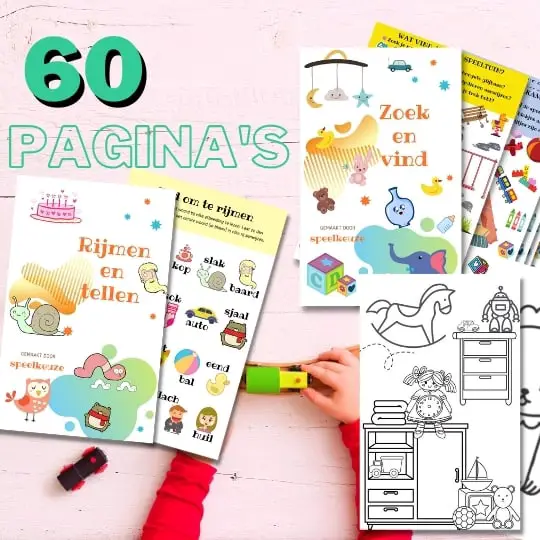 Always something to do for the holidays or rainy day?
Play Choice now has the ultimate activity book collection, with over 60 pages of fun coloring pages and educational puzzles.
There are many toys cars for sale, but if you are looking for a specific brand, for example because Dodge is your favorite brand, then it will be difficult.
Fortunately, there are also very good brands, such as this Maisto Dodge Challenger, with huge detail and opening doors and hood.
In this guide I look at the 7 best Dodge toy cars and what you should pay attention to when buying.
Let's take a quick look at the top options. Then I'll go into more detail about each of these choices.
Dodge toy car buying guide
What should you pay attention to when buying Dodge toy cars?
Sustainability
There are quite a few differences in quality between toy car brands. Just look at the difference between Maisto and Kinsmart, or Hot Wheels. You clearly feel the quality.
In any case, almost nothing can go wrong with a complete diecast car. That is what I paid extra attention to when assessing the durability of the cars.
Quality of driving
With toy cars you want them to be able to drive well. Some may be for display only, not for play. But you still want them to roll well.
A few things to watch out for are:
the distance from the wheels to the chassis: some toy cars run into problems so they don't drive very well
the rigidity of the shaft: some toy cars are very wobbly so the wheels can move far in and out, and still rub
the quality of the wheels: is it plastic or are there really rubber wheels on the tires? Rubber rolls a lot better
the weight of the car: you may not realize this right away, but the weight of the car plays a very large role in how well it rolls. A heavier car made of diecast or wood rolls a lot better and further than a plastic car
Replayability
Much of the car's replayability is in how well it drives, but there are other factors that determine how often they return to it.
Age also plays a part. Is it a car that stays on the left after toddlerhood or can it last longer because it is also suitable for older children?
The number of extra functions also plays a role, such as the bonnet that can be opened at Maisto or the horse trailer at Bruder.
I rated each of the cars on this list on these parts on a 5-point scale.
Best Dodge toy cars reviewed
This car is 1:24 and therefore very big, about 7-1/2″ long (19 cm). It is a great diecast replica and very detailed.
All doors can open so there is plenty to discover or to display it beautifully. Only the trunk can not open so that is a pity.
Maisto has been making diecast cars for a while now and they aren't always of the best quality. But with this model they have created a very good car that is large and affordable and with which you can open a lot.
The Dodge pick-up has a cab with four doors that can be opened and closed. The tailgate can also be opened.
Toy horse trailers are also available for older children who can handle small parts responsibly and may be more interested in a more truthful design.
Great fun for children who still have a lot of interest in horses and horse trailers as they grow up.
It's one of the toughest toy cars I've ever seen. Bruder is expensive, that's for sure. But it is also really quality.
Due to the size and especially small parts (the doors can be detached and there is a loose tekhook), the set is particularly suitable for children from 3 years old.
The horse trailer is equipped with a rear door that can be easily folded open and can serve as a platform for the horse to be guided inside.
The Dodge Ram is also available separately without the horse trailer.
Nice and small and handy with 1:43 scale. It fits perfectly with the toy car collection of Hot Wheels or Majorette, for example.
It's a nice truck with opening doors and it's quite sturdy.
It is strange that it is sent in a plastic bag, not in a cardboard display with a plastic see-through screen or something like that.
That shows again that it really is a cheap no-nonsense brand, but still with a nice toy car.
Jada Toys is a bit between Maiso and Hot Wheels (or Kinsmart).
They are a bit more detailed than Hot Wheels cars with die-cast build quality model cars, but not as detailed as Maisto.
This Viper is officially licensed from the Fast & Furious Saga as Letty's Dodge SRT10 and in a 1:24 scale.
The 100% die-cast metal and the real rubber tires are good details. Just like the hood and doors that open with a detailed interior.
It is in the price range that you can put it down as a collector's item or let it play with.
This one is nice and small again at 1:43 scale, just like the Kinsmart Ram. This makes these cars perfect for playing with other toy cars.
It is also really made to play with. Not the detail of Maisto, but extremely solid and sturdy.
Some think it's a shame that such a cool police car doesn't have working lights. I don't think it's a problem for the peace in the house :)
They are officially licensed by both Dodge and the NYPD, so it's exactly the kind of car you may have seen in movies and series.
Great classic Dodge car in 1:32 scale (from wheel to wheel 4 1/16 inch or 11 cm and 3 1/4 inch or 8 1/4 cm wide).
Super fun to play with because of the large suspension and a beautiful specimen to look at.
The price is good for this size car and really only positives.
Maisto is a great brand of model cars, but at 1:24 they are also quite big. This one from Solido does it all on a smaller scale.
A very beautiful car with detailed interior. It's just a pity that the doors and hood cannot be opened.
This is another car that is a bit between a toy and a model car.
Conclusion
Dodge has created a number of iconic car models and with these toys you can finally play with them or pass on the love to your child.
Also read: these are the best toy cars we've reviewed over time