Best dollhouse | 14 best playhouses rated
I enjoy writing these articles for my readers, you guys. I don't accept payment for writing reviews, my opinion on products is my own, but if you find my recommendations helpful and you end up buying something through one of the links I may be able to receive a commission on that.
More information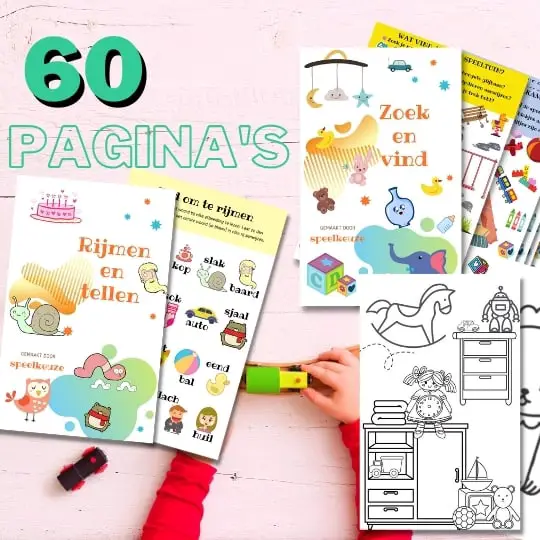 Always something to do for the holidays or rainy day?
Play Choice now has the ultimate activity book collection, with over 60 pages of fun coloring pages and educational puzzles.
There are so many different dollhouses for sale, but how do you know if you are choosing the right house for your child?
That depends, for example, on his or her interests.
Does your toddler also like to play with a house with larger accessories such as animals, or do the older children really enjoy furnishing a dollhouse in a trendy way?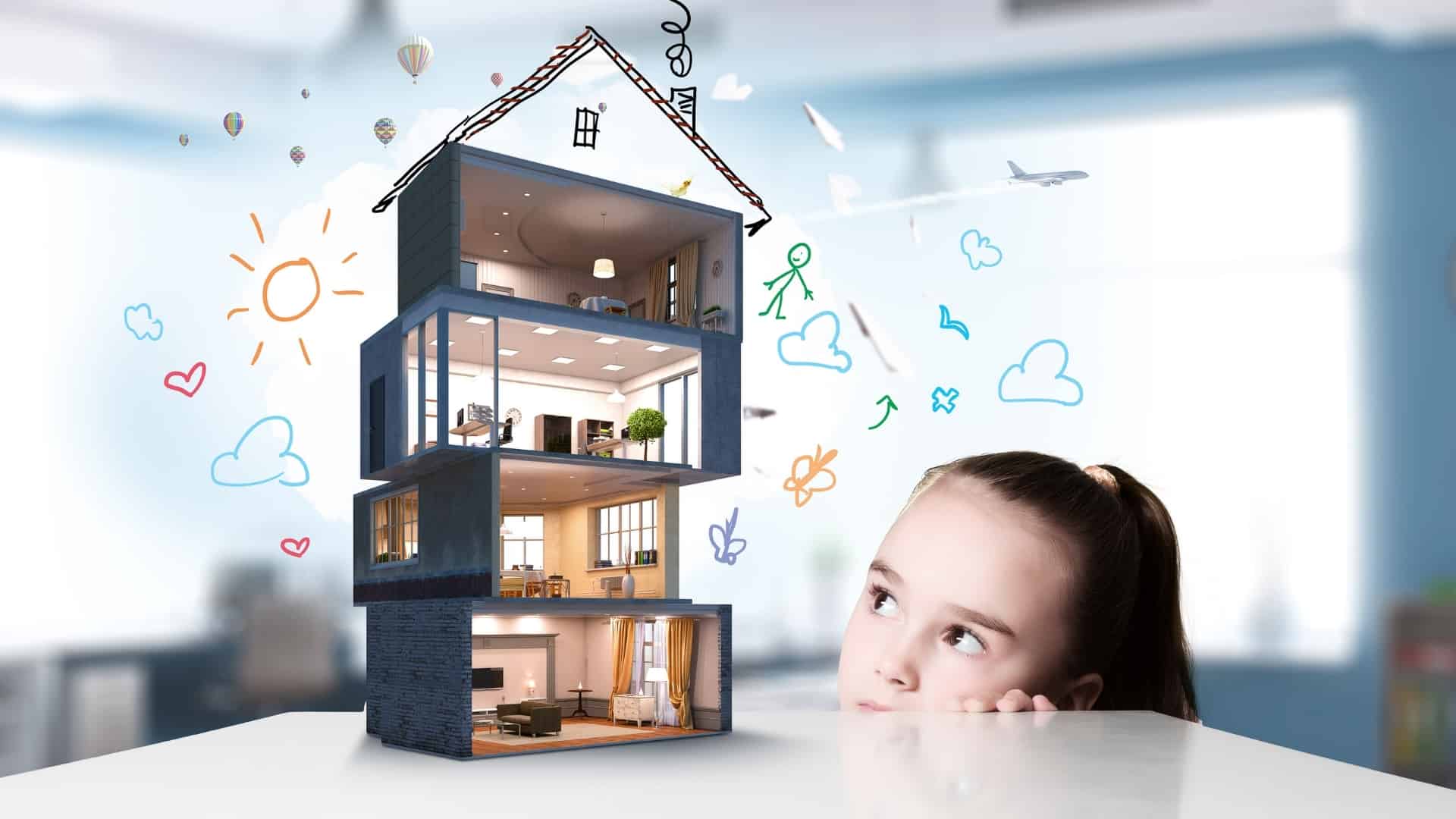 In addition, there are creative children who would certainly find it interesting to put together the house themselves.
Of course there are also adults with a dollhouse hobby. They love to spend their free time building and / or furnishing dollhouses.
They also visit fairs and exhibitions to obtain information and original accessories.
This article is mainly aimed at helping you choose a dollhouse for your child.
If you are looking for a nice complete house with a lot of accessories already in it, I would advise this one from Melissa & Doug to advise. A great price-quality ratio with a lot to add.
Of course there are a lot of other options and maybe they are more suitable for the style you are looking for or for a specific purpose.
Below I have listed the best (children's) dollhouses for you, after which I will also go into each of these choices in more detail: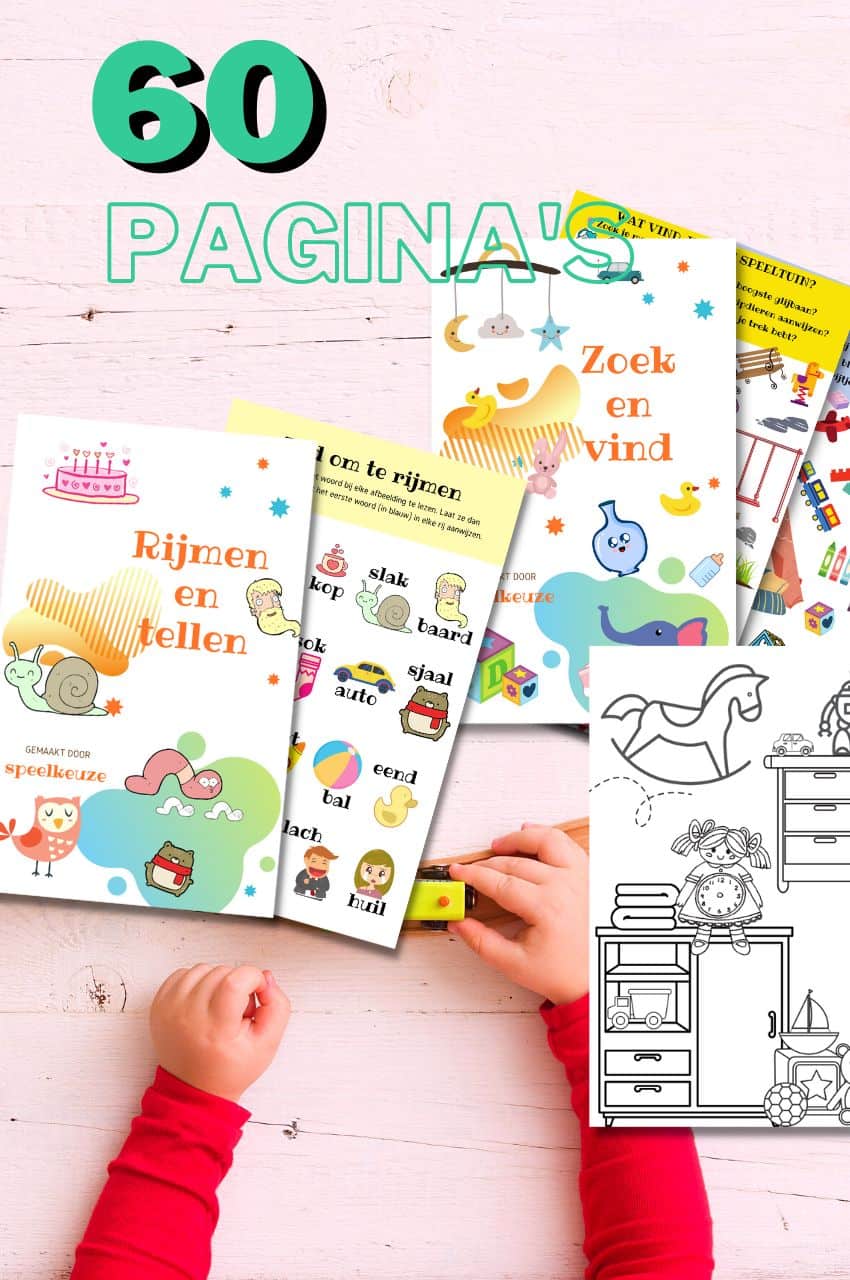 A play theme in your mailbox every month?
Fun play tips, activity books and more, with the first email being our free mini-guide "educational toys"
We will only use your email address for this newsletter and respect your privacy
What should you pay attention to when buying a dollhouse?
For the very little ones it is useful to buy a somewhat simpler house, with not too many small accessories.
For the older children and adults, you can buy everything in miniature that also exists in real life.
If you like a dollhouse kit, you can let your imagination run wild. You can build, knit, saw, or buy extra accessories.
You can also buy the house ready and assemble the interior yourself.
When you buy a dollhouse, it turns out that it is sometimes difficult to choose. Then you preferably ask yourself the following questions first:
how much space can the house occupy
how much can the house cost
what do I or my child want to do with it?
Do you want an open or closed house?
Open houses are houses that you look directly into, without a front facade. The advantage is that you see everything, the disadvantage is that you indeed see everything continuously ...
Sometimes it is nice to just "close" the house.
You might also like to know that there are two Dutch dollhouse magazines:
Dollhouses & Miniatures (this appears every two months)
and Dolls House Nederland (a monthly magazine).
You can get many nice examples, addresses of interesting shops and also information about fairs and exhibitions.
Best 14 dollhouses rated
Let's take a closer look at each of these options:
Best Wooden Dollhouse: Melissa & Doug Fold and Go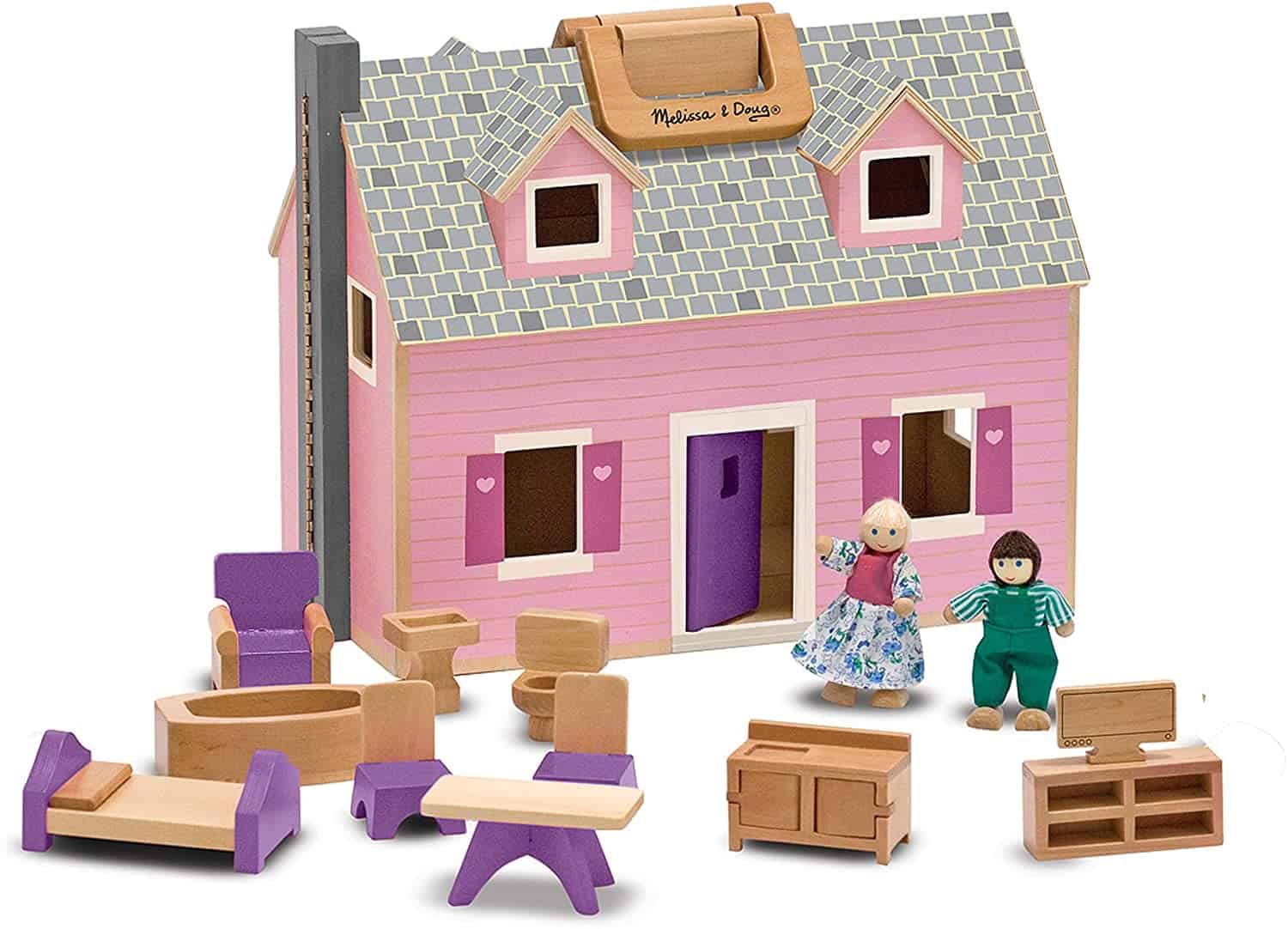 This beautiful, fold-out Melissa & Doug Wooden Dollhouse is suitable for children from three years old.
The house has two floors and is painted in a delicate shade of pink and gray. Incredibly stylish and with many windows with shutters.
Here's Papap's Picks with his review:
There are many accessories such as a sofa, easy chair, cupboard, bed and a TV cabinet.
Best Dollhouse from Kidkraft: Sweet Savannah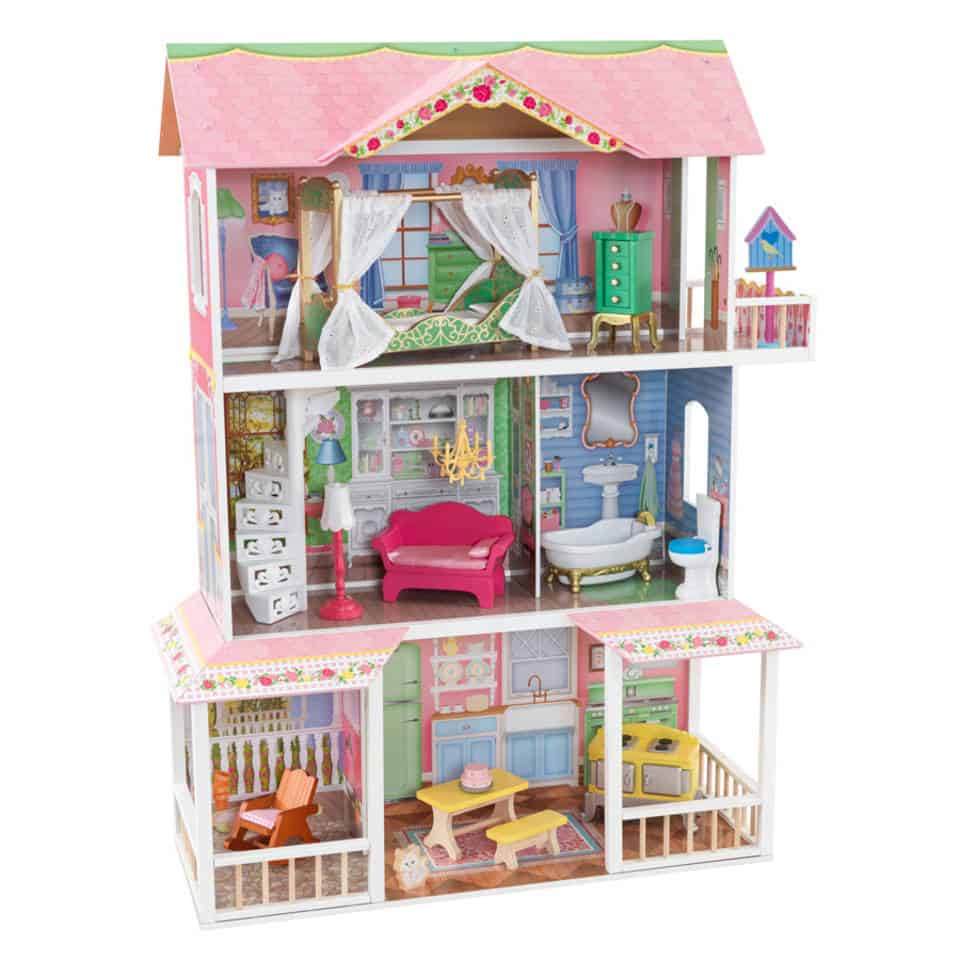 The KidKraft Dollhouse Sweet Savannah has three floors and the house is 120 centimeters high. There is a lot of space to play with your friends.
There are four rooms and a covered terrace with garden furniture, complete with a bird house and a cat.
Here's the video from Kidkraft herself:
Your kids can fantasize wonderfully, along with their 30 centimeter dolls.
Best Barbie Dollhouse: Barbies Collapsible House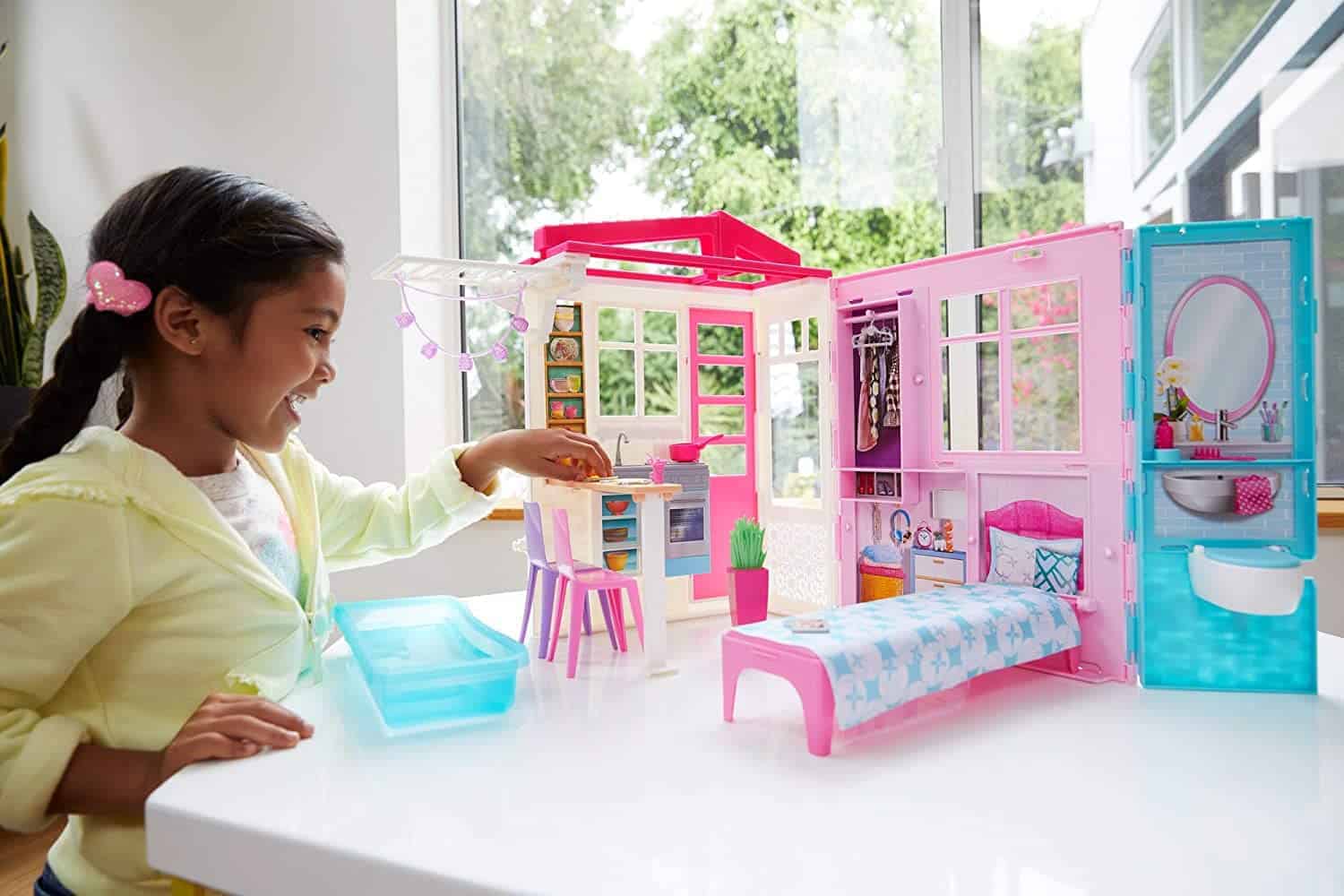 Barbie dollhouse - including a Barbie doll is a trendy and cozy two-story house of Barbie. Includes our famous Barbie herself, furniture and accessories.
The house is equipped with a handle, so that it is easy to carry.
The Barbie house is fold-out and has a few surprises like the living room, which can turn into a dining room when you fold down the television, and a bedroom that can be transformed into a spa.
The house has several play areas and a beautiful kitchen with sink and stove. Here Barbie can cook to your heart's content!
There is even cutlery and crockery.
Do you find it especially important that the dollhouse can be folded? Then maybe the Barbie dollhouse - including a Barbie doll is a good option.
When you walk into this Barbie two-storey house through the bright pink door, it looks cozy and modern and you come across nice surprises!
The Barbie house can be taken anywhere, you can collapse the house in no time.
Here's TTPM with their take on it:
You can even cook in the nice kitchen complete with stove and crockery and cutlery are provided. You can create a living room by standing the TV upright.
If you fold down the TV, however, you transform the living room into a dining room! The bathroom is brightly colored and has a toilet and a shower.
If you walk up the stairs to the second floor, by folding down the bed you can transform the bedroom into a spa… this house is really full of beautiful surprises!
The accessories such as a clock or a blanket fit in special places in the house and make it complete. The house is also equipped with a carrying handle.
The fantastic house is about giving your child free rein and making up many stories! Your child will have a lot of fun with it.
A beautiful Barbie doll is included, so your child is immediately ready to play with this crazy house!
Best dollhouse kit: Robotime Soho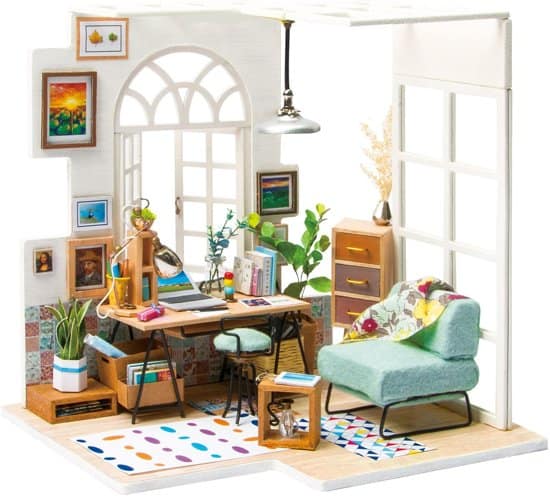 The truly beautiful Robotime SOHO Time DGM01 - Wooden Model Kit - Mini Dollhouse with LED light - DIY is very detailed.
You can assemble this dollhouse yourself and each dollhouse of this brand has a beautiful design. That means something for everyone!
If you do not yet know exactly how you want the layout, the fun wooden 3D puzzle can help you.
When you are done and put all the details in place, you can see that it is a beautiful Soho style salon.
Also check out this unboxing:
The package comes with LED light (batteries included), fun accessories, tools, glue, brush, pliers and step-by-step English instructions.
Very suitable for adults / or for older children.
Check prices and availability here
If you enjoy putting things together, then there are these great marble tracks to have a look at.
Some are really complete kits or just nice wooden ones. If you have time, take it over once, very interesting.
Cutest dollhouse kitchen: Robotime Jason's kitchen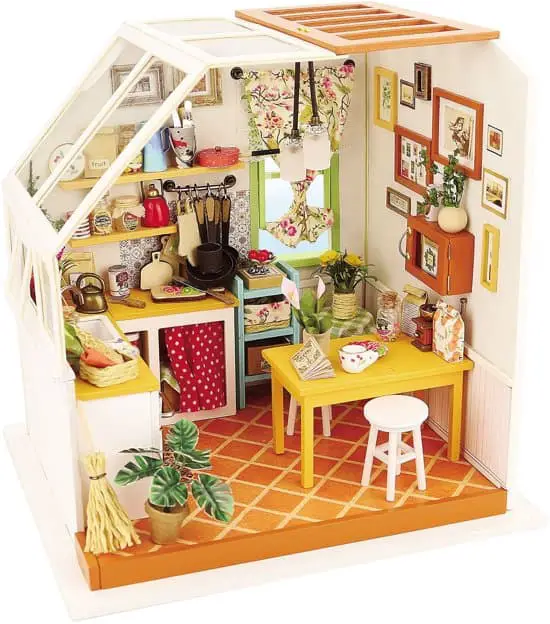 This only Robotime Jason's Kitchen DG105 - Wooden Model Kit - Dollhouse with LED light - DIY kit is very hip.
You glue all parts together and, for example, build a bathroom or kitchen.
This dollhouse consists of a DIY kit from Jason's Kitchen and the set comes with absolutely all the items you need.
The step-by-step English instructions ensure that you do not have too much effort to assemble the kitchen and arrange the pots, pans and flowers in beautiful vases.
The house even includes a sink and dining table. The house comes with LED lighting including batteries and sympathetic accessories.
The material used is wood, metal, cloth and paper.
Here's Marimo showing him:
The Robotime brand offers a first in 3D assembly and puzzle technology. Children can push their boundaries by assembling their own dollhouses, alone, with friends or with a parent.
View the most current prices and availability here
We have here also the 16 nicest furniture and accessories for your dollhouse reviewed
Most beautiful white dollhouse: Pinolino Wildkin Anni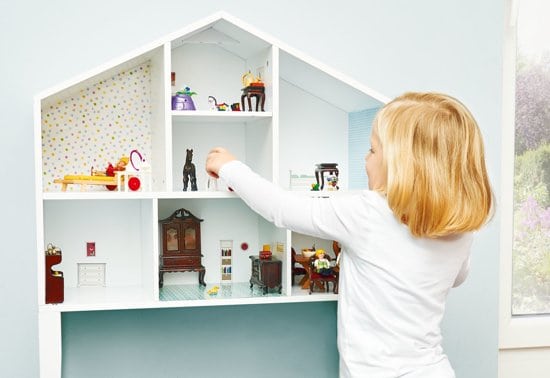 This charming white house from Pinolino Wildkin Anni MDF is almost a meter high and 70 centimeters wide.
The dollhouse on high white legs has seven modern rooms with cozy wallpaper and striking floors, but unfortunately comes without accessories.
A simple but very beautiful dollhouse.
Cutest modern dollhouse furniture: Kidkraft 65988 Emily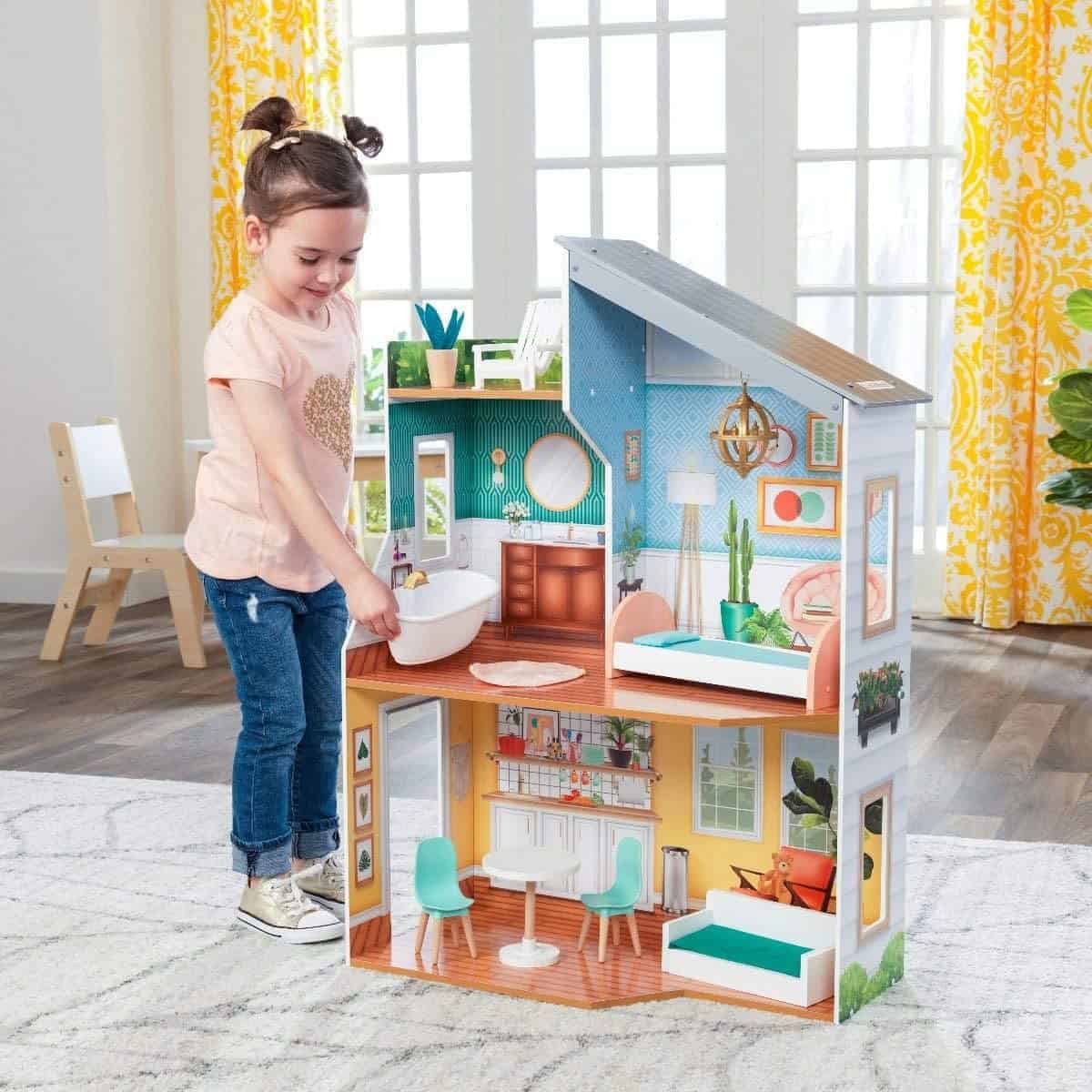 The immense KidKraft Emily dollhouse full of rooms is super fun to play with your friends.
This is possible on both sides of this modern house due to the 360 ​​degree design. It has three floors and even a roof terrace!
The stylish wooden house with angular roof is quit an experience for parents and children. The furniture is very trendy and retro, from the built-in bookcases to the accessories.
The furniture all has extra storage space, because you can simply lift the tops or slide them back to hide things.
The kitchen has an oven that can also be opened. The many open doors, windows and stairs are a feast for the eyes and offer your child a lot of fun.
Also view this demo:
There is room for anything on the shelves of the cabinets, so that children can play actively and use their imaginations.
The dollhouse has a sloping roof and a solid wooden construction.
The house comes with an owner's manual that includes detailed, step-by-step assembly instructions.
View the most current prices here
Best Toddler Dollhouse: PJ Masks Mission Control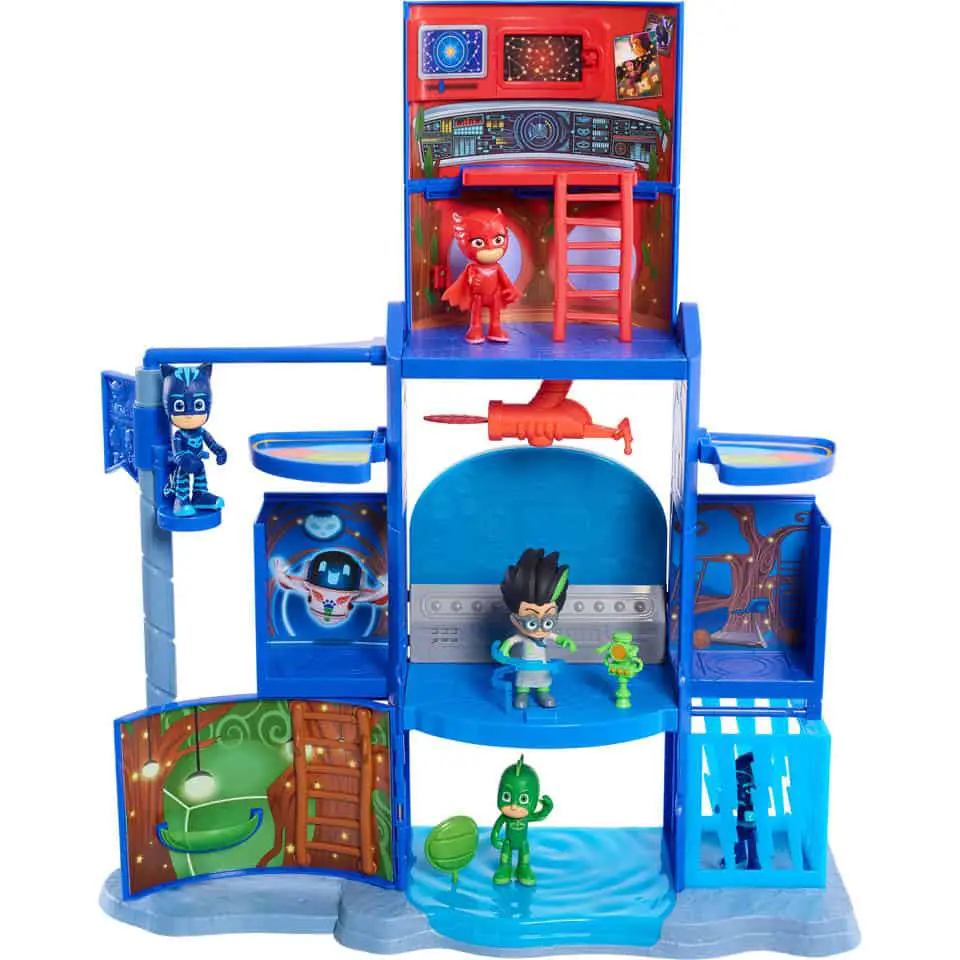 The PJ Masks Mission Control Playset from Simba consists of three floors. The house of these three television heroes is ready to play with!
You can turn the Catboy doll up and down on the corkscrew and there is a secret trap door in the house to catch crooks.
The three TV figures have a rocket launcher to defend themselves properly.
In the headquarters plans are made for a serious thief hunt. There is a play set with light and different sounds, fun for the little ones.
The 57 centimeter headquarters contains a Catboy, Gekko, and Romeo character and some nice accessories.
Check prices and availability here
Best Duplo Dollhouse: Modular 10929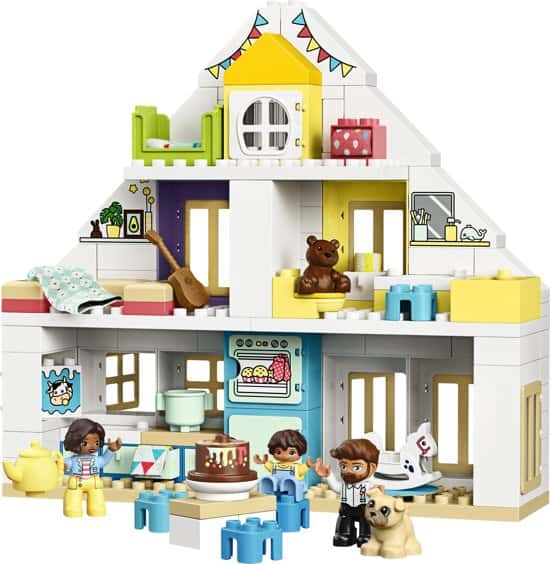 Which children do not love to play with a dollhouse?
And with this easy to build dollhouse LEGO DUPLO Modular Playhouse
you as a parent can also share in the fun!
This modern and colorful house suitable for toddlers teaches your child what happens in a household every day: sleeping, cooking, eating, and so on.
The house comes with a mother, a father, a child with his teddy bear and a dog.
It could have been a bit more modern at this time, because there are also families with two mothers or two fathers of course.
In any case, Duplo's intention was to create a sense of security for your toddler. Parent and child can discover all play options together.
You can even convert the house together into a tower house or a private house! Very educational dollhouse for toddlers, highly recommended!
Watch it here
Best dollhouse suitcase: Vilac Maison de Poupee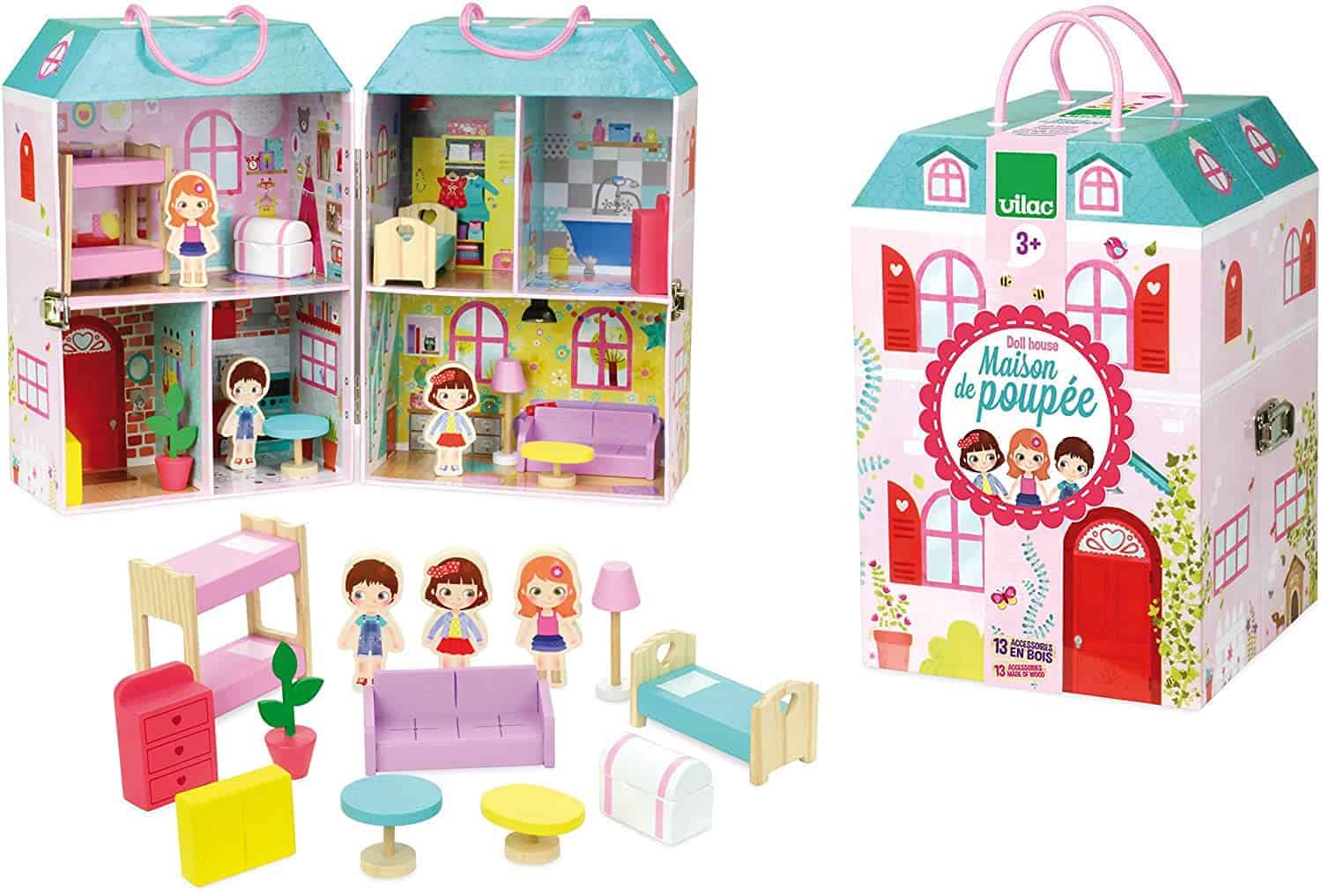 This beautiful Wooden Dollhouse Suitcase 30 X 22 X 28cm from Vilac is a collapsible dollhouse with a handle, which is nice and easy to carry as a briefcase.
The somewhat simple-looking house is white with a red roof and bright pink windows. The bright pink door can be opened and closed.
Your child can easily reach everything during his play because the side is very easy to remove.
Despite the advice 'suitable for all ages', the set is really made for the somewhat smaller kids from the age of three and consists of 24 parts.
The size of this dollhouse is 30 x 22 x 28 centimeters.
This suitcase set is for sale here
Best Dollhouse Bathroom: Goki 17 Piece Wood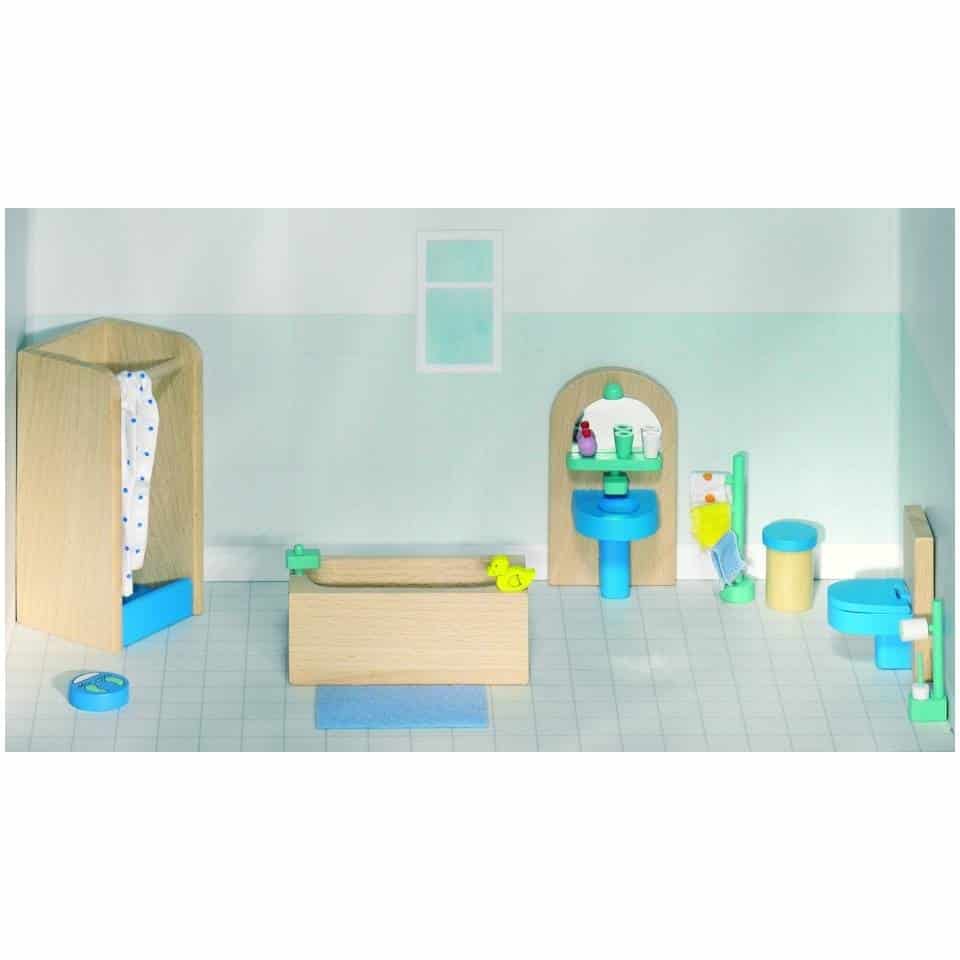 This beautiful Goki Wooden Dollhouse Modern Bathroom 17-Piece fits, among others, in the Goki Wooden dollhouse, which we have discussed above in the category "dollhouse suitcase".
This bathroom made of wood consists of 17 accessories, including a shower (the height is 14 centimeters) complete with shower curtain, bathtub, scales, sink with mirror, toilet, washing drum and towel rack.
The colors are soft and combine beautifully with the natural wood.
This dollhouse does not only fit in a Goki house, but is suitable for all doll houses.
Check out the latest prices here
Best dollhouse with stairs: Kidkraft Kayla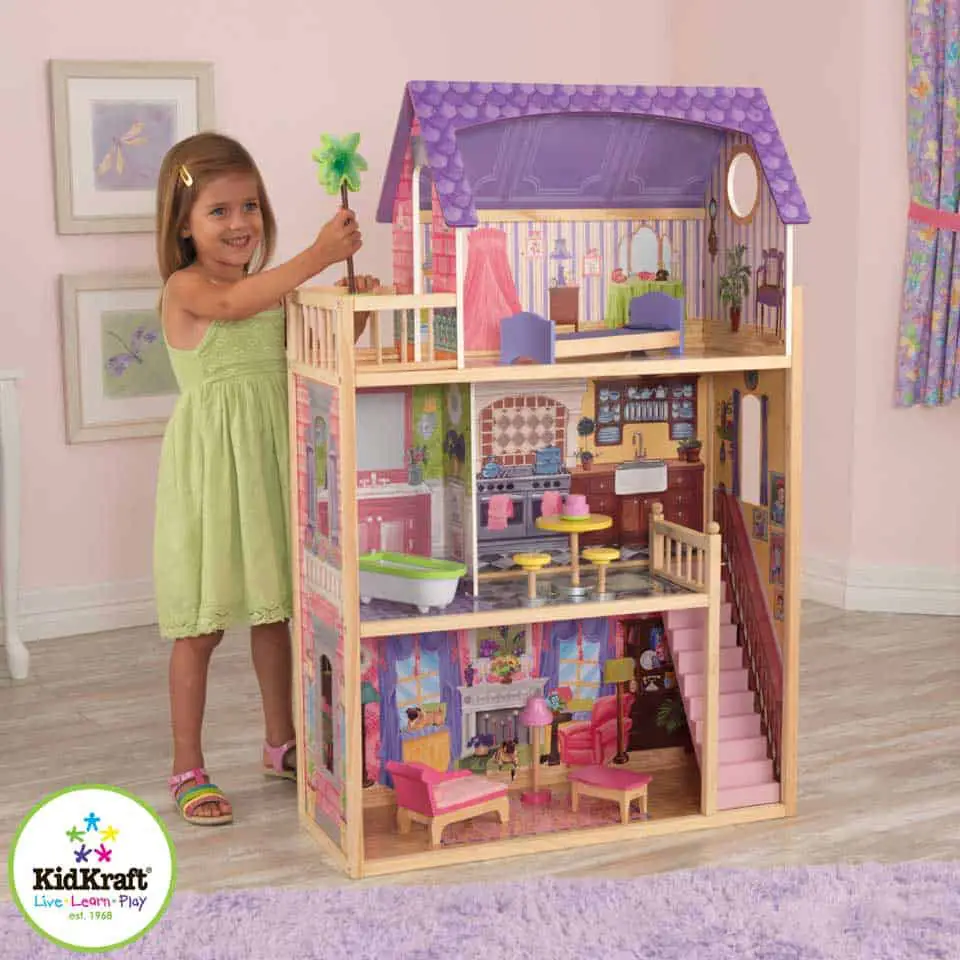 Your dolls can live wonderfully in the colorful Kayla Dollhouse from KidKraft.
This three-storey dollhouse of almost 120 centimeters high has four rooms and a beautiful patio, the colors used are soft, lilac and pink are the most present.
Your children will love all the sunny rooms.
The hand-painted furniture, which is in the ten-piece accessory set, gives your child a lot of options to furnish the Kayla house.
It can hold dolls of up to 30 centimeters. The dream house has a plastic staircase and a balcony. It also has a sturdy wooden construction.
There is an instruction booklet with detailed, clear instructions for assembling the house.
Check the most current prices and availability here
Best Pink Dollhouse: Le Toy Van Sophie's House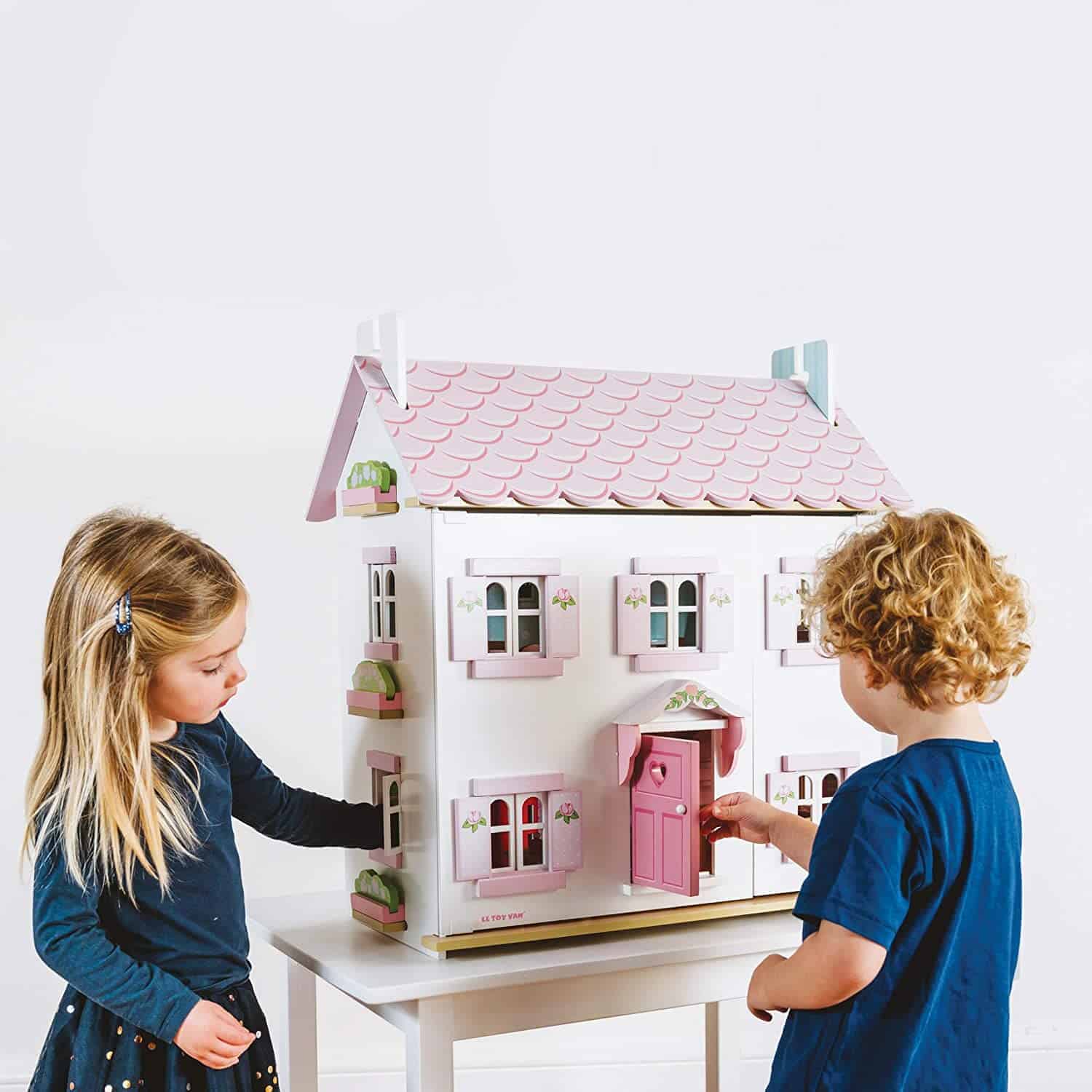 The Le Toy Van dollhouse Sophie is a large wooden dollhouse that is completely open. It has four floors and has a dining room with a dining table and a kitchen.
There is a staircase to the first floor, the living room is here and also the bathroom.
On the third floor there is a dressing room and a bedroom, above that there is a roof terrace with real sun loungers!
Your child can come up with and play their own stories with this cool pink dollhouse. It is suitable for children from the age of three and can accommodate dolls of up to 30 centimeters in the house.
Check prices and availability here
Cutest dollhouse with 3 floors: Kidkraft Poppy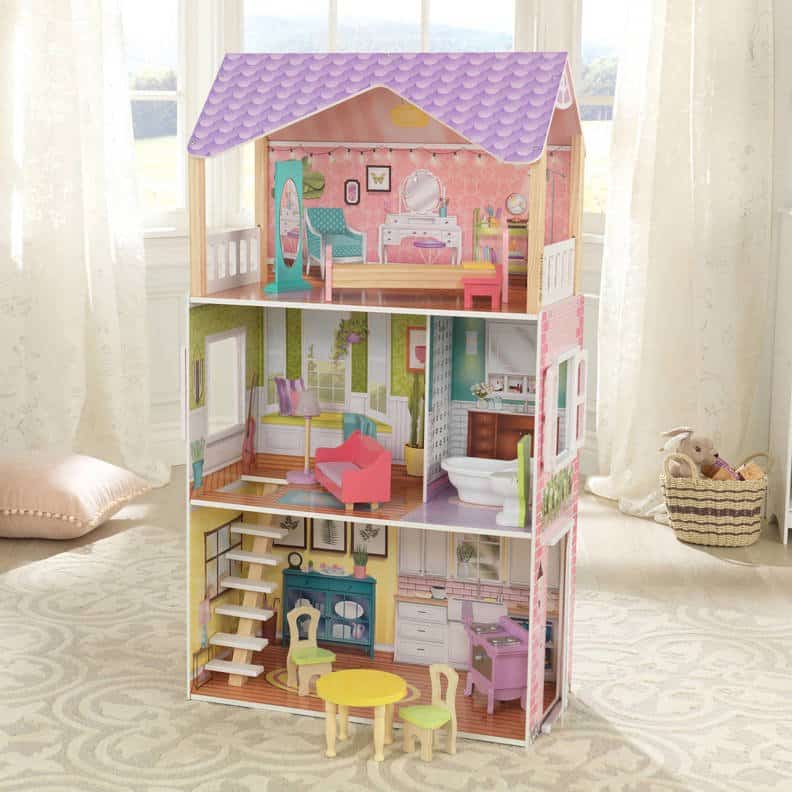 Let your child dream and play with the beautiful KidKraft wooden Poppy wooden dollhouse.
The house is nearly four feet high and the dollhouse has three floors with four rooms.
In this beautiful mansion children can have so many adventures with their dolls (up to 30 centimeters), it is crazy!
The dollhouse has real working window shutters and a working front door. There are eleven accessories and it has a beautiful wooden staircase.
The decorations are detailed and you will find nicely decorated corners. Suitable for dolls no larger than 30 centimeters.
The step-by-step assembly instructions are easy to follow.
Check the latest prices here
Dollhouse lighting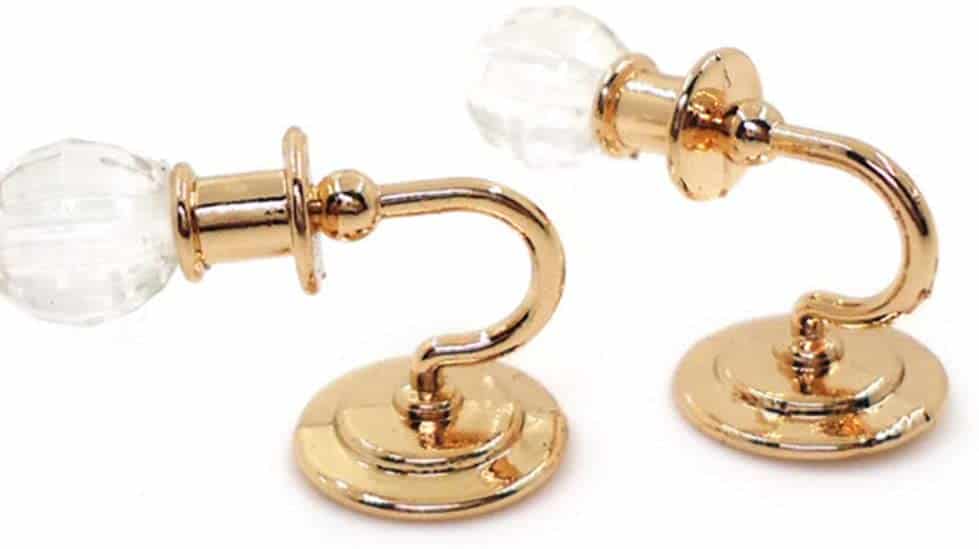 The Osaladi Accessories for your dollhouse are perfect and these lamps ensure that you can create cosiness in your dollhouse.
All accessories are battery powered and suitable for kids from the age of three.
View this set here
Why is playing with a dollhouse good for your child?
Children tend to imitate adults as we all know.
While playing with the dolls and the dollhouse, the children master many skills and can process the impressions they gain.
Think of reenacting, for example, preparing food just like mom does, being afraid of the dark, or being sad because of being bullied.
In this way, children can give everything a place and perhaps come to solutions for their 'problems' themselves.
They can put all their emotions into their game.
Animals also belong in their playhouse world, of course.
Animals represent softness and tenderness, even if it is just a toy version, your little one will feel very good about it.
We can conclude that playing with a dollhouse contributes a lot
to the development of a child and that it is certainly worth buying one.
Dollhouse Fair
At trade fairs you always get a lot of ideas, you can talk and exchange experiences with 'fellow sufferers', in short, great for anyone who is infected with the dollhouse hobby virus.
Some dollhouse fairs also hold competitions and of course there are also exhibitions.
For example, at the dolls house fair in Spijkenisse last November 2019, there were exhibitors with living room sets, lighting, mini sweets as English liquorice, vegetables and various pots and vases.
Many of these accessories are made from clay, but sometimes also with the help of a 3D printer.
It is a true experience for every dollhouse lover, small or large!
Do you need inspiration for building and / or furnishing your dollhouse, then take a look at such a fair.
Do you make your own dollhouse?
Hopefully, after reading this article, you've gotten a clearer picture of dollhouses.
Maybe you want to buy a ready-made house? Then you will be able to make a choice more easily after reading this article.
Or maybe you want to start tinkering straight away to make a dollhouse for your child, or ... maybe for yourself?
Your dollhouse made of plywood or MDF
It is a good idea to make houses from plywood or MDF.
If you want to get started with this yourself, remember that plywood is often too thin and will warp as soon as you wallpaper or paint it.
It should certainly be sanded and primed first, but you may prefer a good quality MDF board, because you can process it immediately.
MDF is available in all kinds of thicknesses and for a dollhouse 9-10 millimeters is suitable, also because windows and doors have an installation thickness of approx.
MDF is strong and smooth, but fragile.
There are therefore special MDF hinges, with an angle, so that the panel is not damaged. Pay attention to which hinges you buy, because there are certainly quality differences.
The opening façade of a large dollhouse can be quite heavy and requires sturdy hinges.
How do you furnish your dollhouse?
Once the house is finished then perhaps the hardest part will come; the furnishing….
Stand in front of the house and furnish the house in your mind.
Maybe you still have to adjust something, what about the ornaments ... will the sofa fit in and the dining table with chairs?
And the impressive chandelier, would it look great in this house? Exciting to decorate it according to your own taste and great to do!
You can use all kinds of materials for the decor such as clay, cardboard, wood and also a 3D printer can come in handy.
You can saw, assemble and paint the furniture yourself, you can make accessories such as sweets or other foods, pots and pans.
Have fun and turn it into a true work of art.
The dollhouses and toy houses simply bought in the store also remain a nice option of course for hobbyists or parents who hate tinkering, or who just want to quickly have a perfect home for their child or for themselves.
There is certainly plenty of choice, from modern to retro, from Barbie pink to a cool gray wooden building.
From delicate to bright colors, with or without accessories or dolls, detailed or coarse, there are really everything available.
There are beautiful, stylish rooms for sale, all ready-made.
Especially from Robotime, the mini dollhouses, or completely furnished corners, are so incredibly beautiful and trendy that you wish the furniture was of a large size and could be placed in your own home!
If your kids enjoy playing fantasy games, then there are these wooden kitchens which we have reviewed.
Gosh, there are really countless of them, so it took us a lot of time to dive in and choose the best one.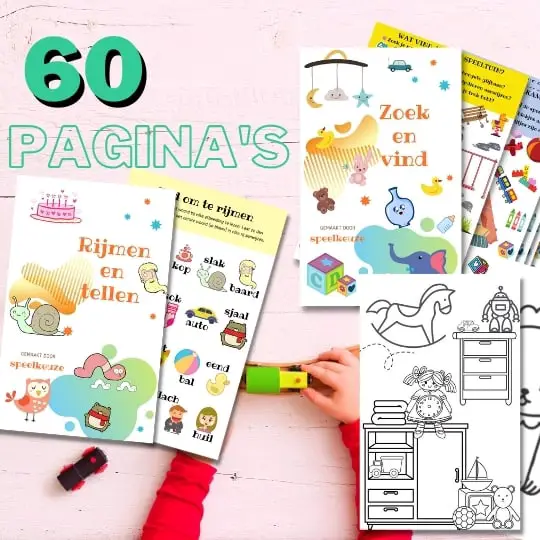 Always something to do for the holidays or rainy day?
Play Choice now has the ultimate activity book collection, with over 60 pages of fun coloring pages and educational puzzles.
Joost Nusselder, the founder of Speelkeuze.nl is a content marketer, father and loves trying out new toys. As a child he came into contact with everything related to games when his mother started the Tinnen Soldaat in Ede. Now he and his team create helpful blog articles to help loyal readers with fun play ideas.