I enjoy writing these articles for my readers, you guys. I don't accept payment for writing reviews, my opinion on products is my own, but if you find my recommendations helpful and you end up buying something through one of the links I may be able to receive a commission on that.
More information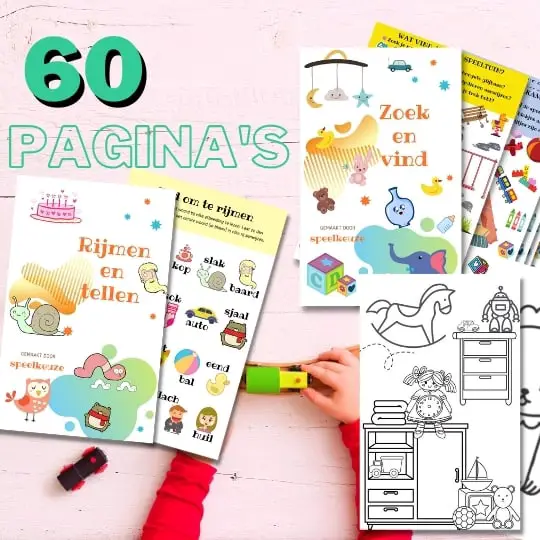 Always something to do for the holidays or rainy day?
Play Choice now has the ultimate activity book collection, with over 60 pages of fun coloring pages and educational puzzles.
Is your child fond of making herself beautiful and would she like to experiment with make-up, or paint nails just like her mom does?
There are many dressing tables on the market, but most are not suitable for children because they are too high or may have sharp edges. Or they look too dull with just a mirror and a few drawers.
That's why I decided to create this buying guide with the best children's dressing tables and in-depth information on what to look for when buying one.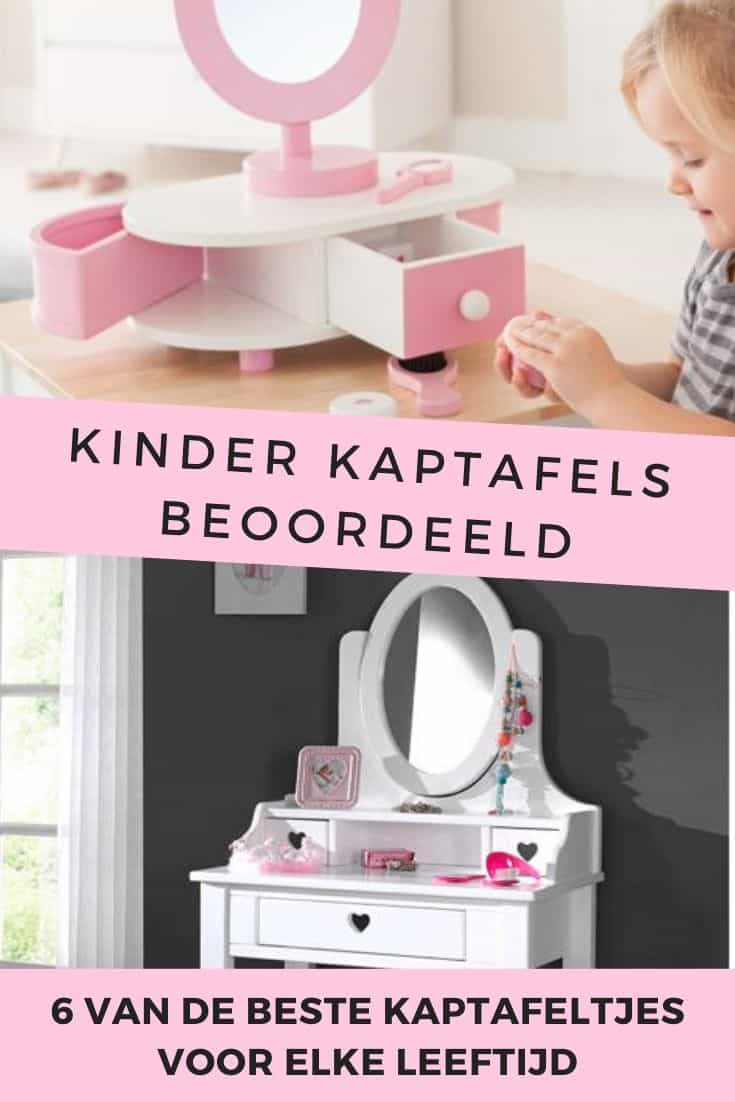 A dressing table not only looks great in your child's bedroom, it is also very useful for storing all (care) items, plus it is a piece of furniture to last.
To buy one that they continue to like and is durable enough I recommend this VidaXL make-up table with a fairly neutral look, super sturdy wood and possibly easy to paint over, they could eventually go in a different direction with their room (which will certainly happen one day!).
Below I have listed the best wooden and plastic dressing tables for children:
How do you choose the right dressing table for your child?
Some dressing tables have drawers and cupboards, so you can store more things in them. A dressing table gives the room in which it is located a unique look.
A cute dressing table can be part of various role-playing games, where a girl can play a princess or even a beauty salon client.
There are a number of things that you should take into account if you want to purchase a dressing table for your child.
We will give you some useful tips in the next section.
Which material are you going for?
As we have already indicated, dressing tables are usually made of wood or plastic.
Dressing tables can look very nice, but are made of poor material.
You don't want that; you want to purchase a dressing table that is beautiful and lasts a long time and is not easily damaged.
So before you buy a dressing table, take a good look at the material, its strength and whether it is one that your child will enjoy for a long time.
Finally, it might be useful to check how easy it is to keep the dressing table clean.
Storage space
Of course you buy a dressing table mainly because your little one would like it.
But in order not to make it a messy intention, it is useful if the dressing table also offers enough storage space for your child's things.
Consider how many things your child has that will be using on the dressing table.
Is your child very fanatic about making up with himself, and will he spend a lot of time at the dressing table?
It might be useful to get a dressing table that has many drawers and cupboards (and of course a nice, large mirror!).
If a dressing table has a lot of storage space in the form of drawers and cabinets, the dressing table itself can be a bit smaller in size.
This way it takes up little space, but you still have enough space for storing your child's things. Because tidy is neat!
With mirror
A dressing table is not really a dressing table without a mirror.
That's what makes a dressing table so much fun: all care items in one place where your child can immediately make themselves up or take care of themselves thanks to the mirror.
Your child does not have to lug around with things, because that can become quite a mess.
Perhaps you and your child can enjoy the dressing table together!
Also check whether the mirror on the dressing table that you have in mind is of good quality.
Can you see yourself well in the mirror? Is it robust, and does it not immediately break with every bump?
It should be a fun product for your child, but safety comes first!
Dimensions
You will probably already have in mind where you will put the dressing table for your child. It is a matter of fitting and measuring.
Do you place it in your child's room, or do you prefer something more central? Or maybe in the playroom?
So don't forget to look at the dimensions of the dressing table, and whether it actually fits in the space you had in mind.
It may be helpful to measure the space and then look for a dressing table that fits within those measurements.
That way you can never be wrong and you avoid disappointments. Your child will not be happy if the dressing table has to be returned immediately!
Color
Finally, your child may prefer a certain color.
Maybe pink, maybe blue or maybe chic white? In that case you must of course also take this into account.
After all, the dressing table is for your child, who should be able to enjoy it as much as possible!
Wooden dressing table or one made of plastic?
In general, there are dressing tables made of wood and plastic.
Om wooden toy simply wood, sometimes glue, screws and water-based paint is needed.
There is a lot more to the production of plastic or plastic toys.
Wooden toys not only last a very long time, the production of wood is usually much more sustainable than plastic.
Take the rubber tree for example, it stops producing rubber after 15 years.
Instead of burning it as was done in the past, the tree is now used to make wooden toys.
Plastic also usually breaks down faster than wood, but some find it easier to clean and less dangerous because it is lighter in weight.
It is mainly a personal choice, although I myself tend more towards wood for older children to have a dressing table as a piece of furniture for the room.
Best children's dressing tables rated
Let's take a closer look at each of the choices:
Overall best make-up table: vidaXL white dressing table with stool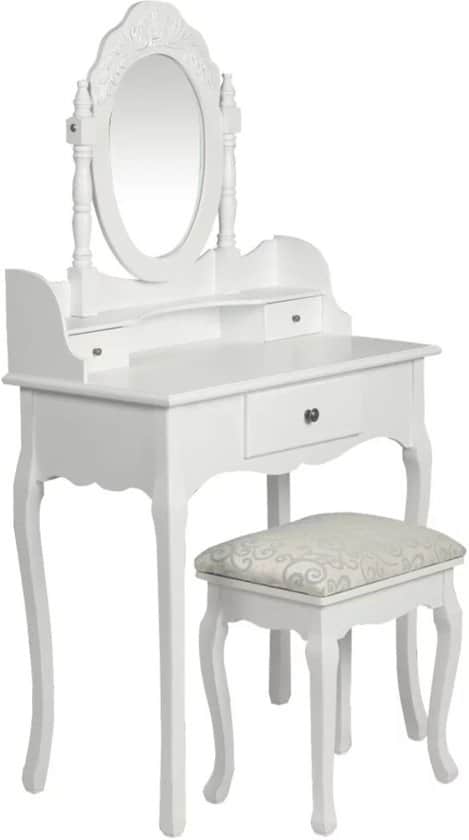 This beautiful, solid vidaXL dressing table is handmade, neatly finished and of high quality.
The table and the stool are made in Brocante style, with romantic shapes and in the color white.
The table has three drawers for storing makeup (also fun to put on a make-up manikin!), nail polish, perfume and other accessories.
The large drawer at the bottom can store quite a bit, and the two drawers above it can store your jewelry nicely.
The round tilting mirror can rotate and has a freestanding frame. The furniture may have some imperfections, as they are all handmade.
The set is made of sturdy wood and the stool has a beautiful fixed seat cushion, made of linen in combination with polyamide.
De reviews here on bol.com could hardly be better. A 4.8 out of 5 with 16 reviews. For example, a customer says:
The Make-up table is perfect! Beautiful, stylish, arrived very well and painted white. I'm very happy with it!
Another customer gave the only point of attention that the finish could have been slightly better, but is otherwise happy with it for the price.
A dream dressing table for every child. Especially for slightly older children.
Best inexpensive dressing table: Dohvinci Frozen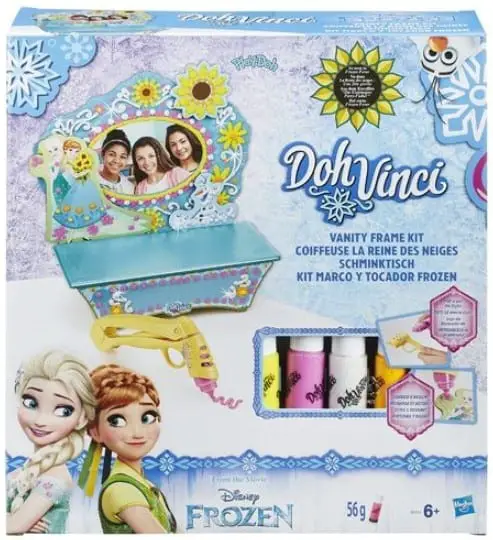 Nice this Frozen dressing table and one of the cheapest on our list.
Does your child love make up and is he or she also a big fan of 'Frozen'? Let your child make her or his own beautiful and unique dressing table.
With this set your child can use his creativity by 'pimping' the dressing table as desired.
There is a special white glitter 'Deco Pop tube' for snow and ice-like Frozen effects in the package and the mirror can be decorated with beautiful curls.
There are a total of four Deco pop tubes, these can be put in the 'Styler' to apply the decorations.
Then your child can stick a favorite photo on it, assemble the set and put loved things in it.
Anna, Elsa and Olaf can't wait to shine on the dressing table!
Customers give it a 4.7 out of 5 because of the creativity you can put into it and their children enjoyed making it.
A customer thought it was a shame that once it has been put together it is really ready and you cannot endlessly innovate or improve your design.
This set is suitable for children from 6 years old.
Best Wooden Dressing Table: Howa Beauty Center Little Lady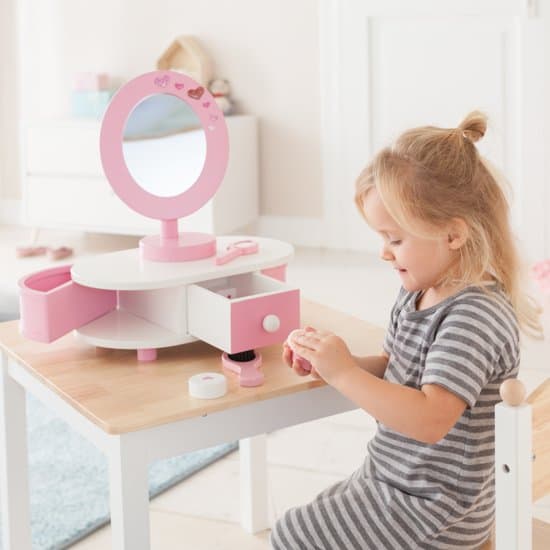 This howa Beauty Center Dressing Table "Little Lady" with Accessories made of wood with oval mirror is the wish of every little princess!
The set comes with twelve accessories; include nail polish, perfume, brush, a hand mirror, hair clips, make-up and sweet heart-shaped stickers.
There are compartments and a drawer to store everything. The set is of excellent quality, does not take up too much space and is painted with safe environmentally friendly paint.
There are currently only 6 reviews of this Howa, but all very positive with a 4.8 average, especially for the strength and good wooden finish.
As one customer says:
The dressing table is sturdy and beautifully finished. The accompanying jars are unique.
Another customer adds that playing with the wooden pots is fun, but that when their daughter gets older they have to replace these accessories with real nail polishes, so perhaps not a good addition for older children.
However, the dressing table is not suitable for children under the age of three, due to the small accessories.
Check the most current prices and availability here
Cutest pink dressing table: Janod Petite Madame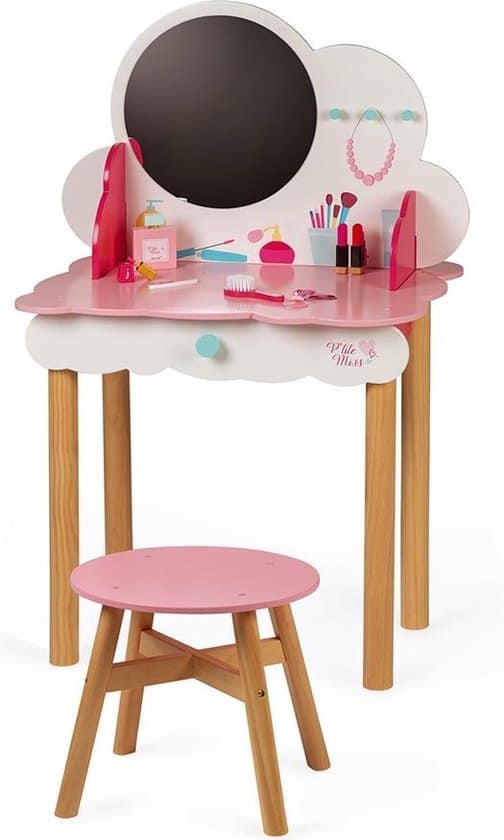 This elegant dressing table make up make-up table Janod with mirror and stool in pink is a dream for all princesses!
The table has a chic, classic look combined with a sleek finish and will look great in any girl's bedroom.
This princess dressing table has nice accessories and also nice drawings on the backboard so that it looks a bit more filled.
This pink dressing table has a make-up drawer where accessories and jewelry can also be stored.
The dressing table does have to be put together and is therefore supplied with an easy manual and mounting materials.
What a nice gift for your child!
Dressing table with mirror: Vipack Amori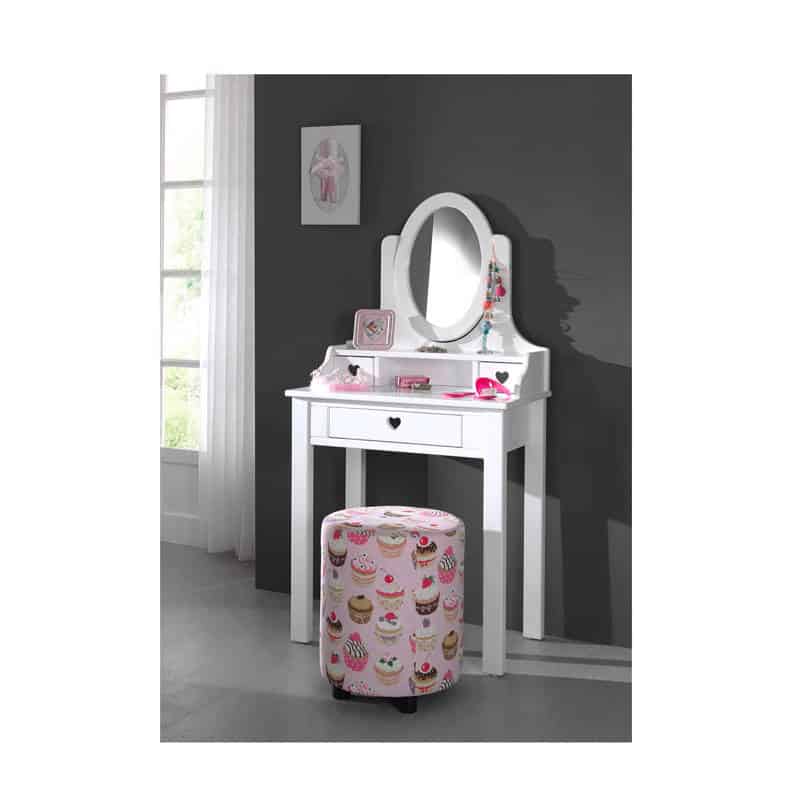 Which little princess would not want this beautiful, and also solid, Vipack luxury dressing table with mirror?
Let's put it first, every girl with an interest in make-up needs a dressing table and it fits nicely in any bedroom!
Mirror mirror on the wall… .who is the prettiest in the country? The tilting oval mirror is wonderful for your child to admire himself.
The white lacquered solid pine, in combination with MDF, provides a sturdy and beautifully finished table.
This table also has three drawers to store make-up items, perfume, jewelry and other small accessories.
There are hearts in the drawers to slide them open. The dressing table is a DIY kit and comes with simple assembly instructions.
The bedroom can be supplemented with other furniture from the Amori series, a style of furniture for the room of slightly older girls.
The Amori dressing table from Vipack comes with a full three-year warranty. An excellent and very nice choice for your child!
Nicest dressing table for your toddler with accessories: VidaXL with light and sound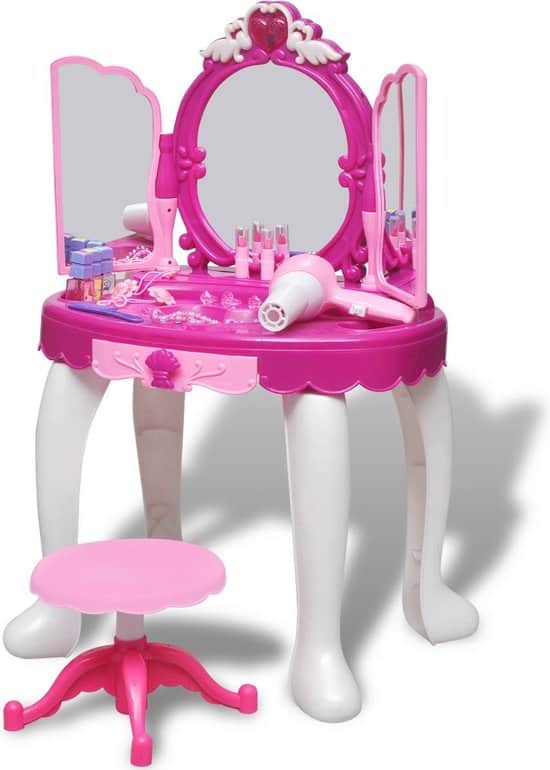 With this plastic Dressing Table Set With Stool Chair / Mirror & Accessories every girl will be delighted!
This very extensive dressing table or make-up table is everything a girl could wish for.
The table in pink and lilac has a striking bright pink folding mirrors so that it does not take up too much space, and gives music. The set comes with a nice stool and is full of nice accessories:
there is make-up included,
a hair dryer,
some fake jewelry
and a number of other things.
Everything can be nicely stored in the round flowers with lid or in the handy drawer.
The mirror and hair dryer are battery operated and the dressing table is not suitable for children under the age of three.
This set will be appreciated by your little girl! He gets one 3.3 at bol.com from a number of customer reviews and that is mainly because it is a bit smaller than they expected.
A customer states that he is more suitable for younger children than the 3-5 listed on the box.
Why a dressing table for your child?
A dressing table can help a child to take care of themselves from an early age.
It is not only fun for your child, it is also educational. A child must of course learn that it must be able to take care of itself at some point.
Then we are of course not necessarily talking about make-up.
Also, for example, epilating facial hair or applying moisturizing cream is part of taking care of ourselves and looking as fresh as possible.
Perhaps the child finds it much more interesting to care for and make up others. Or to paint the nails of a friend.
Or maybe make up each other for a theme party. It's all possible with a dressing table!
It is not necessarily about a child becoming very involved with caring, it is more about learning how it works.
Children's dressing tables look more like dollhouses than replicas of adult dressing tables.
The play element is still the most important, that children learn in a playful way what a dressing table is used for.
Children are generally curious creatures. They learn through imitation and that is part of their development.
Children see their parents do certain things and try to imitate them.
That is why it is of course important that the parents set an example for their children, in order to create neat and well-behaved children.
Once the kids have been practicing with their own makeup and grooming supplies long enough, get ready.
The mother's makeup bag will usually suffer!
You are beautiful just the way you are!
Conclusion
It is therefore normal and good for development if children at some point start to make up or take care of themselves.
But as a parent it is important to emphasize that your child is beautiful as it is.
We are constantly exposed to perfect models on television or on the internet, making it self image of many girls is often very negative.
Let your child play and experiment with care items, but above all emphasize that it is naturally beautiful!
Also nice for great fantasy play: Does your child prefer to sing all day long? Check out these kids microphones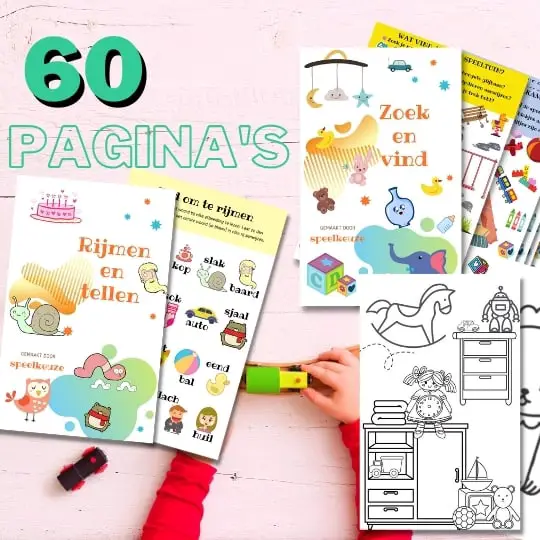 Always something to do for the holidays or rainy day?
Play Choice now has the ultimate activity book collection, with over 60 pages of fun coloring pages and educational puzzles.
Joost Nusselder, the founder of Speelkeuze.nl is a content marketer, father and loves trying out new toys. As a child he came into contact with everything related to games when his mother started the Tinnen Soldaat in Ede. Now he and his team create helpful blog articles to help loyal readers with fun play ideas.