Best games and activities with cardboard boxes: 8 creative ideas + explanation
I enjoy writing these articles for my readers, you guys. I don't accept payment for writing reviews, my opinion on products is my own, but if you find my recommendations helpful and you end up buying something through one of the links I may be able to receive a commission on that.
More information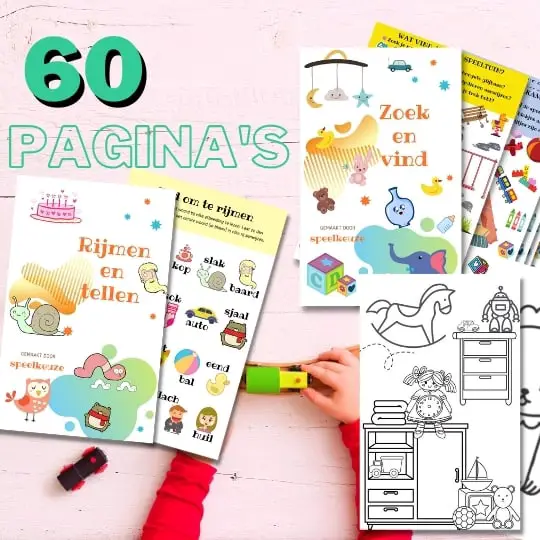 Always something to do for the holidays or rainy day?
Play Choice now has the ultimate activity book collection, with over 60 pages of fun coloring pages and educational puzzles.
In fact, you only need a little to be able to play well. Sometimes you just have to be a little more creative!
I'm sure you'll be at home sometime what to order online. Often these types of products are delivered in a cardboard box.
You can of course put that box with the old paper, but you can also use it to play with!
Making and inventing games yourself is not only fun, it is also super low budget, and you use material for what would otherwise end up in the trash.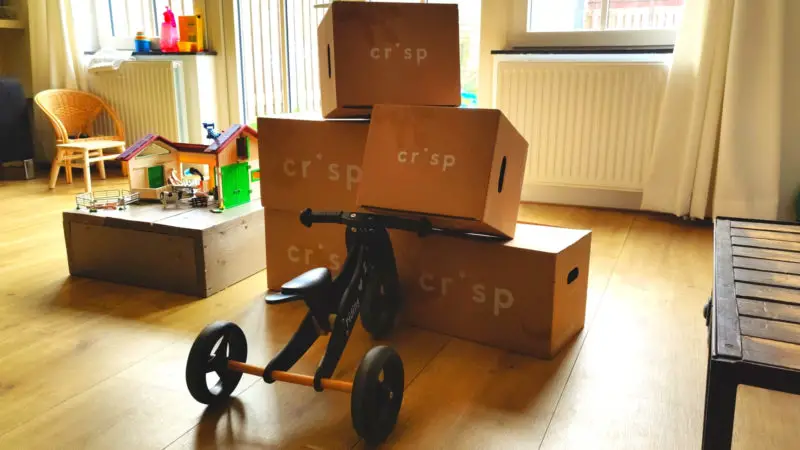 Playing with cardboard boxes will teach children to think creatively and also stimulate their imagination. The nice thing about it is that children can have hours of fun with cardboard boxes.
And if you have a pet, that's a bonus: dogs and cats love to join in too!
Not an expensive toy. With a cardboard box, some markers or paint, empty toilet rolls and other materials you can easily stimulate a child's brain.
Maybe they'll come up with something themselves: make a house, a marble run, maze, or something else creative. An idea comes naturally, sometimes it just takes a little boredom!
In this article, I'll give you tips for games and activities that you can do with cardboard boxes to encourage imaginative play in your kids and have fun afternoons.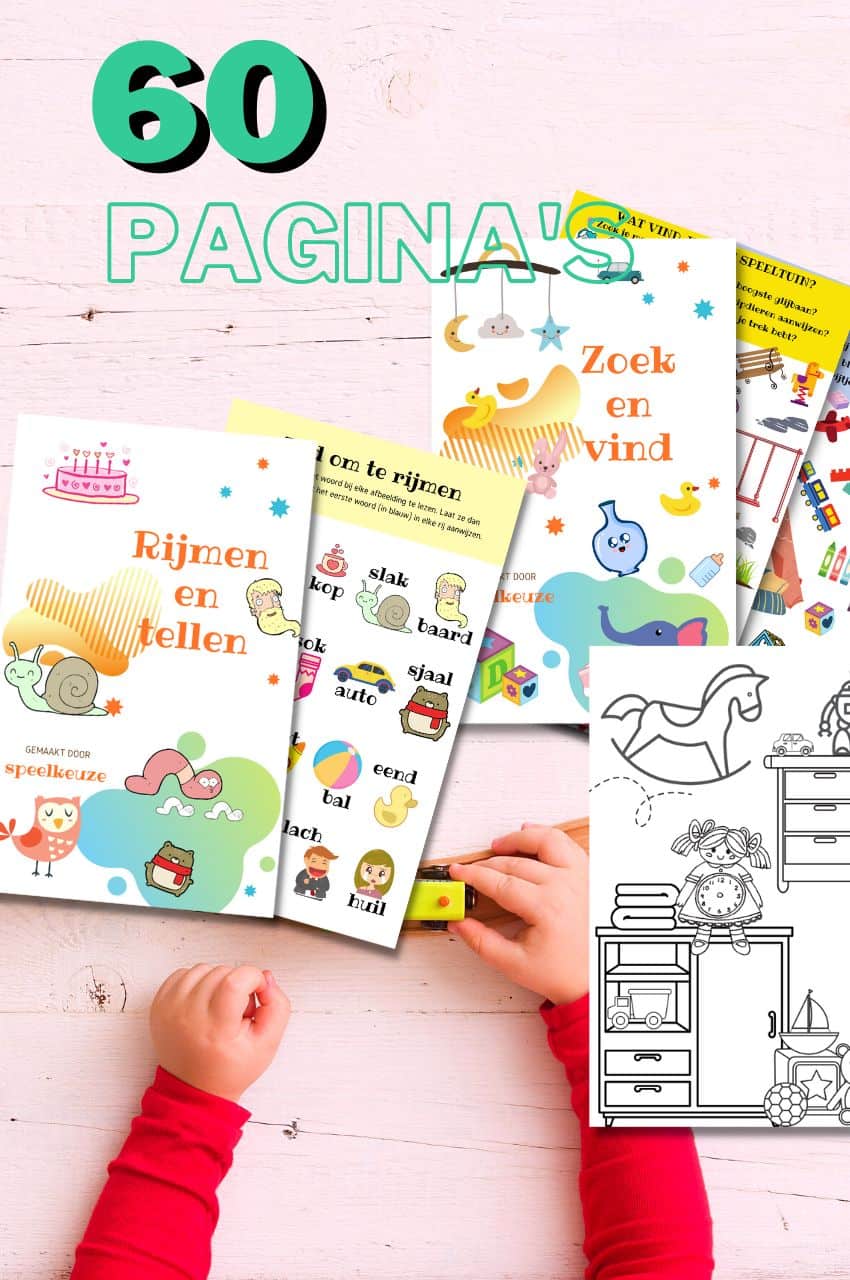 A play theme in your mailbox every month?
Fun play tips, activity books and more, with the first email being our free mini-guide "educational toys"
We will only use your email address for this newsletter and respect your privacy
What we discuss in this comprehensive post:
Boat, car or plane
Have you unpacked your purchase? Do not throw the cardboard box away! With a little imagination and a few extra materials, you can turn it into a phenomenal vehicle.
For example, think of a boat, a car, or an airplane. But you can also think of a space shuttle, a rocket, a UFO and much more!
Let your child use his or her imagination, everything is possible!
It is important to take into account the size of the box and that of your child: your child must of course fit in the 'vehicle'.
To make a vehicle from a box, you can basically keep it very simple. You can decorate and edit the box a bit. You often come a long way with a little (childish) fantasy.
In addition to a box, you may need a pencil, a utility knife, some glue, and markers to decorate the vehicle with. Don't forget to seal the bottom.
For example, as a steering wheel for the car, take a plastic plate, a lid, or a toy steering wheel if you have one.
For a plane that takes you to your favorite vacation destination, fold out the flaps of the box.
If you want to go all-out, take a look at Bug's creation here:
Crafting a cardboard vehicle is fun to do and a child can play with it for hours.
Maze
If you have a fairly large space and a lot of cardboard boxes, you can create an exciting maze.
Playing with mazes is an old and traditional game that children will never tire of.
There is also nothing more fun than finding the right way through the maze, to eventually arrive at the exit where there may be a hidden treasure.
This game is also good for concentration.
Making a maze is easy. You just need some boxes, a pair of scissors or a knife, some tape to secure the boxes together, and maybe markers or other materials to decorate the maze.
Ideally, you take the boxes apart, flatten them and then connect them together.
It will be a bit of trial and error, but guaranteed to be a fun challenge for (you and) your kids!
The children will crawl their way through the maze.
To make it extra exciting, give your children a flashlight or a different kind of light (for example a bicycle light) to find their way through the maze.
If the boxes are spacious enough, you can also hide objects in them, for example, so that children can score extra points when they find the objects and take them to the exit.
Also make sure to make some dead ends and put a price at the exit. Simple but fun game!
ball tent
Play a game against your friends with balls and a cardboard box? That's so squeaky!
With some holes in a box you can try to aim the balls through the holes. Who scores the most points?
Cut circles from a large cardboard box. Give each circle a certain number of points. The small circles should give you more points, because it is more difficult to aim a ball into them.
Let the children keep track of their points and add them up, they immediately do their math homework!
For the smaller children, instead of throwing, they could put the balls through the holes with their hands.
Good to to practice their fine motor skills!
cottage
Simple but guaranteed fun: build a house out of a cardboard box! The box should of course be a bit bigger, so that your child fits in his or her house.
You can just put the box on its side and turn the flaps into a roof. Cut or cut doors and windows in it, and your house is ready.
The supplies are one or more cardboard boxes, glue, scissors or sharp knife and pencils/markers/paint for decoration if necessary.
For example, you can make real roof tiles from red paper. You can add a house number and maybe even a sign with your last name.
By decorating the house, children will stimulate their imagination.
In addition to a house, you can also turn it into a castle, for example, where children can experience all kinds of self-invented adventures.
Children can, secluded in such a house, each other tell exciting stories, 'cooking' for each other, or doing other role plays. Children really don't need much more to spend a pleasant day.
Making a house out of cardboard is not difficult. Involve children in the building process, they will get started enthusiastically.
In helping the 'construction', children will gain basic architectural knowledge.
dollhouse
If you have none dollhouse maybe because it's too expensive, or because you haven't been able to find the right one yet, a cardboard dollhouse is a simple and fun solution.
The popular Barbie, Disney or other toy houses are quite pricey.
Making a dollhouse out of cardboard costs nothing, it's done in no time, and all you really need besides some cardboard, glue, scissors or knife and material for the decoration is imagination.
Determine the layout of the box: the box can be opened from the open side, upright, or alternatively as a 3D model that you can see from the top.
Then choose the number of floors. In any case, make more than one room, that's just more fun and realistic.
The bigger the box, the more ways you can go. You can take the flaps that are not needed out of the box and use them as dividers, or else take extra cardboard from other boxes.
In a traditional two-story dollhouse, make the dividers in a simple cross shape. That way you get four rooms.
This video from Too Simple Crafts gives a lot of inspiration to make a beautiful dollhouse with simple materials:
If you want more rooms, you can slide more dividers into the box and you can make slots in the cardboard lengths that can slide over the already mounted dividers.
If you opt for an upright house, the house will have two floors.
If you make a model where you look into the dollhouse from above, you can also add dividers to distinguish different rooms or spaces.
What little girl doesn't love a dollhouse? And how about the tough boys, they can also play with them!
It's really worth it to just make a dollhouse yourself. Children are quickly satisfied and it really doesn't have to look luxurious.
With just a few simple materials, you can create something very original.
Look here for the nicest dollhouse furniture & accessories.
Puppet show
Make a puppet show from a cardboard box! Then you can give performances for your friends or family. It's not hard to make yourself at all.
Turn the cardboard box on its side and cut a square hole in the top. Hang some curtains of fabric in front of it, and you actually already have the basics. You can of course decorate the front a little more!
You will need: a cardboard box, a pair of scissors/knife, paint/markers and of course hand puppets for the performances.
Keep in mind that when you cut out the square hole where you will be holding the performance, you make it high enough so that you can sit comfortably under it without the audience seeing you!
Optionally, instead of a square hole, you can also cut hatches that you can open and close.
Once the puppet show is exactly how you want it, the show can begin! Collect all your friends and family, make up a nice story and let the show begin.
Puppet show is a very nice game for children from around 5 years.
marble track
You can use half a cardboard box in terms of height to make your own marble track, and line it on the inside with colored paper or stickers, for example.
You don't even need a big box for this, as long as you have enough space to let the marbles roll.
To make your own marble run you will need: a piece of flat cardboard, a pair of scissors or a knife, markers, empty toilet rolls, glue and marbles.
The idea is that you use scissors or a small knife to make a few holes in the cardboard where you will try to roll your marbles in.
Make both small and large holes. The marbles should fit easily into the holes.
With the half (painted) toilet rolls and kitchen rolls you make tunnels, through which you have to get the marbles through.
To make it extra difficult, for example, you can place a toilet roll right in front of a hole.
Decorate your marble run to your heart's content!
It may also be useful to make a border with cardboard around the marble track, so that the marbles will not roll off so quickly.
Now it's time to challenge someone to a game of marbles! Who gets their marbles into the holes the fastest or the most often?!
Keep in mind that the lanes always slope slightly down, otherwise the marbles can get stuck and won't roll any further.
It is actually a fun job to make your own marble run and then play with it for hours!
Look at this one for inspiration 10 best marble tracks rated in each age category
feel box
Make a feel box and challenge your friends to fun feel games!
Take a cardboard box and make two holes in it at the top and a divider on the inside.
Put various items in the box, but with at least two copies of an item on each side of the wall. For example, a clothespin on both sides, and then further pens, dolls, cards, etc.
Keep the kids feeling and getting two of the same items out of the box to score points!
You can also play other games with a feel box. For example, you can also let children guess what they have in their hand.
Playing with a tactile box stimulates the imagination, the sense of touch and communication skills.
Boxes of debris
My son thought this was one of the FUN games to play….
Boxes of debris.
They were piled up like a kind of mountain or maybe fortress and you could then knock them over with a bicycle (and I was allowed on a dog, you know one of those construction trolleys that we still had from our move).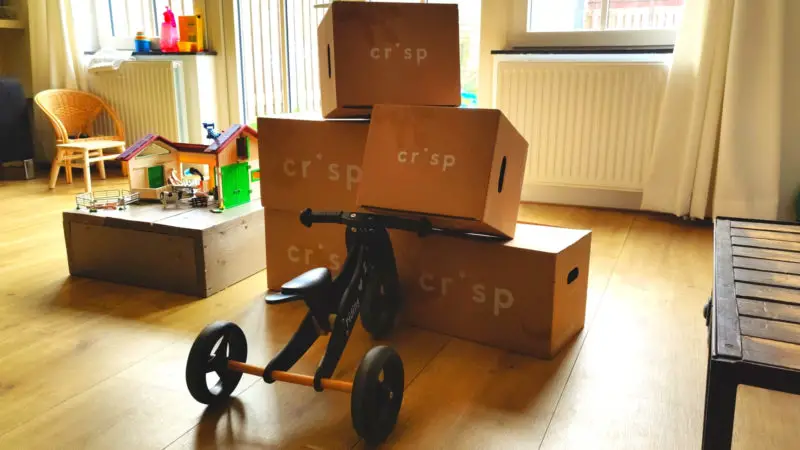 Driving them over was a lot of fun, but he also thought it was really funny to try and drive around the debris like there was a roadblock!
Super funny, he was about three years old at the time.
Crafts with a baby: did you know that you can start from 6 months?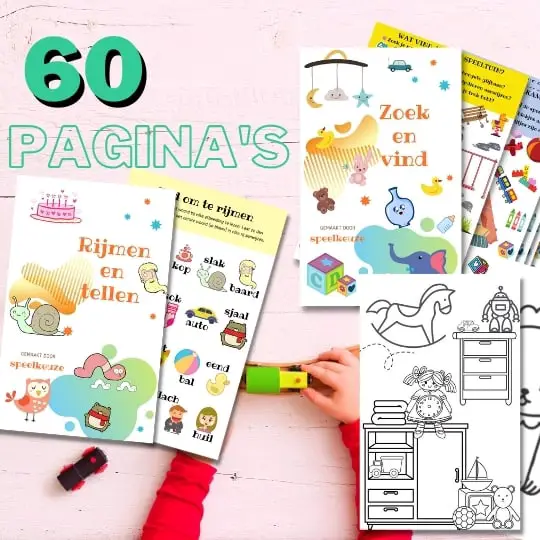 Always something to do for the holidays or rainy day?
Play Choice now has the ultimate activity book collection, with over 60 pages of fun coloring pages and educational puzzles.
Joost Nusselder, the founder of Speelkeuze.nl is a content marketer, father and loves trying out new toys. As a child he came into contact with everything related to games when his mother started the Tinnen Soldaat in Ede. Now he and his team create helpful blog articles to help loyal readers with fun play ideas.