Best gift for toddler who already has everything | You can arrive with this
I enjoy writing these articles for my readers, you guys. I don't accept payment for writing reviews, my opinion on products is my own, but if you find my recommendations helpful and you end up buying something through one of the links I may be able to receive a commission on that.
More information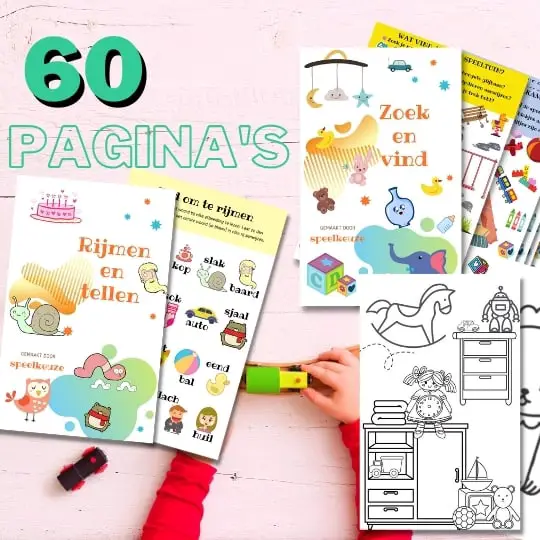 Always something to do for the holidays or rainy day?
Play Choice now has the ultimate activity book collection, with over 60 pages of fun coloring pages and educational puzzles.
Do you recognize it? Someone asks you what your child would like for his birthday and you just don't know what to answer.
Today our children simply have a lot toys, and nothing can go away!
But what can you do such toddler who already has everything then give it as a gift? In this article I have the more unusual and unique gift ideas for you, so that no one has to arrive empty-handed.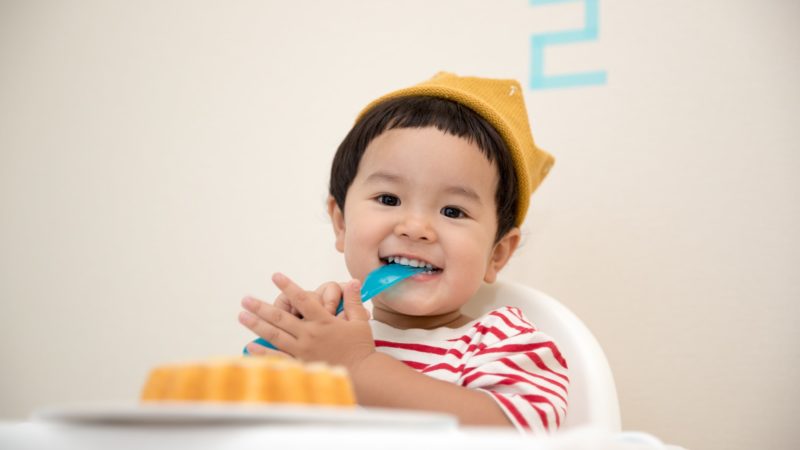 After years of writing about toys, I now know which toys children often already have, but these are the gifts that people may not think of at first, but that will make a child very happy.
I would give an experience to a child who really already has EVERYTHING. This is a broad term and can really encompass anything. Take the toddler for a day to a play paradise or theater show of his favorite heroes. With this you give the little sprout an unforgettable day, exactly what you wanted… right?
If you would like to hear other tips and ideas, please read on!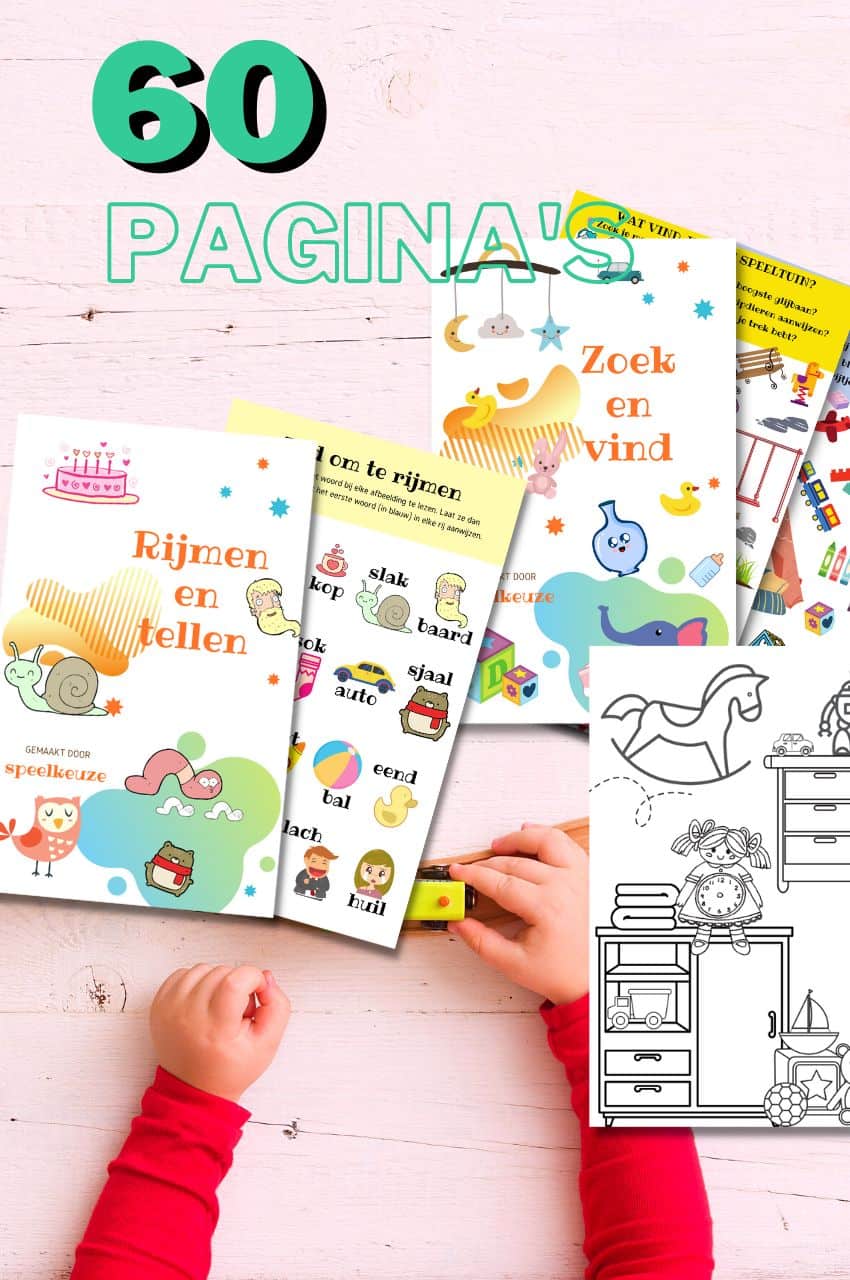 A play theme in your mailbox every month?
Fun play tips, activity books and more, with the first email being our free mini-guide "educational toys"
We will only use your email address for this newsletter and respect your privacy
What do you look for when buying a gift for a toddler?
When looking for a gift for a toddler's birthday or other important event, keep the following in mind:
buy something the child wants
something it needs (consult mom and dad)
something to wear
something useful or something to read
Then you are always good. Especially if you want to buy something for a child who actually has everything, and you want to come up with a different kind of gift.
With my tips below, choosing a nice gift will be a piece of cake.
Let's not contribute unnecessarily to an even bigger toy mountain, but instead choose a gift that will be more useful to a child and that will also make Mom and Dad extremely happy.
Best gifts for toddlers who already have everything
Experience
When giving a present, we almost always think of something tangible, such as toys. However, it is just as nice to give a child something that is not tangible.
As I mentioned earlier, you can, for example, give an experience as a gift. This can really be anything. If the birthday boy or girl likes shopping, take him or her with you for a day and let the child pick out a present.
Furthermore, tickets for a concert or theater show are also great fun, a day at the zoo, playing all day in the ball pit or a visit to a restaurant with a nice play corner.
I have here a nice list of the nicest children's parks, amusement parks and amusement parks in the Netherlands.
A day at the pool is always fun, a nice outdoor swimming pool in summer, and a tropical swimming paradise in the colder months.
There are many types of experiences, so it really isn't difficult to choose one that suits the little one.
If you have a low budget, you can of course also create an experience yourself, such as set up a scavenger hunt or find a treasure. Small children generally don't need a lot to enjoy themselves.
It is also so nice to announce the gift in a creative way. If you take the child to a theater performance, buy a matching suit (such as a pirate suit for a theater show by Piet Piraat). Use your imagination!
Subscriptions
Give the child a subscription as a gift! There is a service or magazine that may be of interest to every age group.
To make it a bit more personal, you can already buy a copy (of a magazine, for example, such as the always nice Donald Duck) and add a card to it. That way, at least the birthday boy or girl has something to unpack.
Besides a magazine, you can of course also think of a subscription to a playground or zoo, or a museum card (if that is something the child would like).
Once again, be creative with announcing the gift!
Edible gift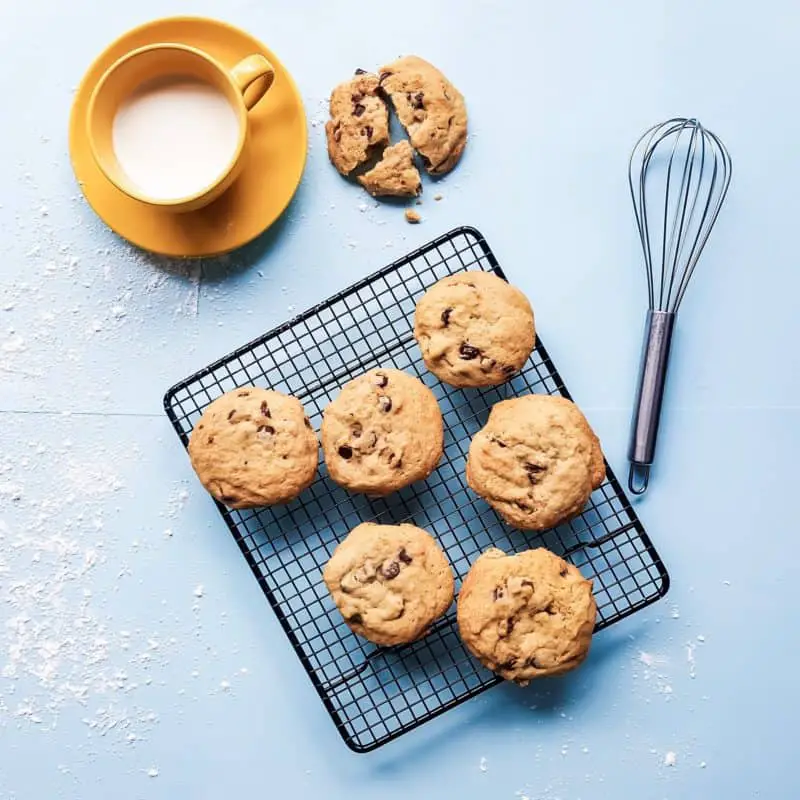 An edible gift might just be perfect because it disappears from view at some point. At least mom and dad will be happy with that.
Think of things that you delicious chocolate chip cookies can bake or cakes. Look for a nice ready-made package, they often look festive too!
You can also think of chocolate; no kid can resist that.
Clothing
New clothes are also something that always comes in handy. Children grow like weeds, so they always need some new clothes.
Go for a few solid pieces that you can easily combine, or something with a nice print.
Ask the birthday boy's parents for the correct size (this is how children's clothing sizes work), you can hardly go wrong.
Always give the exchange voucher with the gift, if you have purchased something that does not quite fit or that the child (unfortunately) does not like.
You can also use a complete children's clothing subscription to consider.
Besides clothes, you can also go for a pair of new shoes! The parents will be very grateful to you, because it is often an expensive expense.
Sports lessons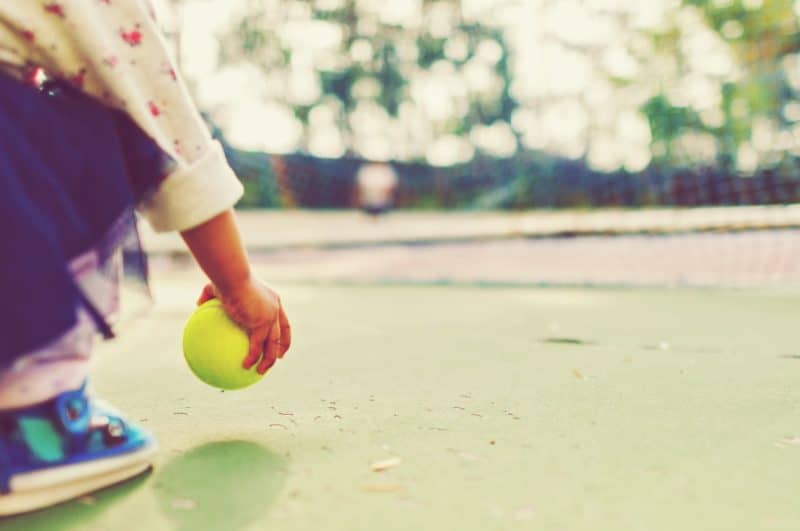 Does the child want to try a new sport? Then a number of free lessons are of course a super nice gift!
It's useful and won't add to that big pile of toys at home.
As is known, exercise and sports are good for a child. Not just for the body (especially gross motor skills), also for the mind.
In addition, a child learns through sports what it feels like to win and lose, and in many cases it also learns collaborate with others.
Exercise is important, so if you're looking for a fun and useful birthday gift, this could be a great idea.
Also read: these are the 7 best ball games for toddlers
Useful gift
What especially the parents will be happy with, is a useful birthday present.
For example, does the child have a new bed or a new wardrobe required? Then you can give it as a gift, or if it is too expensive, you can make a nice contribution to it.
In this way you also give the parents a helping hand, and you are 100% sure that the gift will be used and appreciated.
Ask the child's parents what it needs, and try to adjust your gift accordingly.
Other useful gifts can be: school supplies, accessories or decorations for the bedroom, care products and you name it.
Do you see now? Buying a nice gift for a child who already has everything is not nearly as difficult as you thought!
If you still can't resist buying something materialistic, I've found some unique or interesting products for you that a child might really like.
Vehicles: Fisher Price Little People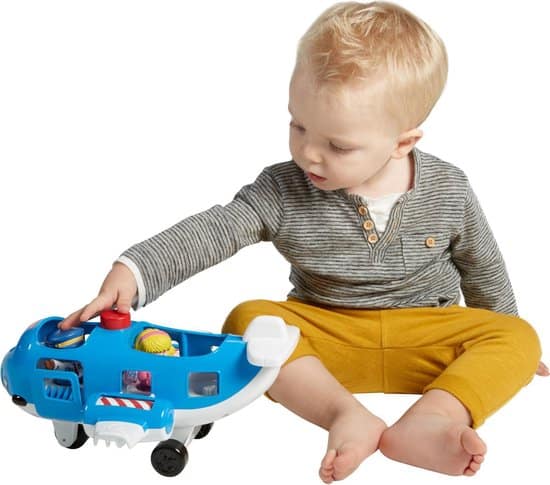 Take toys that can complement or expand other toys.
A good example is this fun plane from the Little People series by Fisher Price. The toy goes perfectly with all the other Little People items and is great for children who love vehicles.
The plane comes with two figures, but all Little People figures basically fit in the plane.
Little People is also a series for children, your little one may already know this one:
Check the latest prices here
Lego: Lego Duplo My first party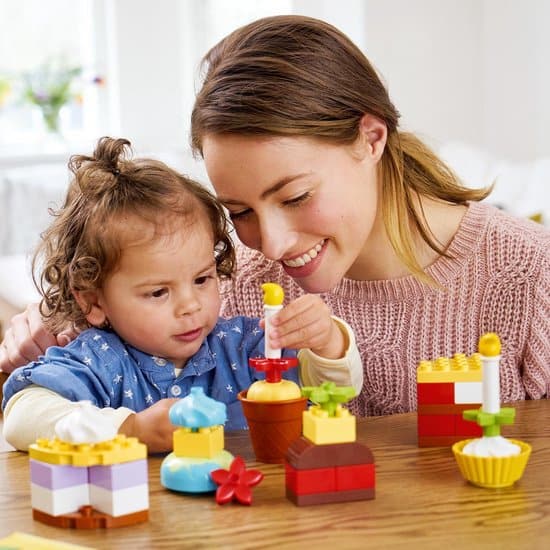 This is a great gift for a toddler's birthday! With this very nice DUPLO set you can build your own cakes and throw a party.
Toddlers will love to decorate the cakes with candles and decorations. They can then 'cut' the cake into four pieces and share it with their friends or family.
In this way they learn what celebrating is and that everyone can enjoy the cake. Toddlers also develop their build abilities and skills with this set fine motor skills.
The toy has been developed for children between 1,5 and 3 years. It is a nice gift for a toddler, which fits perfectly within the theme 'birthday'.
Lego Duplo has been specially developed for the smaller children, so that they can always play safely and fun. The set consists of a large cake and three small cakes and colorful accessories to decorate the cakes.
Family game: Miffy Play Hide and Seek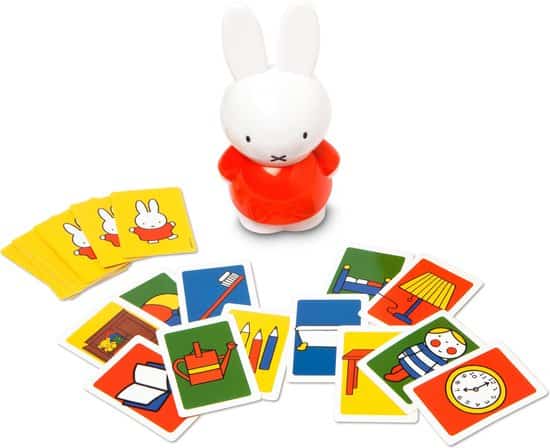 You can also think of a gift that the whole family can enjoy.
For example, think of a family board game, which will strengthen the bond between family members, but can also simply lead to very pleasant game evenings! It is a very nice gift for all members of the family.
Your toddler is of course still a bit small for a complicated game. However, there are all kinds of games that you can play with multiple players, but that are mainly aimed at the toddler.
For example the game 'Playing Miffy Hide and Seek'. This game can be played with 2 to 4 players, is suitable for children from 1 year to about 3 years and is guaranteed to be liked by a toddler.
The intention is that your Miffy hides somewhere in the house and then you press the button. Every 10 seconds Miffy will shout: 'I'm here!'. Whoever finds Miffy first has won the game.
Check the latest prices here
Book: Jip and Janneke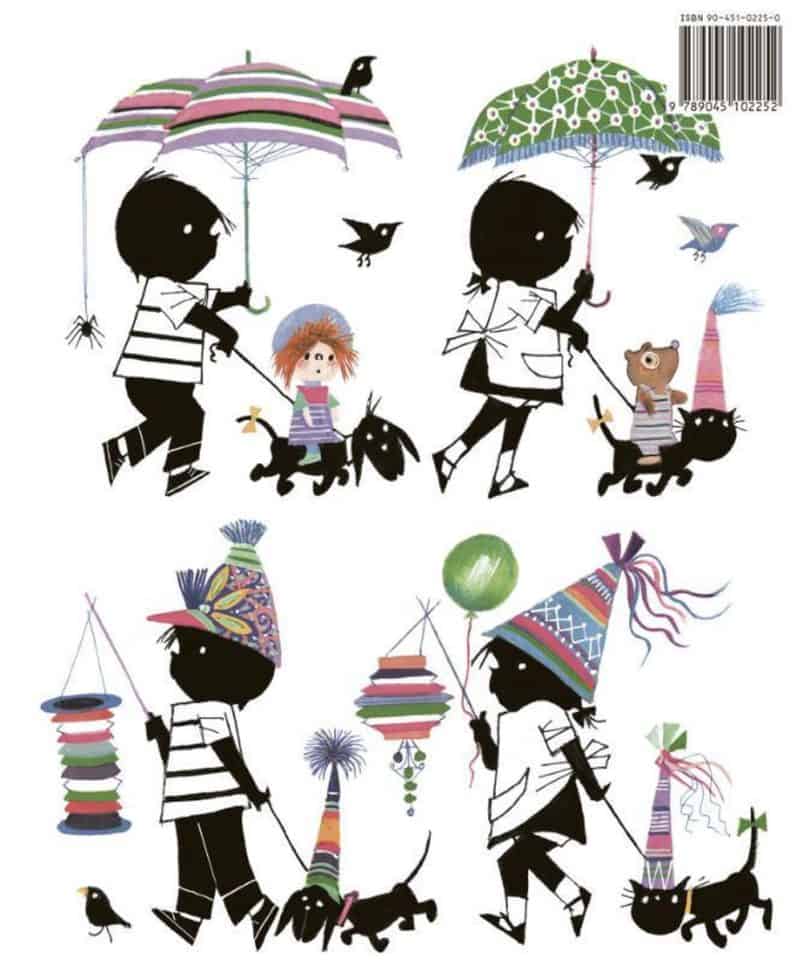 Where a child may have too many toys, it may actually not have enough books.
Reading books is very good for development for various reasons and it is also just a lot of fun.
By reading books you challenge your brain, you stimulate your imagination, you become smarter and more empathetic. In addition, a child can learn a lot of things and it will help to think more logically.
As a parent, you can start reading books and stories at an early age.
An example of a great book, which has received hundreds of positive reviews, is the book that Annie MG Schmidt wrote together with Fiep Westendorp: Jip en Janneke.
It is a book about all the adventures of the best friends Jip and Janneke. For boys and girls with an age from 2 years old to about 4 years.
The book contains many nice illustrations, both in black and white and in color. In fact, this book should not be missing in any child's room.
If the child is not yet able to read by himself, such as the case of a toddler, you can read this book as a parent.
Without a doubt a great gift idea for a birthday or other special occasion like Christmas or Santa Claus.
Check prices and availability here
Puzzle: PAW Patrol 4in1box puzzle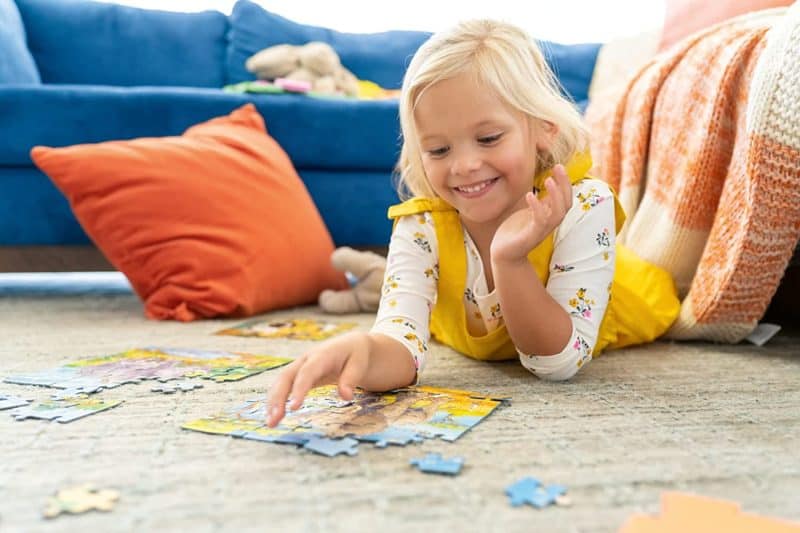 A puzzle is another example of a nice gift that most children will like.
There are many different puzzles to choose from, and depending on age and preferences, is one puzzle more suitable than the other.
Letting your little one play with a puzzle will train his or her cognitive skills. It will also stimulate fine motor skills and train hand and eye coordination.
Toddlers are of course still very much in a developmental phase, so it is extremely important to stimulate him or her in this.
In this puzzle pack you get four beautiful puzzles with the theme PAW Patrol The Movie.
For those unfamiliar with the series, it centers on six heroic pups led by Ryder to protect the residents of Adventure Bay.
The four puzzles have 12, 16, 20 and 24 pieces. This way your little one can slowly build up the difficulty level. The pieces can be easily placed and the puzzle is suitable for kids from 3 years.
Trust me, your kid will want to play with the puzzles for hours!
Bicycle accessory: Kinderfeets Balance Bike Basket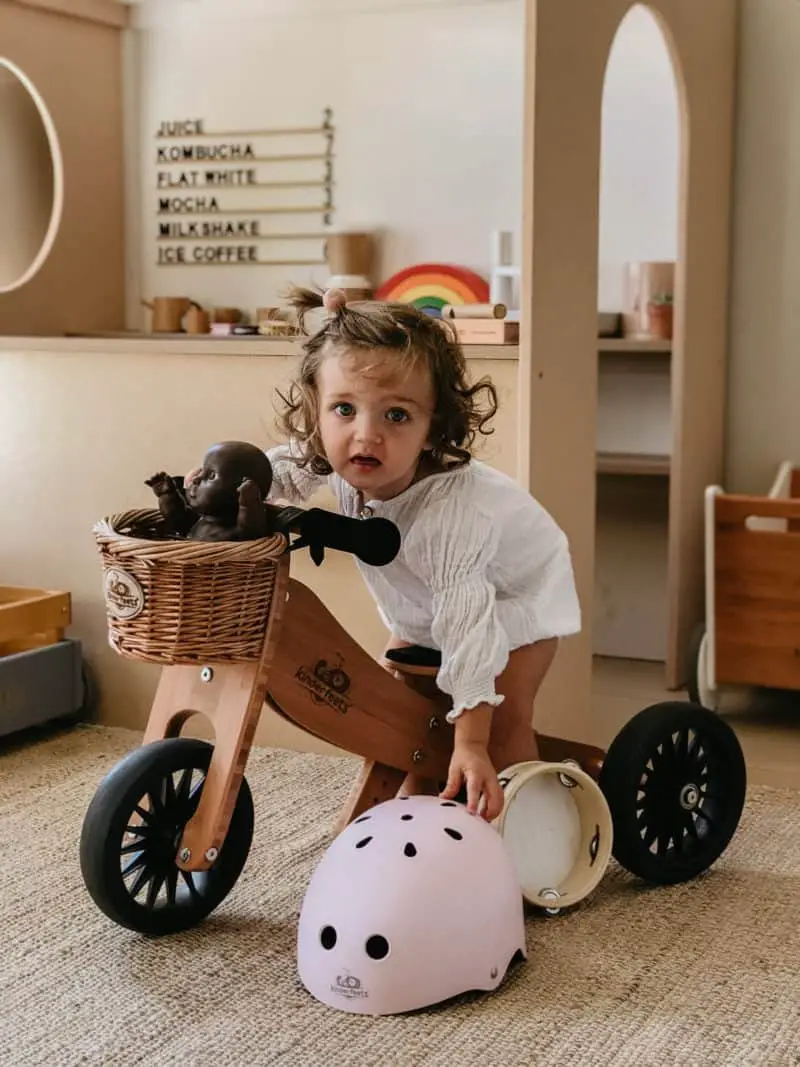 Children from the age of 2 can start practicing on a balance bike. Perhaps that is why the little one has already received a balance bike, tricycle or scooter for his or her birthday (if not, then these are the best options).
You can think of a nice gift that complements the balance bike, such as this cute wicker basket that you can attach to any scooter or bicycle. That is a very nice addition for a child of three years!
The beautiful, handmade basket fits all children's bicycles of the Kinderfeets brand, but also those of most other brands of children's and balance bikes. This way children can transport their favorite cuddly toy or accessories everywhere they go.
For fastening you can use the real artificial leather straps.
The crate is made of beautiful natural reed and fits perfectly on the handlebars of a balance bike, children's bike, tricycle or scooter.
This bicycle basket is not only a nice and unique gift for a child from two years, it is also very handy.
By purchasing natural products, we also contribute to a better environment.
Check prices and availability here
Building blocks: Light Stax Junior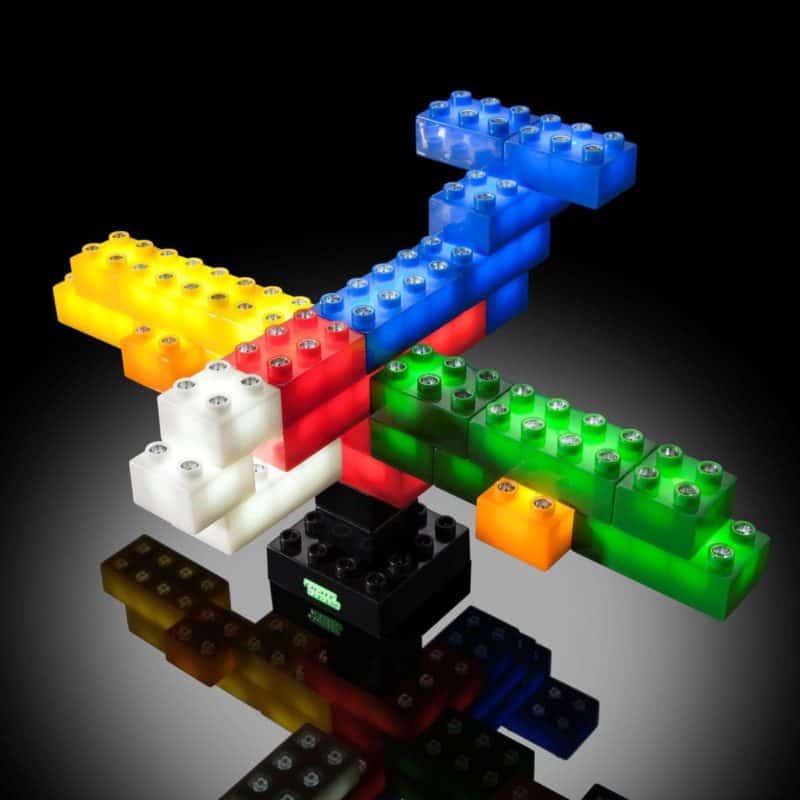 Finally, my favorite: the Light Stax illuminated building blocks to play with for hours. An incredibly unique gift that will appeal to all children or toddlers!
The building blocks have beautiful colors and light up when you stack them. This makes it seem as if your designs come to life.
Children are introduced to electricity and LED technology with the help of this toy. Each Stax building block lights up when it is connected to a power source or brought into contact with another illuminated Stax.
You don't need anything special, stack the blocks and they will light up automatically! The blocks are also very easy to use and will promote creativity.
Here's how they work:
Besides as a toy, you can also use the fun product as a night light.
You can choose from three different light modes and they will also switch off automatically after 15 minutes. Because the blocks are compatible with other building blocks, this will provide hours of fun.
You get 36 Light Stax blocks in six different colors, 1 USB smart base, 1 USB to DC cable and 3 AAA batteries. The toy is suitable for boys and girls from the age of three.
Also magical: magnetic toys!
Our kids already have everything
Most parents believe that their children already have everything. There are also so many occasions when a gift is given!
The birthday of course, but also when toilet training, when swimming, Christmas and Sinterklaas .. At a certain point the inspiration just runs out.
The garage or attic is also full of toys that the children have been looking forward to, or that they did not like to play with at all.
To prevent that mountain from only getting bigger, it is always useful to indicate what others can gift your child on birthdays or other special occasions.
And of course we're talking about gifts that don't fill that big toy heap!
It is often the case that people do not like it when they are asked to bring a practical gift, or 'useful' gift. Still, it's the best way to deal with this.
Because it's just a shame if your child gets a lot of toys or other gifts again that it doesn't do anything with.
But what other nice things are there that you can gift a 'spoiled' toddler?
Making room for the new? These are 4 places where you can donate stuffed animals & toys
Conclusion
In this article, you've got gift ideas for toddlers who essentially "have everything." There are a lot of different options as you can read in this post.
For example, you could go for a gift that is not tangible. I am sure that whichever option you go for, the child will be very happy with your gift!
Now that the gift is arranged, check it out now my top best games for a children's party (+ fun themes)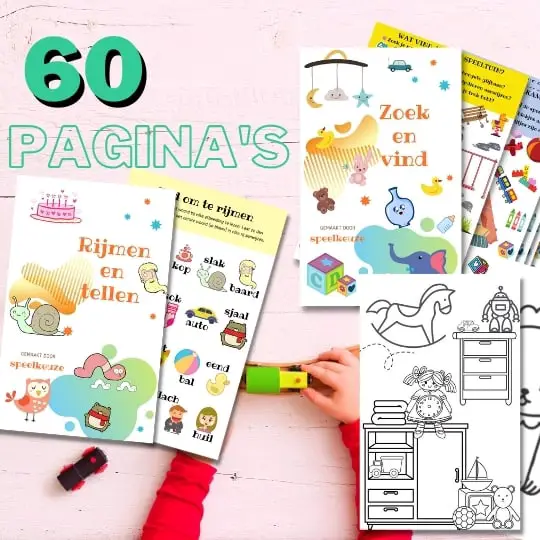 Always something to do for the holidays or rainy day?
Play Choice now has the ultimate activity book collection, with over 60 pages of fun coloring pages and educational puzzles.
Joost Nusselder, the founder of Speelkeuze.nl is a content marketer, father and loves trying out new toys. As a child he came into contact with everything related to games when his mother started the Tinnen Soldaat in Ede. Now he and his team create helpful blog articles to help loyal readers with fun play ideas.