Complete go-kart buying guide | Ages, tips & 13 best rated
I enjoy writing these articles for my readers, you guys. I don't accept payment for writing reviews, my opinion on products is my own, but if you find my recommendations helpful and you end up buying something through one of the links I may be able to receive a commission on that.
More information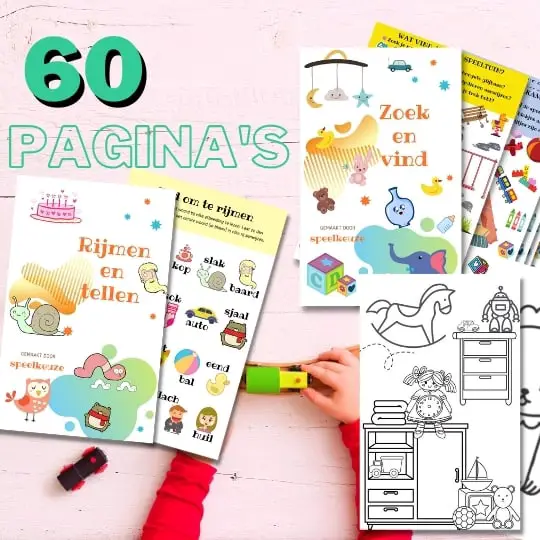 Always something to do for the holidays or rainy day?
Play Choice now has the ultimate activity book collection, with over 60 pages of fun coloring pages and educational puzzles.
We don't have to put it under chairs or couches: children have a lot of energy.
But MAN! They can play outside with the right stuff.
There are a lot of go-karts on the market, but I'm going to tell you why brands like Berg and Exit are worth the money, those are the brands to invest in this season!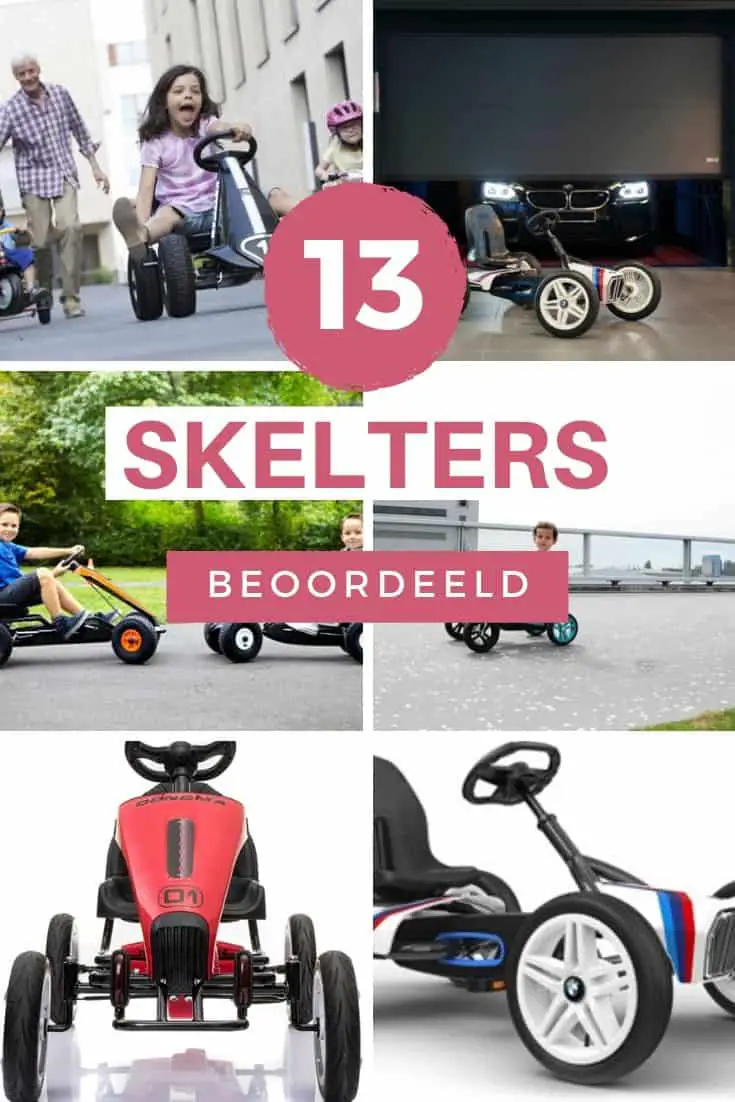 Where do you get a go-kart from?
The best go-kart to start with, for toddlers or young preschoolers, is ABSOLUTELY this one BERG Buzzy Aero which offers a very sturdy frame with a HUGE adjustable seat so that it can last a long time.
This go-kart has everything you are looking for in a go-kart: a good combination of safety, speed and modern design.
It is our favorite go-kart because it is intended for almost every age group and it is just a really cool thing!
Check out how tough he is in this video:
They fit in the car, can go anywhere and your children can enjoy them throughout their childhood.
There are also some cheaper ones, and I have a few more that might be better for older children.
Below is a handy overview with our best recommendations sorted by category. For an extensive review per product, feel free to read the article further: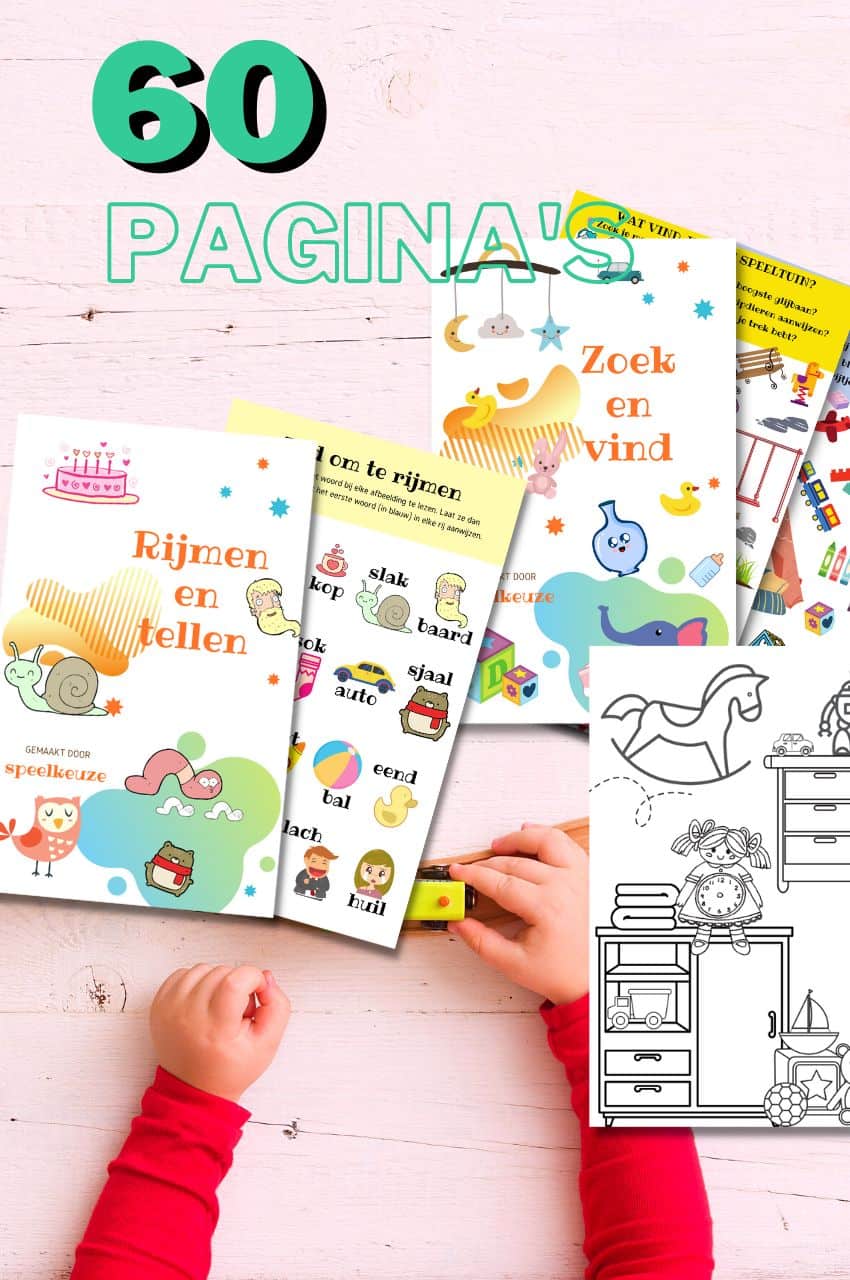 A play theme in your mailbox every month?
Fun play tips, activity books and more, with the first email being our free mini-guide "educational toys"
We will only use your email address for this newsletter and respect your privacy
What do you pay attention to when buying a go-kart?
There are a few basic things you should ask yourself before buying a go-kart.
Do not immediately go for the most beautiful or toughest version, but choose the go-kart that suits the needs of your child.
What you should pay attention to is the following:
For what age
The first question you ask yourself is: how old is my child and which go-kart can I find for that age category?
Go-karts for 3-year-olds are often aimed at training the physical motor skills of the child. Especially the leg muscles are trained. These go-karts are adapted to the weight and height of the child.
Go-karts for 4 year olds are specially made to handle longer distances. Because at this age children can have a little more in terms of physical exertion. Many go-karts in this category are adjustable.
Children of 5 years are buzzing with the energy (here some games to get rid of it) and have much better developed body motor skills. Running, fooling around and racing are daily activities that certainly provide a good basis for riding a go-kart.
Many go-karts for this age group have pneumatic tires and are slightly larger in size, because children of these ages are more adventurous and want to ride in other places, such as forest paths and uneven terrain.
These go-karts are also adjustable.
The real larger formats start after 6 years. Children can then drive around much more independently and do their own thing.
You will notice that these go-karts have larger tires and are also adjustable.
What are you going to use the go-kart for?
If you are only going to use the go-kart on the street and for short distances in the area, then a go-kart with solid tires is a good recommendation.
If you go further from home more often, for example to the beach or the park, then go-karts with pneumatic tires are a better alternative for these types of terrain, because of the good grip and stability that the tires offer.
There are also special go-karts for off-road driving. With these go-karts it is important to also choose pneumatic tires and a swing axle.
This swing axle better absorbs shocks in uneven areas such as hills, mud and water puddles.
Which accessories do you find important?
Accessories are not immediately necessary, but a nice option to have from time to time. Lighting and reflectors are definitely a must if you let your child play outside for longer. In this way, the go-kart is clearly visible at dusk.
Duo seats and trailers are a personal choice. If your child has brothers or sisters, a go-kart with a duo seat or trailer coupling option is certainly useful. Placing a duo seat or trailer only increases the fun.
Horns and sirens are a nice accessory for your child to have. That way he feels like a real driver in traffic. In our opinion not immediately necessary, but a must if your child is going to go karting on the street in the neighborhood, so that they can warn oncoming traffic with their horn or siren.
Get informed about the different mechanisms
Thanks to a freewheel mechanism, the drive of the rear wheel is temporarily interrupted when your child is not pedaling.
As a result, the pedals will not continue to turn until the go-kart comes to a stop.
This is also safer because the pedals do not hit the child's legs, which can be very painful.
A go-kart with a freewheel system requires your child to shift gears just like a car.
This can be difficult for some children. The freewheel mechanism does not work until it is switched on.
To prevent this, some go-karts have a freewheel machine.
If the go-kart is stationary and the child is pedaling backwards, the go-kart is automatically put into reverse.
This is a safer and easier option.
The BERG BFR system works just a little bit differently. These go-karts have a coaster brake and shifting is fully automatic.
With the BFR-3 system, the go-kart is just as safe, but with 3 gears.
The 13 best go-karts reviewed
We looked at the go-karts by age and also looked at specific functions or details. You will soon notice that there is a lot to get when it comes to go-karts.
Go-karts for different ages, in different colors and with different features. What exactly do you pay attention to?
To help you on your way, we will show you our favorites in the various categories and also explain what is important when buying a go-kart for your children.
We have made a list of the best go-karts for you based on a particular category.
There are so many options when it comes to go-karts.
Because they can have a reasonable price tag, you want to make sure you buy the best go-kart for your child.
We will now describe all the favorite go-karts from our list in more detail, so that you better know what you want to pay attention to when you make your choice.
Later in this article we will give even more tips on what exactly you should pay attention to when buying a go-kart.
Best small toddler go-kart for 3 years: BERG Buzzy racing
The BERG Buzzy racing is the best go-kart for the little ones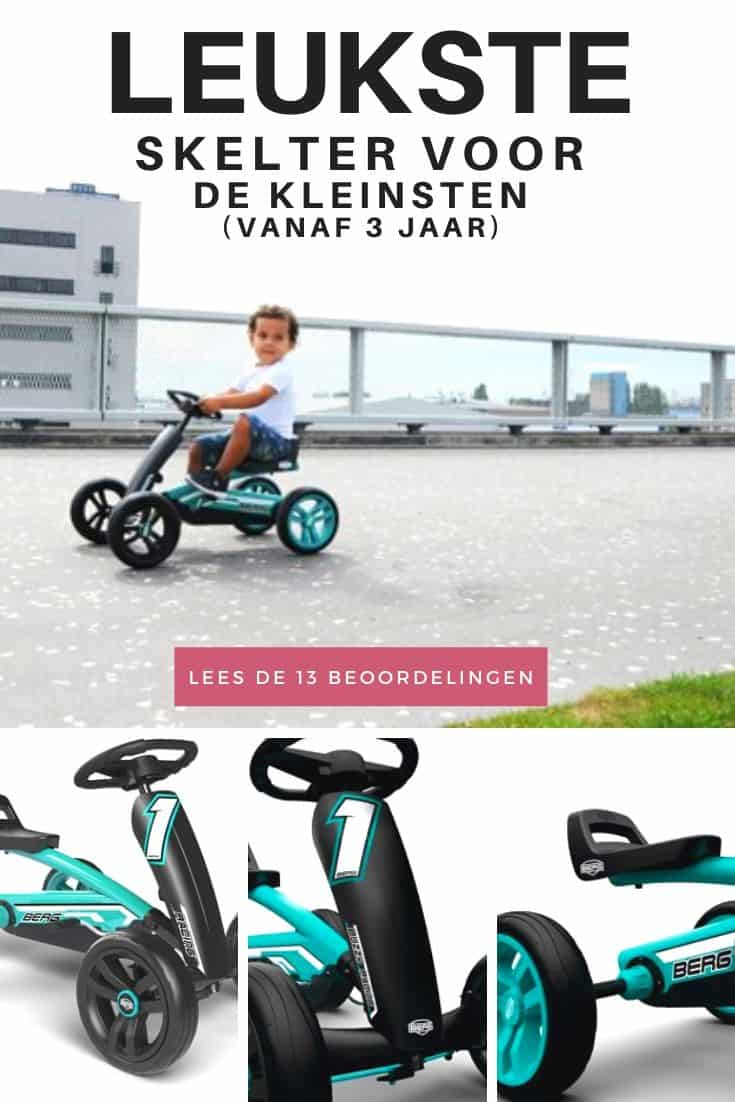 This go-kart is designed in a compact format for the little ones who also want to go-karting.
The age group for which this fun go-kart is intended is between 2-4 years, but is best for children from 3 years old.
This go-kart is built to the perfect size so that these children can also romp.
The handy thing about this go-kart is the adjustability of the handlebar and saddle. In this way, the device can be tailored to the specific needs of your little one.
The EVA tires of the go-kart are not made of hard plastic, so you hardly hear the go-kart and it runs smoothly.
The Buzzy racing is suitable for indoor and outdoor use. We think it is a beautiful item for your little one to start with.
Check prices and availability here
Is your little one crazy about tractors? Then one beautiful toy pedal tractor maybe fantastic too!
Best cheap go-kart: Hyper Motion
The Hyper Motion go-kart is tough, sturdy and fun for children from 4 to 8 years old.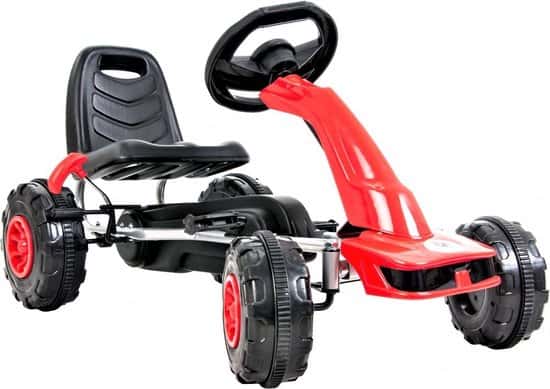 This company has been making go-karts for 60 years and knows all about it.
You know that you have a high-quality and safe product that will last a long time, because the go-kart has a high-quality steel tube frame with a polyester coating.
The go-kart has pneumatic tires with sporty wheel covers and a switchable freewheel.
This gives your child a special driving experience.
With this go-kart your child can drive very quickly in a responsible way. The handbrake works on both rear wheels.
It is comfortable to sit on this go-kart thanks to the ergonomic cockpit seat, which can be easily adjusted without tools.
Best toddler go-kart for 5 years: Apollo Go Kart Junior
A beautiful flashy go-kart should not be missing from our list. The Apollo Junior is the perfect example of this.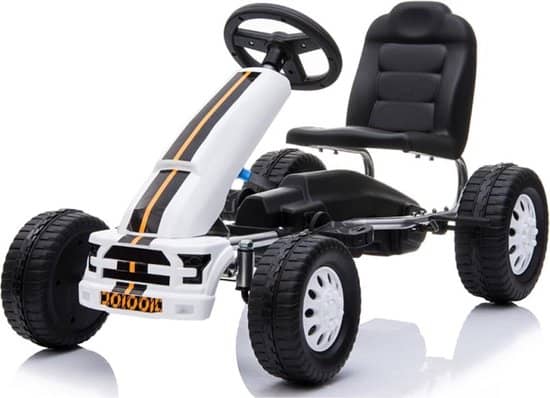 Not only does the beautiful stripes on the front appeal to us, but we also love the design.
The design is a bit like a real racing car and looks very stable and sturdy.
This fun go-kart is ideal for children between 3-5 years old with a length of 90-110 cm.
The dimensions are perfectly adapted to this age category and make it possible for these little ones to tear around wonderfully.
This high-quality product is very useful because it is made of durable high-quality steel, and it also offers the ultimate pleasure and convenience.
Basically everything you are looking for in a good go-kart.
Best go-kart for 6 years: BERG BMW Street Racer
Beautiful, beautiful and beautiful! The BERG Go-kart BMW Street Racer immediately stands out because of its beautiful BMW design.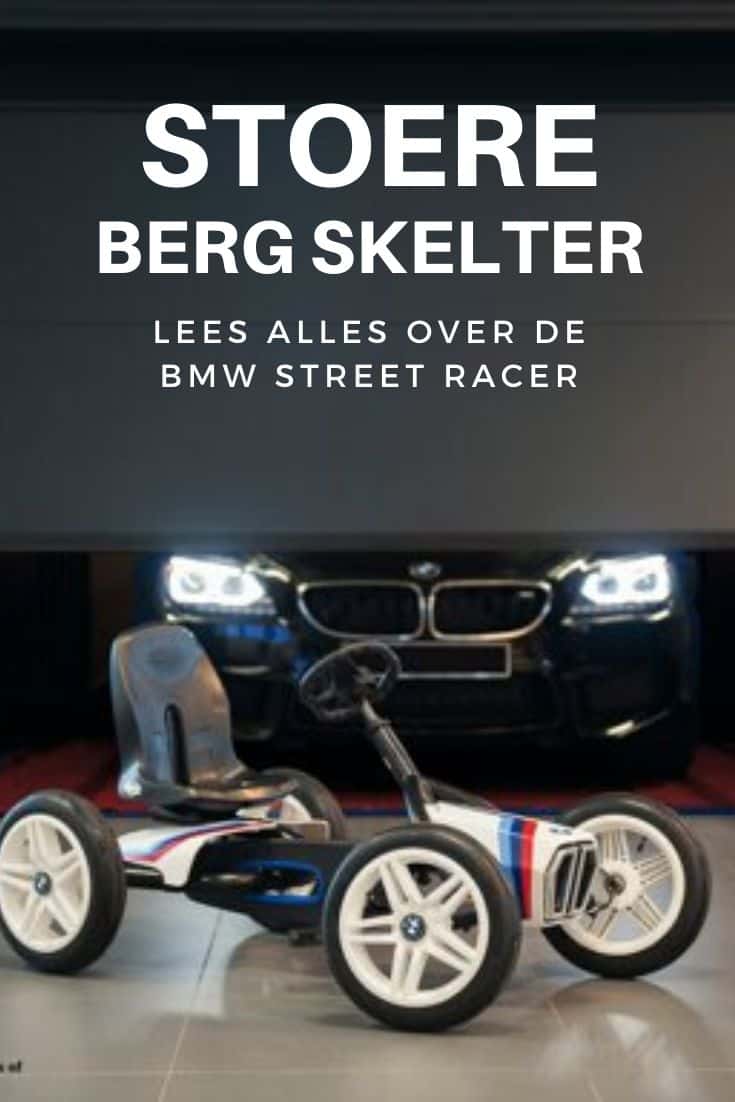 The lines of the go-kart are just as smooth as the smooth rolling of this go-kart.
In short, a feast for the eyes, but even more a great play vehicle with which your little one can experience a lot of fun.
Every child can have fun adventures on this go-kart and still be safe.
The go-kart is controlled by pedals and can go just as fast as those legs can pedal. You will hardly be able to keep up with your child.
The seat and steering wheel are easy to adjust to the height of the child. This allows this go-kart to last a longer time.
We think this go-kart is a fantastic gift to give to children between 3-6 years old.
Check availability here
Best go-kart for 7 years: Exit Foxy
A day in the park with this cool Exit Skelter is guaranteed to be a success!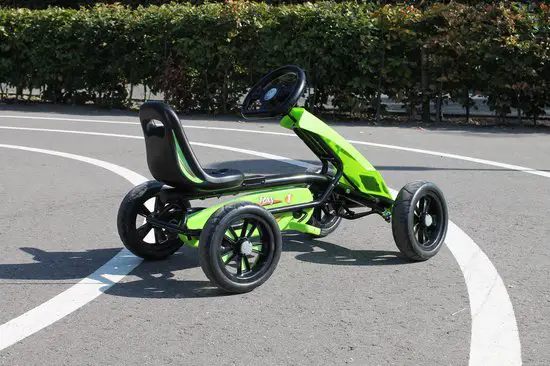 This go-kart has a modern design and is also lightweight and compact.
You can take it with you everywhere and it is easy to store, because it takes up little space.
The go-kart weighs 27.5 kg and has the dimensions of 124 by 70 by 64 cm.
Thanks to the flexible axles, the go-kart goes easily through bends, without the risk of tipping over.
The back-pedal brake not only offers the rider a safety option, but also provides endless skidding fun. It is a go-kart that can take more than a beating.
The go-kart has pneumatic tires and can therefore drive well on uneven terrain. With this great go-kart playing outside becomes a new and exciting adventure.
The Exit go-kart with an adjustable handlebar and seat is suitable for children between 4 and 8 years old.
Check prices and availability here
Best go-kart from 8 years old: BERG Black Edition BFR-3
The sturdy BERG Go-Kart Black Edition BFR-3 immediately grabs our attention because of its robust and modern design, and is therefore our absolute favorite.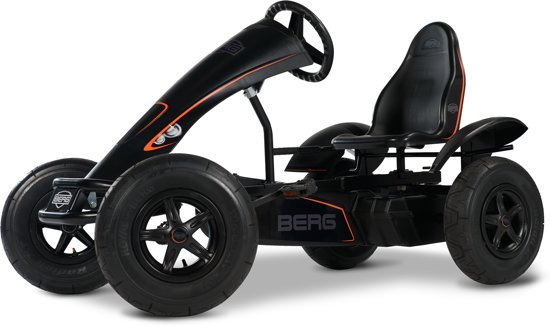 This is a great go-kart with an adjustable seat for children of almost all ages; because of the 6 sitting positions, the go-kart can be driven by children from 5 years and older.
Guaranteed years of fun.
Coaster brake and 3 gears
In addition to the sturdy version, this go-kart has an important and indispensable detail: the unique BFR-3 system.
The go-kart has a coaster brake with up to 3 gears so you can pedal quickly and easily.
Driving becomes easier because you don't have to fuss with hard-to-handle levers and buttons.
Only some forward and backward movements on the pedals are needed to go-kart.
As extra safety, this go-kart has pedals that can stand still while you are driving. Hardly anything is more fun for your child than racing around on this fantastic go-kart.
Smooth driving, even on rougher terrain
The wheels of this go-kart roll smoothly thanks to the roller bearings. Steering is also very smooth due to the double ball steering.
In other words: you can drive the go-kart with ease, without getting tired quickly.
Even if you are going to drive on uneven terrain, this is easy because the go-kart is equipped with a swing axle, which ensures that the device always runs on its four wheels.
The air-filled tires provide optimal grip and comfort while driving.
Many possibilities to expand
What also appeals to us about this great go-kart are the expansion options. For example, you can attach a trailer to it, or build in a second seat.
This option fits perfectly with our idea of ​​a sustainable toy that does not get boring.
We think the BERG Go-kart Black Edition BFR-3 is the best go-kart because it is first of all safe, easy to operate, sturdy and practical, and above all it offers a lot of fun for a very long time.
Check availability here
Best go-kart with trailer: Exit Foxy Expedition
The Exit Expedition has the best of both worlds.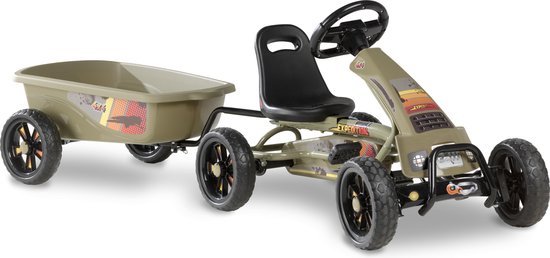 You can drive around with it through the tightest bends, but with the trailer you can also just drive around and transport anything and everything.
Your child can transport his toys in the trailer, but a boyfriend or girlfriend will also really enjoy taking a ride.
The fun adventures that your child will experience with this multi-purpose go-kart are too many to mention!
The Skelter Gargo is a sturdy metal go-kart and comes with a nice matching trailer.
You can easily disconnect this by the way.
Important details such as a closed chain guard and hand brake are part of this go-kart and make it a safe play equipment for children between 4-7 years old.
Best go-kart with motor: BERG E-BFR X-ite
A go-kart with a motor like this electric go-kart is a great alternative to a pedal go-kart.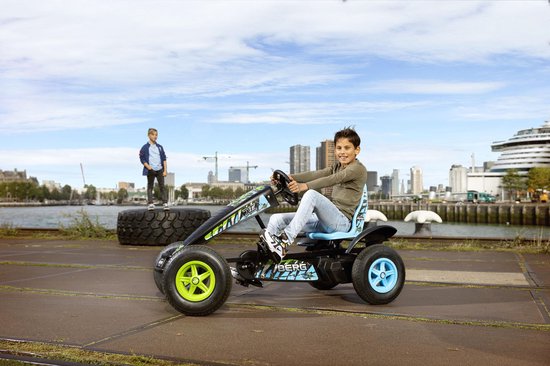 This sturdy go-kart with rechargeable motor is suitable for children from 6 to 8 years old. It is solidly built and once charged, the go-kart will be able to drive around for a long time.
The nice thing here is of course that your child does not have to pedal at all. Due to the engine, however, this go-kart is slightly heavier than other models with pedals.
The go-kart has a speedometer and "fuel meter" on the dashboard and it is easy to operate.
The go-kart can reach a maximum of 8 kilometers per hour, so slow enough to stay safe.
Check prices and availability here
A nice alternative to an electric go-kart is one hoverkart, where you turn your hoverboard into a real go-kart!
Most sturdy pedals and pneumatic tires: BERG Jeep Junior go-kart
De BERG Jeep Junior go-kart is the little 'brother' of the Jeep Wrangler and is equipped with sturdy all-terrain tires.
As a result, the go-kart offers optimal grip on any surface wherever your little one is allowed to go.
The profile of the tires and the military green color give the go-kart a robust outdoor look.
This go-kart is perfect for racing through the mud and going on an adventure in the forest.
Also tearing through puddles of water is a small job for this tough Jeep Junior go-kart.
You can easily adjust the seat and the steering wheel to obtain the correct seating position.
This go-kart with sturdy pedals is a good recommendation for children in the age group 3-8 years old, who love to go on an adventure and enjoy getting a little dirty while playing.
It is a solid go-kart that is definitely up to the wild and enthusiastic riders.
Best pink girls go-kart: BERG Buddy Lua
Girls also really enjoy go-karting. Does your daughter necessarily want a pink go-kart? Then the BERG Go-kart Buddy Lua is the perfect choice for you.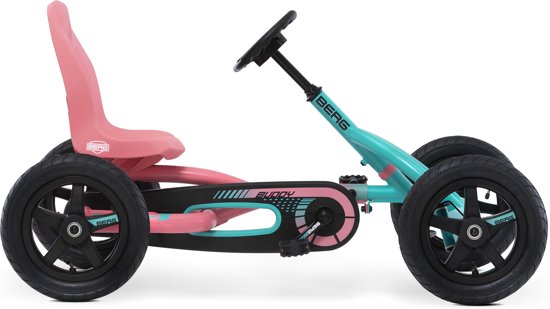 The go-kart is specially made for little girls between 3-8 years old. It is a beautiful go-kart with an original design and executed in fresh pink and mint-green colors.
This go-kart is not only beautiful, but also safe and very sturdy. Your little girl can control the ride with ease without any danger of tipping over.
With the adjustable handlebar and seat you can choose the right sitting position and easily steer your little one past the most difficult obstacles.
Definitely recommended for little girls who want to race with their older brother or sister. With this go-kart they can show their own go-kart skills.
The BERG Buddy go-kart is a compact and light model that you can easily take with you everywhere and it does not take up much space.
Check prices and availability here
Best go-kart for 2 people: Tectake Go Kart pedal car
Are you looking for a go-kart for 2 people? Then the Go Kart Skelter Pedal car an option to consider.
The go-kart has a trailer coupling to which you can attach a second seat in order to transport another person.
Thanks to the swing axle, you can drive comfortably through sharp bends together without the risk of tipping over.
All wheels and axles have ball bearings so that the go-kart rolls easily and runs smoothly.
The go-kart is specially built to bear the weight of two people. It is a metal go-kart with steel tires.
Very durable materials that are designed for extra weight and fast riding.
The seats are both adjustable for the correct sitting position; that of the driver can be in 4 positions and that of the co-driver in 2 positions.
The designers have also taken the safety of this go-kart into account.
The Go Kart is not suitable for children under 6 years old and may not be used on public roads.
It is recommended to only use the go-kart with protective equipment.
Best go-kart with gears: BERG Go-kart Extra Sport BFR-3
To conclude the list, we recommend the BERG Extra Sport go-kart as the best go-kart with gears.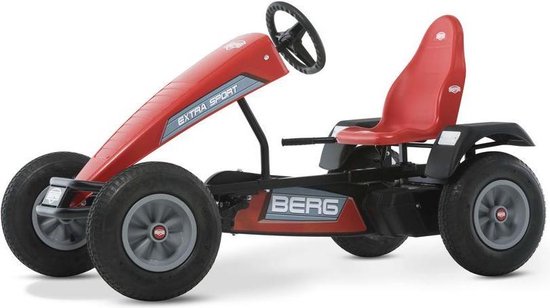 The go-kart is sturdy and is made of high-quality tubular steel frame with a scratch-resistant polyester coating.
Due to the comfortable seat and pneumatic tires with sporty hubcaps, the rider can ride his trail comfortably.
The go-kart also makes almost no noise thanks to the pneumatic tires.
To guarantee safety, the go-kart has a handbrake that works on both rear wheels.
But the freewheel automatic transmission is also easy to activate to give the driver the opportunity to roll out freely.
The Extra Sport is a perfect choice for children between 5-10 years old, with a body height of 110 to 140 cm and a maximum weight of 50 kg.
It is the ideal toy for outdoor play.
View the most current prices here
What does your child learn from a go-kart?
Good news, there are many health benefits to go-karting, so dress well and let's learn, exercise and playing outside with a go-kart!
According to an article in Health Fitness Revolution, there are a number of (health) benefits associated with go-karting:
Nice activity
You don't need any experience to go-kart, but it is just as challenging as learning a new sport.
Children can learn safety rules and learn to maneuver by driving a go-kart. This can prepare them for driving a car later on.
This is also a great outlet for kids who are interested in racing and other motor sports but not ready for it yet.
Safety
Go-karting is a safe option for beginners interested in racing. It can be both an indoor and an outdoor activity.
Go-karts also come with many safety rules and if all rules and regulations are followed correctly it can be a very safe activity for all ages.
This can teach children of all ages how to follow and obey traffic rules.
Better reflexes
When going-kart you have to react quickly. One moment you are driving on a straight road and then you can suddenly take a nice turn.
When racing a go-kart you have to learn to maneuver without losing control or bumping into others.
This can be a real test of your responsiveness.
Driving a vehicle
If you can drive your go-kart while paying attention to your surroundings, you generally become a better driver later in life.
Whether it is the first scooter, or when you are going to get your driver's license.
Play together
A go-kart can be a great way to let all the kids in the neighborhood play together and enjoy the outdoors.
It is a pleasant, sporty activity for all kids.
It offers fun for all ages. Whether you are 3 or 10 years old, go-karting can be a fun experience for all ages in your neighborhood.
Build self confidence
Go-karting can be a big confidence boost later on, as you learn tricks like vehicle control, driving techniques and other skills.
While it is a fun and light sport for everyone, racing through the neighborhood can change their view of the neighborhood and their own place in it.
Question and answer
What is a go-kart or kart for children?
A kids go-kart is a small vehicle designed to be used by children. They are based on cars and usually have four wheels and one seat. They have been around for over 50 years and are enjoyed by children all over the world. There are several different types of go-karts, including pedal-powered, electric and gas-powered. Modern go-karts are made of cheaper, lighter and safer materials, but are still very similar in concept to the first go-karts.
How do you provide go-karts for children?
Go-karts are similar in design to bicycles. They must be cleaned regularly and the moving parts oiled. With electric go-karts, you have to take good care of the battery: make sure you charge it for the recommended full time, only when it is empty. If there are specific care requirements for your go-kart, these should be mentioned in the manual.
What surfaces can my child ride on?
This depends on the go-kart. Most kids go-karts are designed for traveling on sidewalks and other smooth surfaces. Go-karts with pedals will be much easier to drive on smoother surfaces. You can buy specific off-road go-karts with larger, grippy tires.
Conclusion
Riding a go-kart is a great pastime for young and older children.
They move and are busy outside, much better than playing games at home at home or using social media, because that really happens at a young age!
Go-karts can be found in various price ranges, you can choose tires that are best for driving on the pavement, or tires that allow you to drive on rougher terrains.
It is also nice that such a go-kart can be passed on from older child to younger brother or sister.
We are sure that your kids will also really enjoy racing around in the neighborhood!
And ... do you want to ride on a real track, just like Max Verstappen? Click here if you are looking for a fun go-kart outing!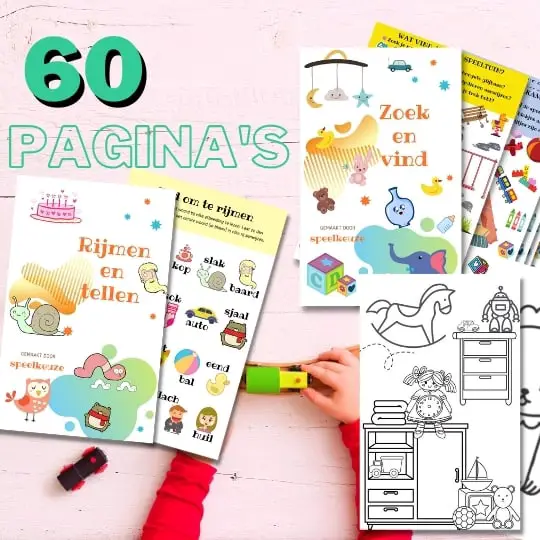 Always something to do for the holidays or rainy day?
Play Choice now has the ultimate activity book collection, with over 60 pages of fun coloring pages and educational puzzles.
Joost Nusselder, the founder of Speelkeuze.nl is a content marketer, father and loves trying out new toys. As a child he came into contact with everything related to games when his mother started the Tinnen Soldaat in Ede. Now he and his team create helpful blog articles to help loyal readers with fun play ideas.