6 best ground boxes tested: wooden to collapsible & outdoor box
I enjoy writing these articles for my readers, you guys. I don't accept payment for writing reviews, my opinion on products is my own, but if you find my recommendations helpful and you end up buying something through one of the links I may be able to receive a commission on that.
More information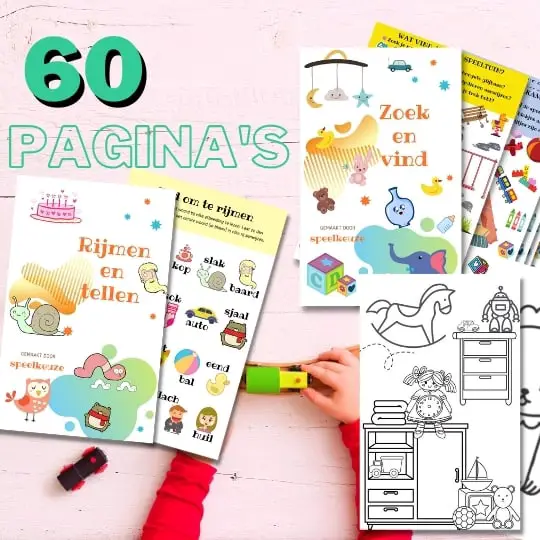 Always something to do for the holidays or rainy day?
Play Choice now has the ultimate activity book collection, with over 60 pages of fun coloring pages and educational puzzles.
Playpens provide a safe space for babies and toddlers to play, rest or roll around without constantly demanding the full attention of a caregiver.
Most parents have a standing playpen for the baby, but when they get a little older it is also nice to have a safe place to crawl for them.
SAFE is the magic word here, so in this article I discuss what to look out for and the 6 top choices at the moment.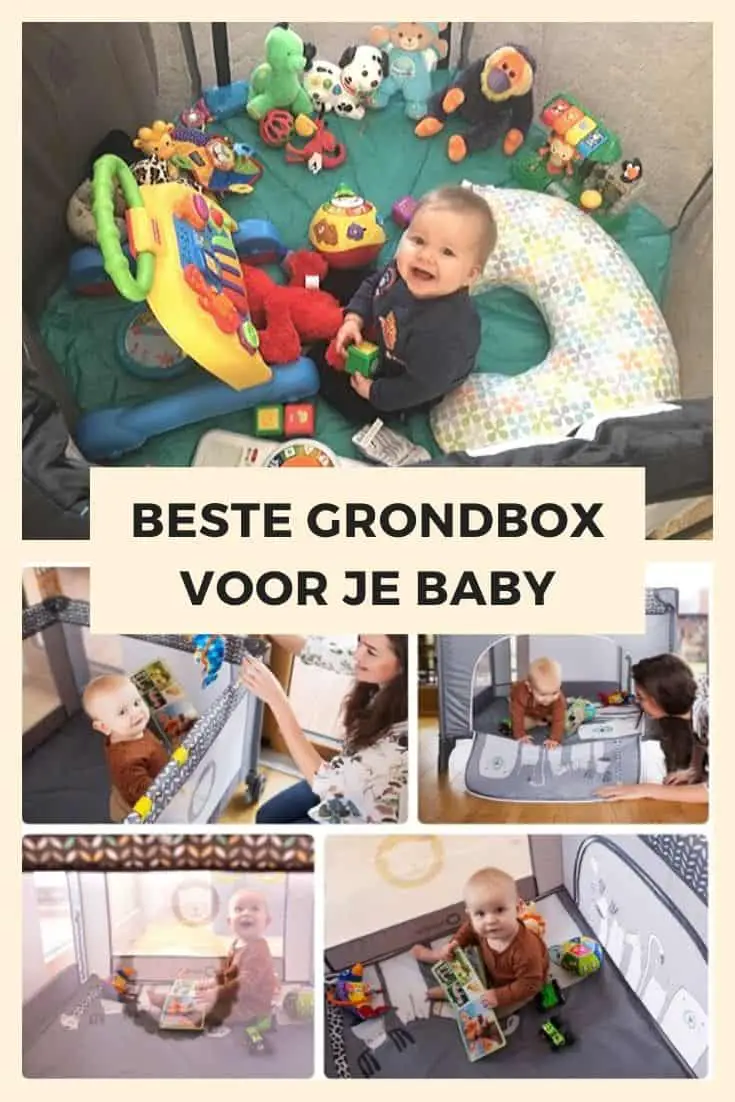 The best if you want one you can take with you now and then is at this time this Deryan portable play pen. The setup only takes a few seconds, it is lightweight and SUPER compact! The convenience of a box-sized pop-up tent.
You also have a number of other good options for some other situations, such as real home use only.
First, let's see what the top choices are for the different types of boxes: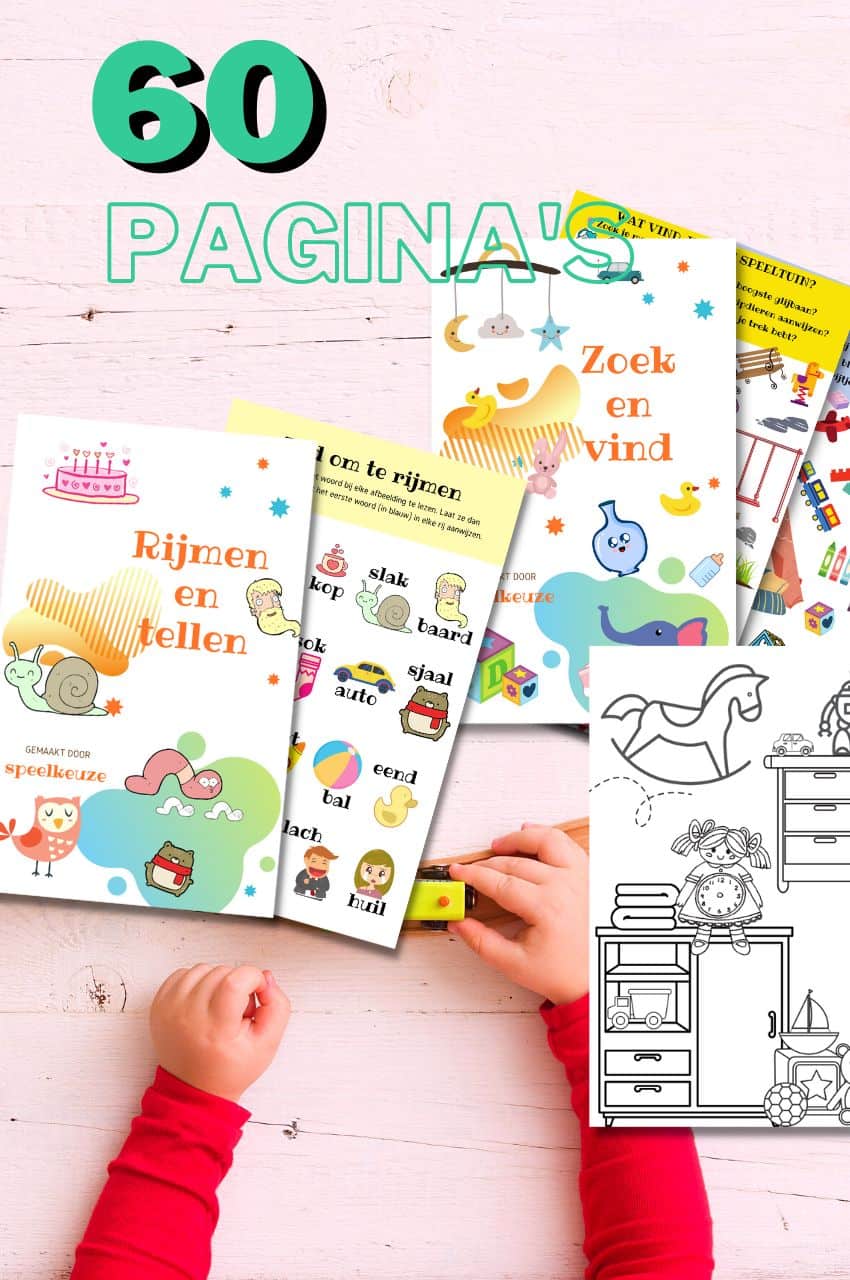 A play theme in your mailbox every month?
Fun play tips, activity books and more, with the first email being our free mini-guide "educational toys"
We will only use your email address for this newsletter and respect your privacy
What kind of ground box should you choose?
When choosing the best ground box for your family, consider where you'll use it the most first.
If the answer is your own home, worry less about its weight or how small you can collapse it; a box or playground with large panels might be a good choice for you.
If you regularly take the playpen to play dates, a daycare center or grandparents' house, a compact foldable playpen that does not consist of several pieces is a better choice.
And if you want a playpen that can also be used outdoors, make sure it is made of materials that can take a beating and different weather conditions.
Make sure you consider all the people who will be using the box; with both children and adults.
If you choose a ground box that is too small for children, it will not serve its purpose.
Or if you buy one that's too heavy or cumbersome for the adult who has to move, set up and fold it up, it will lead to more frustration than convenience.
Best ground boxes rated
Best Collapsible Kids Playpen: Deryan Portable Playpen
Why you will like it: The Deryan My Play Portable Playpen assembles in about 10 and packs up again just as quickly, and it's light enough to be easily moved around the house or transported around town.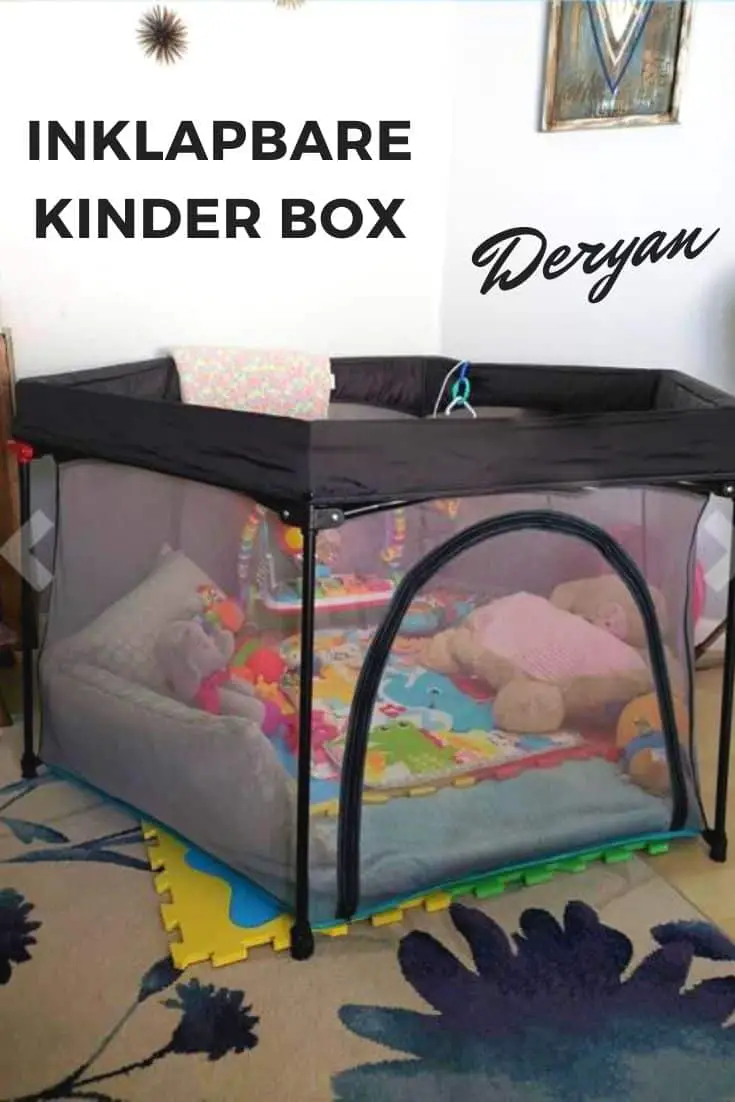 The Deryan My Play Portable Playpen has become a permanent fixture in our home.
Deployed during the evening meal, when we clean up after a meal, while we shop online, or folding laundry.
Or in general any other time when my husband or I are unable to give our baby our full attention while performing some necessary tasks.
Since our son is on the move and a fan of anything he can put in his mouth, this box is not just a matter of convenience for us, but a matter of safety.
But convenience is the main selling point here.
The My Play Portable Playpen weighs less than 14 pounds and when folded is compact enough to hide behind a door, slide in any closet, slide under a bed, or toss in the trunk of a car.
With a little practice, the folding process only takes a few seconds and can be completed with one hand.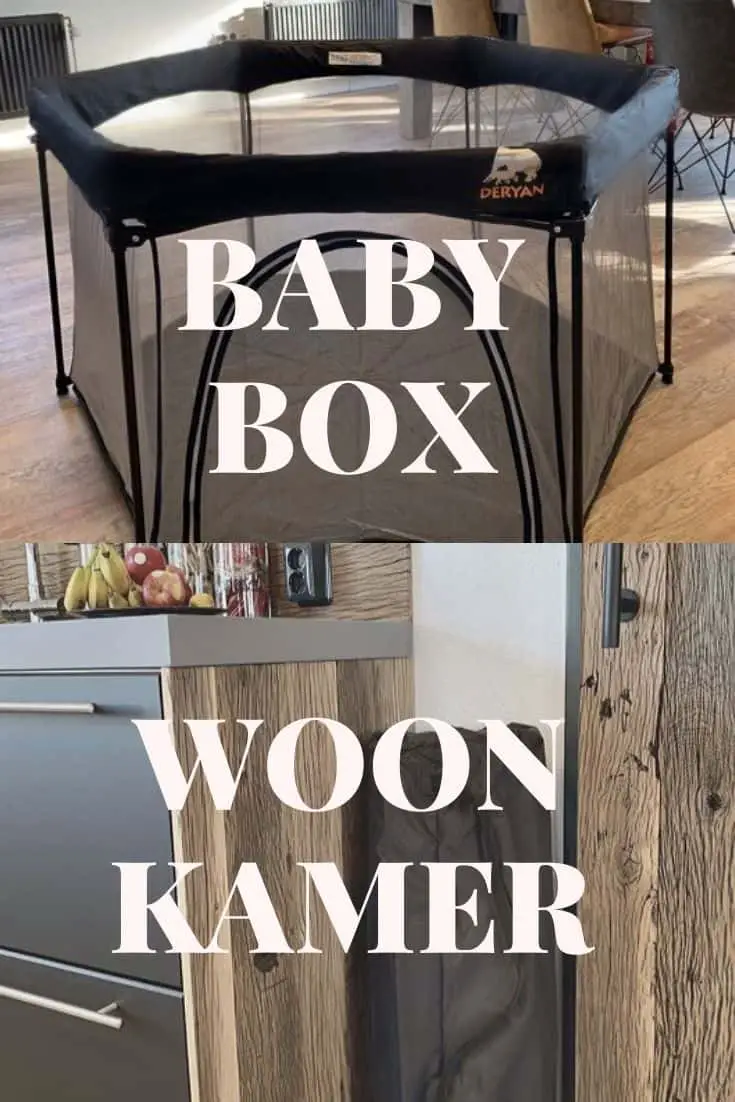 For example, installation takes only a moment, with a single hand and the occasional tap of the foot to open or lock the tubular steel frame.
The walls of the box are made of a fine, almost transparent mesh, while the bottom is a soft and durable nylon, which can be easily wiped clean.
Add a fair price tag and you have a great playpen.
One dad calls it "a must-have for parents," and he managed to accomplish the simple one-handed setup.
And one mom called this Regalo playground "super portable" and perfect for taking to a "less kid-friendly home."
And a writer with BeginnerBabyCare called it a "foldable, lightweight" model that is "highly portable."
Benefits
easy installation and setup
lightweight and portable
good price
Cons
mesh walls prone to cracking
Check the latest prices here
Best playpen with gate: Baby Vivo Benjamin
Why you will love it: the Benjamin crawl playpen makes it easy to place a child in a safe environment, thanks to a gate that eliminates the need to lean over the playpen.
I am fit myself, in my mid 30's, and in good shape, luckily. I say this because it is not that important for me to get or take out a baby in a playpen.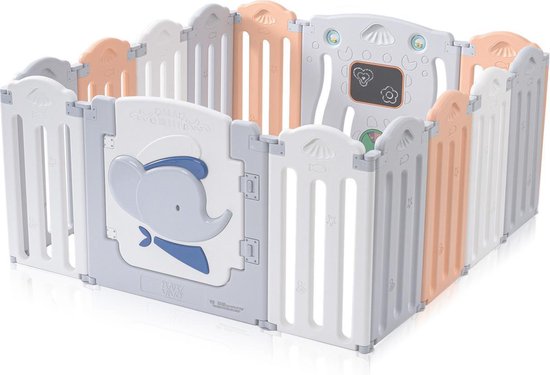 But I am probably not the only one who will use the box. When grandparents visit, or if they are going to look after him, they should also have easy access.
For anyone who wants the safety of a playpen, but does not want to hang over the edge to lift a child in or out, the Benjamin crawl playpen is a good choice.
The wide gate makes it easy to get into the playpen to put a child down, pick it up or give it a toy or book.
The box is made of durable plastic panels that can withstand years of pushing and kicking, spilling and spitting, and is safe for indoor or outdoor use.
If you need a safe play area it's great and there's something to play with with the built-in toys in the panel.
One grandmother wrote that she found it "easy to install" and perfect for use with a one-year-old.
And one mother appreciated that the box edge was "sturdy enough for children to pull themselves up on" when they want to stand.
Benefits
gate for easy access
non-slip pads are included
suitable for outdoor use
Cons
Buy this crawl box here at bol.com
Also read: everything about the best baby gyms, also for the playpen
Best Wooden Ground Box: Eezylife Collapsible Twin Box
Traditional wooden playpens provide plenty of space for your baby to play in, and there are plenty of stylish options to choose from to complement the rest of your decor.
The most useful we've seen is this pine wood twin box from Eezylife.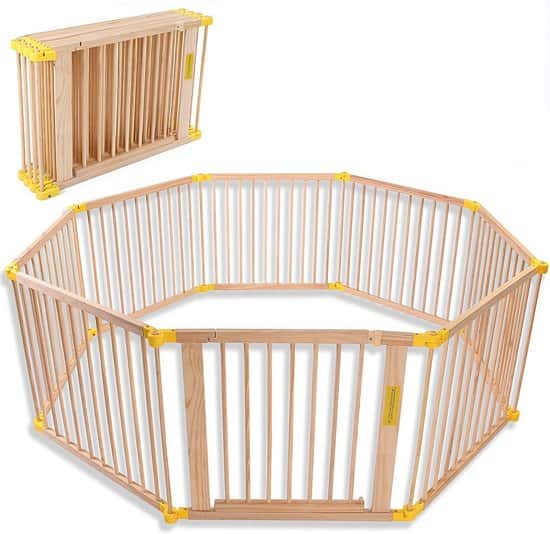 Wooden ground boxes are usually not the cheapest option, with prices starting from around 100, - without extra features, such as the Somultishop crawl box.
But simply very stylish and no-nonsense safety for your child.
Benefits
One of the most attractive box styles simply because it generally fits better with other furniture (remember, although you can collapse the box, once set up, it will probably stand for a while).
Has a larger floor space than other ground boxes, so more likely that your baby will like it in this box.
Cons
A larger floor space also means that it takes up more space and can dominate the space
It is fairly basic, but still affordable
Check the most current price here
Best travel baby playpen: Lionelo children's travel playpen
Why you will like it: The Lionelo children's travel box is large enough for a baby or toddler to lie in during a nap, or romp around while playing, but it only takes up 1 square meter of floor space.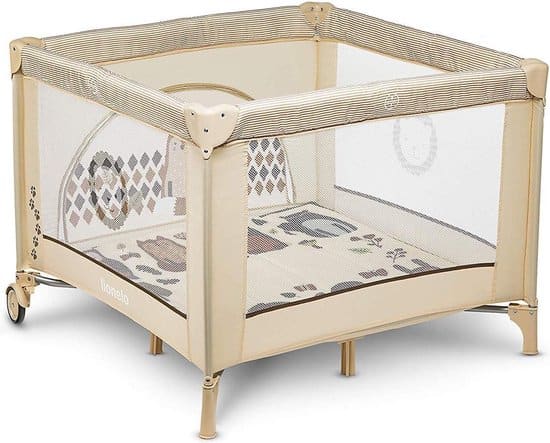 There is something unique about the Lionelo travel box; something so seemingly mundane that you may not find it remarkable at first. But it is, believe me.
It's not the fact that it's small or easy to store, although those are definitely plus points.
It is also not the included baby carrier, which makes it easy to transport the box.
It's the fact that the box is square.
Most of the boxes on the market today are hexagonal or even octagonal in shape, which is great when you have a spacious room or are setting up the playground outside.
But for use in smaller spaces, those obtuse corners take up a lot of space, making walking around the box a hassle if it just fits into your living room.
Due to the square shape of the Lionelo, it can be stored in a corner or pushed straight against a wall, under a sofa or other flat surface.
And yet, within the 1m by 1m playground, there is still plenty of room for a baby or younger toddler to play, or to lie down and stretch out for a nap.
The Lionelo is suitable for use by children weighing less than 15kg, for clarity.
And when not in use, the Lionelo travel box is small enough to be stored in a closet, under a bed or in the trunk at the babysitter's home.
The box is on the heavy side, 9,5 kg, for some people it can be difficult to move, especially up and down stairs.
Several dozen customers have written rave reviews about this portable travel box, including a mom calling it 'easy to set up' and 'safe'.
A grandmother found the Lionelo "easy to open and store" and the "perfect size".
Benefits
square shape saves space
easy to set up and fold down
comes with soft mattress
easy to pack in the supplied baby carrier
Cons
Buy this travel box here at bol.com
Best Outdoor Box: Aeromoov Instant Outdoor Box
Why You'll Love It: The Aeromoov outdoor box has multiple outdoor functions, such as an optional sunshade, insect screen and a comfortable PU foam mattress.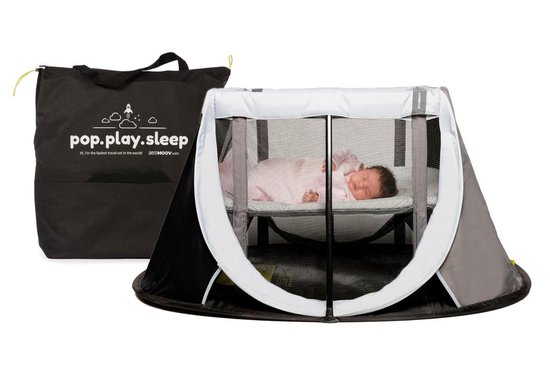 If you think it is difficult to keep a baby safe while he or she is playing in the house, you can multiply the challenge many times over if you bring the child outside.
From insects that bite or sting, from the sun that can burn sensitive skin in just a few minutes, to all kinds of choking hazards including pebbles, branches, flowers, bugs, dirt and so on, the outdoors is no place for the unattended little baby .
Unless of course the little one plays safely in the Aeromoov outdoor box.
This unique outdoor playground can be placed firmly in grass or sand and thus offers protection against sun, wind and insects.
The metal frame keeps the walls taut, these are mainly made of a mesh, which is good enough to keep out insects, while the sunscreen blocks the sun's harmful rays.
In the Aeromoov outer box there is enough space to play or rest, your little one is supported by a supplied PU foam mattress.
The entire playpen is packed in a carrying case when not in use. Here's how easy it is to unfold it:
A customer named Monna says the Aeromoov outer box "folds and unfolds in an instant," while a customer called Kelsea calls the box "easy and safe to use."
Benefits
Ideal for outdoor use
foam mattress included
sunscreen and mosquito net (optional)
Cons
Not ideal on hard surfaces
Check the current prices here!
Best expandable box: Dreambaby 3 in 1 Royal Converta
Why you will like it: so the 3,8 meter wide playing field of the Dreambaby Royal Converta is not big enough, is it?
No problem, expand it with extra panels to create a much larger play area.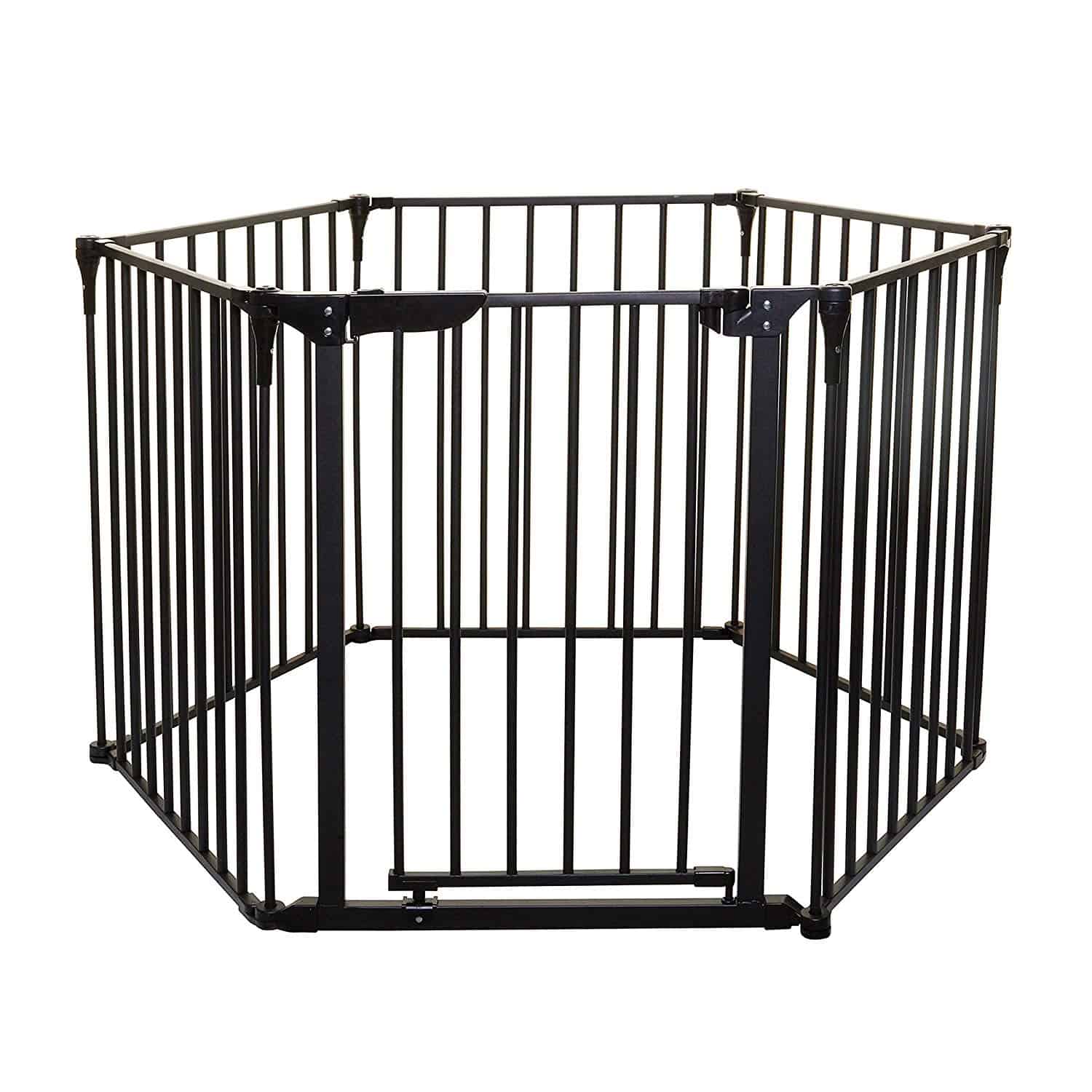 For many families, a 3,8 meter wide box is far too big to put in a living room or kitchen.
For some households, this Dreambaby box is ideal for the living room, but not for the bedroom.
And for others, the Dreambaby may not be spacious enough at all.
The good news is that, as the name suggests, this ground box is very versatile.
If you remove panels, it can be turned into a smaller box, while if you add panels (you have to buy them separately), a much larger, safe play area can be created.
And that safe space can be indoors or outdoors.
Each panel has feet for safe use outside on the grass and non-slip, non-scratch pads for use on hardwood floors indoors.
Parents love the expandable design of this playpen. It has a 4-star average on Amazon, based on 50 reviews.
Benefits
expandable
big or small
decent price
easy to use
Cons
Some say it is not sturdy or good enough for older babies to climb on.
Check the most current prices and availability here
Why you need a ground box
When my son was about six months old he started to get quite active.
He crawled in a funny way; it was more of a swinging, swinging motion that my husband called the "Zombie Crawl."
He also tended to roll repeatedly in a certain direction until he made his way to a toy, the cat, or a family member.
While fun and often hilarious, his newfound locomotion meant that now no room in our house was completely safe for him unless someone was always there to keep an eye on him.
So no room was safe until we bought a ground box.
Also known as play pen and not to be confused with pack and plays, which actually look more like portable cribs than ground boxes, a ground box provides a child with a few square feet of space that is guaranteed to be free of
choking and falling hazard
electrical sockets
unstable furniture
decorations
1.001 common household items with which a child can potentially injure himself.
Do parents still use ground boxes?
We live in a beautiful little house and our baby sleeps in a room that we also use as an office.
We can't change that for now, so we plan to make everything there as safe as possible.
My mom suggested we buy a box, but my friends thought it was a really bad idea of ​​mine. (Just like I'm a bad mom!).
My mom says there will be times when I can't look at the baby every minute and I don't want to just put him in his crib, that only happens when I need to go to the bathroom.
It is strange that we feel good when we secure an active baby in a car seat, a stroller or a backpack, but at the same time reject a playpen.
Playpens used to be just as common a part of baby furniture as child seats. Parents parked their babies in it, without questioning whether there were any disadvantages for the baby.
Then child development experts began to worry about these babies being parked in boxes; especially about not being able to properly explore their environment and perhaps not getting enough incentives or attention.
As often happens when new advice is given to parents, the experts 'concerns were translated into' Never put your baby in a playpen 'instead of' Don't put your baby in a playpen all day without turning to it. to watch'.
Anyone who has ever tried to answer the phone while a rapidly crawling baby moved to the cats' food bowl for a treat knows that some babies sometimes need to be protected from themselves.
Many parents find that a playpen is a convenient way to allow a baby to be in a place where they are safe, but still watch the family activities.
Many boxes can be collapsed to move from one room to another. A playpen can also be used if you need to leave your baby unattended for a short time.
It can be a convenient place for a nap, although it can be confusing for some babies to have the same place for sleep and play, so I don't do that myself.
A playpen at home does not limit the development of your baby. It simply allows you to do some tasks at home, without fear of your little one hurting or endangering himself.
And there are already very big ones out there these days, like one of the boxes we reviewed above. With these boxes you make the play area of ​​your child considerably larger, very different from a small playpen in the corner of the room, just like in the past.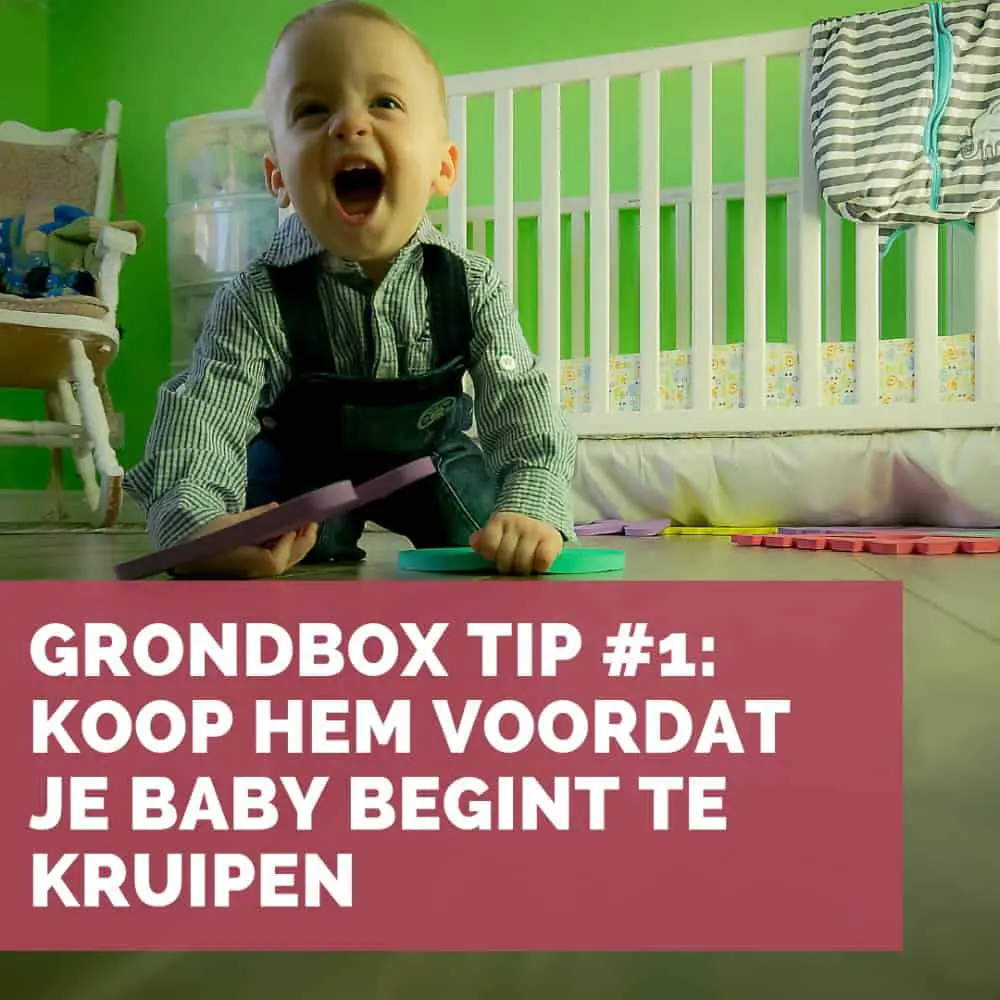 If you want to use a playpen, it is important to buy one before your baby starts crawling (this is when!).
However, if you wait until your baby is older and is already crawling or pulling himself up, he is less likely to feel comfortable in it.
You then suddenly limit his freedom of movement, while he could just as easily reach everything. If he knows the playground before as one of the most pleasant places at home, he won't mind.
At first, a young baby will probably sit in a playpen for ten to fifteen minutes while you talk to him or give him a toy in the room.
If there are older children in your home, your baby will probably like to lie in his play pen and watch them play.
When buying a box, it is safest to buy a new one, or else a used model that is still in production.
When buying a used box, compare the model with the one in the store to make sure all parts are the same.
An active baby can have an accident even in a "safe" place, so don't leave your baby unattended for more than a few minutes - of course you have to go to the bathroom!
What is a baby playpen?
Basically, a playpen is an enclosed play area that gives your baby a safe place to play. The self-contained units are usually made of wooden, plastic or metal frames.
Most baby playpens are light, so they can be easily moved around the house.
Do you need a baby playpen?
As much as you'd love to hold your baby 24 hours a day, 7 days a week, it's next to impossible. A baby playpen will not only make your life easier, it will also give your baby a sense of independence from an early age.
Today, the baby playpen is also safer and easier to transport, making your daily routine even more practical and better organized.
Also read: 32 play mats rated with everything from animals to cars
How to use a baby playpen?
Simply place your chosen playpen on a flat surface, fill it with baby's favorite toys and watch your baby have fun!
How do you choose the best baby playpen?
The first thing to think about is how much floor space you have. There's no point in buying something that doesn't fit in your front room!
There are different designs and shapes of baby playpen. Below you can look at other important points that can help you make your decision:
The types of baby playpen
Traditional wooden baby boxes: these are usually more spacious and it is easy to match with the other furniture. They provide enough space for your baby to play safely.
Colored plastic baby playpens: Eye-catching, but more difficult to move from room to room, so make sure you have enough space.
Baby playpen with metal structure and fabric: better for smaller spaces and very easy to keep clean. These will last longer, if you plan on having more than one baby they are perfect to pass on.
The technology of ground boxes
The latest technology of ground boxes is in the light weight and best foldable functions.
There are also boxes with good wheels, making them super easy to move.
Baby playpen with additional functions
Most baby playpens are very simple and will not have many extras.
If they already have them, it's usually extra storage space for toys and the like.
Tips for choosing the best ground box
What should you pay attention to when buying a ground box? Here are some important points:
Strong construction
Easy to assemble and easy to clean up
Folds small for easy storage
No sharp edges
Important points regarding the safety of a ground box
Only buy a box with the correct security features
Do not leave your child alone unless absolutely necessary
Keep the box clean
Make sure there is no large object for your baby to climb on to get out
Do not place it near a fireplace, oven or gas stove
Do not tie anything at the top (to avoid strangulation hazard)
Do not place the box near stoves, radiators, doors or windows that can be open
Keep it away from dangling cords or cables
Make sure the baby playpen has no holes
Place your child's favorite toys and books in the playpen
Do you want to read more about buying a box? Take a look at the website of the Consumers' Association.
Frequently Asked Questions
What is a ground box?
A playpen is an enclosed space, usually made of wood or plastic, in which a baby or toddler can play safely. They are usually foldable and can keep a child secure while the parent performs other tasks.
Are boxes still widely used?
Yes, many parents still use playpen, and it is often encouraged. While some feel that a playpen limits children, it remains an excellent way to keep babies safe while allowing attention to other tasks.
Are boxes a good idea?
Some child development experts fear that children who spend a lot of time in boxes will not be given enough stimulation or explore their environment. Of course it depends on how much time your child spends in a box. Anything too much can be harmful. So yes, boxes are still a good idea.
How Long Do Babies Use Playpens?
Many boxes are for children between six months and six years old. While active children grow out of the playpen after a few years, many children enjoy the comfort of their play area for a long time to come. There is no ideal length of time for babies to use boxes, but preferably from four months old.
Are wooden boxes safe?
Yes, wooden boxes are in principle safe. They are one of the most popular types of playpen among parents. Their safety requirements are no different from other materials. Make sure the bars are well spaced and the screws and nails are safely away from the child.
Conclusion
The conclusion is that a ground box is very handy and that kids can really learn a lot in the box.
Lees meer: what do you pay attention to when buying a pram? 15 tips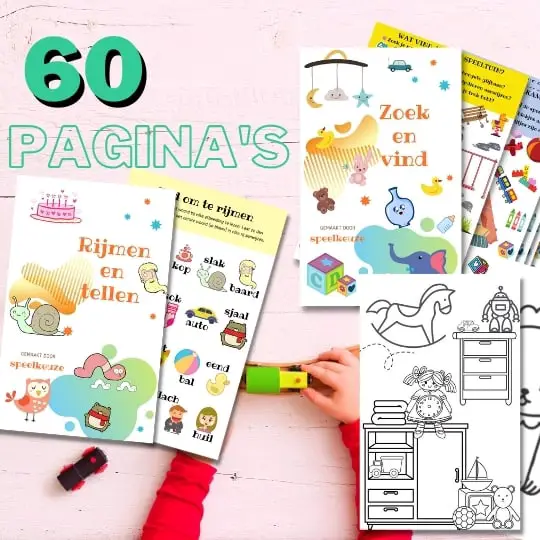 Always something to do for the holidays or rainy day?
Play Choice now has the ultimate activity book collection, with over 60 pages of fun coloring pages and educational puzzles.
Joost Nusselder, the founder of Speelkeuze.nl is a content marketer, father and loves trying out new toys. As a child he came into contact with everything related to games when his mother started the Tinnen Soldaat in Ede. Now he and his team create helpful blog articles to help loyal readers with fun play ideas.