I enjoy writing these articles for my readers, you guys. I don't accept payment for writing reviews, my opinion on products is my own, but if you find my recommendations helpful and you end up buying something through one of the links I may be able to receive a commission on that.
More information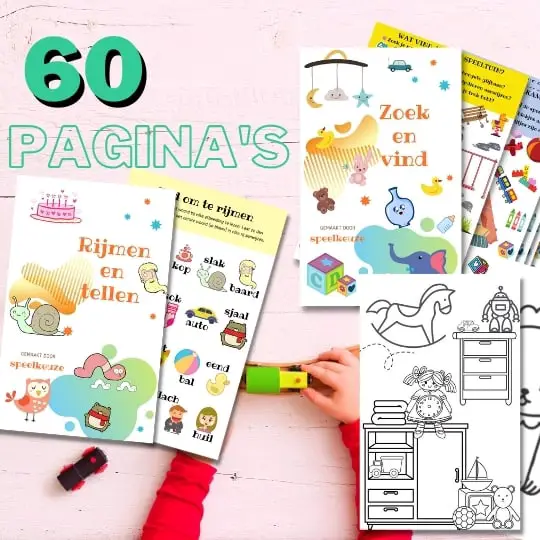 Always something to do for the holidays or rainy day?
Play Choice now has the ultimate activity book collection, with over 60 pages of fun coloring pages and educational puzzles.
Your kids have come up with something new: they now want a go-kart† And that while their hoverboard is not even that old. There is an ideal solution namely the hover kart!
With this kart accessory you can turn their hoverboard into a real kart.
If you buy the right one, it is a super cool accessory that is easy to assemble and remove, so you can choose what you want to do every time.
If you make a bad buy, you have a just-not-as-nice-as-go-kart rickety thing whose wheels don't steer well and your child will ignore it.
In this article, we'll discuss what to look for if you want to buy one, and what the best and safest brands are.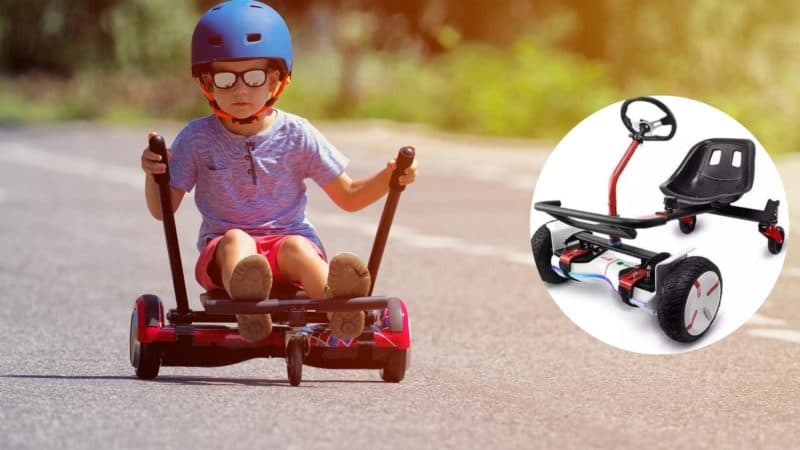 The best kit for most kids who need their hoverboard want to convert to a kart is this affordable hoverkart from the brand Smarty with a fully adjustable frame. This makes the kit suitable for (almost) every hoverboard, Oxboard or Mini Segway. It is the most affordable with a shock absorber system!
The kit is very safe with sturdy and well finished parts, it is easy to install and also suitable for adults (up to 120 kg).
Most hoverkarts are suitable for almost all brands and sizes of hoverboards and can therefore be used universally.
But there are also more luxurious or cheaper ones available if you have other wishes. Here are the best in the major categories:
What should you pay attention to when buying a hoverkart?
The most important things to watch out for are:
safety of the kart
ease of steering and handling
to what length can it be adjusted
up to what weight can it have
it fits on the hoverboard I have
All hoverkarts in this list are safe, otherwise we wouldn't have put them on there!
But for the other things you do have some choices.
What is important in any case is that you take into account the possibilities of the hoverboard that you already have.
The maximum speed of the hoverkart may well be 20 km per hour, but if your hoverboard can "only" go up to 15 km per hour, then it makes no sense to select a hoverkart at speeds above 15 km per hour.
Is your hoverboard suitable for driving through puddles? Fine, a hoverkart can handle that too.
So check carefully what your hoverboard can and cannot do. Then look at the size of your hoverboard and you will automatically arrive at a choice for your hoverkart.
And think about who will use the hoverkart.
What is the height and weight of the driver?
If you think carefully about what you need in advance, the chances are small that you will make a bad buy. A hoverkart is fantastic!
And it gives the opportunity to gain a whole new experience with your already favorite toys.
What are common problems with a hoverkart?
In general, the enthusiasm with which people play with the hoverkart is greater than the complaints that there are.
But as with any product, problems can be found here too.
Hoverkart sometimes difficult to build
The problems mainly consist of difficulties building the hoverkart.
The less well-regarded brands often lack a clear manual.
Soundness of the confirmation of the hoverkart
Another problem that often occurs is the cannot sturdy Velcro straps that are included.
Without sturdiness, the chair will not adhere properly to the hoverboard, causing all kinds of problems.
With some brands you can buy extra Velcro - with frequent use of the hoverkart it can wear out anyway.
Velcro that is custom made and you can reorder is very handy. SwheelS does offer this option in any case.
Quality of the front wheel of the hoverkart
The front wheel bearing is also important. If the bearing is not good, it can cause a lot of trouble driving.
Your kart is worth next to nothing without a working front wheel.
Best hoverkarts rated
Best Hoverkart with Shock Absorbers: Smarty hoverboard kart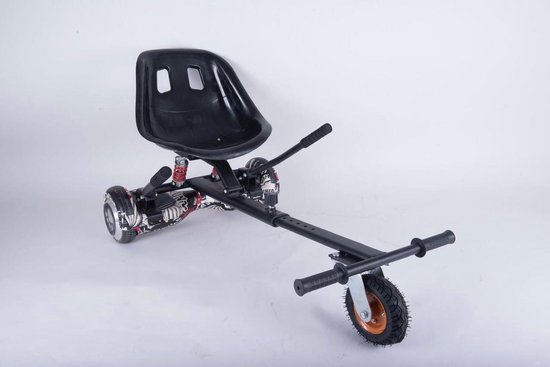 The Dutch manufacturer of this brand of hoverkarts and hoverboards always emphasizes quality.
The materials used are tested and must meet strict requirements.
That is one of the reasons why we have confidence in the quality of this Smarty hoverkart.
Universal use, 1 year warranty, can also ride on grass, made of aluminum, adjustable frame, carries up to 120kg and has built-in shock absorbers.
Good workmanship and an eye for detail
Besides the quality of the material, the finish is also a point of attention for Smarty.
It would of course be a shame if your hoverboard is damaged by using a hoverkart.
Or that you are left with wounds from playing on a hoverkart! With the Smarty hoverkart you do not have to worry about that.
It is one of the few karts with built-in shock absorbers, and you can feel that immediately when driving!
Service is also important
Besides the importance of good quality, we also consider service to the customer to be an important point. And here the service to the customer starts with the first contact.
The brand's website is very clear. It is well described what you buy and what the conditions are. Not all brands are so clear about this.
In addition, the kart comes with a clear manual, so that after about 15 minutes of odd jobs you have mounted your hoverkart on the hoverboard and can start your first round!
Fast and comfortable hoverkart
The hoverkart is made of sturdy material. This allows the hoverkart to drive quickly without having to compromise on stability or comfort.
The speed at which you can ride really depends on your hoverboard, but top speeds of about 20 km / h have been measured with the Smarty hoverkart!
Besides the fact that your hoverboard determines the speed of your hoverkart, the joint weight of the driver, the hoverkart (this hoverboard weighs 5,5 kg) and the hoverboard is of course also important.
The heavier that all weighs, the slower the hoverboard will go (unless you go down hill of course!).
Fun for everyone with the hoverkart
This Smarty hoverkart can carry a person of up to 120 kg.
The seat may not be very comfortable for very large people, but that is the case with all hoverkarts.
The size of the seat is 38x31cm. The length of the frame is adjustable and you can let people of different lengths have fun on the hoverkart!
And should parts break, Smarty offers you a one-year warranty on the product and parts.
Check prices and availability here
Best hoverseat seat: RCB Hoverkart
This kart brand has a beautiful steel frame that can be extended to a maximum of 110 cm.
Also on this kart a person can sit with a maximum weight of 120 kg.
The frame is universal and, like the SwheelS kart, fits 6.5, 8 and 10 inch hoverboards.
Because the hoverkarts are generally very similar (as you can see in the properties in the table) the difference lies very much in the finish and the quality of the product and the material used.
Universal use, black adjustable frame, 1 year warranty, can bear up to 120kg
Qualities of this hoverkart
Because this hoverkart from Hoverkart can also be set to multiple lengths. The minimum length is 60 cm and the maximum length is 110 cm.
The seat has the same size as the SwheelS kart, namely 38 × 31 cm and the weight of the hoverkarts are also the same for both brands (5,5 kg).
The speed of this kart is a maximum of 16 km / h, but this is also due to the weight of the driver.
The Hoverboardkart kart is also bound to a maximum weight of 120 kg.
The Hoverkart service
We have also paid attention to service. Both in customer service, but also at the first contact on the website.
The Hoverboardkart site provides clear information and product descriptions.
There is a 1-year warranty on the hoverkart. Moreover, the company is easy to reach.
The customer experiences are also positive and, last but not least, the price is also very competitive.
With a suggested retail price of € 49,95, this kart is the cheapest of the four we have mentioned.
Check prices and availability here
Best hoverboard with hoverseat combo: Evercross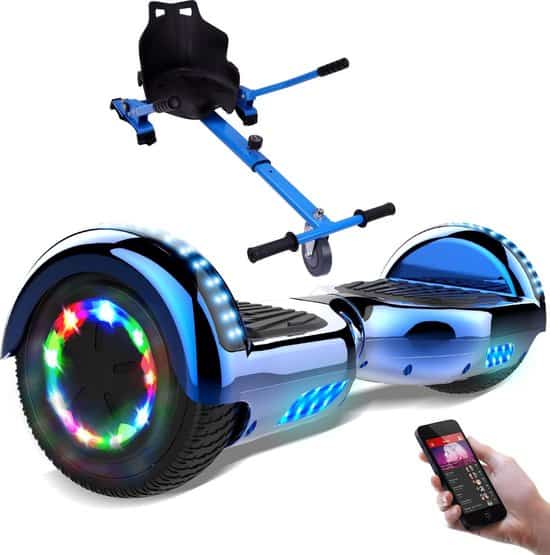 If you want a complete set including the hoverboard (so you can be sure that everything fits perfectly), there is this set from Evercross.
This brand also has one of my favorite off-road hoverboards for when you want to get a little off the beaten track, and they've released some super sturdy models.
With this set you have a hoverboard with a hoverkart for a relatively low price, certainly a cheap deal if you don't have a board yet.
Best hoverkart for Oxboard: Official Oxboard Hoverkart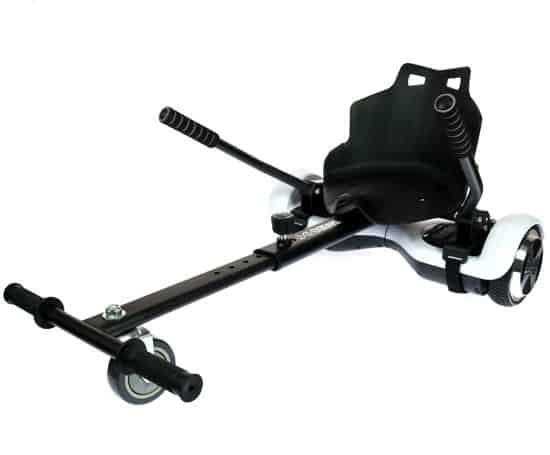 If you have an Oxboard, there are a number of models that connect to it, but you'll probably want the official Oxboard hoverkart attachment in that case.
The same quality as the Oxboard itself, the hoverboard brand that started it all and that has been at the top for years.
Best cheap hoverboard seat: Lucas Electronic Hoverkart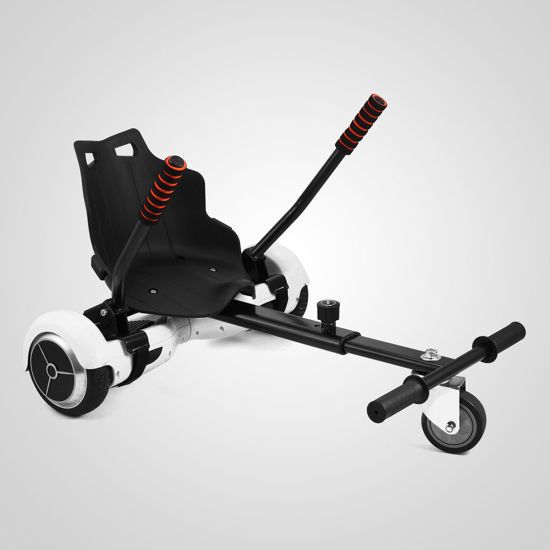 Best Front Wheel Drive Hover Kart: Bluewheel HK400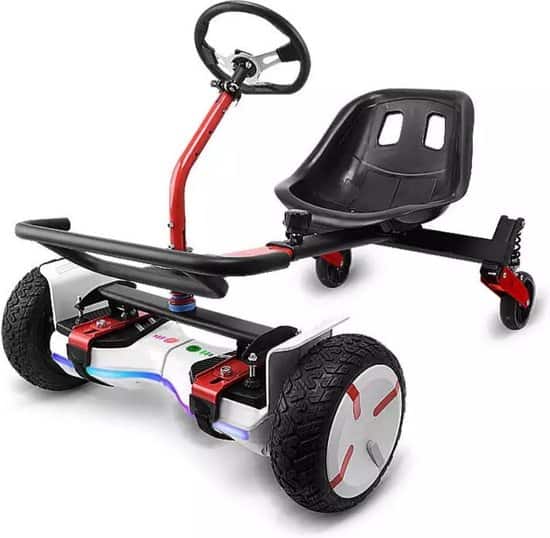 This Bluewheel hoverkart does it completely different. It has front-wheel drive, which certainly helps with steering.
With firm suspension, this time at the rear wheels you can tackle terrain without getting stuck, although the rear wheels are a little on the small side for real mud or tall grass work.
A very good choice if you really go for that front-wheel drive, which you actually see very little.
How do you attach a hoverkart to a hoverboard?
You should therefore not necessarily ensure that the hoverboard you buy matches your hoverboard in terms of brand.
This is because the connection of the hoverkart with the hoverboard is simply made with Velcro.
So you don't have to connect wires or slide plugs together.
To attach the hoverboard to your hoverboard, add the protection strips to the bottom of the hoverboard.
Make sure the hoverboard is off and straight on the ground.
Then you simply place the hoverkart on the hoverboard so that the seat supports land flat on the footplates of the hoverboard.
Then you bend the Velcro strips tightly around the hoverboard. You can also adjust the length to the person who is going to ride it.
Just test whether everything is securely fastened and you can start driving!
Choose the right hoverkart
Several brands sell hoverkart kits (also called hoverseat, hoverboard kart, hoverboard seat or the like). It is therefore important that you pay attention to the quality.
In addition to our two top choices listed above, we also give you a more extensive description of the kits and an overview of the different kits from the different hoverboard brands that are offered, so that you can make a good choice.
Note the difference between hoverboard and hoverkart
It is important to note that when you select a hoverkart on the internet, you only buy the kit to convert your hoverboard.
If you are looking for a hoverkart, you do not buy a hoverboard.
So you only buy the accessory.
Do not be surprised if you think you have made a good deal for a hoverboard and you only notice after delivery of the package that the hoverboard is missing and the box only contains a hoverboard.
It does happen that you can purchase the hoverkart together with the hoverboard in one go.
This often even saves laundry money, since it is a combination package.
Make sure you have a hoverboard at home first
As mentioned, you need a hoverboard to make a hoverboard. And of course the quality of hoverboards varies.
This article takes a look at the accessory that will turn your hoverboard into a hoverboard. But do you want to know more about hoverboards? Then click right here.
What exactly is a hoverkart?
A hoverkart consists of a seat, two side supports for your hands, a long bar that runs forward, a footrest and a small wheel at the front.
This way you can easily build an electronic go-kart!
It is a stable chair that you attach to a hoverboard with straps. This gives you a new dimension to your hoverboard.
What can you do with a hoverkart?
With a hoverkart you can perform completely different tricks than with a hoverboard. This is because you are on the hoverboard instead of standing.
This allows you to control the movements with your hands and you have an extra wheel.
Control with the levers of the hoverkart
You can control the speed of the hoverboard by moving the long levers on the sides of the hoverkart.
The farther you move the levers, the harder the hoverboard will go.
If you bring the levers all the way back, the hoverboard will also reverse.
And if you keep the levers exactly in the middle, you keep the hoverboard exactly in balance, as it were.
This causes the hoverboard to stop riding.
The levers can be moved forward and back independently of each other. This also allows you to make much shorter and tighter turns.
You can suddenly perform very different tricks than when you are on a hoverboard!
The coolest tricks possible with the hoverkart
There are tons of tricks to try and think of that you can do with your hoverkart. You can do wheelies or spin with your hoverboard.
It is only for the toughest among us! Do you want to get inspiration for tricks? Then you can see what YouTuber Enzo Knol does with it:
Because you are so low to the ground you also get a completely different feeling when using the board than when you stand on it.
You will notice that it feels much faster when you are on a board than when you are standing on it.
Safety on a hoverkart
One of the hardest things to do with a hoverboard is getting on and off; especially for beginners or younger children.
Safe use of the hoverkart
The balance you have to find to safely board a hoverboard is not easy to find in the beginning.
Of course you get used to it and you can probably get on better after a few practice.
But it is nice to see that a hoverkart overcomes this problem. Because you can easily take a seat in the seat, the hoverboard remains stable.
The front wheel also ensures that the board remains somewhat in balance.
An ideal way to let people with less experience take a ride.
So you can actually say that riding a hoverboard is safer than riding a hoverboard. Certainly for smaller children or people with little or no experience on a hoverboard.
Can you go on the public road with a hoverkart?
Of course, we recommend that you take precautions before experimenting with tricks.
If you stand on a hoverboard you are much more visible to the traffic around you.
You are almost invisible to cars so low to the ground, so it is not advisable to use the hoverkart in a place where cars can drive.
It is in the Netherlands anyway by the government still forbidden to use hoverboards on public roads. In Belgium this situation is different.
This is about the speed of the hoverboard.
Based on the speed driven, it is determined whether the board should ride on the sidewalk or on the cycle path.
Sufficient protection
Whether you drive on a public road in Belgium or on your own property in the Netherlands; asphalt remains asphalt.
And the use of a stunt helmet for kids and elbow protection is therefore very sensible.
But knee and wrist protection is also highly recommended.
The stability of a hoverkart is quite great, but a crash is still possible with a device that can race at a decent speed.
You can learn more about the safety and dangers of hoverboards right here .
With the right measures and good preparation, your child or yourself can go out with your hoverboard and hoverkart in good spirits.
We wish you a lot of fun and endless miles on these beautiful toys!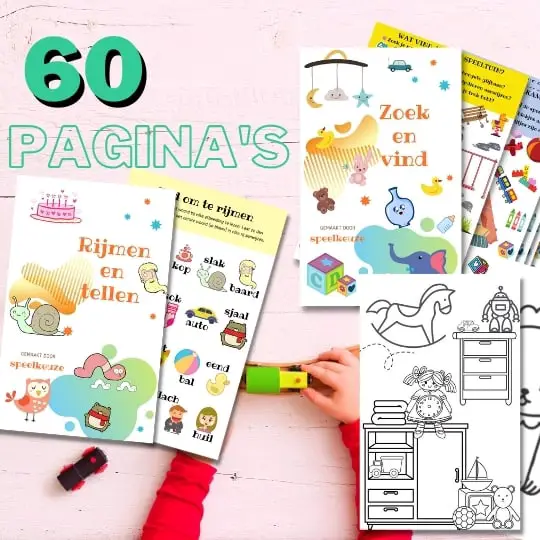 Always something to do for the holidays or rainy day?
Play Choice now has the ultimate activity book collection, with over 60 pages of fun coloring pages and educational puzzles.
Joost Nusselder, the founder of Speelkeuze.nl is a content marketer, father and loves trying out new toys. As a child he came into contact with everything related to games when his mother started the Tinnen Soldaat in Ede. Now he and his team create helpful blog articles to help loyal readers with fun play ideas.