I enjoy writing these articles for my readers, you guys. I don't accept payment for writing reviews, my opinion on products is my own, but if you find my recommendations helpful and you end up buying something through one of the links I may be able to receive a commission on that.
More information
Every child deserves at least one bicycle in their lifetime. As soon as a child can in principle walk briskly and can keep his balance, he can start cycling.
A bicycle is also a wonderful gift as a birthday gift, because cycling is great fun for children! Just ask any child who can already ride a bike.
In this article, I'll cover the best children's bicycles, plus some handy tips to keep in mind when buying one.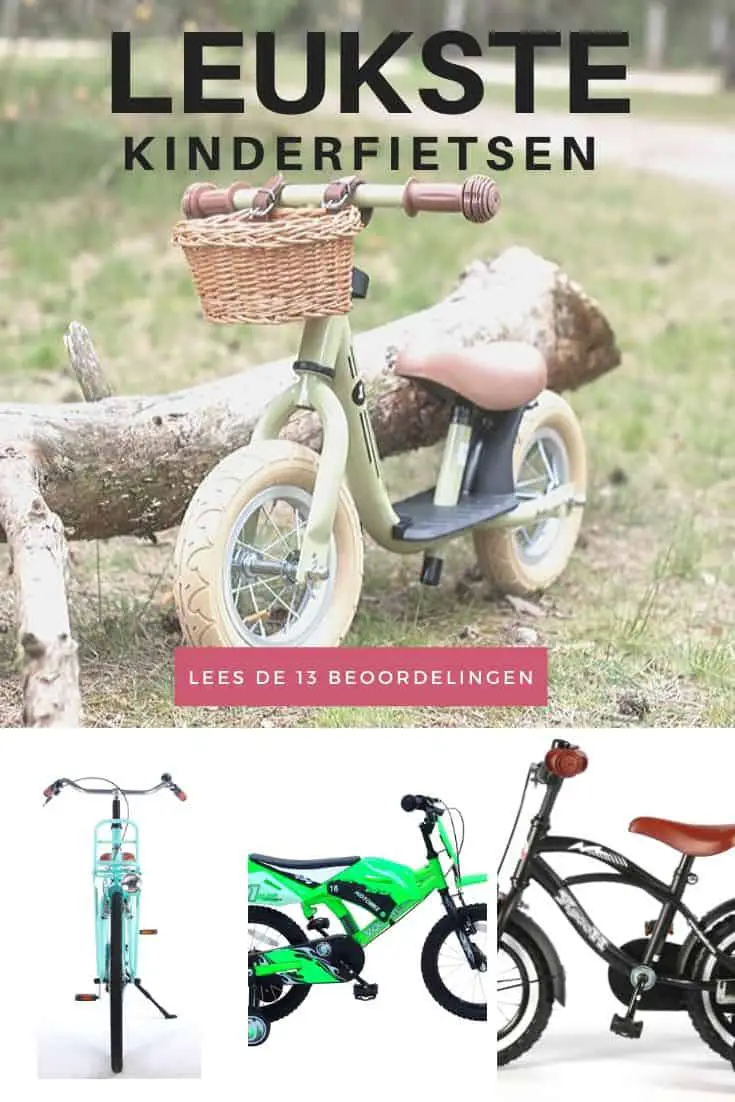 Cycling gives them a feeling of freedom and independence. They feel like they are growing up.
And this is true. From the first balance bike to the tricycle with pedals to that one bike with the big wheels.
The bikes in your child's life more or less reflect how fast your child grows and how it develops. Cycling is good for children.
Cycling also has so many advantages.
Has it also happened to you that your child cannot close their eyes at 10 o'clock in the evening, because they have only been watching videos in the afternoon?
By cycling, children lose their daily, accumulated energy and build up a good body condition.
In addition to helping the child's muscles and physical motor skills develop, cycling is a healthy and useful pastime.
Having a bicycle is a good reason not to hang out on the couch every afternoon, but to cycle around in the park or in the neighborhood.
Fun competitions with friends from the neighborhood are certainly one of the great advantages of having a bicycle.
Make sure you don't buy a bicycle that is too big for your child!
My absolute favorite children's bike is the Volare Black Cruiser Children's bicycle, because it is an excellent example of a 'first bicycle'.
This beautiful black children's bicycle is from the quality brand Volare and fits nicely in size after the child has already practiced a lot with a balance bike.
It is a hybrid bike with both a coaster brake and a hand brake. A perfect combination to have when you are just starting to learn to ride a bike.
This way the child can decide for himself what suits him best.
The best children's bikes at a glance:
Buying the right children's bicycle
Buying the right children's bike for your child is a little more than going to the bike shop and buying one. There are a lot of factors and functions to consider.
In this article, we outline the best children's bicycles based on the size of the bike (also age range) and its unique features.
These are the best children's bicycles, which will give your child the best cycling experience and also guarantee their safety in different stages of life.
Those who don't have a lot of time can check out the quick overview of the best kids' bikes below. For an extensive review per product, you can read the article further.
In any case, know that lightweight bikes are the best choice.
Are you still looking for a balance bike for your little one? We have the best balance bikes here for you!
What should you pay attention to when buying a children's bicycle?
Finally, here are some useful tips when looking for a new children's bike.
When comparing different options, it is always useful to know which aspects may be important.
Weight of the child's bicycle
Before making a choice, the first thing to consider is the weight of the child in relation to the bicycle you have in mind.
It is recommended that the weight of the bicycle is no more than 32% of your child's weight.
Anything above that is too overwhelming for the rider, so make sure the bike's frame is as light as possible.
A bike with a light weight also makes it easy when you carry the bike in and out of the house.
Wheels of the children's bicycle
The size of the bike's wheels depends on your child's age and their experience level.
Young cyclists between the ages of 2 and 3 should be comfortable on 10 to 12 inch tires. 24 inch wheels are perfect for children from 9 to 12 years old.
Popal also has its own wheel size table that you can match with the clothes that fit your child: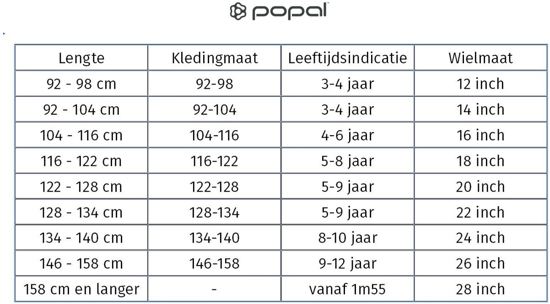 Make sure the wheels on the bike you buy are comfortable enough for the child to maneuver easily.
Also consider the width of the wheel. A wide wheel provides excellent grip for the safety of the child.
Handbrake vs. coaster brake
Hand brakes are fitted with brake levers to the left and right of the handlebar.
Although it requires more skills compared to coaster brakes, it allows your child to take their bike on both hilly and off-road terrain.
For foot brakes, on the other hand, your child has to pedal backwards to stop the bicycle.
Since new riders naturally pedal both backwards and forwards, these brakes can be difficult for them.
However, a child learns to cycle more easily with coaster brakes compared to hand brakes and therefore recommended for beginners.
If you want the best of both worlds, choose a hybrid option that comes with both hand and coaster brakes.
This way your child can use the brake that he or she is comfortable with and since the fact that he will eventually grow towards handbrakes, this is also a great way to prepare him.
Geometry of the children's bicycle
Good geometry of the bike guarantees the comfort of the child while riding. This applies to both a balance bike and a pedal bike.
A balance bike must leave sufficient space between the seat and the handlebars and must ensure that the child's feet touch the ground completely.
A pedal bike must have enough room for the child's knees when pedaling and must ensure that the child touches the ground with the tip of the toes when sitting on the saddle.
Gears
Whether you buy a single-speed or multi-speed bicycle depends first of all on your own preference.
Second, it depends on the child's riding style and where they want to take their bike.
A single speed bicycle is easy to pedal and cheaper than a multi-speed bicycle.
This bike is also suitable for everyday use and good for riding on roads without hills and slopes.
A multi-speed bicycle gives the child the option of traversing rougher terrains, such as forest trails. These bikes are therefore best suited for experienced riders.
Sustainability of the children's bicycle
Your child's bicycle must be sturdy enough to withstand all the additional aspects of learning to ride a bicycle.
You cannot escape it, because your child will not be able to cycle properly right away.
Learning to ride a bike will take some time and some pain before beginners get the hang of it.
Falling every now and then, bumping into walls or trees, it's all part of it.
The bicycle you purchase must therefore be of solid quality, to guarantee years of riding pleasure and safety.
Steel and aluminum bicycles are the most common.
Looking for even more toys to stimulate your child's motor skills and condition? Here we explain everything about the cool hoverboards!
13 best kids' bikes reviewed
A good start is half the work! When your child is only starting to learn to ride a bicycle, it is important that he starts with a bicycle that meets the necessary requirements.
It is therefore nice to know in advance what to look out for when buying a children's bicycle.
We will discuss our favorite children's bicycles below and then give you handy tips for choosing the best two-wheeler for your little one.
Best children's bike 12 inch (2 to 4 years): Volare Black Cruiser
De Volare Black Cruiser Children's bicycle is in our opinion the best children's bike to start with. The excellent Volare brand is made in Volendam.
Our favorite children's bike overall, ideal for learning to ride a bike. With extra wide pneumatic tires, training wheels and both a handbrake and a coaster brake.
A sturdy, solid children's bike.
Thanks to both a coaster brake and a hand brake, the child can choose which brake option he likes.
The beautiful black bicycle has a classic and sturdy look.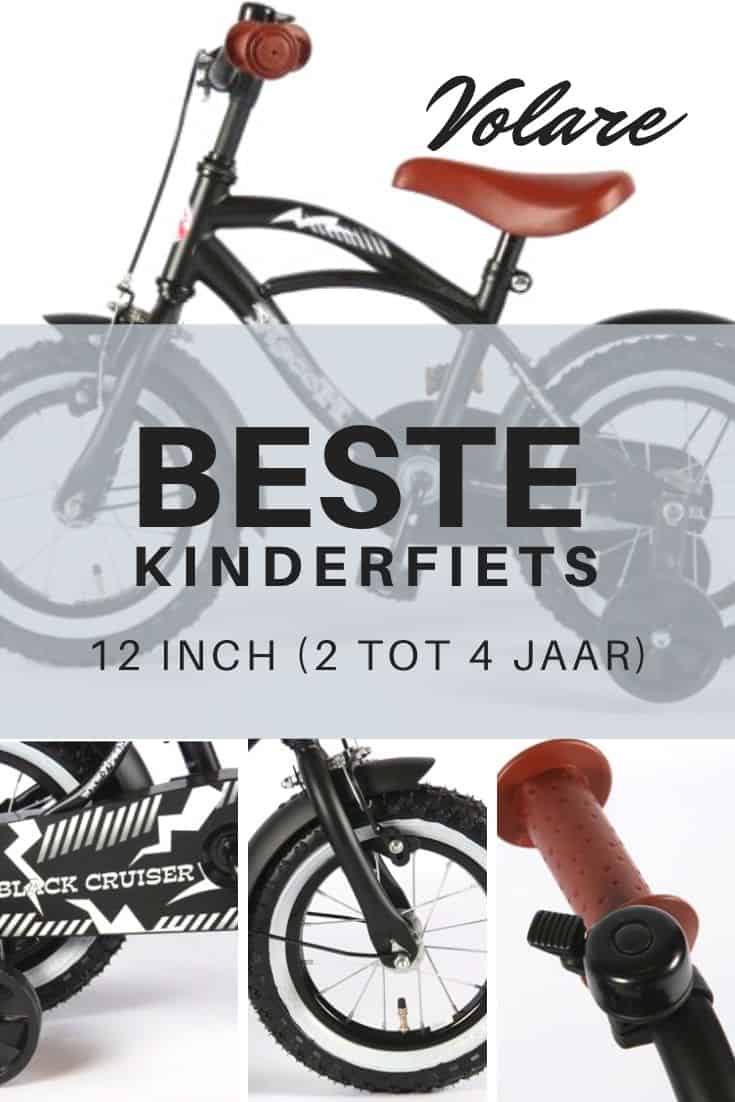 You can immediately see from the bike that the bike is of a decent quality.
To confirm this, it is good to know that the Volare brand is behind this beautiful children's bicycle.
Thanks to the steel frame, the bicycle is lightweight and it is made easy for you as a parent to carry the bicycle back and forth.
The bicycle is delivered including training wheels and a bicycle bell.
Besides the fact that this beautiful children's bicycle has a tough look, you can also count on it that the bicycle offers the necessary stability.
With the extra wide pneumatic tires, the bicycle is stable and the child can go about it safely.
Additional details such as the closed chain guard and the practical mudguards at the front and rear are absolute plus points that make the bike even more attractive than being 'a first bike'.
The bicycle is also supplied 85% pre-assembled, so that you do not have to tinker yourself a lot before the little one can start cycling.
Best children's bike 14 inch (girls 4 to 5 years): Popal Little Miss
With this pretty princess-like pink Popal Little Miss Children's bicycle your little girl can enjoy cycling along with her favorite doll!
Beautiful pink children's bicycle with nice accessories, such as a doll seat and garlands on the handles. A sturdy and cheerful girl's bike that will provide a lot of fun while cycling.
This fun children's bicycle from the Popal brand ensures that your child will love cycling.
The rear seat on the bicycle is made for the doll to ride with and in the basket at the front you can still do anything with it.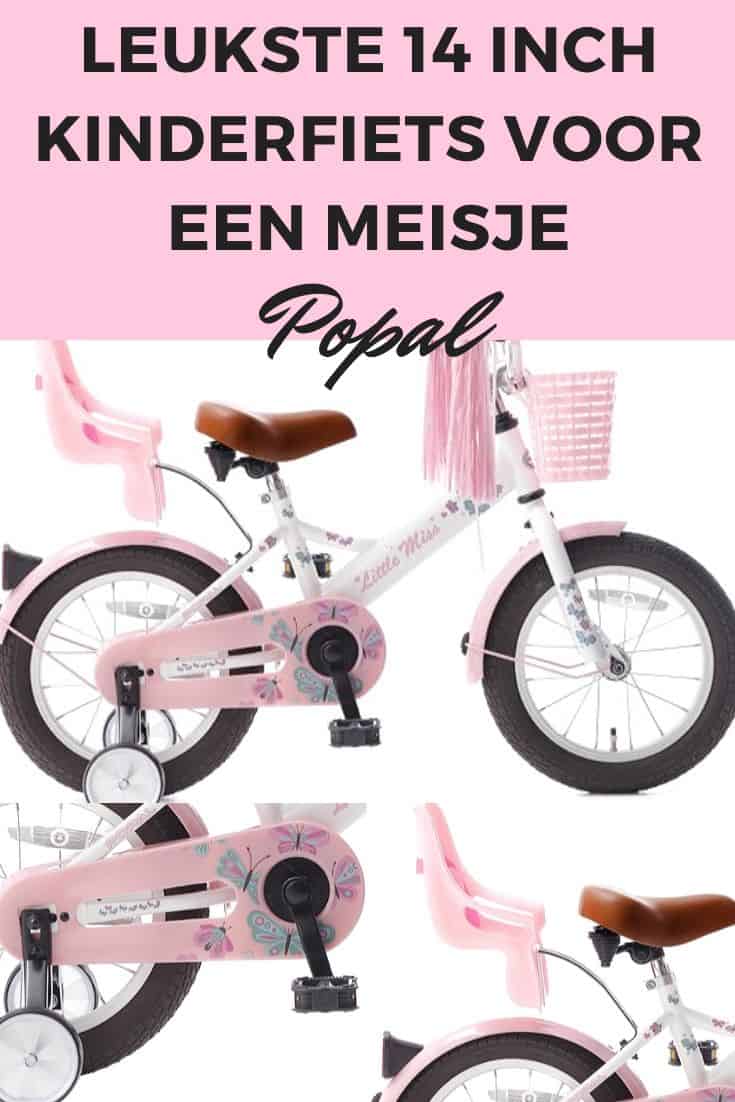 It is a sturdy bike that is perfect for girls who like to cycle from one adventure to another with their doll.
The frame is made of steel, making the bicycle only 11 kg. Not very heavy to carry.
The bike also looks great. With the fun accessories such as the rear seat, the basket at the front and the beautifully decorated steering wheel and frame with stickers, you will be able to make every girl of 4 or 5 years very happy.
The bicycle also comes with training wheels, which you can remove depending on the time as soon as the child can cycle better.
In itself a very nice bike for girls who like to ride like princesses.
Best children's bike 16 inch (boys 4 to 6 years): Volare Motorbike
Two things immediately struck us when we saw this bike: the bright green color and the super cool design.
Tough boy's bike that looks like a real motorcycle.
The children's bike has two front brakes, extra wide wheels, a safe closed chain guard, safe protective handles and sturdy detachable side wheels for fast learning to ride a bike.
De Volare Motorbike boy's bicycle is a bike for boys between 4 and 6 years old with clothing size 104-110, who love motorsport.
It is a boy's bike with a frame that looks like a real dirt bike. A true boy's dream!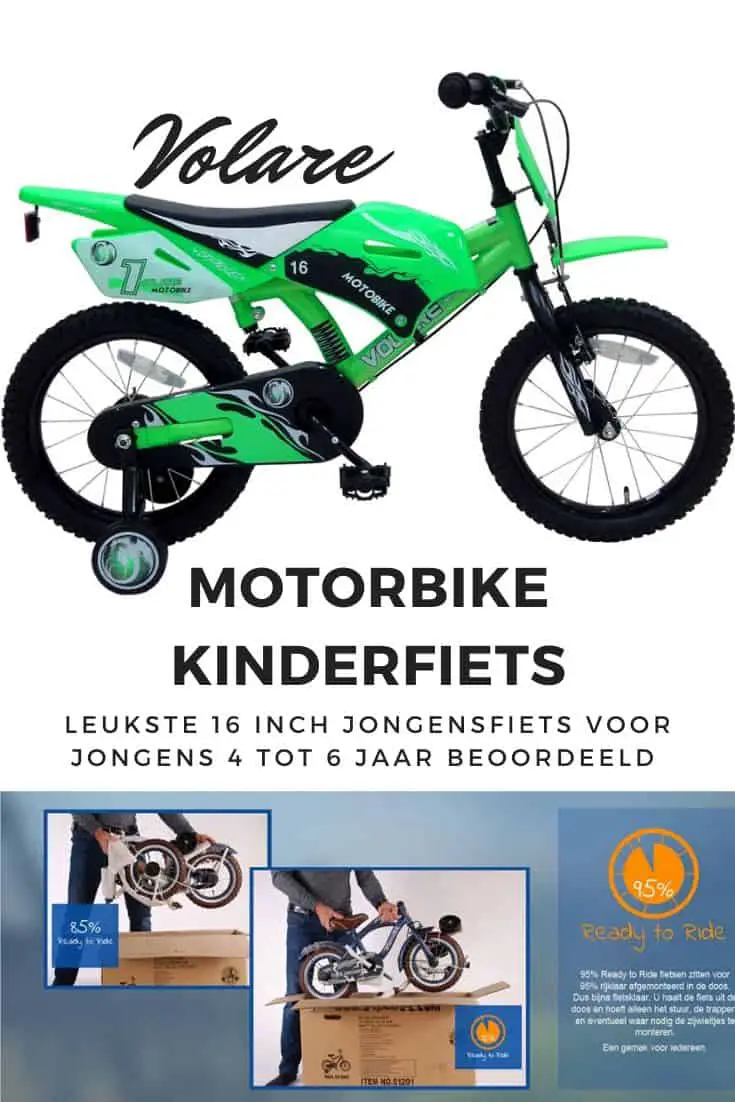 The frame, in combination with the extra wide tires and the support wheels, offers the necessary stability to the little racer who gets behind the handlebars of this great bike.
Not only is it safe to cycle on this bike, but thanks to the sturdy design, the rider will experience the best racing adventures in the park or in the neighborhood. Due to the stability of the bike, the two front brakes, plastic mudguards, safe closed chain guard and safe protective handles, your son can learn to ride a bike in no time.
He will be unstoppable once he has mastered cycling!
Best children's bike 18 inch (5 to 7 years): 2Cycle Track
A flashy bicycle with a front carrier absolutely belongs in the list of the most sturdy children's bicycles for a smaller price. The 2Cycle Track is a cool children's bicycle that is suitable for children between 5 and 7 years old.
Nice children's bike with beautiful design. Good for the bigger kids, when they can already cycle independently.
It should actually be a boy's bike, but tough girls can enjoy it too, because the bike has a hip and modern design that appeals to both groups.
It is a sporty model on which your child can make a lot of rides and can take some on the front carrier as well.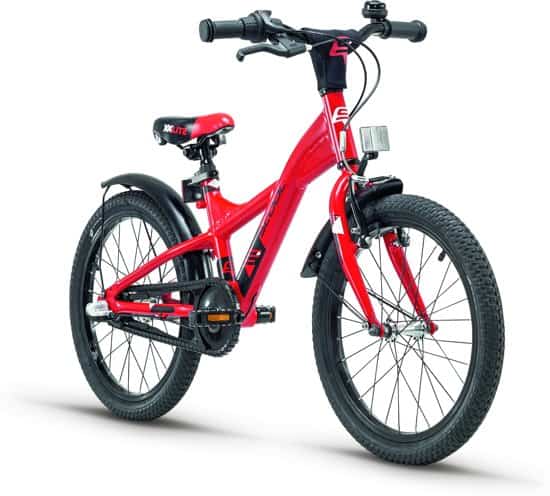 This gray children's bike with red rims has a foot brake and a bell. And is also equipped with mudguards on both wheels and a closed chain guard.
In essence, the bicycle has everything to enjoy cycling in a safe way.
In short, a great hip and comfortable bike in the color gray, with bright red accents.
Best children's bike 20 inch (5 to 8 years): Volare Thombike City
De Thombike City children's bike is a new model from the Volare brand that is specially designed for all young adventurers.
A children's bike with a sturdy frame in a blue color and sturdy tires.
Has a handbrake and a coaster brake, a bicycle bell, front and rear lighting, a sturdy aluminum stand, aluminum rims and a bicycle lock.
The bike has a fresh blue color that asks to be seen. If your child goes to school with this bike, he will certainly stand out.
The beautiful bright color and the trendy design give the bike a 'wow effect'.
It is a great bike that will probably appeal to every child between 5 and 8 years old.
The sturdy wide tires give stability to the bike, so that your child can cross on the street without any worries.
In addition to the pleasure that your child experiences with a bicycle from Volare, the safety of your child is also taken very seriously by this company.
The bicycle therefore has a bicycle bell, a handbrake and a coaster brake, front and rear lighting, a sturdy aluminum stand and aluminum rims.
Because it is a valuable bicycle, this bicycle certainly comes with a bicycle lock included.
The bicycle also has a strong rear carrier with straps if your child, for example, wants to carry his school bag there.
With only 5% that you still have to assemble yourself, this cool bike is delivered almost ready to ride. Super easy!
Best children's bike 22 inch (5 to 9 years): Popal Funjet X
Zooming through the streets with your bicycle is allowed, as long as it is done in a safe manner. With the Popal Funjet X your child flashes over the road like a bolt of lightning.
Sturdy children's bicycle with double-walled rim and coaster brake and hand brake. The sturdy frame and solid quality ensure that this bike will last for a long time.
Thanks to the double-walled rim, the child can cross curbs freely and happily in a safe way.
The bicycle can be brought to a stop quickly and easily with the coaster brake and hand brake.
The bike has a sporty design and comes in a gray color with green details.
This cool bike is intended for cool kids who want to appear at school with the coolest bike.
The steel frame and aluminum rims provide a stable riding experience and make the bike can take a beating.
This children's bicycle is intended for children between 5-9 years and also includes a bicycle bell, a luggage carrier and a ring lock.
A nice extra accessory to this cool bike is the front and rear lighting, which is certainly useful for cycling during the short and dark days.
Best children's bike 24 inch (8 to 10 years): Bike Fun City
With the Bike Fun City bicycle your son will not only arrive at school in flair, but also safe.
Ideal bike for the tough little one who already cycles to school by themselves. The bicycle comes with a bicycle bell, lighting and a stand and has 3 gears.
As a parent, you can count on this bike with the best features to transport your child safely and securely to wherever.
This bike is suitable for slightly older children between 8 and 10 years old who already know how to maneuver well with a bicycle with gears.
Thanks to the 3 gears on this bike, your child can enjoy it optimally. Climbing hills and slopes is thus made easier.
The bicycle also has a handlebar that is adjustable in height, a bicycle bell, lighting and a kickstand.
The steel frame of the bicycle is sturdy and gives the bicycle a robust appearance. The cool bike comes in a black color and has beautiful white and red accents.
The perfect color combination for a tough guy who likes to be seen.
This children's bike also has mudguards on the front and rear wheels, a coaster brake and a hand brake, and lighting at the front and rear of the bike.
Best children's bike 26 inch
Any girl between 9-12 years old will have the time of her life with this one Bike Fun Pure.
Children's bicycle with sturdy steel frame and aluminum rims. Beautiful light blue tires give a nice accent, a nice bike for little ladies.
This children's bicycle has a playfully shaped frame that gives the bicycle a cheerful appearance. The frame is completely finished in a white color and covered with nice stickers.
The characteristic feature of this bike are the sky blue tires that give the bike something extra despite its simple design. This bike immediately catches the eye because of the blue tires. In short: this bike is an eye-catcher!
The bike has all the minimum a good bike needs and more. In any case, it has a handbrake and a foot brake, mudguards, a bell and additional functions such as: 3 gears, lighting at the front and rear and a luggage carrier.
Thanks to the gears, the bicycle can also be handled on uneven terrain. Places such as forest paths and hills are therefore easier to ride and explore.
Best retro children's bike: Volare Excellent
De Volare Excellent children's bicycle is a pristine copy of a hip bicycle with a retro twist.
You can really gain weight with this beautiful retro children's bike! Great grandma style bicycle with front carrier and sturdy frame.
The carrier straps on the back make this a stylish and practical bicycle.
The children's bicycle has a beautiful light blue color with soft light brown accents and a well-known frame from earlier bicycle models.
It is a sturdy bicycle that has been specially developed to cover long distances.
The wide and comfortable saddle in combination with the flexible handlebar offer the right comfort for those who have to cycle long distances.
The Innova pneumatic tires also ensure that every ride is simply pleasant and above all safe.
These tires are fitted with reflectors on the inside to warn oncoming traffic.
In addition, the bike also has front and rear lighting that work on batteries.
This makes cycling even safer, especially when it gets dark early.
Other practical details of this beautiful bike are the sturdy luggage carrier including bicycle straps, a large front fork and front frame.
There is no need for a bicycle bag anymore, because there is enough space on the front or back of the bicycle to carry a school bag.
In principle, the bicycle is delivered ready-to-ride, because the bicycle is already 95% pre-assembled.
Just fix the pedals and straighten the handlebars and your child can immediately start cycling.
This bike is suitable for children who are attending high school and have to travel longer distances.
Best kids bike with push bar: Yipeeh Power bike
Parents who are in the process of teaching their child to ride a bicycle know that cycling does not go well the first few times.
For the little ones who still need some help to get ahead, this is a fun bike with a detachable push bar.
Equipped with sturdy, removable side wheels, a strong steel frame and a closed chain guard.
De Yipeeh Power bicycle with push bar in our view is certainly a handy bike to start with.
Thanks to the sturdy, detachable push bar, as a parent you can help the child with bicycle and all to push it safely without causing back pain.
This way your little one can get acquainted with cycling at an early stage and before you know it, the support wheels and the push bar will come off and your little one will only zoom on the road.
This children's bicycle has a wheel size of 10 inches and is therefore perfect for the smallest cyclists - with a leg length of 39-48 cm - who are learning to ride for the first time.
Best children's tricycle: Tricycle Babytrike
With a tricycle like this one Tricycle from Babytrike your little one can start learning to ride a bike.
Brightly colored tricycle made of sturdy plastic for the first cycling experience. With shopping basket and a handle to easily carry the tricycle.
The tricycle has a sturdy and robust frame that will last a long time and can definitely take a beating. It is a colorful tricycle that is available in 2 variants.
In the basket of the tricycle, your little one can take everything with him on his exciting and cozy adventures through the garden or the park.
The tricycle is made of plastic and lightweight; so easy to take with you everywhere. The recommended age for this tricycle is 1-4 years.
Best children's bike with training wheels: Volare Electric Green
De Volare Electric Green training wheels is an excellent choice for children just starting to learn to ride a bike.
Beautiful bright green 14 inch children's bicycle with sturdy training wheels.
The bike can be easily adjusted and has a transparent chain guard and a mudguard at both the front and rear wheel.
The training wheels prevent your child from falling over while cycling.
After some practice and acquired skills, the training wheels can be disassembled so that your child can cycle independently.
This cool children's bike has a flashy yellow color and blue details. The wheel size is 14 inches, making it a perfect size for children from 3,5 to 5 years old.
The handlebars and saddle are both easily adjustable so that the bike will last a long time. The child can enjoy this bike for years to come.
Furthermore, the bicycle has everything you need for a safe bicycle: a back-pedal and V-brake to bring the bicycle to a stop in time, pneumatic tires for comfort while cycling, mudguards on both wheels, a closed chain guard and a bell.
Best children's bike with basket: Volare Paisley
De Volare Paisley children's bicycle is a beautiful children's bike with a nice basket at the front.
A very nice 14 inch children's bicycle with a practical front basket. Properly assembled, this children's bicycle is delivered almost completely assembled.
Your child can store all kinds of things in the basket when she goes on an adventure.
Items such as dolls, books or craft supplies can be taken with your child in this handy basket on the handlebars.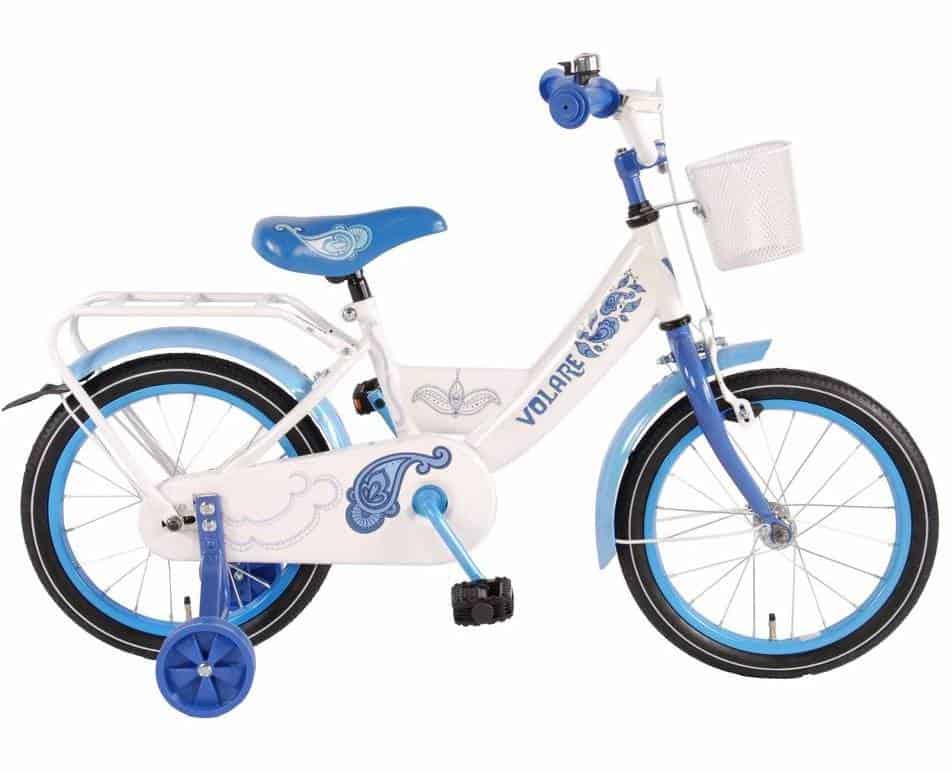 The bicycle is also equipped with front and rear reflectors, a front and rear brake, removable support wheels and a bicycle bell.
It is a sturdy bicycle with an aluminum frame in a white color with blue details. The wheel size is 16 inches, making it ideal for children aged 4-6.
Nice children's bicycle accessories
You can of course further enhance your kids' bike by adding some cool children's bike accessories.
With accessories you make your child's bicycle completely personal and extra beautiful. Below are some ideas of fun accessories for your child's bike:
Bicycle flags
Flags not only look very nice on your child's bike, but also serve as a warning for other traffic on the road.
For example, you can use this bright orange Bike Fun bicycle flag to your child's bicycle. The pole is 150 cm long, which makes the bicycle easier to see between other traffic.
Bicycle lighting
Not all bicycles are supplied with lighting. Nevertheless, it is wise to easily attach and buy individual bulbs that work on batteries.
Good lighting on a children's bicycle is extremely important. Due to the smaller size, a child is less noticeable with his small bicycle than an adult.
If your child is still cycling in the neighborhood until late or has to cycle home in the evening, it is strongly recommended that you provide the bicycle with striking lighting.
This bicycle lights LED front light and rear light silicone we find a good option to choose as bicycle lighting. It is a set of 4 highly visible LED lamps.
It concerns 2 red and 2 white lamps including long-term batteries.
This means your child immediately has spare lamps. The set offers a total of 60 burning hours.
The lights can easily be placed anywhere on the bike and are made of waterproof silicon.
Bicycle helmet
A bicycle helmet should not be missing when your child is cycling.
It prevents your child from suffering serious head injuries if they fall off the bicycle.
We managed to find two very sturdy children's helmets and share them with you below.
The first is the Volare children's bicycle / skate helmet. This cool cycling helmet with black flame print is perfect for children from 3 years old.
It is a bicycle helmet, but can also be used for skating. The helmet is covered with a lining on the inside and has an adjustable strap with a dial.
Thanks to this function, the helmet can grow with the child and therefore lasts a very long time.
This helmet has a quality mark and is a safe, indispensable accessory for cycling.
Another helmet that also appeals to us is the white one Bobike ONE plus Children's helmet.
This bike helmet has a slightly more neutral look and fits well on smaller heads, but grows with you thanks to the adjustable strap.
The helmet has an inner and an outer shell and meets the necessary safety standards.
The child's head is kept cool thanks to the nine ventilation openings. The insect net protects against annoying flying insects.
Thanks to the Easy-Lock closure system, you can quickly and securely attach the helmet to the child's head.
The stickers on the helmet are reflective, making the wearer more visible in the dark.
In addition to a bicycle helmet, you can also think of special cycling clothing for your child.
Sports glasses for cycling
Sports glasses are not an accessory that you should immediately and immediately have for your child when they go cycling.
However, having good sports glasses is useful when cycling on windy and very sunny days.
De Oakley Flak XS are special sports glasses that have been specially developed for children and look good on both boys and girls.
The glasses have mirrored lenses that provide UV protection to the wearer. It protects against bright, bright and sunlight. The glasses are
hip and trendy glasses from the brand Oakley, which is known as a brand with high quality standards that offers the best of the best to their users.
The glasses have a yellow with black color with pink colored mirrored lenses.
Best loose children's bicycle basket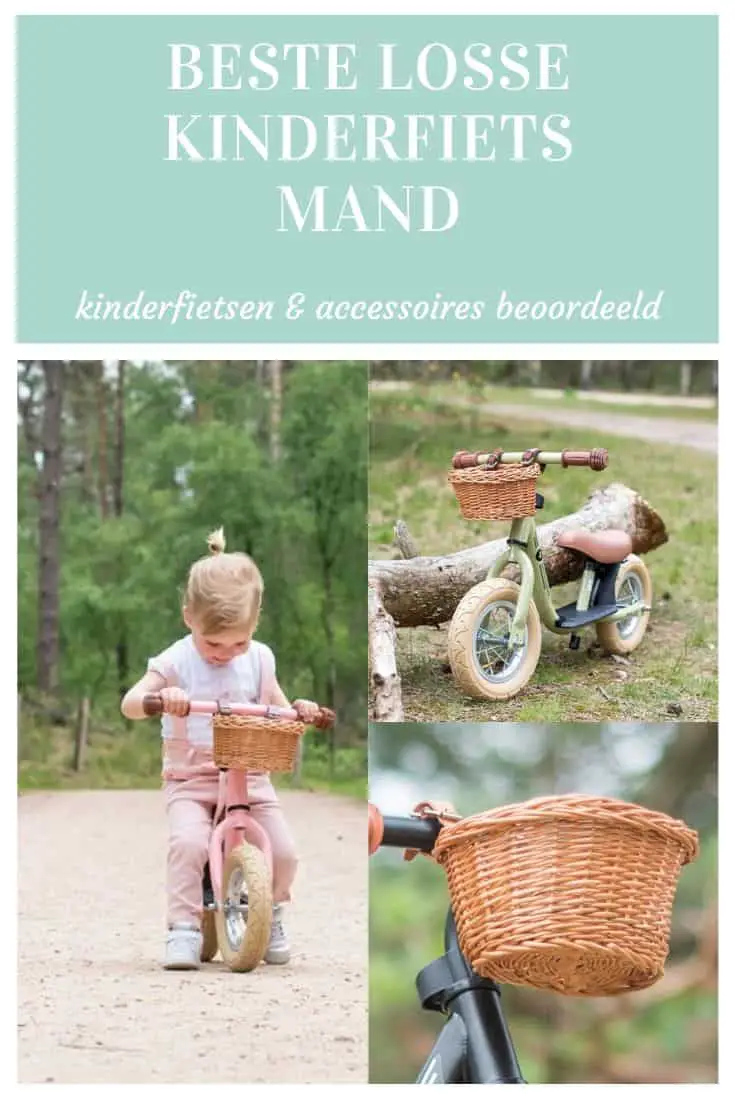 Children always have a lot of things that they like to take everywhere.
If your child wants a basket for her bicycle afterwards, it is Bandits & Angels - Wicker handlebar basket our recommendation for a beautiful and practical loose basket.
Here the child can put all her favorite gadgets. It is a beautiful open wicker basket that you can easily attach to any handlebar with the sturdy leather straps.
With the basket you create a place for possibly her favorite cuddly toy or doll. so it can now cycle everywhere with you. Always fun for two!
Question & Answer
Which bicycle is the best for a child to learn?
If your child is between eighteen months and five years old, you may consider getting it started on a balance bike. Balance bikes do not have pedals, but the child uses his feet on the ground to control the movement.
Is 4 years too old for a balance bike?
A balance bike is a great way, also to teach children from 4 to 6 years old to cycle. Whether your child has yet to learn to ride a bike or is struggling with the confidence to remove the training wheels, balance bikes can help.
At what age should a child start cycling?
Learning to ride a bicycle without training wheels is already an important milestone. Children usually learn to ride a bicycle between the ages of 3 and 8, with an average of just over 5 years old.
At what age should a child be able to cycle without side wheels?
The average age for a child to cycle without training wheels varies. Children can learn to ride a bicycle without additional support from the ages of 3-8 years.
Can a 6 year old ride a 20 inch bike?
A 14-inch wheel will probably be suitable… However, for a large 6-year-old, choose an 18-inch wheel.
Can a 7 year old ride a 24 inch bicycle?
Most 7-year-olds are not yet tall enough to ride a 24-inch bicycle safely. Not only will it be too high to pedal properly, it can also be too heavy and impractical. The best way to choose the best bike size for your child is to measure the inseam. The most ideal wheel size for an average 7 year old is 20 inches.
How far can a 5 year old cycle?
The distance should be approximately equal to the age of your child, so a child of five years old - 5 kilometers, a ten year old - 10 kilometers etc.
How do I choose a bicycle for my child?
Most adults ride bicycles that make up about 20% of their total weight, while children's bicycles usually make up about 50% of a child's weight! Ideally, a child's bicycle should weigh less than 40% of their weight. When choosing the right bike for your child, look for the lightest bike you can find in your price range.
How does cycling help to develop a child?
Cycling not only improves physical fitness, it also benefits the learning development and mental health of your child. Research shows that students who cycle to school are more focused and willing to learn, compared to students who are taken by car.
Conclusion
Cycling is very important and healthy, not only is it nice for a child to cycle, it also gives them a feeling of freedom.
Children nowadays spend more and more time at home; they are often busy with their mobile phone or gaming.
Cycling gets them moving again and ensures that they stay healthy and build up resistance.
If you want to know how healthy cycling is for your child, click here.
Of do you want more advice about children's bicycles?
Joost Nusselder, the founder of Speelkeuze.nl is a content marketer, father and loves trying out new toys. As a child, he came into contact with everything around games when his mother started the Tin Soldier in Ede. Since 2016, he and his team have been creating helpful blog articles to help loyal readers with fun play ideas.