Best kids drawing tablet | Best buy, budget and for the little ones
I enjoy writing these articles for my readers, you guys. I don't accept payment for writing reviews, my opinion on products is my own, but if you find my recommendations helpful and you end up buying something through one of the links I may be able to receive a commission on that.
More information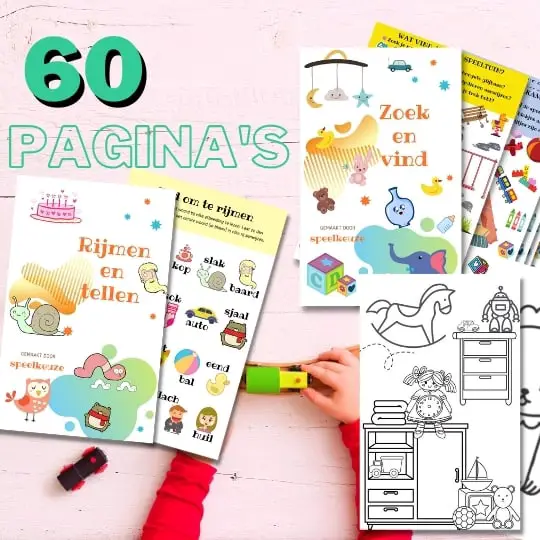 Always something to do for the holidays or rainy day?
Play Choice now has the ultimate activity book collection, with over 60 pages of fun coloring pages and educational puzzles.
Drawing is a great way for both small and slightly older children to develop their creativity, fight boredom and discover hidden talents.
Nothing challenges a child's creative mind like a blank drawing sheet.
By doodling, coloring and drawing, young children also practice the motor skills and hand position they need to write and draw geometric figures in school, giving them an edge in class.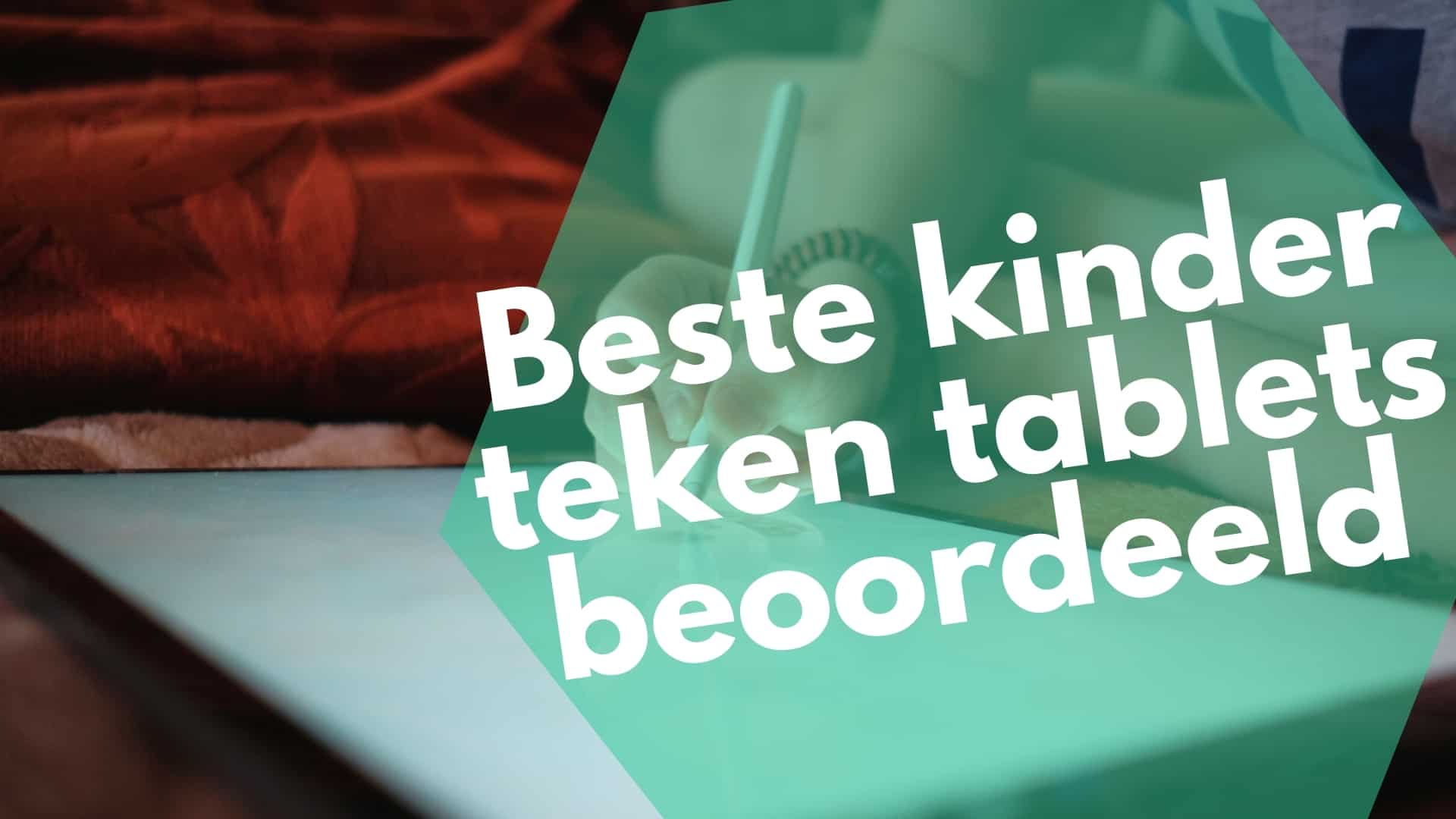 Having an drawing tablet can therefore certainly serve as educational toys. It is also just fun toys.
Today we are going to show you the best kids drawing tablets. Which one do you choose for your child?
I vote for this WBTT drawing tablet, especially if you don't know exactly whether you (or they, your children) are going to like it.
I will briefly mention the top choices here, then I will go into more detail about which functions are important and tell a bit more about these models: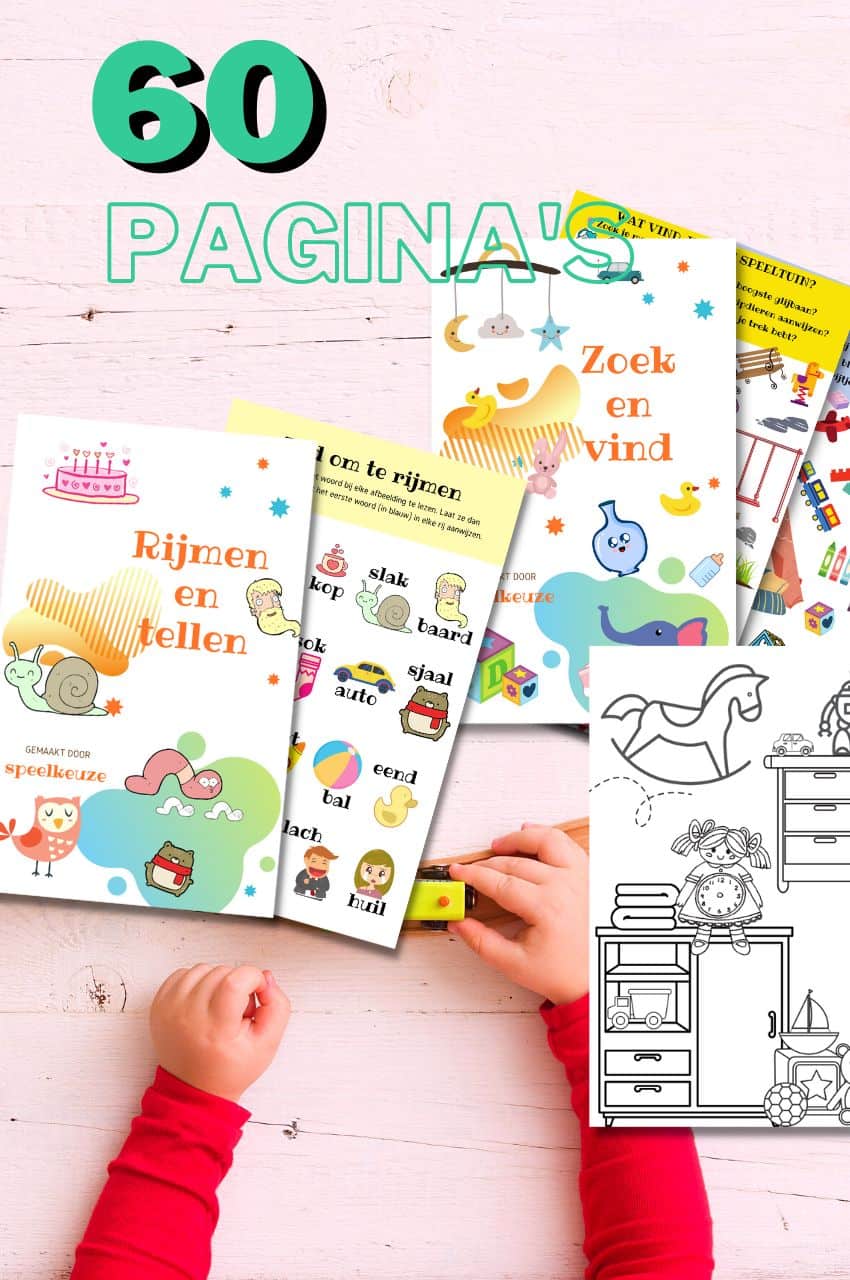 A play theme in your mailbox every month?
Fun play tips, activity books and more, with the first email being our free mini-guide "educational toys"
We will only use your email address for this newsletter and respect your privacy
What is a children's drawing tablet?
The classic pen and paper are of course still a popular choice, but nowadays there is also an excellent digital alternative, namely the drawing tablet.
Just like classic tablets for children the drawing tablet offers many possibilities to keep children busy during long car journeys or on rainy days.
The drawing tablet serves as a drawing surface, but (with certain models) also transmits your drawing movements to a mobile device or computer so that your child can make virtual drawings.
What should you pay attention to when buying a children's drawing tablet?
Not every drawing tablet is equally suitable for children, and we even advise against some products that you find on the internet because they are not safe or of poor quality, which means they break quickly.
Fortunately, there are many good drawing tablets to be found. Further down, we'll go deeper into our favorite drawing tablets for kids.
First, we look at aspects you want to look at when looking for a children's drawing tablet.
Price of the drawing tablet
The price of a drawing tablet can vary, from a few euros to many hundreds of euros.
In general, we can say that a good drawing tablet costs around € 25.
For a model that contains the main functions that are important for children, you really don't have to pay more than $ 100.
Of course, you may also want to use the drawing tablet for photo editing or as a virtual whiteboard for brainstorming sessions with others, so a more expensive model may be worthwhile.
Drawing pen
An important part of the drawing tablet is the pen.
With some tablets, the pen contains a battery, which may have the disadvantage that you cannot use it indefinitely.
Most drawing tablet nowadays also have a wireless pen.
Pay close attention to whether extra pens are included, or you can reorder them. If the pen wears out, it can be annoying when it turns out that the drawing tablet is no longer usable.
How to operate the drawing tablet
A drawing tablet usually does not contain many buttons.
Important is a button to delete the drawing area, and optionally also the option to save drawings or to choose between different drawing styles.
Drawing tablet connectivity
Some drawing tablets can be connected with a cable or via Bluetooth to exchange drawings or to save them on the PC.
More expensive drawing tablets often work with a live connection so that you can create and edit a drawing in Photoshop or other graphics programs from the device.
This is especially nice for older children, for example to make drawings for school projects.
Pressure sensitivity
The most important characteristic of a drawing tablet is of course the quality of the drawings. This has a lot to do with the pressure sensitivity of the surface.
A good drawing tablet is ultra-sensitive to the smallest pressure differences, and also very smooth so that drawing on it feels just as if you were drawing on paper.
Firmness of the tablet
Because a drawing tablet is the ideal toy for on the go, it must also be able to take a beating.
Preferably choose a model with a sturdy plastic, possibly with a supplied cover or own cover to protect the drawing surface against scratches and dust.
Best children's drawing tablets rated
There are many digital drawing tablets in different price ranges.
You will find them with different functions and extras, such as different colors, 3D effects, templates, photo editing programs and Wi-Fi to work together on a drawing or project.
We have shown you all our favorites in the table above. We will now discuss these in more detail.
Why do we like these children's drawing tablets so much?
Best bang for your buck: WBTT LCD drawing tablet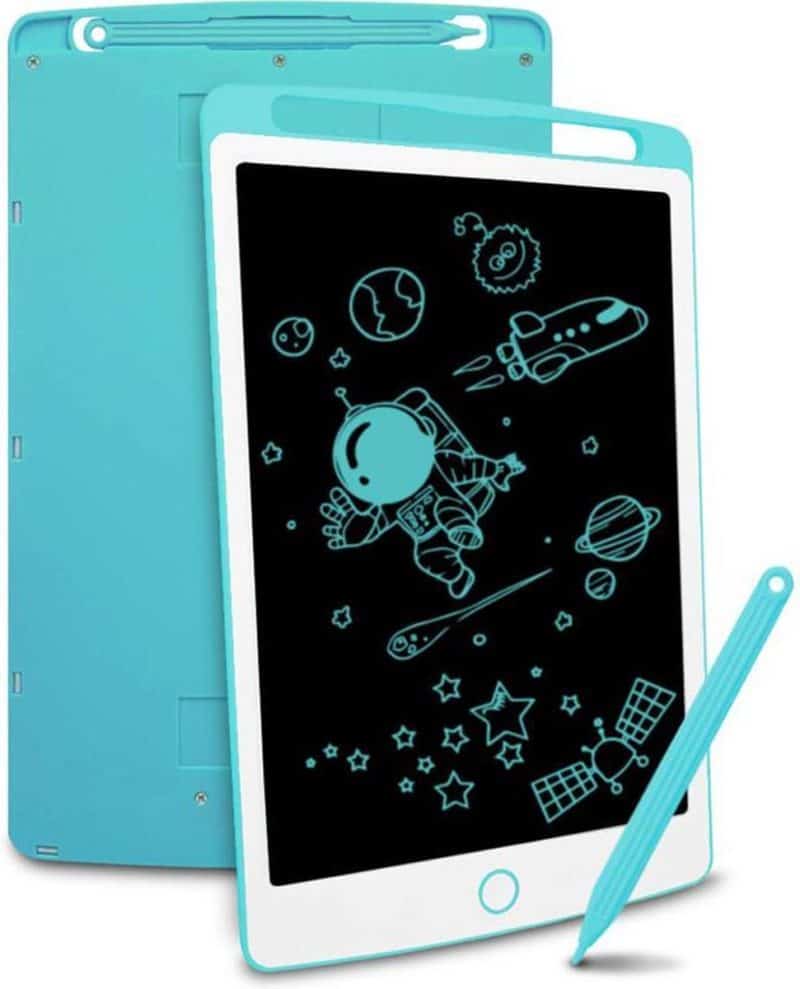 There are many different fun drawing tablets for children.
By the way, they don't have to be expensive at all: there is, for example, the KangHan drawing tablet, which offers inexpensive drawing pleasure without too many extras or complex functions, but is nevertheless accurate and sensitive enough to make detailed sketches.
The colorful design with a flexible 6,5 inch LCD screen invites children to let their imaginations run wild.
The KangHan device guarantees hours of drawing fun for young and less young children and has a durable design that makes it last for many years.
This KangHan drawing tablet is available in cheerful colors and is easy to use. Ideal for children!
The drawing appears directly on the tablet, and can be deleted with one press of the delete button.
With a screen of 16 centimeters you get more than enough space to make small doodles as well as beautiful, elaborate drawings.
The drawing area is very pressure sensitive and feels great smooth, so you have the feeling of drawing on smooth paper.
The battery of this device lasts for many hours for unlimited fun - the stylus pen works completely without batteries.
It is important to note that connecting to a computer or phone is unfortunately not an option with this device.
So if you want to be able to save or open drawings with a graphics program, it is best to choose a slightly more complex device.
This drawing tablet is especially suitable as a toy, but is also useful for learning to write, do sums or simply for quick doodles.
Check prices and availability here
Best drawing tablet for the little ones: Yhtumn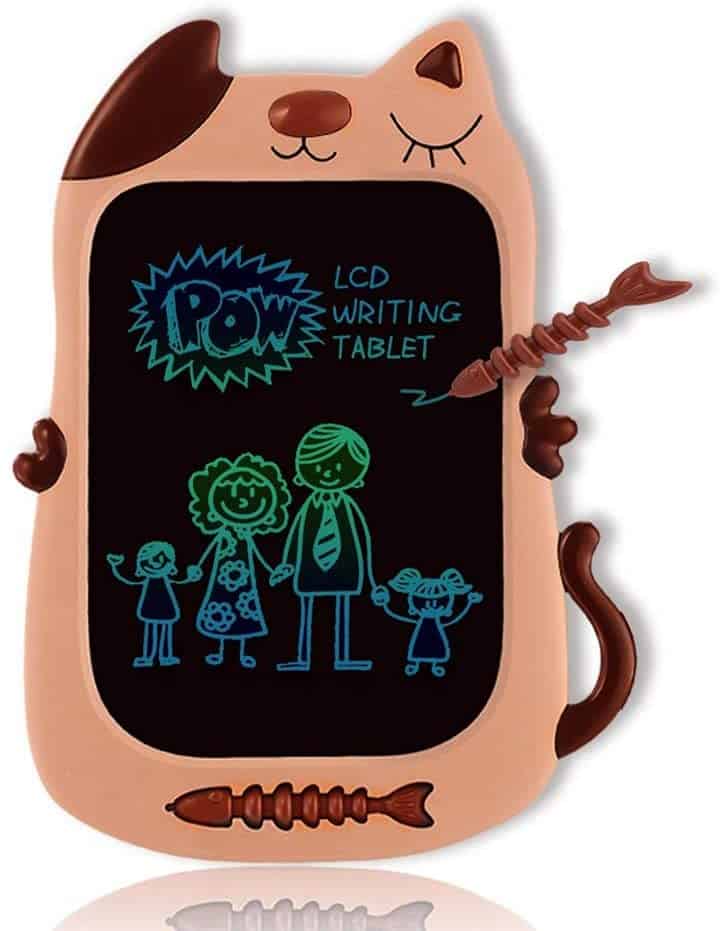 With its cheerful animal shape, easy handling and sturdy housing, the Yhtumn drawing tablet is ideal for the little ones to discover the joy of drawing.
The LCD drawing area is surprisingly large (23 cm) and feels smooth.
You can draw with the included plastic stylus, but just as well with another object or even with your finger.
Perfect for small children who still have a little trouble holding a stylus or pen!
The drawing tablet works on removable batteries, and thanks to the lock function you never have to interrupt the drawing fun.
The most surprising thing about this device is the price: for just over € 10 you can choose one in your favorite color on Amazon.
We recommend this fun device as a first drawing tablet, gift or as a tool to learn how to write.
For children from 9 years old: Huion Inspiroy H640P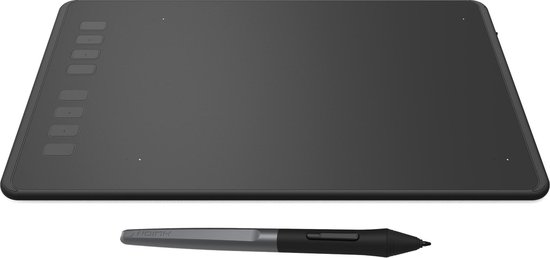 Children do not need very complex and expensive devices, but it is nice if the device is sturdy and they can work with it just as well as real pen and paper.
That is why we think the Huion Inspiroy H640P is the best children's drawing tablet overall: it is easy and quick to use and very budget-friendly.
The device includes handy shortcut keys, a cordless pen without battery and has a whopping 8192 pressure levels, for great precision and a realistic drawing effect.
This is an important feature, as cheaper drawing tablets often work with a limited number of pressure levels, making it difficult or impossible to create realistic or accurate sketches.
First, let's take a quick look at the top of our favorite drawing tablets for kids.
Then we discuss the main features, advantages and disadvantages for each model and what you can expect when you choose this product.
This way you can make the best choice for your child (ren) to guarantee endless drawing and doodling fun with a purchase that you can be satisfied with.
It may not look very cheerful or colorful, but this device is easy to use and can take a beating, making the Huion Inspiroy drawing tablet the ideal drawing companion for slightly older children.
If your kids like to draw or edit drawings on the computer, this is the ideal model.
Moreover, the price-quality ratio is excellent!
It has a medium sized drawing area of ​​16 x 10 cm so that children can let their imaginations run wild. The wireless pen works without a battery, so you never have to interrupt the drawing fun to recharge.
An important aspect is of course the connectivity. The H640P is suitable for use with a laptop (including children's laptops) with Windows and Android – unfortunately it is not compatible with iOS (Apple).
The accuracy and pressure sensitivity make this drawing tablet suitable for making beautiful, detailed drawings.
With the convenient erase function, children can start over with a blank sheet at the touch of a button.
For children it is important that a device is sturdy enough to withstand a knock, fall or unfortunate movement.
We are also very satisfied with the quality of the Huion Inspiroy H640P drawing tablet.
Frequently asked questions about drawing tablets
Can I also use apps on a drawing tablet?
No, you need a classic tablet for that. Here you will find the best tablet models for kids.
For what age is a drawing tablet suitable?
Drawing tablets are suitable for all ages - even adults can have endless fun with them.
For older children or teenagers, we recommend models that you can connect to a computer or laptop, such as the Huion Inspiroy H640P.
What is the difference between drawing on a tablet and on paper?
With a good drawing tablet, that difference is minimal.
The writing surface is smooth and supple, and the pressure sensors adjust the intensity of the pen strokes when you put more pressure when drawing.
Conclusion
We think the drawing tablet is an excellent way to stimulate children's creativity and imagination.
In addition, drawing tablets are cheap and suitable for all ages. They are also versatile in use, and can, for example, help improve the writing motor skills of small children.
Our favorite is KangHan's drawing tablet: this drawing tablet is easy to use, sturdy and extremely sensitive, making it suitable for rough sketches as well as drawing and writing exercises.
Moreover, it is an absolute price cracker.
Drawing is a wonderful activity to do develop your child's fine motor skills!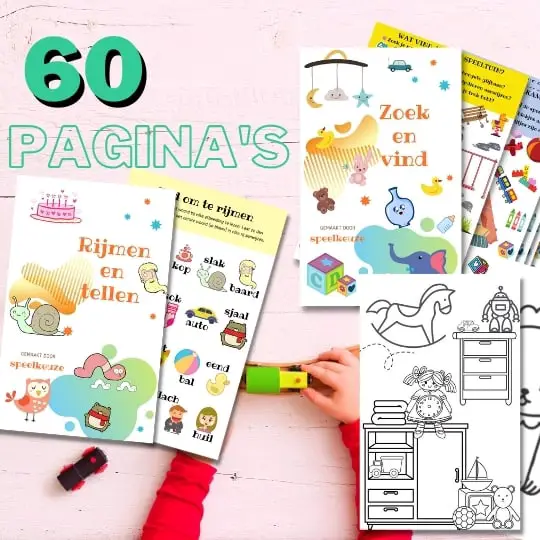 Always something to do for the holidays or rainy day?
Play Choice now has the ultimate activity book collection, with over 60 pages of fun coloring pages and educational puzzles.
Joost Nusselder, the founder of Speelkeuze.nl is a content marketer, father and loves trying out new toys. As a child he came into contact with everything related to games when his mother started the Tinnen Soldaat in Ede. Now he and his team create helpful blog articles to help loyal readers with fun play ideas.