Best tested: 8 toy children's microphones & karaoke sets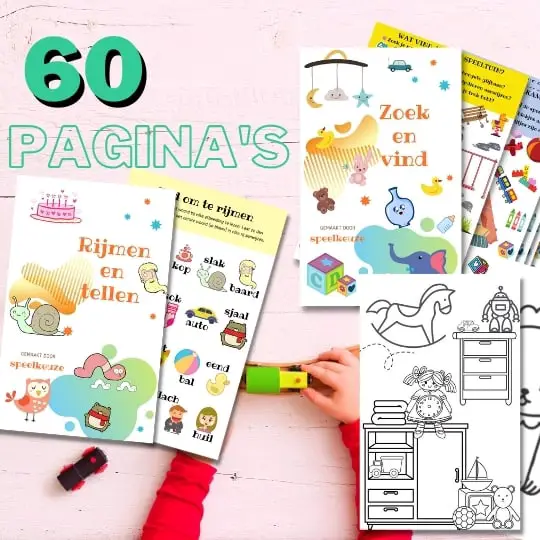 Always something to do for the holidays or rainy day?
Play Choice now has the ultimate activity book collection, with over 60 pages of fun coloring pages and educational puzzles.
Does your child breathe music? Are they always humming or hopping to a tune in their head?
That's why you're probably here, because a kids microphone can be a FANTASTIC toy to promote your child's musical aptitude.
But what a lot of microphones you can choose from nowadays!
Children's microphones come in various shapes and sizes. You have loose or with a stand, and other microphones come with a keyboard.
You also have children's microphones with a recording function so that you can listen to how well you have sung later.
This Vtech Superstar DJ Studio Microphone is not only the best for me, but also for many customers. Especially the great price for which you get a very nice microphone with all the accessories that go with it, and one of the cheapest with a long stand.
The microphone is also the best-selling children's microphone and has received over 100 positive reviews from customers who preceded you.
The microphone has the theme 'K3', the well-known Flemish girl band, and is therefore an ideal gift for a child who is a fan of this cheerful singing group.
The brand of this microphone is Studio 100.
Studio 100 is a very creative and vibrant brand committed to fun for all children.
With their toys they ensure that children can enjoy themselves every day with their greatest idols, such as K3, Mega Mindy, Kabouter Plop, Samson and Gert and you name it.
But let's move on in the review of best kids microphones. Here they are:
Toy Microphone Buyer's Guide
Now that you know a little more about what the best types of kids microphones have to offer, you can be sure to find the perfect one that your child will love.
Don't worry if you're not quite sure which one to buy yet, though.
I've put together this section as a buyer's guide to give you some additional information to help ease the decision-making process.
As you have seen, there are different types of microphones for children. Please see below to help you distinguish the differences between these microphones.
Wireless microphone
All options in this review are wireless handheld microphones. This is because they are the most popular choice among children.
Many children like to have the freedom to walk around while they to sing and especially when you go for a microphone with a built-in speaker.
A toy microphone with speaker is a great way to hear your child sing with greater clarity.
Not only does the speaker increase the volume of the music they are singing to, it also increases the sound of their voice, which is great at a party.
With keyboard
There are some kids microphones that also come with a keyboard. This can be a fun addition for children who want to be able to play the keyboard while also singing.
If you want to read more about that, check out my article on toy keyboards with microphones.
With stand
A kids microphone with a stand can be a good option if your child wants to stay in one place to sing.
The toy microphone with stand can be easily adjusted to the height of your child.
I written here about children's microphones on a stand if you just want to know more about that.
Here are also a few with wire because then your child will be performing more in one place.
LED lights
Play microphones that light up are incredibly fun for kids. There are a lot of light up microphones in this review that are highly appreciated by customers.
They are great for parties and they stimulate your child's visual senses.
I particularly like how some of them flash in tune with the beat.
Bluetooth microphone for children
Most of the microphones I reviewed in this post have a Bluetooth feature.
Allows you to connect to Bluetooth devices, such as phones, laptops or children's tablets. As a result, you can play any song you want.
Music is an important part of children's development.
That's why I want to talk about really good toy microphones in this article that they can use to discover what their passion is.
Music comes in different forms: playing a musical instrument, singing, dancing and also listening to songs or even making an instrument yourself.
Which children's microphone do I like best for a child? I have listed and assessed the dozens of children's microphones and selected my favorite.
Best children's microphones rated
In this article we would like to give you an overview of all our favorite children's microphones.
Because there are all kinds of children's microphones, we have chosen to split the microphones into various categories.
Examples of categories are child microphone on stand, child microphone with keyboard and child microphone with recording function.
In this way we keep the information clear so that you can easily read which options there are and which suit your preferences best.
We will explain to the products we have chosen why we think they stand out and include all important information.
Below you will find our favorite children's microphones per category.
Why are these kids microphones so good?
With so much choice, there is sure to be a children's microphone that fits your child exactly. To make a good choice, it is especially important to look at the child.
How will it interact with the microphone? Which colors and which functions will appeal to him or her?
Below we will further discuss the children's microphones that we recommend per category and why we think they are the best.
The kid's microphone that came out as the best overall is, as we discussed above, the Vtech Kidi SuperStar DJ Studio.
The vast majority of people who have purchased this microphone for their child have good and positive words about it.
This microphone set is for the real karaoke fans. Sing along to the best songs.
The package includes a microphone, stand and a cable.
The microphone works on four non-supplied AA batteries and is suitable for 3 years and older.
With this beautiful colorful microphone set you get a stand and cable.
Since the set comes with a stand and cable, kids can get completely immersed in their show.
The microphone is very popular with little girls. They are especially very happy with the loud applause from the audience!
The microphone is intended for children aged 3 years and older.
This simple microphone set offers endless fun and is highly recommended in our opinion.
A minus may be the quality of the sound, but kids love it and the price makes this microphone well worth considering.
You could go for a separate microphone. It is of course even more fun if you have a microphone that comes with a stand.
This way you can also dance during your performance and you decide whether to hold the microphone or click on the stand.
Very colorful children's microphone: In the microphone on standard category we have chosen the Bontempi Microphone Karaoke With Stand as number one.
Children's microphones from Bontempi
Bontempi knows how important it is for children to learn how to make music from an early age.
It is good for development, because it improves motor skills, among other things.
Even if a child learns to use musical instruments early on, the transition to a real instrument will become easier.
Bontempi has all kinds of toy instruments and microphones, so you can start a real bond with all your boyfriends and girlfriends.
The musical instruments of this brand are easy to play and bring a lot of fun.
The microphone comes with ten different songs, light and sound effects, a stand that is adjustable in height and a volume knob.
This brightly colored microphone on a stand comes with ten different demo songs.
It also has various exciting light and sound effects, you can adjust the height of the stand and also the volume can be adjusted.
Exclusive 4 AA batteries, suitable for an age from 3 years.
The microphone on a stand has a cheerful color pattern, namely yellow, red and blue. The microphone is a suitable toy for children with an age from 3 years.
A good alternative to the Vtech DJ Studio is the smaller VTech Kidi Superstar Move.
This robust VTech karaoke set with built-in speaker comes with colorful light effects and 4 built-in songs.
The Music Magic button allows you to mute or remove the original voice of any song.
You can also record your voice and then distort it with effects.
You can also play games. Operates on four AA batteries (included) and suitable from 4 years.
The microphone has a 'Music Magic' button that allows you to remove or mute the original voice of any song.
That way you can steal the show yourself and sing the song your way!
In addition, this toy makes it possible to make voice recordings and even distort them with the craziest effects. You can also play various musical games.
A very complete microphone set for all children between the ages of 4 and 11 years.
Also read: these are the best real karaoke sets for kids reviewed
There are also children's microphones for sale that come with a keyboard. That means a lot of singing and playing fun and an even better exercise for your child.
Our favorite in this category is the Bontempi keyboard toy.
This set offers many diverse functions, such as sound recording, song playback, effects, various rhythms, and so on.
This is how a child learns to concentrate on two tasks at the same time. This takes a lot of enthusiasm and practice.
Much more than a children's microphone with keyboard
This microphone with keyboard offers multiple functions including sound recording, various rhythms, and sound effects.
You can play 16 musical instruments with it, 22 demo songs are on it and much more.
The quality of the sound is excellent, and the keyboard is robustly built. The keyboard also has a volume knob. Operates on 3 non-supplied AA batteries.
This keyboard comes with:
various numbers (19)
with four animal sounds (dog, frog, bird and duck)
four drumbeat sounds (bass drum, hi-hat, tom drum and Guiro)
eight instrument sound effects: (piano, organ, violin, trumpet, clock, mandolin, guitar and music box)
and finally eight rhythm sound effects: (slow rock, rock, new age, disco, march, waltz, samba and blues).
The keyboard also has a recording function, where kids can play, record, and listen back later.
The keyboard also has flashing LED lights for that real show effect.
You can play 16 musical instruments with the keyboard, the keyboard has 16 rhythms, four percussion sounds and 22 demo songs.
According to the customer reviews, the keyboard is solidly built and produces excellent sound. Also nice that the sound can be muted by means of a volume knob.
When you purchase a children's microphone, it is of course great if children can record their own voice.
This way children can sing songs and listen to them later.
In this way they can also correct themselves for false notes and a real singing talent is cultivated!
Microphone with recording function from K3, comes with various K3 hits. Besides singing along to the songs of K3 you can also sing your own songs.
The microphone produces exciting light effects.
The microphone works on 3 supplied AA batteries and is suitable for children from 3 years.
K3 Roller Disco microphone is again the favorite with kids microphone
We have encountered above in the other categories as some microphones with this feature.
Since this microphone is from the girl band K3, it is of course best suited for children who like to listen to this music.
This microphone makes it possible to sing along with various fragments of K3 hits.
You can of course also record and listen to your own hits yourself.
Another one from K3 with voice recording
Just like the disco micro Rollerdisco, this microphone is blue in color and has a sticker of K3. Suitable for children between 3 and 6 years old.
Because of the beautiful lights you can put on a real performance. A perfect gift for the K3 fans between the ages of 3 and 6 years.
Is your son or daughter a real performer? Then a children's microphone that makes karaoke evenings possible is the ideal gift.
Our recommendation in this category is the Bigben Karaoke Robot (no, not a real kid robot like this one we're reviewing here) with 2 Microphones. With this toy set you can sing the stars of heaven!
You can even play MP3 files or listen to music via a USB stick.
In principle you could have karaoke evenings with any microphone, but a number of toy sets have also been developed that are specifically aimed at karaoke.
  with the sweet Bigben children's microphone
For the real karaoke fans! With this portable karaoke set you can play MP3 files or music via a USB stick. Includes 2 speakers and 2 microphones.
The set offers up to 8 hours of recording time and music playback. You can listen back to voice sound via a USB connection.
The set also has a volume rocker and a headphone jack. For ages 4 and up, requires 4 AA batteries (not included).
The music comes from two built-in speakers and two microphones. You can record and play songs for up to eight hours with the MP3 player and recorder.
If you want to listen to your voice, you can connect the karaoke set to your computer using the USB connection.
This sweetheart will definitely be your child's great companion.
Portable and easy to carry
The set is portable, so you can really take it anywhere. To school, to your boyfriends and girlfriends, or to grandpa and grandma.
The volume buttons and headphone jack minimize noise pollution!
Will you be the next star? The recommended age for this karaoke set is between 4 and 8 years old.
Best children's microphone from VTech: Kidi Superstar
VTech develops toys that are aimed at educating children as well as possible. They do this by producing high-tech toys.
VTech has also developed various children's microphones and our favorite from this category is the VTech Kidi Superstar Move - Karaoke set.
With this set you are in the spotlight! Show your singing skills and steal the show!
A real karaoke children's microphone from VTech
The set comes with colorful light effects and four built-in songs. You can also connect a music player yourself with your favorite songs.
You can use the Music Magic button to mute the original voice of each song or even remove it completely so that you only have the background music and your own voice.
You can also record your own voice and distort it with four fun effects.
The set also comes with awesome sound and light effects.
In addition, the set offers various games that ensure a better sense of rhythm, help you improve your pronunciation and much more.
The set is solidly built and suitable for hours of fun. Also has a built-in speaker and is for children between the ages of 6 and 11 years.
View the most current prices here
The last category of children's microphones is about microphones that come with a speaker.
Our favorite microphone in this category is the Technaxx BT-X31.
Bluetooth connection to the microphone for freedom of movement
You connect the microphone to your phone using Bluetooth and the sound of your voice will come out of the speaker.
Because everything is wireless, a child has plenty of room to sing and dance. Ideal for children's parties or cozy karaoke afternoons with the family.
This microphone is suitable for children and adults and can be connected to another device (telephone for example) by means of bluetooth.
The microphone is wireless and has 2 built-in speakers with volume buttons and the 'echo' effect.
Good sound quality, with microSD input and including USB-micro USB cable for charging. From 4 years old.
The microphone has two built-in speakers that have volume buttons and the 'echo' effect.
The quality of the sound (music, voice) is fine, without noise. Besides as a microphone, you can also use this set as a speaker only.
The microphone has a microSD input at the bottom. The microphone is available in black, gold or rose gold.
When you purchase the microphone, you get a USB microUSB cable and an AUX microUSB cable.
The microphone is suitable for both children and adults. Definitely a good purchase.
Conclusion
As you could already read in the introduction, making music is essential for the development of children.
Toys that allow children to make music are a useful gift.
To convince you a little more about children's microphones, you can go on wendyonline read why you should especially let your children sing!
We hope that this article has given you more knowledge of the various children's microphones and hopefully you will now be able to choose the perfect microphone set for your child.
Have fun singing!