Best children's scooter: Buying guide to the best options [Top 8 review]
I enjoy writing these articles for my readers, you guys. I don't accept payment for writing reviews, my opinion on products is my own, but if you find my recommendations helpful and you end up buying something through one of the links I may be able to receive a commission on that.
More information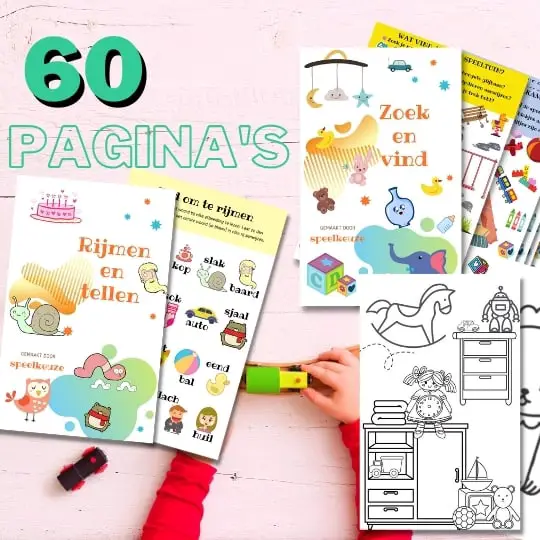 Always something to do for the holidays or rainy day?
Play Choice now has the ultimate activity book collection, with over 60 pages of fun coloring pages and educational puzzles.
Scooters have become extremely popular in recent years. Scooters are not all fun; it is also educational, healthy and you can do it anywhere.
A good reason to give a child a scooter as a gift!
Are you looking for a good kids scooter, read on. I did a good look at the children's scooter market and picked out some interesting items.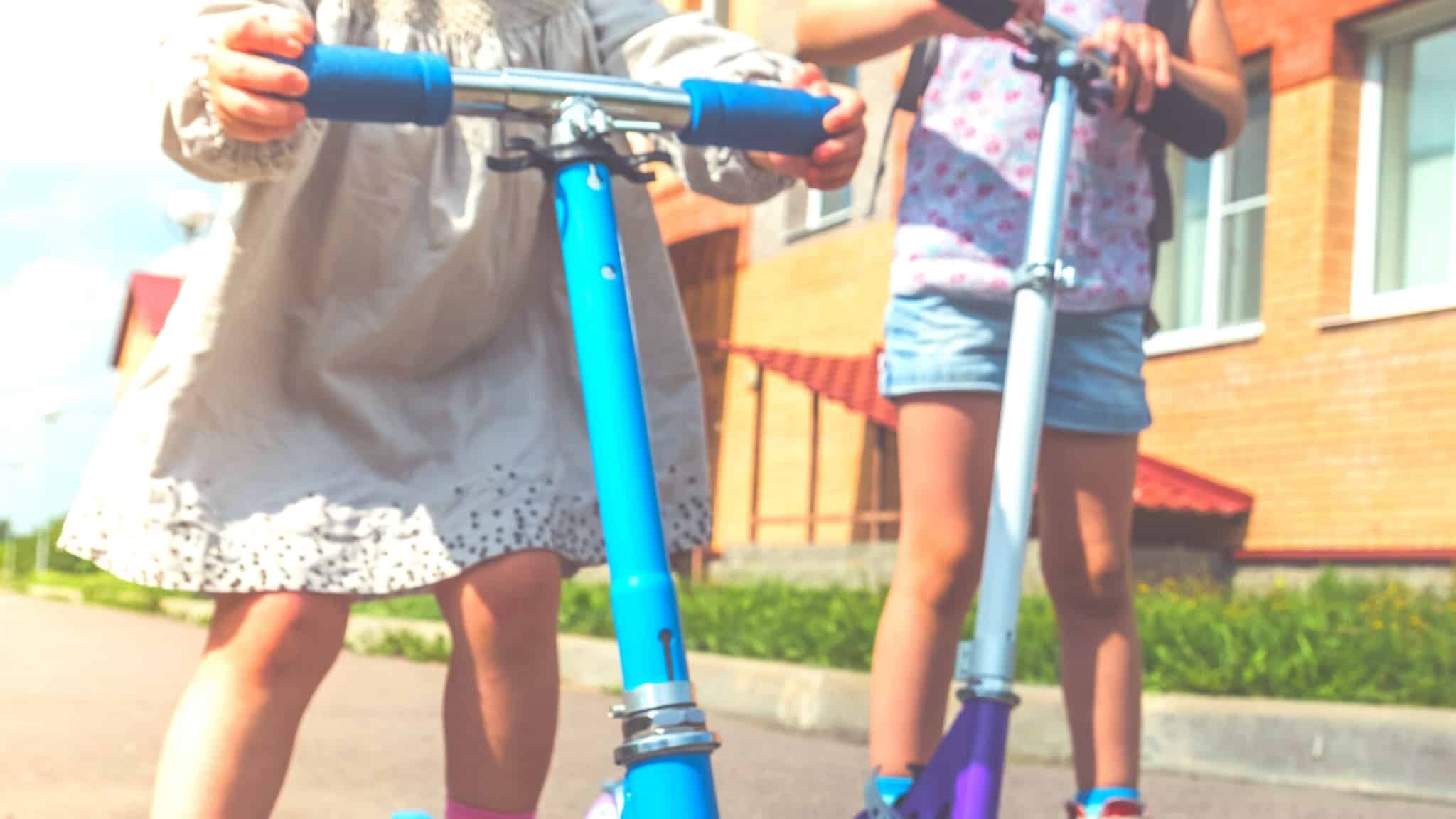 I then split these into different categories. For example, are you looking for a scooter for a three-year-old, one with pneumatic tires, or an electric one?
Thanks to my clear table it will become clear at a glance where to look!
Before you look at the table, I would like to introduce you to my all time favorites, namely the Razor A5 Lux Kids Kick Scooter.
You can find this scooter below in the table in the category 'Children's scooter for ages 8 and older'.
There are many reasons that make this scooter one of my favorites.
In addition to being suitable for both children and adults - which makes the scooter ideal for a family - it is made of the best materials, the scooter has larger wheels than the 'standard' scooters and a comfortable ride is guaranteed.
The scooter is also available in a number of great colors. For more details, read further below the table.
If this scooter is not quite what you are looking for, or if you want to view several options, then fortunately you have a whole list of other scooters to choose from.
Take a look at the table below:
Best kids scooter age 5-6
Razor
A
This classic scooter is made of robust aircraft aluminum. The 125mm inline style urethane wheels have a springless, shock absorbing system.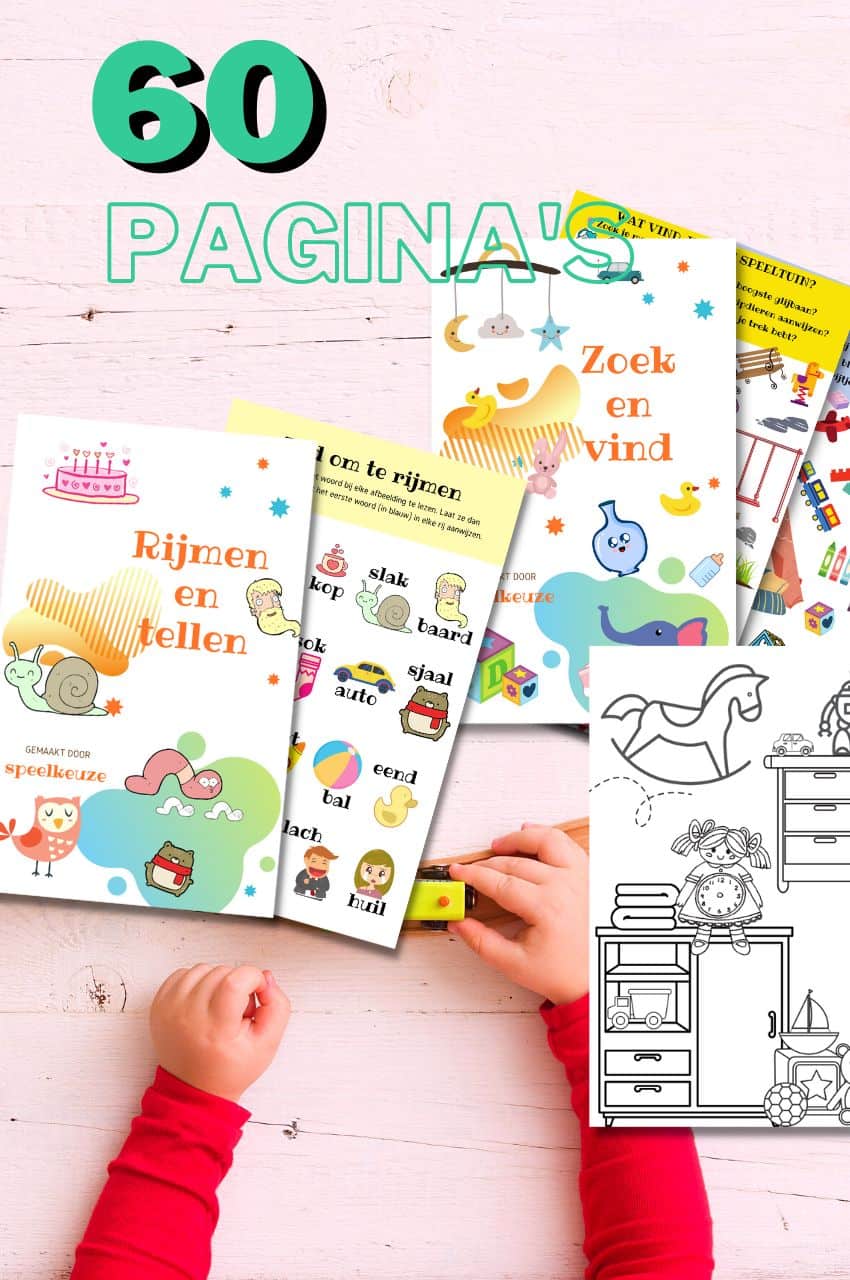 From toddler to toddler activity book collection
Educational games and coloring pages for 3 to 6 years
Your toddler and preschooler will love this e-book, along with the accompanying printables. He or she can play with it at every stage of development, together with mom and dad.
Buy at Bol.com
What do you pay attention to when buying a children's scooter?
There are many types of children's scooters. They must meet several criteria depending on the age of the user, weight and build.
When choosing a children's scooter, you do not only take into account the aesthetic part of the scooter, but also the technical characteristics!
So what do you pay attention to when choosing a scooter?
If you thought that there is little involved in choosing the best children's scooter, then you were wrong!
Ideally, keep the following in mind:
The braking system: the question is, are you going for a handbrake on the steering wheel, or a foot brake on the rear wheel? Know that in many cases the brake is located at the rear wheel.
The wheels: the classic scooters have two wheels that are aligned one behind the other. But there are also models where three wheels are placed in a triangle. In addition, the size (and hardness) of the wheels can differ, as well as the material (polyurethane versus rubber).
The deck: this is the surface on which the feet stand. The width can vary per scooter / model. The wider the deck, the more stable the feet are naturally and the easier it is for a child to maintain balance.
The ABEC: This is the standard for the bearings. In most cases, the lower the value, the slower the speed. A low value is desirable for beginners (ABEC 1 for example).
Headset: the headset to steer. In many cases a scooter has a retractable handlebar, so that the height can be adjusted exactly to the height of your child.
When can a child ride a scooter?
Scooters are something children can do from an early age!
In general, a child can pedal from the moment they can stand upright with some stability. This means that a child can start scooters when they are about 2 years old.
From this moment on, scooters is a perfect way to further develop balance.
In addition, it gives children a feeling of freedom to discover and keeps them moving.
Children can often pedal before they can cycle.
And because activities such as skating and roller skating are more complex motorically, scootering is precisely for this reason a good way to discover sports from an early age.
Also read: Best children's bike | 13 cutest models rated for every age
Steps for young kids
Scooters have been developed for children of different ages.
The scooters that are made for the little ones are especially very stable and perfectly designed to learn the technique in the safest possible way.
In this way, a child will learn to stay in balance and to move at the same time. This is how the fine motor skills developed.
The three wheel models are ideal for little beginners, and are suitable for children from about 2-4 year.
The models with two wheels are intended for children who are already able to maintain their balance, so around 5-6 years.
Steps for the older kids
Children grow like crazy! It is therefore nice if you have a scooter that can grow with the child.
Scooters for children from about 6 years old are especially suitable for daily use.
The wheels are a bit softer, the bearings turn smoother and the fork has a suspension, which will ensure a lot of rolling comfort.
In many cases, these types of scooters are also foldable, so that your child can easily take the scooter with you everywhere and it also takes up little space when storing it.
When a child gets better and better and at a certain point wants more challenge, it is possible a stunt scooter might be a great idea!
Best children's scooters rated
I'll now take you into an in-depth review of his favorite kids scooter. What makes these scooters so good?
Best kids scooter age 3-4: Razor T3 Scooter for kids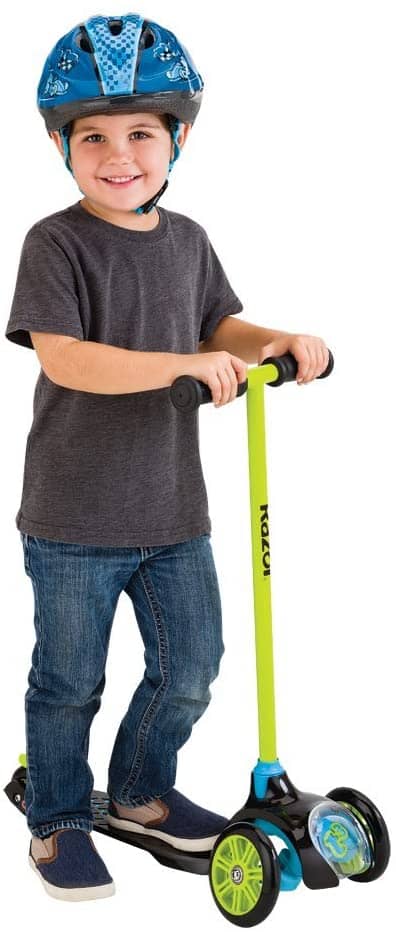 A children's scooter is of course great fun, but can still be quite an expensive joke.
Fortunately, the Razor T3 Scooter for children between the ages of 3 and 4 years is not that expensive and you can still have a decent children's scooter for little money!
Because you can have a great scooter for a great price!
The Razor T3 scooter is easy to ride and difficult to tilt, which makes the scooter perfect for the little beginners.
Here's how to assemble the scooter:
The tricycle principle helps children to develop balance and coordination.
The scooter will give a novice rider a lot of confidence. The scooter also has an advanced lift-to-turn steering with an improved turning circuit, which helps toddlers learn to steer and builds balance and driving skills.
Because the scooter is suitable for higher performance, it can also be used by children who are a bit older. The handlebars are made of steel and the deck is flexible with a non-slip polypropylene layer.
The brake is located on the rear fender and the scooter has soft rubber handles.
The scooter is intended for children from 3 years old and supports riders weighing up to 48 pounds (= 22 kilos approximately).
Check the latest prices here
Best children's scooter age 7-8: Albott Pro Stunt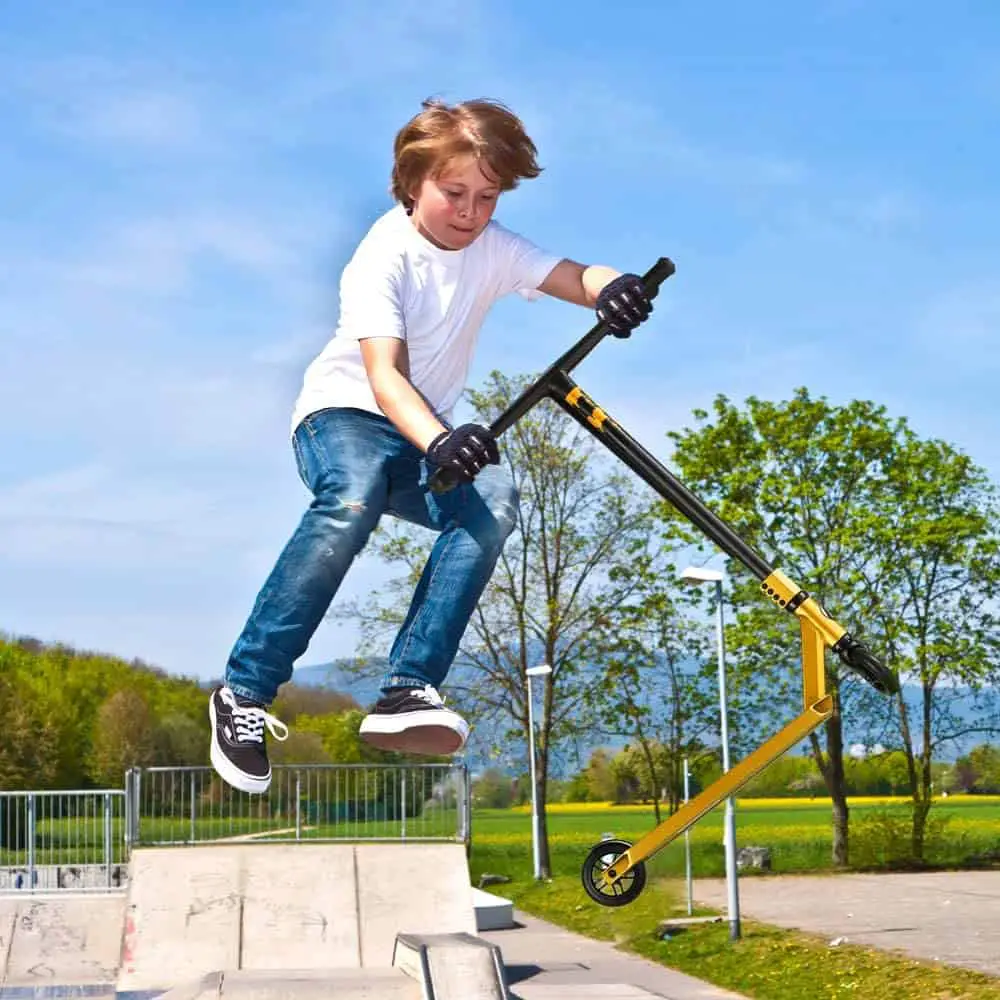 Has your child reached the age of 7 and are you still looking for a great gift? Perhaps the Albott Pro Stunt Rollor is the item you are looking for!
The carbon steel construction of this stunt scooter provides extra strength. Striking is the wide handlebar and the beautiful gold color.
The scooter is perfect for both novice and experienced riders from the age of 7!
The height of the scooter (from the ground to the handlebars) is 85 cm. The frame is anodized aluminum with a thick (again) aluminum deck for extra robustness and durability.
The deck is also provided with an anti-slip, waterproof sticker for safe rides. You can perform crazy stunts with this scooter, including rearing and rotation!
Curious about what is possible with a pro step? Watch and shiver:
The Albott's wheels are remarkable: super fast ABEC-9 bearings and 110mm wheels with 88A PO and high rebound.
The wheel center is made of aluminum for more durability and the scooter is equipped with a steel brake for fast braking and grit tape for extra grip.
For good performance and high safety, choose the Albott Pro Stunt!
Compared to the other scooters that I have highlighted above, this is, together with the Razor A5 Lux Kids Kick Scooter, the sturdiest with its 100 kg carrying weight.
This means that a child can enjoy the scooter for years to come, so it is one that can certainly grow with a child for a while.
Compared to the previously discussed scooters, this scooter is more focused on performing crazy stunts, hence the name 'Pro Stunt Rollor'.
Children of 7 years old are old enough for that. Also, children of this age are often looking for new challenges, and this fantastic scooter could be one of them!
Perhaps the only disadvantage of this scooter is that it is not adjustable in height and also not collapsible.
On the other hand, you do get an incredibly high-quality product in return that is guaranteed to provide years of enjoyment.
Also be aware that stunt scooters are made just like this: not collapsible and not adjustable, so they stay fixed while doing stunts. Sounds logical.
Grit tape is also essential for a stunt scooter, as is a deck that can tolerate extra pressure.
Check the latest prices here
Best children's scooter 8 years and older: Razor A5 Lux Kids Kick Scooter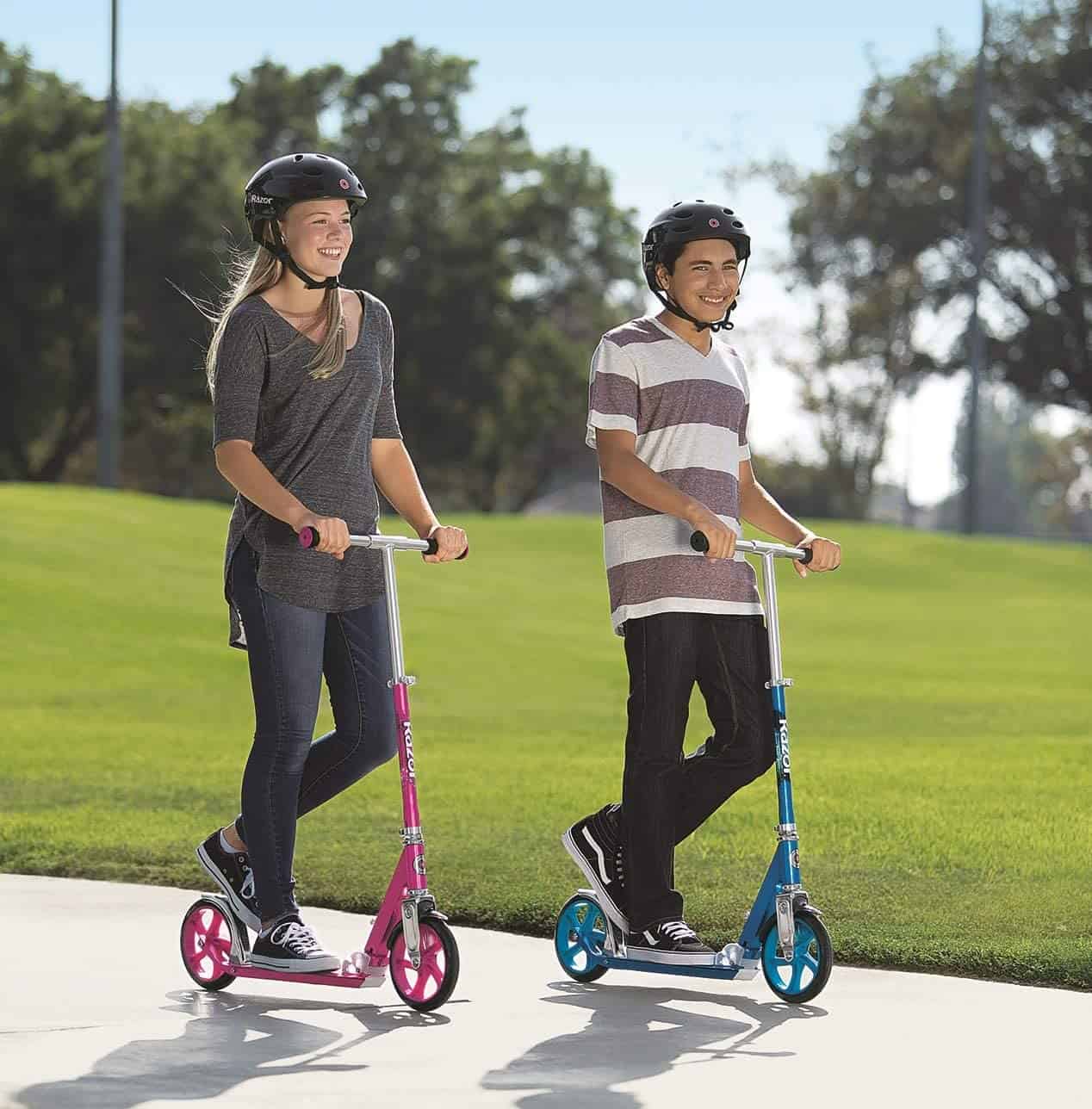 In the introduction I already briefly introduced you to this scooter. What is (even more) so great about this scooter?
Well, everything! As you can see, at the time of writing, the scooter has achieved an average of 4,8 / 5 on more than 1200 reviews. That says something of course!
The scooter has extra large, smooth and good rolling 200 mm urethane wheels with RZR Pro bearings. The robust steering wheel is made of steel and the aluminum deck is of aircraft quality.
The scooter has a handlebar with a pro-style, non-folding down tube. The rear fender brake is patented and helps you control your speed.
Here you can see Anya introducing this beautiful scooter:
The scooter is intended for the slightly older kids, with an age of 8 years and older. The scooter supports riders up to 100 kg, which makes the scooter also suitable for adults!
A scooter that is perfect for a family where mom and dad can also use the scooter from time to time. Furthermore, the deck is wider and longer than usual, and the handlebars are higher, which makes this scooter extra suitable for older teenagers and adults.
The handlebars are adjustable so that every rider has a comfortable and safe ride. You can park the scooter thanks to the built-in kickstand, or even fold the scooter with the simple 1-click mechanism.
Check prices and availability here
Best Electric Kids Scooter: Segway Ninebot Kick Scooter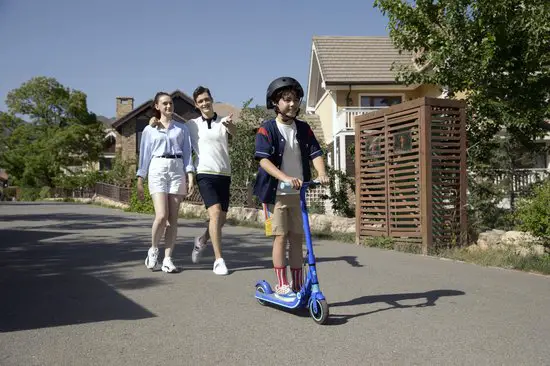 As you would expect in this day and age, nowadays there are also electric children's scooters to be found.
One of such scooters with a very good rating is the Segway Ninebot Zing E8.
This scooter has a beautiful blue color, but is also available in dark gray and light pink. This scooter is all-round excellent.
It has a powerful 130 W motor with a range of 14 km / h. In addition, it can bear a weight of up to 110 kg.
The scooter is suitable for children from 6 to 12 years old and equipped with a powerful hand brake system with the EBS brake function for energy recovery. There is also a brake on the mudguard at the rear.
A smooth ride is guaranteed thanks to the front shock absorption.
The housing is aluminum alloy and Aerospace quality. You can even fold the scooter, which makes it 100% portable!
To start the scooter or scooter, you step on the gas once. You do not have to hold the gas afterwards, because the scooter continues to move forward.
But the harder you pedal, the faster the scooter will go. It is extremely important that you put on your child the necessary protection (helmet, and possibly elbow and knee protection).
Incidentally, this is recommended when using any type of scooter, and not only with electrically powered scooters.
Here's how it all works:
The advantage of this electric scooter is that your child can drive from A to B very quickly and easily. A disadvantage may be that it does not stimulate a child to move.
In case you want to buy a scooter for your child to make him or her move more, then another scooter from the list might be a better choice.
You also have to be sure that your child is actually able to handle such an electric scooter responsibly.
Check the prices and availability here
Best children's scooter with seat: Hurtle Three-wheel scooter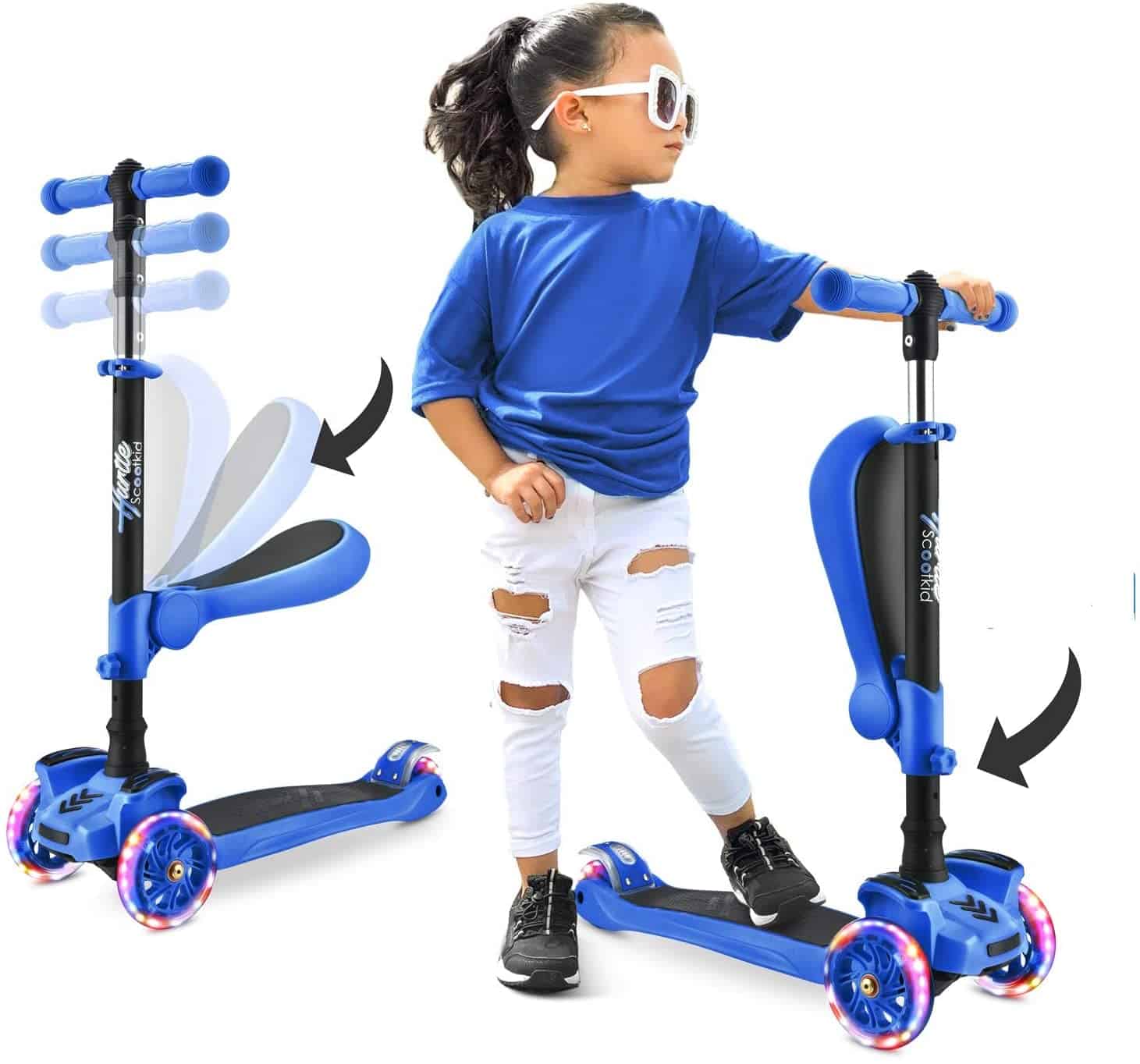 Did you know that there are even scooters with a seat? An example of such a scooter is the three-wheeled scooter for children from the Hurtle brand.
With this super handy scooter your child can ride both sitting and standing. The seat is foldable and removable and has a load capacity of approximately 20 kilos.
The scooter has a total weight capacity of approximately 60 kilos.
You can easily and conveniently take the scooter to the playground, because the scooter is light enough to carry, fits in the trunk and is also easy to store.
Your child will fall in love with the LED light wheel technology!
Besides being fantastic for the kids themselves, the rainbow colored lights on the wheels also contribute to the child's safety as it is easier to see in the dark.
The scooter can be adjusted to three different heights.
The scooter is also equipped with special technology, which allows a child to lean the ride - instead of turning the handlebars - for better balance and coordination.
Here you see the scooter in action:
The extra wide deck provides more safety during use.
The scooter has two slightly larger wheels at the front (120 mm) and two wheels combined at the back (80 mm) that can withstand bumpy surfaces.
The scooter is available in a lot of different colors, namely graffiti, camo, green, pink, yellow, purple, red and blue. According to the packaging, the scooter is suitable for children from one year.
It goes without saying that dad and / or mom supervises and is there when the dear child uses the scooter.
I have also discussed another children's scooter with three wheels (or rather: where the wheels are in a triangle), namely the Razor T3 scooter. This scooter is just as intended for kids with an age from 3 years.
However, the scooter with a seat is suitable for the even smaller ones, as the description indicates; for children from one year of age.
The point is that your child always plays safely.
If a child is simply not ready for these types of toys, hold off. Trust your own feelings, then you are always in the right place.
Check availability here
Best children's scooter with pneumatic tires: Hudora Air GS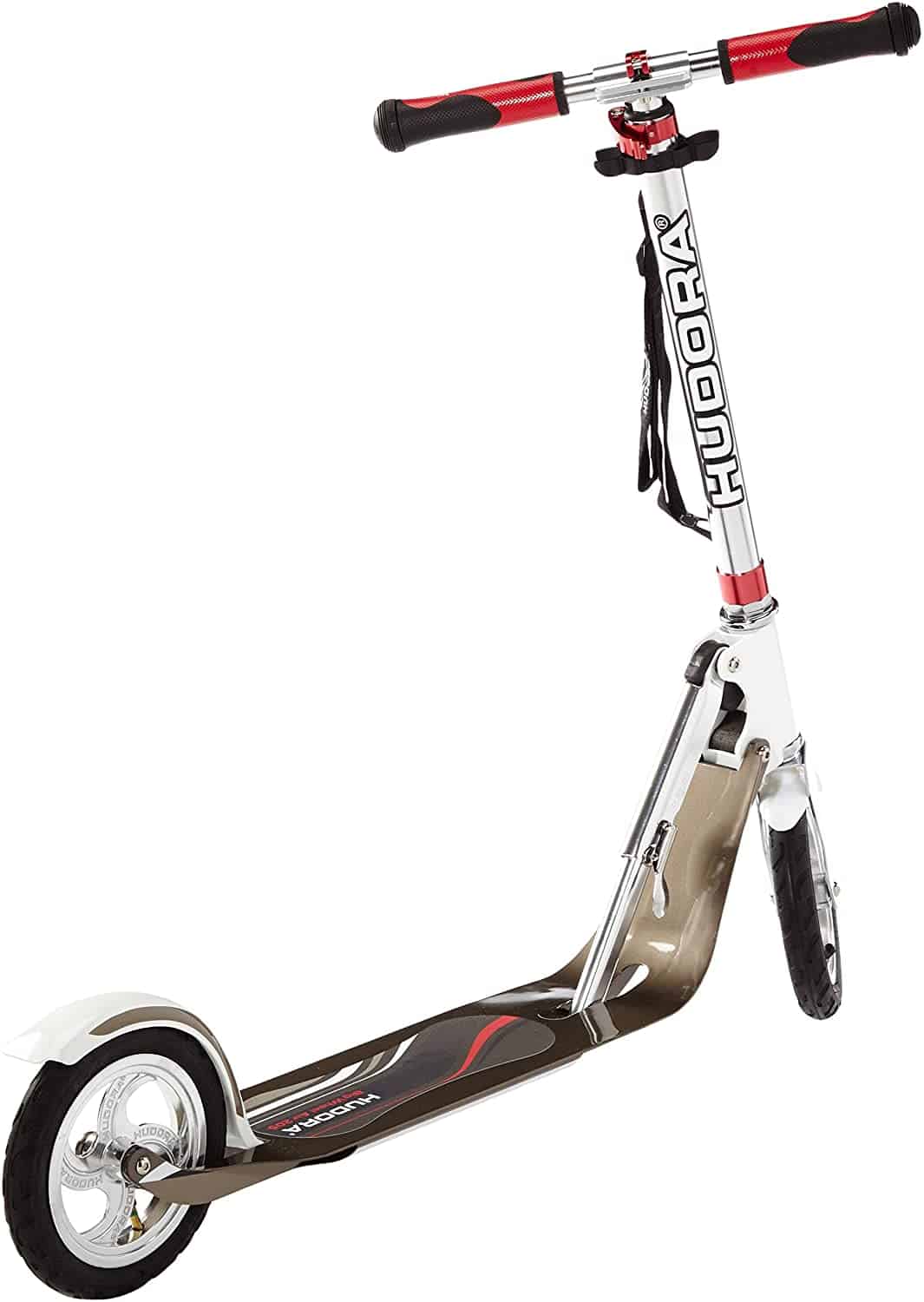 We have now become acquainted with various types of scooters. From tricycles and stunt scooters to electric scooters.
But there are also scooters with pneumatic tires, such as the Hudora Air GS.
The scooter is generally known with small, hard wheels. However, there are also scooters with pneumatic tires, as you also see with a bicycle.
The air layer provides extra comfort while driving, because it absorbs shocks and you feel less unevenness in the road surface.
For commuting in combination with public transport, a practical scooter with small, hard wheels is the best choice.
However, if scooters are really a sport for you or if you want to cover long distances, or if you have to drive on many roads that are uneven, then pneumatic tires are certainly not a luxury.
The Hudora Air GS scooter has a high-quality aluminum deck with reinforced wings and rubber pneumatic tires on aluminum rims.
Unlike most scooters, which are mainly equipped with plastic (PU) wheels. The scooter has a friction brake at the back, is foldable and has a height-adjustable handlebar from 85 to 105 cm.
The comfortable handles are also anti-shock. The scooter is even equipped with an adjustable shoulder strap if you want to transport it.
Also nice is that the scooter has reflectors on the handlebars and deck; After all, safety comes first.
Here the scooter is unpacked and put together for you:
The scooter has ABEC-5 ball bearings and the maximum load of the scooter is 120 kg, which makes this a robust scooter and one that will deliver a lot of fun for a long time.
The standing surface is extra large for more stability while driving. With the scooter you can ride at high speed, you have a great driving comfort and all in a safe way.
The scooter has a stand, for safe placing. Are you looking for a scooter for the whole family - just like the Razor A5 Lux Kids Kick Scooter - then this could be a good option.
The scooter has a high carrying capacity and can therefore hold the children as well as mom or dad.
Of course your child must be old and sensible enough to use the scooter in a safe way. Definitely an option to consider so if you as a parent also plan to use the scooter.
Handy for a quick errand, or for transport to the gym (or maybe even your work!).
Check the latest prices here
Best Innovative Kids Scooter: Razor DeltaWing Scooter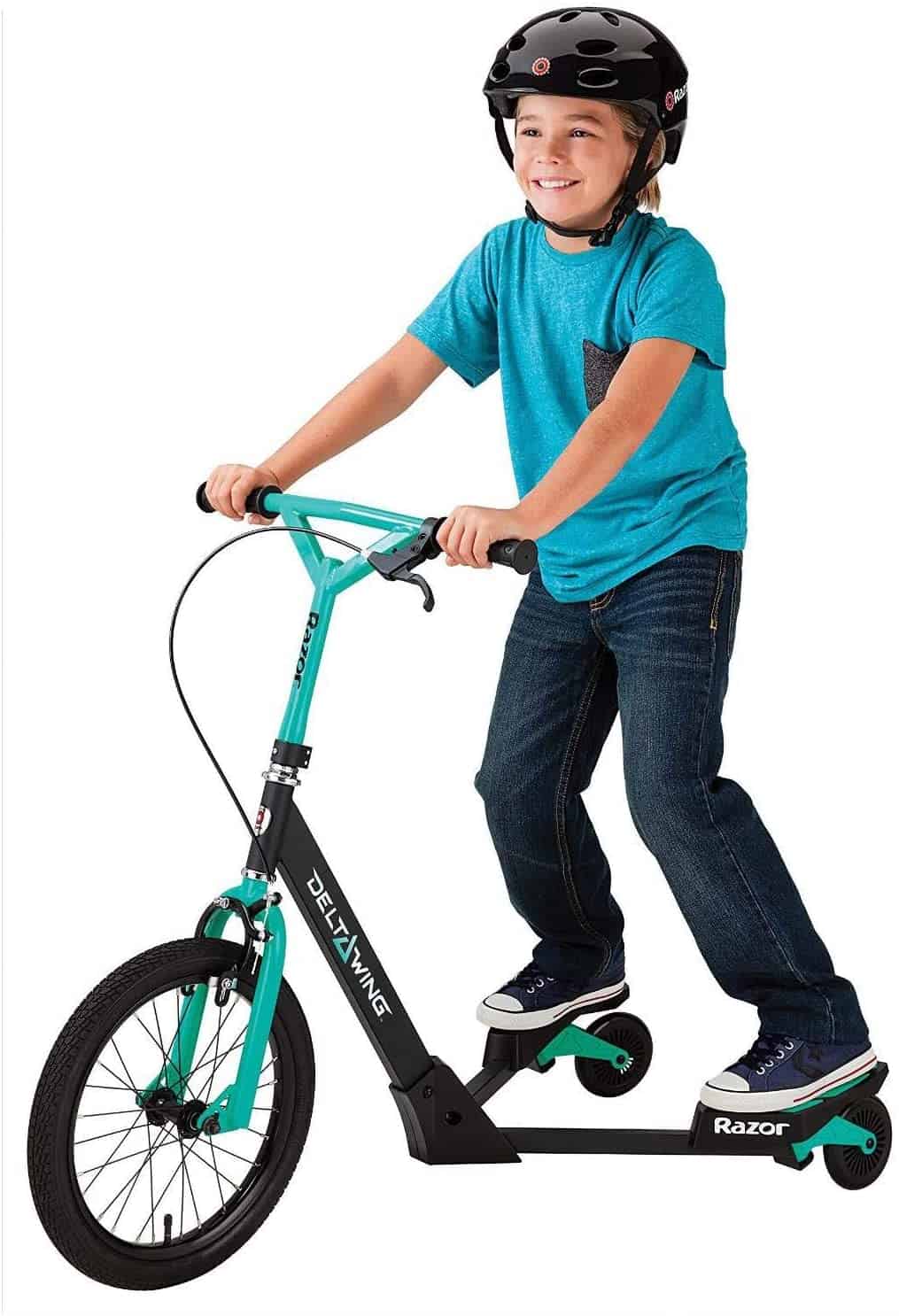 The Razor DeltaWing Scooter is a very special scooter! Instead of the usual deck, the scooter has two separate platforms for the feet.
The scooter is equipped with three wheels: a large front wheel (406 mm) and two smaller rear (swivel) wheels (125 mm) that are especially suitable for drifting and spinning.
This great three-wheel scooter provides a crazy riding style that is easy to learn. The scooter has a steel frame and a hand brake at the front.
The scooter is suitable for children from 6 years old and supports riders up to about 65 kilos. The whole provides a powerful yet smooth ride in style.
The handlebar has two soft rubber grips and some assembly is required. With this scooter you will learn how to freestyle in no time!
Here Silus shows how scooters with the DeltaWing works exactly:
The perfect scooter for a child who likes a little action.
The Razor A3 Kick scooter, which I described above, is of course also very suitable for a child of 6 years, if you prefer to go for a somewhat 'conventional' scooter.
Such a scooter is probably better if your child is going to scoot for the first time, and the Razor DeltaWing Scooter may be more suitable for children who already have some experience with scooters and are ready for the next level.
You could say that the Razor DeltaWing Scooter is a bit between a 'normal' scooter and a stunt scooter.
Check the latest prices here
Best kids scooter age 5-6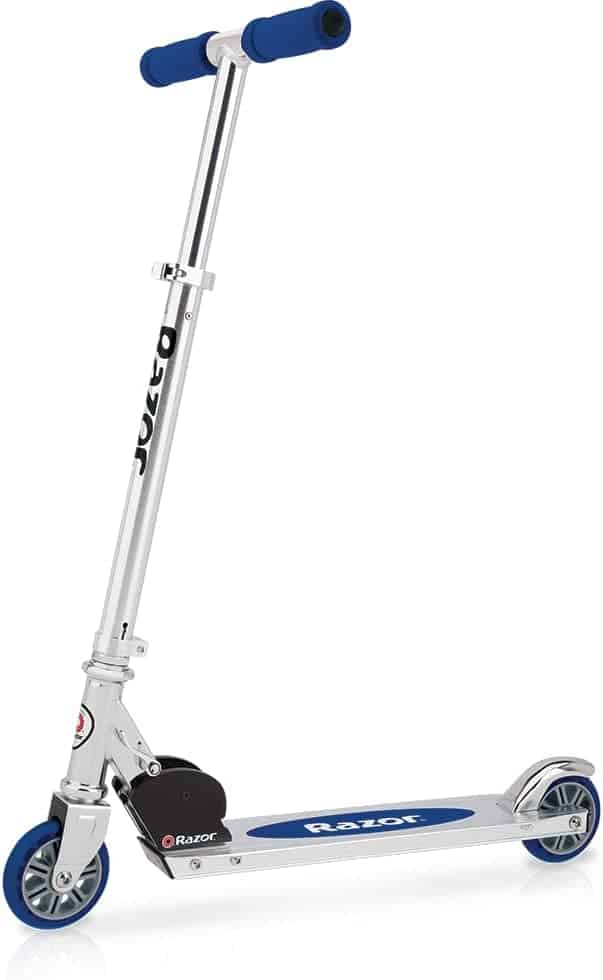 Best for
Best as a first scooter with 2 wheels

Great shock absorbing system
Less good
Small wheels for someone who doesn't want to do tricks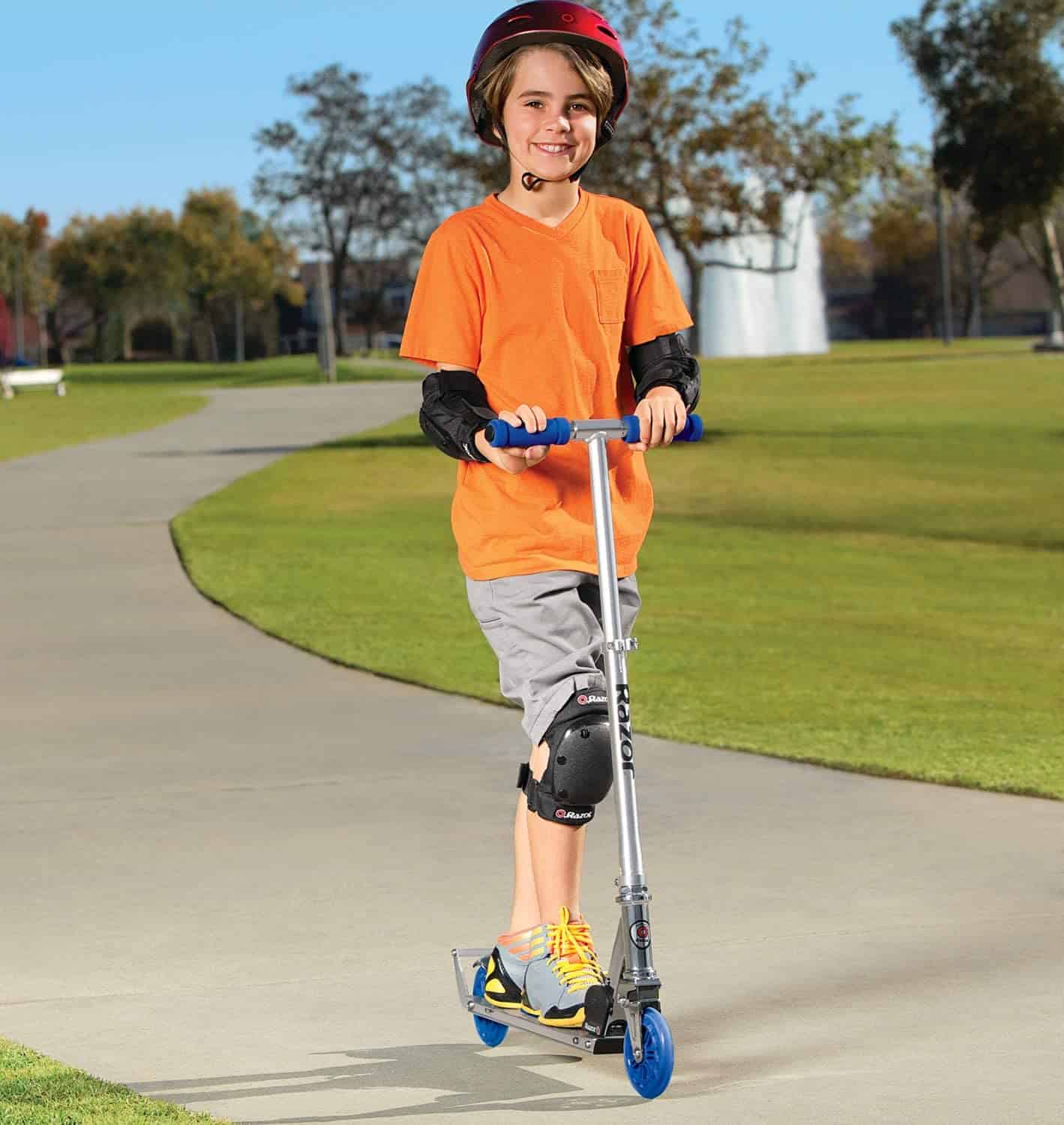 As I mentioned in the introduction, children from about 5 years old are able to get on a scooter with two wheels. That is because a child at that age can already keep his or her balance well.
My favorite scooter for a child from 5 years old is the Razor A, which I will tell you more about right away.
This classic scooter is made of robust aircraft aluminum. The 125mm inline style urethane wheels have a springless, shock absorbing system.
The patented rear fender brake ensures quick stops and the scooter is foldable for easy transport. The scooter supports children weighing up to 143 pounds (about 65 kilos).
The handlebars are adjustable in height and the scooter is really top quality!
The scooter is equipped with ABEC-5 high-speed bearings and the front wheel has a shock-absorbing suspension for comfortable rides.
The scooter also has a folding handlebar and a wheelie bar for tricks.
Here you can see how smoothly the scooter rides:
This scooter has a beautiful blue color, but is also available in gray and green!
The Razor T3, which I highlighted above in the 'Cheapest children's scooter' category, can also be used by a 5-year-old, the problem is that the scooter can only hold a maximum weight of 22 kilos.
The same goes for the Yvolution, which also has 'only' 25 kilos carrying weight. These scooters can therefore be used up to about 6/7 years of age.
The Royalbaby might be a better alternative, in case you want to go for a scooter that can grow with your child for a while, because it can hold a weight of up to 50 kg.
However, remember that the three alternatives I just mentioned all have three wheels, not two like the Razor A Kick Scooter.
Question and answer children's scooters
How do you teach your child to scoot for the first time?
Starting scooters can be quite an exciting experience.
The bottom line is to practice, in a playful and calm way, so that your child can take to the streets well prepared.
It is best to try out scooters in practice right away.
First of all, it is wise to explain the actions.
What position should you adopt, where do you place your feet for the most stability, how does the brake work and how do you get off safely without falling off the scooter?
Teach your child to also change the push-off leg every now and then; this way you avoid muscle cramps on one side.
Finally, keep in mind that you don't get too involved with it.
Even though you want to give your child as much information as possible so that he or she gets it right right away, they learn most by trying it for themselves.
The child will perform the actions himself and adopt the postures that he or she feels most comfortable with. So be sure to give your child the opportunity to experiment on their own.
Do not forget to explain the traffic rules to your child!
When your child is still small and has just started scooters, only allow them to scoot in safe places.
As it gets a little older and more responsible, you may be able to loosen up a bit.
Why is scooters so good for a child?
A children's scooter is the perfect toy for a child to stimulate the development of balance, motor skills, balance and mobility.
Children often quickly master the technique of scooters.
For the little ones it is a perfect way to promote their psychomotor development, and for the older kids it becomes a true sport in which they can enjoy themselves.
It is important that you choose the right scooter for your child, so that they can always play safely and comfortably!
How can a scooter help you stay healthy during lockdown?
It is difficult for many people and children to keep moving, especially now that we are forced to stay at home.
Children generally like to move and be active, so the lockdown can be quite a challenge.
To give a child the necessary exercise, a scooter is the ideal solution.
Are you going for a jog? Then let your child scoot with you!
From what age can a child use a scooter?
As a rule of thumb, if your child can walk stably, they can ride a scooter.
This places the typical 'age of readiness' at about two or three years old.
Is your little one still learning to walk? Check out my complete walker guide with tips, tricks & 11 reviews!
Do you need a helmet while scooters?
Yes! Your child should wear a helmet while cycling or scooters, you should get your child used to the idea as early as possible.
Go for a nice helmet, they will not want to wear one that is too tight or fits badly.
Why should you wear a helmet on a scooter?
Head injuries are the most common injury in accidents involving bicycles, inline skates, skateboards, scooters and scooters.
Head injury is the leading cause of death and disability in these types of accidents. Wearing a helmet can lower the risk of death or injury and reduce the severity of injury in a collision.
Here I have the 5 best stunt, skate & bike helmets rated | Safe & cool too
Can a 6-year-old ride an electric scooter?
Generally yes. Electric scooters for kids are designed with age appropriate features to keep them safe.
These features include: Kick-to-start technology - the motor does not turn on until the child has built up some pace, as opposed to moving quickly as soon as the child accelerates.
Conclusion
Pooh, that was quite a ride! In this article I introduced you to a lot of different scooters.
I think that by now you have gotten an idea of ​​which scooters could be interesting for your child.
What is important to you? A scooter that is adjustable, foldable, that has three wheels for extra safety, or one for the older child who is looking for more of a challenge?
You may be looking for a scooter that is perfect for the whole family.
Whatever scooter it will be… I hope your child will have a lot of fun with it!
Are you really looking for a scooter for your child? Check: Best stunt scooter rated | 7 models that really stood out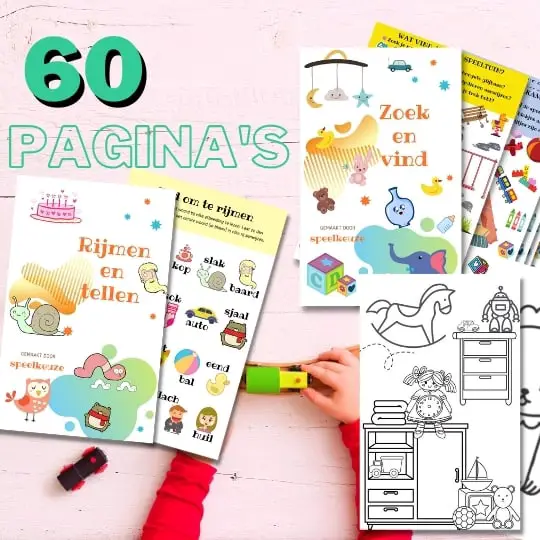 Always something to do for the holidays or rainy day?
Play Choice now has the ultimate activity book collection, with over 60 pages of fun coloring pages and educational puzzles.
Joost Nusselder, the founder of Speelkeuze.nl is a content marketer, father and loves trying out new toys. As a child he came into contact with everything related to games when his mother started the Tinnen Soldaat in Ede. Now he and his team create helpful blog articles to help loyal readers with fun play ideas.