What Are The Best Kids' Watches? Top Options GPS, Smart, Analog Reviewed
I enjoy writing these articles for my readers, you guys. I don't accept payment for writing reviews, my opinion on products is my own, but if you find my recommendations helpful and you end up buying something through one of the links I may be able to receive a commission on that.
More information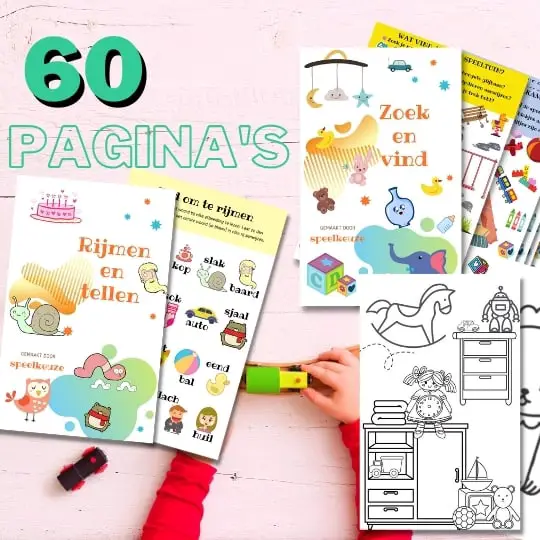 Always something to do for the holidays or rainy day?
Play Choice now has the ultimate activity book collection, with over 60 pages of fun coloring pages and educational puzzles.
When you think of 'children's watches', do you still think of the traditional ones? horloges with fabric strap? Then we need to update you.
Even though those simple children's watches still exist – and are still popular – today there are also watches for children with more advanced functions.
This is not only great fun for the children themselves, but it can also be very pleasant for the parents!
My personal favorite kids watch is the NN BEN NEVIS Kids Watch. It is a digital children's watch with a lot of useful functions. The watch is also charged in no time and you can go ahead for 10-20 days with a charged battery. Furthermore, the battery is durable and you can choose from a lot of attractive colors and designs.
But there are more options. There are children's watches with a GPS location system, or models with an internet connection.
This can be extremely useful for parents to track their children and thus always know where they are.
In this article you can read which are the best children's watches of the moment, divided into different categories.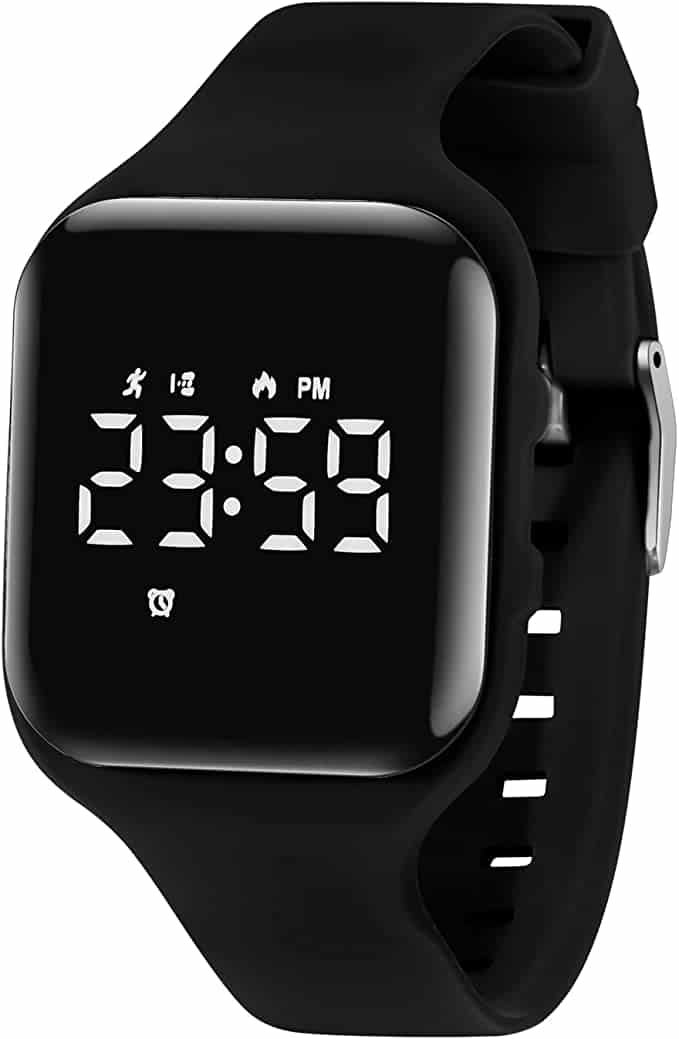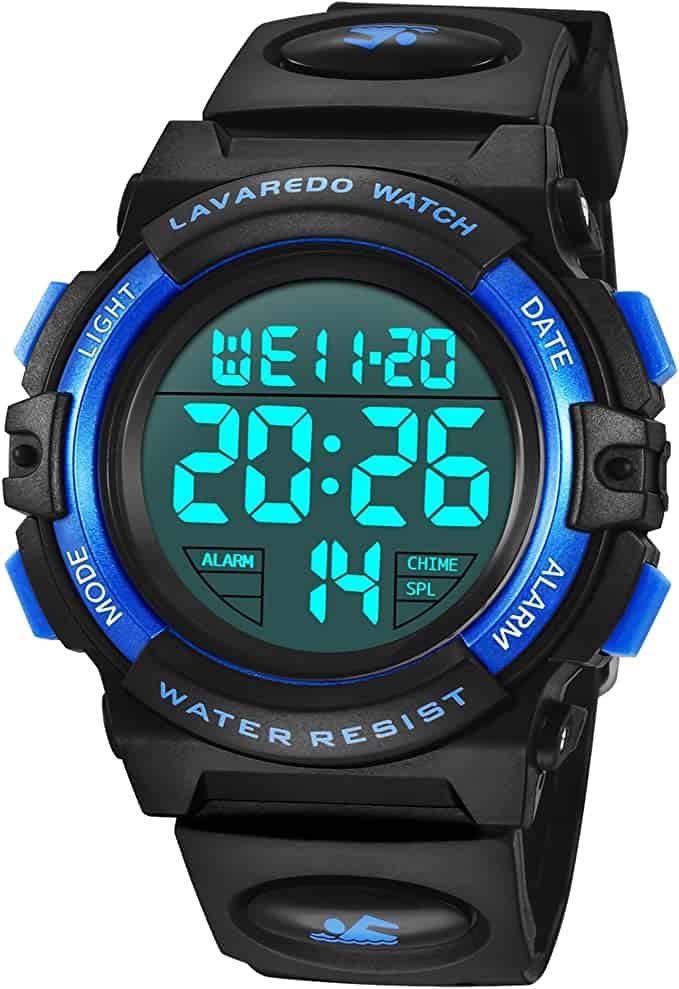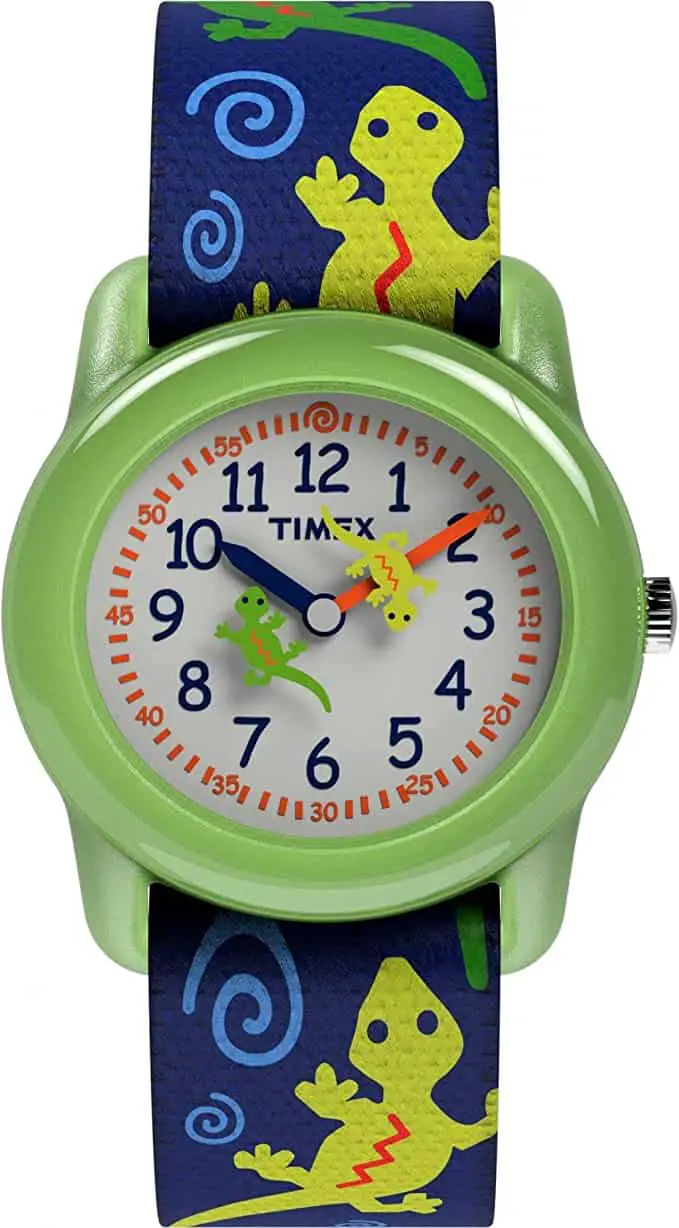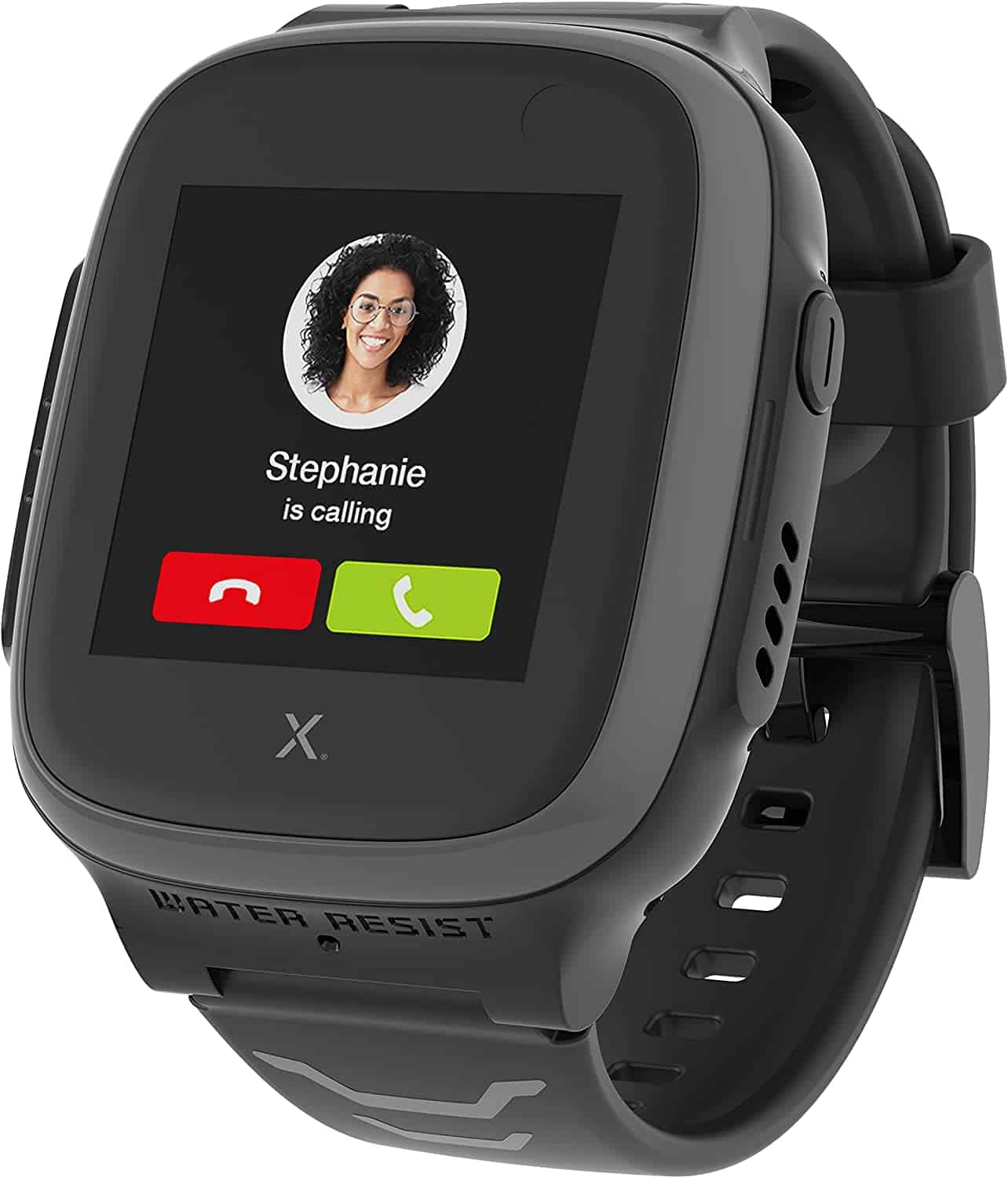 Best kids watch with alarm function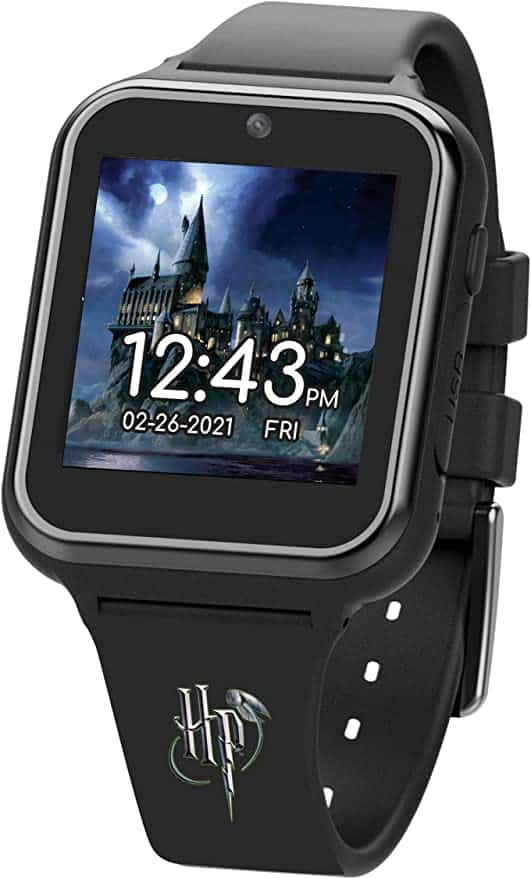 Best kids watch with pedometer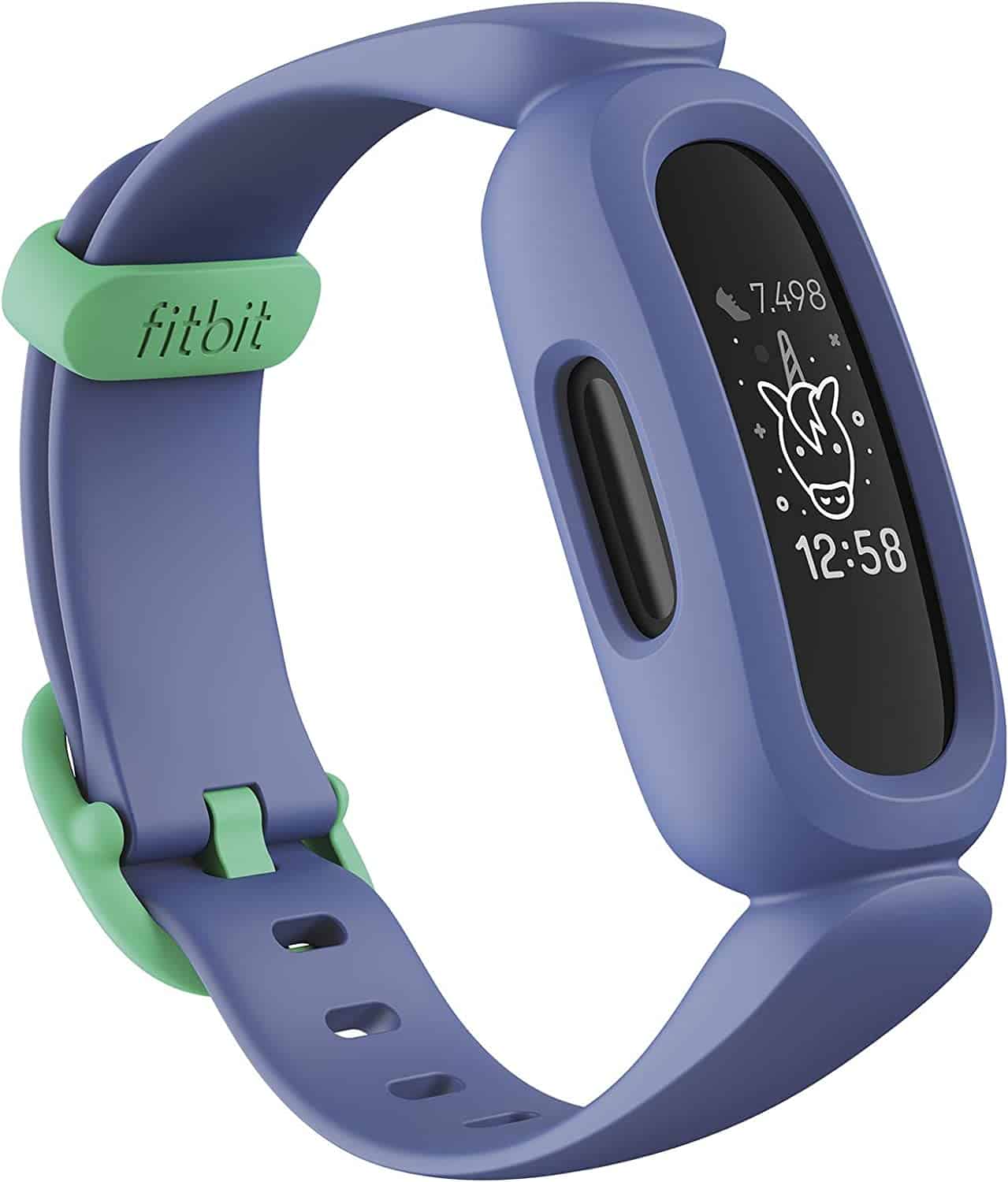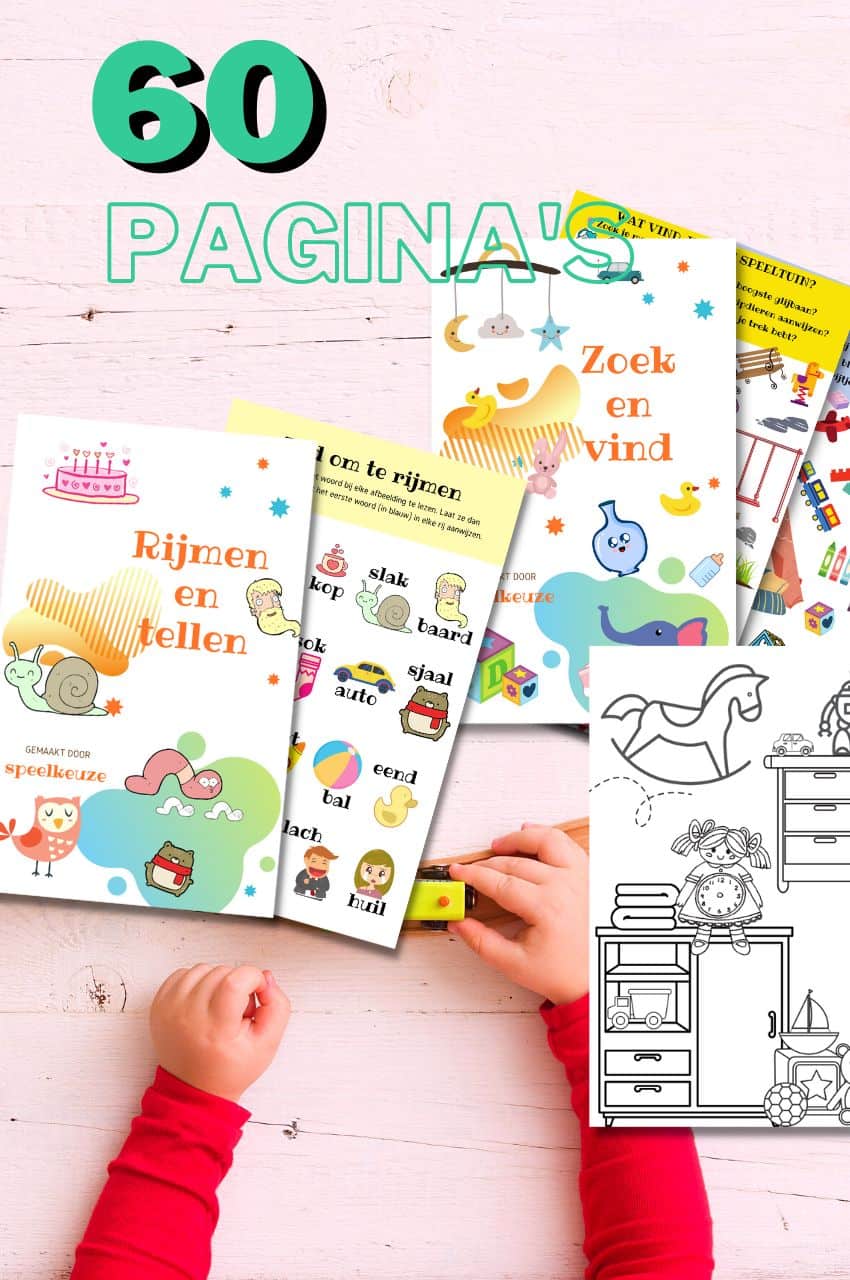 A play theme in your mailbox every month?
Fun play tips, activity books and more, with the first email being our free mini-guide "educational toys"
We will only use your email address for this newsletter and respect your privacy
What do you pay attention to when purchasing a children's watch?
You may find it difficult to find the right children's watch.
Not only should it have the functions that you consider important as a parent, the child should also find the watch beautiful and interesting enough to want to wear it.
To help you make a choice, we have selected the best children's watches with different features for you.
Before you purchase a children's watch, it is useful if you know what to look out for.
Nowadays there are a lot of different children's watches to be found. The choice is wide!
The best way to choose the right watch for your child is to be well informed.
Below you can read what you should take into account when choosing the perfect children's watch.
What are you looking for?
First of all, it is important to know what you are looking for.
Are you looking for a simple but cute analog watch for your child? so it can learn to read the clock, or are you looking for something more advanced?
What features do you think it should have? Are you going for one with a GPS function and/or fitness tracker or is none of that necessary?
Find out what you would like to buy for your child, and what he/she likes or likes.
Your child's age and abilities
The most suitable watch also depends on the age and abilities of your child.
Parents often wonder from what age a children's watch is suitable. As a parent you naturally want to avoid giving your child something that it cannot use.
Of course, a 3-year-old child cannot yet handle a smartwatch.
So the maturity of the child plus the ability to understand and use the watch play an important role.
For example, if you like being able to reach your child at all times, a watch with GPS and calling function is probably the best option.
Budget
Your budget can also play a role, of course.
Fortunately, in this article I have included watches of different price ranges and even selected the best cheap children's watch for you.
The functions of the modern children's watches
Modern children's watches can have different functions.
Below is a list of examples of features you will encounter in your search for the best kids watch:
GPS tracker: so that parents can always check where their child is. Parents can also sometimes set up a so-called 'geofence' so that they receive notifications when children move outside the preset area.
Call and send messages: Many children's watches make it possible to call and send messages.
SOS security button: children can use this button in an emergency. The watch then automatically connects to the emergency number you have set yourself.
Games: There are children's watches on which games can be played. This of course makes such a watch even more interesting for a child to wear.
Camera: The latest models allow photos and videos.
Fitness tracker: which counts the number of steps taken and the number of calories burned.
Best Kids Watches Reviewed
You should now have quite a bit of knowledge about children's watches.
You know what to consider when buying a watch for your child, you know the different functions and also the advantages and disadvantages of smartwatches.
Now you are probably curious about the features and functions of our top 6 children's watches. You read it below!
Ben Nevis
Digital Kids Watch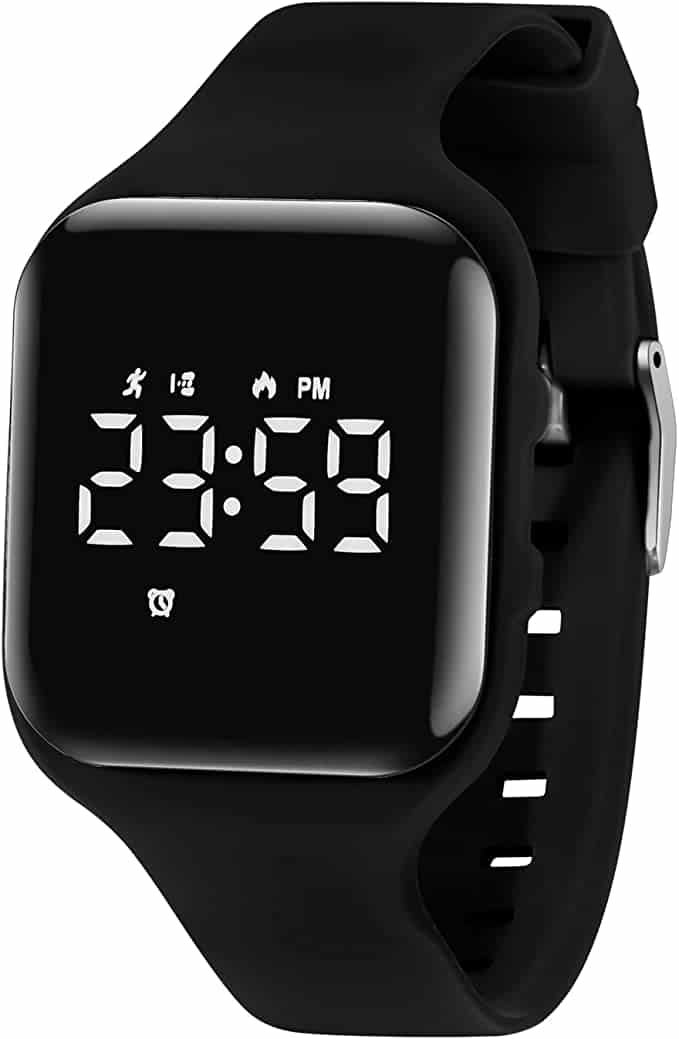 Best for
Choice of different models

Lots of features

Short charging time and long battery life

Waterproof
Less good
Some customer reviews have shown that the watch sometimes just stops working
This Ben Nevis digital children's watch is multifunctional. It is equipped with a stopwatch, LED light (display lighting), a (damper) alarm and you can also see the date.
You can also choose whether you want to display the watch in the 12-hour format or in the 24-hour system.
This feature can help children learn to read the time in the different time systems.
Furthermore, the watch has a pedometer, it can track the distance traveled, calculate your calories burned and the watch is even waterproof.
However: if you use the watch under water, it is best not to press the buttons.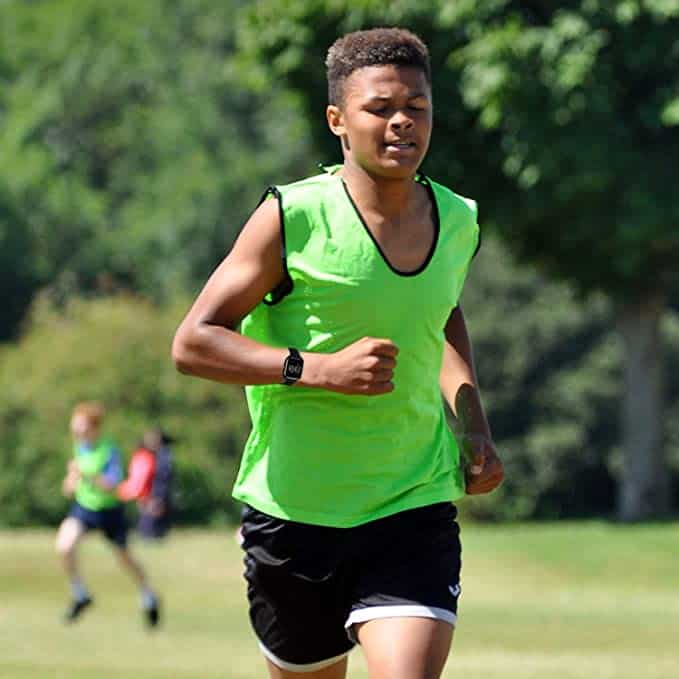 The Ben Nevis is the perfect fitness watch for kids.
The gadget is easy to use and operate, and it does not need to be connected to a smartphone.
It does not need an app or bluetooth to function.
The watch is charged in about an hour, and you can use it for 10-20 days. That's a long battery life compared to other models.
With the supplied USB plug you can charge your watch via the computer or via a power bank.
You can view the power on the indicator and the battery is extremely durable and environmentally friendly.
Because the watch is also equipped with display lighting, you can also see everything clearly on your screen in the dark.
The watch is available in different colors, so there is something for everyone!
Digital
Watch strap material: silicone
Housing material: polyamide and stainless steel
Stopwatch
Display lighting
Damper alarm
Date(s)
12/24 hour system
Pedometer
Track distance traveled
Calculate calories
Waterproof
Charging time: 1 hours
With USB plug
Available in different colors
Check prices and availability here
A Alps
multifunctional children's watch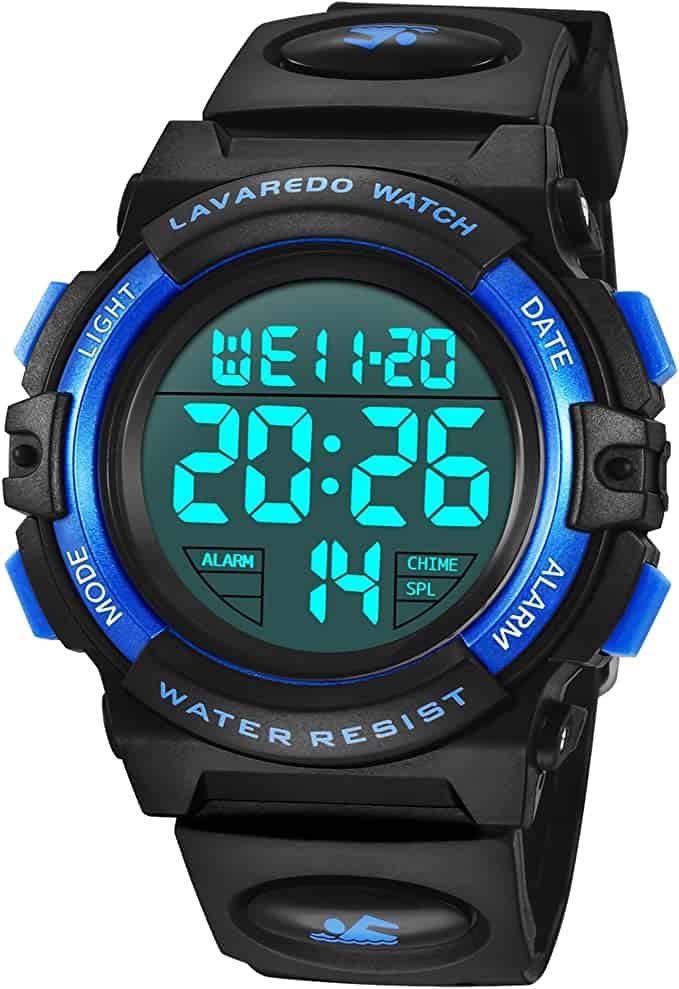 Best for
Available in different colors

Attractive price

Waterproof

Powerful
Less good
Not crazy many functions

Not usable in extremely hot or cold temperatures
We can understand that not everyone has a 'big' budget for a children's watch.
Some parents prefer not to spend too much money on a watch for their child.
Perhaps because they know that their child is careless, or because they first want to see if the child is interested in a watch at all.
For people who prefer to buy a cheaper children's watch, we have selected the A Alps children's watch.
The watch is digital and has a sleek, tough and sporty design. The backlight used for this watch is of high quality.
Children can therefore easily read the display in the dark. The illuminated display also arouses the interest of children.
Besides the time, you also see the date on this watch. It is also equipped with an alarm clock and, just like the Ben Nevis, you can choose from the 12 or 24 hour systems.
It is the perfect watch for everyday use, but also during sporting activities.
The silicone strap of the watch is of high quality.
The buckle is made of stainless steel and easy to adjust. Perfect for children's hands!
The material is flexible, comfortable and also environmentally friendly.
The watch is resistant to splashing water and rain and you can also take a shower with it. It is waterproof up to 50 meters underwater.
If your child wants to use the sauna – as well as swimming and diving – it is advised not to press the button.
It is also best not to use the watch in a bath or in a high-temperature environment.
Prevent the waterproof rubber ring from expanding or contracting due to the ambient temperature.
This can cause holes and affect the durability of the watch.
The caseback is made of stainless steel, the watch strap of silicone and the mirror surface of resin glass.
It is recommended to occasionally wipe the watch with a soft cloth to prevent dirt build-up.
Digital
EL backlight display
Date(s)
Alarm
12/24 hour system
Watch strap material: silicone
Housing material: stainless steel
Mirror surface: resin glass
Buckle: stainless steel
Waterproof
Ben Nevis vs A Alps
The difference between this watch and that of Ben Nevis is mainly the design and the fitness function. There isn't even that much difference in price.
Where the NN Ben Nevis watch has fitness-oriented functions, such as a pedometer and calorie counter, the A Alps children's watch does not.
It depends a bit on what you are looking for for your child and of course his/her age and interests.
Ben Nevis is suitable if your child can already handle and is interested in advanced functions.
The A Alps is somewhat simpler in terms of functions and may be better for children who are a bit younger and do not yet know how to handle certain functions.
Furthermore, they are two excellent watches that are generally well rated by customers.
Timex
Analog quartz watch for kids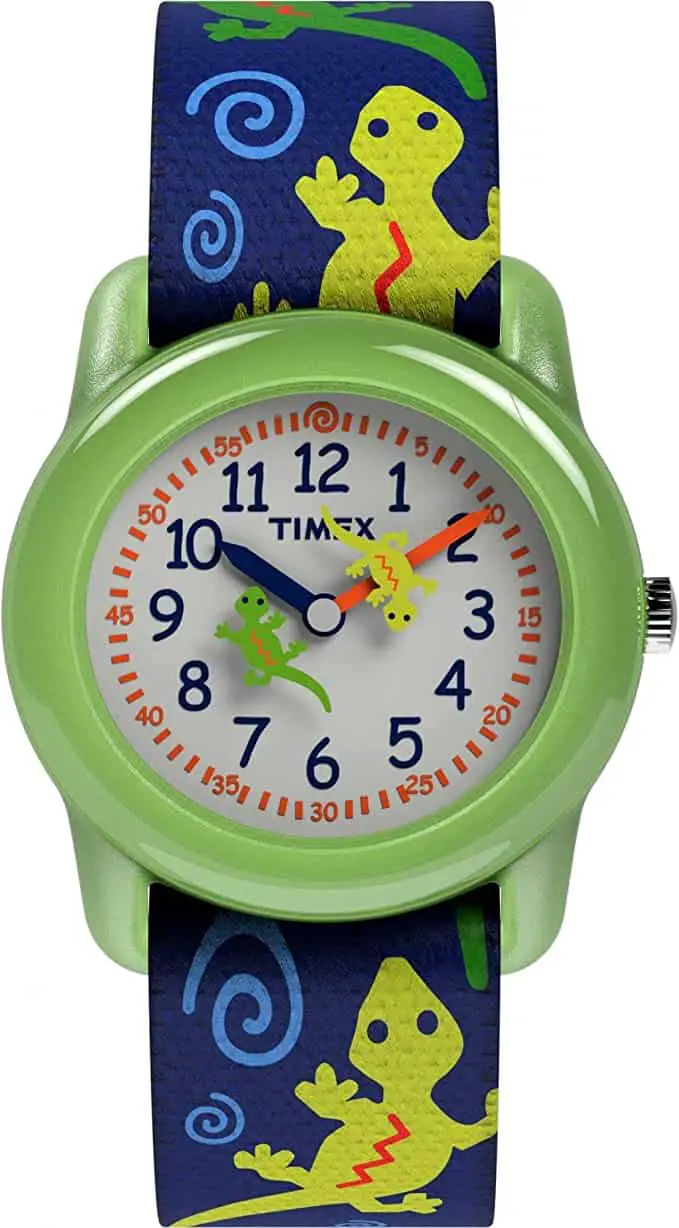 Best for
Available in different colors and designs

Possibly with app

Waterproof
Less good
It is not a smartwatch so no extra functions
Would you like to purchase a simple, analog watch for your child? Then of course you can!
It remains educational for a child to have an analog watch.
Even though almost everything is digital these days, an analog watch can be fine for a child to start with.
The Timex watch has a cute look and has been specially developed for children. The dial is clear so that it is easy to read.
The great thing is that this watch is available in a lot of different colors and designs.
This particular design has a green gecko theme and features a gecko on both hands of the watch.
Furthermore, it is equipped with an adjustable wrist strap.
All Timex children's watches are also covered by their replacement plan, so that as a parent you do not have to worry about a broken or even lost watch!
The watch has a resin case and is generally resistant to splashes or brief immersion in water, but not suitable for swimming or bathing.
The watch is water resistant to 50 meters.
Practice learning the time with the free Timex Time Machine app!
Your child will learn to read the clock as well as develop other relevant skills in a fun and engaging world.
This app is child safe and available for iOS and Android. It is additionally an award-winning product and free mobile app.
The battery should last up to ten years. The watch is suitable for children aged four years and older.
A lithium battery is required for the watch, which is also included.
Analog
Available in different colors and designs
Adjustable wrist strap
Casing: Resin
Scratch-resistant mineral glass
You can optionally download the Timex app
Waterproof
Suitable for children from 4 years old
Ben Nevis vs A Alps vs Timex
This watch is of course very different from the two watches I have reviewed before.
It is one that is suitable for younger children, and is perfect to start with.
A great, simple watch for children from the age of 4 who want to learn to read time and would like to wear such a cute watch on their wrist.
In the case of older children, the Ben Nevis and A Alps children's watches would be a better option.
These watches are simply a bit tougher and have a lot of interesting functions.
In terms of price, all three are not too bad and they are all quality watches!
XPLORA
X5 Play Watch Phone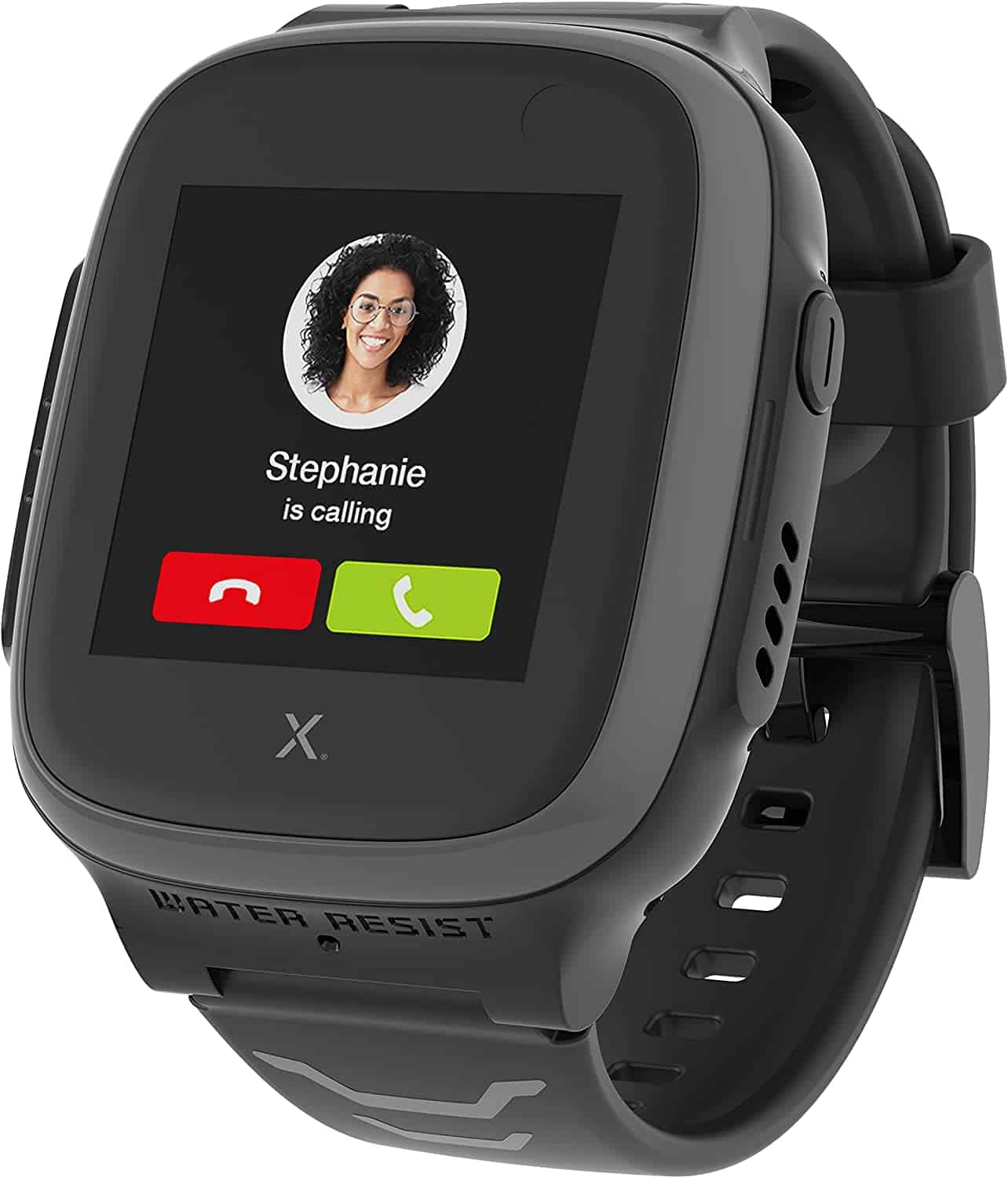 Best for
An awful lot of functions

Waterproof

High quality
Less good
SIM card not included

Very expensive
Are you looking for a children's watch with GPS? That's great!
We have the here Xplora X5 Play, which can help you to always stay in touch with your child.
The watch can provide accurate localization of your child. You can even define safe zones (for example around your child's school).
The moment your child leaves a 'safe zone', you will receive a notification via your phone.
This ensures that you can keep an eye on your child and make them as safe as possible when they are out and about without you.
The watch is equipped with a 1,4 inch TFT touchscreen and even a 2 megapixel camera with 4 GB storage space.
It also has a microphone and speaker so you can answer and receive calls.
You can even send and receive messages on it, including voice messages!
You can use emojis, have a pedometer and the watch is waterproof up to 1,5 meters. What else do you want?
Actually, this watch can be used instead of a mobile phone, because it actually has the same functions.
You can connect the XploraX5 Play to a WiFi network and it is compatible with most networks such as Movistar, Orange, Vodafone, Jaztell and Amena.
Moreover, it supports 4G, 3G and 2G. Please note that SIM card is not included.
The XploraX5 Play is the perfect way to introduce a child to the world of mobile phones.
Before they get their hands on a smartphone, this watch can help as it has many common features and also gives parents full control and visibility.
The functions and settings are controlled via the app.
As a parent, you can also activate the 'school mode', so that your child can only consult the clock during school hours and not the other functions of the watch.
In this mode, parents can still find out the location of the watch and the SOS function also remains active.
Charging is done via the POGO method, which is via a magnetic charger. The watch is suitable for children aged 4 to 11 years.
GPS
Receive and answer calls
Receiving and sending (voice) messages
Emojis
Pedometer with G-sensor
Waterproof up to 1,5 m
4 inch TFT touch screen
2 megapixel camera with 4 GB storage space
With microphone and speaker
Wi-Fi network
Supports 4G, 3G and 2G
With school mode
SOS function
Magnetic charger
For children from 4 to 11 years old
XPLORA vs Ben Nevis
Compared to the previous three watches, this is a bit more advanced.
The watch is most comparable to the Ben Nevis, but the functions are different.
Where the BEN NEVIS is more focused on the health of the child (pedometer, calorie counter), this watch is more of a 'replacement' for a smartphone and is also intended as a parent to keep an eye on your children via the GPS function.
In addition, you can receive and send messages and make calls with the latter.
Again: it's just what you and your child need.
Moreover, this watch is much more expensive than the other options in this article, so perhaps something to take into account!
Best kids watch with alarm function
Battery time
Harry Potter Smartwatch Kids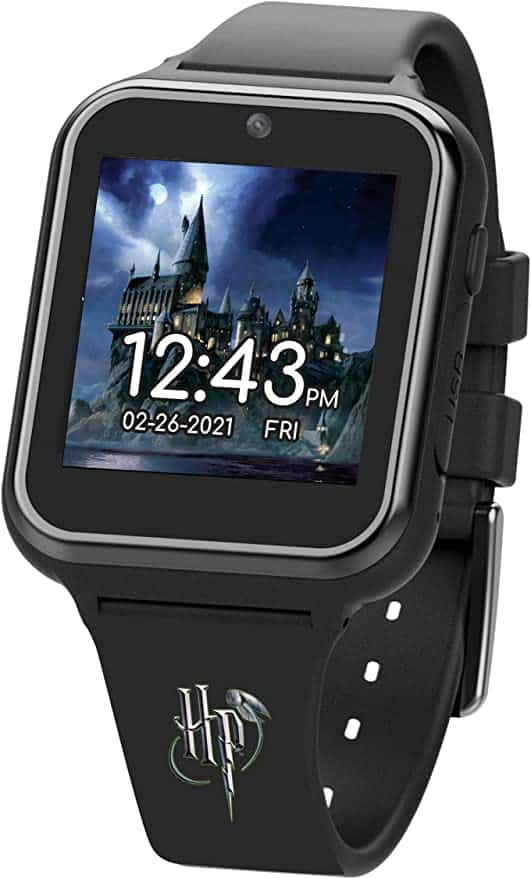 Best for
Available in many different themes

Waterproof

High quality products

Lots of features
Less good
Short battery life (24 hours)

Less good reviews
Are you looking for a children's watch with an alarm function? Then you have several options.
This watch from Accutime looks very attractive with Harry Potter theme. You can also get the watch in a bunch of other themes (as well as Wonder Woman).
The watch is suitable for both Android and iOS. Please note that it is not equipped with a GPS system.
The battery life of the watch is also not great, at only 24 hours.
What it does include is a selfie camera, photo and video, a stopwatch, three wallpapers to choose from, ten different watch faces and much more.
Besides the fact that the watch looks very cool with a Harry Potter theme, it is also of top quality and therefore has great functions.
You can save the photos and videos you take with the watch and transfer them to your computer via the supplied USB cable.
You can also use voice memo, for example if you need to remember something important, and you can listen to it later.
Furthermore, the watch is equipped with a touchscreen and a built-in fitness tracker. In it you can keep track of how many calories you have burned.
Because the icons are large on the display, you can easily navigate between the apps.
The settings are shown in English, but the icons are easy to understand.
Plus, it's the perfect way to practice your English!
The strap of the watch is made of soft acrylic and the watch is also lightweight. The case of the watch is made of plastic.
The watch is suitable for children from 6 years old.
When you charge the watch for the first time, it will take you 30 to 60 minutes.
Alarm
Battery life: 24 hours
Android and iOS.
Photo and video (and selfie camera)
Stopwatch
3 backgrounds
10 dials
Alarm clock
USB cable
Voice memo
timer
Touchscreen
Fitness Tracker
Wristband material: soft acrylic
Case material: plastic
For children from 6 years old
Many different models/themes
Accutime vs Timex vs XPLORA
Compared to the previous options, this watch might be a bit on the 'expensive' side. What also struck me were the reviews: there were a number of complaints.
For example, the description says that the watch has games, but in reality it does not.
However other reviews are a lot more positive.
In terms of functions, in my opinion it is a very complete watch, but unfortunately not suitable for the parent who would like to track his / her child.
It is not equipped with a GPS. The watch, unlike the Timex, for example, is intended for older children.
For children who no longer really need to be monitored by their parent.
If you are looking for a watch with GPS function, you better go for the XploraX5 Play.
Mainly Apple fans at home, right? Then read my full review of the 4 Best Apple Watches For Teens
Best kids watch with pedometer
Fitbit
Ace 3 Activity Tracker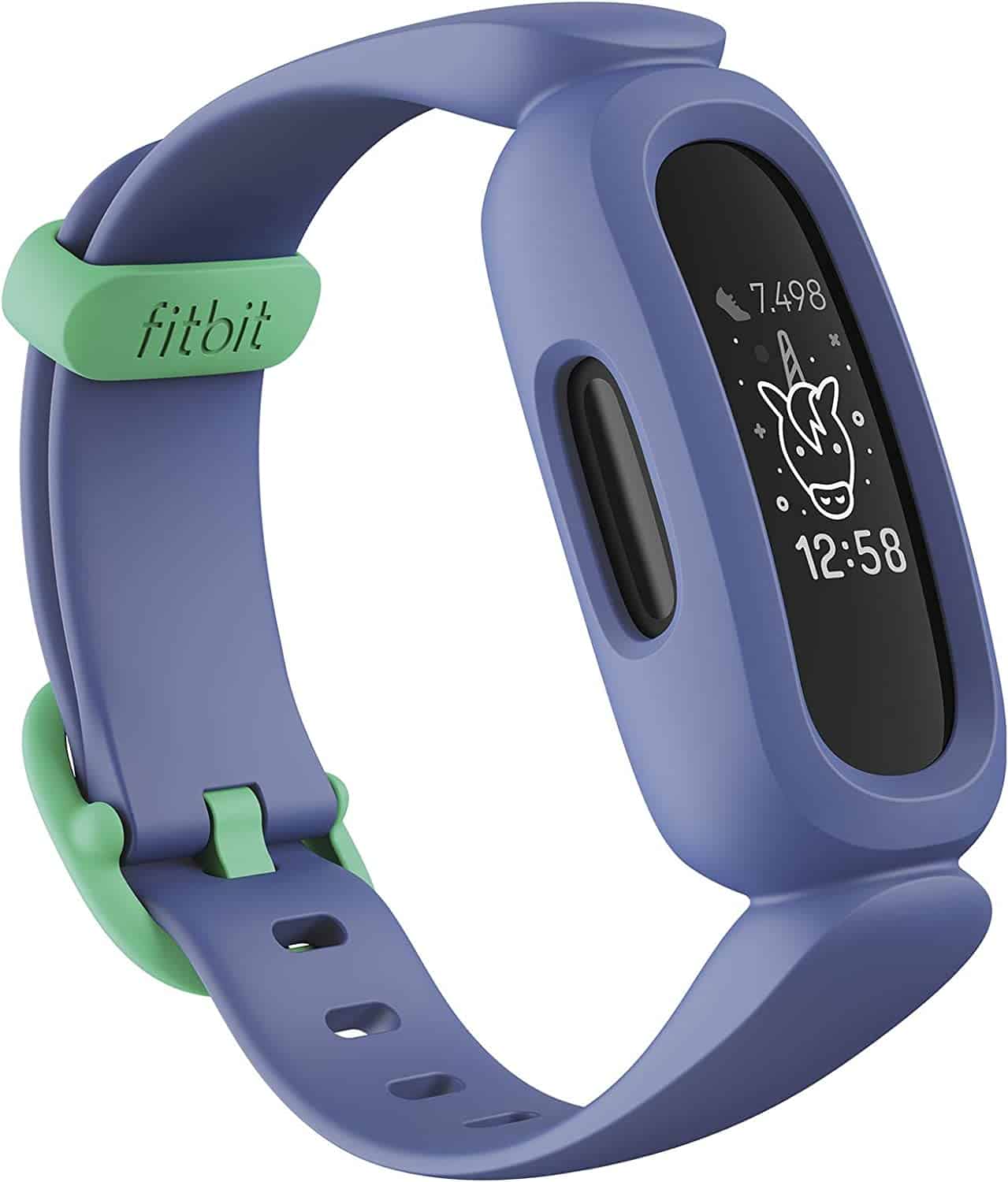 Best for
Attractive design

Waterproof

Family account possible
Less good
Available in only two colours

Pricier than most other options
In this article you have become acquainted with various watches that are equipped with a pedometer.
The watch specially made for that is the Fitbit Ace 3.
The battery lasts for 8 days, which is certainly not bad. The watch is compatible with iOS 13 and Android 8.0, so keep that in mind.
Fitbit Ace 3 makes exercise attractive for your child.
It features animated watch faces with characters that change and grow as your child gets closer to their goal for the day.
Every step is registered and also the active minutes. The Fitbit ensures that children have a super active lifestyle.
The Fitbit Ace 3 also indicates whether your children are getting enough sleep. As you know, a good night's sleep is crucial for your child's overall health.
It is also useful that the FitBit Ace 3 is waterproof, so that children can swim with it carefree and be near water.
If you create a family account in the Fitbit app, you can manage your child's Ace 3 and your own smartwatch.
The parent view of the family account shows your child's activity and also allows you to approve or disapprove contacts.
Your child can also participate in fun challenges and your child - and the whole family - will be motivated to build a healthier lifestyle together.
The watch is available in the colors yellow and purple.
Pedometer
Lasts for 8 days when charged
For iOS 13 and Android 8.0
Animated watch faces
Tracks sleep
Waterproof
Available in two colors
Family account possible
Fitbit vs Ben Nevis vs XPLORA
The Fitbit Ace 3 is really focused on exercise and encouraging a healthy lifestyle. This makes it a bit different from the other watches in terms of main purpose.
If you are looking for something to motivate your child to exercise more, this watch is perfect. Other watches that count steps and track calories include the Ben Nevis and the XPLORA X5 Play.
The latter two also have other functions and are not primarily focused on fitness and a healthier lifestyle.
What are smartwatches for kids?
Kids smartwatches are generally the same as adult smartwatches. They are watches with 'smart' functions.
The models for children are of course adapted to the needs of this target group.
Smart watches can offer many benefits to both the parents and the kids.
Read my comprehensive review of the best smartwatches for kids reviewed (including the XPLORA and Fitbit from this top list)
The advantages
This way they can always stay in contact with each other and that will increase the safety of the child.
Smartwatches are also sometimes equipped with a GPS tracker, so that parents can always keep control over where their children are.
It also gives you more peace of mind.
In addition, many children's watches now even have the option to call or send messages.
Besides the fact that smartwatches have useful functions for parents, children can sometimes also play interactive and educational games on them.
Depending on the model, children also learn how to use a camera (taking photos and videos) or how to maintain an active lifestyle.
Children often think it's fantastic to wear such a watch, because it actually looks very cool.
So it is a win-win situation for the child and the parents.
Cons
A children's watch can of course break if it is not handled with care.
It is therefore important to teach your child to handle the watch with care.
Another disadvantage may be that the battery must be charged to use the watch.
With a rechargeable watch, you must therefore ensure that you put it on the charger on time.
FAQ
From what age a GPS watch for your child?
In general, it is assumed that a GPS children's watch is suitable for children from the age of 3.
This indication is mainly based on your child's wrist size.
In addition, the child must of course like to wear such a watch and be able to handle it.
Why a smartwatch for your child?
A smartwatch for your child can be a useful gadget for the parent and moreover it is a great 'toy' for the child.
If the smartwatch has a GPS function, you can always follow your child when it is not with you and you do not always have to worry.
If you wonder where he/she is, you can find out directly via the GPS tracker.
How does a children's watch with GPS work?
A children's lodge with GPS works via satellites, which will indicate where your child is.
This data is sent via the SIM card of the watch via the mobile network to a secure online software where you, as a parent, can view the location.
Can you use a smartwatch without a phone?
Yes, some smartwatches can be used without a phone.
However, this is only possible if this watch is equipped with an eSIM. Smartwatches with such a built-in eSIM can be recognized by the addition '4G', 'LTE' or 'Cellular'.
Takeaway
Have you already figured out which watch is perfect for your child?
A children's watch is not only very nice for children, but it can also have a lot of useful functions.
For example, there are simple analog watches that can help your child learn to read the time.
But you can also go for a smartwatch with a GPS function, one that tracks sleep and movement, and that can be set by the parents.
A children's watch can therefore serve various functions. Depending on the age of the child, one watch will be more useful than the other.
You as a parent must be able to determine for your child what your child needs and also take into account what he/she likes.
I hope this review helped you find the perfect watch for your child!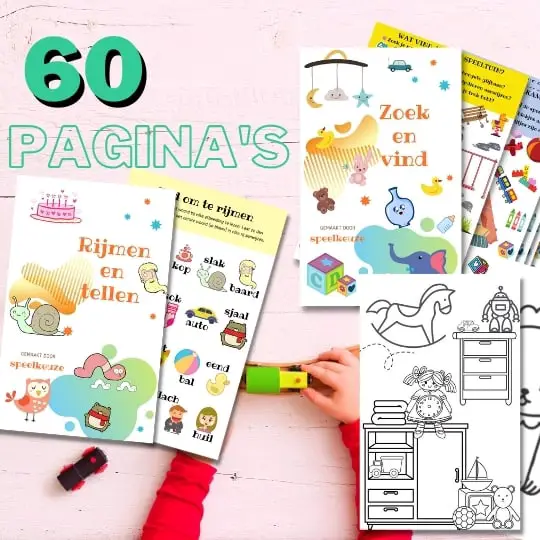 Always something to do for the holidays or rainy day?
Play Choice now has the ultimate activity book collection, with over 60 pages of fun coloring pages and educational puzzles.
Joost Nusselder, the founder of Speelkeuze.nl is a content marketer, father and loves trying out new toys. As a child he came into contact with everything related to games when his mother started the Tinnen Soldaat in Ede. Now he and his team create helpful blog articles to help loyal readers with fun play ideas.