7 Best Lamborghini Toy Cars: Play with your dream car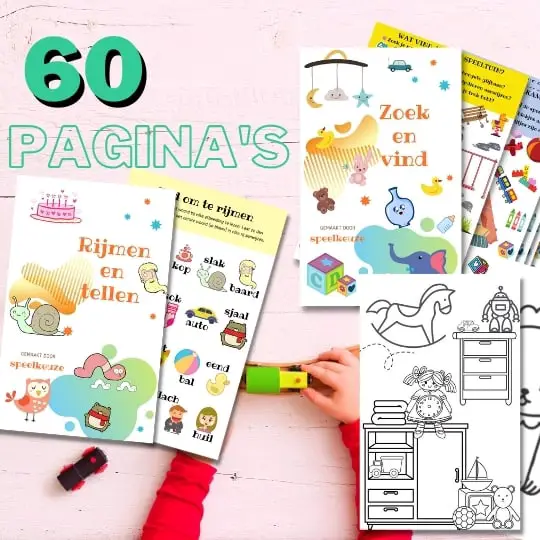 Always something to do for the holidays or rainy day?
Play Choice now has the ultimate activity book collection, with over 60 pages of fun coloring pages and educational puzzles.
Toys cars are plentiful, but if you are looking for a specific brand, because you are a fan of Lamborghini, it becomes difficult.
Not all brands are equally good. But luckily there is this super detailed Bburago Lamborghini SIAN FKP 37 as model car of toys car could serve. A nice detail is that everything can be opened.
In this guide I look at the 7 best Lamborghini toys cars and what you should pay attention to when buying.
Let's take a quick look at the top options. Then I'll go into more detail about each of these choices.
Lamborghini toy car buying guide
What should you pay attention to when buying a Lamborghini? toys cars?
Sustainability
There are quite a few differences in quality toys car brands. Just look at the difference between Maisto and Kinsmart or Hot Wheels, you can clearly feel the quality.
In any case, almost nothing can go wrong with a complete diecast car. That is what I paid extra attention to when assessing the durability of the cars.
Quality of driving
At toys You want cars to drive well. Some may be for display only, not for play. But you still want them to roll well.
A few things to watch out for are:
the distance from the wheels to the chassis: some toy cars run into problems so they don't drive very well
the rigidity of the shaft: some toy cars are very wobbly so the wheels can move far in and out, and still rub
the quality of the wheels: is it plastic or are there really rubber wheels on the tires? Rubber rolls a lot better
the weight of the car: you may not realize this right away, but the weight of the car plays a very large role in how well it rolls. A heavier car made of diecast or wood rolls a lot better and further than a plastic car
Replayability
Much of the car's replayability is in how well it drives, but there are other factors that determine how often they return to it.
Age also plays a part. Is it a car that stays on the left after toddlerhood or can it last longer because it is also suitable for older children?
The number of extra functions also plays a role, such as the RC with Rastar or the Lego bricks with the Sian.
I rated each of the cars on this list on these parts on a 5-point scale.
Top 7 Lamborghini Toy Cars Reviewed
Bburago is a great brand that I have written about before and this Lamborghini SIAN FKP 37 is another beautiful example.
It is again a large car 1:18 in scale and is made of metal. Doors, hood and trunk open and the interior and engine are detailed.
This one is also very pricey, but the quality is super!
These are the wagons that both dads and kids will go for!
Take a seat in this children's version of the stylish LaFerrari and your child will feel like a real speed demon.
But then safely, with this 6V car children from 3 years old can safely enjoy the top design of these beautiful supercars.
By means of the foot pedal, children can control the battery-powered car. The steering wheel lets you maneuver forwards, backwards, left or right.
For extra safety and sometimes extra fun for the smaller children because they may not be able to do it on their own right away, this car can also be controlled via a remote control.
Ideal for when driving yourself is still too difficult.
And in this way the parents can also take a ride with this beautiful car!
This electric car for kids comes with all kinds of realistic features such as the racing wheel, accelerator pedal, working front and rear lights, a reverse switch and fun sound effects.
The professional coating completes the look. In addition, the 6V car is also equipped with an MP3 connection.
What age is this for toys recommended?
This children's car is suitable for children from 3 to 8 years old and can carry a maximum weight of 25 kg.
What makes this toys remarkable?
This battery vehicle can drive for 60 to 70 minutes. After that, the battery must be recharged. It can reach a speed of up to 4 km / h.
Thanks to the safe low-speed mode, the child car always starts very slowly. Only then will normal speed be activated.
Type: Toy Grade
Although more kit than RC car, this is a lot of fun to assemble and go outside with.
Sure, it's a toy grade car so don't expect too much from it. The durability of the car also leaves something to be desired. It's not a car to crash into or jump off things.
But, it's a great car to drive and it steers pretty well. If you just want to drive on the street, it's fine.
This way you have two birds with one stone:
a kit to assemble together and to see exactly how such a car actually works (also a nice entry into the world of hobby grade cars where parts are adaptable)
a good car for street racing
It's a pretty big 1:14 scale car but is also available in 1:24 if you'd like.
With the official license of the real Lamborghini Aventador SVJ it is a beautiful RC car to see.
It has a 2,4 GHz operating system in the form of a real wheel to make it even more realistic. Most RC cars use a trigger or a controller for control.
The speed 8,2 km/h, range up to 15 m and a striking interior and exterior with real LED headlights and taillights.
There are no batteries included and the batteries also run out quite quickly. So make sure you have a family suit at hand!
This is a cheap car but still good detail on the outside. The doors can open and it is 1:38 scale.
A nice addition is the pull back action, which really makes this one toys makes a car.
The interior is less detailed and the hood cannot be opened. But what do you want for this price in a die-cast car.
Kinsmart cars are nice and sturdy and can take quite a bit of rough play.
We have often mentioned Maisto with these types of cars. A mer which is a bit in between model car en toys car occupant.
The price is reasonable and you get a lot of detail for your money with all the doors and bonnet opening.
It drives very well and the detail certainly gives an extra element of play, or it's just fun to put it down as a display.
This is another huge set from Lego with a lot of detail and 3.696 parts. It is also the largest Lamborghini on this list at 1:8 scale.
After the children's car, of course.
You build the whole car, including V12 engine with moving pistons, steering, front and rear suspension and rear spoiler, and opening scissor doors.
Loads of detail with the 8-speed sequential transmission, opening front and rear bonnet, and detailed disc brakes.
These types of Lego sets are extremely expensive. Partly because of the license, but mainly because of the amount of time it took to get a model that works as well as possible.
Lego is also one of them best Dodge cars we've reviewed
Conclusion
Lamborghini has beautiful cars and it toys on this list certainly does justice to the brand.
Also read: these are the best toy cars for any age