The best loft beds reviewed | Ultimate top 11 for every room
I enjoy writing these articles for my readers, you guys. I don't accept payment for writing reviews, my opinion on products is my own, but if you find my recommendations helpful and you end up buying something through one of the links I may be able to receive a commission on that.
More information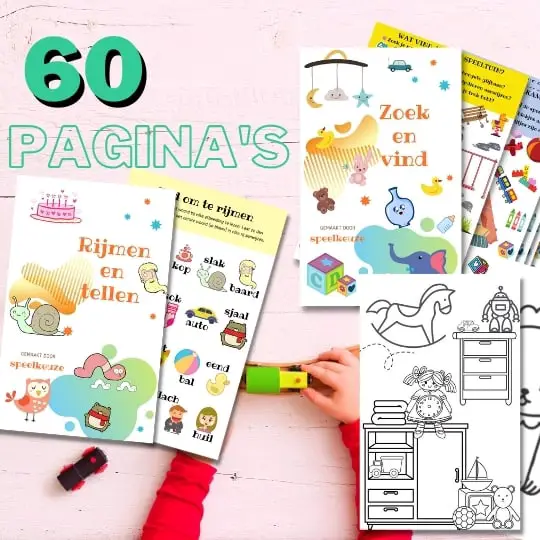 Always something to do for the holidays or rainy day?
Play Choice now has the ultimate activity book collection, with over 60 pages of fun coloring pages and educational puzzles.
Are you looking for the ideal way to deal with limited space in the bedroom? Do you want something special for your child, or for yourself?
Having an loft bed offers a solution and it is of course just a very nice way to sleep; for the children's room, but also a solution in the student room or for adults living in small spaces.
With a loft bed you create living, play and work space. In my article I will give you advice about the best loft beds and surprise you with the best loft bed ideas.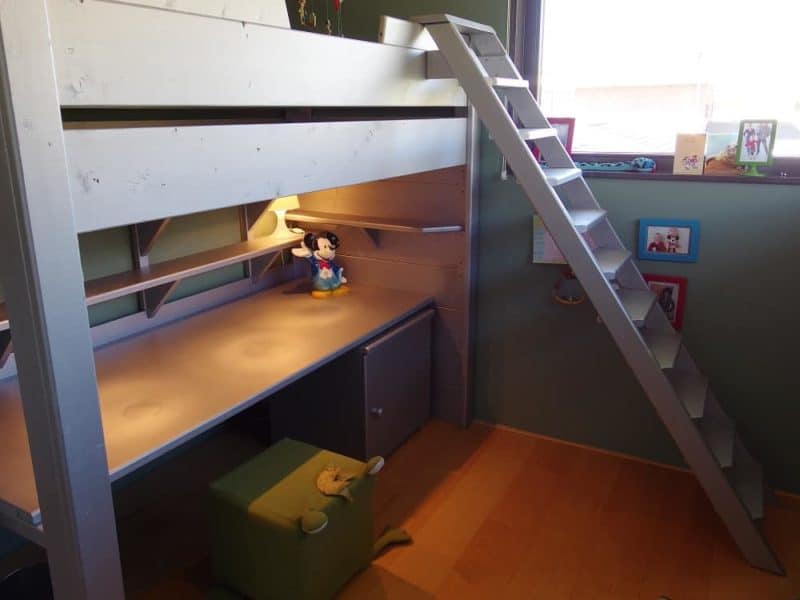 My overall best loft bed is this beautiful and minimalist one multifunctional pine loft bed from Bollie's Best† Why did I choose this loft bed? It is a beautifully finished piece of furniture that can be used in many different ways and is supplied complete with slatted base.
But there are more beautiful options that might suit you and I'll show you all of them right away first.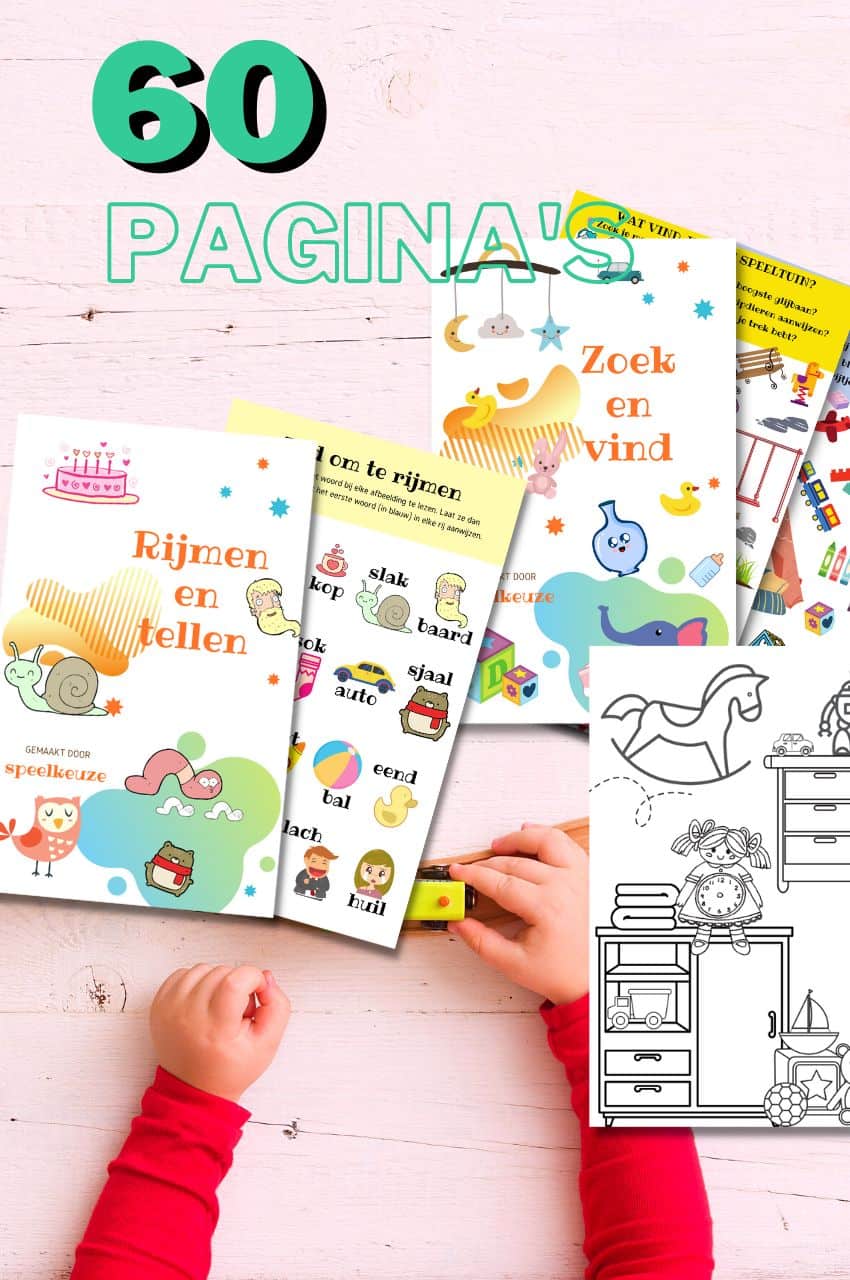 A play theme in your mailbox every month?
Fun play tips, activity books and more, with the first email being our free mini-guide "educational toys"
We will only use your email address for this newsletter and respect your privacy
Loft bed buying guide: tips for choosing
The time has come, you are going to choose a loft bed, but now the right one! It is important to pay attention to a number of points before you make your final choice, pay particular attention to:
Your space and the sizes of the bed
Measure the room carefully; does the loft bed of your dreams actually fit?
Have you also thought about any cupboard doors that need to be opened, the space to climb the stairs and do you have enough space to make the bed?
Is the ceiling of the room high enough? For most loft beds you need a ceiling height of 240cm.
Safety
Safety is even more important when your (children's) bed is high off the ground.
Does your loft bed meet the European safety standard for loft beds? If you buy this at a Dutch store, certainly.
Stability
Preferably choose a sturdy loft bed that does not wobble too much. Some loft beds can also be mounted on the wall.
What age do you choose the loft bed for
The really 'high loft beds' are suitable for children older than 6 years. Then they are big enough to climb in and out of bed safely.
(Multi) functionality
If there is a lack of space, a multifunctional loft bed is very nice, there are plenty of cool loft beds to be found, also with a bed and/or a desk and cupboard underneath!
Best loft beds extensively reviewed
With that in mind, let's go check out my favorite loft beds. What makes this one so good and when should you consider which one?
Overall best loft bed: Bollie's Best multifunctional pine loft bed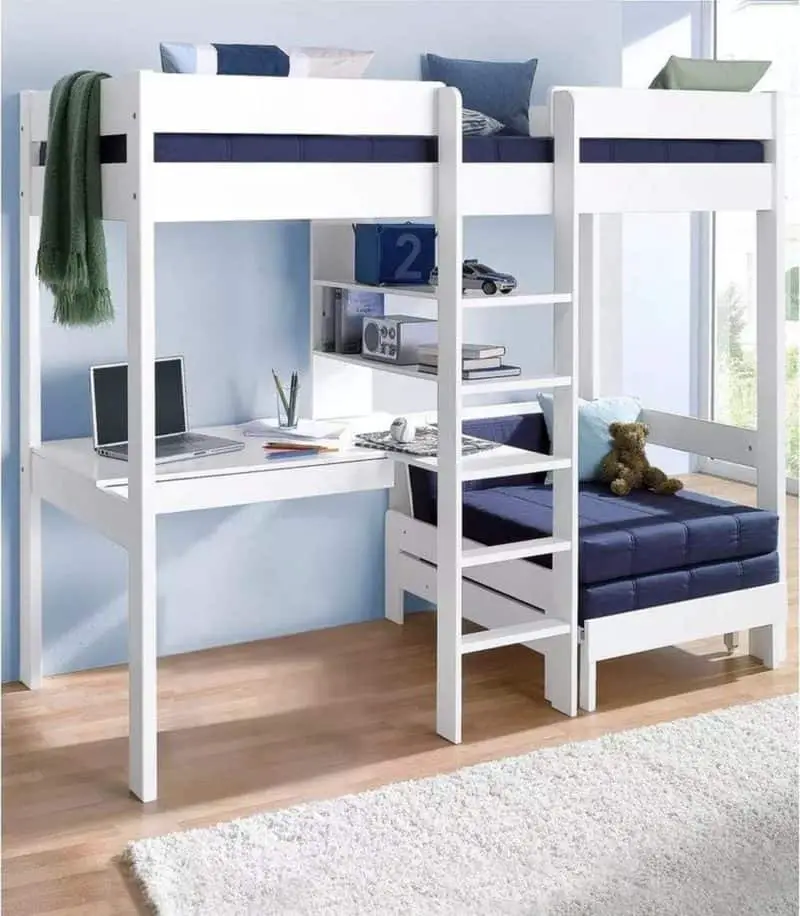 The choice was not difficult for me; the white lacquered multifunctional pine loft bed from Bollie's Best has a work surface that is spacious enough for your notebook and other accessories.
It has handy shelves to store books, for example. And a lovely sofa that can be transformed into a bed when needed.
The loft bed with desk comes with a slatted base (slat roll), and the mattress thickness may be a maximum of 15 cm, unfortunately the mattress is not included.
Desk and bed can be mounted on the right or left, whichever is most practical in your room.
It is a beautiful bed, precisely because of its simplicity, with a calm appearance and a lot of comfort.
Benefits
To be used for 2 people
Pile thickness 38 mm
Wood is FSC® certified
Including slatted roll
Cons
Only bed frame and ladder are made of solid wood, the rest is in MDF
Comes without mattress
Features
Dimensions: W98 x H152 x L208 cm
Age: From 6-7 years to adults no taller than 180 cm
Loadable weight: 50 – 100 kg
Weight loft bed: 30 kg
Functionality: Desk with drawer, shelves, seat, 2nd bed
Material: Solid wood for frame and ladder, other MDF parts
Lying surface: 90 x 200 cm
Best Loft Bed With Desk And Closet: Mobistoxx Harmony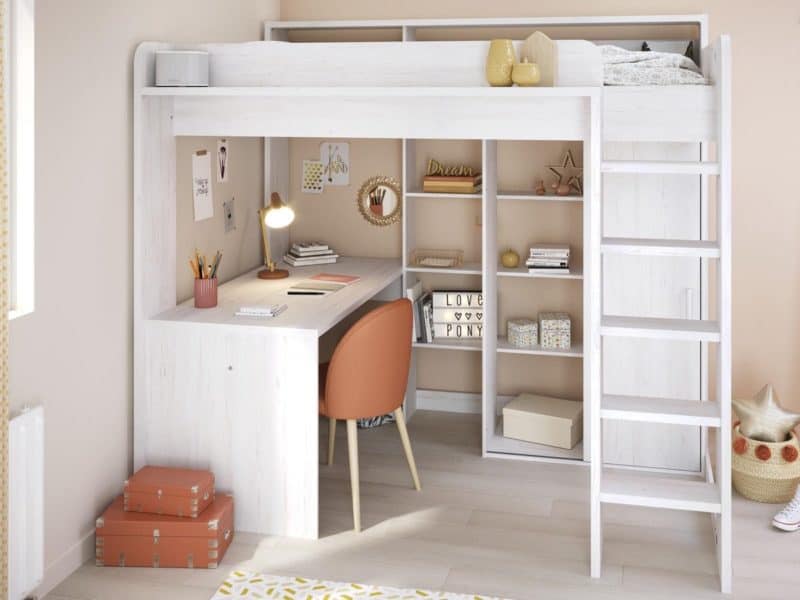 A very complete, this Mobistoxx Harmony loft bed with desk, but at the same time also a loft bed with cupboard (H139 cm x W88 x D50 cm) and bookshelves. An ideal solution for a smaller nursery.
It is comparable to the overall best multifunctional pine loft bed, but not made of real wood, but very beautiful and a few hundred euros cheaper.
The desk is pleasant to work on, because it has a spacious work surface (133 cm x 66 cm). The wardrobe has a rod for hanging clothes.
This loft bed is produced in France and finished in high quality chipboard, it comes with a slatted base. The neutral color means that this loft bed always looks great in the nursery.
Benefits
A lot of convenience in a small area
Beautifully finished
Including slatted base
Cons
Not made of real wood
Exclusive mattress
Features
Dimensions: W138 x H189 x L2.08 cm
Age: Children from 6-7 years to 180 cm tall
Weight loft bed: 184 kg
Functionality: Bed, desk, wardrobe, open cabinet with shelves
Material: Good quality MDF
Lying surface: 90×200 cm
Best loft bed with desk and extra bed: The Beddenkoning Coco Bunkbed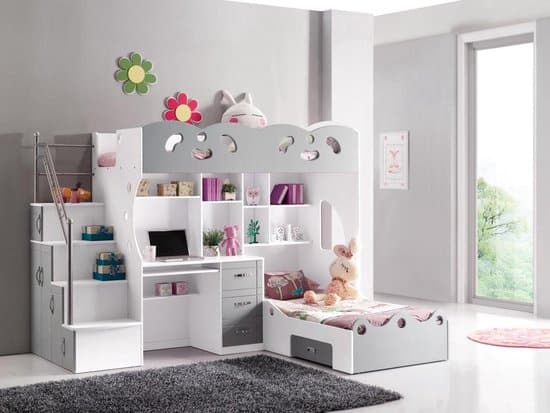 Loft bed Coco is actually more than a multifunctional loft bed, it is a complete children's room, for two children! It is therefore difficult to find a comparable model.
Coco has a desk with drawer unit and under the steps are cupboards, including a children's clothing wardrobe.
Although Coco is space-saving and has many practical storage options, the space in the cupboards is probably not enough for two children. The beds come with a slatted base.
My urgent advice: measure your space very well in advance and take into account the tilt of the bed during assembly!
Benefits
Lots of extra space, efficient
Cable entry for PC
Stable construction
Well put together, description works perfectly
Both beds come with slatted base
Cons
Mattresses not included
Big job to put together
Colossal
Features
Measurements: The space you need to reserve for this bed is W205 x L270 cm; the height of the bed is 190 cm.
Age: The bed downstairs can be used from 4 years, upstairs from 5-6 years and both beds are big enough for a (not too tall) adult. Only the children's room may be experienced as 'childish' by a 10-12 year old.
Loadable weight: 100 kg
Weight loft bed: 285 kg
Functionality: Combination of bed, desk, cupboards and guest bed or as a complete room for two children.
Material: MDF
Lying surface: 90 x 200 cm
Best Loft Bed for Family: Riga Bunk Bed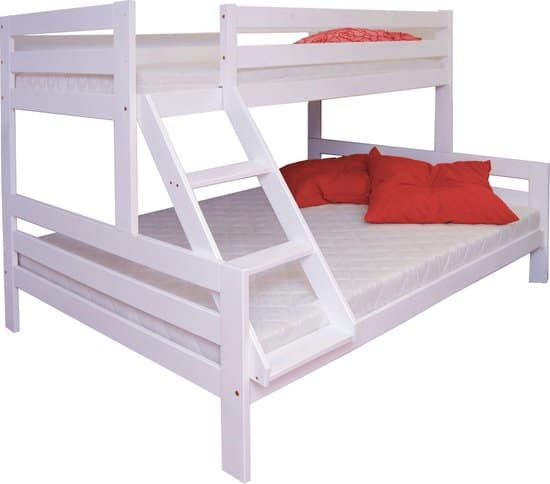 Bunk bed Riga A wonderful asset to a guest room or holiday home.
This robust and sleek bunk bed has space for 3 people; 1 at the top and 2 at the bottom.
The entire frame is made of solid pine and is beautifully stained white. This construction is suitable for children and adults. The bed is easy to assemble and comes complete with slatted bases, but no mattresses.
Benefits
Perfect for the whole family
Easy to assemble with clear assembly drawing
super stable
Excellent value for money
Complete with slatted bases
Cons
Features
Dimensions: Lower bed 140 x 200 cm, upper bed 90 x 200 cm
Age: Suitable for the whole family except for babies
Loadable weight: Upper bed up to 50 kg
Functionality: Family sleeper
Material: Solid Pine Wood
Lying surface: Lower bed 140 x 200 cm and upper bed 90×200 cm
Best loft bed with sofa: Thuka loft bed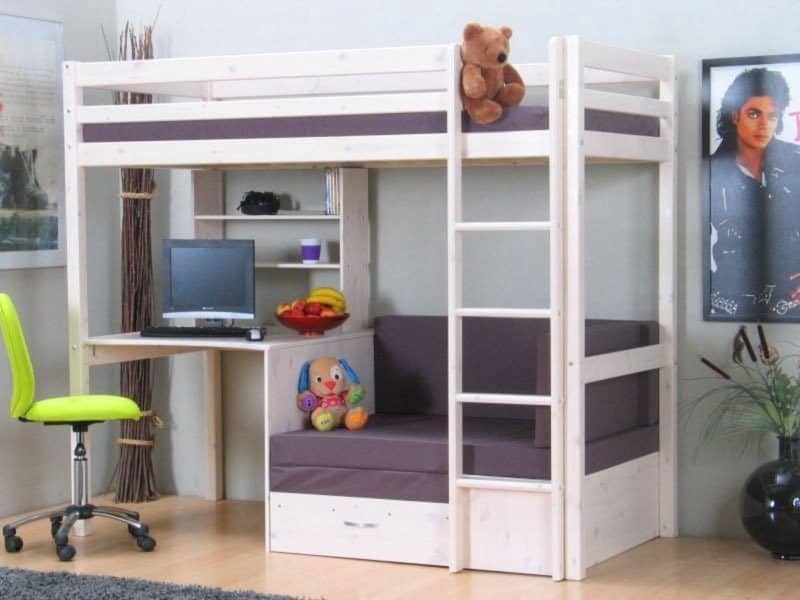 The Thuka loft bed with sofa comes from the Danish quality brand Thuka.
This Thuka loft bed has a desk, storage space and comes with a cushion set for the sofa, it is simple, very practical and creates extra space to live.
If you prefer not to have gray cushions, you can always go for blue or pink cushion sets. The desk measures W86 x H75 x D95 cm.
The sofa can be easily extended into a bed and with the fold-out mattress on it suitable for friends who come stay (and come and play fun games!)† When you pull out the drawer, the bed appears.
The mattress of the sofa bed is made of polyether foam and very importantly: oeko-tex certified, which makes it suitable for allergy sufferers.
Next to the sofa/2nd bed is the storage space with lid, great for putting bed linen in.
Thuka recommends that you also purchase the slatted frame from them, because it, like the loft bed itself, has been safety tested and meets European safety standards.
You choose whether you mount the ladder of the loft bed with sofa on the left or right, the desk and sofa can also be mounted in a mirrored manner.
Thuka is comparable to our Multifunctional pine loft bed, but slightly more expensive. As an extra, it has a wide storage drawer, which the multifunctional pine loft bed lacks.
Benefits
Solid Danish quality
Ladder right and left mountable
Cons
Mattress and slatted base not included for loft bed (but for guest bed)
Features
Dimensions: L208 x W98 x H175,5 cm. The width is 104 cm including ladder and 188 cm with unfolded sofa bed
Age: From 6-7 years to adult, but no longer than 180-185 cm.
Weight loft bed: 79.5 kg
Functionality: bed, sofa, guest bed, work/study area with desk plus bookshelves.
Material: Solid pine, white lacquered
Lying surface: 90 x 200 cm (mattress not included). Mattress size sofa bed: 188 x 75 cm (included)
Best white loft bed (140 x 200): Vipack Claire sleeper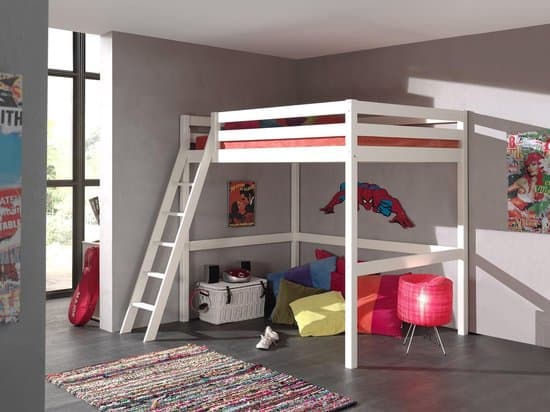 The Claire double loft bed from Vipack is made of solid pine wood, lacquered white. Claire comes with a slatted base, but also an exclusive mattress. The paint is water-based and contains no harmful substances.
You can use the space under the bed to place a desk, or make it a cozy cushion corner.
You could also choose to put another single bed underneath, so that you can accommodate a total of three people, two of which are upstairs.
You then get the idea of ​​Bunk Bed Riga, only the lower bed is suitable for two people (140 x 200) and above it you have a single bed.
With the Riga you are ready in one go and therefore a lot cheaper than with this Claire loft bed.
The slatted base is included with the Claire. You have to buy the mattress separately. Vipack recommends their 'Comfort' mattress of 140×200 cm.
This size loft bed is perfect for a student room or studio.
Do you also like this bed, but too big? It is also available in taupe and with a sleeping place of 90×200 cm, which makes it more suitable for a children's room.
Benefits
Solid pine wood
Sleek and simple design
The slatted base is included
2 person loft bed
Cons
Features
Dimensions: ​​W140 x L209 x H190 cm
Age: From about 12 years to adult, but no longer than 180-185 cm.
Weight loft bed: 61.80 kg
Functionality: Space-saving bed, ideal for youth or student room
Material: Solid pine, white lacquered
Lying surface: 140 x 200 cm
Best Black Extra High Loft Bed: Mezzanine ELIOT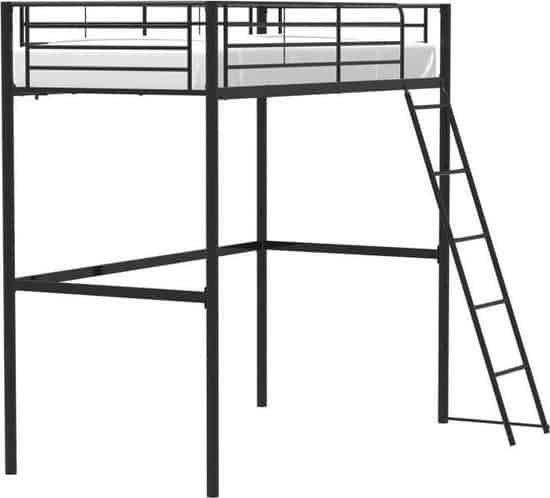 Mezzanine Eliot bed 90 x 190 cm fits in a children's room, but is especially cool for teenagers and practical for students with a small room.
I love the black frame, nice and minimalistic and industrial.
Under the bed you could put a desk for your notebook, but you can also make it a nice place with an armchair and a small table to chill out.
Benefits
Beautiful industrial and mature look
Bed base included
Cons
Delivered without mattress
It is quite high and does not look very robust
Features
Dimensions: L198,2 x W140,7 x H182,5 cm
Age: From 7-8 years to adults no longer than 180 cm
Functionality: Loft bed
Material: Epoxy Metal
Lying surface: 90 x 190 cm
Best scaffolding wood loft bed: Wood4you bed Noortje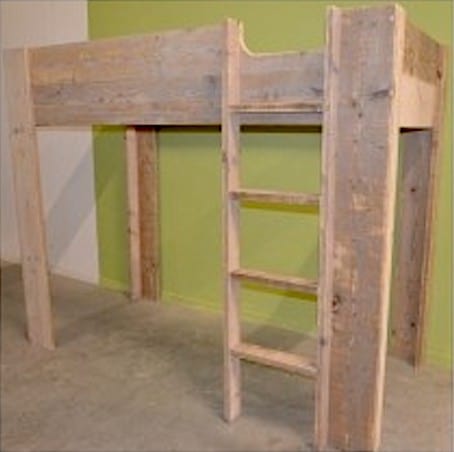 As fond of scaffolding wood as I am? Loft bed Noortje from Wood4you is made of aged scaffolding wood and will adorn any room with its sturdy look.
The bed is supplied as an assembly kit, but fortunately the panels are already assembled and sanded smooth.
The price is fine, but you only have a loft bed, without other features such as a desk or cupboards, etc.: just like this Mezzanine Eliot 90 x 190 cm.
The Mezzanine Eliot is 25 cm higher than the Noortje loft bed and made of black metal with a cool industrial look.
The height of Noortje is 1.65 cm. The height under the bed is approximately 125 cm high and this loft bed is made for a mattress of 2 meters long and 80 cm wide.
Benefits
Manual with practical photos
Good price
Scaffolding boards are already sanded smooth
Cons
Comes without slatted base
No mattress included
No desk and closet
Features
Dimensions: L206 x H165 x W96 cm
Age: from 6-7 years old to adult age, also suitable for heavy people, but no longer than 180-185 cm.
Loadable weight: 180 kg
Weight loft bed: 55 kg
Functionality: Space-saving bed
Material: Scaffolding wood
Lying surface: 200 x 90 cm
Best Loft Bed with Slide: WICKEY CrAzY Hutty Cot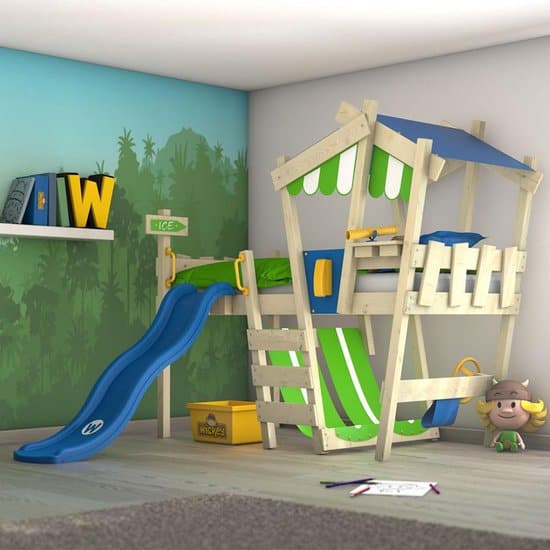 The Wickey Crazy Hutty is great for kids to create their own little play world with brother, boyfriend or sister, to play together on or under this bed, to slide or to chill.
Simply the nicest loft bed with slide!
The cabin is complete with a telephone and binoculars, steering wheel and rope ladder. The bed is made of Norwegian untreated pine wood and has a sturdy construction.
Under the bed is a nice spot with 2 hanging chairs. Furthermore, a washable tarpaulin is included for drawing on and sticker film.
De slide is 175 cm long. This loft bed can also be mounted as a mirror image, see the detailed installation manual.
Just like the Charlotte Treehouse semi-high bed, the Wickey is a great playground for kids.
The Charlotte is a bit simpler and in my opinion the Charlotte looks nicer in the nursery than the Wickey, but is a bit more expensive.
Benefits
Entire construction is made of solid wood
Complete play hut
Cons
Woodworking experience recommended when assembling, due to the angled design (fortunately, the whole package is pre-drilled)
Features
Dimensions: L224 x W90 cm
Age: For kids from 3-4 years old to about 9 (it might be a bit childish after that)
Loadable weight: 50 kg
Weight loft bed: 70 kg
Functionality: Bed, extended play area
Material: Norwegian Pine Wood
Lying surface: 90×200 cm
Best loft bed with seat: Vipack mid-high bed Noah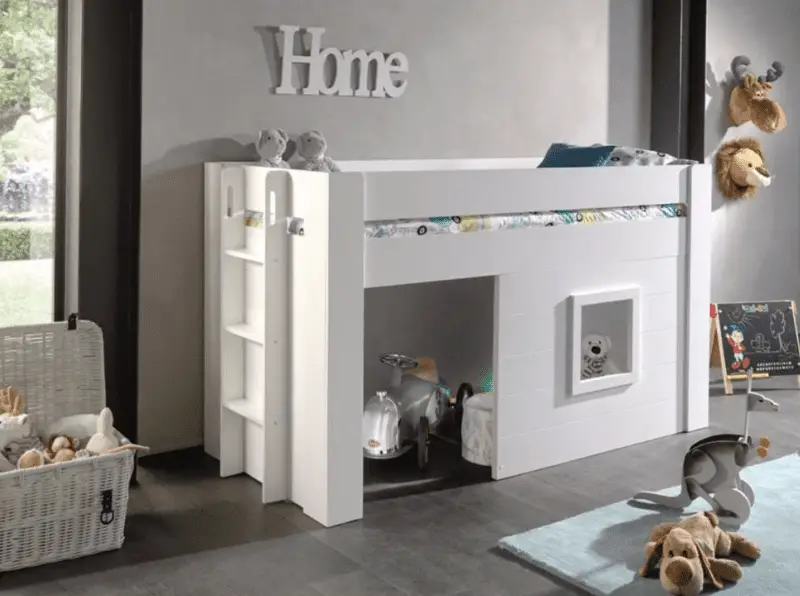 This Noah Half High Sleeper from Vipack is beautiful, has a nice sheltered seat under the bed, with room for a few lovely seat cushions or a table and chair.
It is – especially in terms of height and age – comparable to the Treehouse semi-high bed Charlotte, although the Noah pine loft bed is much cheaper to purchase.
The Noah loft bed has above the sleeping area, is white in color and made of a combination of pine and MDF.
A sturdy and very cozy cot with a beautiful appearance, ideal for the nursery!
Benefits
Cons
No storage space
Exclusive mattress
Features
Dimensions: L213,6 x W96 x H120
Age: From about 3 to 8 years
Loadable weight: 60-80 kg
Functionality: Bed with a cozy play area underneath
Material: Pine wood in combination with MDF
Lying surface: W 90 x 200 cm
Best loft bed for a toddler: Vipack tree house semi-high bed Charlotte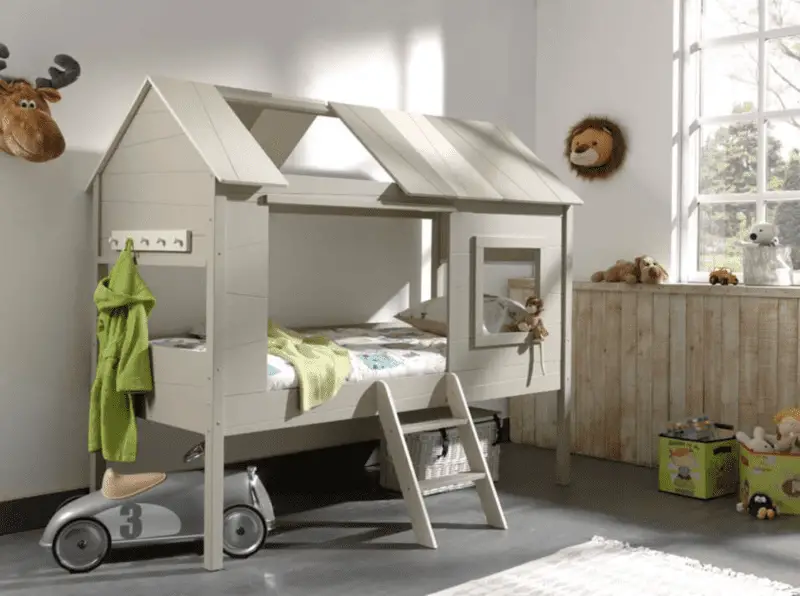 The Charlotte tree house semi-high bed – also from Vipack – is a special children's bed in the shape of a tree house. This bed is simply a playful and cozy addition to the nursery!
The bed is grey/beige in color and made of MDF.
The steps are only short, so very easy for a toddler, maybe even a toddler, to climb in or out of the bed.
Unfortunately, a bed base is not included. A roller base is recommended for this bed.
Benefits
Beautiful bed and house in one
Cons
Bed base is not included
Mattress not included
Pretty pricey
Features
Dimensions: L209,3 x W136,7 x H185,2 cm
Age: From about 3 to 8 years
Loadable weight: 60 – 80 kg
Functionality: Bed and cozy play area in one
Material: MDF
Lying surface: 90 x 200 cm
DIY loft bed from scaffolding tube
What also seems very cool to me is a loft bed made of scaffolding tube. You can get started with this yourself and make a great sturdy loft bed of tubes on legs. Complete with a ladder made of scaffolding tube to climb into bed.
A lot of tube couplings are used in a loft bed construction, so the cost price still rises considerably. Scaffolding planks or a standard size slatted base can be used as bed base.
Working with scaffolding tubes is very easy. The pipe couplings are firmly clamped with an Allen screw.
Such a construction of scaffolding tubes has the advantage that it is always easy to disassemble or adjust, which is also useful if you make a mistake.
There are many different types and diameters in scaffolding tubes for sale, you can actually realize any project with it!
The tubes are, for example, available in stainless steel, aluminum or in (black) steel, round or square.
Before you start, the pipes must be cut to size. After that, you only need an Allen key for mounting.
Watch this video in which you can follow the construction of a 'loft bed' aka loft bed: https://www.youtube.com/embed/M7Ja2MW74vM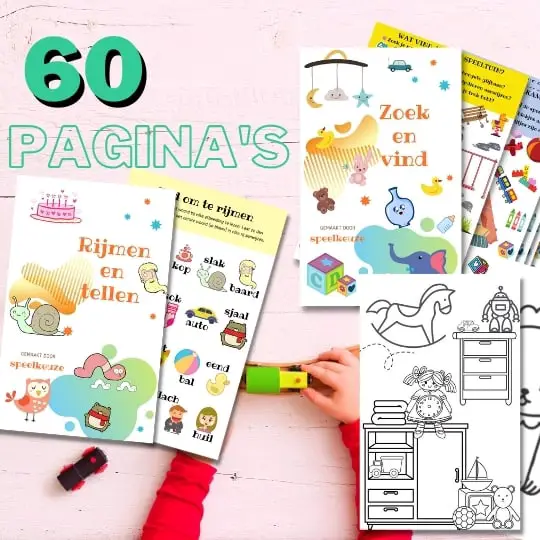 Always something to do for the holidays or rainy day?
Play Choice now has the ultimate activity book collection, with over 60 pages of fun coloring pages and educational puzzles.
Joost Nusselder, the founder of Speelkeuze.nl is a content marketer, father and loves trying out new toys. As a child he came into contact with everything related to games when his mother started the Tinnen Soldaat in Ede. Now he and his team create helpful blog articles to help loyal readers with fun play ideas.