7 Best Magnetic Block Sets Reviewed: Ultimate Building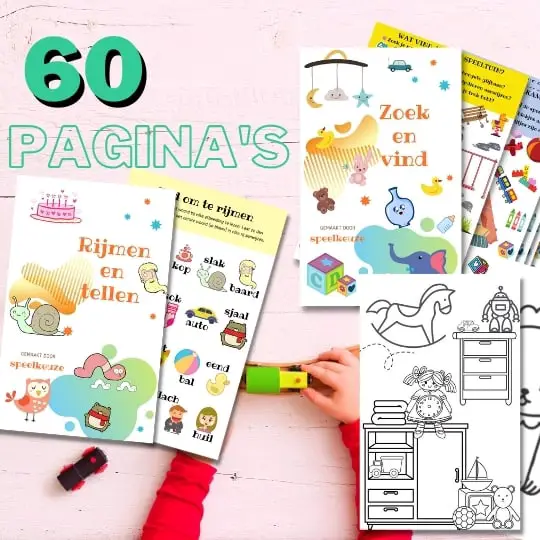 Always something to do for the holidays or rainy day?
Play Choice now has the ultimate activity book collection, with over 60 pages of fun coloring pages and educational puzzles.
magnetic blocks come in many… lots and lots of shapes. That's why I've put together this buying guide, to get a little wiser about all the possibilities.
The overall best magnet building blocks are these Tegu wooden blocks. Very durable, but also very fun to build with. The combination of wood and magnets makes it more than a toy that you do for a while and then slide it aside.
But there are more good sets. Here are the 7 best along with what to look out for before buying these types of toys.
Here are the best sets in a quick overview, then I'll dive deeper into each of these picks:
Magnet blocks buying guide
Now that you know how many choices there actually are, it's time to choose. Only a few things are important with magnetic building blocks:
Magnet
The type of magnet in the blocks largely determines how well they "stick". You want blocks that you can actually create something with without them falling off.
Some brands use neodymium magnets. These are the strongest available while still being able to remain small enough to fit into even small blocks.
Other magnets often do less well, but the placement and combination of magnets is also important.
For example, are the blocks matched well enough to allow creations without blocks repelling due to positive and negative magnets?
With each of the playsets I paid attention to this during the review.
Age
The packaging of the toy states for which age it is suitable. That is usually from what age it is safe to use it.
But for what age is one play set really fun compared to the other.
Here I've looked at all the playsets and worked out the best age to buy it for:
Replayability
Does it stay fun after playing a few times or do they get tired of it quickly?
Of course this differs per child. Some like to build abstract things or difficult geometric shapes while other children like to make more mundane things.
Or robots if you are my son.
Replayability is the ability of a toy to hold up to the challenge on average.
It's whether they still often choose the toy first after a few times when they go to play themselves or not.
Each of these sets are rated for replayability with a score of 1 to 5.
Pricing
How expensive is the set? Or rather, how much value do you get for your money. I have tried to make the comparison as fair as possible and calculated a price per building block for these sets:
Just keep in mind that one set has small blocks while the other has much larger ones. But with more blocks you can also make more different things. With some sets only smaller structures.
Top 7 Magnet Blocks Reviewed
From 3 years

Best: 5 – 8 years

Until: 10 years
Tegu is a responsible brand that makes its wooden toys in Honduras from sustainable wood. The quality is therefore excellent. Apart from the fact that the paint flakes off easily, we have not seen a splinter in 3 years. This quality also comes at a price, perhaps even a little too high, because the price-quality ratio is the only thing that prevents the toy from getting a play score above 9.
This is a toy that really appeals to the imagination. You can really make anything with it and it also ensures a lot of open-ended play. In addition, the magnets are strong enough to actually play with what has been built, so that the possibilities to combine it with other toys are endless. All this benefits both the play value and the replayability.
This set has blocks in different shapes and the slats also ensure that you can do a lot more.
For example, you can make perfect house constructions, or a real race car:
Because of the magnets in the wood you really hear a click when 2 "stick" against each other. Together with the sensory experience of the natural wood, this provides good feedback, which encourages more play.
Is that worth the extra money than plastic magnetic blocks, for example? I think so. It is good for your child to play closer to nature.
These are fairly small blocks, and the age is therefore a bit higher at 6+. This is definitely a toy you don't want to swallow.
The 0.3 inch cubes weigh less than 1g and have 6 magnets in them. This way they can stack on top of each other in any way. Very nice for blocky retro buildings.
In the beginning I found it quite difficult to come up with something, but there is an extensive booklet with many examples.
The best thing about this set is perhaps the Pixio App with which you get an explanation for more than 1000 examples.
Most kids will like it because of the Minecraft look. It lets them build dolls, buildings and trees from their favorite computer world.
Oh well, as long as it's educational. However?
Some customers still find the blocks very expensive because they are so small and indicate that it becomes more fun when you have more than 200.
With the 60 blocks in this set you can indeed work quite well, but to really let your creativity run wild you need more.
The MagiCube building blocks are plastic building blocks with a magnet inside. This makes them easy to stack in different shapes.
It's a puzzle for the little ones and a building set in one. Each side of the cube has a different picture with which you can create the Paw Patrol heroes by combining them with each other.
Just a bit more fun than just a block tower because the magnetic effect with which they click together is really nice for a toddler, but on the other hand it is only 3 blocks.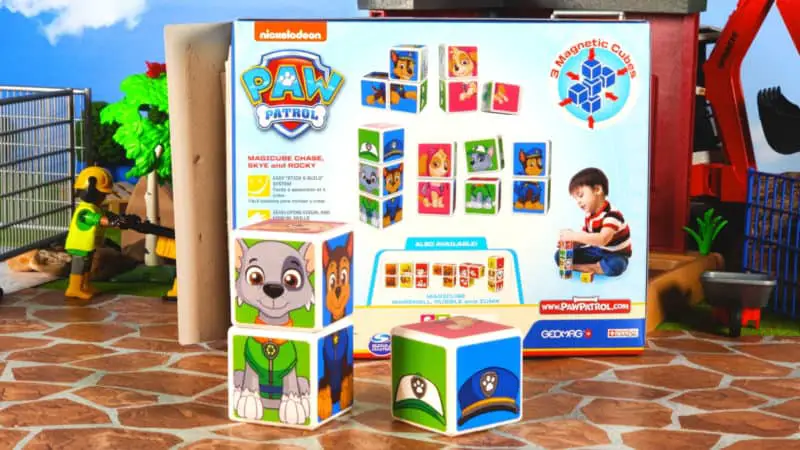 Geomag Paw Patrol is for a lot younger children than the smaller blocks of the Neon Abstract Series.
For example, this Magicube Paw Patrol is fun up to a year or 2, but after that they don't really look at it anymore. After 2 years, the colored MagiCube 24 Set is more fun to play with.
They do fit on the other MagiCube playsets. So you can always buy these for your baby, and then buy a supplement with the larger sets.
Blockaroo is also a STEM toy, but they have found a different approach.
With the soft foam blocks they focus more on the sensory experience of playing.
The click systems are also slightly different, with the magnets on the outside of the building pieces so you can see where they can click together.
Instead of just blocks, they have also added hinges that can also serve as arms or legs for even more fantasy creations.
The most distinctive aspect is that they can take a bath and a shower. The foam blocks can even float in the water to watch your fun creations float around you.
I can't even count how many times my son has asked if the magnetic tiles could be taken into the shower, only to be told "no" each time.
With these blocks it is finally possible.
Thanks to this system, they can also be put in the dishwasher and you can keep them 100% safe and mold-free.
A very nice set for inside and outside the bath.
These blocks have the same 1.57 inch size as the Paw Patrol MagiCube blocks.
So it doesn't matter what age you join. You can always expand it with even more blocks.
Just like with the Pixio set, it gets more fun the more blocks you have. The concept otherwise works the same. Your child will only be able to make larger structures a little faster.
The difference between Pixio and MagiCube is the same as between LEGO and Duplo. Magicube is for smaller children with larger pieces and Pixio from 6 years.
It also saves quite a bit because the blocks are 5 times as big! It is therefore really intended for small children's hands between 1 and 5 years old.
The puzzle element of the Paw Patrol blocks makes them more fun for the little ones in my experience.
This block set in which creativity plays a greater role is the best from 3 years old, although they can build fun things with it earlier.
The rounded corners and light blocks mean that a child of any age could pick them up and try them out.
Magna-Qubix is ​​also the developer of the original magnet tiles, Magna Tiles.
Because they are transparent, you can clearly see the system. They have small magnets in all corners so that the blocks click together.
These blocks are 1 inch in size. So a bit between MagiCube and Pixio. Still 3 times the size of the Pixio blocks.
The nice thing about this set is the different shapes that you get, so you can make a lot of things. In addition to the cubes, there are also pyramids and hexagons.
They have incredibly strong neodymium magnets that make them click well and you can make quite complicated structures.
Just like the Magna Tiles, these are of good quality.
You probably need more than 1 set to really make it fun. Many people also complain about the packaging being a bit misleading.
There are many examples on it, but you can only make one at a time.
In addition, you really have to pay attention with smaller children.
The MagiCube blocks are big enough that no one can swallow them, but a smaller brother or sister could still put them in their mouth.
Lees meer: these are the best magnet tiles reviewed
The larger Tegu set gives you many different types of blocks, wheels and more, but with this pocket pouch you have a handy travel building set.
They also fit all other Tegu sets so you can always expand.
The Pocket Pouch is a 3D tangram puzzle made of 6 wooden blocks. The blocks are magnetic so they stick together and you can make different creations.
Funnily enough, most people buy this for their little kids to have something to do, when it's actually a tangram puzzle, probably meant for slightly older kids.
There are not that many blocks so the possibilities may be a bit limited at a certain point, but you can actually build so much with them.
Nevertheless, we have had a lot of fun with it while traveling with our toddler.
How do magnetic blocks work?
Magnetic blocks are cubes with magnets in them. Because some are positively charged and others negatively charged, they are attracted and "stick" to each other. Most magnetic blocks have small magnets on each corner of the cube.
Magnetic blocks are often made of plastic with magnets in them, but wood is also possible. These are then pressed with the magnets in them.
Conclusion
Magnetic blocks are not only fun, but also very educational.
With most sets it becomes more fun when you have more of them, but there are a number of sets that you can already build a lot with.
I would recommend going for wooden blocks for the extra hand feeling they give.