6 best magnetic rod toys for your little architect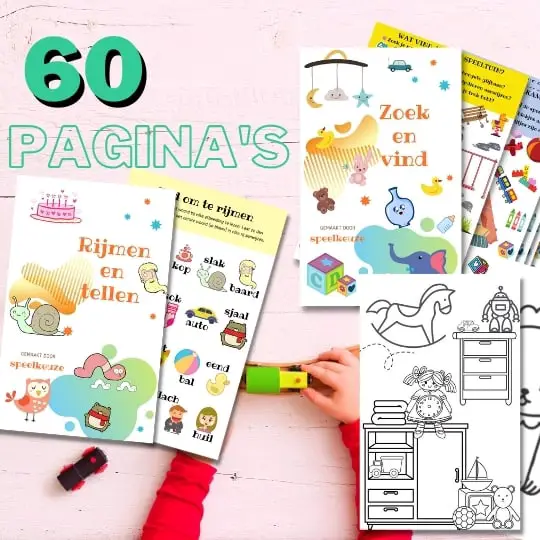 Always something to do for the holidays or rainy day?
Play Choice now has the ultimate activity book collection, with over 60 pages of fun coloring pages and educational puzzles.
Na magnet tiles (reviewed here) Magnetic bars are the latest trend in creative toys, and for good reason.
Take for example the best set we found, this starter set from Smartmax. It gives enormous building possibilities because the balls between the bars serve as hinges or bends. A great set that your child will come back to again and again.
In this article I tell you what to look out for and I have reviewed the 6 best playsets.
Here are the best sets in a quick overview. Then I'll dive deeper into each of these choices.
Magnetic bars toy buying guide
As with any magnetic toy, be careful what you buy. You don't want your child to swallow magnets.
Therefore, when reviewing, I paid attention to the safety of each toy, but still pay close attention to the age range.
Age
The most sturdy sets with large parts are suitable from 1 year, such as Smartmax, Goobi and Stick-O. There is no way to get the magnets out of the bars.
The apparently identical set from Stylebest is only suitable from 3 years. Probably because of the cheaper build quality, although it still feels very sturdy.
The sets with the smallest parts such as Geomag and Veatree are suitable from 6 years. It is also a lot more difficult to build with them, but they also have small parts.
magnets
You need good magnets, especially with such rod construction sets. With each set, the balls often slip away, but building with the rods can certainly be done very well.
Neodymium is best and a way to get a lot of power out of small magnets.
I rated each set on the magnets on a scale of 1 to 5.
Replayability
How nice is it to return to the toys again and again? Very important. That's why I rated each set for replayability.
You should also pay attention to whether you can easily combine it with multiple sets if you may already be thinking in the future. But the set itself should also be fun to play with.
Best Magnetic Bars Toys Reviewed
The SmartMax Magnetic Rods Start Try Me are also very nice toys that consist of magnetic rods (and balls)!
This toy contains 30 large elements and an extensive booklet with information and tips for building.
Magnetic rods and balls can be 'stick' together to create the nicest figures. It's simple, because kids don't have to run off with complicated locking mechanisms.
It is very sturdy and easy to click. This makes the toys really suitable from 1 year as SmartMax says.
At that age they can't do much with it of course, but a toddler can just grab something and experience what it is like for a rod to "stick" to one of the balls, for example.
As a toddler my son didn't have this set, but he did have the Safari animals from SmartMax, which is essentially the same system with big bars (and then soft rubber animal bodies to stick to them) and he LOVED it!
With these metal balls and rods you can build something different every day. In addition, a child trains his or her spatial awareness with the different shapes. The possibilities are limitless!
Plus you can combine them very nicely with other things from SmartMax, such as the Safari animals that I also discuss later.
But you can actually combine them well with other magnetic toys on the list. For example, they also fit on the parts of Stick-O.
The toy is extremely safe and suitable for children from 1 year.
It is a cheaper copy of the Smartmax Rods. As with many such magnetic toys, original ideas are replicated in China and many sets are released.
It's still just as fun to play with and the magnets work well too.
The plastic feels a bit cheaper than that of Smartmax, but that won't make much difference to your child.
The age limit on this one is from 3 years, while the comparable Smartmax is safe for 1 year. Maybe that has to do with the cheaper plastic that could break.
All in all a nice set to play with and you can save a bit on the price.
And then we also have the Stick-O fish set for the little ones among us!
This toy gives children from 18 months the opportunity to play with magnetic construction toys.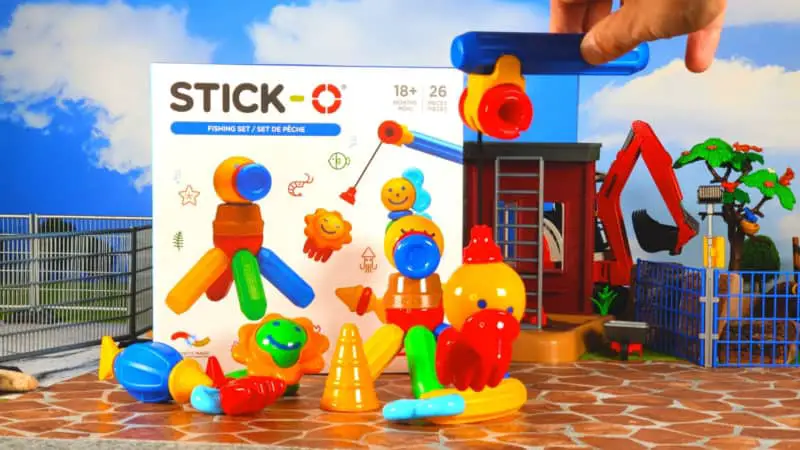 The toy set consists of 26 shapes with which your little one can build the nicest characters, all in an underwater theme.
With of course a magnetic rod for good fishing!
The way you can easily create your own animals makes a magnetic fishing game like this a lot more fun than other fishing games I've seen.
These are essentially just wooden rods and some wooden pieces with a magnet in them.
This set really lets your child build an underwater world so that they can also get creative:
The toy remains fun up to an age of about 5 years.
It's only 3 blocks so they can't build that much with it, but it's more suitable for 1 to 2 years.
This set is just different. The system consists of separate balls, bars and tiles.
Due to the smaller pieces, this set is only suitable from age 5, and that is actually the best fit, also in terms of development level.
The balls themselves are not magnetic so while they are small and can be swallowed they don't have the added danger of having magnets in your body.
The magnets are in the bars and that is what keeps the balls and thus the tiles together.
The durability of the tiles and rods is also excellent and they are made from recycled plastic.
As with Smartmax, these tiles are mainly about learning geometric shapes. The extra challenge is in fixing the tiles with the balls and rods.
It is therefore also less suitable for the little ones because making nice buildings and having them collapse is not really there.
It makes them a lot more STEM and a lot less build. Some children find it less fun because of this, while others will completely love it.
They have lots of sets and expansions with glitter, glow in the dark, and a whole host of mechanics sets.
As a result, the system itself actually becomes a kind of marble track.
Actually also a kind of set like that of Smartmax. Goobi is all about babies.
It is an extremely safe toy and very solidly made. The shapes of the bars are made in such a way that it is even easier to grip.
This way, even the smallest child can clip a ball onto a bar and run around with it until they are ready to build more with it.
The magnets are very weak, easy for your baby to click on and remove themselves, but less suitable for larger structures.
I would only choose this set if your child is around 1 year old, otherwise the Smartmax set is more fun.
With a set of smaller pieces like this you get a lot of building material for little. That also makes it very nice for more complicated constructions.
It is more difficult to build with and because of the small pieces it is not suitable for small children.
It says for 6 years and older and that is really the minimum age.
The magnets are very strong and made of neodymium, a material that makes it possible to make small yet powerful magnets.
However, the magnets are not strong enough for really large buildings. Everything you can make with one set can hold, but larger structures cannot.
Some reviews are hilarious. There are more complaints about how addictive it is than anything else, like the magnets.
The booklets contain a larger structure that you cannot make with one set, so people complain that they buy a larger set anyway to be able to build it.
Conclusion
I hope these sets have given you an idea of ​​the possibilities with magnetic rod toys.
There is a lot for sale, but there are also a lot of bad sets. With this you can be sure that your child will have a lot of fun playing with it.
Lees meer: we reviewed the best magnetic toys and picked out 12 sets