8 Best Magnetic Tiles Reviewed: Magformers VS Magna Tiles VS Connetix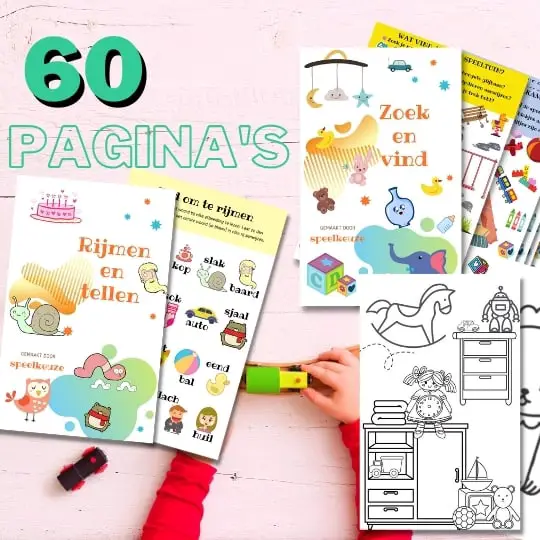 Always something to do for the holidays or rainy day?
Play Choice now has the ultimate activity book collection, with over 60 pages of fun coloring pages and educational puzzles.
Magnet Tiles come in a lot of shapes and sizes, and while they all look the same, there are some differences.
My favorite are these magnet tiles from Magformers. With a unique design, the magnets can rotate so that they always stick and the magnets and plastic housing are of great quality.
Many of the other sets are mainly made for building buildings, and some are more educational than others. In this guide I look at all the ins and outs of 8 different sets.
Let's take a look at the different brands in a short overview. After that, I'll dig deeper into each of these playsets.
Magformers vs other magnet tiles
Magformers are more focused on educational purposes and STEM play. You are supposed to make difficult geometric shapes with it.
That doesn't mean you can't make nice buildings or robots with them, but they lend themselves better to making more complicated structures.
Geosmart is also such a brand that focuses more on older children. They are magnet tiles with often another educational application.
Where Magformers focuses on shapes and mathematics, Geosmart focuses more on physics with DIY RC cars and self-rotating structures based on magnetism.
The other brands with closed magnet tiles also each have a different approach, but are more focused on building structures such as houses and rockets and the like.
These brands are also more suitable for slightly younger children from 3 years and up.
Magformers vs other magnet tiles age
The age at which Magformers and Geosmart start to become interesting at about 5 to 6 years old is also the age at which the other magnet tiles become less interesting.
Magformers vs other magnet tiles price
Each set of magnet tiles has its own advantages and disadvantages, and its own price category.
Because the sets differ, it is difficult to compare them, so I calculated the price per tile for sets of a similar number of pieces.
Magformers vs other magnet tiles popularity
I also looked at the popularity in number of searches for the brands worldwide over the past 12 months.
Geomags and Magformers started out almost as popular as Magna Tiles, but the latter has maintained its popularity for this season.
Connetix is ​​gaining popularity.
Top 8 Magnetic Tiles Reviewed
Magformers are not for the little ones. With children younger than XNUMX it's better to go for brands such as PicassoTiles or Magna Tiles.
The recommended age is 3 years. Although a child of 3 can already play with it, this set really only becomes fun at 4 to 5 years of age.
The recommended age of 3 is more because of the safety of the toy than the age when it is fun, I think.
The open-inside tiles are quite challenging to build with, just like the Geosmart tiles.
This also makes it the most fun and educational toy. It is mainly positioned as a way to build 3D models of geometric shapes.
Laying out a flat shape like a cube or ball and then picking it up to 3D shape it is a lot of fun.
It is therefore a STEM toy par excellence and a very nice challenge between 4 and 7 years.
Yes, you can also just build nice buildings with them (and robots like my 4 year old son likes to do) so you could buy them for a 3 year old so that you have toys that they won't grow out of quickly.
PicassoTiles are an inexpensive alternative to Magna Tiles. They have exactly the same shape and dimensions and can optionally be used together.
They don't fit on Magformers.
They click together well and are very sturdy. I just don't see a distinguishing factor at all with, for example, Desire Deluxe, which is also a cheap tile brand.
If you have a smaller child (many reviewers say from the age of 2 but you better supervise!), then a dense tile set like this is the way to go.
The tiles are not nearly as bright as in the picture and they scratch very easily making them fade. This does not affect the fun at our house, by the way.
PicassoTiles has expanded to other types of magnetic toys and puzzle blocks rather than accessories for the magnetic tiles.
They also have a marble track set which makes it very nice to expand with.
We have bought such a marble track set from another brand that also fits on it, and that is very nice with our 4-year-old son.
A very nice set that can be connected to the more popular brands of Magna Tiles and Connetix.
From 3 years

Best: 3 – 5 years

Until: 7 years
Desire Deluxe is another brand that appeared on the market after magnetic tiles had proven their success.
A cheap copy of other brands with no attempt to distinguish itself.
That doesn't mean they aren't a lot of fun! Your child can have hours of fun playing with these tiles.
Like the PicassoTiles, they fit this same kind of tile as Magna Tiles and it's actually one of the best counterfeit Magna Tiles I've seen. They also scratch just as quickly and are not very brightly colored.
These types of tiles may look a bit cheap, but they are safe. I tried to break the case by throwing it and hitting it with a rock, but the magnets wouldn't come out. The toy score could have been slightly higher if the material used and the lifespan had been slightly higher, but in the end this only has a small impact on the fun.
The play value is also very high, especially due to the open-ended game where children can use their imagination. In addition, a large set like this gives the opportunity to build together and seek social interaction.
I suspect they come from the same factory with just a different brand put on it.
The different shapes and house-like tiles that you get are a nice addition. That makes the tiles slightly more expensive than PicassoTiles, but perhaps also a bit more fun.
Magna Tiles are the original magnetic tiles to build with. Should you pay a lot extra for that?
No, but maybe for the extra features.
The quality of the plastic really is better. Where the cheaper PicassoTiles and Desire Deluxe scratch quickly, the Magna Tiles can take a little more, and therefore remain beautiful for longer.
The corners are extra reinforced with a metal ring and therefore really unbreakable. Although I really didn't succeed with the other tiles.
It is clear that they have a hard time with all counterfeit products. One of the plus points that they indicate about the tiles themselves is that they have the "Magna Tiles stamp" on them.
Of course you won't make it with that alone.
They do have a lot of nice additions for the building sets and that makes it a very nice brand.
You can also see that these additions are aimed at the younger children (3 to 6).
Magformers and Geosmart, for example, have many additions for older children.
But these accessories and extras also fit the other cheap sets.
Whether the slightly better plastic and the fact that you can say you have the original is enough, I don't think so myself.
The extensions are nice, so I would buy a cheap basic set with Magna Tiles extensions.
Connetix is ​​the brand that comes closest to, or perhaps exceeds, the quality of Magna Tiles.
They are slightly more expensive than the Magna Tiles and with the same reinforced metal rings in the corners and basically the same type of plastic.
They have managed to distinguish themselves by two things:
These are the strongest durable magnet tiles I've seen.
You may get a little more bang for your buck than with Magna Tiles, but ultimately these are also compatible with Magna Tiles and the cheaper playsets.
This way you can always combine the best of Connetix with cheaper sets.
This set is just different. The system consists of separate balls, bars and tiles.
Due to the smaller pieces, this set is only suitable from age 5, and that is actually the best fit, also in terms of development level.
The balls themselves are not magnetic so although they are small and can be swallowed they do not have the added danger of magnets in your body.
The magnets are in the bars and that is what keeps the balls and thus the tiles together.
The durability of the tiles and rods is also excellent and they are made from recycled plastic.
As with Magformers, these tiles are mainly about learning geometric shapes. The extra challenge is in making the shapes with the balls and rods.
It is therefore also less suitable for the little ones because making nice buildings and having them collapse is not really there.
It makes them a lot more STEM and a lot less build. Some children find it less fun because of this, while others will completely love it.
They have lots of sets and expansions with glitter, glow in the dark, and a whole host of mechanics sets.
As a result, the system itself actually becomes a kind of marble track.
Geomag does not fit on Magna Tiles or Magformers tiles. It really is its own system.
The most expensive on our list. Not entirely fair to compare because this set comes with an extra spinner.
That is also what makes these tiles distinctive. Where Magformers is focused on math and geometric shapes, Geosmart is focused on physics.
You can see this in different sets, from this spinner to building an LED car yourself or a moon lander and robot.
Do Geosmart tiles fit Magformers?
Geosmart tiles can be used in conjunction with Magformers. They have the same system of the magnet in the middle and are the same size. They don't fit 100% perfect because Magformers are a little more rounded, but good enough to use together.
The cheap plastic like PicassoTiles and Desire Deluxe with the reinforced metal corners from Magna Tiles.
A combination of both, although as far as I'm concerned those corners are not necessary per se.
The quality of the plastic is the same as the other cheap sets on this list. It scratches easily, but the tiles are safe.
Playmags distinguishes itself from the other brands by offering several forms:
Shapes with letters in them like this one
with hearts
Smaller fences that could form the garden of your building
Car undercarriage
This is also the brand with the funny magnetic dolls that fit on each of such tiles
Besides that, these probably also come from the same factory as the other two budget brands.
Can Magformers and Magna Tiles be used together?
Magformers will not fit on Magna Tiles and other solid magnet tiles such as Picasso Tiles, Desire Deluxe, Playmags and Connetix. These brands do fit together, but not on the open tiles of both Magformers and Geosmart.
Magformers and Geosmart have the magnets in the inner lip in the center of the tile. Dense models like the Magna Tiles have two magnets on either side of the tile.
How many magnetic tiles do you need?
A few different shapes of tiles is the best, at least some triangles and squares. With 60 magnetic tiles you can make a lot of things so that it remains fun to play for hours. Kids are quickly bored with it at less than 60.
Conclusion
There are a lot of magnetic tiles for sale but there are some differences. I hope this buying guide has helped you make the right choice for your child.
Lees meer: rated the best magnetic toys