I enjoy writing these articles for my readers, you guys. I don't accept payment for writing reviews, my opinion on products is my own, but if you find my recommendations helpful and you end up buying something through one of the links I may be able to receive a commission on that.
More information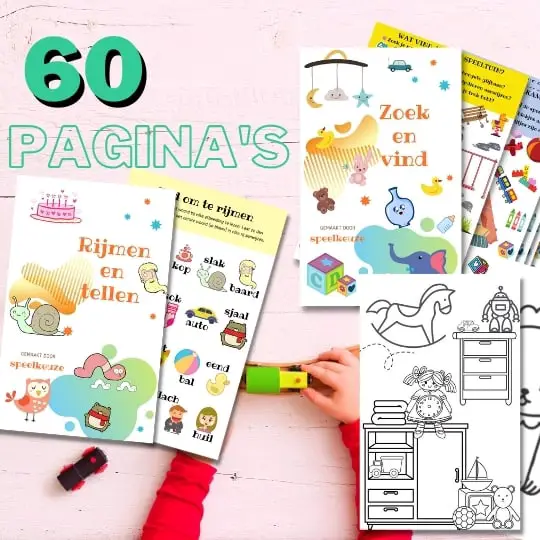 Always something to do for the holidays or rainy day?
Play Choice now has the ultimate activity book collection, with over 60 pages of fun coloring pages and educational puzzles.
Magnetic toys can be seen as 'open-ended toys' that stimulate children's own play and imagination.
And the great thing is, you have magnetic toy sets in every age category.
You just need to know what to look for in order to buy a nice set that fits what your child likes at this age (and which is SAFE!).
That is why in this article I look at the best magnetic toy sets for every age.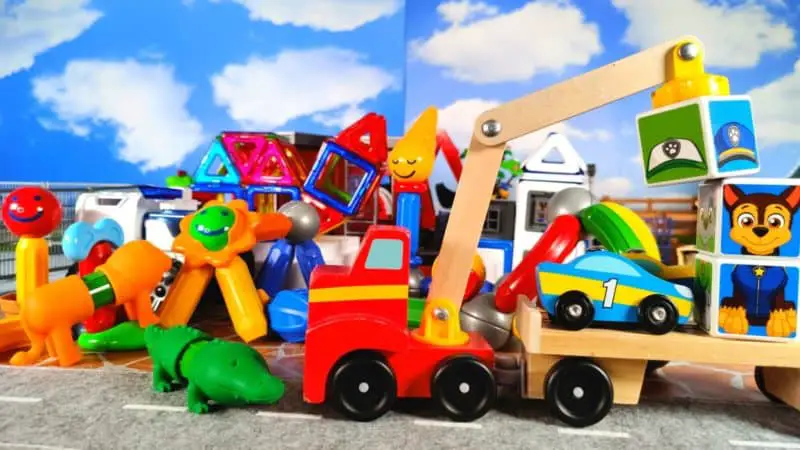 Magnetic rods and balls can be 'stick' together to create the nicest figures. It's simple, because kids don't have to run off with complicated locking mechanisms.
It is also fascinating, almost magical for your child. Where does that magnetic force come from and how exactly does it work?
The nicest magnet toys are these tiles from Magformers because you can really go in all directions with it. This allows your child to build beautiful works of art, which can always be adjusted during the building process.
If you have a little one in the house, it is better to go for larger magnetic toys to prevent him or she from putting small particles in the mouth.
What are the best magnetic toy sets now? I've divided these into several categories, let's take a quick look at them:
Magnetic Toys Buying Guide
Before I dive into each of these best options, I want to think about how you should choose exactly.
Even after we've narrowed the selection down to some of the most fun and educational sets, it may still be difficult to determine what's right for your child.
When looking for magnetic toys, these are the most important things to consider:
Is it appropriate for your child's age?
Important for two reasons:
Not only should your child be able to understand and know how to play with it, it should also be challenging and at the same time be within their current developmental level. In general, I'd advise buying toys whose age range just starts at your child's age so they can enjoy them a little longer (although the Magformers at 3 is very early!)
You don't want to underestimate parts that are too small, especially for children under 3 years old, because they could swallow it (with magnetic toys even more dangerous than with other types of toys!)
Does it suit your child's interests?
Many children like to build, but not all children.
Many magnetic toys are made for fun to build with, and especially for being creative and coming up with structures.
Does your child not like to build or do they not have that much creative talent? Then choose a set where it is more clear what to do with it, such as the magnetic animals or the fire train from Melissa & Doug.
Size and price
Finally, about the size of the set and the price.
Of course you know best what your budget is and it is also important to look at how many pieces and different shapes a toy package has.
The more pieces and shapes, the more they can do with it, that's for sure. But I have noticed that it is often the case that with more pieces they also stay interested longer.
And I don't mean in minutes of playing time, but really in years of playing time.
So take a good look at what you buy and remember that sometimes cheap is also expensive, buy toy sets that can last a long time and remain educational for a long time, I always say.
Best magnetic toys rated
Best Magnetic Toy Overall: Magformers Basic Set Line
This is a beautiful magnetic toy from 3 years. Toddlers love to explore while playing, but also at a later age this set will remain interesting for a long time because of the many different shapes you can make with it.
The Magformers Basic Set Line has 50 parts (other smaller and larger sets are also available) so that your little one can build endlessly, but there are also sets with more or less pieces.
The parts are very sturdy and children love the toys.
With this toy, your child is able to build 2D and 3D models, using up to 50 magnetic parts.
This set invites you to do something in the Montessori philosophy "Open-ended play" is called, there is an awful lot possible and this requires creativity and perseverance.
I also found it quite challenging in the beginning and it takes quite a bit of building practice. Still, my 3-year-old son was able to make quite a bit with it, first just sitting on the floor: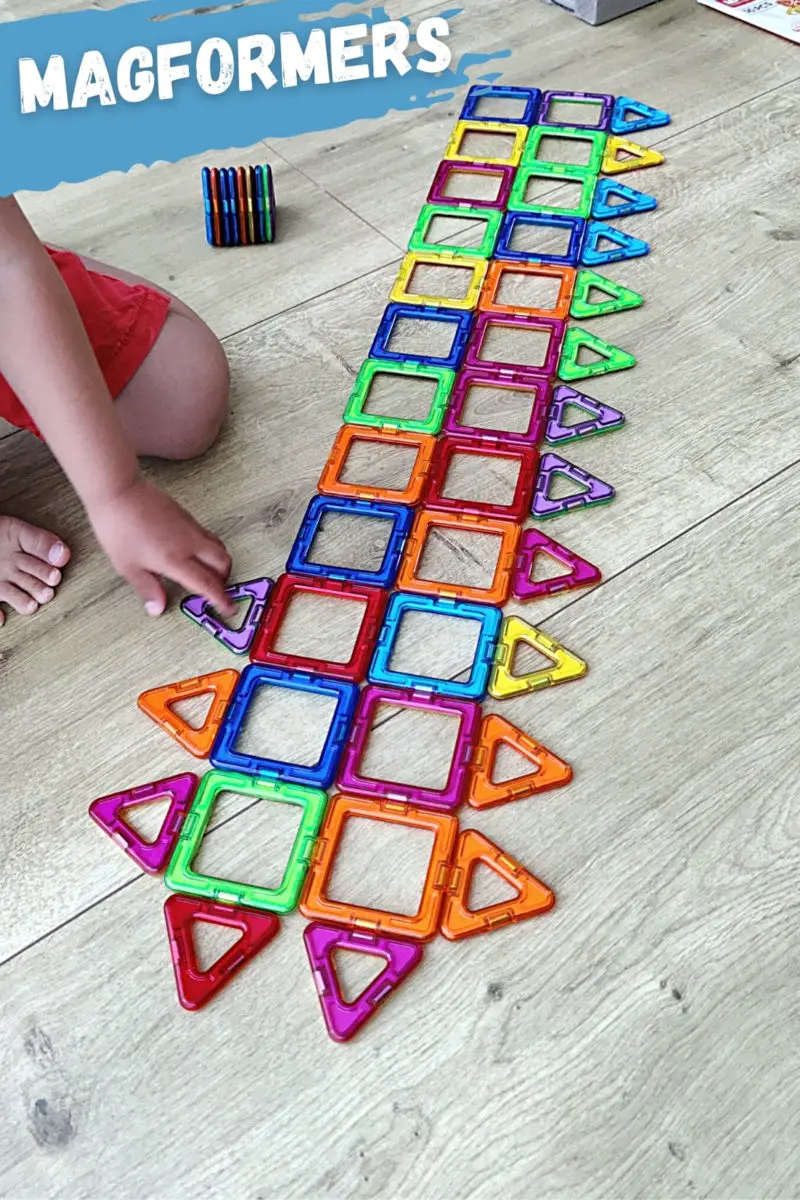 But after a few days of practice, he was already able to make a high tower himself: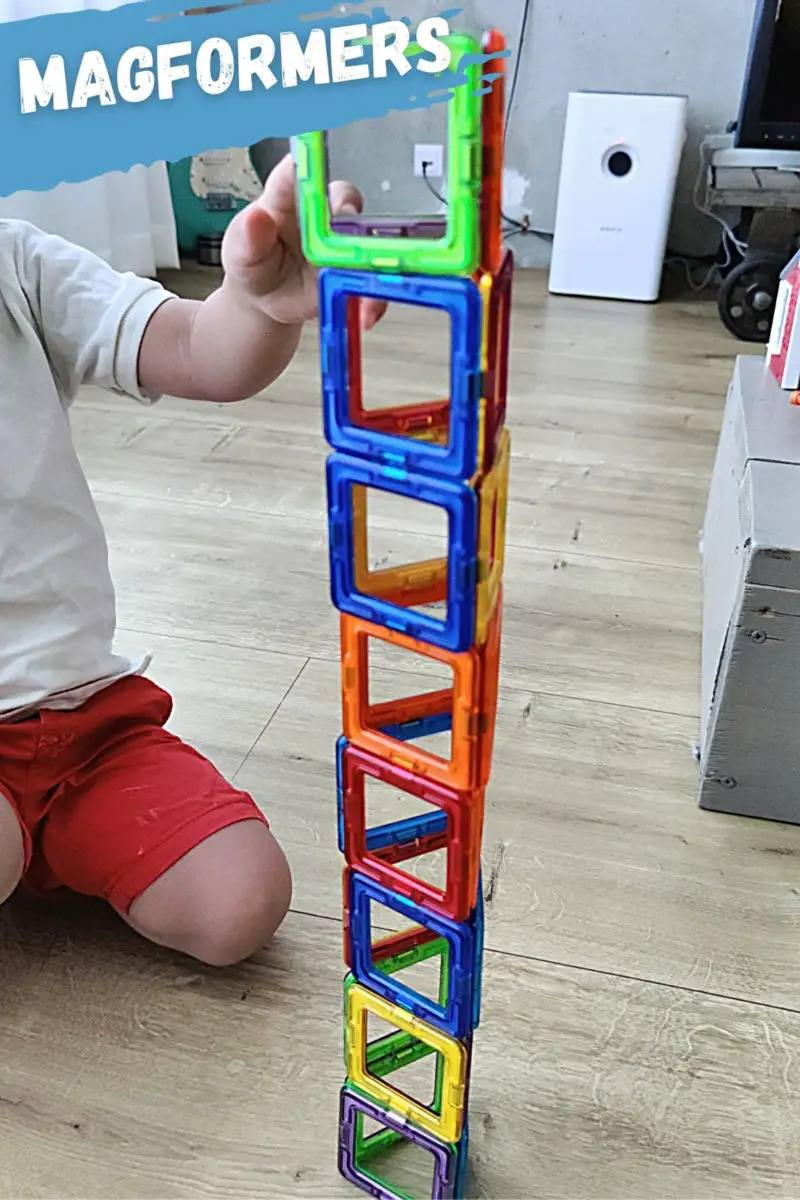 This really becomes a very nice set from toddlers aged 4-5 that they can work with themselves and put a lot of energy and creativity into it.
And that's what makes this set, consisting of triangular and square toy magnets in various, cheerful colors, such a nice choice, you will be able to use it for a long time.
The toy stimulates the development of fine motor skills, creativity and trains the brain of your little one.
This is what you would call the most complete and creative toy ever! Your little one will never get bored with this toy!
If you would like to start with a smaller set you could go for the set with 30 parts.
I've included a video here where you can get a good look at the set:
Your child can let his or her imagination run wild, or get ideas for inspiration from the included booklet.
The reviews show that children have a lot of fun with these toys, and that the magnetic blocks have a sturdy construction so that they 'stick' together well.
Check prices and availability here
Magformers vs cheap Desire Deluxe magnet tiles
Do you have to buy the original Magformers or can you also get the cheap Desire Deluxe magnet tiles to buy? Is cheap expensive? It's not that bad.
The Desire Deluxe tiles are fun to build with younger children, the tiles are a bit larger and more robust to grip, which makes stacking into a building or castle a bit easier.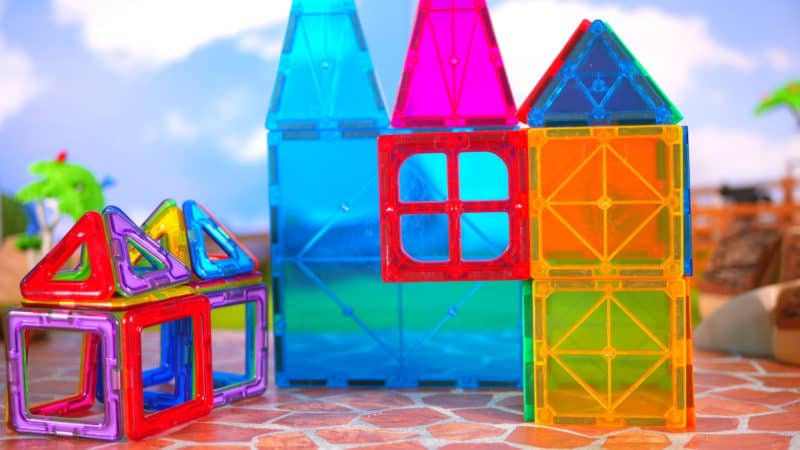 It's clear that Desire Deluxe is more focused on making figures and buildings, and Magformers more on educational geometric shapes, you can even see it from the examples in the booklets.
With the Desire Deluxe tiles you can more easily build larger structures, even with younger children.
Desire Deluxe costs €0,53 per tile and Magformers €1,39 per tile (counted in a comparable set of around 45 tiles). So that makes a lot of difference.
However, not everything is perfect about the Desire Deluxe tiles and here's why sometimes spending a little more is better:
The colors are in reality not nearly as bright as in the picture
They scratch very quickly which makes them look gritty pretty soon after buying them.
Magformers has a handy system where the magnets on the inside of the tiles can rotate and thus never repel each other, cheap tiles like Desire Deluxe don't have this and some tiles repel others, which can sometimes be frustrating
Desire Deluxe's ​​box states that it could be a choking hazard for young children. They are not small tiles, so I assume that they can break quickly so that the loose magnets can be swallowed, for example, but I have not yet succeeded
And I tried!
If you want educational magnetic toys, go for Magformers. If you just want to build a nice building and you have a small budget, then it's also fine to choose Desire Deluxe and build a larger magnetic tiles set for cheap.
Also read: What is educational toys for children? Pay attention to these 5 things
Best Magnetic Rods to Build: SmartMax Rods Start Try Me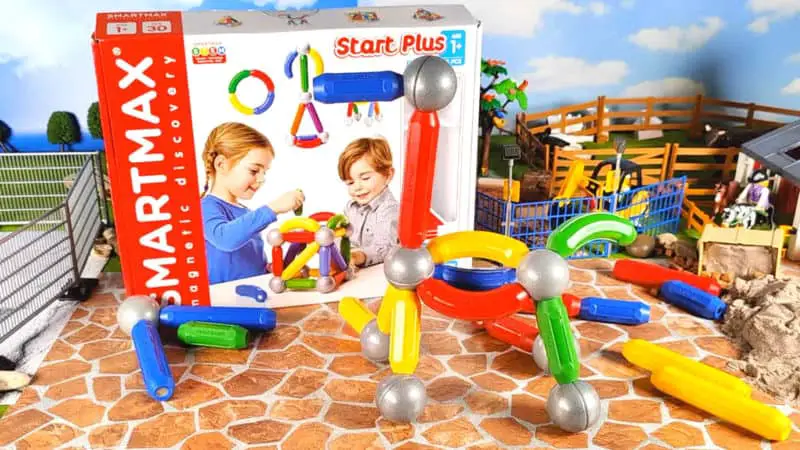 The SmartMax Magnetic Rods Start Try Me are also very nice toys that consist of magnetic rods (and balls)!
This toy contains 30 large elements and an extensive booklet with information and tips for building.
Clicking these elements together is a lot easier than the tiles from Magformers and this makes the toys really suitable from 1 year, as SmartMax says.
At that age they can't do much with it of course, but a toddler can just grab something and experience what it is like for a rod to "stick" to one of the balls, for example.
As a toddler my son didn't have this set, but he did have the Safari animals from SmartMax, which is essentially the same system with big bars (and then soft rubber animal bodies to stick to them) and he LOVED it!
With these metal balls and rods you can build something different every day. In addition, a child trains his or her spatial awareness with the different shapes. The possibilities are limitless!
Plus you can combine them very nicely with other things from SmartMax, such as the Safari animals that I also discuss later: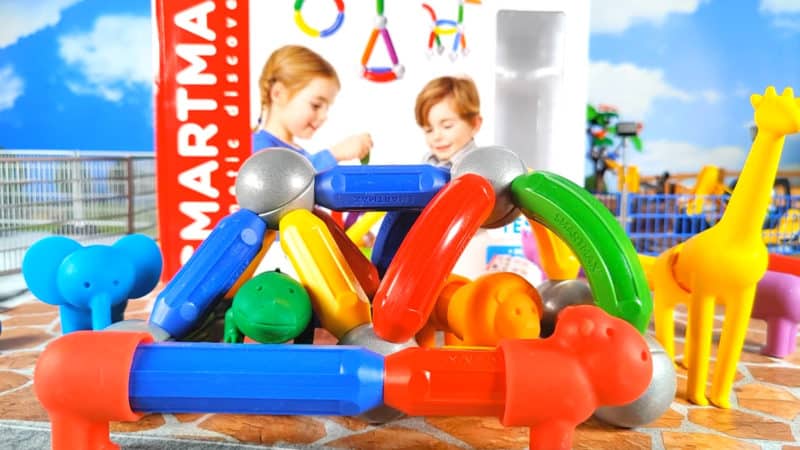 But you can actually combine them well with other magnetic toys on the list. Here you can see Smartmax vs Stick-O (hint: SmartMax is slightly bigger):
The toy is extremely safe and suitable for children from 1 year.
Check the latest prices here
Smartmax vs Magformers
Smartmax is really for younger children. The bars and balls are large and they click together very strongly so that your child of almost any age can at least do something with them.
The Magformers tiles are a lot more fun when your child gets older because you can really build anything with them. From flat shapes such as a rocket to large castles. Plus it's very focused on geometric shapes which also makes them a lot more educational.
Smartmax is somewhat more limited in the shapes you can make with it, but Magformers is still a bit too ambitious for your toddler or toddler.
Best Magnetic Toy Animals for Toddlers: SmartMax My First Safari Animals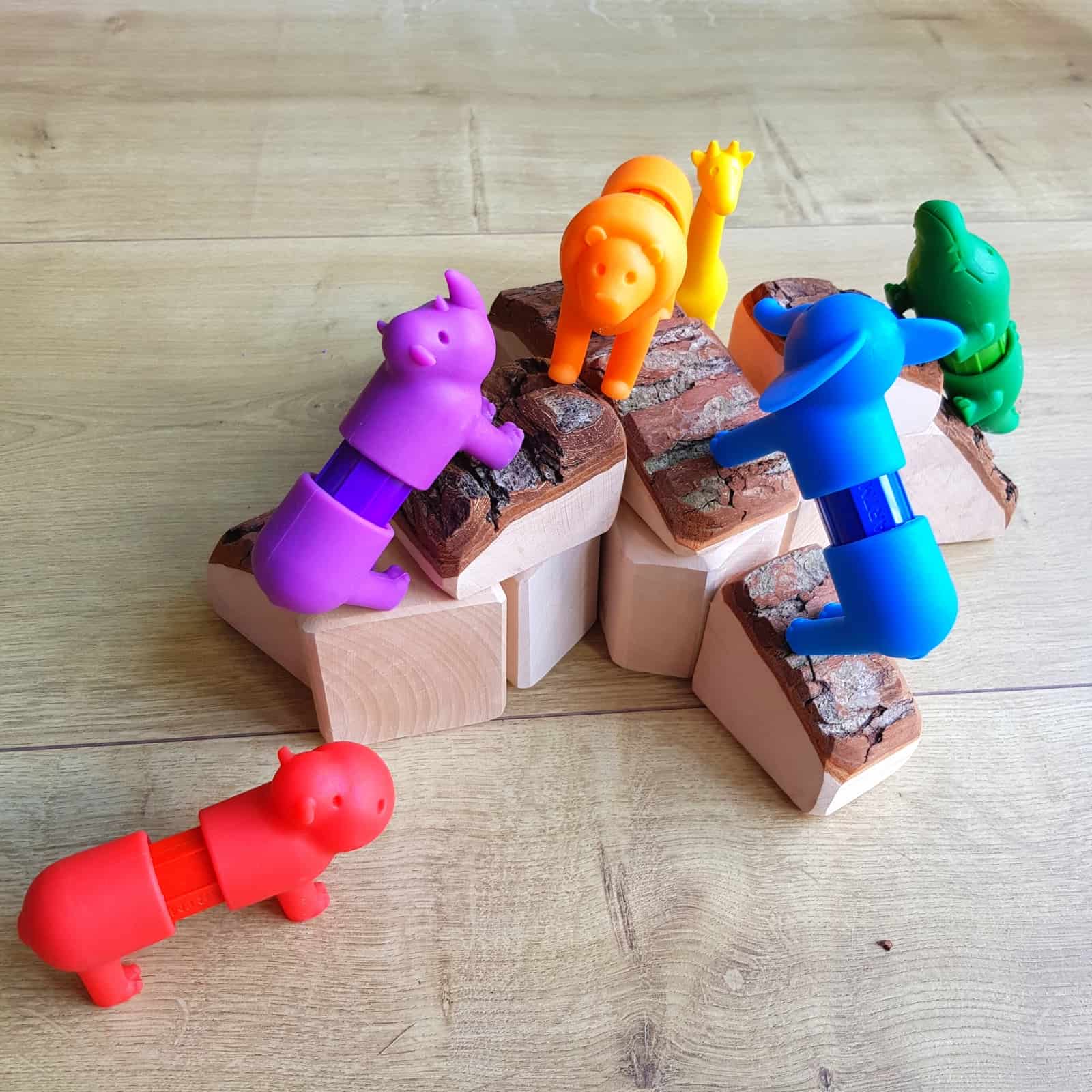 Is your little one crazy about animals? The SmartMax My First Safari Animals are toys that are suitable for children from 1 year.
The toys ensure that kids discover the magic of magnets in a safe and super fun way while playing with their favorite animals.
The parts are extra large and soft and simply click on the bars.
The magnets are strong enough to hold the particles together, but it doesn't take a lot of force to take them apart again.
The toys are therefore completely tailored to children's hands.
You can use the set of 18 parts six different Safari animals create, or come up with your own animal by combining parts of different animals and at a later age the animals may also participate in many more fantasy games.
My son also really enjoyed running around the house with all the bars on top of each other making sure they didn't fall as the magnets are just strong enough to stick together but you have to balance them properly .
Good for creativity and fine motor skills!
View the most current prices here
Also read: these are the 8 nicest Dutch toy brands
Best Magnetic Travel Toy: Tegu Pocket Pouch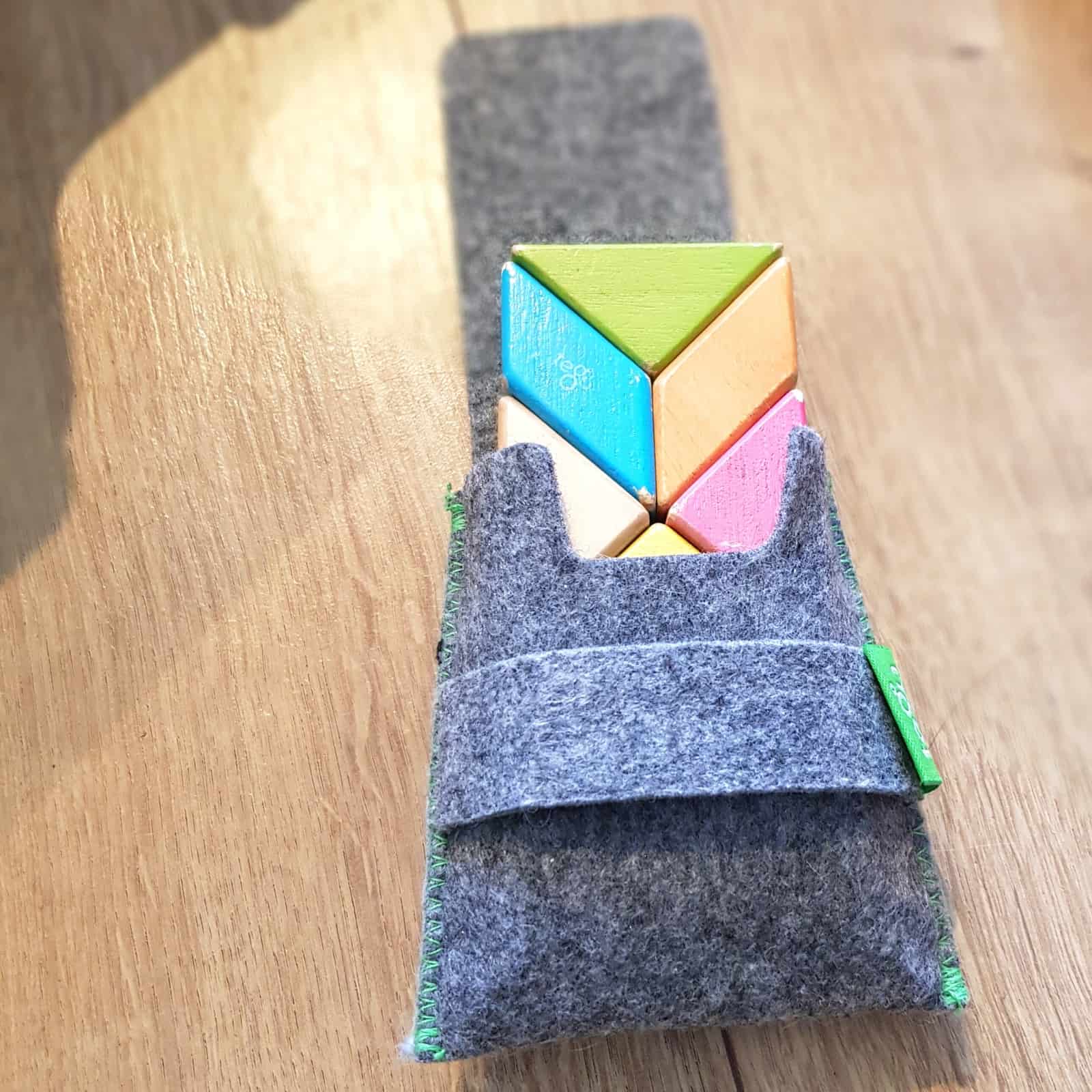 Compact with a soft cover so you don't lose everything in the children's suitcase, hand luggage or in the car seat. The Tegu pocket pouch is one of my favorite travel toys.
They are strong magnetic blocks with which you can build anything.
From Tegu you have many more sets with all kinds of different types of blocks, wheels and more, but with this pocket pouch you have a handy travel building set.
There are not that many blocks so the possibilities may be a bit limited at a certain point, but you can actually build so much with them.
Tegu has thought very carefully about the shapes of the blocks so that they naturally fit together seamlessly, but can also form a lot of different things.
A really nice set for traveling, for example we took it on the plane in the hand luggage but can also be very nice for in the car. Do that with any other building set!
Check prices and availability here
Tegu blocks vs Magna Tiles
For me, the Tegu blocks are a nice addition to a house with many wooden toys. It's just really, really well made and taking wood and building with it is kind of a natural experience.
The Tegu blocks are very expensive, a lot more expensive than for example Magna Tiles or other magnetic tiles that are made entirely of plastic, plus they really only get fun when you have more of them.
The Tegu pocket pouch is fun for travel, but we don't play with it much because there are also magnet tiles where you get a lot more right away.
If you want to make big builds with Tegu like you can with Magna Tiles or Magformers, then you really need to spend a lot of money on it.
Read all about it the best toy for the plane
Best Magnetic Train: Janod Story Train Fire Department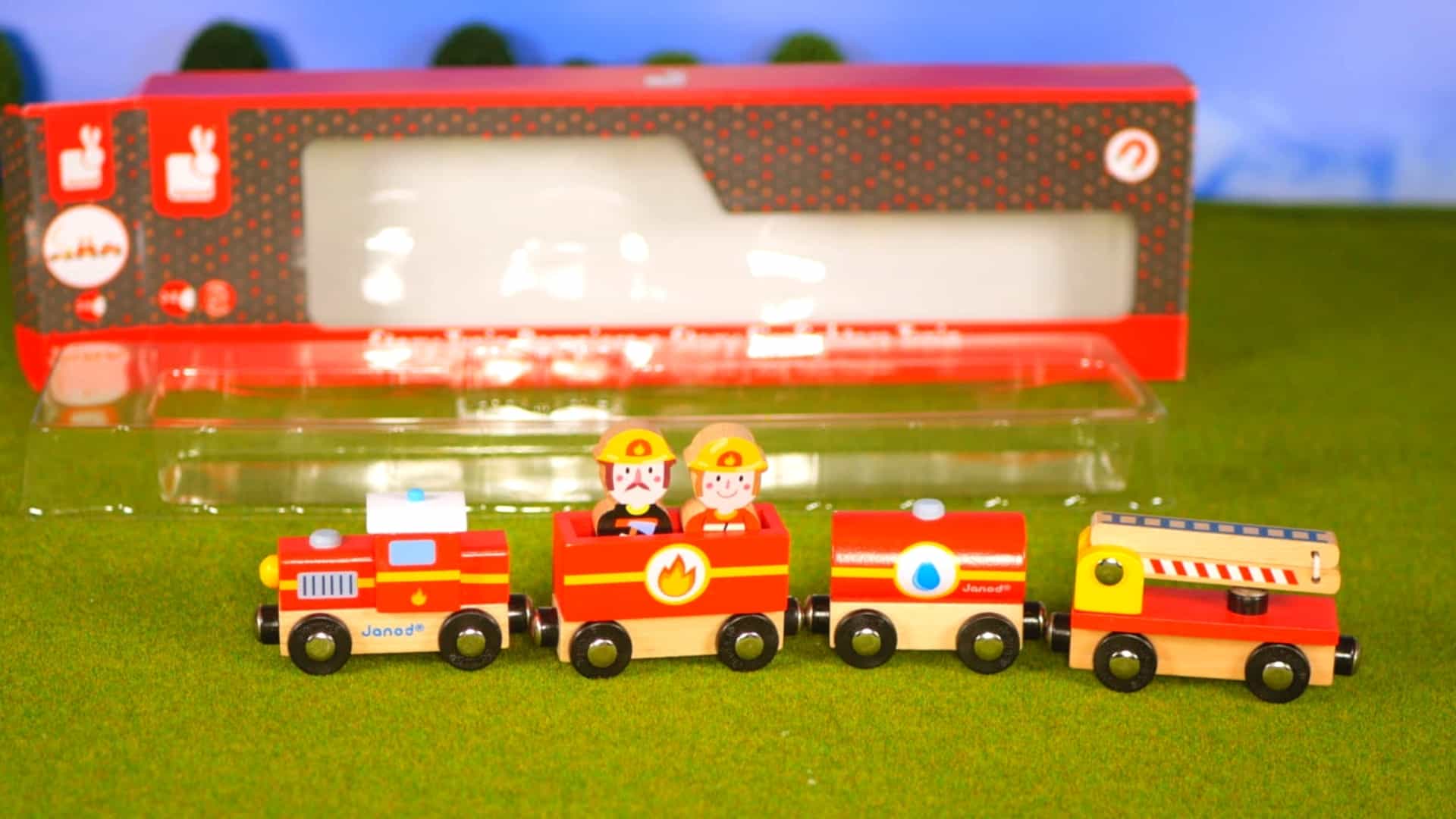 Is your son or daughter fascinated by trains? This Janod Story Train Fire Department Magnetic is a beautiful wooden train that you can use to extinguish all fires!
The train has magnetic parts and is made of solid wood. So you can also play separately with the different carts, and also endlessly combine with the Story series by Janod.
The toy is suitable for kids from 3 to 8 years old. I also like that, like the Tegu blocks and the wooden trailer in this list, it wooden toy is.
The colored train is also very cute in the living room, it is beautiful to look at!
Check the latest prices here
also look at more nice wooden toys from Janod
Best Magnetic Toy Car: Magformers Police Set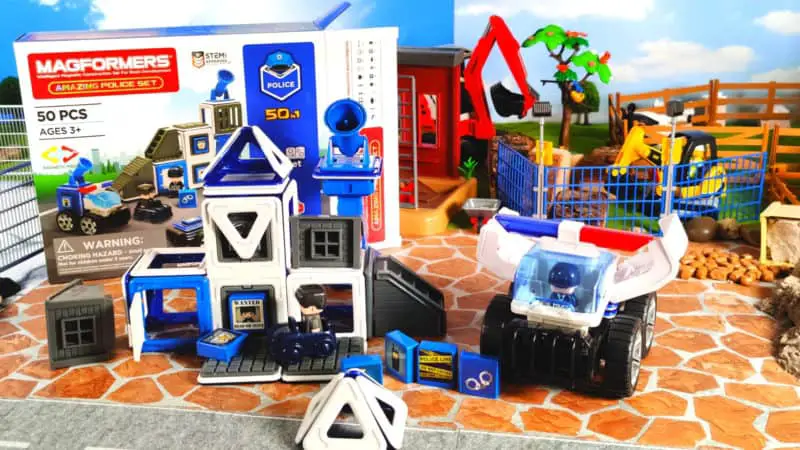 Vrrrroem! Are you in time to save the day ?! With this Magformers set you get all the tools you need to build police vehicles and a real desk.
A really nice set on its own that is both educational and fun to play with, and also a nice addition to the basic Magformers set that I named at number 1.
Assemble the cars as shown in the examples or make your own creation in blue, to fight the crooks.
Suitable for children between 3 and 12 years old, but fun between 4 and 8 years old.
This Magformers set is perhaps more fun than the basic set because it is a bit clearer what you can make with it.
Also better suited for the slightly less creative kids as all pieces have a clear purpose, such as:
windows
a staircase
roof tiles
a prison
a car chassis
Although all these parts can be combined endlessly so that you can still put something of yourself in them and there are really a lot of nice examples already available in the booklet.
Slightly less educational than the basic set but a lot of fun to play with and a lot more fun than, for example, a toy police set which is just a fixed building and a fixed car.
Check availability here
Best Magnetic Toy Trailer: Melissa & Doug Wooden Loader Crane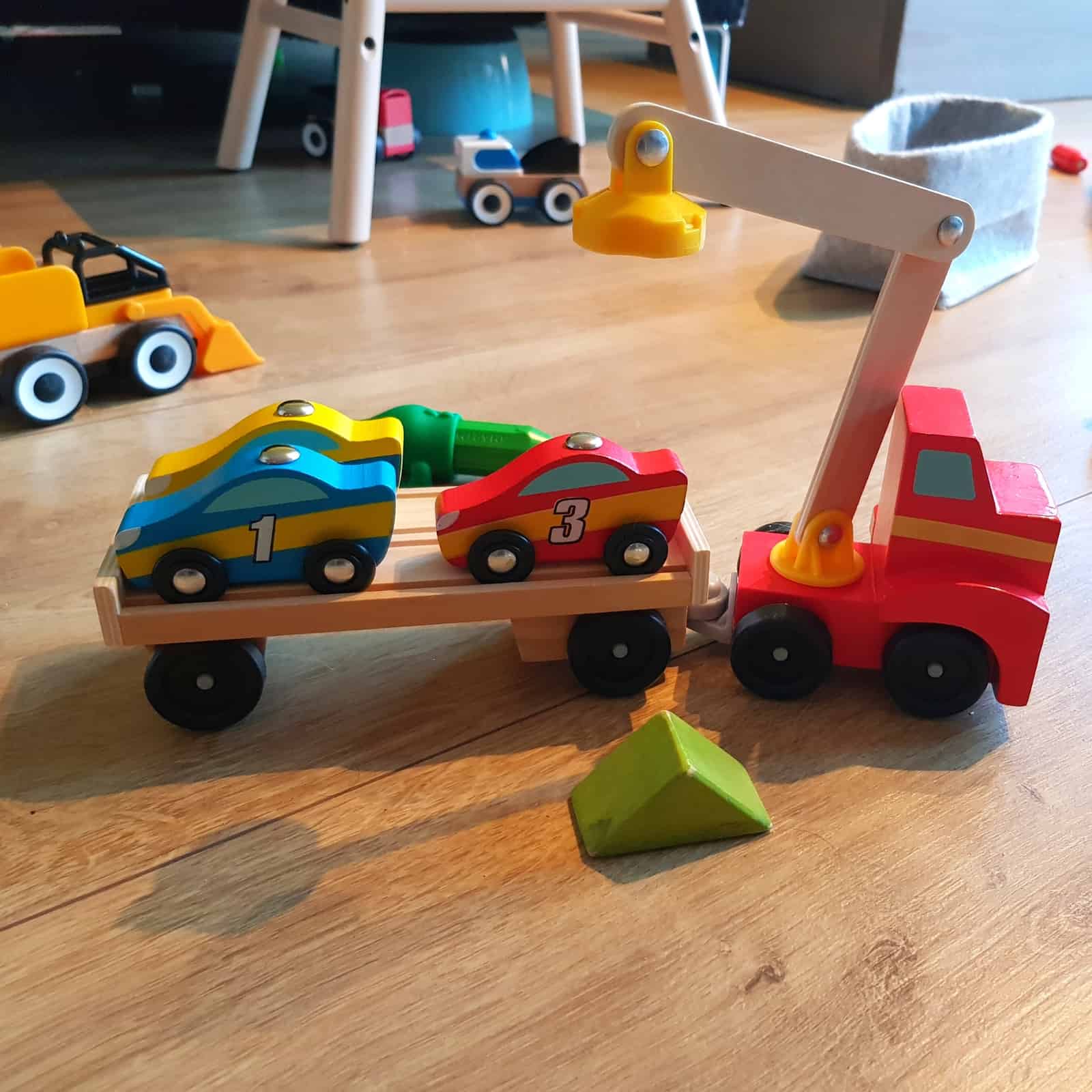 This wooden trailer from Melissa & Doug is great fun to play with. He has a magnetic crane with which he can pick up the supplied cars and put them on the trailer.
It says for three years and up, but our son really enjoyed playing with. He's 2 years old and a little bit, a few months, but it was so frustrating too.
You can pick up small cars with the magnetic crane on the truck and they are fairly stuck in themselves, but you also have to be quite nimble with that magnet.
If you don't take it easy, the car will fall off, and he couldn't have it so well at his age that it didn't work. Still, we think it's good for him to
learn to deal with it so early so that he also learns some patience.
But it is indeed really for 3 plus to be able to make full use of it.
Its purpose is actually to hoist them up like that and the semi-trailer (more of that reviewed here) can be attached to the truck, and so the cars can all stand on that trailer.
For me the magnet could have been a bit stronger, but on the other hand, that is also the game I think. In any case, he loves it and really wants to play with it.
We have more magnet toys such as the magnetic blocks and the magnetic animals (also discussed in this article) and they stay in place very well because this is a magnet and the one in the car too.
What is on top of the cars is really just a metal point to hoist them up, but attaching a magnet to another magnet is much easier.
By combining toys, our younger son can also play with them and can drive around without it falling off.
All in all, a very nice toy that they can discover a lot about.
Check out the latest prices here
Best magnetic numbers: Quercetti number magnets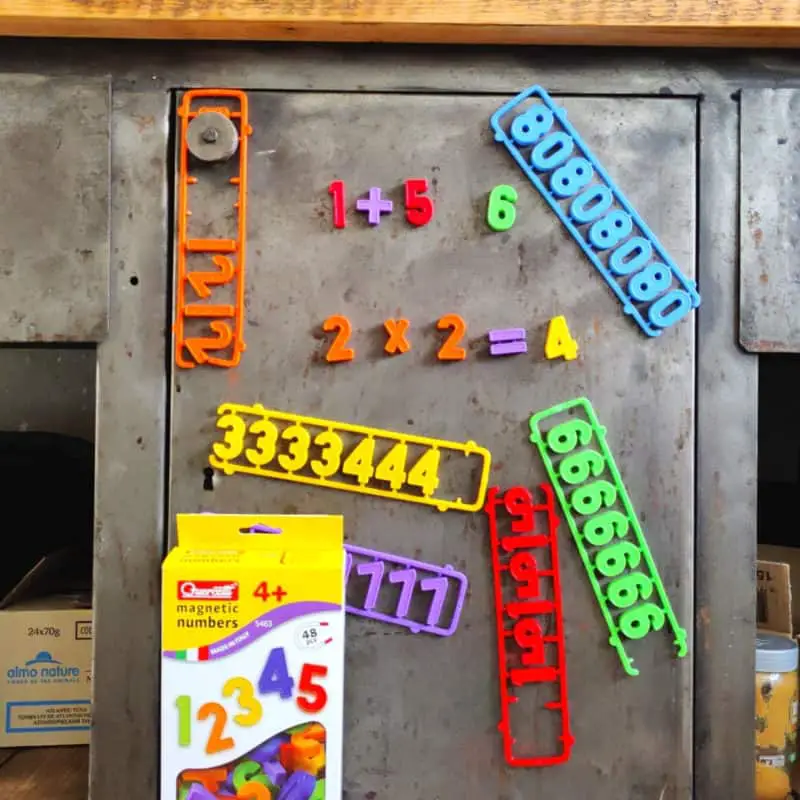 Is it time for your little one to learn the numbers, and do you want to do it in the most fun way possible? The Magnetic figures 26 pieces is the ideal toy!
With this set you get 26 numbers in different colors. The numbers are magnetic and made of plastic. Learn to count and recognize the numbers with this super fun toy set!
Please note that the parts are designed small and are therefore not suitable for small children who are still inclined to put toys in their mouth.
Check prices and availability here
Best Magnetic Sand: Relevant Play Kinetic Sand
Maybe not really magnetic toys but Kinetic Sand is often also called magnetic sand because it kind of sticks together.
It feels really crazy the first time you hold it, like some wet sand but still dry and like it should actually move differently than it does as it slides through your hand.
The "magnetic" properties of the sand make it ideal for indoors because it will not go all over your floor as loose grains, but will stick together more like loose slices or balls of sand.
When you start with magnetic sand I would advise you to start with just a basic set like this one from Relevant Play, just sand-colored and you probably still have a container or tray somewhere where they can play with it.
In any case, I would use a large plate or container with a little raised edges so that it doesn't fly all over the room.
Because it sticks a bit, you can build shapes with it just like with wet sand, so nice to have your sand molds from outside can be used indoors in the fall or winter.
The sand will form well into any shape you want to use. And if you ultimately want more, there are many more variants with bins, shapes and even different cheerful colors of sand!
View the current prices here
Best magnetic toy for your toddler: Geomag MagiCube Paw Patrol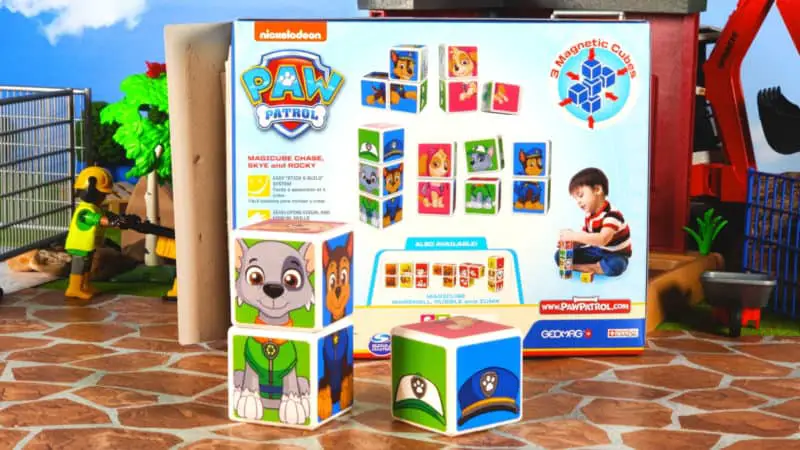 Is it your little toddler's birthday, or do you just want to surprise him or her with new toys? The Geomag MagiCube Paw Patrol Magnetic Blocks is a toy specially designed for the little ones.
This one is only nice to buy when they really just turn 1 so that they can still use it for a while, because with 3 years it is actually no longer fun.
But super suitable and magical for your little one to see how you can combine different blocks to make a nice dog.
Just a bit more fun than just a block tower because the magnetic effect with which they click together is really nice for a toddler, but on the other hand it is only 3 blocks.
They can build and play with the help of the three large magnetic blocks. The blocks (more options here) have a Paw Patrol theme, and the blocks allow you to flip them over and build the most popular characters.
The toy is suitable for toddlers from 1 to 3 years old.
Check the latest prices here
Geomag vs Magformers
Geomag is for a lot younger children than Magformers. For example, Geomag Magicube is fun up to and including a year or 2, max, and Magformers only really become fun at about 4 years old.
If your child is 3, I would already recommend the Magformers or Magna Tiles because you can already help build things until they can do it themselves.
Best Magnetic Toy for Your Baby: Stick-O Fishing Game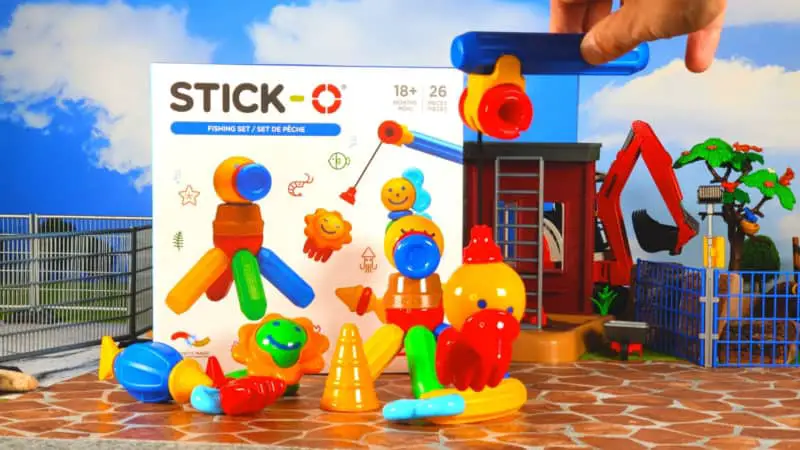 And then we also have the Stick-O fish set for the little ones among us!
This toy gives children from 18 months the opportunity to play with magnetic construction toys.
The toy set consists of 26 shapes with which your little one can build the nicest characters, all in an underwater theme.
With of course a magnetic rod for good fishing!
The way you can easily create your own animals makes a magnetic fishing game like this a lot more fun than other fishing games I've seen, which are essentially just wooden fishing rods and some wooden pieces with a magnet in them.
This set really lets your child build an underwater world so that they can also get creative:
The toys remain fun up to an age of about 5 years.
Check prices and availability here
Stick-O vs Smartmax
Stick-O is for smaller children than Smartmax and, in addition to fun building bars and balls, also offers more shapes. As a result, you get less real building material for your money and the quality of the Smartmax magnets is slightly higher.
It's nice, those shapes. Especially for the toddlers and toddlers among us. For example, with the fishing game you also get a fishing rod, but the most fun are the fins and tails to make fish with.
It's more of a fantasy world than letting go of your creativity on structures like cubes and castles, so to me Smartmax is a much more educational magnet toy.
Magnetic toys are fascinating
The possibilities are endless. There are no limits to creativity, let your kids experiment with magnetic toys!
You can choose to start small and therefore purchase a slightly smaller set.
If you find that your child is fascinated by the effect of magnets, you could purchase a larger set later. Find one with a theme that appeals to your child!
Children learn to discover the secret of magnetism; they learn all about magnetic force, attraction and repulsion. While building, a child learns to use both hands so that they work well together.
Perfect for training hand-eye coordination and fine motor skills! A child also learns to recognize shapes, colors, and play together. They can let their imagination run wild.
By the way, playing is also important for adults, but instead of 'playing', adults are more likely to talk about 'leisure activities': something someone likes to do in his or her free time.
Doing nice things is necessary to be able to continue functioning healthily, and from time to time to escape those stressful working days and I really enjoyed playing with my son with magnetic toys, because you can use so many fun and crazy constructions with them. can make :)
For more building and construction toy tips, take a look at my review of the top 4 construction site toy sets for the little construction fanatic.
Conclusion
I hope you got a better idea of ​​the best magnetic toys after reading this article.
Children often find magnetic toys very interesting, and therefore enjoy playing with them. There are magnetic toys for every age or stage of development.
As a parent, make sure you keep challenging your child with the right toys at the right time.
This gives your child the opportunity to learn skills that are in his or her development. Playing is essential for the healthy development of every child!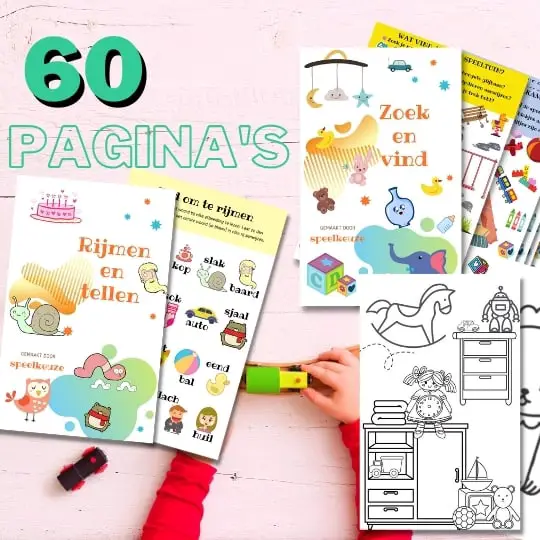 Always something to do for the holidays or rainy day?
Play Choice now has the ultimate activity book collection, with over 60 pages of fun coloring pages and educational puzzles.
Joost Nusselder, the founder of Speelkeuze.nl is a content marketer, father and loves trying out new toys. As a child he came into contact with everything related to games when his mother started the Tinnen Soldaat in Ede. Now he and his team create helpful blog articles to help loyal readers with fun play ideas.