10 Best Marble Runs Reviewed From Toddler to Teen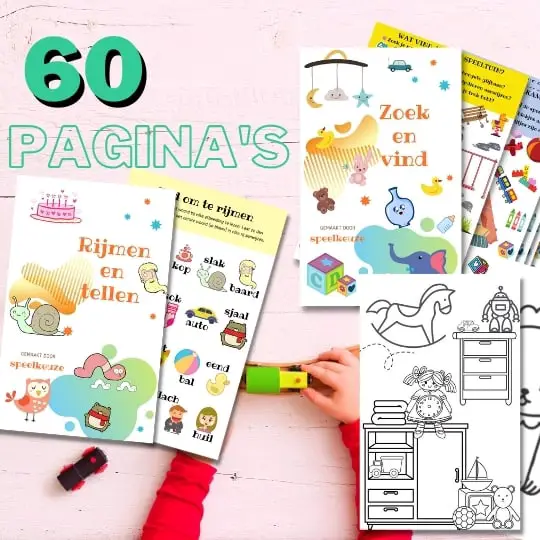 Always something to do for the holidays or rainy day?
Play Choice now has the ultimate activity book collection, with over 60 pages of fun coloring pages and educational puzzles.
Nowadays there are so many different types of toys available on the market that it can be difficult to choose one for your child.
However, if there is one that can be considered a classic, it is a marble track.
It's the kind of toy that kids never tire of playing with, no matter how old they are, however for for each age there are other interesting.
In this article I discuss 10 different types marble tracks, in every age category.
A marble track is not only fun for children, but it is also a great toy for developing problem-solving skills.
The best ones are where your kid has to put the pieces together themselves before they can play with them.
The best build options I've seen is with this Ravensburger Gravitrax marble track because it offers a little more than your regular job. It is expandable with several pieces so that you can continue to play, best from 8 years old, but also fun if you help from 6.
It is suitable for older children because of the construction element and the smaller pieces. But I have a lot more on this list of fun marble jobs.
Below are 10 of the best ones worth considering, in different situations, for different needs, and ages:
Best 10 Marble Runs Reviewed
Below we'll cover each of these top picks in more detail:
From 7 years

Best: 8 – 10 years

Until: 11 years
Nice to really go a step deeper into marble runs and physics for children from 7 to 8 years old and very educational in this age category. It makes your child gradually understand scientific concepts and hone problem-solving skills for more complicated and bigger sets.
The play value is also huge. It's easy to use, but complex to execute which makes it fun to figure this out. Real building in open-ended form and the amount of pieces also encourages social interaction.
Super many parts in the starter set and also expandable as far as you want. This also gives it tremendous replayability, even with just the base set. It is versatile and children also combine it with other toys to, for example, make tunnels or let the marbles roll through a town.
Nominated toy of the year, so not only one of the nicest marble runs, but also simply super fun toys.
For children from 4 years old with lots of plastic pieces to combine endlessly. Recommended for children at least 4 years old
This marble track is one of the best in the market for its great features.
Affordability aside, Edushape's Marble Run gives you a lot of value for your money, as it offers countless mounting options.
It is also one of the best construction playsets from 4 years old in our review.
Children and adults alike will have a fantastic time putting pieces together for a simple structure, or a more complex one.
The set contains 85 translucent pieces and 15 glass marbles.
The interlocking pieces include columns, slides, bridges, spinning gears, and bases that fit together easily.
With this set you and your child can enjoy hours of fun and intellectual challenges.
What's nice about it: The pieces are solid and sturdy, and the bases are stable and wide. You can build ramps, towers and other structures you have in mind, up to 2 meters in length.
Since the pieces are translucent, you and your child can watch as the marbles come down to the bottom of your creation.
Fun for the youngest children with a fish theme for a fun moving change from other toys. Recommended for children 2 to 5 years old, according to the manufacturer.
He has been with us for a really long time. From toddler to even 4 years old, but after that it's really not fun anymore.
He did fly across the room a few times and fell from a cupboard, but he is still completely intact. Really decent build quality.
Top Bright markets itself as a company that makes cute and durable toys for children, and the marble track, or actually race track parking garage, is no exception.
This set is made for the little ones who are going to start with a marble track and with its cheerful colors and racing theme you can't miss.
The pieces are multi-colored, so kids, even the younger ones, are sure to have a good time sliding the pieces down the track.
What's nice about it: It is really made for the little ones as an introduction to marble tracks and is very well made and durable due to the wood.
Recommended for children at least 8 years old. Fun way to teach building, physics and plain gravity to kids from 8 years old who find marble tracks fascinating.
This can be a good choice for parents who want to teach their children a bit more the feeling of gravity and how marbles move through the air, because this is a marble track full of tricks in the air!
The Boomtrix is ​​a starter set consisting of marbles, trampolines and round standing rings through which they have to move. A true circus for marbles.
The pieces are easy to assemble and they hold up pretty well too.
Even with smaller pieces, it can still stimulate your child's creativity by allowing her to build impressive structures and make the marbles bounce easily using the correct lean angles.
What's nice about it: The sturdy pieces allow your child to watch in amazement as the marbles take the tracks they built themselves. Once your child has started to appreciate this starter set, you can easily expand the set to increase his creativity.
From 12 years

Best: 15 – 16 years

Until: 16 years
If you want the top of the marble runs for older kids, then the Spacerail is the kit you want to buy. It is recommended for ages 15 and up, but it can be a great building project for the two of you and teaches architectural concepts and gravity for high educational value.
It will take several hours to build it, because you want to make sure that everything fits perfectly to keep the steel balls within the track. This is where the play value comes in. The ease of use is not very high, and this is also what some people complain about. It's just a really hard building project: model building, not toys.
The replayability is somewhat greater than other modeling material because you have a cool marble track at the end. The motor and fast balls also give it a kind of soothing effect and it looks nice in the nursery.
Recommended for children from 3 years old. A great set for smaller children as the risk of choking is minimized.
They are just super big marbles that they use and are suitable from 3 years old.
The SmartMax Mega Ball Run is another great set as it enables creative play and combines basic learning skills with coordination and organizational skills.
That cast in a jacket with large balls and large parts to make it suitable for younger children.
Even children from 3 years old can have hours of fun building different structures.
However, keep in mind that adult supervision is required if your 3-year-old is playing with them, as marbles are still a choking hazard.
It consists of 74 different parts. Unlike other glass marbles sets, SmartMax chose to make the one from plastic as they believe plastic is safer as glass marbles tend to break.
When they break, there is a risk that glass fragments will injure children. Plastic marbles also run slower so kids can track them better.
What's nice about it: The colorful curves, ramps and funnels, plus the marbles, encourage creativity and reasoning. Children can develop their fine motor and problem-solving skills, even at a young age.
Adults can also have some quality and fun time with their kids setting up a thrilling marble roller coaster race, and the system is expandable with multiple SmartMax packages.
Recommended for children from 3 to 12 years old. Magnetic pieces that you can use on the wall and fun assignment cards.
Best for learning and suitable for ages 3 to 12.
This is a set for a marble track that is unique and very different from the previous sets because the pieces are magnetic.
Instead of the usual high-rise buildings, you and your child can create a marble track using the pieces of magnetic foam in various lengths and sizes.
It comes with 14 magnetic track pieces, a target, four marbles and 10 challenging activity cards.
With those activity cards it will be fun to complete different assignments and learn while you build.
The variety of long, short, twisting, straight and curved pieces allows children to create unlimited combinations of designs on magnetic surfaces, such as a refrigerator or whiteboard.
You will be amazed how the kids build the tracks with their critical thinking skills.
They can also use the activity cards included in the pack in case they need inspiration to get the ball rolling.
Also read: the best educational toys for your child
Once the track is built, there will be more fun when the marble is put at the highest point and you and your child watch it roll, fall and accelerate until it lands on the target.
What's nice about it: This is an exceptional set of marble jobs that can stimulate your child's development of fine motor skills, critical thinking and an early understanding and appreciation of physics.
The pieces also have a quality design and materials that will last for years. It also has a transparent track edge so your child can keep the marbles on track.
Recommended for children from 4 to 100 years old
It is recommended for both kids and adults as there are endless possibilities with this set with all the add-ons available for it.
The set includes straight rails, a spiral funnel and a finish.
The pieces have a non-toxic finish and the hardwood blocks, which are very good for their motor development, are color-coded to distinguish the different functions of each.
It can help develop your child's logic and spatial reasoning skills, so toys of this type should definitely be encouraged.
It includes a manual that can be used as a reference, but your child can also build using only his creativity and technical skills.
What's nice about it: The overall design of this toy is inspired by the Da Vinci circles and stimulates the creativity of the users.
It also received the "Spiel Gut" (Good Toy) Award and is an Oppenheim Toy Portfolio Platinum Award Winner.
Recommended for children from 4 to 8 years old. If you like sustainability, a bamboo marble track is better than one made of wood or plastic.
This Bamboo planet offers durability and is a very nice toy from 4 years.
This marble track set offers hours of fun not only for children, but also for the whole family.
It consists of 138 parts that can be used to build mazes of various designs, with the marbles spinning through funnels before falling to the bottom of the structure.
The 138-piece set includes 30 marbles and many tubes and straight and curved bamboo rails that they can roll along.
What's great about it: the good thing about the Bamoo Planet marble track is that the manufacturer ensures that all its toys meet quality control and also meet the highest sustainability standards.
If you still have doubts about a wooden playset and don't like plastic, then this bamboo marble track is an environmentally friendly solution for you.
Suitable for ages 4 and up, this wooden marble track can remain endlessly fun with the many extensions, while this small budget set already has a lot to offer.
A bit on the more expensive side but absolutely the best wooden marble track you can get, also expandable with other parts (including the Race to the Finish).
This marble track set is an improved version of the Hape Quadrilla Race To The Finish as it is also made from natural wood pieces, but includes more as it comes with 176 pieces.
Actually, the Race To The Finish set can be seen as an extension of this basic set, just as there are several extensions available.
That also makes it fun to play endlessly.
While most sets of marble tracks are made of plastic, this one from Hape is made of natural wood, which makes it unique in itself.
While it basically works like other ball tracks, it's great that the wooden pieces have angled holes and channels that the marbles can move through easily.
The set consists of 176 parts of which 84 wooden pieces and 50 marbles for hours of building and discovering.
It also includes a basic builders guide in case your child needs a little help building their initial structure.
Also read: review of the best wooden toys
One thing is for sure: once your child has started, you will be amazed at how he can discover the basics of art, engineering and architecture at the age of 5.
What's great about it: Toys made of wood are safer and more durable, so you can be sure you are getting your money's worth.
Conclusion
There are many great sets of marble tracks you can buy for your child, and even your entire family, to enjoy.
Your choice may depend on the material used and the number of pieces in the set, whether you want an introductory set that consists of 60 pieces or less, or a more advanced set with more than 100 pieces.
No matter what you choose, it will certainly be a fun and educational activity that your child can enjoy with you and other members of the family.
Lees meer: the best electronic toys for your kids