I enjoy writing these articles for my readers, you guys. I don't accept payment for writing reviews, my opinion on products is my own, but if you find my recommendations helpful and you end up buying something through one of the links I may be able to receive a commission on that.
More information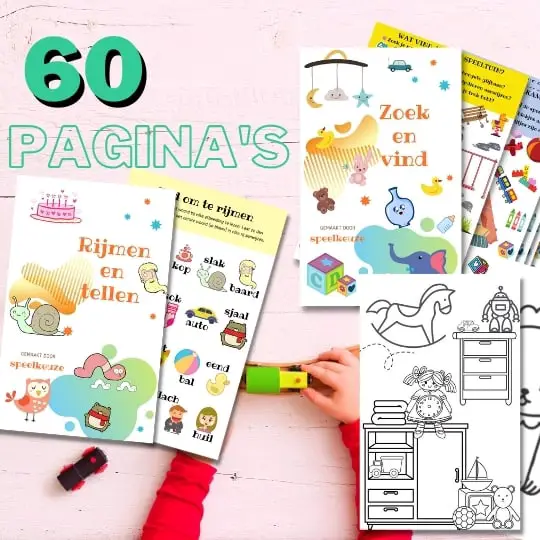 Always something to do for the holidays or rainy day?
Play Choice now has the ultimate activity book collection, with over 60 pages of fun coloring pages and educational puzzles.
Nowadays there are so many different types of toys available on the market that it can be difficult to choose one for your child.
However, if there is one that can be considered a classic, it is a marble track.
It's the kind of toy that kids never tire of playing with, no matter how old they are, however for for each age there are other interesting.
In this article, I'll discuss 10 different types of marble tracks, in each age category.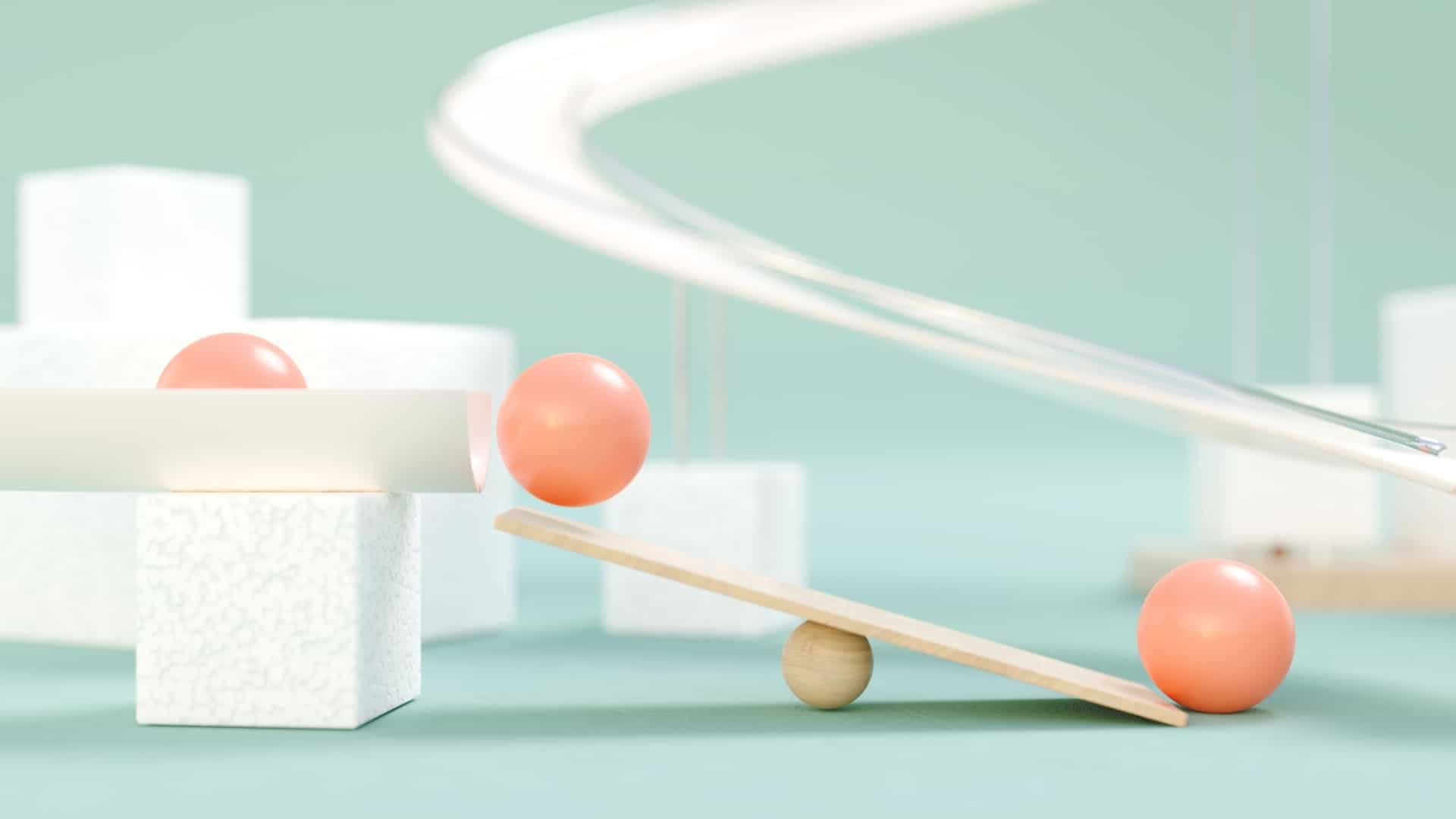 A marble track is not only fun for children, but it is also a great toy for developing problem-solving skills.
The best ones are where your kid has to put the pieces together themselves before they can play with them.
The best build options I've seen is with this Ravensburger Gravitrax marble track because it offers a little more than your regular job. It is expandable with several pieces so that you can continue to play, best from 8 years old, but also fun if you help from 6.
Here is a good video where you can see the usage:
It is suitable for older children because of the construction element and the smaller pieces. But I have a lot more on this list of fun marble jobs.
Below are 10 of the best ones worth considering, in different situations, for different needs, and ages:
Best Marble Runs Reviewed
Below we'll cover each of these top picks in more detail:
Best expandable marble track: Ravensburger Gravitrax
Best expandable marble track: Many parts in the starter set and also expandable as far as you want.
Nice to really go a step deeper in marble tracks and physics for children from 8 years old. Recommended for children at least 8 years old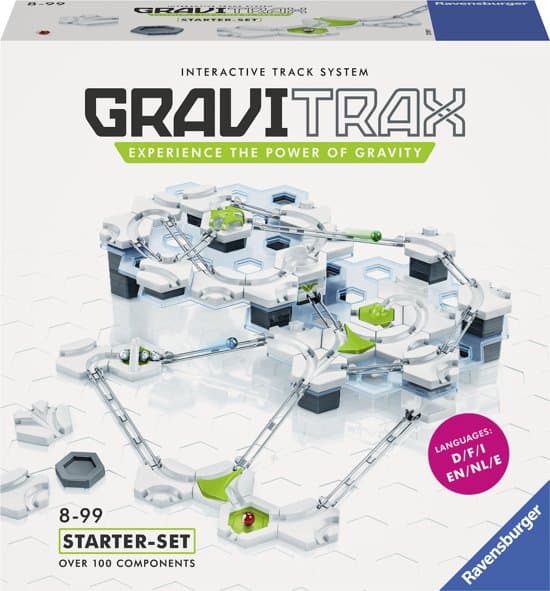 Nominated toy of the year, so not only one of the best marble tracks but also simply super fun toys.
With over 100 parts in the starter set, your child is sure to have an exciting time building simple to complex structures.
It is a perfect set to take marble tracks for your child to the next level, as it allows ease of use even for slightly younger children.
It is quite a bit more complicated to assemble than the Edushape because it has a lot more possibilities, so it might be better to help slightly younger children.
With catapults, loops, merry-go-rounds and sturdy bases, your child will spend hours building the tracks and watching the marbles work their way down.
Also very educational about gravity.
What's nice about it: Even only with the basic set, the Gravitrax still allows your child to discover unlimited possibilities when designing a marble track. Let him use his creativity!
It ensures that your child gradually understands scientific concepts and sharpens his problem-solving skills until he is ready for more complicated and larger sets.
This job can be completely expanded with extra sets and additions so that they can enjoy it even longer.
The Ravensburger Gravitrax basic set and extensions are for sale here
Best plastic marble run: Edushape Marbulous Marble Run
For children from 4 years old with lots of plastic pieces to combine endlessly. Recommended for children at least 4 years old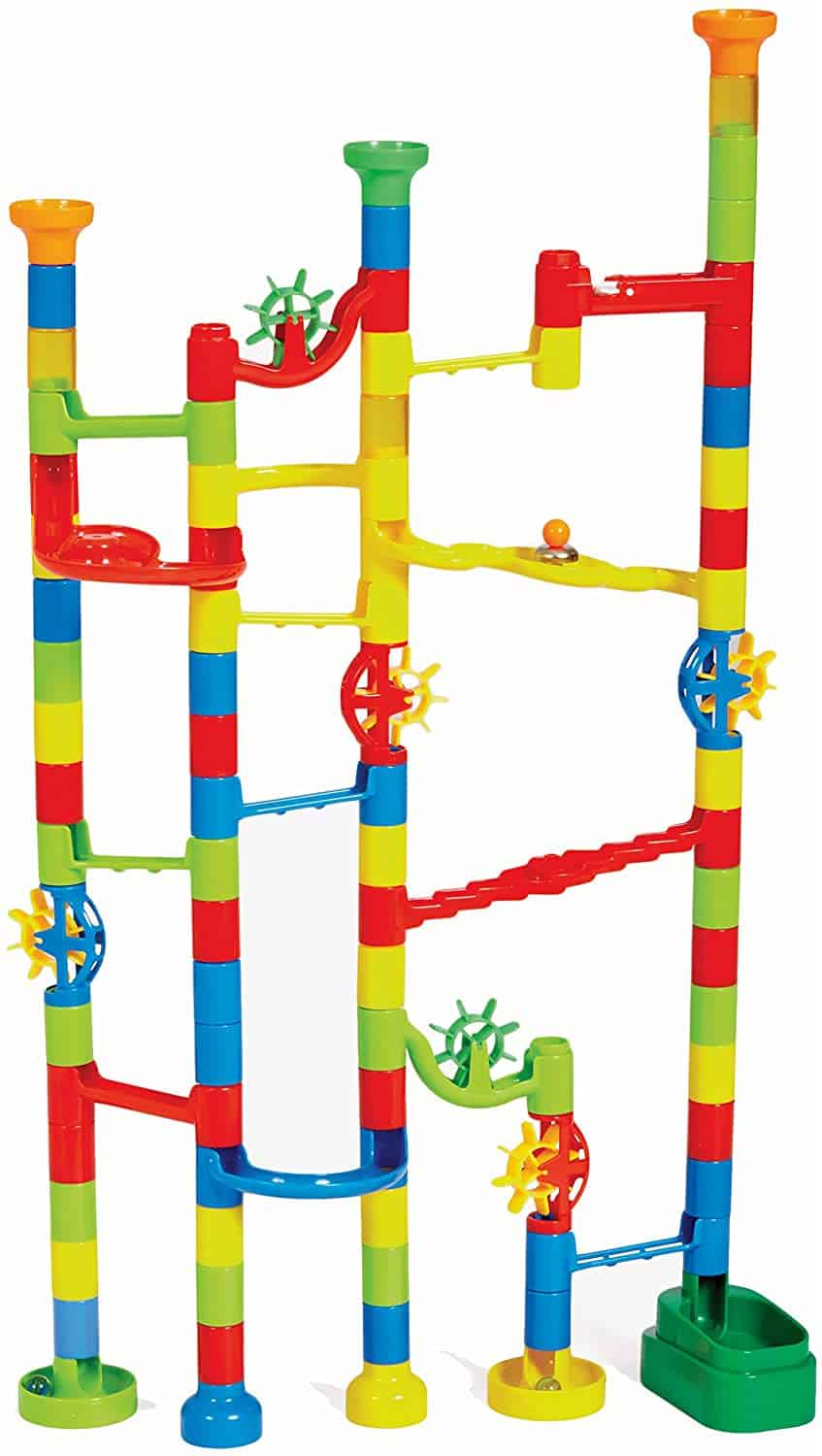 This marble track is one of the best in the market for its great features.
Affordability aside, Edushape's Marble Run gives you a lot of value for your money, as it offers countless mounting options.
It is also one of the best construction playsets from 4 years old in our review.
Children and adults alike will have a fantastic time putting pieces together for a simple structure, or a more complex one.
The set contains 85 translucent pieces and 15 glass marbles.
The interlocking pieces include columns, slides, bridges, spinning gears, and bases that fit together easily.
With this set you and your child can enjoy hours of fun and intellectual challenges.
What's nice about it: The pieces are solid and sturdy, and the bases are stable and wide. You can build ramps, towers and other structures you have in mind, up to 2 meters in length.
Since the pieces are translucent, you and your child can watch as the marbles come down to the bottom of your creation.
Check prices and availability here
Best marble track for toddlers: Top Bright Race Track
Fun for the smallest children with a fish theme. For a fun moving change from other toys. Recommended for children 2 to 5 years old.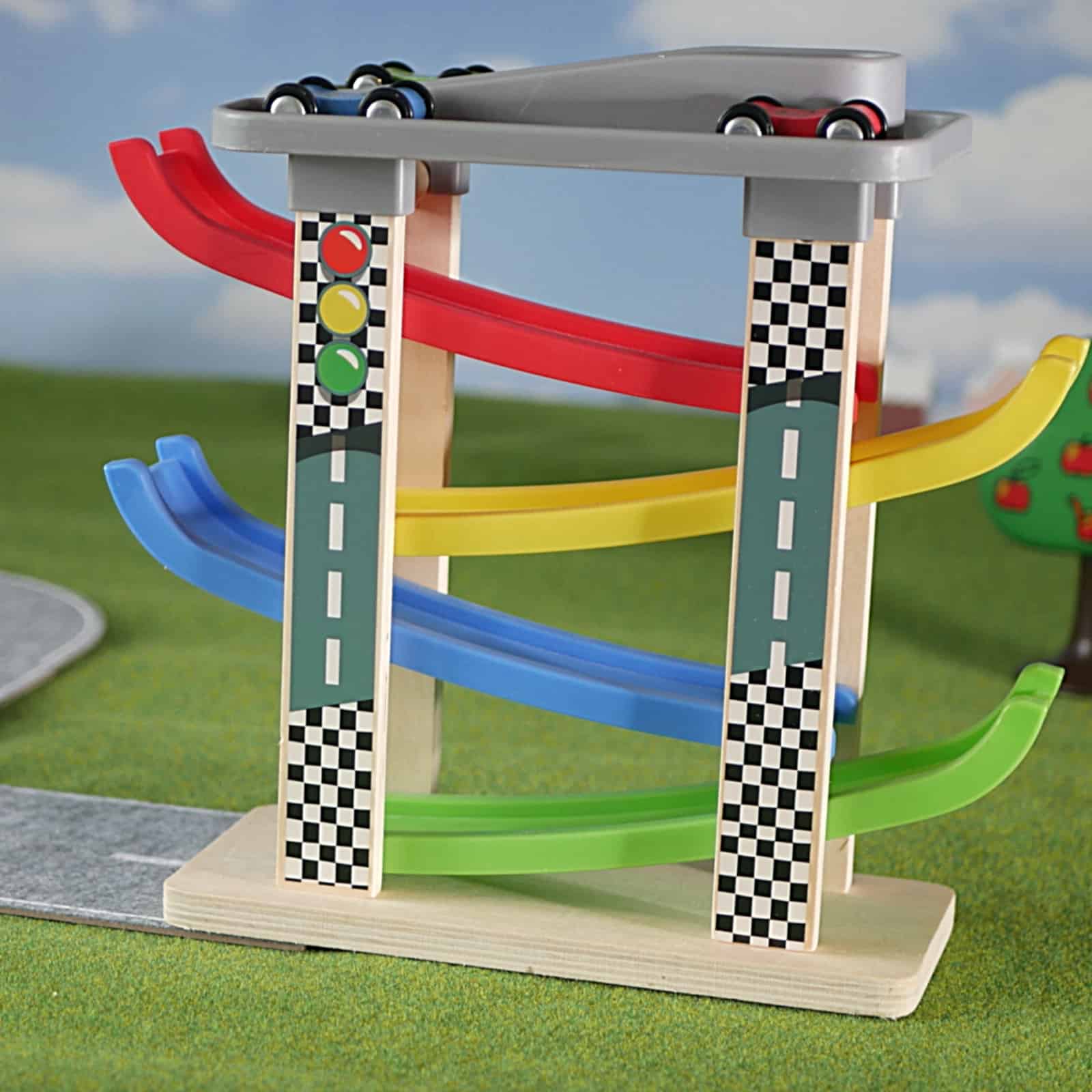 Top Bright markets itself as a company that makes cute and durable toys for children, and the marble track, or actually race track parking garage, is no exception.
This set is made for the little ones who are going to start with a marble track and with its cheerful colors and racing theme you can't miss.
The pieces are multi-colored, so kids, even the younger ones, are sure to have a good time sliding the pieces down the track.
What's nice about it: It is really made for the little ones as an introduction to marble tracks and is very well made and durable due to the wood.
Check prices and availability here
Best marble track with tricks: Boomtrix
Recommended for children at least 8 years old. Fun way to teach building, physics and plain gravity to kids from 8 years old who find marble tracks fascinating.
This can be a good choice for parents who want to teach their children a bit more the feeling of gravity and how marbles move through the air, because this is a marble track full of tricks in the air!
The Boomtrix is ​​a starter set consisting of marbles, trampolines and round standing rings through which they have to move. A true circus for marbles.
The pieces are easy to assemble and they hold up pretty well too.
Even with smaller pieces, it can still stimulate your child's creativity by allowing her to build impressive structures and make the marbles bounce easily using the correct lean angles.
What's nice about it: The sturdy pieces allow your child to watch in amazement as the marbles take the tracks they built themselves. Once your child has started to appreciate this starter set, you can easily expand the set to increase his creativity.
Check the current prices of the starter set and expansions here
Best marble track for older children: Spacerail Level 6
Recommended for children at least 15 years old.
If you want the top of the line marble tracks for older kids, the Spacerail Level 15 is the kit you want to buy.
If you want the top of the line marble tracks for older kids, the Spacerail Level 6 is the kit you want to buy.
It will take a few hours to set up, because you want to make sure that everything fits perfectly to keep the steel balls within the track.
It might also be a good choice for parents as it has tons of pieces, so it's fun to put together for some quality time too.
Most people who assess it also indicate that it is very challenging to build and that it is a hobby project to tackle together.
What's nice about it: if both you and your child like a challenge to build things up, for example even assemble models or want to do this together as a first project, this is a perfect job for you.
In addition, the marbles can continue indefinitely with the supplied lift that works on batteries. You can get a good look at the result of your work, a technical masterpiece.
Check the latest prices here
Best big marbles: SmartMax Mega Ball Run
Recommended for children from 3 years old. A great set for smaller children as the risk of choking is minimized.
They are just super big marbles that they use and are suitable from 3 years old.
The SmartMax Mega Ball Run is another great set as it enables creative play and combines basic learning skills with coordination and organizational skills.
That cast in a jacket with large balls and large parts to make it suitable for younger children.
Even children from 3 years old can have hours of fun building different structures.
However, keep in mind that adult supervision is required if your 3-year-old is playing with them, as marbles are still a choking hazard.
It consists of 74 different parts. Unlike other glass marbles sets, SmartMax chose to make the one from plastic as they believe plastic is safer as glass marbles tend to break.
When they break, there is a risk that glass fragments will injure children. Plastic marbles also run slower so kids can track them better.
What's nice about it: The colorful curves, ramps and funnels, plus the marbles, encourage creativity and reasoning. Children can develop their fine motor and problem-solving skills, even at a young age.
Adults can also have some quality and fun time with their kids setting up a thrilling marble roller coaster race, and the system is expandable with multiple SmartMax packages.
The SmartMax is available here
Most fun educational marble track: Learning Resources Tumble Trax Magnetic marble track
Recommended for children from 3 to 12 years old. Magnetic pieces that you can use on the wall and fun assignment cards.
Best for learning and suitable for ages 3 to 12.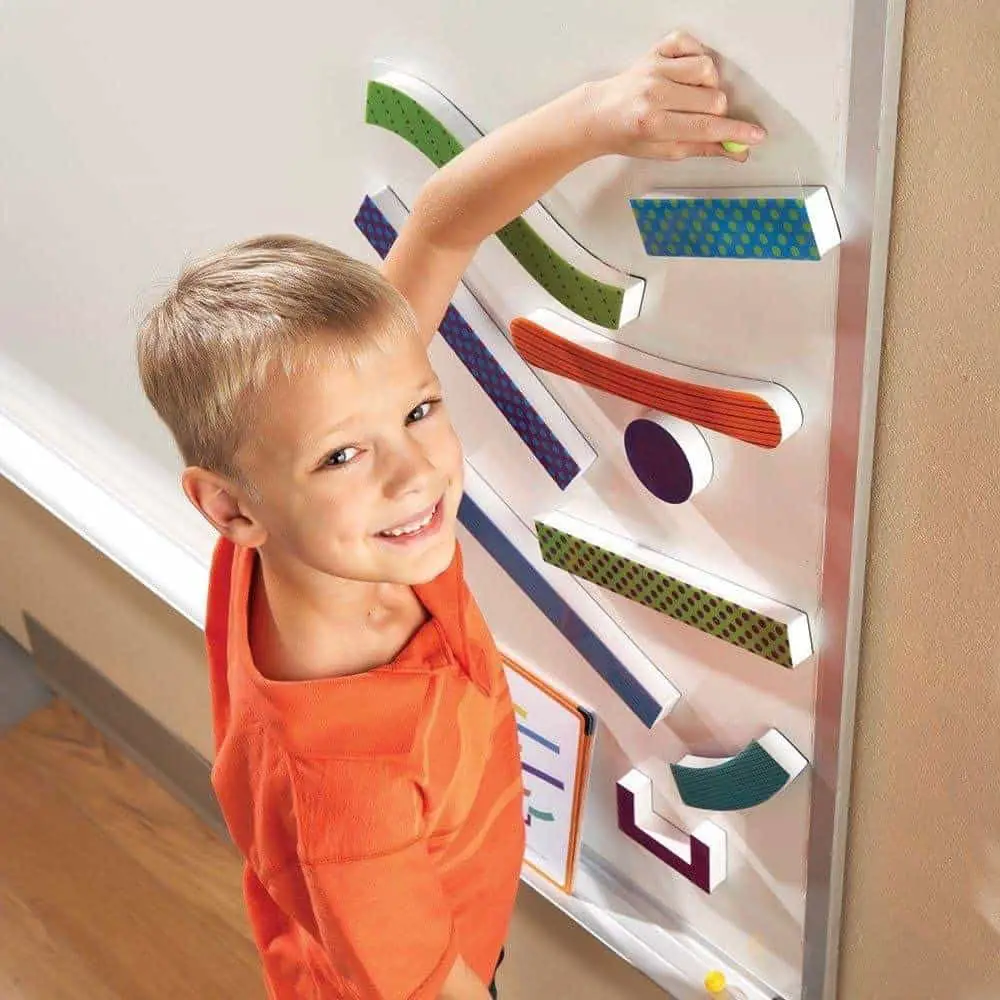 This is a set for a marble track that is unique and very different from the previous sets because the pieces are magnetic.
Instead of the usual high-rise buildings, you and your child can create a marble track using the pieces of magnetic foam in various lengths and sizes.
It comes with 14 magnetic track pieces, a target, four marbles and 10 challenging activity cards.
With those activity cards it will be fun to complete different assignments and learn while you build.
The variety of long, short, twisting, straight and curved pieces allows children to create unlimited combinations of designs on magnetic surfaces, such as a refrigerator or whiteboard.
You will be amazed how the kids build the tracks with their critical thinking skills.
They can also use the activity cards included in the pack in case they need inspiration to get the ball rolling.
Read also: the best educational toys for your child
Once the track is built, there will be more fun when the marble is put at the highest point and you and your child watch it roll, fall and accelerate until it lands on the target.
What's nice about it: This is an exceptional set of marble jobs that can stimulate your child's development of fine motor skills, critical thinking and an early understanding and appreciation of physics.
The pieces also have a quality design and materials that will last for years. It also has a transparent track edge so your child can keep the marbles on track.
Check prices and availability here
Best Budget Wooden Marble Track: Hape Quadrilla Race To The Finish
Recommended for children from 4 to 100 years old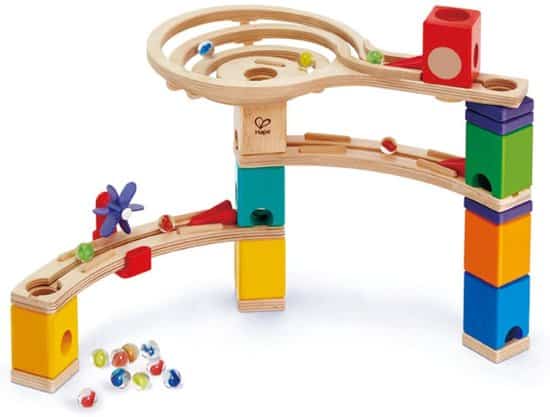 It is recommended for both kids and adults as there are endless possibilities with this set with all the add-ons available for it.
The set includes straight rails, a spiral funnel and a finish.
The pieces have a non-toxic finish and the hardwood blocks, which are very good for their motor development, are color-coded to distinguish the different functions of each.
It can help develop your child's logic and spatial reasoning skills, so toys of this type should definitely be encouraged.
It includes a manual that can be used as a reference, but your child can also build using only his creativity and technical skills.
What's nice about it: The overall design of this toy is inspired by the Da Vinci circles and stimulates the creativity of the users.
It also received the "Spiel Gut" (Good Toy) Award and is an Oppenheim Toy Portfolio Platinum Award Winner.
This Quadrilla Race to the Finish is available here
Most sustainable marble track: Fat Brain Toys Bamboo Planet
Recommended for children from 4 to 8 years old. If you like sustainability, a bamboo marble track is better than one made of wood or plastic.
This Bamboo planet offers durability and is a very nice toy from 4 years.
This marble track set offers hours of fun not only for children, but also for the whole family.
It consists of 138 parts that can be used to build mazes of various designs, with the marbles spinning through funnels before falling to the bottom of the structure.
The 138-piece set includes 30 marbles and many tubes and straight and curved bamboo rails that they can roll along.
What's great about it: the good thing about the Bamoo Planet marble track is that the manufacturer ensures that all its toys meet quality control and also meet the highest sustainability standards.
If you still have doubts about a wooden playset and don't like plastic, then this bamboo marble track is an environmentally friendly solution for you.
Check the latest prices here
Best Wooden Marble Track: Hape The Cyclone
Suitable for ages 4 and up, this wooden marble track can remain endlessly fun with the many extensions, while this small budget set already has a lot to offer.
A bit on the more expensive side but absolutely the best wooden marble track you can get, also expandable with other parts (including the Race to the Finish).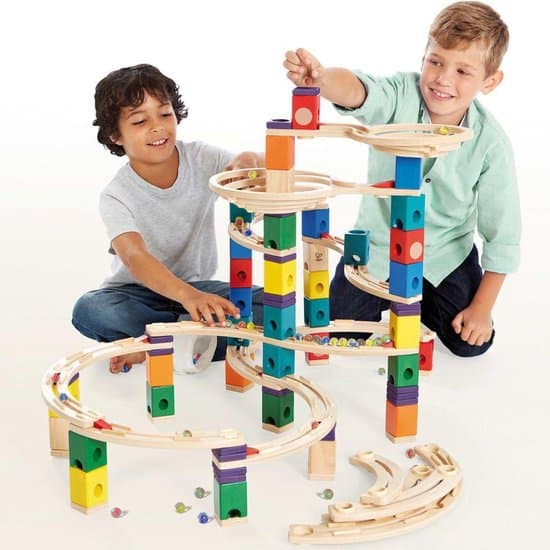 This marble track set is an improved version of the Hape Quadrilla Race To The Finish as it is also made from natural wood pieces, but includes more as it comes with 176 pieces.
Actually, the Race To The Finish set can be seen as an extension of this basic set, just as there are several extensions available.
That also makes it fun to play endlessly.
While most sets of marble tracks are made of plastic, this one from Hape is made of natural wood, which makes it unique in itself.
While it basically works like other ball tracks, it's great that the wooden pieces have angled holes and channels that the marbles can move through easily.
The set consists of 176 parts of which 84 wooden pieces and 50 marbles for hours of building and discovering.
It also includes a basic builders guide in case your child needs a little help building their initial structure.
Read also: review of the best wooden toys
One thing is for sure: once your child has started, you will be amazed at how he can discover the basics of art, engineering and architecture at the age of 5.
What's great about it: Toys made of wood are safer and more durable, so you can be sure you are getting your money's worth.
Check the most current prices of this set here
Best wooden marble tracks: Hape
Age: 6 +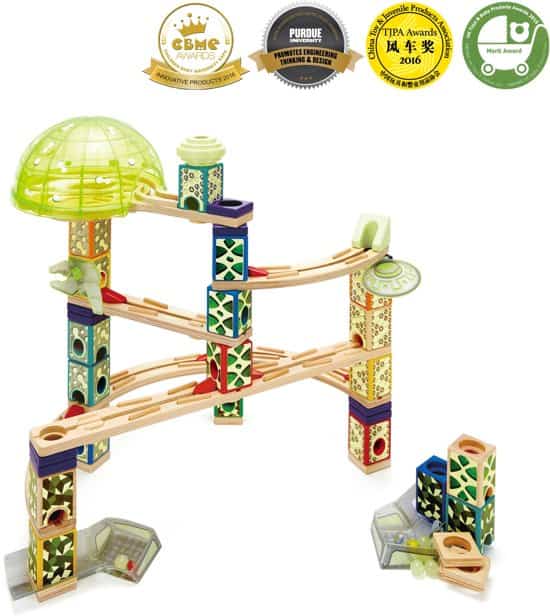 What it is: A 176-piece wooden marble track, which comes with glow-in-the-dark stickers and both regular and glow-in-the-dark marbles.
Pieces include a cosmic dome, glowing loops, curved rails, bases, and a marble pool.
Can be built in in different runs, using the color coded blocks. Comes with an instruction booklet.
Why we like it: This marble run is both beautiful and cool to build, and you can connect them together using the ideas in the booklet or building for free with your imagination.
It was a huge hit with all of our kids testers who found the set exciting to build, and 'great' when played in the dark!
View the Hape marble tracks here
More about Hape
Hape is the world's largest producer of wooden toys and uses only natural materials.
A sporty appearance, beautifully finished and a streamlined design; these are the characteristics of Hape's vehicles.
The brand even has a complete line of bamboo toys. Bamboo is the fastest growing woody plant. The bamboo that Hape uses comes from sustainably managed plantations.
Did you know that a sustainably managed bamboo plantation provides about 2 to 5 times as many cubic meters of dry material per year compared to plantations where types of wood such as teak or oak are grown?
By making strategic choices, including in energy use and packaging materials, Hape is able to minimize the impact on the environment and optimize efficiency.
They also ensure that the by-products produced always have as little impact as possible on the environment.
They use a water purification system that uses limited to no chemicals to return the purified water to circulation.
Because the Hape factory is only 3 km from one of the largest ports in the world, the Ningbo-Zhoushan port, there are also advantages in terms of transport and environmental friendliness.
All toy products meet or even exceed the safety and quality standards EN71 (European toy standard) and ASTM (American Society of Testing Materials).
The chemical materials that come in are immediately checked and tested by a certified external lab. In addition, product test reports are updated every year by an external certified lab.
FSC is an independent non-profit organization developed to promote responsible management of global forests. Hape supports this organization by offering FSC products.
The paint is also water-based and non-toxic, and an environmentally friendly eco adhesive is used for the glued parts, which contains no formaldehyde.
The packaging is printed with soy or water based inks.
What are the educational benefits of a marble track?
Playing with a set of marbles and a track they can build can have many educational benefits for children.
For younger children, this toy can learn colors and shape recognition, while also discovering three-dimensional designs.
The also helps kids improve their hand-eye coordination and fine motor skills.
At a very young age, your child can show interest in science toys and technology, as well as in engineering.
Your child can also gain a better understanding of physics, gravity and cause and effect.
When it comes to troubleshooting, your child will be educated early as he needs to line up the pieces correctly for the track to work and the marbles to get all the way to the bottom of the structure.
How does a marble track work?
Everyone loves them, and we've reviewed a whole bunch of marble tracks for you here. But how does a marble track actually work?
What happens at a marble track?
You explore physics! Gravity pulls the marbles off the first hill.
At the top of the hill, the marble has potential energy (energy stored and ready to be released).
As the marble rolls down the hills, the potential energy changes into kinetic energy (kinetic energy).
Tips for making a marble track
For the marble track to work, the first hill must be the highest hill.
This science exploration is fun for different ages. Even my 2 year old was completely in love with the marble track we created. He played with it for days! (Of course, if your child is under 3 years old, remember that marbles have dangers, always be alert and never leave your child unattended.)
We have now bought a nice one, but when we started our marble track was one consisting of a flexible, plastic track made up of two parallel rails, just like a railway.
These can be easily put together and with a wide variety of supports on the ground, structures that resemble roller coasters can be built.
The 'cars' are marbles, made of steel or plastic, which are useful because they have different masses.
How does physics work on a marble track?
Then, for the enthusiasts, some more technical background on what exactly happens to the marbles in a marble track.
Acceleration under gravity
This can be demonstrated using a constant angle slope and the release of marbles from different heights.
It becomes clear that marbles released from a greater height reach a higher speed at the bottom of the slope, but that the speed at the bottom is not linearly related to the height of the release.
Using light ports at the bottom of the run it is possible to measure the speed and relate it to the height of the release.
This also provides an opportunity to examine and test the effects of friction.
Potential and kinetic energy
A marble track (straight line without vertical bends) is a good way to demonstrate the conversion between potential and kinetic energy.
Children will quickly understand that the marbles go faster when they fall from the release point and they lose momentum when they climb back.
This can lead to discussions about the design of the track, so that a marble will always reach the end.
This provides another opportunity to discuss loss mechanisms.
This can also be demonstrated by using a U-shaped trajectory and observing a marble dissipating its energy as it oscillates back and forth.
Projectiles
The marble track can also be used as a launch for projectiles.
By building a ramp with a horizontal section at the bottom and a sandbox to safely catch the marble, the range of the marble can be related to the launch height.
By positioning the track so that the marble is launched at a slight upward angle to the ground, the subsequent increase in range can be demonstrated.
Later mechanics classes for older children can demonstrate the relationship between range and launch angle, but the principles can be explained to younger children.
Movement in a circle
Movement in a horizontal circle can be explored by building a circular section of the track.
This demonstrates Newton's first law, but also introduces the idea of ​​centripetal force, since as the speed of a marble increases, it will leave the orbit at the point where the centripetal force provided by the orbit becomes insufficient for the chosen speed and Ray.
Thus, the effects of speed and bend radius can be explored and the use of a salvaged track to allow higher speeds can also be shown.
The principles of movement in a vertical circle can be demonstrated using a ramp that is entered in a loop.
After discussing kinetic and potential energy and speed, children can infer the variables that determine whether the marble will complete a full circle.
A fun lesson to build and perform with your kids!
How the marble was invented 2500 BC
Marbles are very old. During the excavation at Mohenjo-daro, small stone spheres, identified by archaeologists as marbles, were found.
That's an excavation of a settlement built in 2500 BC!
Marbles are also often mentioned in Roman literature, such as in Ovid's poem Nux (which talks about playing the game with walnuts), and there are many examples of marbles from excavations of places related to Chaldeans of Mesopotamia and the old Egypt.
They were usually made of clay, stone or glass. Marbles arrived in Britain, imported from our area here, during the medieval era.
Marbles in the 19th century
It is unknown where marbles were first manufactured, but the "original" marbles were called "made in Germany".
The Ceramic Marbles entered low-cost mass production in the 1870s.
A German glassblower invented marble scissors in 1846, a device for making glass marbles, and from then on glass marbles could be frequently made.
Watch here how marbles are made (nice Willem Wever episode from the past):
Some of the first glass marbles produced in the US were also made in Akron, by James Harvey Leighton.
In 1903, Martin Frederick Christensen - also of Akron, Ohio - made the first machine-made glass marbles on his patented machine.
His company, the MF Christensen & Son Co., produced millions of toy and industrial glass marbles until they closed in 1917.
The next American company to enter the marbles market was Akro Agate.
This company was founded by Akronites in 1911, but is based in Clarksburg, West Virginia.
Who exactly made the first marble run is unfortunately unknown, but it is said that this also originated in Germany for the first time.
Different marble games of the world
In addition to the marble track, many different types of marble games are played all over the world.
I remember that we used to have two variations on the schoolyard:
push another one away with a marble, ending closest to it (kind of jeux de boule)
try to land in a hole in the tiles with a marble (with or without playing through the wall)
Here are some marble games from different countries:
Australië
In Australia, games were played with marbles of various sizes.
The smallest and most common was about 15mm in diameter
The two larger, more valuable sizes were called semi bowlers and tom bowlers, about 20mm and 25mm respectively
They were used in much the same way as regular marbles, although they were sometimes prohibited due to the advantage of their greater mass.
Owners of large marbles were also afraid to use them, otherwise they might lose them to another player in a lost game.
They were usually of the clear "cat's eye" or milk glass type, and of course just bigger.
"Firing" a marble meant that a player had to sweep his or her marble from a stationary position of his hand.
With that hand he would sweep or shoot the marble from his or her hand, usually with the knuckle on the back of the hand on the floor, and usually with the thumb of that hand against the marble.
Once a player managed to land the marble in the hole, he would immediately shoot his own marble at his opponent's marbles.
However, if one player hit another player's marble, the act would be referred to as 'a kiss'.
The game was then over and all or both players (in the case of only two players) would have to retreat to the starting line to restart the game, to no avail.
Of course, this can be quite annoying or frustrating if one player has already built up quite a few hits on another player's marbles.
So the most skilled players did not resort to these kinds of tactics.
The overall goal was to hit a certain marble 3 times after hitting the hole, which was called "the murder".
Once a player killed another marble, if the game was 'for keeps', he was allowed to keep the opponent's marble.
India
In India there are many games with marbles.
A simple game of marbles is called "Cara," where each player places one or more marbles in a long line of marbles, each one an inch or more apart.
After this, each player throws another marble as far from the line as possible. In this game, the player whose marble is farthest from the marbles gets the first chance to hit the marble line and subsequent players are allowed to descend according to their distance from the line.
Any player who touches and moves a marble in the row of marbles may take it and any marbles to the right of it.
Usually marbles in the line are smaller marbles and the players themselves have slightly larger marbles to aim at the line of smaller marbles.
This game needs a playground with flat and hard surface for running the game. The number of players can be anywhere from 2 to 30.
The distances of the marbles thrown determine the order of players to hit the line, are anywhere from 10 to 30 meters and may depend on the player's desire to try first, at the risk of being too far and miss the line.
Players have to roll their marbles from a distance to hit the marbles in line.
Each player may only touch the line of marbles once, assuming there are still marbles in the row and each player gets a turn.
In a row of twenty marbles, it is reasonable to get at least 5 to 20 marbles, depending on how well someone hits the marbles.
When all the marbles have been picked up by the players, the game will restart with players lining up their marbles and trying to win as many marbles as possible.
If a few marbles remain in line after each player has taken a chance, the players again throw their marbles perpendicular to this line and start marbles again to hit the line according to the above rules.
This process is repeated until all marbles in play have been picked up.
Uganda
In Uganda, a popular game of marbles is called maze. It requires a small pit dug into the ground for two or more players, each with its own marble.
To start a game, a throwline is drawn on the ground with chalk or a stick about three feet from the pit.
Then the players roll their marbles close to the pit.
The person whose marble falls in it gets points equal to one game.
If a second marble falls in and hits the first, that player gets more points than the previous player, but they must all return to the throwline.
If no marble goes in, the player whose marble is closest to the hole starts a "fire session". When he misses, the next opponent fires.
You can only shoot 24 consecutive times per turn and earn one point for each shot.
But all the while, a player must make sure that the gap between the marbles is larger than two palms.
If an opponent realizes that this is not the case, then he can pick up his marble and place it anywhere.
When a player aims at a marble placed near the hole, he must avoid throwing it into the hole, as this is how he gives away points to the opponent.
There are different rules of play but the player with the most points wins.
Beneficial fingers include the middle finger for the marble power and the little finger for a precise long range target.
Conclusion
There are many great sets of marble tracks you can buy for your child, and even your entire family, to enjoy.
Your choice may depend on the material used and the number of pieces in the set, whether you want an introductory set that consists of 60 pieces or less, or a more advanced set with more than 100 pieces.
No matter what you choose, it will certainly be a fun and educational activity that your child can enjoy with you and other members of the family.
Lees meer: the best electronic toys for your kids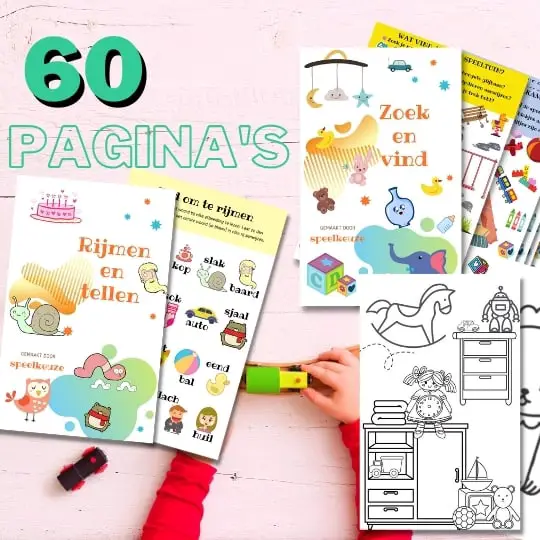 Always something to do for the holidays or rainy day?
Play Choice now has the ultimate activity book collection, with over 60 pages of fun coloring pages and educational puzzles.
Joost Nusselder, the founder of Speelkeuze.nl is a content marketer, father and loves trying out new toys. As a child he came into contact with everything related to games when his mother started the Tinnen Soldaat in Ede. Now he and his team create helpful blog articles to help loyal readers with fun play ideas.