6 Best Mix and Match Magnetic Toys Reviewed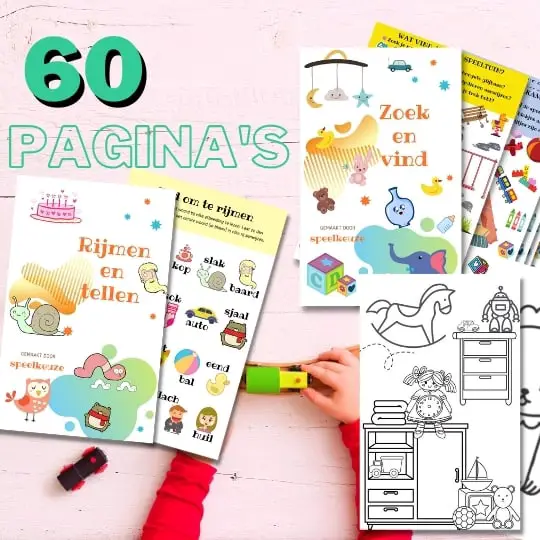 Always something to do for the holidays or rainy day?
Play Choice now has the ultimate activity book collection, with over 60 pages of fun coloring pages and educational puzzles.
What's so nice about it magnetic toys? That you can easily click, mix and match it of course!
The best we've found is this Magnetibook from Janod. A case with a magnetic board on which you can combine all kinds of figures. Easy to store and very easy to carry.
In this guide I don't want to talk about magnetic tiles (reviewed here), but about all the toys that are made to mix and match. Let's see the 6 best sets!
Here are the best sets in a quick overview. Then I'll dive deeper into each of these choices.
Magnetic mix and match toy buying guide
What do you pay attention to when buying magnetic mix and match toys? Let's take a closer look at that.
Age
With every magnetic toy you have to look carefully at the age. The box states from which age the toy is suitable. By this they mean safe.
In any case, you do not want your child to swallow a magnet, so it should not contain small pieces in any case. You also want to see that the magnets could not come loose somewhere.
If there are too small pieces that you could swallow, the toy is usually labeled as safe for 4+.
All sets that I have reviewed here are obviously safe for your child.
In addition, you have to look at age to see whether it is actually fun and fits the development level of your child. I have also mentioned this in the reviews.
Magnet
The magnet should be strong enough to hold all the pieces together. There is nothing more frustrating for a child than a toy that doesn't work properly.
We also assessed the quality of the magnet to do what it should do on a score of 1 to 5.
Replayability
You don't want them to be bored with the new toys after 5 minutes. That's why we also rated replayability on a 5-point scale.
Is it still fun to play with after a few sessions, or have you seen it again after a while? Usually it comes down to whether you can keep making endless creations.
What also plays a role is whether you can easily use it together with other toys. For example, you can combine the Smartmax animals for a long time in fantasy play. Djeco's puzzle pieces are not.
Sustainability
Finally, I looked at how long the toys last after heavy use. After all, you don't want the toys to break quickly, just when you've found their favorite toy :)
Top 6 mix and match magnetic toys reviewed
I love the idea of ​​magnetic scenes to act out and came across the French brand Janod and their Magnetibooks.
Great game, especially as it teaches young children about matching and developing creativity and imagination.
The game comes in a quality hinged chest, made to look like a book.
Each book contains:
- Cards and magnets (Vehicles Magnetibook has 18 cards and 50 magnets, Crazy face Magnetibook has 12 cards and 67 magnets)
- Magnetic scene / background in the lid of the box
- Box itself has a magnetic closure to keep it closed
The MagnetiBooks are for kids between the ages of 3 and 8, but I say some of them are easy fun from age 2.
There are many different MagnetiBooks to choose from.
You can copy the pictures on the cards with the magnets or you can get creative and make the craziest things yourself.
This is a set with 12 animal bodies (each animal consists of 2 body parts) and 6 rods. You can place the magnetic rods between the animal bodies to make the animal.
The bodies click into place with the magnet and are quite sturdy, but can also be easily detached, even by a toddler.
You can create six different Safari animals (more safari toys here) with the set of 18 parts.
Or come up with your own animal by combining parts of different animals for crazy combinations!
At a slightly later age, the animals are probably also allowed to participate in fantasy games so that they are still useful and they do not grow out of it too quickly.
They are made of a kind of rubber-like plastic that feels very pleasant to the touch. It is material that you see in many baby toys.
It is therefore also fine for your baby to put them in their mouth. That has happened to us regularly. They keep their shape well, can get wet (drool) and don't even have a scratch on them.
Sometimes you come across toys that immediately put a smile on your face. Then I think: How did they come up with this again?!?
But in addition to being very cute, it is also fun.
They are soft plush construction pieces with happy faces that you can match in any shape. The individual pieces are held together with internal magnets.
It's only 9 pieces so that's not that much. It is especially fun to build something funny and put it in the nursery.
They were also used a lot with us to have some nice decoration for other fantasy games, such as with the Playmobil farm. The story immediately takes place in the desert!
Ultimately, as a mix and match toy, there is not much to do with it, but a nice addition to the toy collection.
Petit Collage has developed a cute dress up game with fashionable clothing options. There are different sets available, but I think I like the fox and bear set the best.
Includes 2 magnetic dress-up dolls with 2 wooden stands and 35 magnetic garments and accessories. It may not sound like much, but that's over 200 different outfits to mix and match.
It is fun from children from 3 years old to about 6 years old.
The dolls are not very sturdy, so I think 3 years is still quite young. In frustration, they will probably break at some point.
Children aged 4 seem to like this set best. I would recommend that younger children only play lying down and not use the stand so there is less chance of tearing the dolls.
Like Janod's Magnetibook, it comes in a travel case with a magnetic closure for easy portability.
This might be your child's first mix and match puzzle experience because it is suitable from 2 years old.
I always teach my son to put the right shapes together by looking at the pictures, but with this puzzle you can mix everything together.
A lovely wooden magnet animal puzzle for the enterprising toddler. With 24 magnetic pieces you can make 6 "real" animals, but also mix and match a lot.
Each puzzle piece has special notches to facilitate assembly, each animal has a unique color to facilitate identification.
There are a lot of parts to combine so that makes it a lot of fun. This way you can sort by color, or make a nice and crazy combination.
This is the kind of toy that children like to play with, but I, as a parent, find less so.
It feels a bit cheap and it's really just cars.
Although they have stated on the website that it is educational and encourages fine motor skills and thinking, that is not really what is happening with the toy.
At least, every toy is essentially good for fine motor skills.
There are indeed 21 parts, but the combinations are somewhat limited. Many parts are a front or back and only a few center pieces.
It is a set where they have a lot of fun playing and the cars also drive quite well.
Conclusion
There are a lot of sets to mix and match. I hope your child will have fun with one of these toy sets for a long time to come.
Lees meer: rated the best magnetic toys, 12 sets that are popular now