Best outdoor toy cars that can withstand grass and sand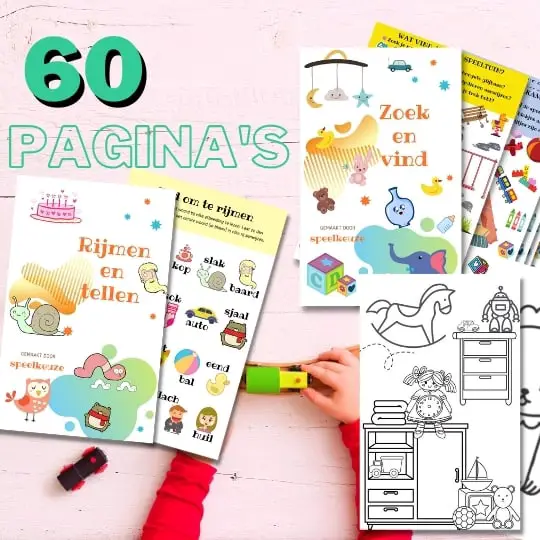 Always something to do for the holidays or rainy day?
Play Choice now has the ultimate activity book collection, with over 60 pages of fun coloring pages and educational puzzles.
Toys cars are great fun to play with, but when the weather gets nice and warm outside and you want to play outside, there are few that are really well suited.
Have you ever gotten all that sand between those little wheels? Impossible to get out again! Therefore, for example this Hot Wheels Monster Truck so nice for outside too. Raised wheels and a completely closed chassis.
In this guide I look at the 7 best outdoor toy cars and what you should pay attention to when purchasing.
Let's take a quick look at the top options. Then I'll go into more detail about each of these choices.
Toy cars for outdoors buying guide
What should you pay attention to when buying toy cars for outside?
Sustainability
There are quite a few differences in quality between toy car brands. Just look at the difference between Bruder and Hot Wheels, you can clearly feel the quality.
But for the price, Hot Wheels is still very good.
With a complete diecast auto in any case, almost nothing can go wrong. That is what I paid extra attention to when assessing the durability of the cars.
Quality of driving
With toy cars you want them to be able to drive well. Also outside on grass and in the sand.
A few things to watch out for are:
the distance from the wheels to the chassis: some toy cars run into problems so they don't drive very well
the rigidity of the shaft: some toy cars are very wobbly so the wheels can move far in and out, and still rub
the quality of the wheels: is it plastic or are there really rubber wheels on the tires? Rubber rolls a lot better
the weight of the car: you may not realize this right away, but the weight of the car plays a very large role in how well it rolls. A heavier car made of diecast or wood rolls a lot better and further than a plastic car
You also want them to be able to withstand sand, so that nothing gets in between.
Replayability
Much of the car's replayability is in how well it drives, but there are other factors that determine how often they return to it.
Age also plays a part. Is it a car that stays on the left after toddlerhood or can it last longer because it is also suitable for older children?
The number of extra functions also play a role, such as shooting water at the Bruder fire truck or the RC and drifting Wonky Cars.
I rated each of the cars on this list on these parts on a 5-point scale.
Best outdoor toy cars reviewed
There are a lot of Monster Trucks to choose from in the Hot Wheels selection. The 1:24 scale with durable die-cast metal bodies are great for taking outside.
Nothing beats a good one Monster Truck when it's on playing outside arrives.
The chassis is completely closed because the suspension and wheels are completely on the outside. This makes it perfect for driving over grass and also sand.
Hot Wheels may not be the most detailed toy cars, but they are very sturdy so they will last a long time.
This electric children's car is a super cool version with all kinds of technical gadgets.
It features a powerful 12-volt battery, not as powerful as some on our list, but still packs a punch.
So never let your toddlers or preschoolers play on it alone and make sure you always keep an eye on them when they are on the car.
A 12V7A is connected to both wheel axles for the wheel drive.
A remote control is included. You can take over the steering yourself at all times when your child is riding the car and the car has 2 driving speeds.
There is a slow start so that your child does not immediately fall off as soon as they accelerate. There is also a handle on the back so that you can easily move the quad.
Most people are happy with the battery life.
What age are these toys recommended for?
Toddlers from 3 years old and toddlers up to 7 years old
What makes these toys stand out?
The ease of use, strength and safety ensure that children have a lot of fun.
Parents are also happy because you can be in control if you wish, depending on the driving skills of their child.
Type: Hobby Grade
While Traxxas seems to dominate the RC market, I wouldn't forget the Arrma RC cars - they are top quality.
While I am deeply saddened by the discontinuation of the Nero 6S, their Granite is a great replacement that is a ton of fun.
This little car can go fast!
It can go up to 95+ mph straight out of the box, and with tweaks, we have no doubt you could get it even higher.
It has a low and slim body that reduces drag and allows you to hit top speed, with tires built to grip the pavement.
In addition, it works very well on dirt and snow.
It's one of the coolest little RC cars on sale right now.
It's waterproof and it comes from RTR. It also has a great 2 year limited warranty.
Type: Toy Grade
You can get this Wonky Cars Drift for less than 50 euros.
It's nice because the housings are interchangeable with a huge selection of available versions.
They are made from a flexible, durable plastic PVC that can withstand impact and accidents and are easy to replace even if damaged.
The tires are made of rubber and can be replaced with another kind.
1/10 scale… it's really big!
For a cheap car it has very realistic sounds. It is a 10-inch (25 cm) Cat Dump Truck made of very sturdy plastic.
The engine rumbles when you start the car. It also has flashing lights, engine revs, reversing and hydraulic sounds.
It takes 2 AA batteries and it lasts quite a long time. The car is also super sturdy, but there is one weak spot at the connection of the box. There he could break over time.
But with us he lasted a very long time with intense play, so definitely one for wild children.
Come to the rescue with this Bruder Fire Truck! With the fire brigade you can save people! Turn on the siren (which makes a real sound) and let everyone know that the heroes are on their way!
Of course it has a high crane so that is great fun and you can do up and down then and it can also stretch very far with the tray that can tilt.
Furthermore, the front can be detached and then you can actually see what is in it under the hood in such a car.
The car is also quite big. Very big actually. That's very cool of course, but it makes it difficult to combine with other toys.
Fortunately, we have quite a few other Bruder toys that fit it exactly, but many other toys are in 1:24 scale or smaller.
Still, he's a lot of fun to play with.
The excavator arm is controlled with 2 handles on either side to move the valve up and down and the excavator arm itself can also move up and down.
This way you can pick up objects or dig in sand.
We've used it for over 2 years now and it's still going strong, even after playing outside in the sand.
No visible cracks or other cracks. Really solid build quality, but this will probably be the last season he will use it.
Because of the quality, we can then pass it on to friends with a younger child, or you can possibly buy it for quite a few brothers and sisters.
Conclusion
All toy cars can go outside, but to be able to play with them without breaking them, the ones on this list are the best choice!