Best gaming tables rated: 16 recommendations for every child!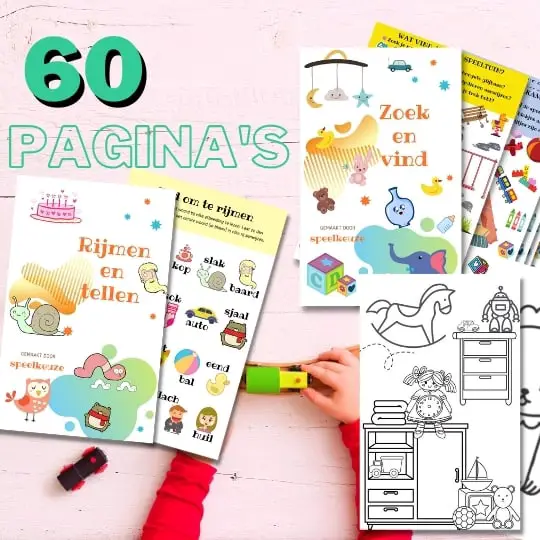 Always something to do for the holidays or rainy day?
Play Choice now has the ultimate activity book collection, with over 60 pages of fun coloring pages and educational puzzles.
Having an gaming table is an ideal toy to have at home. Children will be entertained for hours with a play table!
Not only does a play table offer many play options, but it is useful as your own play area, and the right table can also be a storage space.
Let your kids explore the play table with their friends after school, they won't get enough of it.
Are you curious by now which gaming table is my ultimate favorite?
Come on, I'll tell you right away:
My favorite gaming table is this Mega Bloks Build and Learn table with an attractive price tag and a lot of extra, and who doesn't like building? That is why it has also received a lot of positive reviews from satisfied customers, enthusiastic about their childrens fun.
More details about this play table can be found in the information below the table.
We have divided our favorite play tables into various categories, which you can find in the table below.
From play tables for babies and toddlers to play tables made of scaffolding wood, with sand, water and so on.
Let's run through them quickly, then I'll go over them in detail:
What do you pay attention to when buying a play table for your child?
When choosing beautiful children's play tables, I take into account various aspects, such as play options, safety, sturdiness, colorfulness and the type of material.
There are many different options when it comes to play tables for a child!
You also want to make a few considerations before purchasing the best play table.
Ask yourself the following questions:
For what age are you looking for a play table?
How tall are your kids?
Do you want seats at the children's play table?
How much space can the play table occupy?
How many children will play with the play table at the same time?
Do you have a preference for a particular material?
Are you looking for something specific, such as a play table with water, with a chalkboard, or a construction set game table?
Do you have a specific budget in mind?
By keeping an eye on these aspects, you will soon be able to make the right choice.
Best gaming tables rated
Now that we know what to look for when buying a gaming table, let's go over my favorites in depth.
We start with our absolute number 1!
What a wonderful play table from Mega Bloks!
With this play table, a world opens up for your child. Bring your adventures to life and build the best constructions.
Stack the cubes, build a house and a cute bakery. Put the minifigures in their cars and take a pleasant ride through the city.
With this portable play table your child learns everything about colors and numbers by matching the colored blocks. Your child can even count the number of treats in the bakery.
Because it is a collapsible table, it is very convenient to take with you. You store the blocks in the table.
The play table is designed for children between 1 and 5 years old and with the play table you get thirty nice building blocks as a gift to play with.
Mega Blocks play table vs LEGO
One of the most iconic toys in history, Lego bricks are an easy and fun way to keep kids entertained for hours! However, they are not cheap; a pack costs about 10-50, depending on which set you buy.
Fortunately, there is more than one option when it comes to good building blocks that children can enjoy just as much - Megabloks are a bit larger and therefore also suitable for younger children, and a lot cheaper than their Scandinavian counterparts.
A super interesting, colorful play table especially for the little ones among us.
The table offers stimulating puzzles and other cute toys to keep your little one entertained for hours. Your baby will be introduced to a lot of new stimuli.
Helping discover the various activities the eye-hand coordination and improve self-discovery.
The table is made of sturdy plastic and has just the right height for children to play while sitting comfortably.
The table is suitable for children with an age from 12 months and fun up to about 2 years.
Playgo vs Vtech baby play table
The play table I see most often compared to my favorite for babies, the Playgo, is the activity table from Vtech.
I find the Playgo a lot more suitable because babies can explore and rattle without too much fuss.
VTech is a great and popular toy brand, don't get me wrong. I for example, often recommend the toot cars.
But I don't think a baby needs that extra stimulation of sounds and lights to keep himself busy.
Would you like a VTech play table for your child, then this interactive play table is a fantastic choice. There is so much to discover with this play table, your child will be pleasantly surprised!
The various play elements that this table offers introduce your little one to the impressive world of animals, colors, shapes and numbers.
The table produces quite funny sounds, sung songs, melodies and cheerful phrases are spoken.
But I would personally opt for a gaming table that comes less to them.
This beautiful play table is made of wood and is aimed at stimulating kids in their development.
With this table a child can learn colors, shapes, numbers, concepts, movements and concepts.
The table of Janod enabling your little one to develop social contacts, stimulate the imagination and also the sensory development and fine motor skills will be improved.
The game table is suitable for kids between 1 and 3 years old and has a very solid structure.
The gaming table is a perfect choice for parents who want beautiful and find educational toys for their kids which at the same time has an elegant appearance and is made of high-quality material.
Also read: Cleaning wooden toys: easy with these tips.
For that sweet toddler we also did our best to find the perfect table.
This KidKraft play table is a play and storage table in one with which children can experience fantastic adventures.
Children can create endless constructions with the included building blocks. The table is also large enough to play with several children at the same time.
This gaming table will certainly conquer a permanent place in the playroom!
You can reverse the table so that there are actually two play areas instead of one.
The special design ensures that even small fingers can safely open the table top, so that all building blocks can be neatly stored in the middle storage box after playing.
The table is a solid model with a wooden construction and made for long-lasting fun.
Well, playing is fun, but parents are often not so happy with toys lying around. A play table with storage space is therefore not a superfluous luxury.
This is the play table for the little architect or for the child who loves trains! The gaming table is large enough to play together nicely.
This KidKraft game table has a reversible table top; on the one hand you can play with a train on a track, and the other side is specially made for playing with building blocks.
With the 200 building blocks included, your little one will not be able to finish playing that quickly.
In addition to the building blocks, your little one even gets a 3-piece starter package with a wooden train.
Well, what more does your child want?
When your little one has finally finished playing (huh huh), all the toys can be collected in the storage space under the table top.
Nice that the table has rounded corners, so that it can always be played safely!
The table is suitable for LEGO, DUPLO and other major building block brands and specially designed for kids from the age of three.
For the kids who are crazy about trains, go for this play table from Kidkraft!
You may pay a little more for it than with a more ordinary play table, but this table is also well worth it.
The console is lovingly designed and finished with high-quality materials.
The playset promotes the motor and creative development of your child because it offers countless construction options.
The table is made up of colorful parts and is beautifully detailed.
This wooden railway playset has 108 pieces and is a true paradise for children.
This playset features vehicles, helicopters and even road signs, mini figures in the shape of people and animals, and much more.
On the table you will find roads, waters and meadows, all colorfully painted.
The game table is suitable for various ages from 3 years, for boys and girls.
The playset is made of high-quality E1 MDF and pinewood. It is a robust toy with a long lifespan that can be safely played with.
The game table is large and therefore perfect for playing with several kids at the same time.
For all those hot summer days in the Outdoor
There are to get a lot of water tables nowadays and so, even if you already know that you want to buy a water table for your garden, you still don't know what you need at all.
We also had the same dilemma when we went to buy one. What I saw right away is that Little Tikes really is at the top of outdoor gaming tables.
The brand is the most sold on bol.com and also has the best reviews, but there are still a lot of options. I think it boils down to looking at how old your child is and where his interests lie.
For example, we doubted about a water table with water cannon because that idea was just so cool! But in the end we didn't because our son is just too young for it.
Furthermore, a nice slide for the water and we can also use it perfectly as a sand table for those days when it is just not warm enough outside for water.
Are you specifically looking for a play table with a chalkboard? Lucky you!
Costzon has designed one of these. This compact gaming table can be placed anywhere in the house and will save you a lot of space.
It is also a chic table to see. Let your children play, color and do crafts at this beautiful table.
With this beautiful, white wooden table you get two matching wooden chairs. The table top is reversible, with a regular table top on one side and a chalkboard on the other.
Each seat offers (removable) storage space under the seat, so that the play area can always be left tidy after playing.
A console with a stylish design, of good quality and which is easy to assemble. The neutral color of this table makes it suitable for any interior.
A play table in itself is great fun. But how cool is an interactive play table?
This 3-in-1 interactive gaming table from Little Tikes is packed with surprises!
The game table offers numerous activities to keep babies entertained and to support their development.
The table has three 'positions': you can play sitting, playing standing up or taking it with you wherever you go.
The table has dozens of fun songs (more than 75!), Sounds and functions for children.
With the help of this table your child can even learn sentences. By turning the middle button, you change the theme from school to zoo.
What a pleasant surprise!
This fun table has four games in one! You can play table football or hockey, ping pong or have fun on a billiard table.
It's also easy to build from game to game. The high-quality construction makes it sturdy and best suited for children under 8 years old (depending on their height).
Instructions and all the fun accessories are also included.
Double the fun with this 2-in-1 gaming table, alternate between billiards and air hockey. The Fat Cat Reverso has adjustable legs that are stable and natural looking in a wood finish measuring 217x 107 x 81 cm.
You can also play both games by simply turning it to one side for either air hockey or pool. This is great when you get tired of playing just one particular activity!
This really is a full-fledged gaming table suitable for teenagers (and adults of course!).
Conclusion
Which gaming table are you going for? With this list you have at least enough inspiration for every age.
Are your kids a bit older? Then an air hockey table might be more fun! read our review of the top 9 best air hockey tables!