Best Playhouse for Kids: Rated 24 for the outdoors and indoors
I enjoy writing these articles for my readers, you guys. I don't accept payment for writing reviews, my opinion on products is my own, but if you find my recommendations helpful and you end up buying something through one of the links I may be able to receive a commission on that.
More information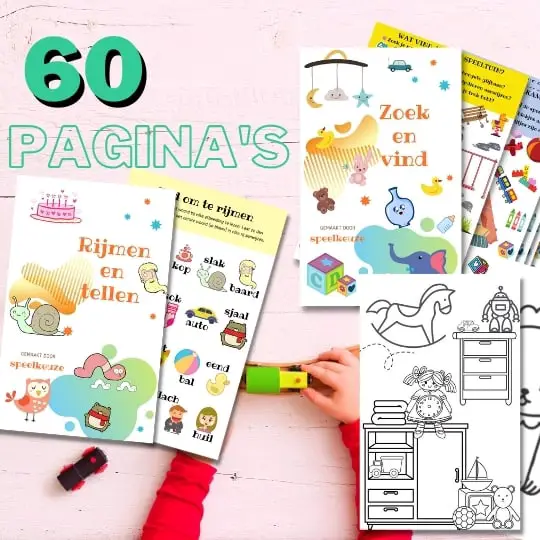 Always something to do for the holidays or rainy day?
Play Choice now has the ultimate activity book collection, with over 60 pages of fun coloring pages and educational puzzles.
Your own place for your little sweetheart, where he or she can determine the rules of the game!
Isn't that a dream for every child? Playing games there with friends, playing with the tea set, romping around, or reading a book or doing a puzzle all by yourself!
That gives your child a wonderful feeling of freedom, but at the same time, the house also gives a safe and secure feeling.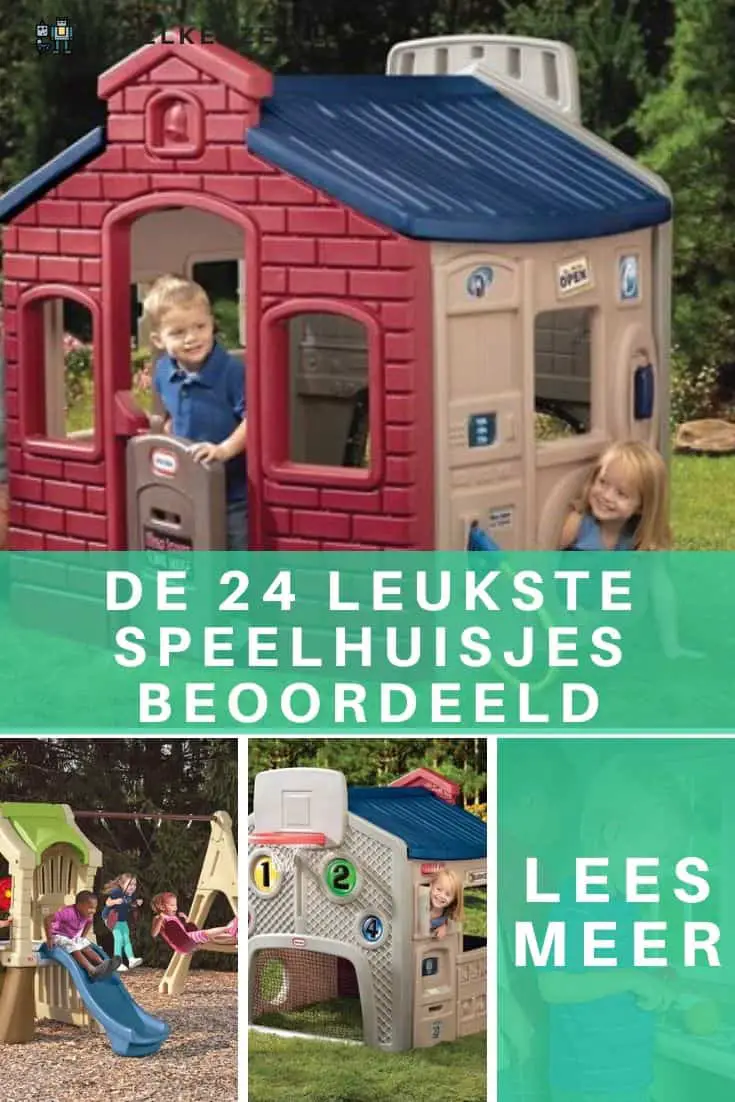 Practice is good for children and in a 'real' house you can try out all sorts of role plays.
That's why the best house from the test is also this Little Tikes Picnic cottage because of the many accessories, real doorbell and table to let the imagination run wild.
We thought it useful to give you a few different ones playhouses so that you can make the right choice for your child:
| Playhouses | Images |
| --- | --- |
| Playhouse with nicest accessories: Little Tikes Picnic | (view more images) |
| Cutest cheap indoor playhouse: PEPPA PIG Game Tent | |
| Best playhouse for the Outdoor: Backyard Discovery Victorian Inn | |
| Best playhouse with slide: Axis Sophie | |
| Most sturdy playhouse made of wood: BackyardDiscoveryTimberlake | |
| Best Plastic Playhouse: Little Tikes Earth | |
| Best playhouse store: Smoby Chef House | |
| Cutest white wooden playhouse: vidaXL Children's Playhouse Wood Red | |
| Best playhouse with swing: Step2 Play Up Gym Set | |
| Luxury playhouse with slide and swing: WICKEY Climbing frame Smart Trip | |
| Best Playhouse With Sandbox: Garden shed for children | |
| Best playhouse on stilts: AXI Lodge XL | |
| Best playhouse castle: KarTent Cardboard Play Castle | |
| Cutest playhouse tree house: From Hut To Her Dutch Design | |
| Cutest playhouse made of cardboard: Small Foot Company House Cardboard | |
| Cutest Pink Playhouse: Win Green Gingerbread Cottage | |
| Playhouse with the best kitchen: Backyard Discovery Victorian Inn | |
| Best playhouse boat: From Hut To Her | |
| Best playhouse of Miffy: Miffy ABC Wigwam Play tent | |
| Best playhouse palace: Feber Super Palace | |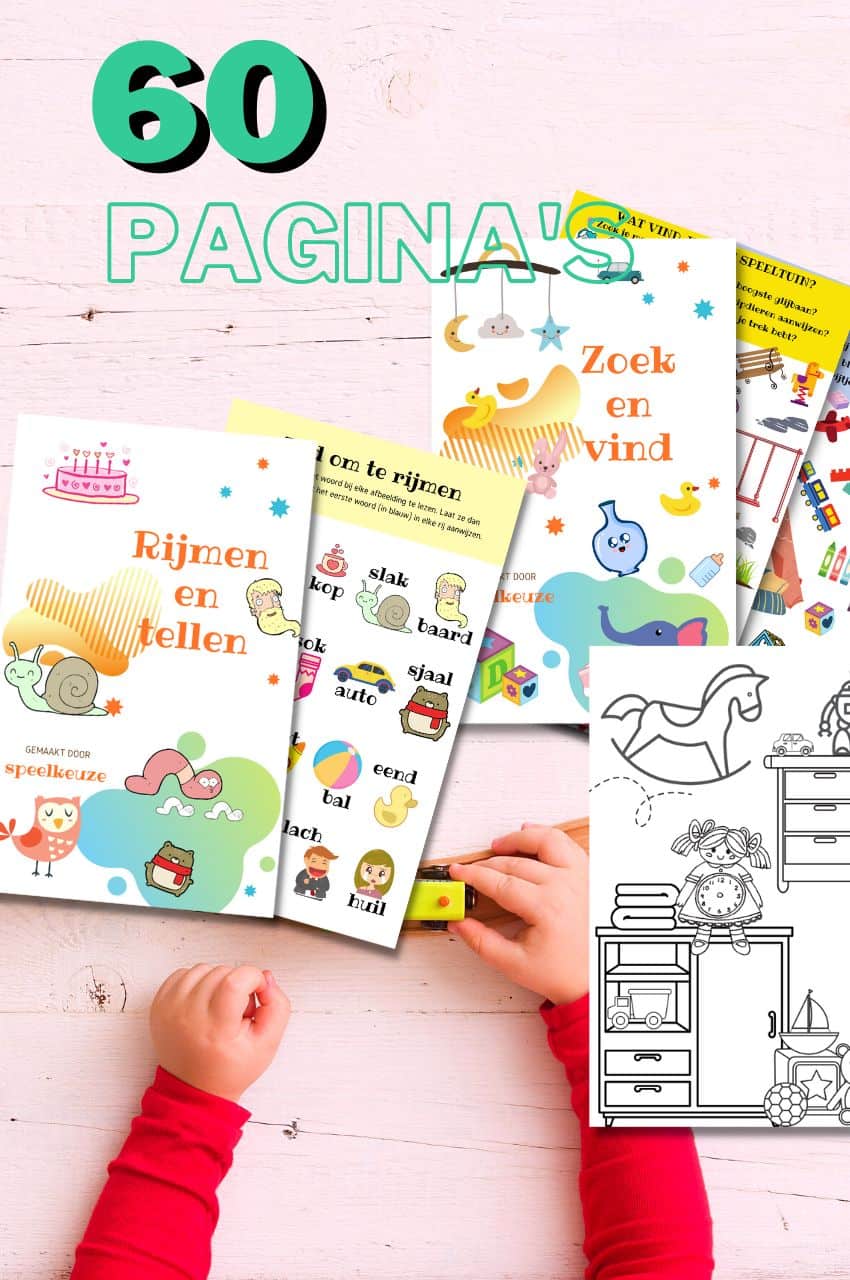 A play theme in your mailbox every month?
Fun play tips, activity books and more, with the first email being our free mini-guide "educational toys"
We will only use your email address for this newsletter and respect your privacy
Eight useful tips for buying a good playhouse for children
Are you a parent or perhaps a kindergarten teacher or childminder considering buying a playhouse but confused about the wide range of choices out there?
Before going through a more in-depth review of each of the homes on this list, here are some helpful tips that will help you make the right decision about which playhouse is best suited for your needs.
Price of the playhouse
Price is one of the critical points that can influence your choice of a particular playhouse.
When looking at choices, you will see four main groups of toy houses that you can buy:
Wooden playhouses for the garden or wooden tree houses. Usually this is the most expensive playhouse group. This is mainly due to the natural wood material used, the sturdy construction and the size. Prices may vary. from 400 EUR to 2000 EUR (although we didn't include those MEGA stuff in this list)
Plastic playhouses are the second most expensive playhouse group. Plastic playhouses are the most common and are produced in many variations, from simple four-wall structures to houses with slides and other modifications. Prices range approximately from EUR 100 to EUR 500.
Play tents and tipi type playhouses are usually made of fabric and are much cheaper with prices ranging from approx. 30 EUR to 200 Eur.
Cardboard playhouses are the "simplest" and cheapest with prices from about 20 EUR to 60 EUR, to very elaborate thick cardboard houses or play boats.
However, the prices for playhouses are determined by many important components that you as a future playhouse owner have to consider:
Playhouse material
The production materials largely determine the actual price for a playhouse.
Wooden playhouses
Pros: sturdy, durable and long-lasting, even ecologically when painted with certified child-friendly finish.
Cons: The price for wooden playhouses is higher and more money is needed to transport and install. It also requires a bigger space. In addition, a wooden playhouse in the garden is heavy and not exactly portable. So once it's in the yard, it most likely won't be moved elsewhere, even if you want to on one.
When it comes to wooden playhouses, we recommend that you consider plywood. These playhouses are much lighter, easy to assemble, portable and they are suitable for indoor and outdoor use and storage.
More importantly, the selling price of the plywood house is lower than that of a traditional wooden outdoor playhouse or garden house.
Plastic playhouses
Advantages: Lower price than for the wooden playhouses, wide choice of colors and variations, portable, easy assembly, can be used as an outdoor playhouse for children or as an indoor playhouse.
Disadvantages: plastic is bad for the environment and plastic products can contain chemicals that are harmful to both children and adults. Plastic colors fade quickly after continuous exposure to sunlight, turning a previously colorful plastic house into a dull-looking fixture over time.
Play tents and teepees for children are made of fabric
Advantages: affordable price, beautiful and colorful designs, light weight and easy assembly, suitable for indoor or outdoor games.
Cons: Outdoor use is limited by weather and temperature, the construction is very light, and they tend not to last.
Cardboard playhouses
Advantages: low price, easy installation, recyclable material and generally good for the environment. Children can usually paint and personalize these cardboard houses.
Disadvantages: fragile and unstable, tendency not to last long, loses shape and form easily. Usually for indoor games.
Customers who buy a cardboard playhouse for their kids usually tend to upgrade to a more solid playhouse afterward.
Is it for outside or inside?
When choosing the right playhouse, there is another factor to consider, the location: will it be an outdoor house for children, a playhouse for children indoors or is it moved often depending on the weather or some other circumstance?
Maybe it needs to be transported in a car every now and then to take to grandma's house or the campsite?
The type of product material, size and mounting requirements are important considerations when making this decision.
Most customers probably choose a wooden or plastic playhouse outside. However, children will keep house tents, teepees and a cardboard playhouse indoors where it is warm and dry.
Assembly and portability of the playhouse
The assembly process differs per type of playhouse.
From wooden playhouses that require a solid foundation and placement in the garden to the easy-to-assemble plastic or cardboard playhouses that take no more than 10-20 minutes to set up.
Things to Consider: Are you the only one assembling the playhouse? Can you do this (some are real construction works as if you are going to build a real house) or is a product specialist needed to do this for you on site?
Assembly time is strongly related to the portability of the playhouse.
Playhouse safety
Finally, we need to discuss safety. "Safety first!" is a toy industry mantra worldwide. Especially when it comes to the safety of your own child.
When buying a playhouse, make sure it is certified according to current product safety standards for children.
There are several security standards that vary by jurisdiction. For example, EU countries have different applicable child safety laws.
The European standard EN 71 specifies safety requirements for toys. The conformity of the product under those standards must be stated on the outer packaging or box of the playhouse.
This mark assures you as a customer that the product you are purchasing is a lab tested product for its construction, flammability and used paint is safe for children.
If you are buying a DIY playhouse or a handmade toy house, make sure that the manufacturer uses certified paints for children, that the construction of the house is sturdy, and that all openings in the house are large enough so that body parts and children's fingers are not caught.
In all cases, you as a customer have the right to ask questions to the manufacturer and to request safety and assembly instructions.
Once the purchase is complete, follow the home assembly instructions to ensure the safety of your children afterward.
Size of the playhouse
Sizes of playhouses can vary considerably. Pictures of the playhouses you are considering buying can sometimes be misleading.
Before you buy a playhouse, don't just rely on the picture of the playhouse. The same house in different environments can look different depending on the background or foreground.
If you see a picture of a playhouse outside, in a playground or a playhouse in the park and it looks rather small there, that same house in your kids' playroom can be huge.
That's why we've included as many videos as possible in our review to give you a better idea, and always use the actual dimensions as a reference as that's the second best way to accurately determine the size of each playhouse for the space you want want to put it down.
Check the dimensions with the room or space outside to see if there is enough space for what you plan to buy.
Also remember that your child or children are growing. The little playhouse you're about to buy may be too small for them in a few years.
Consider a playhouse format that will meet your kids' needs in the future.
Realize that kids tend to want to play with their toy houses for many years to come.
The number of children playing with the playhouse is also an important factor. Consider a playhouse that all your kids can play in and play in together.
A large playhouse will also work best for a shelter.
Personalization and design
Personalization is the trend today. You may be looking for a themed playhouse such as Peppa Pig's playhouse, a castle or a princess playhouse.
Children's playhouse ideas can be unique and original.
Some people may want their playhouse to blend in with the nursery interior. You may be looking for a girls 'playhouse or boys' garden house.
For this reason, customers may want customizable playhouses, a playhouse to build as a project, or items that serve as additional accessories that allow for the personalization of the playhouse.
The best playhouse is the one that a child can personalize if desired.
We recommend houses with sets of add-ons and accessories that kids can use to expand their imagination and creativity, and even there are cardboard houses for your kids to draw on.
Multifunctional approach, play and learn
Today's young parents prefer toy products that add value and combine different functions.
The demand for educational toys such Montessori toys are growing fast. Parents and teachers are looking for new innovative ways and learning tools.
So why not use the same approach when choosing a playhouse? Look for a playhouse that's more than just four walls and a roof.
There are toy houses that include both educational and game features, from role-playing games for kids to drawing on a cardboard flap of a playhouse so kids can learn about colors, letters, numbers and a fake clock.
Your kids will have fun designing the playhouse with colorful and interesting themed decors while you fine motor skillsdevelops creativity, imagination and social skills of your children with other children.
Best playhouses reviewed
Now let's dig a little deeper into each of the top picks:
Playhouse with nicest accessories: Little Tikes Picnic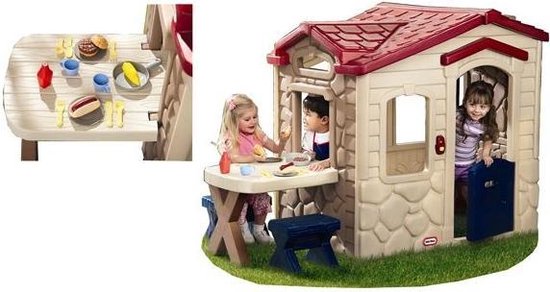 The Little Tikes Playhouse Picnic With Accessories is perfect for your child to cook for all friends!
Your little chef can serve the meals through the window to the guests, who can take a seat at the picnic table!
Here, Twonewparents takes a look at the complete set:
The playhouse has a kitchen with stove, oven, cupboards, a fireplace, a letterbox and comes with a large accessory set. The doorbell makes six sounds.
Suitable for children from one and a half to five years.
Best indoor playhouse: PEPPA PIG Game Tent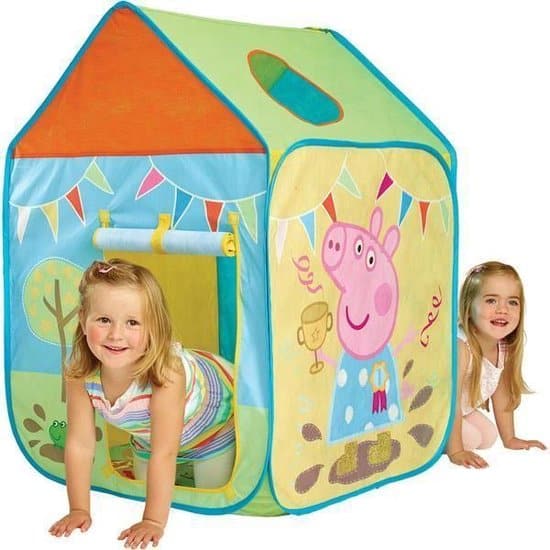 The PEPPA PIG Game Tent is a very handy pop up playhouse and great fun for your little toddler to play in! The brightly colored house is set up in the blink of an eye and cleaned up again.
It has a door that can be rolled up and secured and is suitable for both indoor and outdoor use. Nice and simple tent house for children from two years old!
Best Playhouse for the Yard: Backyard Discovery Victorian Inn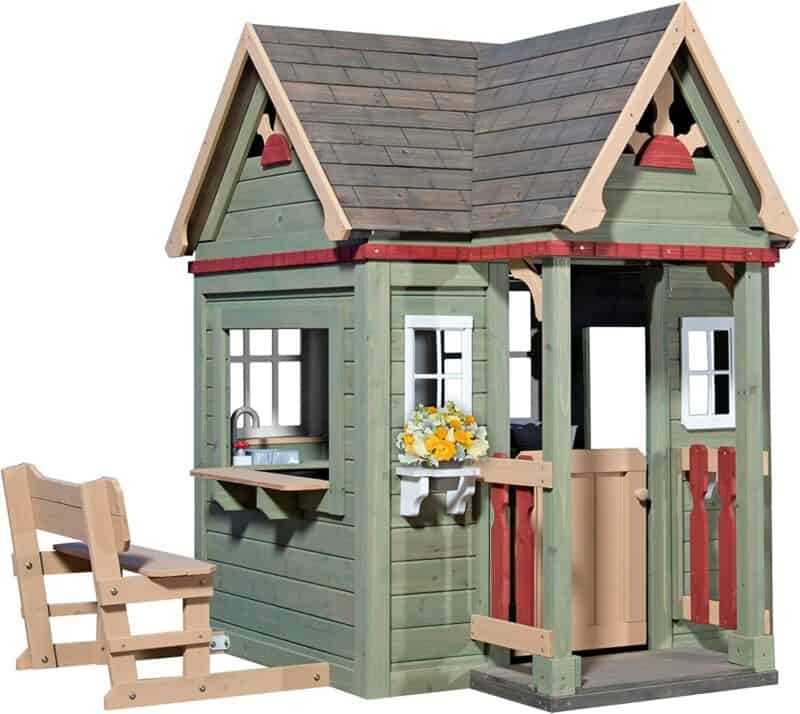 The Discovery Victorian Inn Playhouse is the fanciest playhouse ever! This elegant home from Backyard Discovery is made of warm cedar wood.
It has a lot of beautiful details such as the cute windows, low door and in the ridge, the beautiful white windows and the bench.
The flower box is also not missing. Put a nice plant in it so that the whole looks even more spectacular!
There is also a stove in the cottage, so that your child can prepare delicious dishes with the tasty vegetables that are included.
It really is the pinnacle of playhouses.
The kitchen is complete with sliceable fruit, a cutting board and worktop. Your child can also play in a restaurant, guests can then eat their treats on the bench!
A jewel for your garden, if you have the money because it is quite pricey.
View the most current prices here
Best playhouse with slide: AXI Sophie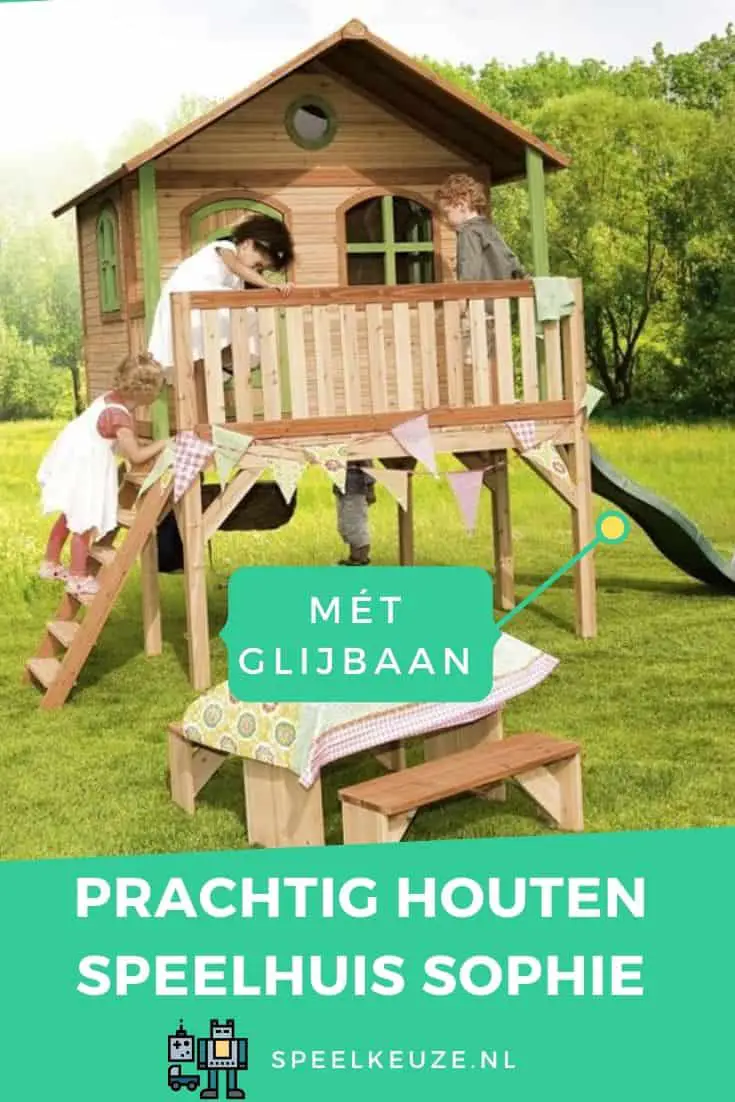 What a long slide the AXI Sophie Playhouse has!
The very cozy playhouse with light green window frames offers plenty of space to play both inside and outside the house, as there is a beautiful raised veranda attached to the house.
All friends are welcome, there is enough room for everyone! The super safe playhouse is made from robust, Asian cedar wood, which comes from responsibly managed forests.
Here AXI gives a look inside the playhouse:
The cedar wood has a natural defense against fungi.
A nice and durable playhouse that comes as a kit with ready-to-use panels that are already provided with a protective layer of stain, the anchoring set ensures that you can safely secure the house.
This house will adorn your garden!
Most sturdy playhouse made of wood: Backyard Discovery Timberlake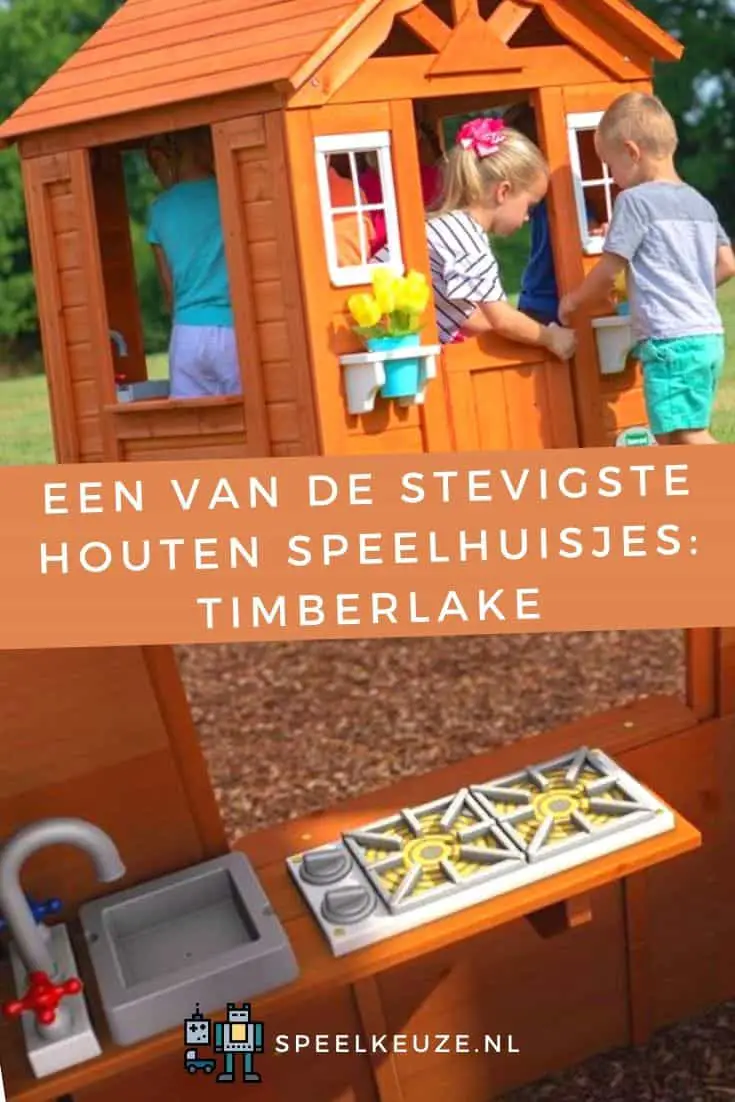 The Wooden playhouse Timberlake, also from Backyard Discovery, is made of dried cedar wood and has a romantic look.
The playhouse has a low door and has a flower box on both sides and two beautiful white windows with bars.
The cottage comes with a toy phone; Your child can therefore call all friends and girlfriends to come and play in this great wooden playhouse called 'Timberlake'.
This house does not take up too much space, but will become an eye-catcher in your garden!
Check prices and availability here
Best Plastic Playhouse: Little Tikes Earth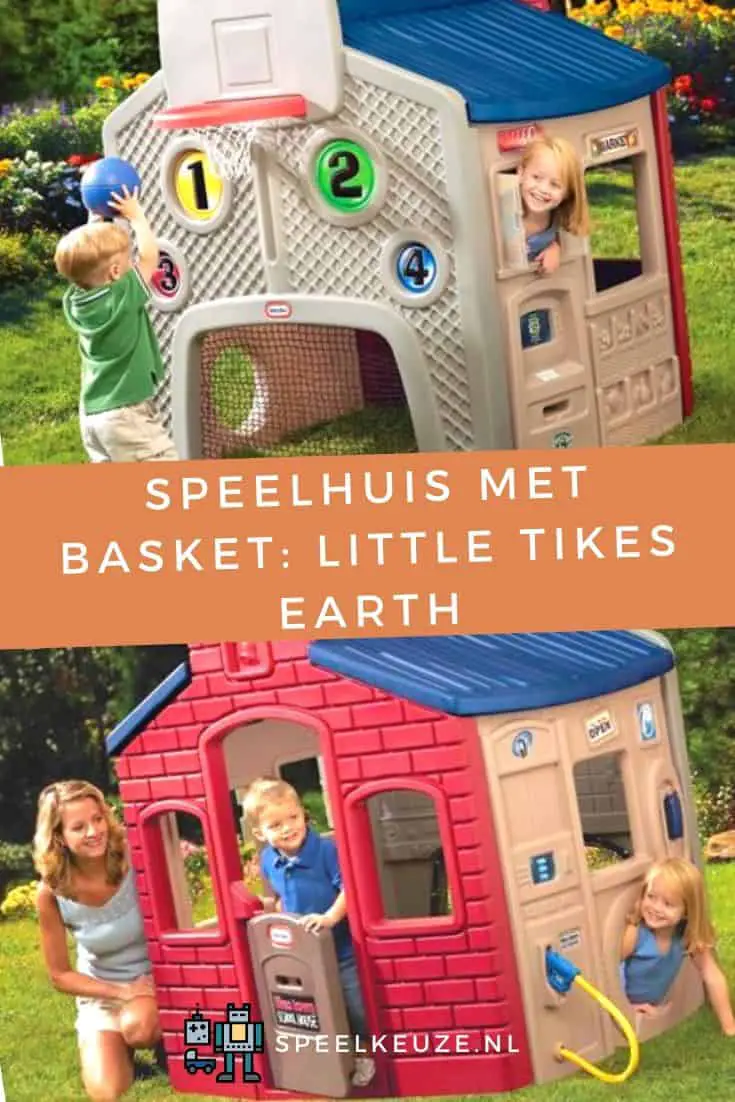 This Little Tikes Earth Playhouse has no less than four different play walls, all of which have a fun game in store for your little one!
That way your little one will not be played out for the time being. The house with the striking red facade is suitable for children from the age of one and a half. What a fun place to play!
Best Playhouse Store: Smoby Chef House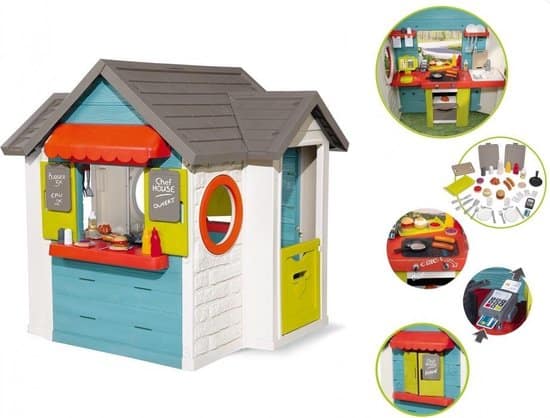 That will be laughing, yelling, feasting! The kitchen is now open in the Smoby playhouse Chef House! This Smoby playhouse is great, your child can receive all guests and surprise them with a delicious meal!
Your aspiring cook takes the orders, then prepares the dishes on the stove and then pays at the checkout!
The windows of the Smoby playhouse have sliding shutters and a real counter where your customers can order snacks and drinks.
There are two signs to hang on the shutters on which your child, for example, recommends the daily menu! The kitchenette has a refrigerator, oven, sink with tap, an ATM and a cash register with a calculator.
Here Smyths Toys shows you what you can do with me:
Food and eating utensils should of course also not be missing! Hamburger, cakes, ketchup, a pancake pan, cutlery, crockery, it's all there!
A complete and safe plastic house, super suitable for your little chef-to-be!
Cutest white wooden playhouse: vidaXL Children's playhouse wood red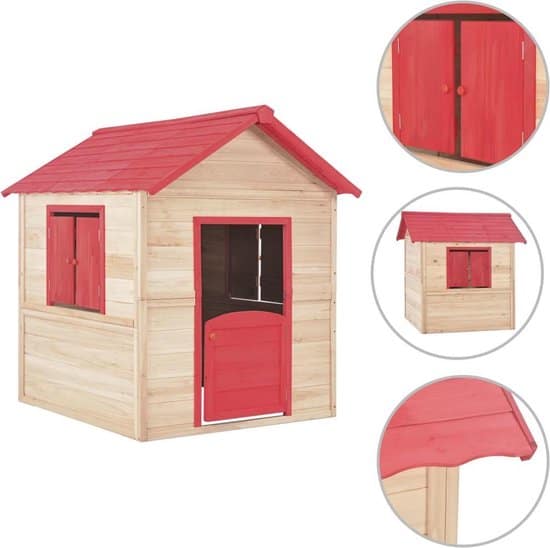 A simple, but very beautiful house, the vidaXL Children's Playhouse Wood Red! The playhouse has a beautiful red roof and a red door.
It will undoubtedly bring your little one a lot of fun. The house can be placed both inside and outside; It will be your toddler's new favorite playground.
The house offers your child protection and cosiness, even in bad weather.
View this vidaXL playhouse here
Best playhouse with swing: Step2 Play Up Gym Set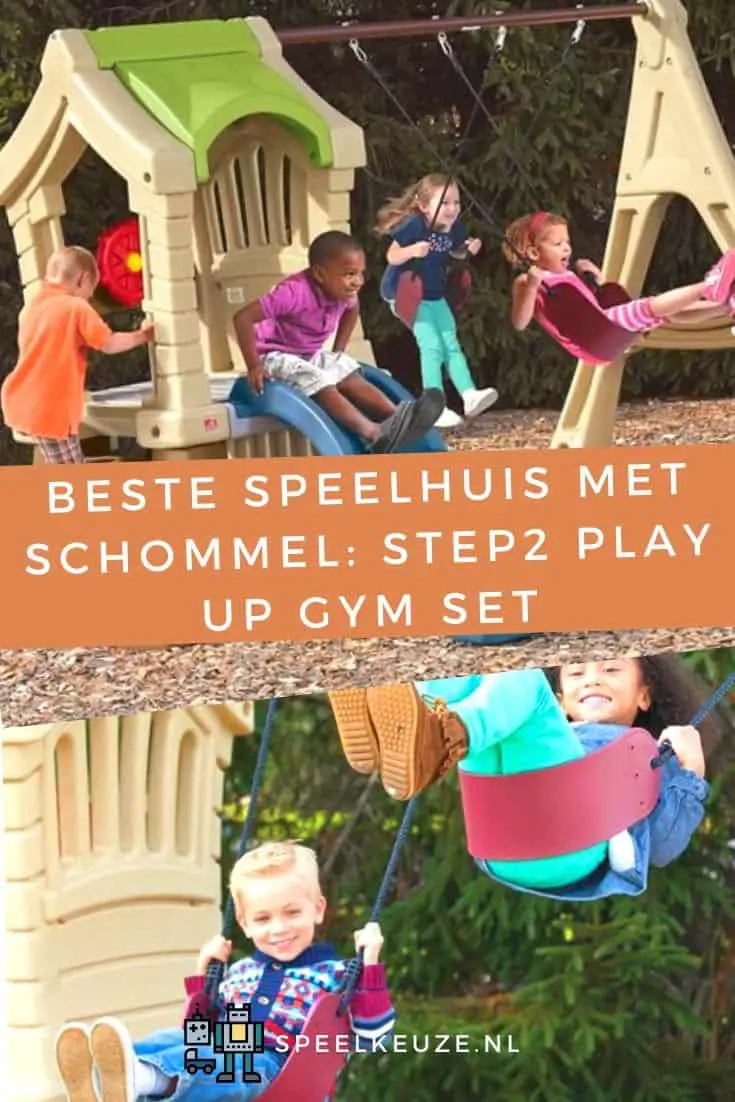 Nice this Step2 Play Up Gym Set for kids between the ages of three and six! A nice swing next to your little one's house makes the fun even greater.
What a delight play equipment (reviewed more here) for the garden! Your child can climb in the mini playhouse and on the swings with his or her friend.
The versatile house offers kids hours of entertainment!
Luxury playhouse with slide and swing: WICKEY Climbing Frame Smart Trip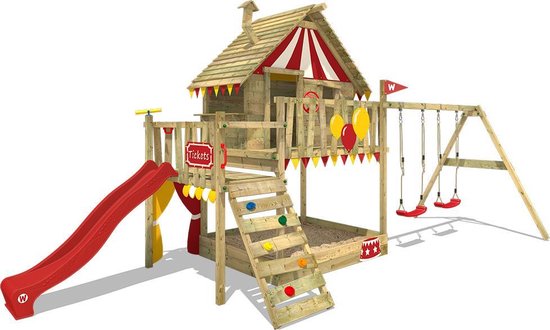 Do you have a large garden? In addition to the two swings, the immense WICKEY Climbing Frame Smart Trip playhouse also has a 'wave slide' that can be used with water and a sandbox!
Colored climbing stones are attached to the ladder and there is a steering wheel and even a telescope in the house. A cozy shop with a sunshade makes it complete and everything is decorated with flags and balloons!
There is no more complete playhouse for your little one! It is made of impregnated solid wood and comes with a ten-year warranty. A playhouse that really makes everyone happy!
Check prices and availability here
Best playhouse with sandbox: Garden shed for children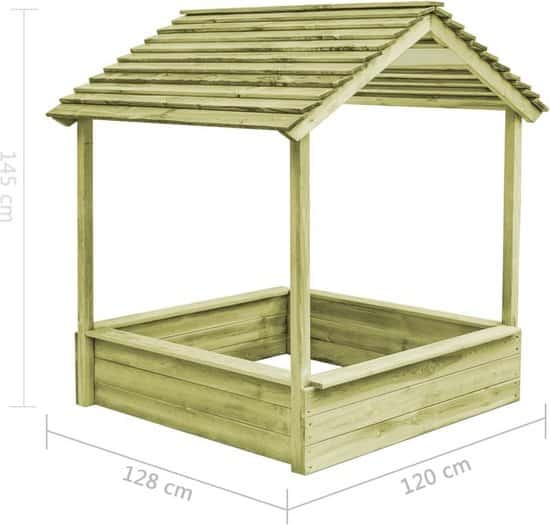 A nice playground for your child, the Wooden Playhouse Children with Sandbox!
The solid wooden playhouse has a sandbox (view more here) in which your little one can romp and is made of FSC-certified, impregnated pine wood.
It is resistant to insects and all weather conditions. Your children can store their toys and sand molds in it and enjoy the play options in and around the house!
It is easy to assemble. A solid and simple open house looks good in any garden!
Best playhouse on stilts: AXI Lodge XL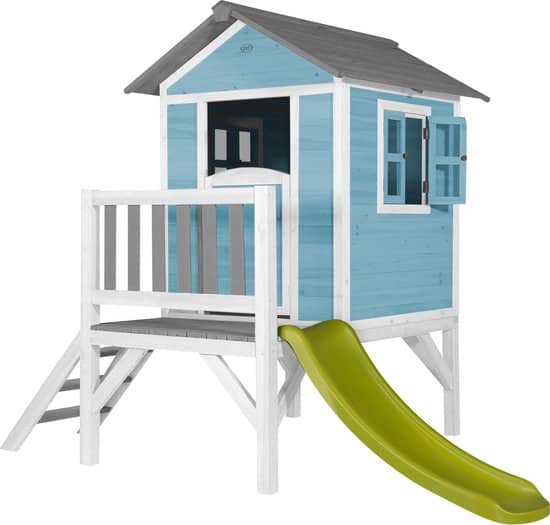 The AXI Lodge XL Playhouse Caribbean Blue is just as fun and cozy as the Lodge, but with a striking lime green slide and a veranda!
The cottage has a beautiful color and opening windows. Your little one enters the Caribbean beach house via the stairs.
Does your child want to go down quickly? Then it is useful to use the slide!
Imagine yourself on a Caribbean beach, in your own garden! A very attractive playhouse on stilts!
Best playhouse castle: KarTent Cardboard Play Castle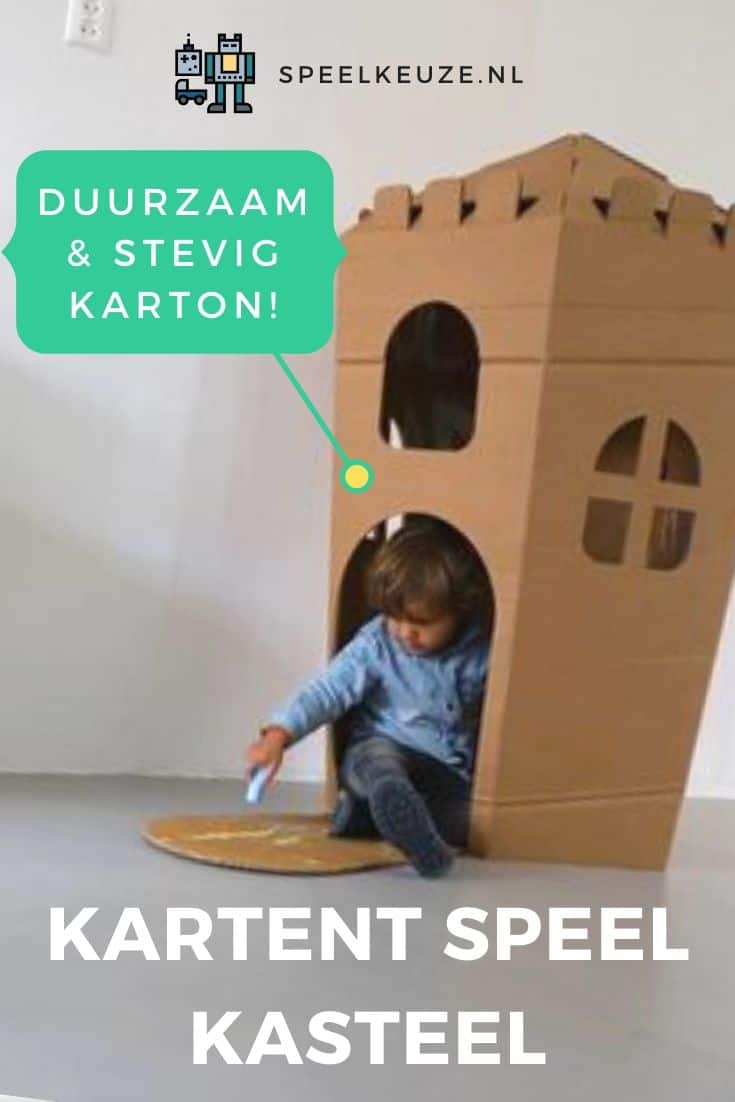 The cardboard castle KarTent is made of used cardboard, super cool!
Especially for the little knight with environmentally conscious parents! Very trendy for the nursery. Your little one can color this toy castle to their own taste with chalk or paint.
The perfect sustainable gift for a lot of fun, simply made of cardboard, plastic is not necessary at all!
This castle comes as a kit, and in case the building doesn't work, an online manual has been made for you!
A fun fact; This product is made from old festival tents!
Here you can see their vision on these circular products:
KarTent is a young, Amsterdam based company. They make cardboard festival tents to combat the enormous plastic waste heaps that so often remain at festivals.
At the castle you will receive a certificate stating which festival your product comes from! An original and environmentally conscious house!
Nicest playhouse tree house: Van Hut Naar Her Dutch Design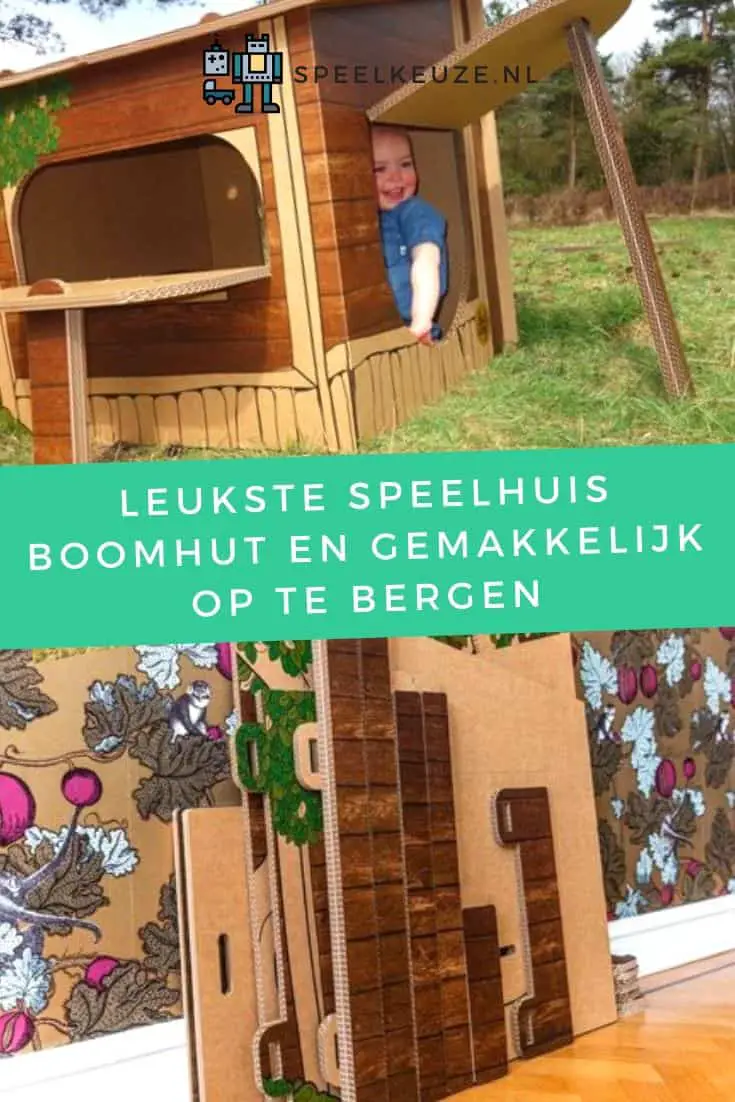 It is like sitting in a real tree house in the Van Hut Naar Her - Tree House Dutch Design! Building huts is not only great fun for your child, but also good for the development of spatial insight, fantasy and self-confidence.
With this tree house as the basis for the hut and some sheets and pegs, your little one will create his own world.
The tent poles and flexible roof parts give the possibility to build a shop, a house with a bedroom or just a simple and comfortable place.
The hut looks great in the nursery and can be cleaned up in seconds. Van Hut Naar Her stands for trendy and responsible toys, all houses are made of 100% sustainable Tripple A Wall cardboard.
Here's how to easily build it:
This is a type of cardboard made up of three sturdy layers of corrugated cardboard and is also used for moving heavy goods.
It is very sturdy material and very lightweight, which makes it extremely suitable and very safe for your child to play with!
The manufacturer has opted for a sturdy type of cardboard, instead of wood or plastic, because the huts are light enough for your child to assemble themselves.
All cabins have been extensively tested by children themselves and consist of carefully finished parts with round shapes. A nice and special tree house!
Cutest playhouse of cardboard Small Foot Company House Cardboard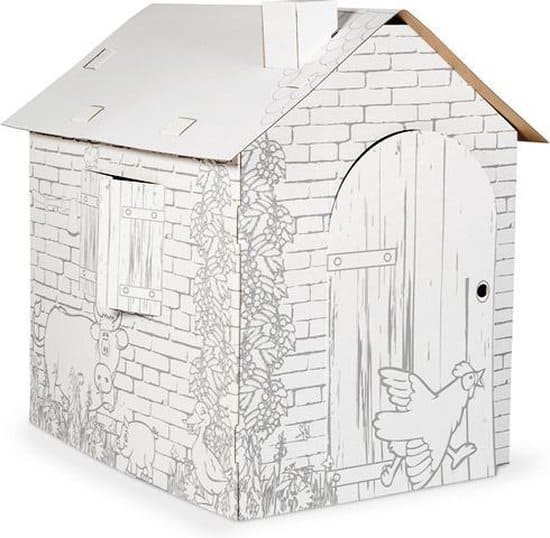 Another top cardboard house! This Small Foot House Cardboard - Coloring colors your little self, or together with his friends! With crayons, markers or paint, it's all about what your little one likes. Then he or she can assemble the kit all by himself! The window and door of this great playhouse are easy to open. A very cool and educational house to put in the playroom or children's room, for a good price! Also nice to give as a birthday present for a toddler or toddler!
Cutest Pink Playhouse: Win Green Gingerbread Cottage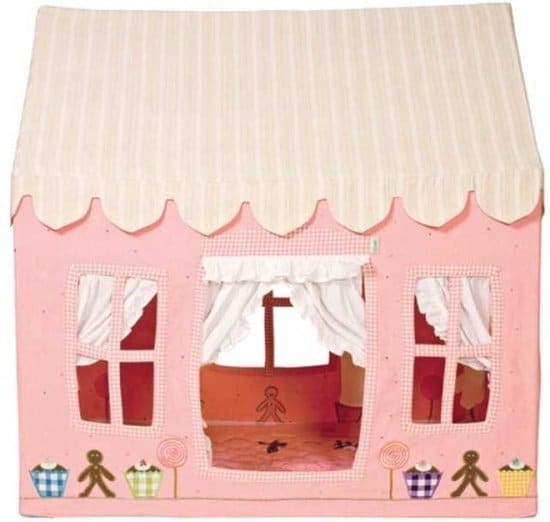 This Gingerbread Playhouse is actually a cute tent house where a delicious cup of tea can be served by your little one! The 'Tea Shop' welcomes friends and family!
The front and sides of the house are decorated with beautiful figures. It is made of 100% heavy cotton and easy to assemble.
The pink cottage has romantic hand-embroidered details and is a real dream home for your child!
Playhouse with the best kitchen: Backyard Discovery Victorian Inn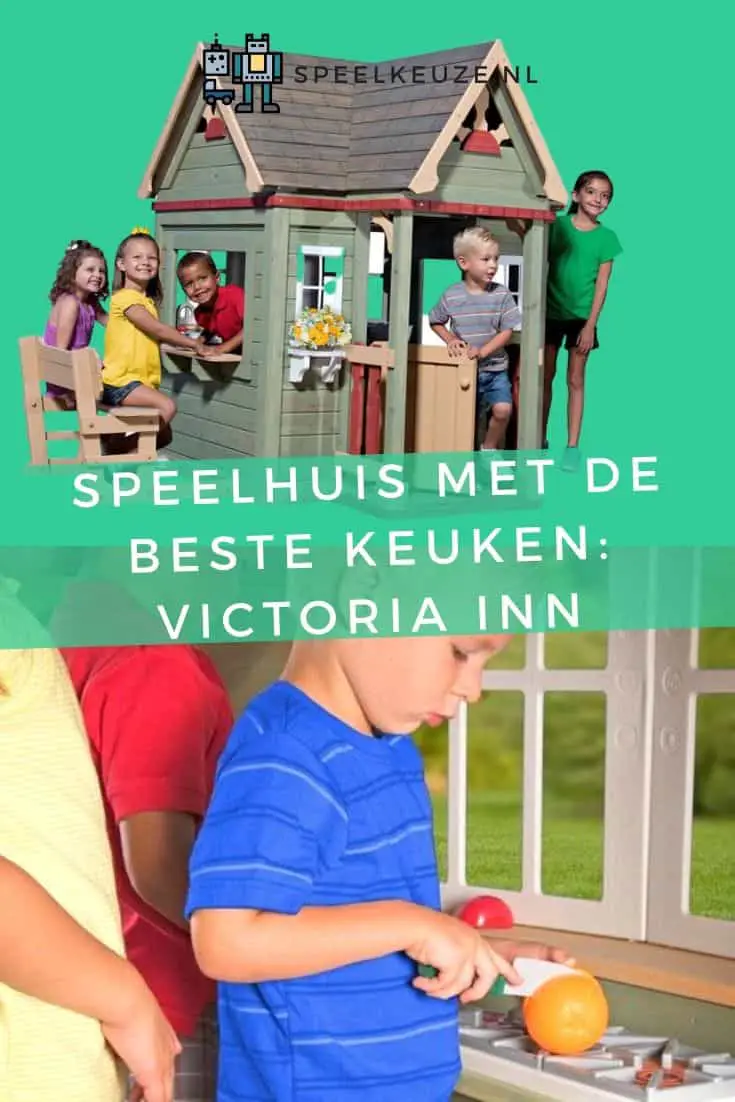 The stately Backyard Discovery Victorian Inn Playhouse is a wonderfully cozy Victorian-style playhouse with a beautiful kitchen plus a variety of food items.
Here the Heart Family shows that it certainly takes a while to put together, because it is a real wooden house, but then you also have something:
The beautiful green color and the many decorations complete the playhouse! You can also place a beautiful flower box on the windowsill!
The house has a beautiful roof covering and is without doubt a top asset for your garden. Suitable for kids from two to ten years old.
Also read: these are the 12 best indoor play kitchens
Best playhouse boat: Van Hut Naar Her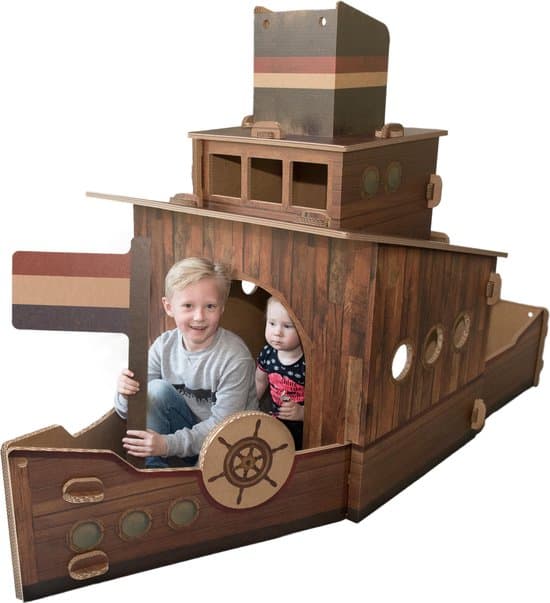 A boathouse for your little one! The Van Hut Naar Her - Dutch Design Play Boat - Brown play boat is a wonderful toy! The boathouse is made of Triple A Wall, three-layer composite corrugated board;
Easy to take apart and store flat when desired. Your little one can build the boathouse himself, which stimulates the spatial awareness and hand-eye coordination of children.
Suitable for at home, but also for nurseries. At least six children fit in it at the same time and the play boat can be used for multiple themes.
Have you also been introduced to the farm set? This turns the boat into a farm in no time!
Van Hut Naar Her opts for sustainable production, the play boat is 100% Dutch design, sustainably designed and also produced in the Netherlands.
The philosophy behind this is 'to pass on our planet to our children as cleanly as possible!' A very original and environmentally friendly gift!
Best playhouse of Miffy: Miffy ABC Wigwam Play Tent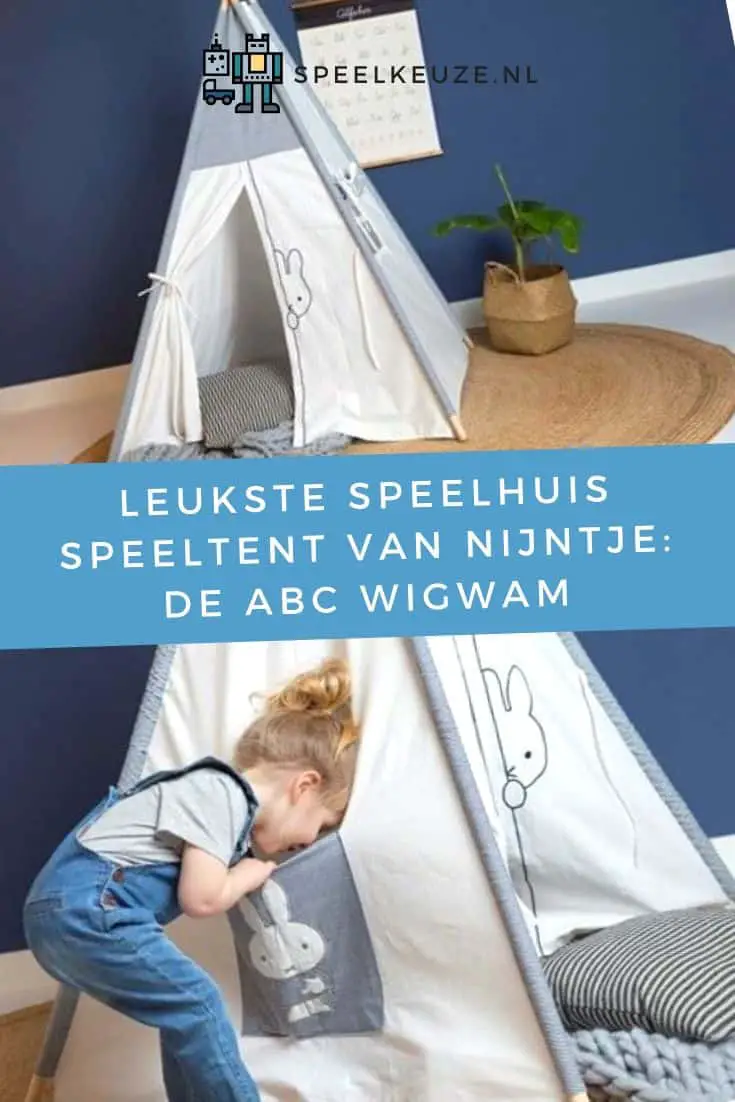 A cozy tent house this Miffy ABC Wigwam - Play Tent. Is your child looking for a nice quiet place to read a book, or maybe a place to play games with friends?
Everything is possible in this fun play tent from Miffy. A trendy teepee tent that will look great in any play or children's room! Miffy's teepee is easy to assemble and break down.
It has a window with a roll-up deity and tent flaps to open the tent. Very cool for your toddler or toddler! Also nice as a birthday present!
Best playhouse palace: Feber Super Paleis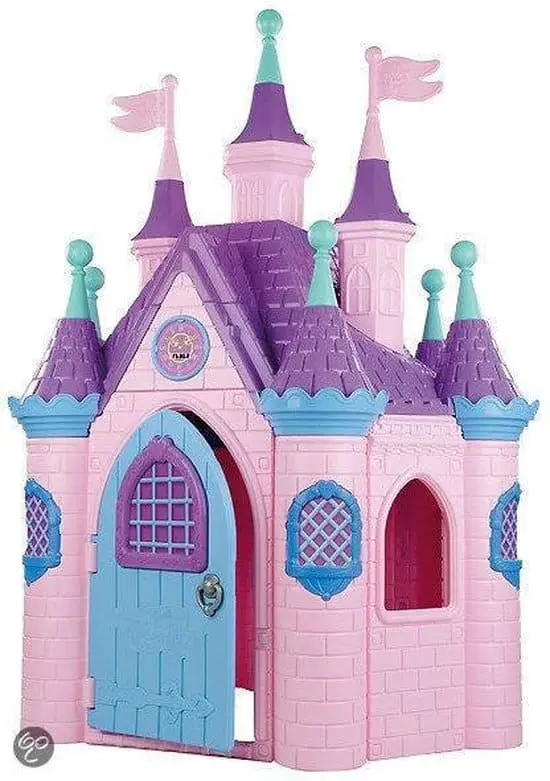 Does your child dream of a prince or be a princess and live in a castle with all their toys? The Feber Super Palace – Playhouse is great for him or her!
It has real castle doors with a bell with different tunes next to it. There is even a clock on the wall!
This candy-pink playhouse in the shape of a wonderfully kitschy castle has five windows and nine towers, two of which are decorated with flags!
In this video you can see how big it is:
Feber is a well-known Spanish manufacturer of A-quality toys. A bright pink topper!
Build a playhouse for the garden yourself?
Then determine in advance the place where the house will be placed; preferably a sheltered place and in sight!
Choose the type of playhouse that is suitable for your garden and that meets your requirements, you can also think of a slide, a swing and possibly a sandbox to add.
The most convenient way is of course to order a kit: Are you an experienced handyman, however? You can therefore consider downloading a construction drawing from the internet or creating and building your own design.
Once you have determined the place where the house will be placed, you start preparing the base and scoop away part of the surface where the playhouse should be placed.
In a simple playhouse, it is sufficient to dig out just an edge of black sand and apply a layer of white sand and then place the foundation on it.
Then build the frame according to the construction drawing and / or place it ready for use on the foundation. The foundation for your playhouse is now ready!
Make sure everything is 100% level. Only in this way is it possible to build a solid house!
Then line the frame with planks, place your panels with windows and doors and assemble the roof.
Then you will finish the floor, you can easily do that by applying sandbox sand or you fill the floor with some white sand, which you can pave with, for example, concrete pavers.
Then the house has to be sanded and stained. How proud you will be when the job is done and your child is delighted with it!
Playhouse FAQs
How do you anchor a playhouse in the ground?
Excavate the soil under two of the four corners; Dig holes about half a meter deep. Both holes must have a diameter of at least forty centimeters.
Then mount the anchors into the wood of the playset by first drilling the holes and attaching them to the posts. Then fill the holes in the ground with concrete.
How should you level the ground before placing a swing?
Measure the floor area on which you want to place the playhouse.
Border the area with string and dig about four inches deep. Then fill the piece with a layer of gravel and then with some white sand.
Note: A children's swing should hang at least forty centimeters from the ground.
Can you put a playhouse on grass?
Yes, that's possible. If you plan to place the playhouse directly on grass, you can do so if you first treat the bottom of each playhouse panel well with a good waterproof stain to prevent the moisture from the grass from affecting the wood.
Tips for decorating the playhouse
How nice would it be to furnish and decorate the house with your child? It's also cool to paint or stain a wooden playhouse in a fashionable color together!
Let your child choose a beautiful complexion! You could also sprinkle it with some glitter and maybe choose some nice fabrics to make curtains and cushions for your little one's house.
You can place some cozy furniture, such as a children's armchair and a table in it and maybe put a nice plant in a pot on the veranda.
Consider a nice garland with outdoor lighting and you can hang colored flags inside.
Maybe your little one has some good ideas, just ask him or her! This way it will become a top playhouse, which your little one will enjoy a lot!
Conclusion
It is extremely educational to involve your child in building or setting up his or her playhouse; Whether it is a tent house, or a wooden or cardboard kit, that doesn't really matter.
If your children feel that their opinion matters and that their help is of great importance, they will benefit, also for the future!
Their confidence will be boosted when the house is up and they will be proud of the work they have done.
With this they also develop their spatial insight and their creativity is called upon.
We haven't even talked about how much fun working together is; It creates a bond!
It would be great if you now know a little more about the purchase of a playhouse! Do you already have an idea for which house you are going? An indoor or outdoor cottage?
A tent house, a cardboard house or a wooden construction kit? Do you choose a house that has to be anchored in the ground? Which style suits your home or garden?
Maybe you will even make one according to your own design! Whichever model you choose, your little one will soon be delighted that it will be his or her own playground!
A lot of building and playing fun for you and your little one!
Also read: these are the nicest toys for your playhouse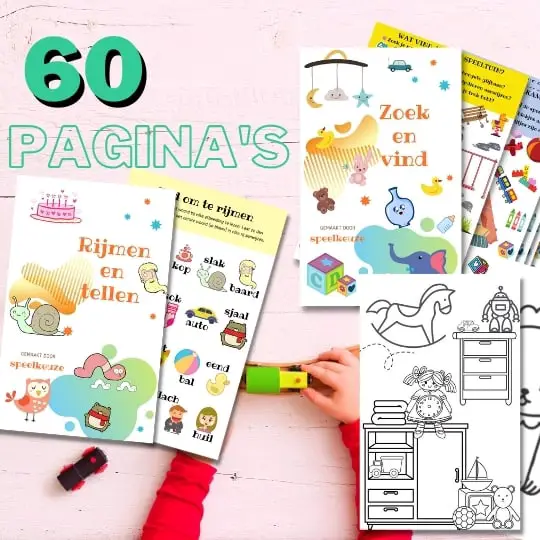 Always something to do for the holidays or rainy day?
Play Choice now has the ultimate activity book collection, with over 60 pages of fun coloring pages and educational puzzles.
Joost Nusselder, the founder of Speelkeuze.nl is a content marketer, father and loves trying out new toys. As a child he came into contact with everything related to games when his mother started the Tinnen Soldaat in Ede. Now he and his team create helpful blog articles to help loyal readers with fun play ideas.