Best pull-back toy cars that work and look great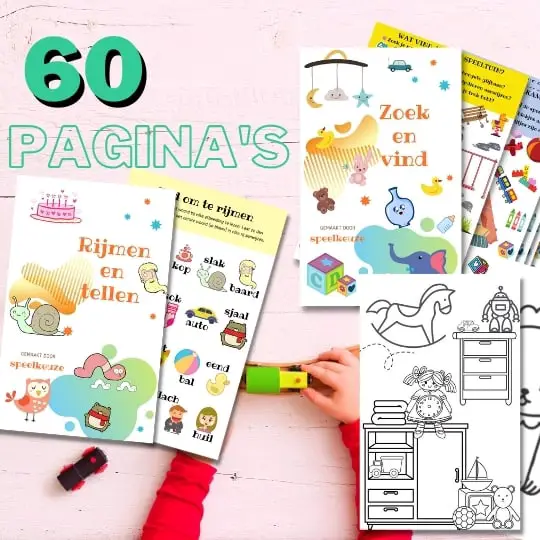 Always something to do for the holidays or rainy day?
Play Choice now has the ultimate activity book collection, with over 60 pages of fun coloring pages and educational puzzles.
Each child would have some pull-back cars have to have. That you pull them back and then they fly away by themselves, how great was that back in the day?
Take for example this Lamborghini Aventador from Kinsmart, a great fast model but as a 1:38 scale model a super fun car to play with with good traction. He drives away really fast!
In this guide I take a look at the best pull-back cars and what you should look for when buying.
Let's take a quick look at the top options. Then I'll go into more detail about each of these choices.
Pull-back toy cars buying guide
What should you pay attention to when buying pull-back toy cars?
Sustainability
There are quite a few differences in quality between toy car brands. Just look at the difference between Kinsmart and Funcorn, you can clearly feel the quality.
In any case, almost nothing can go wrong with a complete diecast car. That is what I paid extra attention to when assessing the durability of the cars.
Quality of driving
With toy cars you want them to be able to drive well. A few things to watch out for are:
the distance from the wheels to the chassis: some toy cars run into problems so they don't drive very well
the rigidity of the shaft: some toy cars are very wobbly so the wheels can move far in and out, and still rub
the quality of the wheels: is it plastic or are there really rubber wheels on the tires? Rubber rolls a lot better
the weight of the car: you may not realize this right away, but the weight of the car plays a very large role in how well it rolls. A heavier car made of diecast or wood rolls a lot better and further than a plastic car
the pull back mechanism: it must be strong enough to be able to pull the weight of the car so that it can actually gain some speed.
Replayability
Much of the car's replayability is in how well it drives, but there are other factors that determine how often they return to it.
Age also plays a part. Is it a car that stays on the left after toddlerhood or can it last longer because it is also suitable for older children?
I rated each of the cars on this list on these parts on a 5-point scale.
Best Pull Back Toy Cars Reviewed
This is a cheap car but still good detail on the outside. The doors can open and it is 1:38 scale.
A nice addition is the pull back action, which really makes this a toy car.
The interior is less detailed and the hood cannot be opened. But what do you want for this price in a die-cast car.
Kinsmart cars are nice and sturdy and can take quite a bit of rough play.
Also read: these are the best Lamborghini toy cars
This is just a set with 12 very cheap cars. They can all be pulled back and then drive off "pull back."
The plastic feels quite thin, but it is made of non-toxic material, so safety has not been spared in any case.
The colors are bright so it's a happy bunch. Each car is about 2 inches (5 cm) so that's really, really small.
Because they are so small, it is recommended to give them from 3 years old. They are a bit more fun for small children unfortunately, but if you stick with them you can also give it to a younger child.
There are 12 cars, each with its own role, such as a police car, taxi, fire truck, bread truck, petrol truck, truck, fruit truck and etc.
This also makes the set extra fun for pretend play.
The images and the translations on the cars are not very good. A bit strange combinations arise with a fire truck, for example, with hot sauce and pizza on it.
These are already fun for the smallest children from 9 months. Perfect size for your baby and nice and soft.
They are 4 safe, soft vehicles, including a school bus, family car, fire truck and police car with cheerful colors.
It is a nice introduction for your child to friction cars. They can pull them back and they ride nicely on the floor. Real cause and effect toys.
They are also safe to put in the mouth for exploring. And Melissa & Doug has anticipated this by being able to detach the fabric cars from the undercarriage.
They are attached with Velcro and so you can just put them in the wash.
They are good for the price, but they are equal to 4 cars, which makes the set a bit more expensive, and you don't actually need 4.
But very fun to play and they last a long time.
Very nice design and bright colors, that's what the school bus, racing and police car from B. Toys look like.
These also have a nice pull-back system so that they can drive themselves.
While Melissa & Doug really focuses on babies with the soft cars, these are suitable for slightly older children from 1 year.
They become really fun to play with for the older toddlers and toddlers. The plastic is flexible and very soft so that even small children can play with it.
The set is slightly cheaper than Melissa & Doug's but you get 3 cars instead of 4. Ultimately, the price per car is comparable.
This is really a toy car, no confusion with a model car. And very fun to play with because of the pull back action.
Although the detail on the outside is quite fine, the interior is not so well finished. But a nice detail are the rear doors that can be opened with some packages in the back (taped).
It is sturdy die-cast and the front doors can also be opened. It rides quite well due to its weight and the pull back action works fine, so far no problems with the firmness.
Great challenge for school kids with 247 pieces, and you can make your own pull-back car!
It's also nice to see how things work under the hood, where the cars drive themselves.
With 2 structures in 1, there is a lot to discover and you can also rebuild the truck into a Rock Racer off-road vehicle.
The second car is a nice addition, but it's actually a stripped-down Toro chassis, so that's a bit of a shame.
The set is suitable from 7 years old, but with some help you could also build it earlier. In any case, it is a nice introduction to building and technology.
The car measures over 11" by 18" by 11" (4cm) high, 7" (4cm) long and XNUMX" (XNUMXcm) wide, making this buildable model ideal for imaginative play with other Lego vehicles.
Unfortunately, there are not that many Lego Technic gadgets in addition to the pull-back system, so that is a bit of a shame.
Conclusion
Not all of your toy cars need to be pull-back, but you should have at least one or two. With the cars on this list, there's something for everyone.
Also read: these are the best toy cars for all ages