Skating at home? 7 best skate ramps for stunt scooter, skates & skateboard
I enjoy writing these articles for my readers, you guys. I don't accept payment for writing reviews, my opinion on products is my own, but if you find my recommendations helpful and you end up buying something through one of the links I may be able to receive a commission on that.
More information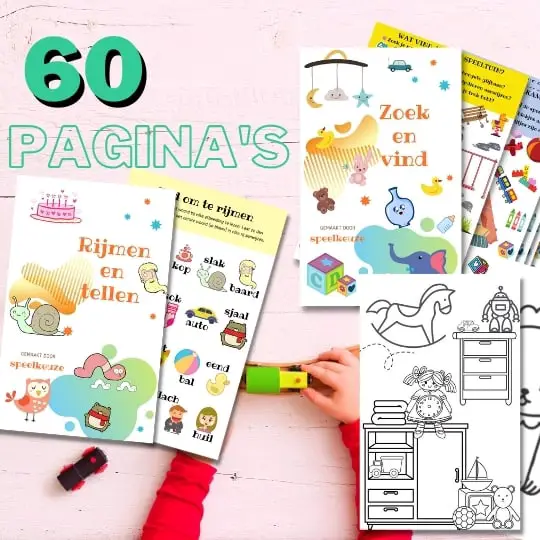 Always something to do for the holidays or rainy day?
Play Choice now has the ultimate activity book collection, with over 60 pages of fun coloring pages and educational puzzles.
A stunt ramp is the BEST way to enjoy stunting in the neighborhood, even if the nearest skate park or halfpipe is a bit far.
If you are thinking about buying a skate ramp, you have a few options that are perfect for you:
stunt scooter
skateboard
inline skates
bmx
or stunt bike
(oh, or RC car! They are ideal for that too!)
Here I have reviewed the 7 perfect stunt ramps for you, including what to look for when buying so that you can make a fun and safe choice.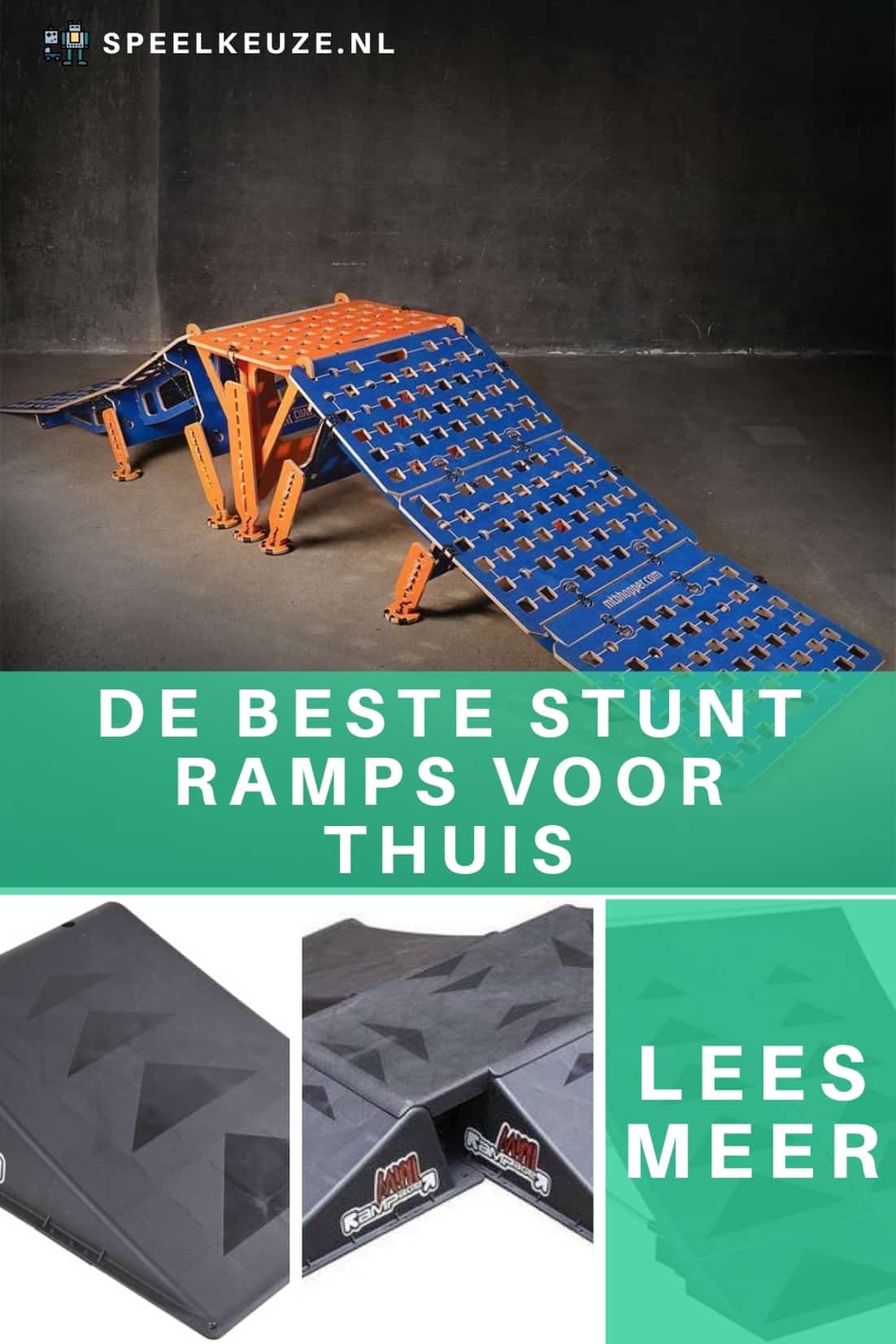 That's why I did an investigation.
My opinion about the ramps is a bit divided. I've reviewed 7 popular ramps, and I think you can make your choice based on two things:
am I going for budget, a cheap option to see if they like it and keep doing it?
am I going for a better one because my children are a bit older and it must remain interesting for them?
I would in any case opt for a more extensive double disaster instead of the single, and this Rampage mini Airbox really is best in class. Perfect for beginners because you have a platform on top where you can quietly stand still before you go down (with a single ramp you can only make a jump) and you can do a lot of tricks on it.
It will be a lot more fun than a single ramp that you buy on a small budget, because with the double ramp you have a little more freedom of movement.
Here you can also do some bigger tricks, so that it remains interesting for the more advanced:
For example, if they've been to a skate park and have a taste for it, this is THE WAY TO GO!
Here are all the ramps from my research with a brief description, also read on for a full explanation and the pros and cons of each.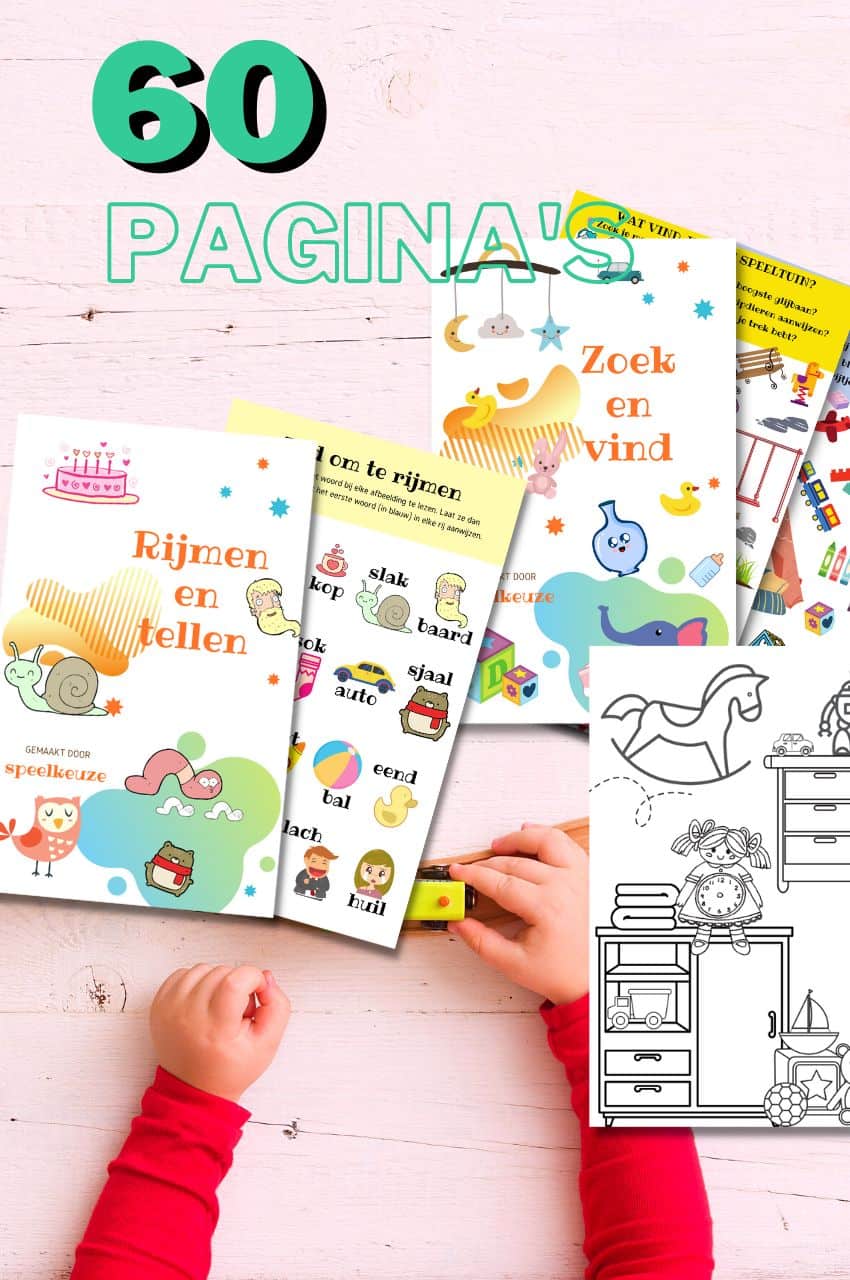 A play theme in your mailbox every month?
Fun play tips, activity books and more, with the first email being our free mini-guide "educational toys"
We will only use your email address for this newsletter and respect your privacy
What should you pay attention to when buying a stunt ramp?
During our research into the best ramps for a stunt scooter, I noticed a few points for attention.
Points of attention that are important when choosing the best ramp for your child.
These points are:
Anti slip
Age indication of the disaster
Maximum load capacity
Dimensions
For an object on which a child is going to practice all kinds of tricks and movements, safety is of course necessary.
In the event of a disaster, it is important to check what safety measures the producer has taken. Especially when it comes to the anti-slip strips on the bottom. You want to prevent the product from moving by itself during use.
Anti-slip is described as a material used to create a grippy, stable environment.
So when purchasing a ramp it is important to check whether it has anti-slip strips or not.
This allows you to avoid unnecessary accidents and guarantee a safer playing environment.
In addition, it is wise to always keep your children wear a stunt helmet.
Also read our post about choosing the best scooter for your child.
Age indication
As the word implies, the age rating on a toy indicates for which ages or ages
However, you should keep in mind that the age rating does not say anything about the level of difficulty of the playground equipment, only for which age it is suitable.
Age indication on toys is not only based on the physical and mental developments of the indicated age or age group, but also on their playing needs, interests and safety.
That is why it is important to take the age indication seriously and especially not to let children under the specified ages play with the toy.
Maximum load capacity
The load capacity indicates the maximum load that a playground equipment can carry during use.
Taking the maximum load capacity of toys into account is in any case also important for the safety of the user.
If the body weight of the user exceeds the maximum load capacity of the playground equipment, it is unwise to use the playground equipment anyway.
The maximum load capacity for a ramp is always the weight of the child plus the scooter.
Dimensions
By looking at the dimensions of a playground equipment you get an idea of ​​how big it is when it is fully assembled.
By looking at the dimensions, you also get an idea about the safety of the device with regard to your child, the safety also depends on his or her height and girth.
The fact that a play equipment is larger than your child, in terms of height and size, does not always mean that it is not safe or suitable. The same also applies to smaller playground equipment.
The most important point in this case remains that the play equipment must be suitable for the child and the dimensions already give you an indication whether this is the case or not, depending on how big the child is.
Best stunt ramps rated
Let's look at a more comprehensive review in these different categories:
Best cheap stunt ramp: Selltex Sportdot
This ramp is very compact, making it ideal for children who are just starting out. It's also relatively low-priced, making it a good entry-level model.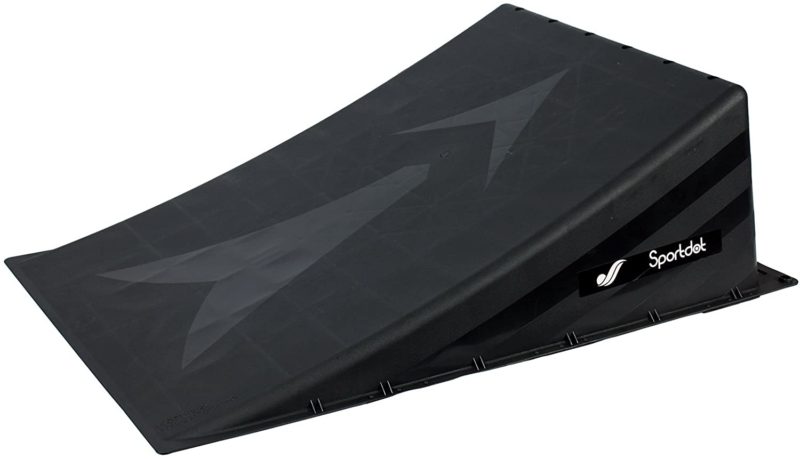 Being compact and small, it provides you with the convenience you need to practice tricks and you can use it yourself in your garden, which with some of the others on the list gets pretty tricky.
You need quite a bit of space around a disaster to be able to take a run-up and land.
But for real beginners or children who are not so sure of themselves I would recommend an airbox such as the budget version of Selltex or the slightly more expensive Rampage.
With a size of 40x56x15 cm, it takes up little space and is also easy to tidy up after playing.
This ramp is lightweight, yet very strong and durable because it is made of a high-impact material, polyethylene.
Anti-slip material is attached to the bottom of the ramp, this ensures that the ramp remains firmly in place when it is used.
Because it is very lightweight and also compact, it is easy to take it everywhere.
This makes it possible for children to use their ramp at school, in the park and also in and around the house.
But it must be in a safe environment. This ramp is also stackable. The maximum load capacity is 90 kg.
The recommended age is for children between 7 and 16 years old.
Besides stunt scooter, this ramp can also be used with skateboard and skates.
Check the most current prices and availability here
Best budget double ramp: Selltex Sportdot Airbox
Just a bit bigger than the single ramps, this double ramp is ideal for the little daredevil who wants to practice more tricks and will not be satisfied with a single ramp.

Instead of a single ramp, we have a double ramp here. Ideal for the 'daredevil beginners' who want to practice multiple tricks.
The "Mini Double Ramp" can best be explained as two "mini single ramp" together that together form a double-sided ramp.
This ramp has anti-slip rubbers on the bottom that ensure that the ramp does not slide while playing.
The dimensions of this ramp are 40x82x13 cm and it has a maximum load capacity of 90 kg.
Besides being suitable for stunt scooters, it can also be used for skateboards, inline skates and RC vehicles.
Check prices and availability here
Best Ramp for Beginners: Rampage Mini Airbox
Compared to the aforementioned mini-ramps, this mini airbox ramp has to be assembled.
This ramp consists of 3 parts, namely two ramps and an intermediate bridge. Everything is linked by the intermediate bridge.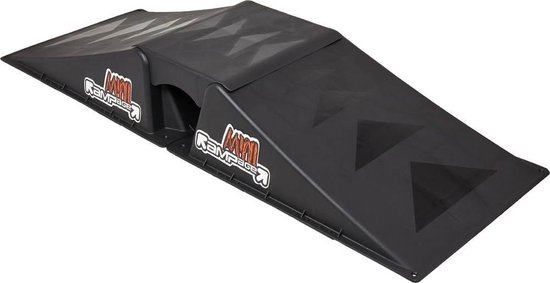 The "Mini Airbox" is also a double ramp, but compared to the "Mini Double" this "Mini Airbox" has to be put together.
The package comes with two single disasters that must be linked together by means of an intermediate bridge.
Once mounted, the dimensions of this ramp are 40x112x15cm, with a maximum load capacity of 90kg.
This ramp is also made of polyethylene. This makes the product itself very light in weight, yet sturdy and durable.
It is also easy to carry and assemble wherever the kids feel like playing.
Furthermore, the ramp also contains anti-slip on the bottom, which ensures that the ramp remains in place during use.
What is certainly a plus point of this disaster is that the parts can also be used separately.
The "Mini Airbox" ramp is suitable for stunt scooters, skateboards and skates.
Best skate ramp for jumps: Graw J15 wooden ramp
This ramp is ideal for children who prefer a single ramp, but who have outgrown the mini single ramp.
Except for the dimensions, this "Launch Ramp" has the same characteristics as the "Mini Single Ramp".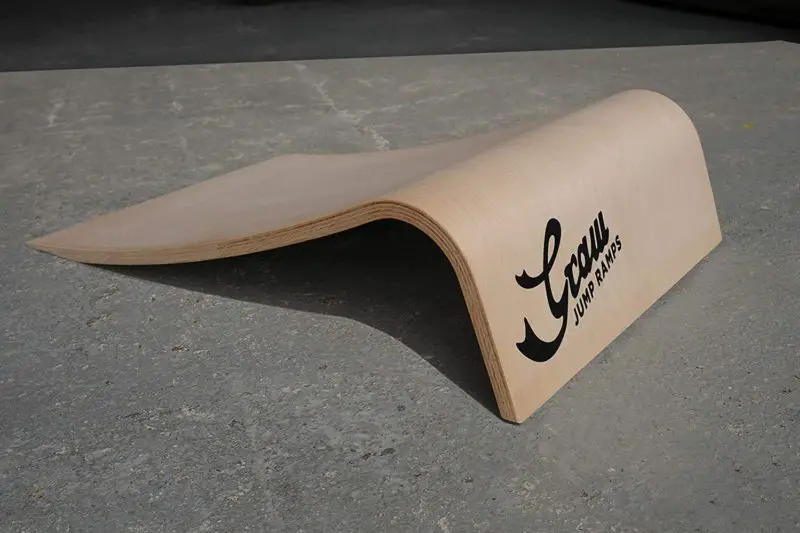 However, a Launch Ramp is simply a steeper version of a "Mini Single" making it ideal for bigger kids or kids with experience on the "Mini Single" who want to make bigger jumps.
Graw has many innovative products on the skate market, and this wooden jump ramp gives you enough speed to practice the coolest tricks.
The dimensions of this "Launch Ramp" are 70x100x30cm and it does not need to be mounted.
The ramp is equipped with grip strips that ensure that it has a multifunctional use. Maximum load capacity is 90kg.
It is recommended for children from 7 years old.
This ramp is ideal for skaters, bikers and inline skates to use with BMX bikes, skateboards and skates.
Check prices and availability here
Best stunt track: Urban Street MiniFourway
The funbox Rampset from Urban Street is ideal for those who want to practice extreme disaster tricks, the so-called airs.
The "kicker" radius of this ramp will help you tackle big airs. This is a hi-impact ramp that has a good anti-slip surface.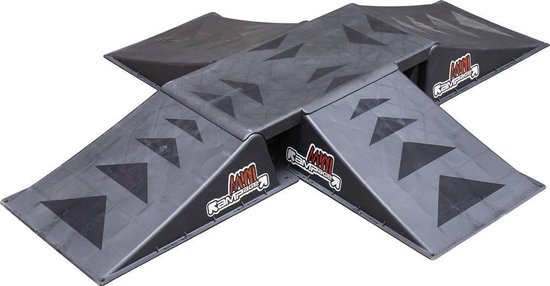 This Urban Street ramp set is ideal for those who wish to practice more extreme tricks.
Due to its multifunctional use, you can make masterly airs on it.
This ramp is also ideal for skateboards, skates, scooters, radio controlled cars and bikes.
This complete set is for sale here
Best Professional Skater Ramp: Active Portable Ramp Jumpack
For a professional (or semi-professional) skater ramp, a little more is needed in the construction.
That is why the dual stunt spine supports the ramp with a sturdy guide rail.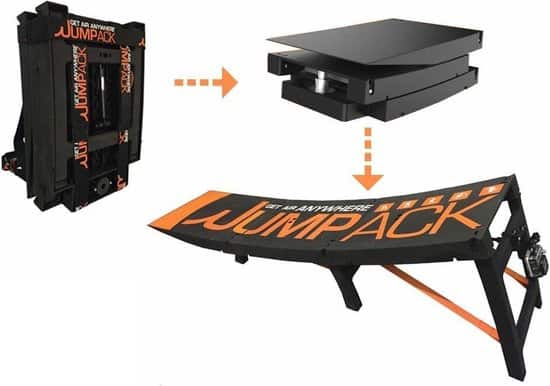 This is certainly the must-have for real skaters with which you can practice those cool tricks, transitions and jumps in your own garden.
The polyethylene construction ensures that the ramp remains lightweight while still being sturdy.
Due to the light weight you can easily take it with you and you can practice your tricks everywhere.
With an anti-slip bottom, the skateramp remains firmly in place, even with heavy use.
The dimensions are 240 x 117 x 81 cm (L x W x H), loadable up to: 100 kg and it is recommended for an age from 6 years.
Best halfpipe you can buy at home: MTB Hopper Coach for BMX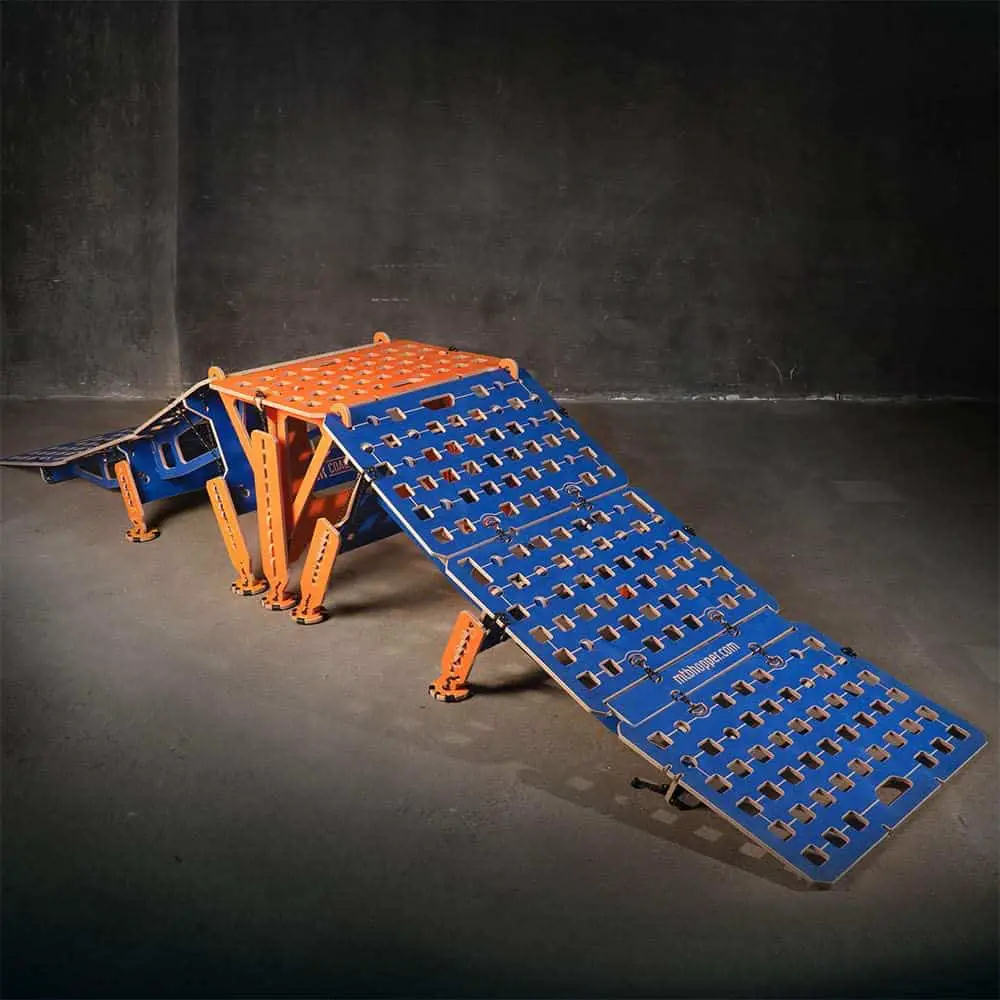 Buying a real half pipe for your home, of course you can if you have enough money.
If you or your child wants to go pro, it might be worth the investment to get one tailor-made, but usually it will be a DIY project or a concrete colossus like real ones are made for urban projects.
Alternatively, there is the reasonably affordable MTB Hopper. They come in different versions, and the main advantage is that they are very portable and easy to assemble.
This way you can set them up at home, take them down again if you don't use them for a while, like maybe in the winter, and especially easy to take with you if you want to do stunt shows on tour.
The Coach is the Hopper from MTB that you can use the most to build a kind of halfpipe for good stunt exercises.
Due to the holes on the surface, it is only suitable for the stunters with larger wheels, such as BMX.
Best stunt ramp brands
About the Rampage brand
Lefgozers - and girls pay attention: Rampage has cool stuff! Especially for skateboarders, bikers and inline skaters who love excitement and sensation.
An absolute must-have, for example, is the Launch Ramp that you use when practicing your latest tricks, wherever and whenever you want.
The ramp is strong and durable and has good anti-slip rubbers, allowing you to show your skills with a lot of confidence. The disaster weighs almost nothing.
This allows you to build your own mini-cat park in the coolest places without much effort. Rampage has nice practice and playing material for both beginners and advanced players.
Did you know that the jumps can also be used perfectly for remote-controlled cars?
Other facts: all Rampage products are made of polyester, in the color black.
Tough, sleek and robust. That makes your heart beat even faster. Slide, grind and freestyle on your own.
About the Black Dragon brand
With Black Dragon you fly forward over the asphalt. This brand is part of the traditional Dutch skating brand Nijdam.
With more than a century of experience, they have used their experience and knowledge of skating to, among other things: inline skates and inline skates to produce.
This success soon led to the production of more outdoor toys.
With a wide range of, among other things, skateboards and stunt scooters, everyone with the products of Black Dragon can glide over the asphalt at lightning speed.
All products are made in different cool designs so that everyone can find a board that suits his or her style.
Adult or child, boy or girl, Black Dragon has cool outdoor toys for everyone.
Show your skills in the skate park or take a nice ride. With Black Dragon you will experience what real speed is.
Why a stunt disaster at home?
It takes a lot of time, learning new tricks on your scooter. The good places (if any) are often occupied by others, so you have to wait patiently for your turn.
Other good spots may not be available all day. With your own ramps you can create your favorite setup and ride it whenever you want.
This is a great way to master your tricks faster and to learn tricks together with your friends at home.
A disaster at home is therefore ideal for children. It does not matter whether it is placed in the front or back garden.
Since most ramps are not heavy, it is easy for a child to build them up, and possibly without the help of you as a parent.
This makes it easier for a child to learn and practice tricks at home or on a quiet street.
This is a basic trick you can do with this disaster, from Martin Jepsen:
Can you build a skating rink in your yard?
You can, common places to use a skate ramp are the driveway, carport and backyard.
What is the difference between a stunt scooter and a normal scooter?
A 'traditional' scooter is designed to get you from A to B quickly and comfortably. A stunt scooter, on the other hand, is designed with tricks, ramps and skate parks in mind.
Conclusion
There are many options you can consider when choosing a suitable ramp.
Above all, think about how much you want to spend and how long you think they will continue to like scooters.
A somewhat bigger disaster where you can do cooler tricks might be a better solution.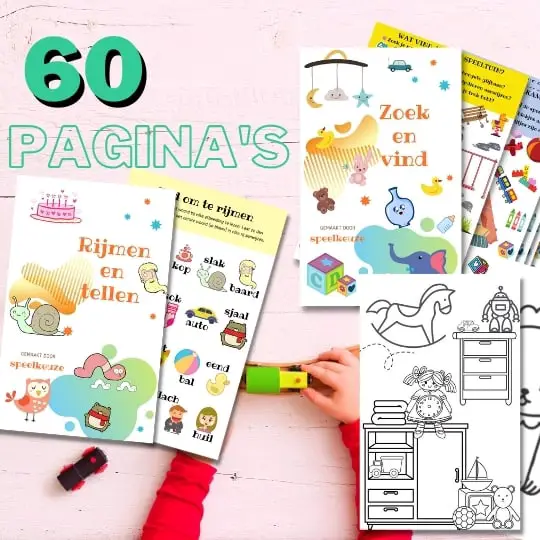 Always something to do for the holidays or rainy day?
Play Choice now has the ultimate activity book collection, with over 60 pages of fun coloring pages and educational puzzles.
Joost Nusselder, the founder of Speelkeuze.nl is a content marketer, father and loves trying out new toys. As a child he came into contact with everything related to games when his mother started the Tinnen Soldaat in Ede. Now he and his team create helpful blog articles to help loyal readers with fun play ideas.