Best RC Vehicles Reviewed | Top 11 with remote control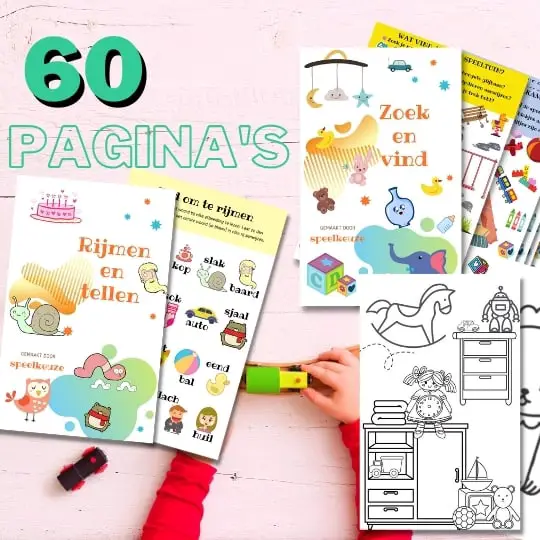 Always something to do for the holidays or rainy day?
Play Choice now has the ultimate activity book collection, with over 60 pages of fun coloring pages and educational puzzles.
Remote-controlled vehicles are extremely interesting for children (and adults!). It is the perfect toy to spend time with your children, family or friends.
RC stands for 'radio controlled' and there are different models. Some RC vehicles can even fly or transform into robots!
Before I go into my favorite toy products, let me introduce you to my number 1 RC vehicle: Arrma Granite Monster Truck. This truck is a real powerhouse and can handle any kind of terrain.
Are you looking for toys with which you can have hours of fun with your kids or friends? Then an RC vehicle might be the perfect solution.
In this article you can read all about the best RC vehicles of the moment, what you should definitely pay attention to when purchasing an RC vehicle and what makes these toys so much fun.
What exactly is an RC vehicle?
An RC vehicle is a radio-controlled car whose functions can be controlled remotely via a radio transmitter – in most cases a remote control.
The steering commands on the remote control of RC vehicles are transmitted to the vehicle by invisible signals – or frequencies. These frequencies are not harmful to people and the environment.
A distinction can be made between two types of drives, namely electric and petrol. In this article I will focus on electric vehicles.
RC cars are often cars that have been simulated to scale. You can get them in different shapes and sizes.
But you also have all kinds of other RC vehicles.
Which RC vehicles are there?
Today there is a wide range of remote controlled cars.
For example, you can opt for an off-road car that can withstand impact well, or else a vehicle that functions better on asphalt and goes faster, but may be more sensitive to shocks.
Before you start looking for the best RC vehicle for you, you should know that there are several options.
It is therefore important to first think carefully about what exactly you want to use the car for.
Are you looking for a model to entertain your child, or are you a big fan of racing cars yourself?
Let's take a look at some of the RC vehicles out there so you can see which one is the best for you.
Off road RC cars
Off road vehicles have great resistance and are well resistant to impact. They can drive at medium and high speed.
They are suitable for any surface including rocks, sand, mud and grass. Off road vehicles often have extra large wheels and are equipped with a four-wheel drive.
They are also water resistant and are perfect for doing stunts and overcoming obstacles.
RC racing cars for the road
These RC racing cars are less resistant, but very fast. They are intended for sidewalk or road use.
There are models with a four-wheel drive or models with a two-wheel drive.
Keep in mind that these racing cars are often not waterproof. Some models can climb.
RC vehicles for the air
For example, think of airplanes, drones and helicopters. Very exciting to watch your own vehicle take off!
If you are a beginner, it is wise to choose a flying vehicle that flies stable and is also somewhat weatherproof.
Electric planes, for example, are very suitable. The larger the vehicle, the better it can withstand wind.
For beginners, foam is also recommended as a material because they are light and stable.
Airplanes are not drones. You can therefore fly almost anywhere with sufficient free space.
Pay attention to the maximum height: there are cities where you are not allowed to fly higher than 60 or 120 meters.
RC vehicles for in the water
Are you looking for an RC vehicle for in the water? That too is possible!
Think, for example, of a fast RC speedboat, which you can use in a bath as well as in a lake or river.
RC vehicles especially for children
This kind of children's RC vehicles are light and resistant, but of course less fast. You ideally use them on smooth surfaces.
You can get them with different size wheels and some models are waterproof.
In general, these vehicles are easy to use and some even come with light and sound effects.
In addition to vehicles for on the road or 'on land', there are of course also RC vehicles that fly and float.
What should you pay attention to when buying RC vehicles?
In addition to the type of RC vehicle, there are a number of other factors to consider when choosing the ideal vehicle.
Things to look out for are size, material, drive type, features, speed and range, and additional accessories.
With the help of our shopping guide, that becomes a piece of cake!
Size
If you are planning to purchase an RC vehicle online, take a good look at the dimensions, specifications and scale.
This way you avoid disappointment and you know exactly how big the vehicle - on land, at sea or in the air - is that you are purchasing.
Which format you go for depends on the future user.
If it is intended for a child, go for a lighter vehicle and perhaps one with rounded edges to prevent accidents as much as possible.
Material
Go for a model that is made of high-quality and strong materials. The vehicle must be able to take a beating and be non-toxic.
ABS is a material that is being used more and more because it is extremely impact resistant. PVC is another good option for children.
Choose a vehicle that is waterproof and robust so that it will last you a long time. If you are looking for an SUV car model, go for one with rubber, anti-slip wheels.
Drive
Does the vehicle you have in mind run on batteries?
If so, which batteries do you need and how many? Are they included or not? Is the battery rechargeable and if so, how do you charge it?
Also take into account the battery life and any charging time.
Features
Would you like to be able to drive on sand, asphalt and grass? Then an off-road vehicle is probably the best option.
Consider getting a waterproof model if you want to drive through puddles and race in damp weather without any problems.
The newer models have the ability to swap the axles of the wheels and perform tricks.
There are even models that can rotate 360 ​​degrees, so you can use the vehicle on both sides, so it never actually ends up upside down.
Might save you some work!
Speed ​​and Range
The different models have different speeds.
In general, the vehicles have a speed between 12 and 30 kilometers per hour. There are even models that can reach over 200 km/h.
The range of the remote control can also differ and usually varies between 20 and 100 meters.
Additional accessories
Additional accessories make an RC vehicle even more interesting.
For example, think of colorful lights or cars that make noise. These kinds of functions are especially interesting for children.
For inside or outside?
If you want to purchase an RC vehicle, think about where and how you want to use it in advance.
In general, most vehicles are suitable for indoor and outdoor use, even airplanes and helicopters.
Always read the product description to be sure about this.
Some outdoor overland vehicles require better suspension, shock absorbers and tires to provide more grip.
An RC boat can also often be used in the bath.
However, an RC drone is more suitable for outdoors, but the kid version can sometimes be used indoors as well.
Top 6 Best RC Vehicles Reviewed
Now that you have a better idea of ​​the factors involved in RC vehicles, you are in a better position to determine which RC vehicle is best for you.
I'll show you my favorites to get you started. Or into the air. Or even on the water!
Also read: the best toy racing tracks
Type: Hobby Grade
While Traxxas seems to dominate the RC market, I would recommend the Arrma RCcars Don't forget- they are top quality.
While I am deeply saddened by the discontinuation of the Nero 6S, their Granite is a great replacement that is a ton of fun.
This little car can go fast!
It can go up to 95+ mph straight out of the box, and with tweaks, we have no doubt you could get it even higher.
It has a low and slim body that reduces drag and allows you to hit top speed, with tires built to grip the pavement.
In addition, it works very well on dirt and snow.
It's one of the coolest little RC cars on sale right now.
It's waterproof and it comes from RTR. It also has a great 2 year limited warranty.
This car is remote controlled and inspired by the toy cars of the 80s. With this buggy you can perform cool tricks thanks to the large tires and sloping front.
The off-road buggy consists of 193 parts and stimulates creative thinking. The dimensions are (lxwxh) 28 x 16 x 13 cm.
You can download the CONTROL+ app to extend your playing pleasure even further.
Through the app you can drive the car, perform crazy stunts, take on challenges, play with sound effects and much more!
The toy is ideal for children from the age of 10.
But parents can also play with it, and will get nostalgic feelings because of the beautiful, retro colors and detailed stickers from the 80s.
Please note that you need 6 AA batteries to run the car, which are not included.
The Technic series from Lego offers children advanced building toys for fun and educational challenges.
Thanks to the realistic movements and mechanisms, children can learn about technology in an accessible but realistic way.
Get together and challenge your friends! Who has the best tricks? Who is the fastest? There is so much to discover about this car!
Features
193 parts
Stimulates creative thinking
28 x 16 x 13 (lxwxh)
CONTROL+ app
For children from 10 years and adults
6 batteries required, not included
The MJX B4W is a capable optional camera quad that is ideal for kids and advanced pilots.
The three flight modes and one-button take-off and landing ensure that young people have a confident take-off.
Best feature: three flight modes
Best Function: 120° Wide Angle 4K Camera
Pros: Long flight time, smartphone ready, kid friendly, easy / safe flight modes, bonus battery & props
Cons: not good at winds above 10 mph, no camera stabilization
The MJX is a good quad drone with camera suitable for younger pilots on mission. Great to fly with an immersive First Person View (FPV) flying experience.
Best of all, newcomers can take it slow and learn how to fly with these fry at their chosen pace.
You can switch to Mid-level and finally Advanced flying when it's time to exit Beginner mode. That's three levels in one drone.
Here are some of the MJX's impressive flying characteristics
Altitude Hold function
Take off and land at the touch of a button
Heading Hold, also known as Headless Mode (great for kids starting out)
FlyingSee app for Apple / Android
Customized flight routes with the smartphone app
Virtual Reality Mode (requires VR glasses (not included))
Real-time First Person View (FPV) video
Why it's a great drone for kids
The feature list above are things you'd expect to find on much more expensive camera quads.
This feature rich drone is an excellent choice for kids as it acts as a training tool.
The flight range is about 300 feet (100 meters) which gives young pilots a decent ride.
And there are low battery and out of range alarms to make sure they don't lose their new MJX.
Short flight time
Not good at winds above 10 mph
No camera stabilization
This handy little quadcopter is a perfect drone for kids and anyone at the entry level.
It's from the minus category of smaller drones, meaning it's about the same size as an adult's hand.
What we have here is a fast and fun quadcopter for young people. The manufacturer's recommended minimum age is 14 years.
It means adults need to supervise younger children who want to fly.
The 66C has a high score on Amazon and thousands of positive reviews from users.
It's comforting to know that others have flown the drone and are excited about its features and capabilities.
Here's a quick look at what's in the box on this affordable little craft:
The Predator Mini Quadcopter
Remote control (RC)
350 mAh battery
Spare set of rotator blades
USB cable
Manual
Small screwdriver
Flying the 66C
The 66C is easy to understand and a great drone to learn from. It comes with a headless mode or worry-free mode.
This is great for beginners as you don't have to distinguish the front from behind.
There are three speed modes and the slowest one is perfect for beginners. The super fast mode provides a lot of fun for more advanced drone pilots.
When flying indoors, consider the speed options.
Take advantage of 6-Axis Gyro technology and perform impressive rolls and flips with a little confidence and experience.
This is all push button flying, so nothing is too complicated here.
You control the 66C with its 2.4G remote control (included). It is a simple yet practical design that fits neatly in the hands.
The only problem with the RC is that the buttons are not marked.
You will quickly find out which button activates which function.
Still, it's a bad design flaw in what would otherwise have been the perfect kid-friendly quadcopter - at least for the money.
Prefer a slightly larger drone for your child? These top 8 drones are also suitable for children but fully functional
This is a faithful replica of a Cessna 182 aircraft.
The aircraft is extremely easy to operate and remains stable in the air thanks to the stabilization system based on a built-in 3-axis gyroscope.
With a little practice, you can quickly master the flying method.
The aircraft has a size of (lxwxh) 3,5 x 15 x 0,9 cm. It is made of plastic and therefore lightweight, yet sturdy.
The aircraft can survive minor collisions. In addition, you will receive spare propellers in case the original ones are damaged.
Thanks to the 2,4GHz radio control system, you can fly up, down, left and right with the remote control.
The remote control has a range of up to 200 meters, so you can also use it outdoors.
It works with two channels, which makes it easier to control the aircraft.
The plane is charged via a USB cable (3.7V 300mAh Lipo Battery). The remote control requires two AA batteries (not included).
What's included?
RC plane
3.7V 300mAh Lipo Battery
Remote control (in back of box)
Spare propellers
USB Charger
Manual
The product is suitable for children aged 7 years and older and for beginners.
The flight time is about 20 minutes and the charging time about 35 minutes.
Start flying immediately when you receive the package! The plane is easy to assemble, you do not need glue.
It is recommended that the first time children use the aircraft, they are accompanied by an adult to supervise.
It is also better if you do not fly near tall trees and buildings.
Features
Self Stabilization System
(lxwxh) 3,5 x 15 x 0,9 cm centimeters
Light weight
2,4GHz radio control system
USB cable included
7 years and older
Flying time: 20 minutes
Charging time: 35 minutes
The remote control of this boat is equipped with a flip reset function (180 degrees), which means that the boat will automatically float upright again if it tips over.
You can also operate the boat in different directions with the remote control. The boat can sail at high speed (20 km/h) and is equipped with a large propeller.
The double hatch design improves water resistance.
The package includes the following:
RC boat
Remote control
2 Rechargeable batteries
4 Non-rechargeable batteries
USB charging cable
Manual
The RC boat is easy to control with the remote control that has a range of up to 500 meters.
The remote control is designed for smaller hands and therefore ideal for children from 14 years. It will provide your child with hours of entertainment.
The supplied batteries are rechargeable and provide about 15 to 17 minutes of fun.
The boat can be used in swimming pools, rivers, lakes, but also possibly in the house (in the bath for example). However, the boat is not suitable for salt water use.
Features
Flip recovery function
High speed motor (20 km/h)
big propeller
Easy to drive
Water resistant
Rechargeable 1500 mAh battery (included)
500 m . signal range
For children aged 9 years and older
Playing war is something that children often find interesting. In this set you get two tanks (woodland camo and desert camo) to fight against each other.
The tanks are equipped with counters that keep track of the number of hits. After 4 accurate shots, the battle is won and the lost tank cannot move for 30 seconds.
After that, the fight can be resumed. When the tank is started and fired, the entire hull will vibrate. The tanks mimic the sound of a real battlefield.
When a precise shot is fired, you will hear the sound of the target strike, while a light from the losing tank goes out (there are 4 LED lights that represent your 'life').
If all the lights on one of the tanks go out, it has lost the battle.
You can shoot in two ways, namely with the jet cannon or with the machine gun.
The toy package includes the following products:
2 Tanks
2 Remotes
2 Batteries for tanks
2 Chargers for batteries
4 AA Batteries for the remotes
2 Tankers with rifle
The tanks feature a soft, tracked chassis with perfect traction.
The turret on each tank has a hatch, in which you will find a tanker with a machine gun. The turret can rotate left and right, and the gun can move up and down.
The tank is powered by two rubber tracks. Each wheel has a separate spring, which means that the tank also works perfectly on uneven surfaces.
The tank has a maximum speed of 7-8 km/h and the range of the remote control is 30-40m.
The fighting distance is 3 meters and the size of each tank is (lxwxh) 33 x 12 x 12 cm.
The necessary batteries are included. Charging time is up to 4 hours and playing time is up to 45 minutes.
The tanks are made of high quality and certified-safe materials.
Features
Two tanks
The tanks have counters
Realistic Sounds
Equipped with a soft chassis
1 scale: 14
Maximum speed: 7-8km/h
Remote control range: 30-40m
Fighting distance: 3 meters
Tank dimensions (lxwxh): 33 x 12 x 12 cm
3 years and older
You can assemble this beautiful crane in 710 building steps and with almost 2600 parts! Even novice builders can easily get started with it.
With the remote control you can unscrew the support legs of this kit. The crane can be raised to almost 45 degrees to lift its loads.
Behind the cab you will find the V8 engine, you can even see the pistons moving up and down.
There are also building blocks to build a crate. You also get four flat blocks to ensure that the outriggers don't just sink into the mud.
You also get nice stickers to completely personalize the crane. The toy can be used both indoors and outdoors.
The recommended age for this toy is from 6 years and the size of the product is 56 x 17 x 90 cm (lxwxh). You need two batteries that come with it.
You get colorful instructions with this pack to easily assemble everything.
The crane supports Bluetooth control via an app or a 2,4GHZ remote control. You can open doors, the hood and drive 360° all around.
The building blocks are made of high quality ABS materials and carbon fiber, with a high level of safety.
Features
2600 parts
For children from 8 years
Control via app or remote control
Safe materials, ABS and carbon fiber
Charging time: 150-180 min
Play time: 15-20 min
Remote control distance: 20 m
Dimensions (lxwxh): 6 x 17 x 90 cm
For indoor and outdoor
This SYMA helicopter is equipped with automatic height stabilization, which makes control easy for beginners.
It has the new version 2,4GHz technology which ensures interference-free connection and also the latest gyroscope technology for more flight stability.
Also, the helicopter has automatic take-off and landing with just a push of a button, and also emergency shutdown requires pressing just one button.
The helicopter will even shut down automatically upon impact with the rotor blades, protecting the rotor from damage.
The helicopter is made of alloy, which makes it very robust. Again perfect for beginners and kids.
Included is:
RC helicopter
Remote control
Battery
Charging cable
rear rotor
Manual
Screwdriver
You can make the vehicle fly up, down, left, right and forward and backward.
You can even use the helicopter indoors, because of its handy size (22 x 4 x 10 cm). Ideally outside in windless conditions.
The helicopter remains hovering in the air when the joystick is released. Thanks to the expert mode, you can choose between two speeds.
Since the helicopter is equipped with a bright LED headlight, visibility is better at night.
The helicopter is made to size 1:87, has a beautiful red color and is suitable for children from 6 years old.
Features
Automatic height stabilization
New Version 2,4GHz Technology
Latest gyroscope technology for more flight stability
Automatic take-off and landing
Easy emergency shutdown
Auto power off in collisions
Robust, made of alloy
Perfect for beginners and kids
For indoor and outdoor
Hover function
Expert Mode
Afmeting: 22 x 4 x 10 cm
The RC excavator can drive backwards and forwards, turn right and left and the arm can be moved up and down, so you can move sand and stones to another place.
Not only does it have a digging shovel, but you can also set up a tree grab, something you usually have to buy a separate machine for, and which is also a lot of fun to play with!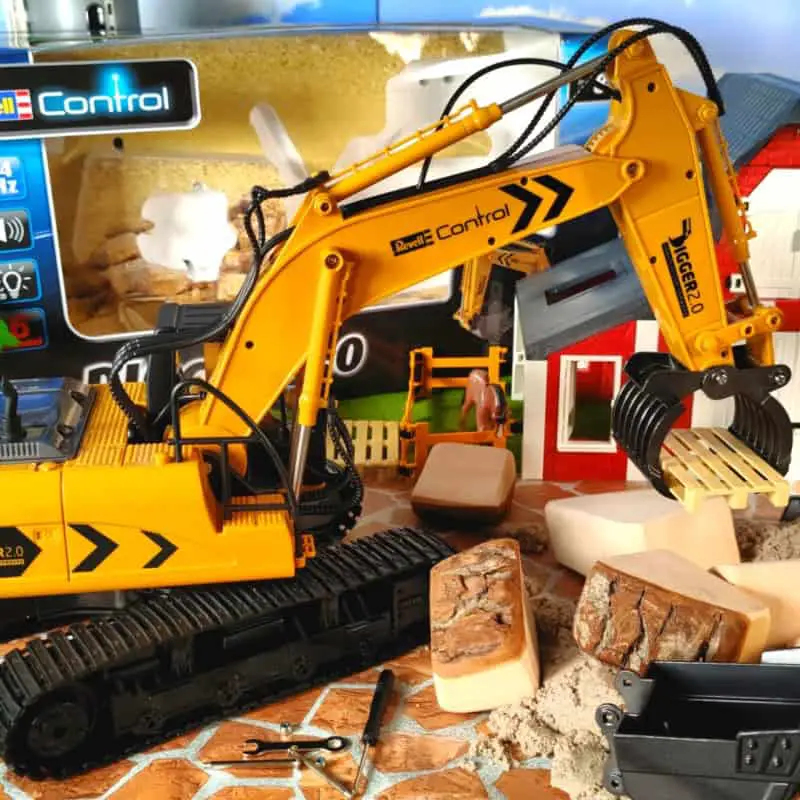 It is chain-driven and can go anywhere, also suitable for outdoor play!
Controlling is very easy but you have to take some time to get used to the controls. That is why it is more suitable for children from the age of 7, it takes quite a bit of patience.
But fun to do once you get the hang of it.
The sound is really HORRIBLE, and something Revell already understood, I believe.
They have made a MUTE button on the controller.
PFFFF… ..
That saves a lot of noise, because it is not to be heard.
Furthermore, one of the best RC excavators I have seen, easier to drive than the LEGO Liebherr app for example and the undefeated winner in this category due to its price.
This RC engine has a tough look with a combination of black and green, which creates a striking contrast. The detailed finish and realistic design make it a real showpiece. It is clear that great care has been taken to reproduce the features of the genuine Harley Davidson XL-1200N Nightster.
As for performance, the Maisto RC Motor is easy to control with the included remote control. The pistol controller is intuitive and responsive, giving me full control over the motor. With a range of 115 feet (35 meters), I was able to maneuver the bike smoothly and accurately.
I would also like to share the experiences of other users. A review I came across described the RC motor as "impressively detailed" and the remote control as "easy to use". This confirms my own positive experience with the product.
A blue and white Lamborghini police car that can transform into a robot (and vice versa)? WOW!
With this Huntex you make your child twice as happy. With just the push of a button you can make the transformation a fact.
Both the car and the robot can move in all directions. The car has four smooth wheels and can rotate 360 ​​degrees in both the robot form and the car.
The plastic toy features cool lighting and realistic engine sounds.
Content toy package:
Huntex transforming car/robot
Remote control
2 AA batteries for remote control
2 Rechargeable batteries for car/robot
Charger
Manual
Batteries are included and the battery life is 40 minutes. Charging takes about an hour.
The recommended age for this toy is 4 to 12 years and the maximum speed of the car is 10 km/h. The maximum operating distance is 10 meters.
The toy is strong and resistant to falling, and absolutely safe for children. The dimensions of this robot/car are 24 x 9,5 x 7,5 cm (lxwxh).
The car battery is rechargeable by means of the USB charging cable. The toys can be played both indoors and outdoors!
Features
Robot and car in 1
With lights and realistic sounds
With batteries
Battery life: 40 minutes
Battery charging time: 1 hour
For children from 4 to 12 years old
Maximum speed: 10 km / h
Maximum operating distance: 10 meters
For indoor and outdoor
Dimensions (lxwxh): 24 x 9,5 x 7,5 cm
Plastic
What are the advantages of RC vehicles?
RC vehicles are cool because you control them using a remote control.
There is an ever wider range of great RC vehicles thanks to constant technological developments.
These developments are also making the cars better: for example, you can continue to operate the vehicles from an increasing distance, they absorb shocks better and they can make more complex movements.
Are there also disadvantages?
A disadvantage can be that the battery of the remote control runs out at some point and you have to replace it every now and then.
If you take a car that runs on a battery, you have to charge it every now and then to be able to continue using the car.
However, these are things that you will always have to deal with when using electrical appliances!
Finally, due to the rapid developments, you will never really have the latest model at home.
The benefits for children
Driving cars or other vehicles with a remote control is super fun, but also educational.
If your child is able to operate a vehicle with a remote control, it will improve psychomotor coordination and reaction time.
Also the ability to reason and socialize will improve.
Further promote RC vehicles:
The concentration
If you don't pay close attention, your car will soon crash into something. The child must learn to use the remote control and discover all the possibilities.
The child must also understand and remember how he/she uses the vehicle on different surfaces or terrains.
Motor skills and hand-eye coordination
Your child must rely on psychomotor skills to learn how to maneuver the vehicle.
Social skills
If your child plays with other children or mom and dad, will it develop social skills.
In addition, a child learns to be empathetic, but it also learns team skills and compete.
The sense of responsibility
RC cars need to be well maintained so that they can be played with for a long time.
They are equipped with sensitive mechanisms, so always make sure to follow the instructions provided!
The imagination and creativity
While playing, your child can create all kinds of scenes and stories that will stimulate his/her imagination and creativity.
Creative toys are therefore very educational and educational.
FAQ
What are four wheel drive RC cars?
Four-wheel drive is also abbreviated as 4WD or 4×4.
This concerns vehicles with four wheels in which all four wheels are driven by one central motor, or by 1 hydraulic or electric motor per wheel.
A four-wheel drive makes a car more powerful because all wheels are driven and thus more grip is created.
In general, most cars have four-wheel drive, or there is the option of converting it to four-wheel drive.
A normal passenger car has a two-wheel drive: 4×2 (four wheels, two drive). There are also RC cars with a two-wheel drive.
How can I extend the life of my RC vehicle?
If you have an RC vehicle with rechargeable batteries, it is important that your batteries are completely empty before you start charging them.
It is also not recommended to always charge batteries for a short time; it is better to fully charge them, or at least leave them on the charger for 1,5 hours.
Is the battery fully charged? Do not leave it unnecessarily on the charger.
Conclusion
An RC vehicle is a perfect gift for children, but also for adults. Call up all your friends or family and start racing or stunting together!
If you follow my buying guide, you will have the perfect RC vehicle for you in no time.
Take into account things such as the dimensions and for which target group the vehicle you have in mind is.
Look at the speed, range of the remote and battery life. Are you going for an off-road car, or one that functions better on the road?
Also read: These are the best science kits for kids (Chemistry, Physics, Biology)