8 best retro wooden toys for CLASSIC loads of fun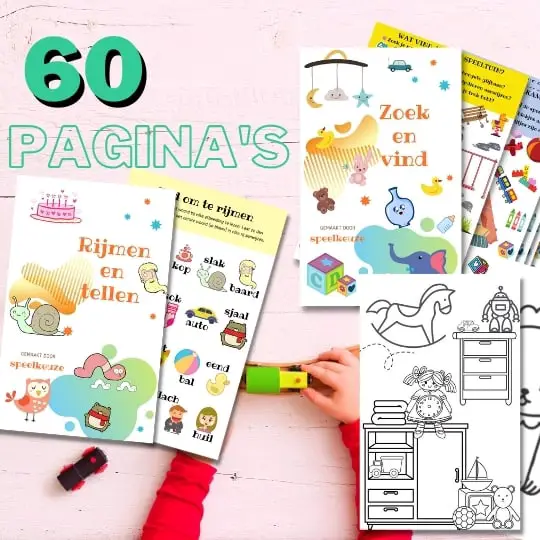 Always something to do for the holidays or rainy day?
Play Choice now has the ultimate activity book collection, with over 60 pages of fun coloring pages and educational puzzles.
Wooden toys from the past, we want it again for our children, right?
For instance these great retro wooden robots from Tender Leaf. I think they are so cool and my son loves to play with them. You can mix and match the robot parts and make the funniest creations. Very sturdy toy.
In this guide I discuss the 8 best retro toys and what you should pay attention to when purchasing.
Let's look at the top options in a short overview. Then I'll go into more detail about each of these choices.
Retro wooden toy buying guide
The first thing you pay attention to is of course the appearance. You are not looking for retro wooden toys for nothing, so the look must be good.
That's why I think the Tender Leaf Robots are so perfect. Depicted as they used to think about robots. Nice and angular and with large dials.
The subject can also be nice and retro, such as the old-fashioned popcorn machine from Le Toy Van or a classic game such as the Galt Pop Up Toy.
After you have determined the right look, it is time to see if the toy is also good.
That's why I've rated each set on this list for its features, replayability, and durability on a scale of 1 to 5.
Best Retro Wooden Toys Reviewed
Super retro but also educational. The robot construction playset aids creative thinking and imaginative play, plus fine motor skills.
There are a total of 17 parts that can form 3 funny robots.
Tender Leaf is a responsible brand that uses rubber wood for these toys. It is very sturdy and renewable.
Although the bodies are very sturdy, there are also some thin parts such as the legs. These can still break.
Not suitable for children who throw a lot I think, but overall a very nice retro set that should last a long time.
A very nice retro toy. Who wouldn't want to play that they're going to the cinema to eat some good popcorn!
It's a cute set and really, really sturdy. The popcorn pieces are made of felt so that there are no small pieces that your child could swallow.
The popcorn in the machine is stuck. They are popcorn pieces and wooden balls that rattle in them for a funny sound.
This makes the toy very safe, but many customers said they found this misleading as you can't really tell from the pictures.
So it seems like you have more playing material than you actually get. And that for quite a good price.
The movie tickets and tickets to buy sweet or salty popcorn that are on the box (cut out) are also a nice addition for a lot of pretend play.
Opinions are pretty divided about this machine. I think he's great and it's fun to get involved in pretend play. Others don't care because there is nothing to cut or make.
It's an absolute hit or miss in your home.
This wooden kitchen set is a recipe for fun!
There is also a sink with built-in storage space at the bottom to keep pots, pans and other essential kitchen utensils.
It's great for smaller spaces and recommended for ages three and up, little cooks will love it.
In any case, New Classic Toys has quite a few nice toys, a lot of wood and I think that's the approach, making new classics. So they are also products of quality.
You also have differences between rotary knobs, which is found on many kitchens. Some that turn loose and some that you can turn with a real click sound and feel, and this one from New Classic Toys has that also with the oven.
That really gives the feeling that you are setting something up.
The only pity I found that the button at the top of the microwave is not made that way and that it just keeps rotating.
The color setting of this kitchen is very nice with soft colors and looks good in your interior. Despite being small, it is of course a toy that will be in plain sight.
And you can also play with what's included:
you get a pan to fry your things
and one for cooking things
sturdy metal sink
ladle and spatulas
dishcloth
oven mitt
salt and pepper
signs
You can press the buttons and then the light of the stove will go on so that also gives a more real feeling of cooking, and if you press it again it stays on and it also gives a cooking sound.
Furthermore, there is a sturdy metal bowl as a sink and our son really enjoyed helping with the dishes. He wanted to do that in real life too.
The oven can be closed and you can store everything there and you can turn the knobs to set everything for your fantasy baking, and you can also neatly put the dishes that have been washed away in the drying rack at the top.
It all looks very neat and it is quite a large play kitchen with everything you need to let your little one come up with his own game.
We have a lot more play kitchens reviewed in this earlier article, with a lot of wooden choices in it too.
When it comes to roleplay toys, there are two brands I can't recommend enough. The first is Melissa & Doug. The second, Le Toy Van.
This old-fashioned camera proves it once again. This stimulating wooden toy will inspire your child to create their own storylines.
The spinning gears are a nice addition so that they really have the feeling that they are recording something. The kaleidoscope lens is very funny to look through.
Candylab toys make beautiful wooden toys that are inspired by the glamorous America of the 60s and modern design.
The brand's wooden toys are of A-quality, or as Candylab says of 'heirloom quality'.
The brand has a unique range of solid wooden toy cars with a sophisticated design. Honest and beautiful toys that allow children's imagination to go their own way.
The company is based in Brooklyn and the toy collection ranges from classic American cars to typical American buildings, including typical motels, beach towers and buildings with large neon signs.
The toys are wonderful for young and old. The young audience praises the products, while the adults like to collect and display the wooden toys.
The wooden Candy cars are designed with clean lines and elements of iconic models from the past. When designing the Candy car, a lot of attention has been paid to the details and it is easy to recognize.
The cars are sturdy and last a very long time. Furthermore, you can easily combine Candylab toys with other types of toys, including Playmobil.
The brand also cares a lot about our planet, which is why they try to avoid plastic as much as possible. The beech wood for their production comes from North American well-managed forests.
They try to keep the ecological footprint of their products as small as possible.
This is the kind of car I want my child to play with. No, I want to play with it myself! Beautiful classic vehicles in soft pastel colours.
Especially with such an outspoken model it is good to have a set to be able to play with it together.
Sure, other cars often join the game, but they often end up together in one way or another.
They are an Independent Toy Award winner, painted with non-toxic paint and made from renewable rubber trees.
Just the right size for small children's hands. Great quality for an affordable price.
Lincoln Logs have been popular in America since 1916 and available around the world for several decades.
These classic building sets consist of 100% beautifully stained real wood blocks, which are manufactured in America according to the strictest quality standards.
You can easily stack them on top of each other so toddlers aged 3 and up can improve their fine motor skills, hand-eye coordination and manual dexterity.
There is an example, the classic meeting house, but you can also invent your own structures. And that's what makes the toy really fun.
Maybe not a nostalgic experience for everyone in the world, but definitely a retro building game that has stood the test of time.
A funny pop-up wooden toy. Every child should have a pop up toy for their development, but there aren't that many wooden options.
It is suitable for babies. The packaging says 12 months, but it could also be a bit earlier.
When you push a doll down, he will jump up again.
The dolls are a bit narrow so it is good to always stay with them when they play with them.
Swallowing is not easy, but when they walk around with it in their mouth and fall it can be a bit dangerous.
A welcome change in a world of plastic pop up toys.
Conclusion
There are a lot of retro toys for sale, but not everything is made as well as it used to be.
With these wooden sets you can be sure that it has the right look but will also last a long time.