8 best skates, inline skates & roller skates for your kid reviewed
I enjoy writing these articles for my readers, you guys. I don't accept payment for writing reviews, my opinion on products is my own, but if you find my recommendations helpful and you end up buying something through one of the links I may be able to receive a commission on that.
More information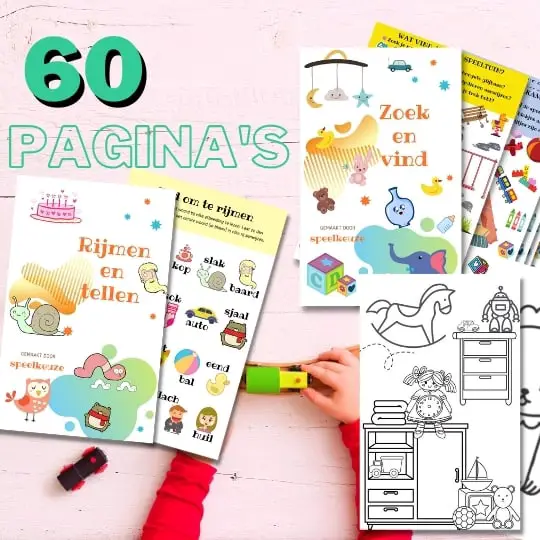 Always something to do for the holidays or rainy day?
Play Choice now has the ultimate activity book collection, with over 60 pages of fun coloring pages and educational puzzles.
AND IT IS!
They want to go out and play with skates!
Before you know it, they will hit the road quickly, so you want SAFE and good skates that they can use for the time being. But how do you choose?
I will help you see what to look for when buying the skates for your child, and do you know the difference between skates and inline skates for example?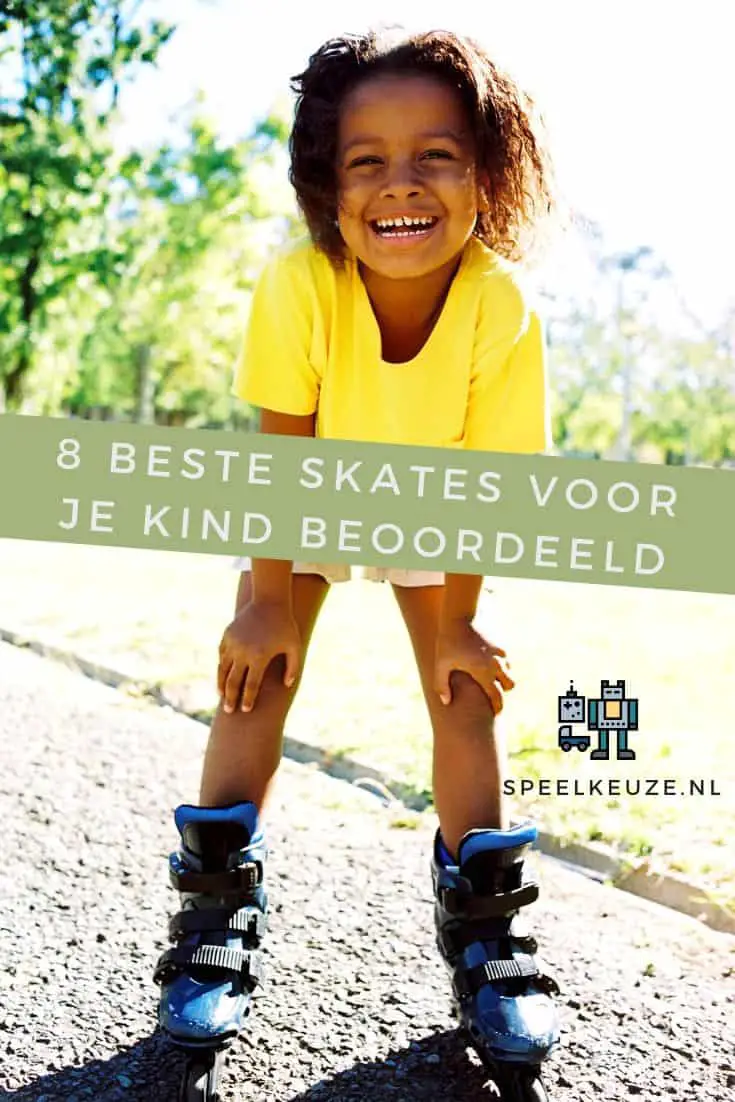 If your child is like I used to be, they want a good skate that is agile and can grow along with them as they become more confident in themselves. Being the ABSOLUTE number 1 in this field these 3 in 1 skates from Nijdam, the MUST HAVE adjustable skates for beginners.
Nijdam is the brand in the field of skates and skates in the Netherlands and I have a number of models on this top list, but the wheels of this 3 in 1 are perfect for the beginner:
You can put the wheels in 3 different positions to learn to balance, a bit like training wheels on their first bicycle.
I will list all the options here, and then I will go deeper into each of these choices and look at when to choose skates, inline skates or roller skates!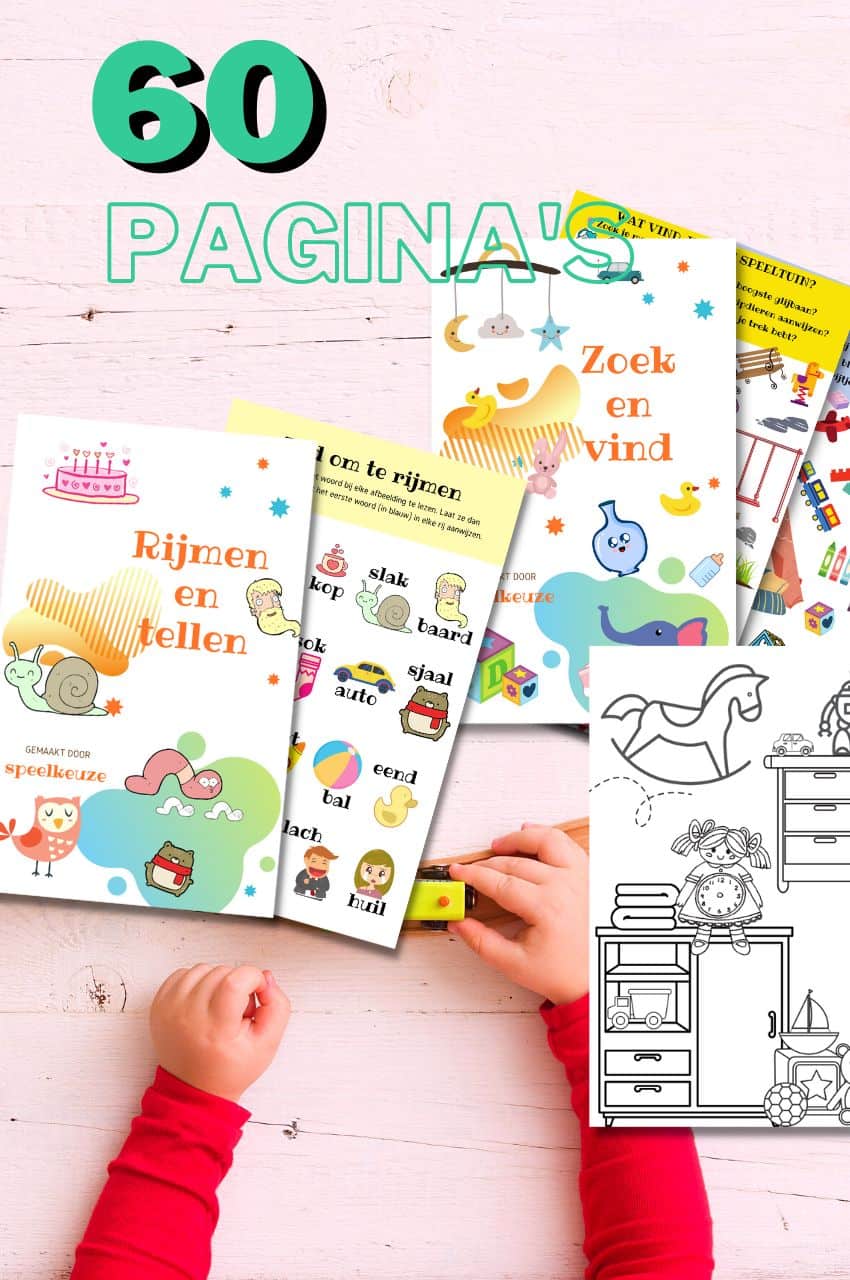 A play theme in your mailbox every month?
Fun play tips, activity books and more, with the first email being our free mini-guide "educational toys"
We will only use your email address for this newsletter and respect your privacy
What should you pay attention to when buying skates?
For the people who don't yet know what to look for, this article I have compared many skates to is a good guide. I watched:
the wheels, considering the material, hardness and size of the wheels.
the fit, where I paid extra attention to the firmness for the ankles.
the frame; an aluminum frame is stronger and recommended.
the price in proportion to the offer and the quality.
Make sure you buy the skates 1 size larger than your child's shoe size. Even if the skate is adjustable, you have to pay attention.
Adjust the size over the time your child is skating and don't forget to keep track to avoid blue toes.
What do you choose: inline skates, skates or roller skates?
It is incredibly difficult to choose the best inline skate, skate or roller skate from a GIANT offer.
You have to have a good idea of ​​what you are going to use the inline skate for, but then you also need to know what your options are exactly.
In short, you can choose from these different types of skates:
In-line skates
Inline skates
stunt skates
Roller skating
And within these you have adjustable or not, where you can reposition the wheels for ease of learning etc.
PFFF! Okay, here we go with the basic differences right?
When do you use rollerblades and when do you use skates or roller skates?
Just like on the ice, the goal is leading in the choice of skate. In other words, what is your child going to use the inline skate or roller skates for?
For fast maneuverability, short turns and stunts, your child could do well with skates or even stunt skates. Roller skates are also suitable for this.
If your child would rather go on rides (with you) and he / she likes a higher speed, consider the inline skate.
This is, for example, a skate: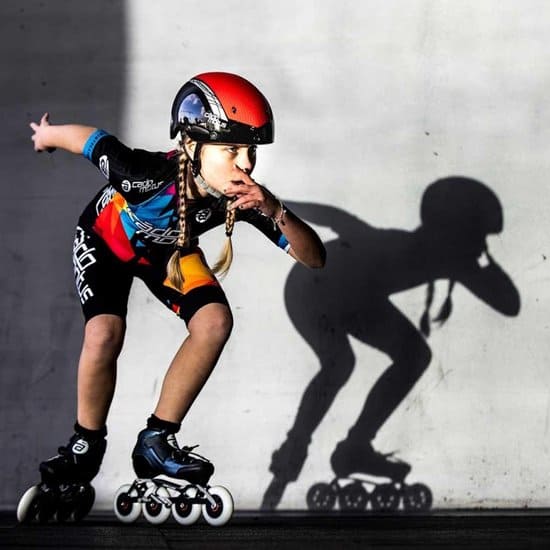 Inline skates are more suitable for achieving greater speeds and covering longer distances.
Skates are more suited to fast nimble action for stunts and are often used on the street for play and shorter rides.
Roller skates are used in the same way as roller skates: on the street and shorter distances but have four wheels side by side.
Stuntskates are for advanced (and often older!) Kids who love skate parks and have special parts for tricks like grinding.
Hope it is already a bit clearer ...
Your child will probably want to start at least with either rollerblading or rollerblading, and that mostly depends on personal preference actually.
I have listed the best choices per category, so that you as a parent can make a good choice. Of course I was guided in all those categories by the quality of the inline skates, about which you can read more later in this article.
If your child is not sure what he / she wants, consider a trial lesson.
Via the KNSB trial lessons can be arranged, so that your child can use a pair of skates to see if it can be a fun hobby.
In addition, you have to be very careful when you search the internet for the best inline skates for your child.
The words skates, inline skates and inline skates are easily used interchangeably and sometimes indicate the wrong thing.
Inline skates vs skates vs roller skates
Both the inline skate and the skate are "inline", where the wheels are placed one behind the other under the shoe in a frame.
Roller skates have two wheels next to each other in the front and two wheels next to each other in the back with a stop under the toes.
In skates, the stop is behind the last wheel at the back of the foot. A skate does not have this.
But beyond this difference in the location or presence of the stopper, there is an even more important difference between skates and inline skates.
To tell the difference between inline skates and skates you have to focus on the frame that the wheels are in.
Skates have a short frame, with the axle of the rear wheel sitting UNDER the heel of the shoe.
Inline skates have a longer frame, where the axle of the rear wheel is BEHIND the heel of the shoe.
You don't need a lot of imagination to see that the skate is more like an ice hockey skate and a skate more like a Norwegian: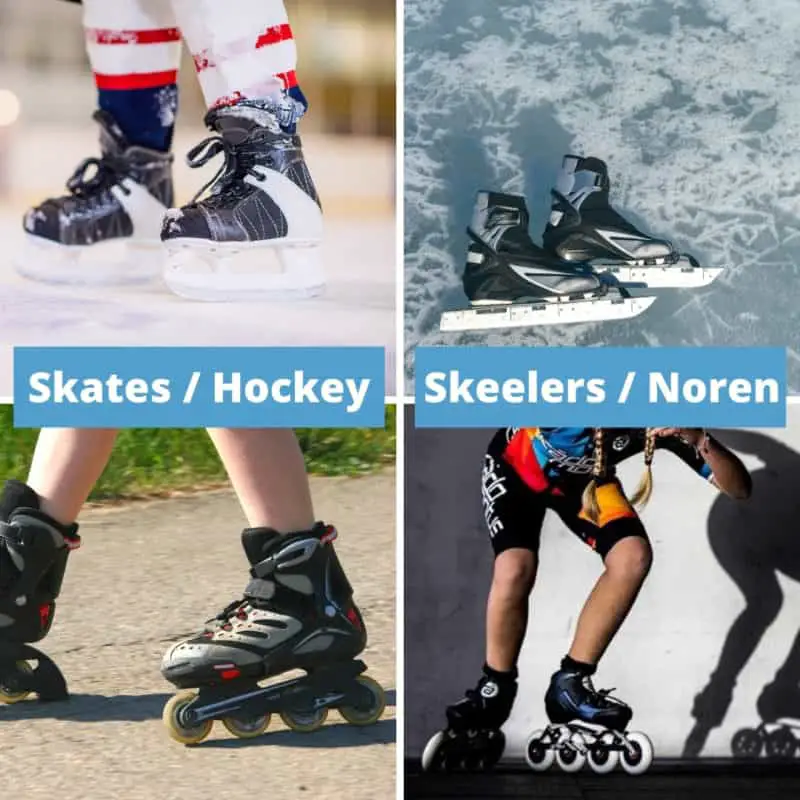 A skate gives your child more stability and you can put more power through the longer frame, but you sacrifice maneuverability.
Plus, inline skates often have slightly larger wheels, especially the three-wheel models, and the bigger the wheels, the less you will be bothered by stones and twigs on the asphalt when you drive over them.
So you can imagine that for children who are interested in skating and want to travel long distances, it is better to have inline skates under their feet than regular inline skates.
And that is precisely an important point of attention for parents.
Does your child want to participate in competitions and rollerblade on a track with a skating technique? Then you will really have to buy inline skates.
Does your child enjoy driving on the street and playing with friends? Then buy inline skates or roller skates.
To start, I recommend that you buy the 3 in 1 from Nijdam, with which your child can first practice with a more roller-skate-like setup with wheels side by side and possibly later convert them to inline.
Top 8 best inline skates, skates and roller skates reviewed
Overall best beginner skates for children: Nijdam 3 in 1 hardboot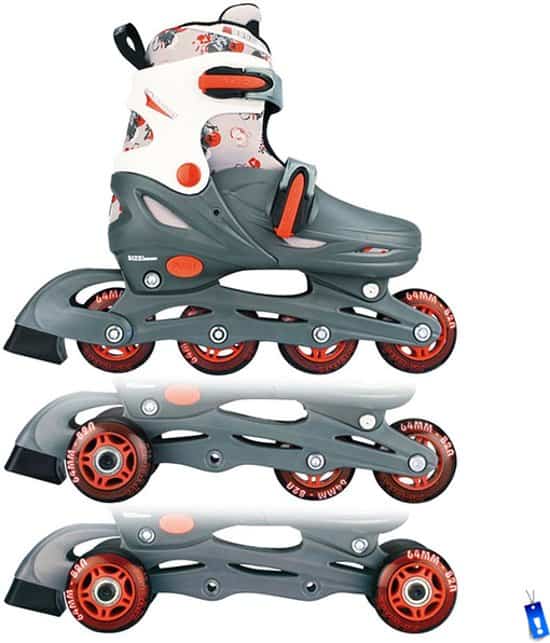 Firstly, Nijdam has an incredibly good reputation. The Dutch manufacturer has been around for many years and is a leader in the skating world.
The manufacturer views the skate from the perspective of the user and continues to innovate.
You can adjust the size of the shoe from size 27 to size 30
or you choose the model where you can adjust the size from size 30 to size 33.
And it is also a bit bigger there; from size 34-37.
But what makes this skate so special is that you can adjust the position of the wheels and you rarely see that.
You can convert the skate in three ways; from roller skates to an inline skate with side wheels to a real inline skate.
If your little lady prefers pink skates, that's no problem either. They are also available in pink in size 27-30.
This knowledge and expertise is also used next to the ice rink, because now you can no longer ignore the inline skates and skates of Nijdam.
The quality of the materials is very good and what also attracts me so much about the skate that I have put on 1 is the versatile way in which you can use the skate.
Will your son or daughter be on skates for the first time? Then this is really a fantastic choice to start with.
Keeping a child stable on inline skates is not easy. Just like on the ice, your child will certainly take a while to find the right balance.
On the ice, a chair or a helper is often used to remain upright, but on the street it is a bit more complicated.
It is therefore very nice that you can not only put the wheels behind each other, but also next to each other.
Once your child has mastered rolling and stopping, you can slowly try to put the front wheels behind each other and keep the rear wheels next to each other.
Thus, the skate actually becomes an inline skate with training wheels.
If this step also succeeds and your child can keep the balance well, you can go one step further by placing all wheels behind each other.
Then you are left with a real inline skate.
Besides this user-friendly way to learn to skate, it is of course very nice that the skate can also be adjusted in several sizes.
You can buy the skate in three options; from size 27-30, size 30-33 and size 34-37.
The skate comes with instructions, an extra wheel with extra axle, and an Allen key to change the position of the wheels.
Check prices and availability here
Best inline skates for kids: Cádomotus Rookie One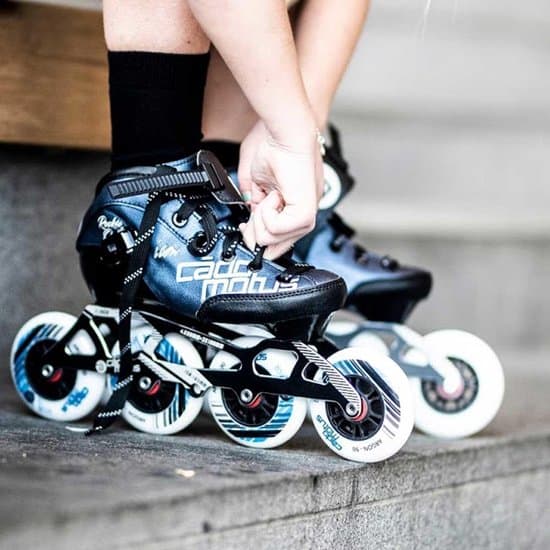 If your child is already a bit older or you are sure that it should be inline skates and not skates or roller skates, then choose this inline skate from Powerslide.
This skate is available with an adjustable shoe from size 33-36.
I understand that this skate is on the price, but if you are convinced that your child needs inline skates, then this skate is a really good option.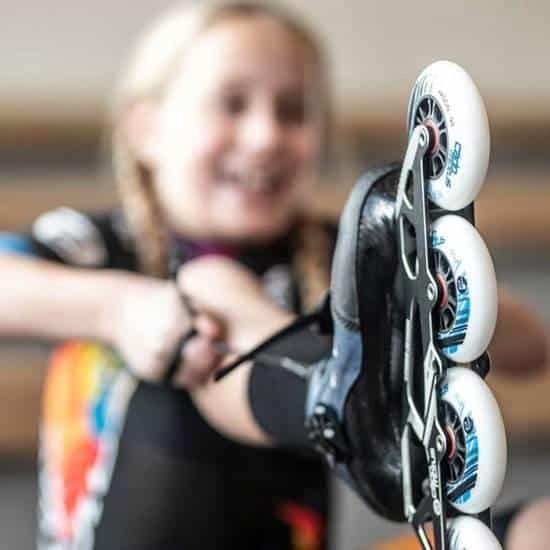 With an adjustable shoe, your child will enjoy the inline skates for longer and the slightly higher price is not even that high due to the longer lifespan.
It is a good investment for an inline skate that will likely grow with your child for a number of years.
Inline skating is suitable for children who can handle longer distances or who will receive lessons on the track through a skating club.
Best adjustable skates for ages 6 to 10: SFR Junior
I have chosen the skates from SFR. This skate has two options for kids:
adjustable from size 30,5 to size 34
and an adjustable one from size 35,5 to size 39,5.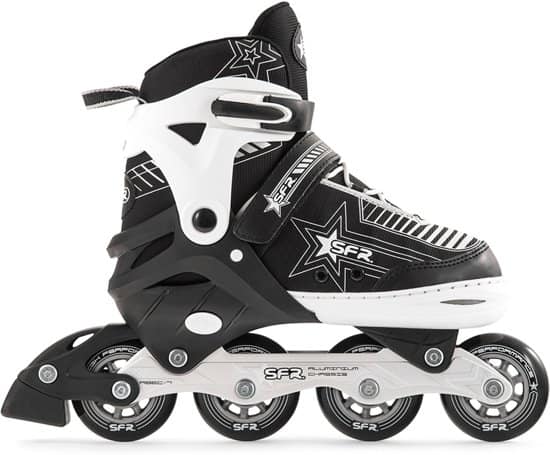 This skate has a good quality shoe, with a high and strong ankle protection. The aluminum frame provides a solid base.
And the wheels are a good size for beginner skaters.
If wheels are large, the distance from the bottom of the shoe to the ground will be greater.
The greater this distance, the more difficult it is to keep your balance.
With these skates from SFR, the wheels are of good quality, they have good bearings, and the wheel size is good for beginners.
All in all, a perfect skate to learn to skate with.
Check the most current prices and availability here
Best Stunt Skates: USD Aeon Nick Lomax Pro 60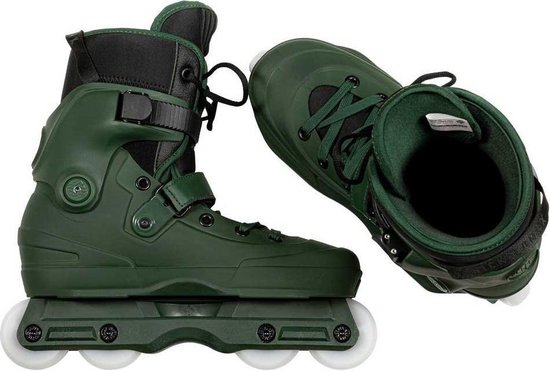 If your child really wants to jump and stunt it is very wise to purchase stunt skates and to distance yourself from the regular inline skates.
When the shaft of the skate comes down a bit, as is the case with stunt skates, then the skate is much more suitable for landing (and therefore for jumping).
The wheels are also a bit harder than the wheels on inline skates and they often have a recess for grinding over ledges and railings.
Young children are often more daring because they are not so afraid of falling.
If your child is ready or just really likes to stunt with skates, consider these skates from USD.
These skates are also adjustable and go from size 33 to size 36.
Pay attention to the hardness of the shoe.
You can imagine that you need a softer liner on stunt skates because of jumping and landing than with regular inline skates.
Check the most current prices and availability here
Best roller skates: Nijdam
Roller skating; for many parents this evokes nostalgic feelings. Who still knows the roller skates from the 70s, 80s and 90s with the yellow-blue shoe and yellow wheels?
What is important with roller skates is the quality and hardness of the wheels and the quality of the frame.
The shoe must also offer good protection, especially for the ankle.
That's why I choose roller skates from Nijdam again. They are simply of very good quality and have a very good price-quality ratio.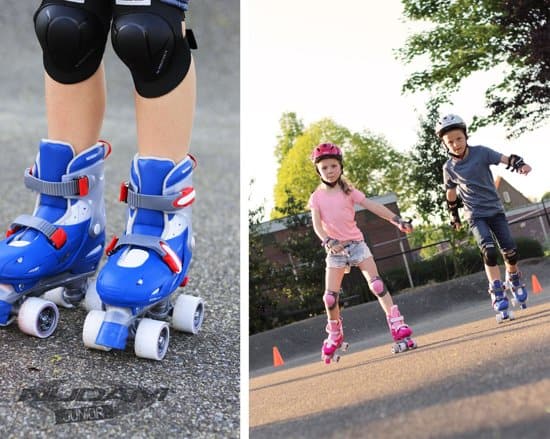 Nijdam has brought different sizes and colors to the market, such as nice pink with an adjustable shoe from size 27-30.
If pink is not the color that makes your child happy, there are also other options, such as a blue-gray in size 30-33.
Check prices and availability here
Best skates and skates in one: Nijdam combo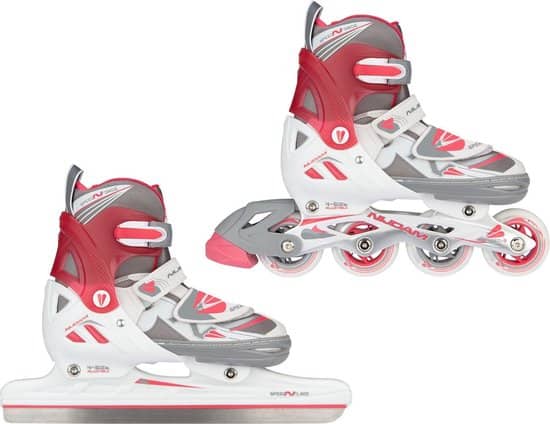 If your child really wants to play ice hockey and he prefers to do this on ice and on the street, then you can consider these skates.
You can replace the wheels with irons and thus exchange the skating rink for the street.
These skates from Nijdam are available with an adjustable shoe from size 35-38.
It is nice to buy and place pawns on the street, to learn to slalom.
Or you can make goals with it and play street hockey with a street hockey stick and ball.
Check out the latest prices here
Best cheap kids skates with 4 wheels: Move Blitz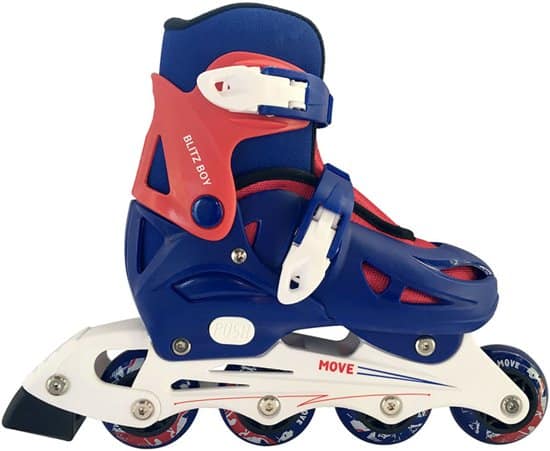 These inline skates have a good price-quality ratio and are, in my opinion, suitable for children who want to roll and play outside on the street.
Of course you don't always have to dig deep into your pockets for toys and with these inline skates from Move you still get a solid quality at home.
Best cheap inline skates with 3 wheels: Nijdam Junior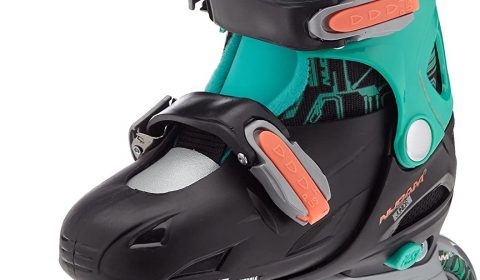 But in general, you can say that Nijdam takes the cake when it comes to delivering good quality at a competitive price.
These skates, with three wheels, are also very competitively priced.
Check prices and availability here
This is how you skate safely
Skating, roller skating and inline skating; it is not harmless. You fall quickly and easily and therefore wrist injuries in particular are quickly incurred.
As indicated earlier, learning to stop is important.
Generally speaking, you can still get going, but you don't always want to have to depend on a tree or lamppost nearby to stop.
A fall is then quickly lurking.
Learning to stop is therefore a very important part and if you are not skilled enough to teach your child yourself, consider giving your child a few lessons.
This way it is a lot more fun for both child and parent to skate.
In any case, you can assume that your child will fall with skating and that is why it is very wise to take safety into account and buy the right safety items at the same time as purchasing the skates.
Wrist protection is of course important and make sure that the wrist guards have a plate on the top and bottom.
Knee and elbow protection is also indispensable.
Fortunately, nowadays you often buy a whole set of wrist, knee and elbow protection in one go and it doesn't have to cost much.
At bol.com you buy, for example:
My Area skate protection set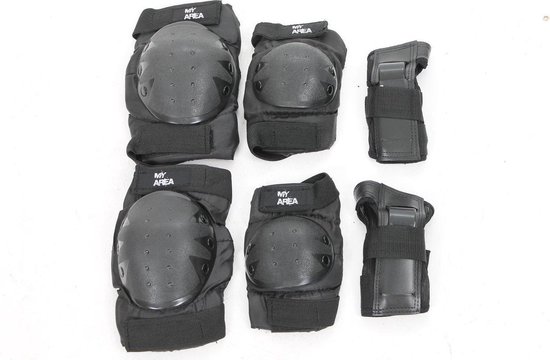 When purchasing a helmet, pay close attention to the back of the helmet. A skate helmet and a bicycle helmet do differ from each other.
Read here for example all about the important points to pay attention to when choosing a stunt helmet for children.
You can imagine that if your child falls off the bicycle, he / she will mainly fall on the side of the head.
This has been taken into account in the design of a bicycle helmet.
In inline skating and skating you fall backwards more quickly and your child ends up on the back of the head sooner.
The length of the back part of a skate helmet is therefore much more important than that of a bicycle helmet.
This helmet is a great example of a good skate helmet.
In any case, make sure that the size of the helmet is correct.
The helmet should not be too loose, causing it to slide crookedly, but it should also not be too small, causing a helmet to sit too high on the head.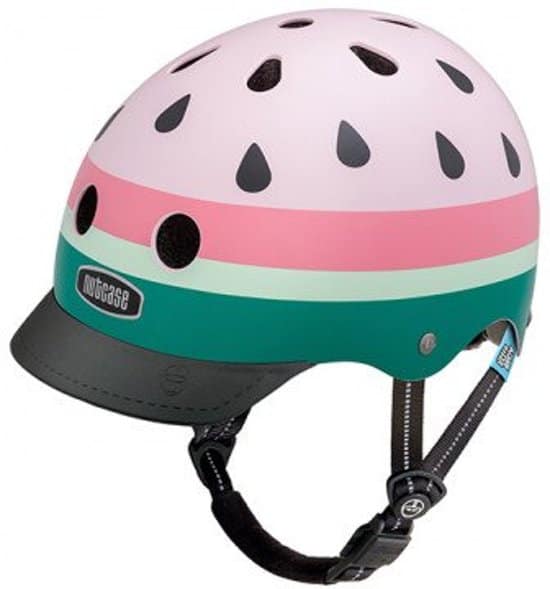 To be on the safe side, pack a tape measure before you buy the helmet. Most helmets you see on the internet are adjustable.
I advise you to buy a helmet that is adjustable by means of a button, such as this helmet, and not to go for a helmet that can be adjusted with Velcro.
How do you learn inline skating?
You have to learn the technique of inline skating, just like the skating technique. Of course you can teach your children this yourself, after all, this is also the case with skating.
This lesson is for absolute beginners:
But where you especially have to pay attention to other skaters and the quality of the ice when skating, you also have to deal with traffic when inline skating on public roads.
Because you (sometimes) participate in traffic when inline skating, mastering the technique is of great importance.
Braking in particular is something that you have to learn well to avoid collisions, falls and accidents.
Many children initially focus on speeding up, but you might think to teach them how to slow down first.
To do it properly, it might also be a nice idea to take your child in inline skating lessons.
In this way, the techniques are properly taught and you as a parent can let your child tie the skates with confidence.
Nowadays you can get inline skating and skating lessons for your child in most cities.
Inline skating lessons are often offered by skating clubs and are mainly for children from the age of 6.
The techniques of inline skating are taught and sometimes there is also the option to practice inline skating competitively.
On the map below you can see where in the Netherlands you can take inline skating lessons.
Of course it is not possible to put all the lessons in the Netherlands on the map, but I have tried to place some options in different regions.
And in addition, because of the size of this overview, I have chosen to disregard skate lessons on the street or lessons that focus on stunting or skating on skate tracks.
Map with inline skating lessons in the Netherlands
Does your little one prefer to go out with four stable wheels? Then take a look in our top 13 best go-karts!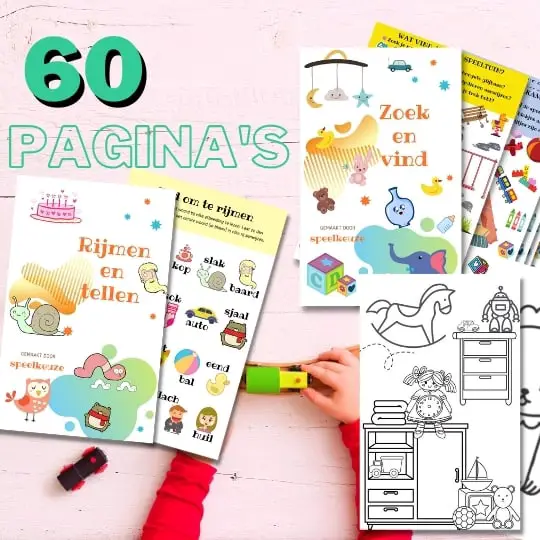 Always something to do for the holidays or rainy day?
Play Choice now has the ultimate activity book collection, with over 60 pages of fun coloring pages and educational puzzles.
Joost Nusselder, the founder of Speelkeuze.nl is a content marketer, father and loves trying out new toys. As a child he came into contact with everything related to games when his mother started the Tinnen Soldaat in Ede. Now he and his team create helpful blog articles to help loyal readers with fun play ideas.