8 Best Smart Watches for Kids: Tested For GPS, Calls & Games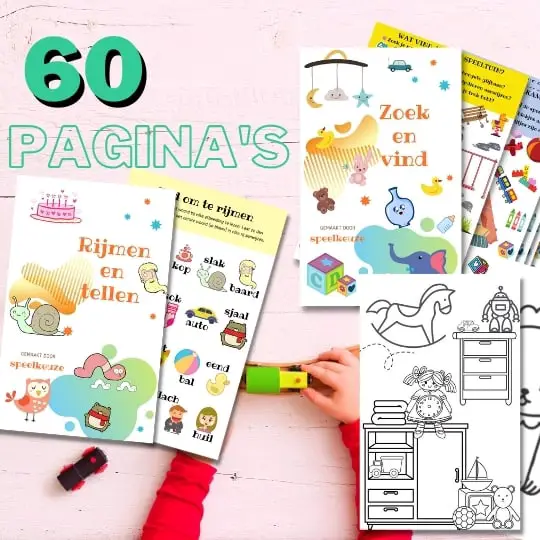 Always something to do for the holidays or rainy day?
Play Choice now has the ultimate activity book collection, with over 60 pages of fun coloring pages and educational puzzles.
A smartwatch is a type of watch that not only serves as a timepiece, but also has a range of other functions, similar to hand-held electronic devices such as a smartphone. They can consist of a variety of equipment, such as a camera, calculator, touchscreen, GPS system, speaker, and various measuring instruments (for example, an accelerometer, altimeter, barometer, thermometer, or compass).
Most parents also opt for other functions such as GPS or a full-fledged telephone, also known as a "watch phone". This is to give a child more freedom, but still keep an eye on things.
The best in the test is therefore the watch with the best GPS and calling functions, this Xplora X6 Play. A great connection without delay while you can see where your child is via the app and even set a school mode so that they are not unnecessarily distracted.
I will go through these and the other top picks because for this review we tested and compared 30 kids smartwatches to finally recommend these top 8 picks.
The age limit for a smartwatch for kids is from 4 to 16 years old. They don't need a watch before that, and after they're already looking at adult watches.
This list of the 8 best smartwatches for kids has a good option for every age group.
#1 Xplora X6 Play – Overall best kids smartwatch with GPS
This smartwatch is actually the best replacement for a mobile phone, but do put a SIM card in it.
The Xplora X6 Play Smartwatch allows you to text (Wi-Fi or data plan required) or call (only voice plan). You can hear each other clearly and the sound quality is good.
Also important in a good smartwatch with GPS is the real-time localization, which is much more accurate with this 4G than with 2G smartwatches, a nice idea for many parents.
You can even check its location history throughout the day.
It is IPX6 waterproof, the watch will not be damaged by submersion of up to 30 minutes in water, to a depth of up to 1,5 meters.
If your child is in an emergency situation, he can press the SOS button for 3 seconds and 3 SOS numbers will be called in turn (which you have set in advance), until someone answers.
The smartwatch bracelet is made of soft silicone, durable material and comfortable to wear. The smartwatch can certainly take a beating.
When do you buy a mobile phone for your child? 15, 12, 8?
Buying a whole smartphone, with all that this entails, can be a bit too early at your child's age, especially for kids under 10.
This Xplora X6, is a good alternative: a smartwatch for children designed to be able to receive or call you, WITHOUT all the baggage that comes with a mobile phone.
You will probably have to charge it every day, but continuous use of GPS is very draining on the battery and can drain even after 5 hours. Our tests showed a battery life of 20 hours with normal use during the day.
That is slightly less, so you can't follow your child when he goes to school and back home, but really only when playing outside for an afternoon.
It immediately feels like one of the more expensive watches on the market and it shows that the design has been thought through.
You need a SIM card for mobile phones. You can choose one with or without a data plan to get the most out of the features.
Some of the watches tested were almost inaudible when your child is outside with all the ambient noise, but the speaker and microphone of the Xplora smartwatch 4G are the best we've heard.
There are two reasons to buy the Xplora X6 smartwatch 4G instead of the Garmin Vivofit (the best activity tracker):
being able to make and receive calls with great audio quality
the most accurate GPS tracker
Some other watches with GPS trackers weren't as reliable, and that's not what you want.
You can just follow your kids or be alerted when they walk a certain distance from you, or go outside a certain area.
The model that comes closest to the X6 in terms of features is the Xplora Xgo 2 which is slightly cheaper with a slower processor and no camera.
In terms of look, this version 3 looks more like a smartwatch than the Vivofit Jr 2 for the first time.
#2 Garmin Vivofit Jr 3 – Best activity tracker for kindergartners
Best for: boisterous kids, this is the most durable on the list and can take a beating
The Garmin Vivofit Jr 3 is made to active promote game.
It is not a full-fledged smartwatch but an activity tracker for children, completely made to allow your child to carry out their activities and tasks with full enthusiasm.
They encourage this by unlocking games and other rewards with challenging games and badges (ah, that gamification), and what child doesn't want this?
This is one of those watches that can give your child more responsibility over their movement, and can also show that even doing household chores doesn't have to be boring.
As a parent you can read everything in the app. How much they move, but also at what time your child goes to sleep, whether he or she is awake a lot during the night and at what time they get up.
It is not just there for entertainment and exercise. You can also set reminders and use the task timers.
This way your child can take the first steps to better organize and plan his own life, such as homework, tutoring and brushing their teeth!
Thanks to this smartwatch, children will learn to live a structured and meaningful life which is extremely important for their general development and future!
Perhaps the only downside to this pedometer is that it lacks the heart rate monitor. A bit strange actually, because it contains many other health functions.
On the other hand, a heart rate monitor is killing a battery, so that's why it lasts so long without having to replace it.
If you want a more active child and at the same time give them more responsibility for their own lives and their tasks, the Garmin is perfect.
The design also makes it feel sturdier, and you have a larger display to see important notifications and tracking activities.
#3 Fitbit Ace 3 – Best Waterproof Smartwatch Activity Tracker for Kids
Scaled-down fitness tracker for slightly older kids.
This kids smartwatch is designed to track daily steps and make it fun by giving rewards and badges for achieving certain goals (just like the Garmin).
You can create a family unit that not only creates a benign rivalry between you and your children, but also allows you to monitor their progress and make sure they get enough exercise.
The Fitbit Ace 3 is slightly cheaper than the Garmin Vivofit, and besides that it's a lot easier to keep clean.
As a pedometer it is the MOST ACCURATE of all that I have tested, but you can expect that from a Fitbit, right?
He is disappointing in following other tasks, and even other activities. For example, he cannot register that your child is cycling, which can be quite a disadvantage in your family (do you like cycling?).
The battery can last up to 5 days, so that makes it perfect for wearing to school all week.
Fine if you like rechargeable watches more than a battery that you have to replace (although the Garmin Vivofit lasts 7 months).
But here comes the absolute power of the Fitbit Ace. Ready?
You can set up a family account if you all have Fitbits so you can easily view your kids' progress together.
As a family it is important to develop healthy habits together (**oh, am I supposed to lead by example?**). With the Fitbit Ace 3, your kids are guaranteed a healthier life and everyone in the family can participate.
The Ace uses a monochrome OLED touchscreen to display information such as the time, date, total steps for the day and total active time and this saves a lot of energy so it can last a long time.
The screen also displays notifications, so your child is constantly informed of his or her progress; the small animations that took place encouraged children to stay active.
The Fitbit Ace looks more like the old design of the Vivofit Jr 2, and indeed looks more like an activity tracker than a smartwatch.
That can be fun for your kid, and it's a lot narrower too so it doesn't look like a block on their wrist.
The main difference in features is in the battery:
with the Garmin you get a battery that lasts a very long time, but you eventually have to replace it
with the Fitbit Ace you get a rechargeable battery, which also lasts quite a long time, but you still have to put it on the charger every 5-8 days
If you are using want to exercise or do activities together, the Fitbit Ace has the best functions for families to interact with challenges together.
But the Garmin Vivofit Jr wins with interactive stimulation for the child themselves, as they can earn all sorts of things in the watch itself with parts of the apps that they can then play by doing activities and unlocking them.
#4 Wonlex Square – Best cheap kids smartwatch with call function
Best for text and chat. The Wonlex Square is a nice cheap smartwatch, but the options for staying in touch are perfect for the price. If you want to be sure of a good connection with your child, this is your best choice.
Features
Cooler design for older children (which is also less robust) and of course also in the function to text, because smaller children can certainly not do this yet.
Phonebook up to 10 phone numbers
As soon as you have charged it, you can give it along, you can install the accompanying app on your phone, so that you can keep track of settings and possibly follow your child.
Another handy option of the app is to immediately see the calling credit of the corresponding SIM card.
You can also top up the credit directly via the app so that your child is never without it in important situations.
The watch is particularly useful for parents who want to offer their child the opportunity to make calls without having to give them a cell phone already.
For example, from the age of 8, where they independently travel great distances in the neighborhood, but are actually still too young for a telephone.
The tracking function is especially useful for slightly younger children, although I would rather go for the Xplora X6 Play for smaller children.
#5 VTech Kidizoom DX2 – Best preschooler smartwatch for games
The best smartwatch for your child.
Features
This watch has a camera for taking photos and videos, a motion sensor for activity tracking, and a variety of games and apps to use.
The VTech KidiZoom smartwatch DX2 has been improved over its older brother - the DX - because the DX2 has two cameras, for selfies and photos.
Under the hood, it's also a lot faster, so it can handle updated games and is completely ready for its own Augmented Reality games, just like Pokémon Go.
This smartwatch is suitable for children from 4 years old and can be fun up to about 8 years old.
Encourage creativity with photos and videos that your child can take and edit themselves. With the dual cameras: they can take selfies, record video clips and add filters and effects to their photos and videos
Choose the color of the day with 50+ dial choices
Educational Options: VTech is known for creatively combining fun with learning. This watch offers many learning and logic puzzles
Durable Design: A sturdy watch strap and water-resistant dial (splash-proof, NOT waterproof!) Make this a great option for children who are careless and often bump or fall
USB connection: Since this watch does not connect to the internet, it comes with a USB cable to make uploading photos and videos easy
VTech has created the ultimate kids smartwatch, which has a lot of cool features but doesn't cost too much.
You can download all your favorite games and apps to customize your son or daughter's smartwatch.
And since internet connection is not possible on this watch, you can let them play with it with confidence.
What features does the VTech KidiZoom Smartwatch DX2 have?
The features of this DX2 smartwatch are an awful lot:
two built-in cameras
editing photos and videos
color touchscreen with analogue and digital time display and 3D display
stopwatch - timer - alarm clock - calendar
built-in motion sensor and pedometer
voice recording and voice changer
games (also with AR)
256 MB internal memory
built-in rechargeable battery (including micro USB cable)
Family Setup (the smartwatch can be set up via a parent's smartphone)
The smartwatch has quite a large memory, of 256 MB: your child will be able to download a lot of games, but also upload his own videos and photos.
He can then share this with a PC, using the supplied USB adapter.
You can therefore easily download all his favorite games, but also apps, on this smartwatch to fully adapt the smartwatch of your son or daughter to his or her taste.
Very nice for your child is that his photos are editable, just like it is possible in Snapchat!
The best educational apps in a smartwatch
As for the educational options, VTech is known for combining fun with learning, in a very creative way.
This watch offers many learning opportunities and also teaches your child to think logically in a playful way.
If your child wants to learn to tell the time, the DX2 will help them too! Your little one can switch the dials between digital and standard dial and the time can be spoken aloud.
Children today - just like us adults - spend far too much time sitting behind a screen, with the children's tablet or behind the PC.
In any case, this watch also ensures that your child remains active.
Vtech also has the pedometer and some nice features to boost sports, but they've mostly focused on games, with some active (AR) games, which can add a nice extra dimension (literally!).
It is the most comprehensive and cool smartwatch for your child, due to its many fun functions and educational features.
And fortunately it can take a beating, it has been taken into account that even the younger kids will probably wear this 'smart watch' all day, even while playing outside.
So romping shouldn't be a problem with this watch on your wrist.
More games, clock displays and photo effects can be downloaded via Explor@ Park, how cool is that?
Vtech Kidizoom vs Garmin Vivofit Jr
The Vtech Kidizoom is a good entry into the world of smartwatches for children, especially with its lower price point, but as we said for older children from about 8 years old, important features will be missing.
The Kidizoom is more focused on entertainment with pretty fun apps and games so out of the box, while Garmin's Vivofit is really more focused on activities and encouraging sports and chores by unlocking parts of the apps.
If you are more focused on educating and stimulating, then the Garmin activity tracker is for you
Are you more focused on a nice smartwatch for your small child, then the Kidizoom is a better choice
#6 Little Tikes Tobi 2 – Best toy smartwatch
The Little Tikes Tobi 2 is a really great combination of a toy and a watch for kids. A 6 year old has so much fun with it, with both entertainment and learning in one package.
Head-to-head games against other Tobi 2 Robot Smartwatches are fun. The built-in cameras have made it possible to take photos and videos, and I must admit that the stickers and photo frames have been a real hit in creating great memories.
With the variety of games, from brainteasers to arcades and fitness games, my child never got bored. It's amazing to see how she stays engaged and active, especially with the pedometer and dance activity game.
The watch has also helped improve time awareness and practice math skills with the calculator. Being able to limit screen time and approve wireless connections has given me a sense of control and peace of mind as a parent.
It's fun to watch Tobi 2 come to life with over 100 expressions and the fact that it can be used as both a watch and a separate toy makes it really versatile and appealing to kids of this age.
#7 Amazfit Bip – Best cheap smartwatch for teens
A cheap activity tracker with heart rate monitor.
Features
This one is more suitable for older tweens and teens who are no longer interested in taking selfies and playing games, but looking for a cool watch to measure their athleticism.
It probably won't appeal to younger kids, but the Amazfit Bip is a great smartwatch for teens interested in walking, running, and more (60 sports fashions!).
The GPS is good, but not for you to track your child, although a helpful tip is to arrange to have them share their history with you from time to time if you want some control over where they go.
At 31 grams, it is one of the lightest watches, so it won't get in the way, handy for your kids who really go for top sport.
It is compatible with both Android and iOS8 and above and is the first on the market with a good heart rate sensor, while it can also show notifications for calls, texts, emails and other mobile apps.
The app is very convenient to use, but it is essentially an adult watch. You won't find any kid-friendly settings here.
Improved readability
The first version of this Amazfit Bip was sometimes a bit difficult to read. This new version has made huge leaps in the display so that you can now also see your historical performance on the watch and you do not need your phone for everything.
It doesn't have an OLED display, so the brightness can be a bit disappointing, but that's also where its low price tag comes from.
This usually means that you cannot read your watch properly on a sunny day.
And that's exactly when you want to go outside to work out, right?
They solved this by using a transflective color display that can also be seen in bright sunlight.
A waterproof sports watch that is so accurate and also has smart functions such as reading texts and seeing conversations, WOW!
#8 Apple Watch SE – Best Apple smartwatch for kids
Best for: Older kids, who can actually use all the features.
Features
diameter: 40 mm
operating system: iOS
NFC: yes
screen type: retina oled
Compatible with: iOS (and Android)
built-in GPS
heart sensor
kompas
always-on altimeter

fall detection

automatic calls to emergency services also abroad
swim-tight up to 50 meters deep

great price for an apple smartwatch

When your child starts a swimming workout, the watch automatically locks the screen with the water lock.
In addition to the Apple top model, you can opt for a cheaper version for a number of years; the SE Series.
Previously, these models were based on predecessors, but from now on Apple has made a special mid-range of the Apple Watch, just like the phone.
With cheaper materials and somewhat fewer functions, such as the ECG function and the Always-on display. Fortunately, fall detection is present!
The Apple Watch SE has an S5 chip, and this model also has the compass, which you may already know from the Apple Watch Series 4 and Series 5.
The new SE no longer has Force Touch, the pressure-sensitive technology in the screen. If you now want to see additional options, hold your finger on the screen a little longer.
Your child can choose from dozens of workouts with the SE, and this smartwatch keeps track of all your child's exercise and training goals.
The Sleep app helps children to sleep better, your child can make calls, send messages and listen to music right from their wrist.
Once out of the water, the screen must be unlocked by turning the Digital Crown and any water can be removed from it.
*Family Setup allows Apple Watch to be set up through a parent's iPhone without having to use the iPhone afterwards. Previously, it had to be paired with that user's iPhone.
Now you as a parent can use your own iPhone to link multiple watches for children.
How do the functions of a smartwatch compare to an ordinary children's watch?
There are a ton of smartwatch models on the market today that cater specifically to kids, some with fun games and/or support for educational apps.
With a smartwatch they can play games and track their activity themselves, but you can also keep an eye on your child's location if you want (so you can be sure of their safety).
The 7 main features of a smartwatch for kids that make them different from kids watches are the following.
GPS
Call function
video calling
Texts
Track sports activities
Camera
Parental control
For the 180 parents we surveyed in a survey, GPS and calling (child to parent) were the most important features with both receiving 25% of the vote.
Calling parent to child was the most important thing for 24% of parents. An activity tracker was the most important for 11%. Games were a deciding factor for only 7% and music and video playback for only 8%.
GPS function
The best smartwatches for kids are those that have GPS tracking, SOS buttons, and other features designed especially for kids. But not all of them have that!
Still, a GPS function can be useful to use in emergency situations. There is also "geofencing" where you can enter a pre-arranged area. If your child goes outside, you will immediately receive a signal.
Call function
A watch with a bell function can be very useful for your child. Most people therefore opt for a smartwatch because their child is just not ready for their own phone.
They want to be able to get in touch with their child and vice versa.
When considering which smartwatch to buy, read the specs carefully to find out how it affects your phone bill.
Some smartwatches also use the data from your mobile subscription and that can quickly become expensive.
In addition, parts can be expensive. Many smartwatches come with a battery, but some need to be replaced from time to time.
Again, read the specs carefully so you know what you need for the smartwatch.
If you don't need a calling function or GPS, you don't need a SIM card either, which saves a lot of money.
Many smartwatches have an app that allows you to connect to your smartphone to play games or music.
If you only use it for those kinds of functions, you don't need a subscription.
You use the app to sync with the smartwatch contacts and to activate parental controls.
video calling
When the watch has a camera and a SIM card with a data plan, there are also options for video calling. This makes it a lot easier to communicate with each other than with voice alone.
Because it is sometimes impossible to estimate how someone will react with speech, it is a better means of explaining rules or telling why something is not allowed at that moment, for example.
Texts
Like you, many children would rather send a message than make a phone call. A watch with the possibility of texting is then very easy.
This requires a large display with accurate sensitivity, but can be a useful additional way to communicate with each other, and is good for the data plan.
Track sports activities
Smartwatches that can track sports activities are also called "fitness trackers". They are a good tool to measure progress in fitness and distances.
For children, they are also a useful way to encourage sportsmanship, often with a reward system for achieved milestones. Other activities can sometimes be tracked as well.
Lecia Bushak says on medicaldaily.com that a smartwatch, for example, can help your child to plan their day themselves, especially children with ADHD who otherwise have a lot of trouble with it.
Camera
A camera is useful for video calling. In addition, it is a nice feature, especially for younger children who do not yet have their own telephone.
Taking pictures and preferably being able to edit them with stickers and other effects is an activity that appeals to many children.
Parental control
Parental controls allow you to adjust settings and track activities on your own device. For watches with GPS, you can often also see in an app where your child is or has been and you can call with the watch.
Even if the smartwatch is connected through a different carrier, it can probably still make and receive calls and be controlled by your own mobile phone.
What is the age limit for a smartwatch for kids?
A smartwatch is for children between 4 and 16 years old, from the moment they start going out on their own and start telling time. From 4 years old it is more fun toy than a real watch with a maximum age limit of 16 years after which they will wear an adult watch.
A smartwatch for children is similar to that for adults, but often equipped with a number of other functions.
For example, smartwatches for children usually have an SOS button with which they can send an emergency signal to preset numbers, a GPS tracking system with which parents can keep an eye on where children are (or have been) and a number of games or options to set reminders. set for tasks such as brushing your teeth or doing homework.
The table below shows smartwatches suitable for different ages.
You'll probably want to compare the age limit for a smartwatch from 4 to 16 years old with other smart devices, especially since it can be a phone replacement.
What is the age limit for other smart devices?
Below are the recommended ages for the most popular smart devices.
Social Awakening's Max Stossel advises waiting until high school to get a phone and starting at age 13. Common Sense Media indicates that most parents start earlier and 42 percent of 10-year-old children already have a telephone, while this is already 12 percent at 71 years and 14 percent at 91 years.
The American Academy of Pediatrics indicates that children under age 2 should not have screen time like iPads. A survey in England by Charles, G. (2006) concluded that the average age of children getting an iPad is 2 years and 1 month, suggesting that many children get one even younger.
Smart speakers, like other technology, should not be given before the age of 2. Research from SuperAwesome shows that 90% of children in the US between the ages of 4 and 11 have access to a smart speaker or voice assistant and Amazon calls its Kids+ content Alexa suitable for ages 3 to 12.