Best stair gates baby gates | These are the top choices for a safe home [Review]
I enjoy writing these articles for my readers, you guys. I don't accept payment for writing reviews, my opinion on products is my own, but if you find my recommendations helpful and you end up buying something through one of the links I may be able to receive a commission on that.
More information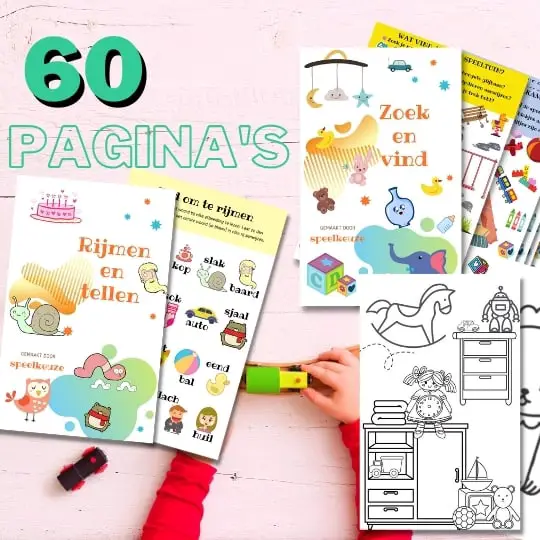 Always something to do for the holidays or rainy day?
Play Choice now has the ultimate activity book collection, with over 60 pages of fun coloring pages and educational puzzles.
The combination of a young child and a lot of stairs in the house is not ideal. To make it as safe as possible for your child at home, a stair gate is essential.
It is one of the first steps you take to make a home child proof.
But what is the best stair gate and what should you pay attention to? We are going to tell you everything you need to know about stair gates and baby hash marks in this extensive post.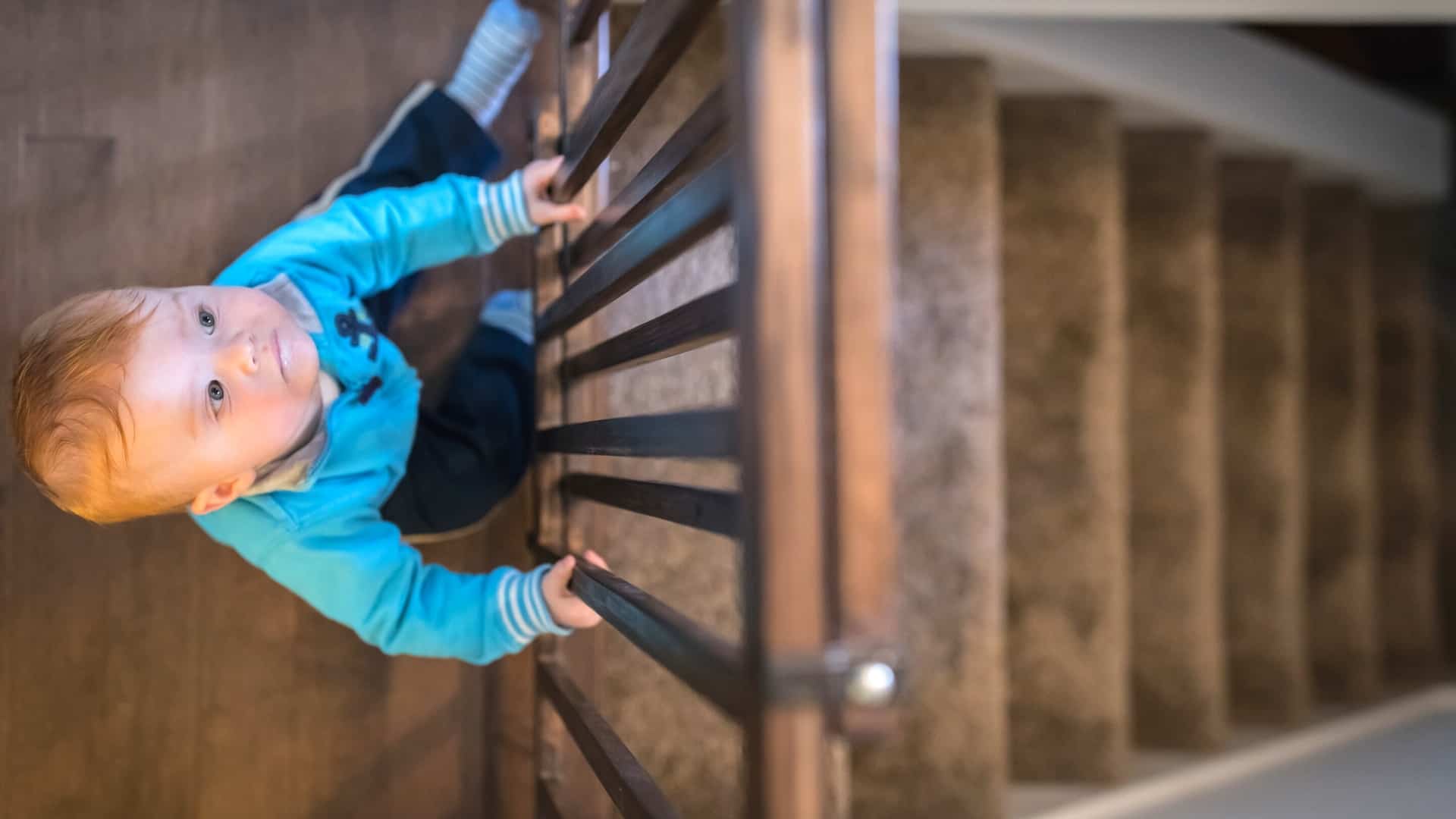 The very best stair gates are of course always the safest stair gates! After that comes the aesthetics of it hash look around the corner.
The somewhat outdated stair gates are often rejected after research and we would like to urge parents to use a recently produced stair gate for the safety of their little ones.
Avoid second-hand gates, as there are already good stair gates available for a small price.
Take the user-friendly Safety 1st Extending Metal Gate Stairgate, for example, which has a nice, very affordable price.
Our best overall stair gate is by the way this A3 Baby & Kids SafetyDoor Stairgate, made of robust metal and provided with a beautiful powder coating.
It takes two steps to open the gate, so it's super safe!
The SafetyDoor fully complies with European standards, read more about this gate later.
If you do go for a second-hand gate, always ask for the serial number, so you can see whether the gate meets the necessary safety requirements.
You can simply look up the serial number on the internet, or otherwise call the manufacturer.
Since a stair gate is a pretty serious business - and there is a huge range - we have selected a number of good ones for you.
There will probably be one that is suitable for your home.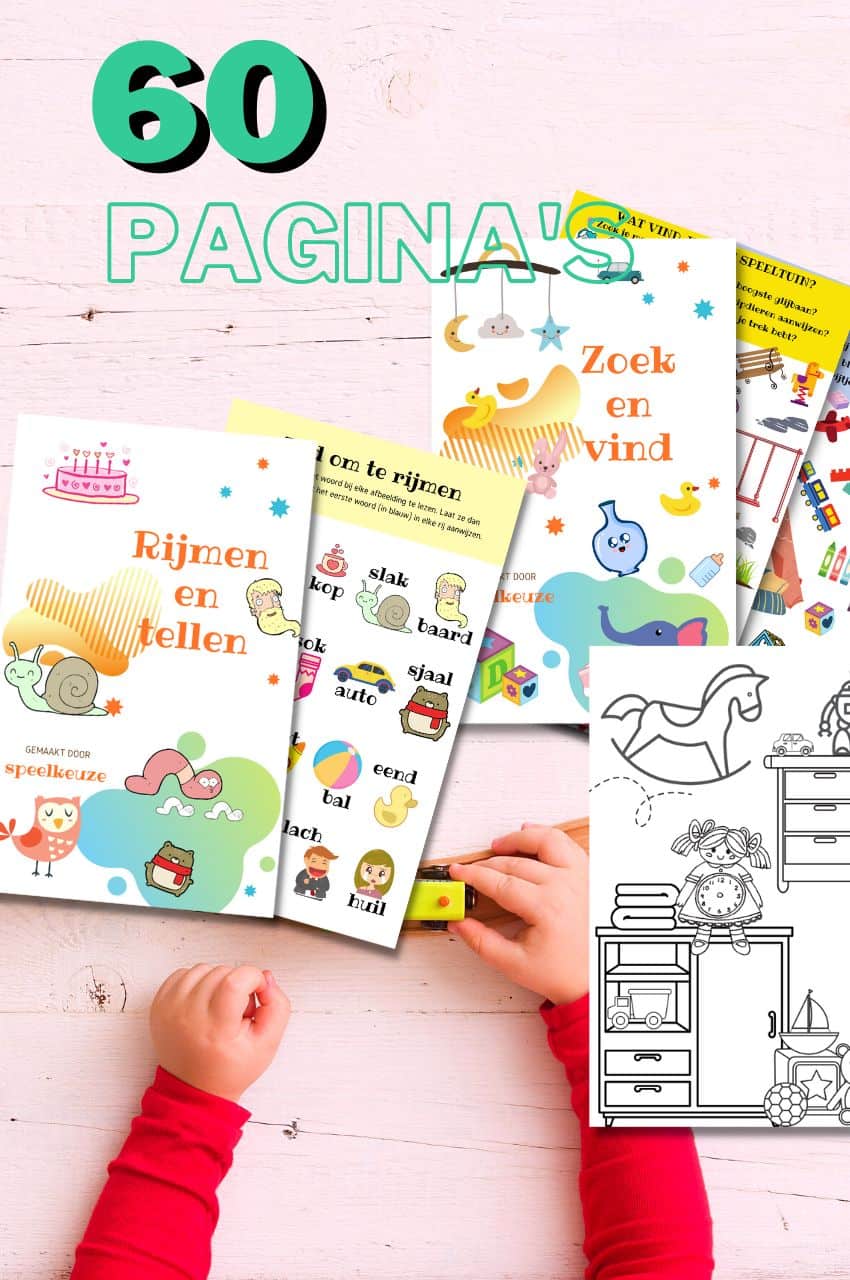 A play theme in your mailbox every month?
Fun play tips, activity books and more, with the first email being our free mini-guide "educational toys"
We will only use your email address for this newsletter and respect your privacy
What should you pay attention to when buying a stair gate?
The safety of your baby or toddler is partly protected by a solid stair gate. When your little one is crawling do you really need one.
Did you know that more than 3000 children a year are so injured after falling down the stairs that they have to be taken to the emergency room?
In fact, it even happens when there is a stair gate!
This is because gates are attached in the wrong way, perhaps because the user manual is not read properly before use?
So what should you pay attention to with a stair gate and how do you use it?
Which stair gate is best for your home depends in part on the type of stairs.
For open stairs, for example, there are separate systems and stair gates.
Check carefully which stair gate offers the most safety for your stairs.
If you want to install a stair gate, pay attention to the following:
The height of the stair gate. The stair gate must be at least 65 cm high. For larger children a stair gate of 75 cm high is recommended.
Openings. All openings and spaces should not be wider than 6,5 cm.
Is the gate sturdy enough? Push the gate and make sure it is solid.
How are the mounting options?
watch the usability of the stair gate, which also contributes to safety.
Take the instructions and description always carefully before placing a stair gate.
Preferably place a stair gate at the top and bottom of the stairs.
In our an open staircase it is sometimes advisable to hammer the bottom step (s) of the stairs closed.
A gate usually protects children not older than two years and not heavier than 25 kg.
Best stair gates rated
You naturally wonder which stair gate is most suitable for your living situation?
We will now discuss the top picks in different categories for you.
Overall best stair gate: A3 Baby & Kids SafetyDoor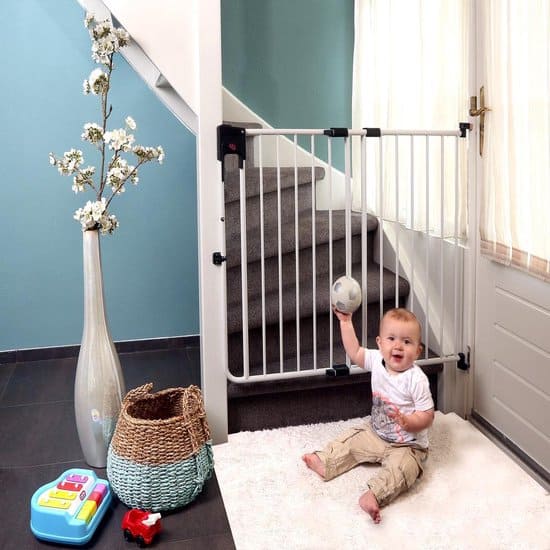 This A3 Baby & Kids SafetyDoor Stair Gate is impossible to open for small children's hands.
However, parents can only open the gate with one hand, which makes it extra safe when you carry your little one on your arm.
The gate is adjustable which makes it suitable for almost all stairs and doorways.
Screws are included to attach this fence to the wall, so you also prevent a threshold over which you can trip.
By using the colors green and red, you can see at a glance whether the locking pin is properly closed.
The height of this gate is 85 cm. Which is 5 cm higher than the standard and we think that's great.
There is a 5-year warranty on this solid stair gate. In 2018 it was tested best by the Consumers' Association with an 8,3.
Best automatic closing stair gate (auto close): Bettacare Xtra Narrow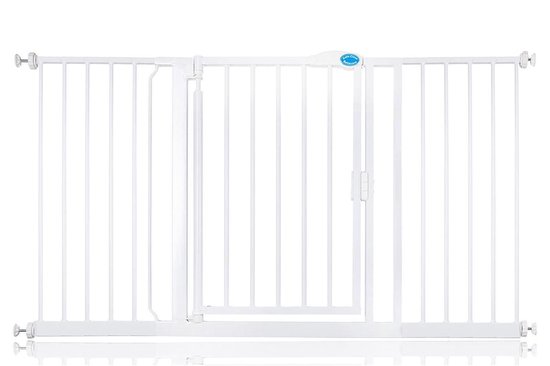 Prevent dangerous falls in the house by installing a stair gate like the Bettacare Autoclose Xtra Narrow.
This clamp fence is very narrow, but slightly adjustable from 61 to 66,5 cm. It could be extended to 155 cm with extra extensions.
Especially suitable for narrow passages and the gate has a height of 75 cm.
Please note that the gate is really tight! After all, it doesn't have to be screwed down.
The Bettacare has a 'double - autoclose - lock' for extra security.
Check prices and availability here
Best folding accordion stair gate: Babydan Harmonica Guard Me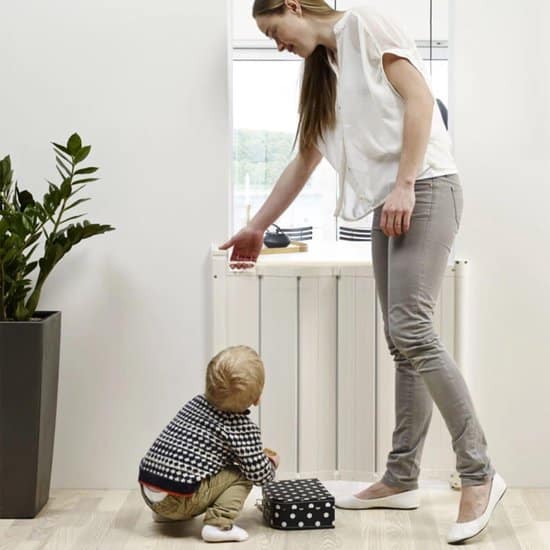 The Babydan Harmonica Guard Me - from Denmark - is an almost invisible gate when not in use.
It is an automatically folding stair or door gate. The height is 72,5 cm.
Press the button and the gate folds together like an accordion and the passage is clear. Suitable as a door and stair gate, both at the top and at the bottom of the stairs.
It folds automatically and can be placed well in a small space. The gate is 100% PVC free - perfect for little biters and suckers.
It is nice and easy to install and the Danish Babydan gate naturally meets all standards.
Suitable for both between the door frame and on the door frame: there are also extension panels available, called Extend-a-Guard.
This foldable BabyDan Stair Gate in beautiful white is a fully automatic folding stair and / or door gate.
The gate is suitable for most window frames and stair openings.
It does not take up any space when open, because it folds itself completely.
You can also buy an extension separately, so that you can bridge a distance of up to 113,5 cm.
For a quick installation and user instructions, you can download the handy Onbox App.
A nice and nice gate with a safe closure, which is easy to open for adults.
It is important to use a regular screwdriver or an electric screwdriver. This is because some power tools are too strong and can sometimes damage the plastic.
Check prices and availability here
Best (stair) gate for outdoor balcony: Reer Safety net for balcony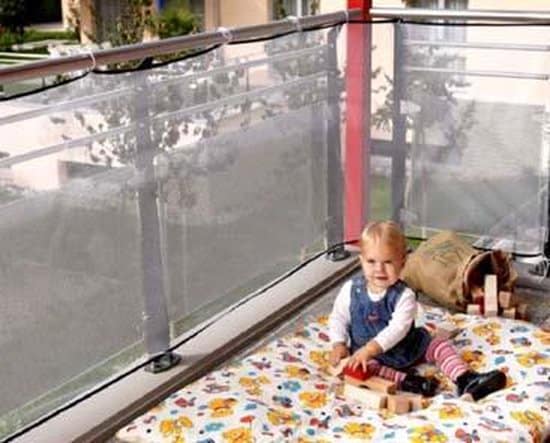 Is your balcony very concerned with the safety of your child?
The Reer Safety Net for Balcony offers the ideal solution!
It protects against major fall accidents and also prevents the child from throwing down toys or other objects when playing on the balcony.
Even the head cannot get stuck between the balustrade with this protective safety net.
However, you can also make dangerous stair openings child-proof with this weather-resistant net. Super easy to attach to a balustrade.
The dimensions are 300 x 95 cm.
Best stair gate cloth: Rudolphy Retractable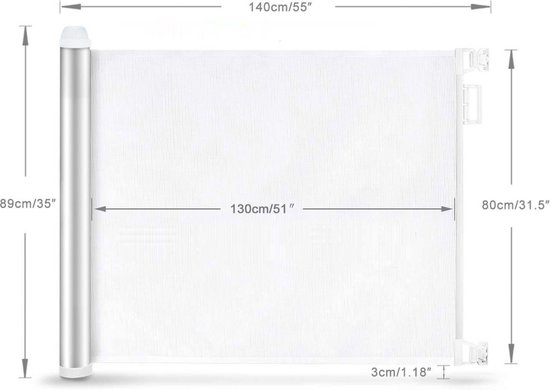 This stylish Rudolphy retractable stair gate made of sturdy cloth is rolled up immediately out of sight.
The retractable gate is good for the top and bottom of the stairs in the house!
Especially to prevent accidents of our crawlers and toddlers, it is extremely important to install stair gates.
The stair roller gate has been tested and approved according to European and international safety standards. Always read the instructions carefully to ensure safety.
The instructions are in the Dutch and English manual, the set comes with spacers, drawing paper and wall mounts.
Not suitable for children over two years old.
Check prices and availability here
Best double stair gate with two doors: Babydan Flexi Fit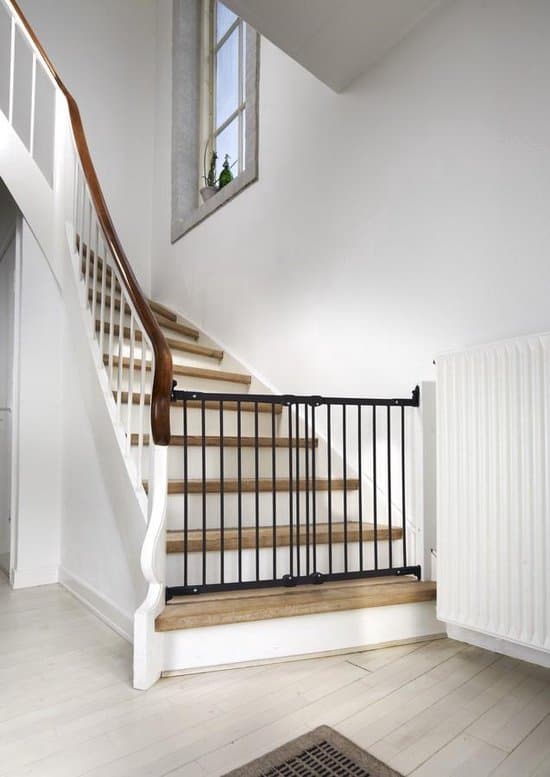 The solid BabyDan stairs and door gates are produced in Denmark according to the European EN: 1930 and are of very good quality.
The Babydan Flexi Fit Stair Gate actually fits in any opening and can be used for spaces between 67 and 105,5 cm.
Easy to open with one - adult - hand, in two directions and can be mounted during the day or during the day.
The advantage of mounting on the frame is that the gate folds away completely against the wall. We all love Scandinavian design!
Best extra wide stair gate: Safety 1st Easy Close - Expandable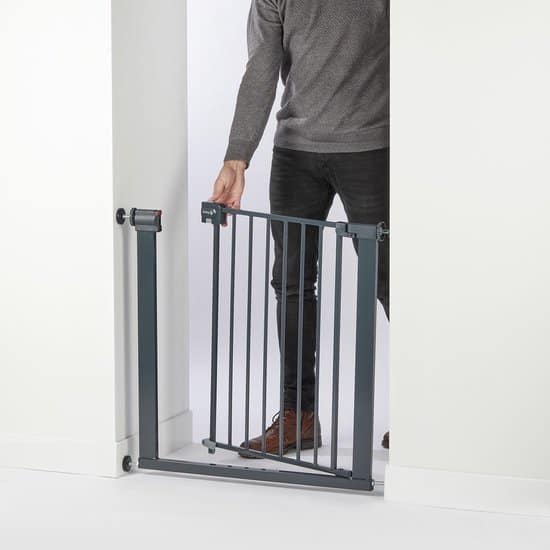 Handy, the Safety 1st Easy Close is a strong metal safety gate with an 'Easyclose' closure.
Very simple; Can be opened with one hand thanks to the innovative ergonomic handle, even in two directions.
This is a clamp fence that fits in an opening of 73 cm to 80 cm. The U-shaped frame with 4 pressure points ensures that the gate can be securely fixed and makes drilling absolutely unnecessary.
With the separately available extensions it is adjustable up to 136 cm.
The innovative 'secondary lock' system ensures that even the most resourceful child cannot open the gate.
The gate comes to you already assembled and ready for use and is easy to secure. It can be extended if necessary.
Best extra high stair gate: BabyDan CLAMP FENCE 105cm high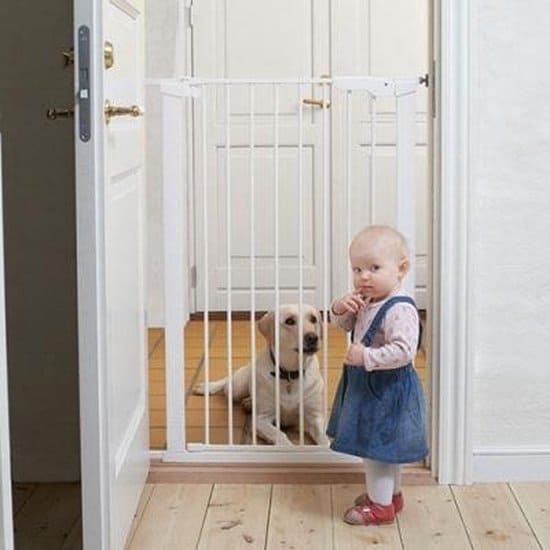 This BabyDan premier CLAMP FENCE with Scandinavian design from Denmark is also a very nice one!
It is an extra high version, of 105 cm. The width is 73 cm. up to 86 cm.
But the gate can be expanded to 120 cm if you want - with extensions.
There is a simple, double security with push button on the gate and you can see via the indicator whether the gate is properly closed.
As long as you see red color between the closure, the gate is not closed properly. If the closure is correct, the indicator has a green color.
Handy for the top and bottom of the stairs, but also for the hallway, living room or kitchen.
The white special coating, which is also used for golf balls, is safe for children. If a child nibbles on the bars, it cannot ingest toxic substances.
The coating is very hard, so there is no chance of damage to the paint.
Baby Dan Premier is a simple clamp barrier. So you don't have to drill into the walls.
A force indicator is included to accurately check the strength of the gate yourself, check regularly whether the gate is still perfectly clamped.
The gate fully complies with the EN: 1930 Standard and goes even further; this makes it extremely suitable and safe, also for children with special needs.
Best oak stair gate: Safety 1st Easy Close Wood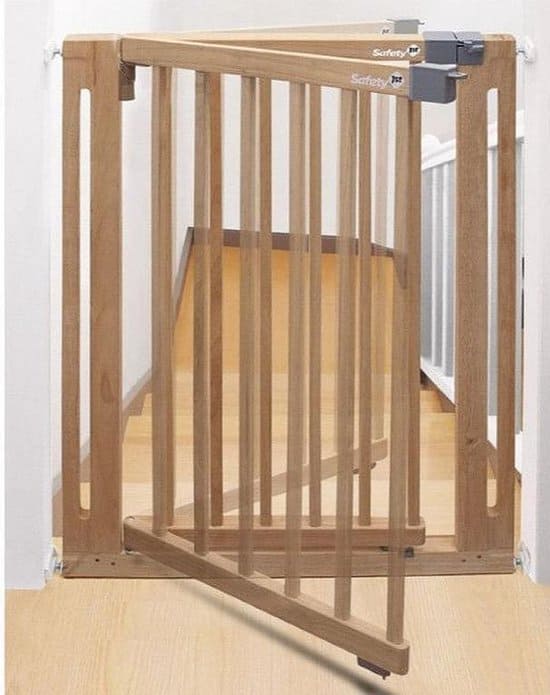 The wooden safety rack Safety 1st Easy Close is not an unnecessary luxury in your home. Especially if your little one is agile and enterprising.
This beautiful modern gate fits into any interior and you clamp it without drilling or screwing, at four points between two walls or door frame.
The size is 73 to 80 cm. The gate can be extended with - also wooden - extensions, to be ordered separately.
If desired, the gate is double lockable. You can easily open and close it with one hand.
Here too - with the Secur tech system - the colors red and green are used to indicate whether or not the gate is closed properly.
Check prices and availability here
Best Cheap Stair Gate: Safety 1st Extending Metal Gate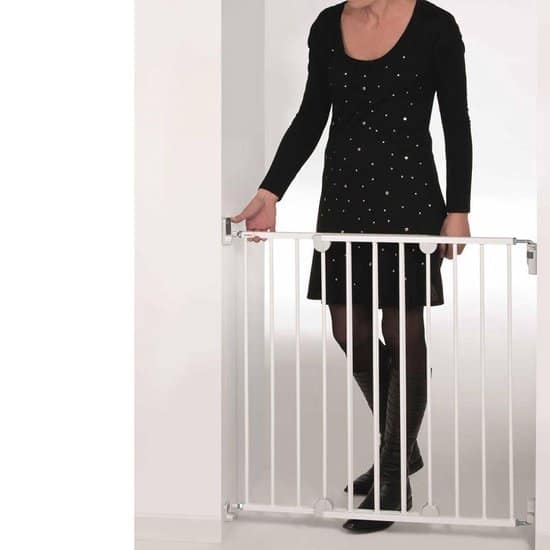 You can already purchase the Safety 1st Extending Metal Gate Stair Gate for a reasonable price.
You can open the stair gate in two directions and it has no threshold.
The Safety gate is very user-friendly; with this adjustable stair gate you create a safe environment at home for crawling or climbing children.
It is adjustable from 62 cm. up to 102 cm.
Attach the Safety 1st safety gate to the wall with the mounting material and hang the stair gate in it.
You open and close by lifting the end in or out of the lock.
Best stair gate to take with you: Membeli Foldable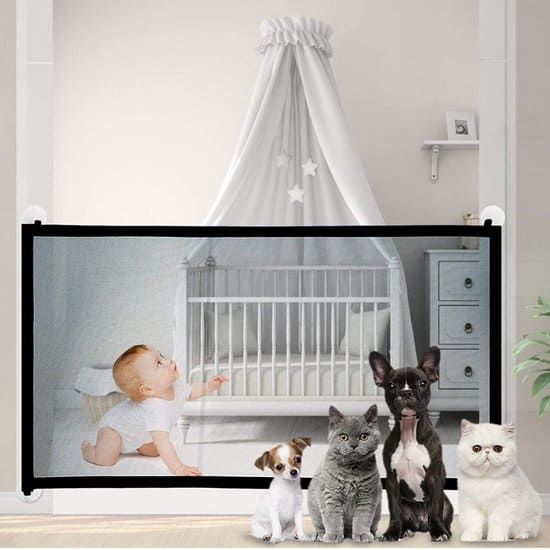 Would you rather have a gate that travels with you?
Perhaps the retractable transparent stair gate from Membeli is something for you.
The retractable stair gate - of course to attach without drilling - is easy to install by means of the self-adhesive hooks.
You simply stick the self-adhesive hooks to the wall and hang the fence between them. The gate is 110 cm long and 74 cm wide.
Please note: the gate is suitable for keeping very small children, cats and small dogs safe.
The gate will not stick when a (heavier) child leans or pushes against the net, be aware of this.
I would never attach it to the top of a staircase either, but at the bottom or to keep your little one in a certain area of ​​the house, that's fine.
However, we think it is fine that this gate can go on holiday or to the babysitter and offers some extra safety for the little ones.
Perhaps the gate is more suitable for the bottom of the stairs or in a frame on the ground floor.
Best stair gate with a corner: BabyDan Corner stair gate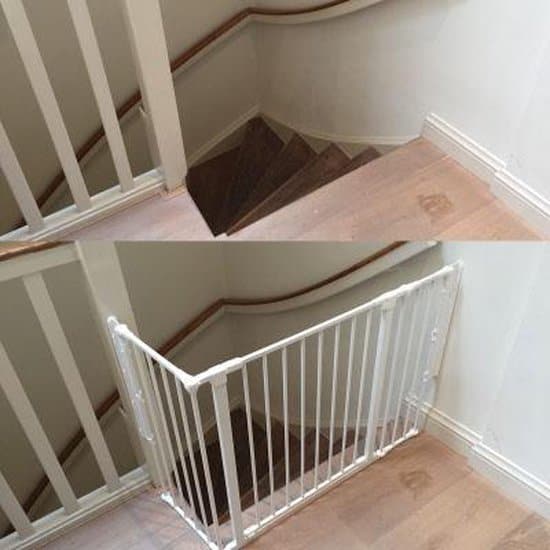 In many new-build houses there are stairs where the last step falls outside the stairs. It is often difficult - or impossible - to install a standard stair gate there.
With the BabyDan Corner Stair Gate - with a beautiful Scandinavian appearance - you can make the stairs safe for the little ones in the house.
You put the babyDan flex V on the floor in front of the stairs. This can be done in a corner arrangement as well as in an L or U arrangement.
Also the very old houses often have stairs that are a challenge for parents with little ones.
The BabyDan flex V is perfect wherever a clamp or screw gate does not fit properly. We think this corner stair gate is a great invention.
Best stair gate for an open staircase with a corner: TecTake safety gate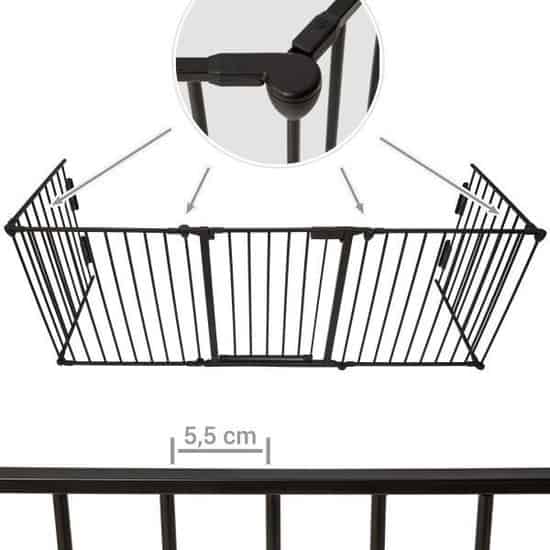 Is your stairs completely open at the bottom, with a modern platform? Then shield the entire stairs.
This is possible with a baby gate with different parts and angles, which are also suitable for, for example, a fireplace or a stove.
We think the TecTake safety fence is a nice option, a stable fence with many possibilities.
You get no less than 5 parts with this gate, including a door that can be opened to both sides and has a child-resistant closure.
The fence is a total of 300 cm long, enough to completely screen most stairs at the bottom.
The fence can be used separately and will stand on its own, but can also be attached to the wall.
This gate is suitable for children up to 2 years old, and is made of sturdy powder-coated metal and plastic (for the connections).
Best retractable stair gate: Lindam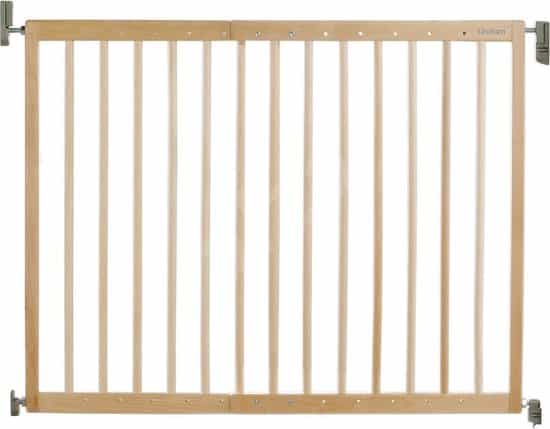 Very handy the extendable stair gate from Lindam in Hout.
The gate is made of simple beech wood and has no threshold. You attach it directly to the wall and extend it from 63,5 cm. up to 106 cm.
The tilt and lift system can be easily opened by an adult with just one hand. The gate opens in one direction only by the stairs and in two directions in a doorway.
Easy to install; using clamps, the gate can be fully adapted to the passage and easily removed again without tools.
The clamps are made of solid steel and the gate meets all European standards.
Check prices and availability here
Best stair gate without drilling and screws: BabyDan Premier-PLUS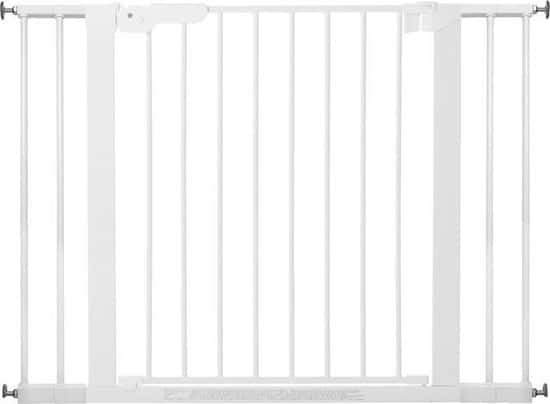 Sleek Danish design, the BabyDan Premier-PLUS clamp fence has 4 bars and is 75 cm. high.
This solid gate can be clamped between two walls or a door frame. You can make the gate wider - with extension - if necessary, up to 106,3 cm.
You open the lock in two movements, so children cannot open the lock.
The door is also fixed underneath. You unlock the trade and move it up. Then you lift the gate about a few centimeters.
Please note, because when mounted on a step, there is a good chance that the gate will not fit.
Another point is that the fence seems skewed. There seems to be a large gap between the frame and the door at the level of the handle.
Don't panic, once the gate has been mounted, the gate will adjust itself and it will be completely straight.
The gate is fine and fully inspected, it meets the strictest European safety standards, which is good to know.
Best stair gate with cat flap: Flamingo Stair gate Dog and Cat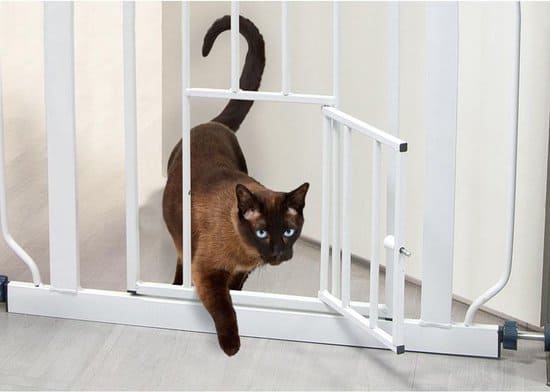 A cat and a dog? Then of course you choose the steel Flamingo Traphek Dog and Cat!
This Flamingo gate is ideal to ensure that your dog cannot go upstairs when you are away. But your cat can still move freely around the house.
You don't even have to use a drill, because here too you simply use the four clamps. If your dog tries to bite the fence, that's okay; the steel is resistant to this.
The passage must be a minimum of 74 cm to a maximum of 86 cm.
Nice that you can separate your pets, if necessary. Handy when you have to get your dog and cat used to each other.
Stair gate yes or not?
A resounding 'YES!'.
We think a stair gate is that - from the moment your child goes to crawl – is much needed.
Generally, babies start crawling between the ages of 6 and 10 months, but there are always babies who get there extra early.
You may not want to drill holes in the walls, but really, there are also great stair gates that you can clamp without having to drill.
The earlier you purchase a stair gate, the better. You can simply remove it when your child is a bit older and can climb stairs well.
You can also sometimes use a gate to not allow a pet in a certain area.
Also read: Toys without CE mark, should you buy or avoid them?
Installing a stair gate
We all want to create safety in our homes, especially when it comes to our little darlings. Installing a stair gate is also part of this.
There are two options for mounting a stair gate safely: you can screw it on or clamp it between the walls.
Advantages of a screw gate
If you decide to fix a gate to the wall with screws, you should know the following: the gate has hinges on one side and a secure lock on the other.
Screw gates can be placed in almost all openings.
We believe that the screw gate certainly has a number of great advantages:
you have a wider passage
the fence is anchored to the wall as firmly as possible.
no tripping hazard because a screw gate has no threshold.
The shape of such a screw gate can actually best be compared to that of a garden gate.
Advantages of a clamp fence
However, the clamp gate – or 'stair gate without screws or drills' – is a gate that you clamp between two walls.
This type of stair gate is very popular because you do not have to drill. Modern, good clamp gates exert pressure on the wall, because the gate must be firmly fixed in order to be safe.
With a weak wall, damage can remain and the gates always have a threshold at the bottom.
The advantages of a clamp fence are:
no drilling and no screws in the wall
easy to install
easy to remove
Different mounting methods for a stair gate
There are four different ways to attach a stair gate to the wall or stair passage, we will go through the various mounting ways of the gates with you:
the frame or the ends of the stair gate as a whole. The frame itself contains the hinges and often the lock of the gate
only screw on the holders for the hinges and the lock
only screw wall cups or holders into the wall: the gate is then clamped into the wall cups. So don't screw the gate, but clamp it
only clamp the gate
We do want to make you aware of the fact that the more screws you use, the firmer and stronger the gate is.
And that of course means even more safety!
Screw the stair gate in its entirety
These are stair gates where the frame or the ends are screwed in their entirety to the wall or frame.
They stay in place the best and are the strongest. However, there are a few major drawbacks to this type of gate:
Installation takes longer and is a bit more complicated than other mounting methods.
Drilling holes and screws also means permanently damaging your wall, frame or stairway opening.
The Babydan Harmonica Guard Me is also an example of gate with screwed hinges and locks.
Only screw the hinges and lock of the stair gate
Gates where only the holders for the hinges and the lock need to be screwed on are, for example, the Safety 1st Extending Metal Gate Stair Gate or for our pets the Flamingo Stair Gate Dog and Cat!
The Babydan Flexi Fit Stair gate has a fastening method that is more or less the golden mean between not too many screws and still a solid fastening.
Disadvantage: You also have screw holes here when you remove the gate again.
Only screw wall cups or holders into the wall
With this type of gate, the frame and the hinged door are clamped between the wall cups or wall holders that are screwed into the wall.
The wall cups must therefore always be secured with a screw. These are always easy to remove.
An important warning we want to give you: It is claimed by a number of manufacturers that some cups can also be glued to the wall instead of screwed, but this is certainly not safe enough.
Be aware of the danger and don't do this!
Clamping gates without screws and drilling
Pay attention! No model of this type of gate passes the extra heavy impact test with a weight of 25 kg.
The best and most robust in this type of gates are those that are clamped with a frame in which a hinged door.
An example of this type of gate is the BabyDan Premier-PLUS.
We want to emphasize once again that gates - and we are not talking about the clamping gates - attached with adhesive strips alone are unsafe, always.
However, it still happens that fences are supplied with screws and adhesive strips.
It is nice and easy and attractive to use only the adhesive strips, because then you do not have to drill holes. And you are also done super fast.
BUT… a stair gate that is just taped on cannot withstand a fall or push and pull.
Therefore, never ever secure a stair gate with only adhesive strips!
How do I install my stair gate safely?
The best tip we can give you is the following: install a stair gate exactly according to the supplied manual.
Incorrect installation of a stair gate can be very dangerous:
use only the supplied parts.
use the templates supplied, if any, to install the mounting points.
If any part in the package is missing or damaged during installation, get a new, original part. No, contact the manufacturer or seller.
After mounting you always check the following points:
is there not too much space (maximum 6,5 cm) between the floor and the bottom of the gate?
is there not too much space between the gate and the wall or stair post?
check whether the gate is not too high or too low
check whether the gate is properly secured
does the gate open and close properly?
does it lock properly after closing?
can a toddler or toddler stand on something to climb over the fence? (Think, for example, of hinges that protrude a bit)
Many stair gates must be installed a little (maximum 6,5 cm) above the floor.
But there are also stair gates where the door hangs in a frame. If you hang this type of gate too high, there is a risk of tripping over the frame.
Can you place a stair gate at an angle?
You can indeed place a number of stair gates at an angle, for example this Babydan Flex S white.
The gate is suitable for almost any opening. It has no frame on the bottom.
The locking mechanism can be turned in such a way that the gate can be mounted on the inside as well as the outside of the frame. It can even be placed at an angle.
Read the instructions carefully before you start working.
How dangerous is falling down the stairs?
You know you should even have eyes in the back of your mind when your little one starts crawling.
In a few seconds, your child can just be in a very dangerous place.
Falling down stairs can lead to a variety of injuries from a bruise or simple fracture to brain damage or - in the worst case scenario - even death.
Your child can of course also be lucky and only get rid of it with a bump. But you cannot just assume that.
Either way, you want safety for your child, you want to exclude as many dangers as possible at all times.
A stair gate at the top and bottom of your stairs is - we think - a must.
If you choose a gate that you do not secure with screws, check regularly whether the gate is still firmly attached.
Always read the instructions for use very carefully before installation and test the sturdiness before use.
Additional questions about stair gates answered
Now that we've looked at the best stair gates for different stairs and situations, let's answer some additional questions about this important safety accessory for your child.
Do you need a stair gate both at the top and at the bottom of the stairs?
Stair gates must be placed both at the top and at the bottom of the stairs.
So don't forget to place a gate at the bottom of the stairs.
Children who can crawl and walk quickly clamber up the stairs and can fall down again in that way.
From and until what age should you use a stair gate?
You cannot start early enough, is the advice; but at least if your little one starts crawling.
Please note that stair gates are intended for children up to 24 months old.
From that age on, children become too big, too heavy and often too resourceful. A stair gate then has much less effect.
Teach children in time that stairs are not a playground, how they can go up and down the stairs safely and that a stair gate is not playset is.
Are stair gates safe at the top of the stairs without screws?
We think you should use it at the bottom of the stairs.
Note: Our test shows that stair gates that are attached to the wall or stair post with screws are stronger and therefore always safer than gates that are only attached with a clamp attachment.
Downright unsafe and irresponsible, is an attachment with only adhesive strips instead of screws.
A good stair gate or baby gate: indispensable for a safe home
Most single-family homes in the Netherlands have one or more stairs. Stair gates are therefore not a superfluous luxury for a house in which small children live.
And maybe not even with grandpa and grandma, or at a place to stay or babysit.
We know that nobody wants to drill holes and damage walls, but you do it at home for your child's good.
As you can already read above; the safest fences are the ones that are fixed in the wall with screws.
Yet you can also go for a solid and good clamping fence. If your child is still small and not heavier than 25 kg. there are excellent clamp gates available.
Whichever gate you choose - measuring is knowing - make sure you purchase a properly fitting gate and strictly follow the installation instructions.
In any case, make sure that you test the gate every now and then, by feeling it well and pushing it.
The different phases of movement of babies and toddlers follow each other so quickly that you can sometimes underestimate your little one.
Also read: Playing outside: a complete guide | best games and stimulating.
Our advice, therefore, is to think about the necessary fences very soon after birth, preferably before your little one starts crawling.
Today your child is still lying or sitting quietly on the play mat (these are AWESOME!), but who knows, he or she will spontaneously crawl through the living room tomorrow, perhaps towards the stairs.
Because exploring and discovering - and thus looking for dangerous situations - that is precisely so exciting for our little people.
The safest thing is to immediately purchase two stair gates, for the top and bottom of the stairs. This choice is of course yours!
Hopefully you have become a lot wiser about stair gates and you now know exactly which different options are for sale.
You probably already have an idea about which type of stair gate is suitable for your home. From that perspective you choose the desired color and material, it's that simple!
We can do nothing but keep emphasizing the importance of a stair gate.
In this case, prevention is better than cure!
If your kids are a bit older, you also want to keep them safe online. Read: YouTube kids app: 6 YouTube safe settings on your kids tablet.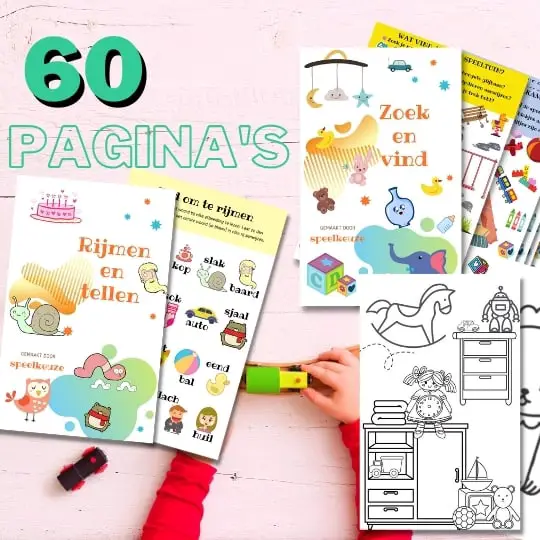 Always something to do for the holidays or rainy day?
Play Choice now has the ultimate activity book collection, with over 60 pages of fun coloring pages and educational puzzles.
Joost Nusselder, the founder of Speelkeuze.nl is a content marketer, father and loves trying out new toys. As a child he came into contact with everything related to games when his mother started the Tinnen Soldaat in Ede. Now he and his team create helpful blog articles to help loyal readers with fun play ideas.