Best stunt toy cars: crash, jump and (hopefully) land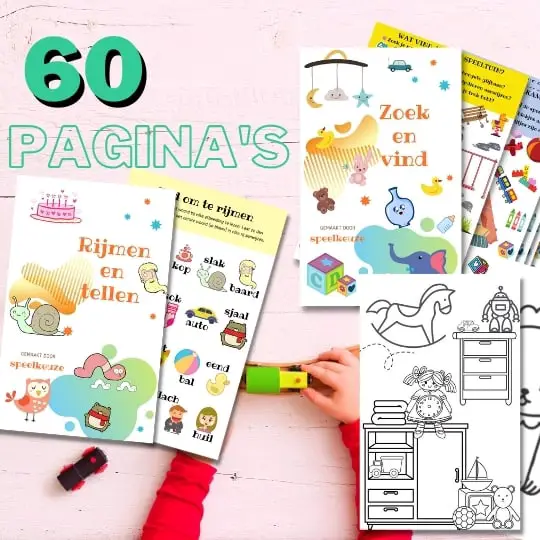 Always something to do for the holidays or rainy day?
Play Choice now has the ultimate activity book collection, with over 60 pages of fun coloring pages and educational puzzles.
Stunt with them toys they probably already do cars anyway, so why not a playset made for stunts?
This Sgile RC car for example, is the perfect remote controllable auto for tricks. With his movable wheel columns he can jump and land in all ways. Their creativity is really the only limit.
In this guide I look at the 8 best stunt toy cars and what you should pay attention to when buying.
Let's take a quick look at the top options. Then I'll go into more detail about each of these choices.
Stunt toy cars buying guide
What should you pay attention to when buying stunt toy cars?
Sustainability
Durability is very important for stunt cars. When stunting, things can often collide.
Cars that have perfectly concealed all vulnerable parts, such as Sgile, therefore work very well as stun cars.
Die-cast cars with big wheels like the Monster Jam truck also work great.
Quality of driving
With toy cars you want them to be able to drive well. To be able to stunt well somewhere, they have to be able to move forward.
A few things to watch out for are:
the distance from the wheels to the chassis: some toy cars run into problems so they don't drive very well
the rigidity of the shaft: some toy cars are very wobbly so the wheels can move far in and out, and still rub
the quality of the wheels: is it plastic or are there really rubber wheels on the tires? Rubber rolls a lot better
the weight of the car: you may not realize this right away, but the weight of the car plays a very large role in how well it rolls. A heavier car made of diecast or wood rolls a lot better and further than a plastic car
Replayability
Much of the car's replayability is in how well it drives, but there are other factors that determine how often they return to it.
Age also plays a part. Is it a car that stays on the left after toddlerhood or can it last longer because it is also suitable for older children?
The number of extra functions also plays a role, such as the track pieces at Olloum or the play sand at Monster Jam.
I rated each of the cars on this list on these parts on a 5-point scale.
Top 8 stunt toy cars reviewed
Type: Toy Grade
This is a car for when you want to drive around without worrying about bumping into something.
That could be because you really like it yourself, but it's also perfect for toddlers and preschoolers who don't know what they are doing yet.
You see these kind of 360 degree rotation cars popping up everywhere, and the best brand for this type of RC car at the moment is Sgile.
Super sturdy so bumping or falling from something won't hurt it and it charges nice and fast (in 1,5 hours) so your child will never run out of battery (because they will often forget to charge it before they want to ride) ).
Oh, and charging is done via USB so you can do that anytime, anywhere.
That fast charging is also necessary because it can only last 25 minutes on a single charge. That is one of the major drawbacks.

But they also paid attention to safety with high-quality ABS materials that are non-toxic and environmentally friendly. The battery has short circuit protection and overcharge protection.
Type: Toy Grade
While the company has many mediocre offerings, their Mazda Drift Car is a standout in the price range.
Mazda Drift is a very fast race car with a top speed of 40 KM/H. It's also not really fair to compare toy grade cars like this to hobby grade cars, but that's pretty fast for a car like this.
The wide bumper at the front provides extra strength and protection should you drift out of the track.
The body of the car is interchangeable and is available in different colors and shapes. The body is made of a flexible, durable plastic PVC.
This model is made for beginners and advanced, even for children from 8 years old.
The orange Mazda style is the coolest of the bunch, and it's also the sportiest. It is also fast and durable.
And, as expected, it drifts wonderfully, allowing you to take turns without difficulty.
The battery leaves a lot to be desired, but if you or your child are just getting into RC cars, the Mazda is a good choice.
Wow! This Hot wheels monster jam monster truck is very impressive!
This starter set gives you the opportunity to build your favorite Monster Jam truck and then race it.
There is even a ready-made ramp that you can use as a ramp or to perform crazy stunts. You also get 227 grams of kinetic sand with the set that you can drive over and build the ramp.
The Monster Jam truck is detailed and has dirt-stained tires. This makes the look of the truck even more real!
It's the perfect starter kit for a speed champion who likes huge, tough trucks!
I only found the downsides that there was not so much kinetic sand, we were lucky ourselves so we could experience the second disaster, but otherwise there was not even enough to fill both ramps.
And maybe you want to buy a second truck to be able to race too, because what is Monster Trucks (top rated here) without monster racing.
The downside is that the wheels are very wobbly. This makes the monster truck a bit difficult to drive at times.
Not so much when you hold it in your hand, but more when you want to push it forward. He just wants to go in circles.
This corkscrew track from Hot Wheels has the most amazing loops in a row and the trick is to stay in the track with your car.
BEST FOR: Little speed demons aged 6 and up
CONSIDERATIONS: Adult assembly required, motor is loud, it is large but therefore requires a lot of floor space
CONCLUSION: The Hot Wheels Corkscrew Crash Track Set tests your child's timing and strategic skills as they launch their vehicles to make sure they'll fly across the track without causing major crashes.
Features
Track has 3 crash zones and 3 fast booster zones
1 Hot Wheels car included
Battery operated motor (batteries not included
Rating
Your little one will have his cars all set and ready to go with the Hot Wheels Corkscrew Crash Track Set.
It takes a little parental involvement to follow the easy-to-understand instructions while building this bulky colossus, but once it's complete operating the toy is easy and they can do it independently.
Kids will love it when their cars travel super fast speeds while performing stunts and traversing the loops.
Three power boosters keep the cars screeching around the three large loops the track has.
The ultimate goal? Avoid colliding with other cars at all costs!
Our toy testers loved playing alone with this set or racing against friends.
The track can be quite loud when played with so be prepared for some noise.
And while the Corkscrew Crash Track turned out to be durable, it takes up quite a bit of space, so make sure you have plenty of floor and storage space.
Only one vehicle is included, but other Hot Wheels cars will work on the track as well (check sizes only for compatibility).
And the track can also be combined with many other Hot Wheels tracks:
The more cars you add to the track, the more exciting the game will be!
A 1:64 RC car, you don't often see them that small. Great for fun stunts on the Hot Wheels tracks, but also great to use on the floor.
A nice detail is the "turbo boost" to add extra speed, for example just before a loop.
The cars are suitable from 5 years, 4 would also be possible. We've driven it into the wall quite a bit and it's still doing great. Is very firmly put together.
The booster does drain the battery quickly, so you may have to make some arrangements with your child about that.
Only the rear wheels are rubber and the front wheels are plastic. This is because it has rear-wheel drive, which makes steering a bit different.
You can clearly see that it was developed for use on the Hot Wheels tracks where steering is not an issue.
But because of the rear-wheel drive, it spins out of the corner very quickly, which my son really liked.
This is one of the best zero g cars because you can drive it yourself with the remote control.
It will ride on any smooth surface, including walls, ceilings, floors and even glass! Unfortunately, it does not work on carpet.
This rechargeable toy car has bright LED lights and an aerodynamic dual-mode rc car design that allows 360° driving on the floor or on the wall.
We didn't get streaks or stains on our white wall so they're doing pretty well.
It's also nice that it has a rechargeable battery so you don't have to put new ones in the car every time.
It works because there is a small fan on the bottom of the car. Together with pieces of fabric on the sides of the car, it creates a vacuum so that it can "stick" to anything.
It is not very small but not too big either at 15 x 9 cm and the charging time is about 60 minutes. The battery is a bit less, with about 11 minutes of playtime.
It often says 20 minutes in ads, but that's only if you just drive it on the floor.
Suitable for children from 6 years.
Lees meer: these are the best zero gravity cars we've reviewed
This set is about making a track where the cars "stick" to.
The parts are easy to click together so you can actually build whatever you want, and the flexible pieces allow for crazy loops.
Aimed at children aged 3 to 6 with glow in the dark track and LED lights on the cars.
There is no big secret here about how it is possible that they manage to beat the laws of nature. The cars are clamped to the track, much like a rollercoaster works.
Still, it is a very nice toy, especially for toddlers and small preschoolers.
If your child already wants an RC car but you are not quite ready for it, especially because you are afraid of the frequent pounding against your walls and other things, then there is this Stunt Shot.
The super soft foam wheels ensure that the weight is perfectly distributed and you can even drive over eggs.
Banging against the wall or even a mirror won't hurt anything, and he can even tumble down stairs without damaging anything, not even himself.
This soft characteristic also makes it great for fun stunts like somersaults, 360-degree spins, wheelies, rebounding off walls, racing down stairs, driving over objects and more!
Suitable for children aged 4 to 5 years. You can easily charge the car with USB and the controller has 2 AAA batteries.
It doesn't steer very precisely because only the rear wheels turn. With a turn, one of the two wheels slows down so that it turns, the way you want to turn when you row.
It's also not particularly durable. And by that I mean the inside.
You can indeed drive it down the stairs, but if it ends up wrong you can damage the bike with a few crashes.
A very nice soft car for toddlers!
Conclusion
Stunting with toy cars is great and your kids can't believe their luck with this one.
There is something for every age.
Also read: these are the best toy cars rated