I enjoy writing these articles for my readers, you guys. I don't accept payment for writing reviews, my opinion on products is my own, but if you find my recommendations helpful and you end up buying something through one of the links I may be able to receive a commission on that.
More information
When you travel with the whole family, it is useful - but also great fun for the kids - to give them their own suitcase.
Fortunately, all suitcases nowadays have - manoeuvrable - wheels.
There are very cool children's suitcases for sale, for the little ones to the older children.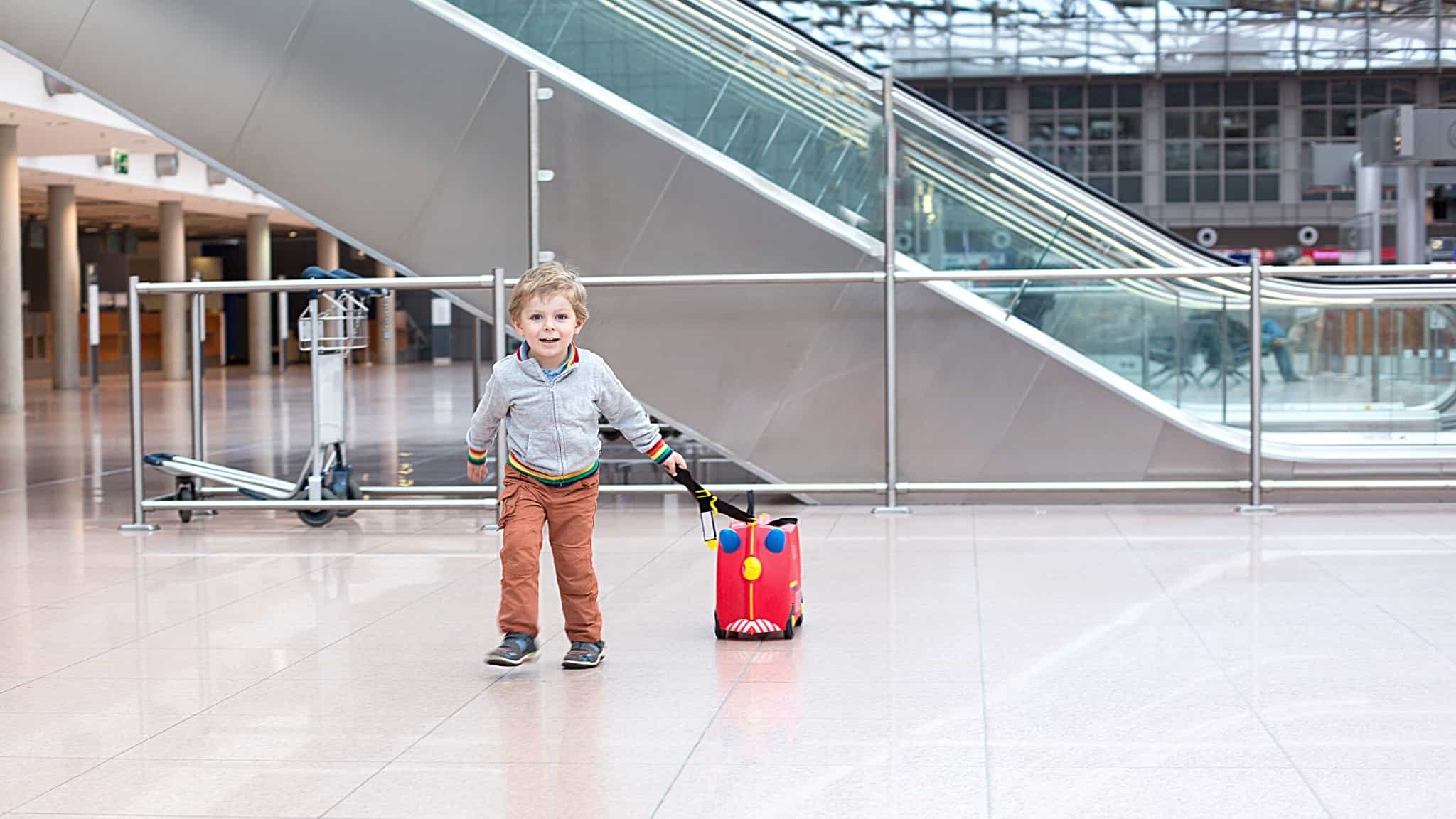 In this way, your child can - with some good advice from you - pack his suitcase and choose which clothes and shoes to travel with.
It's also more relaxed when the kids can carry their own luggage when needed.
Some children's suitcases have a seat for a little one and can be pulled by mom or dad, so you don't have to carry your toddler on your arm.
The overall best children's suitcase is this JetKids by Stokke Ride-On trolley proved. It's certainly not cheap, but did you know that in just five easy steps you can turn this beautiful suitcase into a cot too? Plus with the stickers your child can personalize his trolley to his own taste.
I will definitely come back to this 'best suitcase in different categories', but I will first introduce you to my 'best children's suitcase list' ...
What do you pay attention to when buying a children's suitcase?
Are you planning to purchase a children's suitcase, then it is good to think about a number of things.
There is a good suitcase or trolley for every age, but you may have extra wishes regarding size, maneuverability or other extras.
Maybe you want to start with a small suitcase, but you can also opt for a suitcase that may be a bit large now, but that your child can use for years to come.
A few tips when choosing a suitcase for your child:
if you are looking for a suitcase that is manageable for a child of a certain age, pay attention to the size.
do you want a hard or soft cover ?; a hard cover is better for air travel, as suitcases can be quite thrown around.
Do you like a ride-on suitcase for your toddler or toddler, so that you can also pull the suitcase yourself with your child on top?
Read also: Nice toys for holidays | 19 tips for baby, toddler and toddler
Best suitcases for your child reviewed
I have a few nice options in my top list of children's suitcases. I will discuss them in detail here.
Overall best children's suitcase: JetKids by Stokke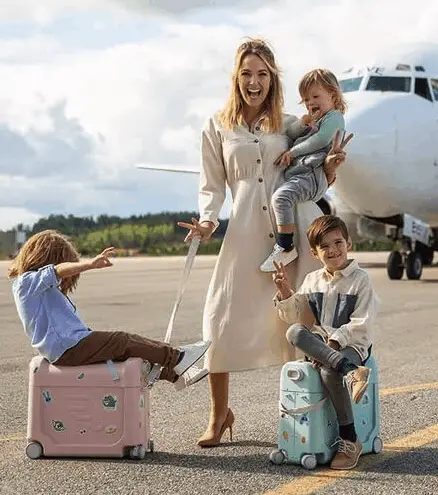 With this solid ride-on trolley from JetKids by Stokke, parents and children are ready to go on an adventure.
This ride-on is equipped with swiveling front wheels and these are shock-absorbing.
The suitcase can be carried and pulled with the sturdy (shoulder) strap. Little ones can also pull the trolley well themselves.
The suitcase - available in soft pastel shades - has a hard cover and the interior offers enough space for all important travel essentials.
Check out how versatile this great kids' suitcase is:
In five simple steps, a standard economy class seat is transformed into a first-class seat on board any aircraft: it becomes a wonderful bed for your little one.
The ride-on comes with two sheets of decorative stickers and is suitable for children from about 2 to 5 years old. The color of this case is called 'Blue Sky'.
The JetKids bed box measures 46 by 20 by 36 cm and weighs 3.3 kilos. It has a volume of 23 liters and can hold up to 35 kilos of luggage.
Check it out here at Amazon
Best cheap children's suitcase: Frozen ANNA & ELSA Trolley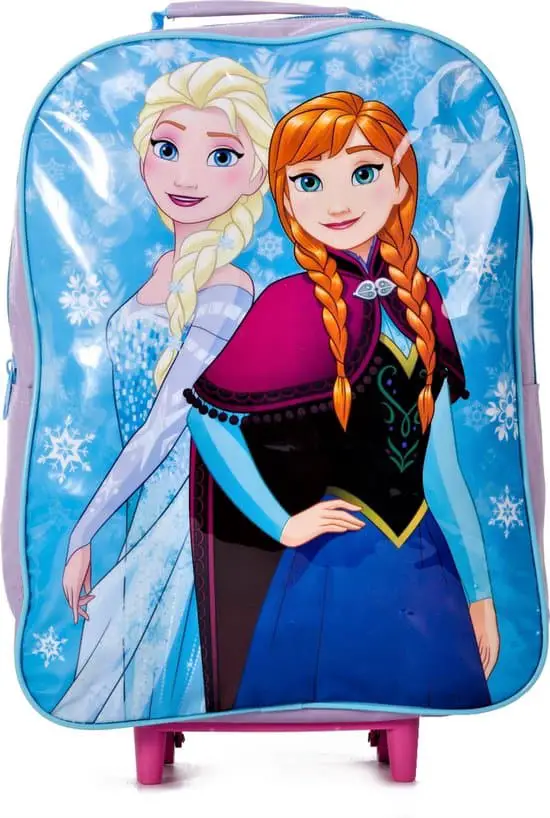 This cool Disney Frozen Trolley is a dream for every little girl!
For a small price you have a very nice trolley for your child, which Anna & Elsa will of course like to take with you on a trip.
This soft case trolley is equipped with a pull-out pull rod, two wheels and two handy legs. It can be closed with a zipper.
You can easily fold it, so that this lightweight trolley disappears from view after the holiday.
The length is 38 cm. high and 28 cm. wide with a depth of 12 cm. Suitable for children aged 3-7.
Check the latest prices here
Best trolley for your child: Captain America Backpack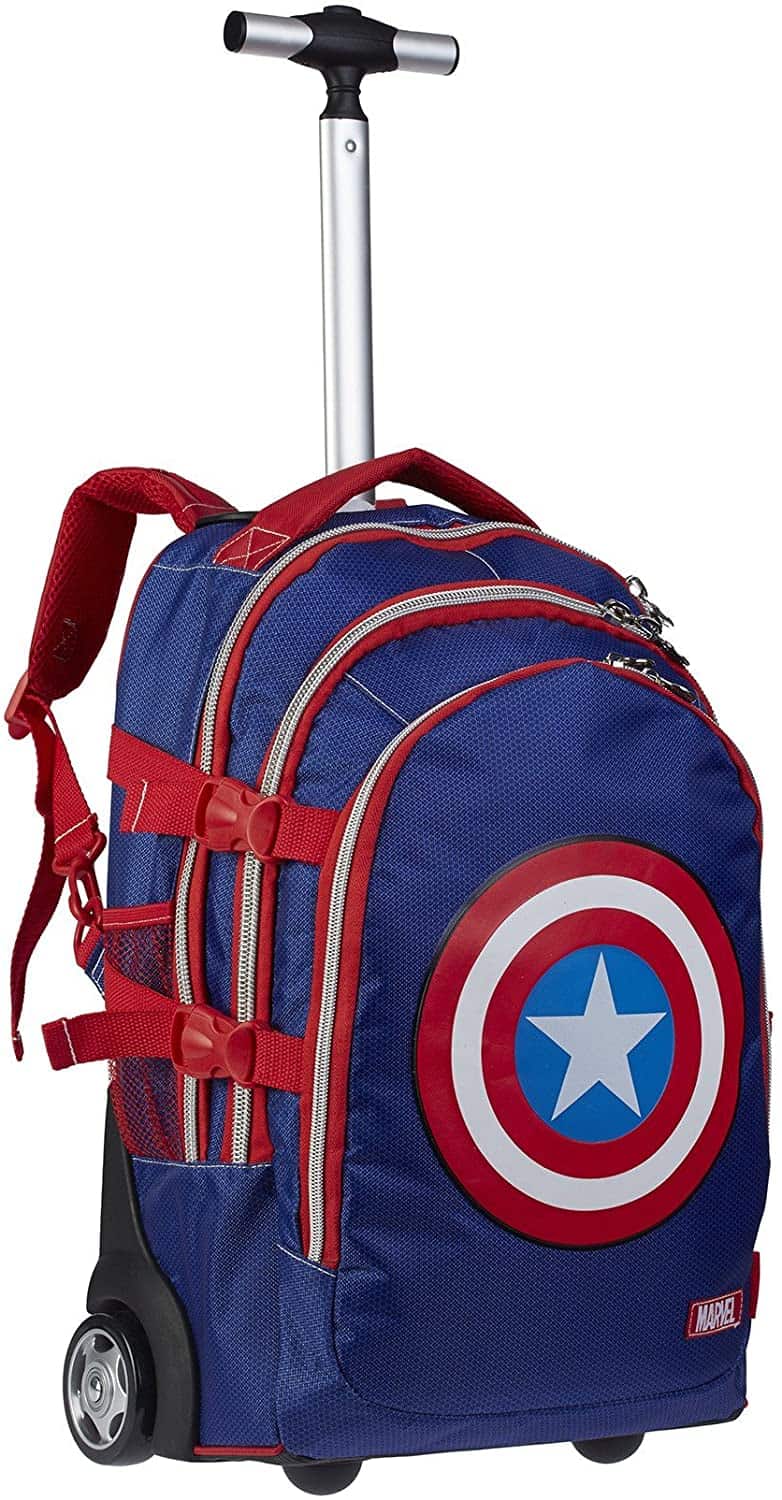 My choice falls on the popular Captain America Backpack trolley, because of its various options. The dimensions are 30 x 48 x 18 cm.
The ergonomic and adjustable padded back straps of this backpack give your child maximum comfort while traveling, but if your child prefers to ride the backpack, that's fine too.
After all, there is a good pull rod with handle on it.
The backpack trolley has three large zip compartments and is decorated with the recognizable Captain America star. Perfect for children to travel with, but also to pack their heavy school supplies.
Check prices and availability here
Read also: A children's tablet on holiday | 5 benefits to consider
Best carry-on for your child: Pink owl kids scooter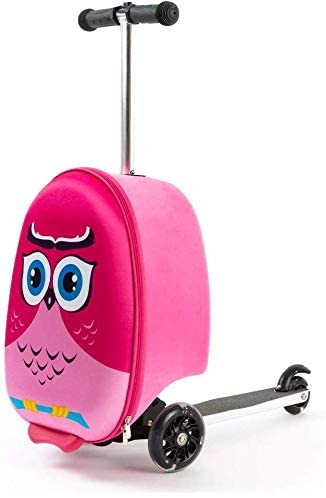 The Pink owl kids scooter is specially designed for independent toddlers and preschoolers.
My choice for 'best hand luggage' fell on this cool owl, because your child can not only pull it along, but can also step on it!
I think the price is only fair, when I consider design, durability and safety: the solid exterior is water and scratch resistant and the wheels roll well and are shock absorbing.
The robust and adjustable aluminum handle makes driving comfortable.
The straps keep clothes well organized while traveling and the flexible inner compartments are ideal for smaller items. The case has a robust zipper.
Easy to fold and lock. You can convert the scooter into a trolley in no time. Moreover, your child will have some fun on the scooter at the airport.
The trolley complies with all international flight dimensions and fits in the luggage rack of the cabin, as well as under the seat.
The sizes are 38 x 20 x 19,5 cm. and it is suitable for kids from about 4-5 years old. This trolley comes with a lifetime warranty!
As a bonus, your little one receives a free neck pillow with this briefcase, all ready for a long flight.
Check the latest prices here
Looking for ways to keep your little one sweet on a long plane trip? Read: Nice toys for the plane | 22 reviews for baby to toddler
Best suitcase child of 2 years old: Shaun the sheep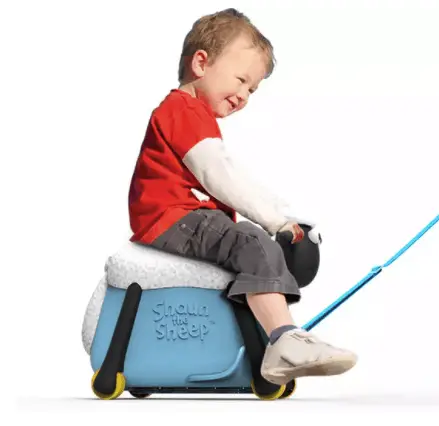 Shaun the sheep is a very nice light blue children's suitcase with plenty of storage options.
Your little one takes place on Shaun the sheep and lets himself be pulled forward by mom or dad. Shaun's ears can be used as a handle, so your little one won't fall off.
A wonderful children's suitcase for holidays or a weekend out. It also serves as a toy for your child.
Shaun has easy to open and close locks and comes with a durable strap.
Your children can easily push this sheep along and when they are tired they can sit on it:
The suitcase holds 14 liters, or the dimensions are 48 x 36 x 22 cm: enough space for a week of holiday clothing.
You can easily roll Shaun in the luggage compartment in the aircraft cabin.
Check the latest prices here
Best suitcase child 3 to 4 years: Trunki Ride-On Hand luggage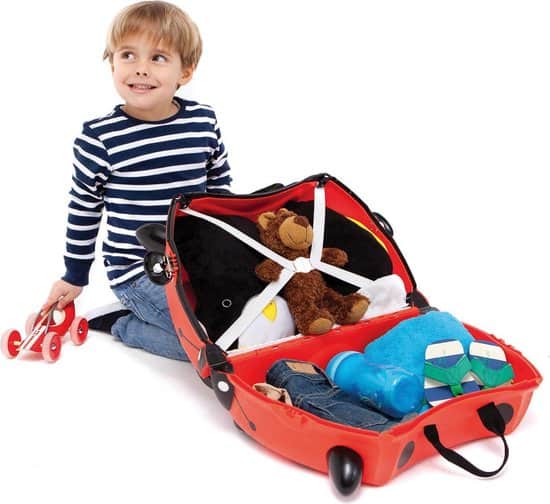 The plastic Trunki Ride-On Hand luggage suitcase in the shape of a ladybug is 46 cm high and has a unique and funny design. The ears are unique and serve as a handle for your child.
Your child can sit on it while waiting and drive it around when boredom sets in. Children enjoy traveling much more with this suitcase.
What I really like about this suitcase is that safety is paramount at Trunki. It has been designed to prevent tipping over.
See the suitcase in action at the airport here:
The price of this cool suitcase is also great!
The maximum load capacity is 50 kg. and the size is 46 x 30 x 21 cm. Perfect for children from 3-4 years old, up to 6 years old.
Check prices and availability here
Best suitcase child of 5 years: Lttxin Kids
The sturdy and oh so cute Lttxin Cute Kids suitcase is specially designed for younger children who can pull their own suitcase.
It is extremely lightweight and you can pack everything your child needs on vacation. The clothing can be neatly secured with the internal straps, which you click into place.
The spinner wheels are perfectly manoeuvrable and the suitcase has a child-friendly format. The case measures 46.4 x 33.6 x 21.8 cm, so designed to be approved as carry-on luggage.
The cool dark blue trolley has brightly colored cars and construction vehicles.
Check availability here
Best suitcase child 6 years old: American Tourister Kids Softside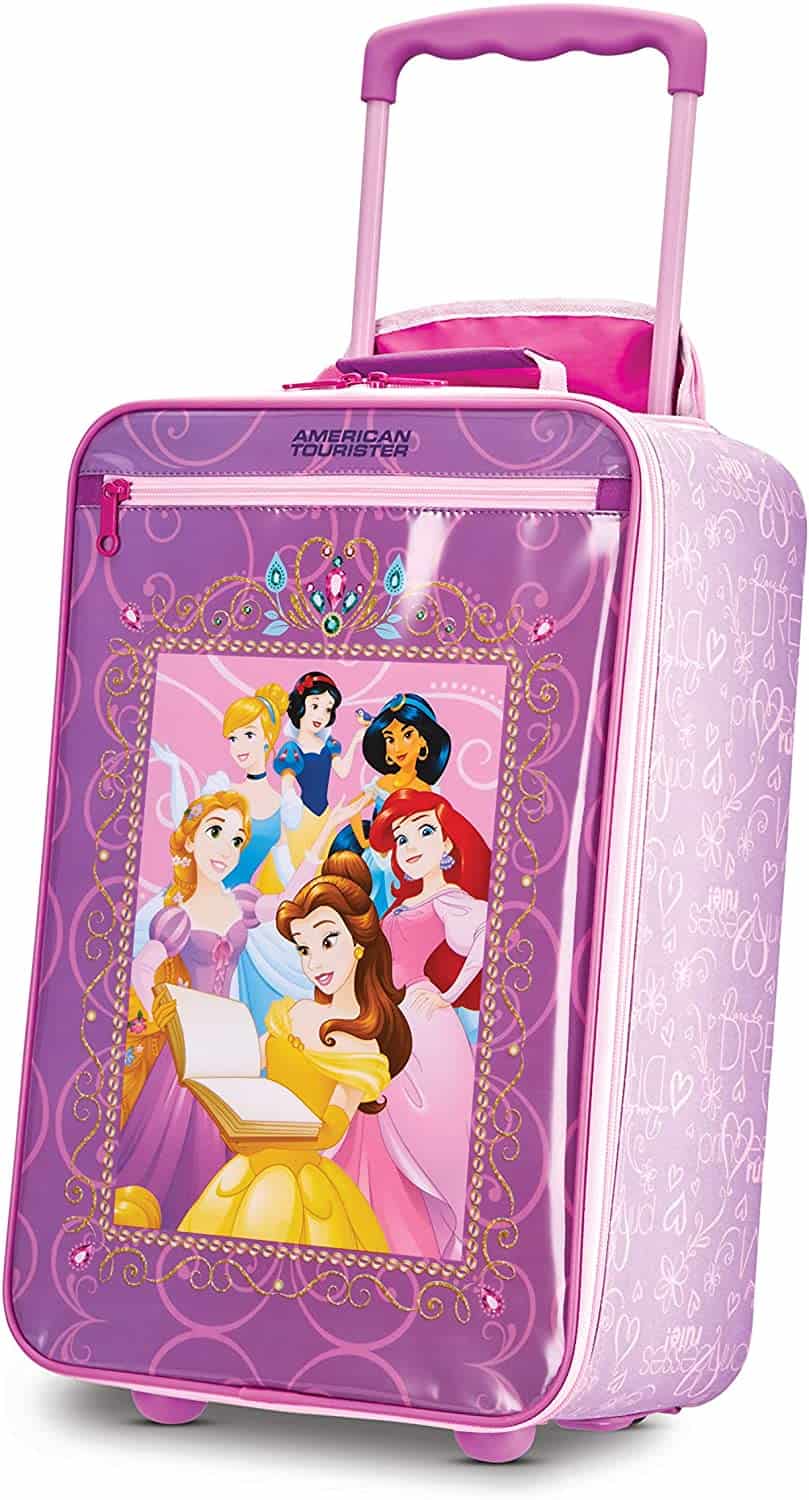 The beautiful Disney Princess trolley from American Tourister is 45,7 x 30,5 x 17,8 cm and is suitable for girls of around 6 years in size.
I think it is a simple, beautiful soft case trolley with a beautiful princess print on the front.
The two wheels make it easy to move and the adjustable handle can be adjusted to size. It is also useful that the handle can be folded all the way down, for when the suitcase is checked in.
Inside, the case has handy straps to secure the luggage and a special mesh pocket for smaller items.
The cheerful colors and the cool princesses on this case make your daughter love it. This is how she travels in style!
This trolley is more expensive than the Frozen ANNA & ELSA Trolley above, but slightly larger and also a bit more solid.
Suitable to take on the plane as hand luggage.
Check it out here on Amazon
Best suitcase child 7 years: American Tourister Disney Wavebreaker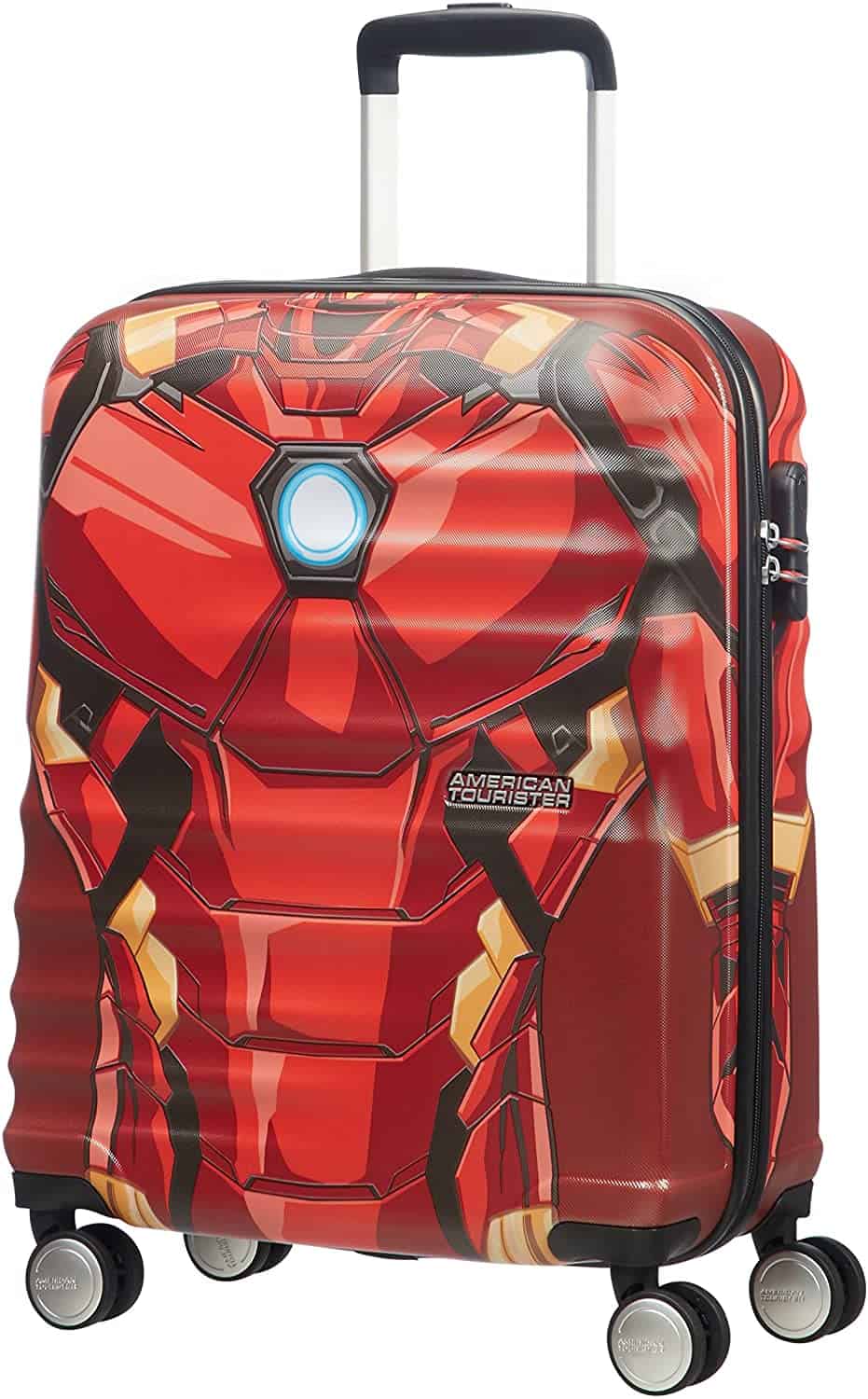 The tough Disney Wavebreaker Spinner Iron Man from the quality brand American Tourister is 55 cm high and has a capacity of 36L.
With its height and retractable handle, it is suitable for a child of about 7, but also for teenagers or as a second suitcase for adults. This trolley is particularly popular with Iron Man fans.
The special texture ensures that the outside is better protected against scratches. On the Spinner 67 & 77 cm. however, there is a TSA lock.
Inside the suitcase are cross straps, you have a divider with zipper and a separate compartment for smaller items.
Enough space for clothing, suitable as cabin luggage and what I find especially interesting is the very good quality that this brand offers.
By the way, this model has different prints and themes, so choose the one that most appeals to your child.
Check the latest prices here
Best suitcase child of 8 years: Take Me Away Mickey London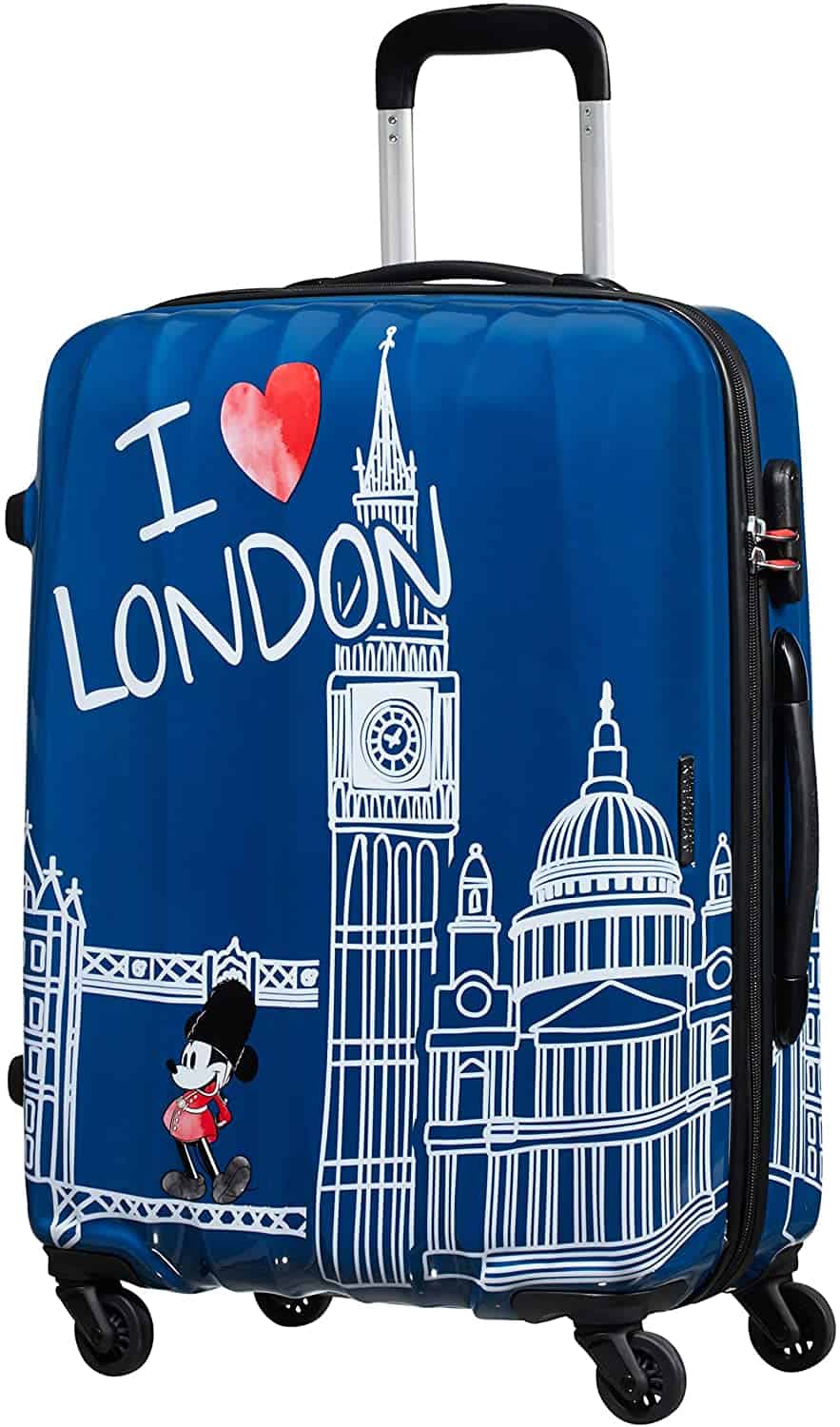 Super fun the Take Me Away Mickey London: a 75 cm high American Tourister from the 'Disney Legends' series.
This large Spinner with four swivel wheels can hold up to 88 liters, the dimensions are 75 x 52,5 x 31 cm.
An ultra-light suitcase with a unique Mickey in London print. Ideal for avid travelers who love this iconic Disney figure.
The case has a fixed TSA combination lock and is made of sturdy polycarbonate. There are two compartments that provide plenty of space for clothes and accessories.
Suitable for an 8-year-old, as well as teenagers and adults.
Check prices and availability here
FAQ
Is it okay to buy a hard or soft suitcase?
While soft suitcases are resistant enough to survive a plane trip these days, hardcover suitcases are safer for the harder or breakable items you take with you on a plane trip.
If you travel by car, a soft suitcase is fine.
What makes ride-on suitcases so great for kids?
Firstly, little ones love to be able to pull their own luggage on wheels.
Often the ride-on suitcase shapes and models are also very attractive to them. For example, they have the shape of an animal or fire engine.
But best of all, when their little legs get tired, they can be pulled along on the suitcase by mom or dad.
Conclusion
Pleasant and convenient traveling with children is no longer as difficult as before with these nice suitcases!
If your child is involved in choosing the suitcase and perhaps also packing, it can lead to a nicer and more relaxed journey.
I have seen that especially the little ones enjoy traveling with their own suitcase, but they can occasionally sit on their suitcase and be pulled along.
They are also less bored if the suitcase can be part of their game.
Read also: On holiday with your baby: with this checklist you have arranged everything
Joost Nusselder, the founder of Speelkeuze.nl is a content marketer, father and loves trying out new toys. As a child, he came into contact with everything around games when his mother started the Tin Soldier in Ede. Since 2016, he and his team have been creating helpful blog articles to help loyal readers with fun play ideas.