No mess, no hassle, put away! 22 best toy cabinets
I enjoy writing these articles for my readers, you guys. I don't accept payment for writing reviews, my opinion on products is my own, but if you find my recommendations helpful and you end up buying something through one of the links I may be able to receive a commission on that.
More information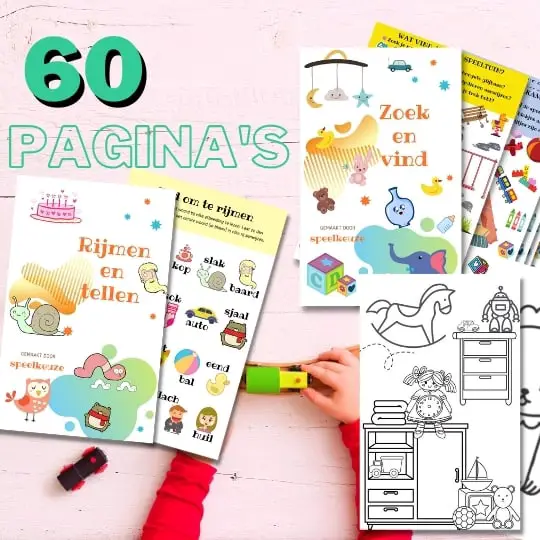 Always something to do for the holidays or rainy day?
Play Choice now has the ultimate activity book collection, with over 60 pages of fun coloring pages and educational puzzles.
Toys lying around, do they sometimes make you TURELURISH? Your child will undoubtedly have already collected a lot of toys.
That's great fun, but not when it's spread around the house!
If you too long for a tidy living room and children's room, then these are the 22 best toy cupboards for you!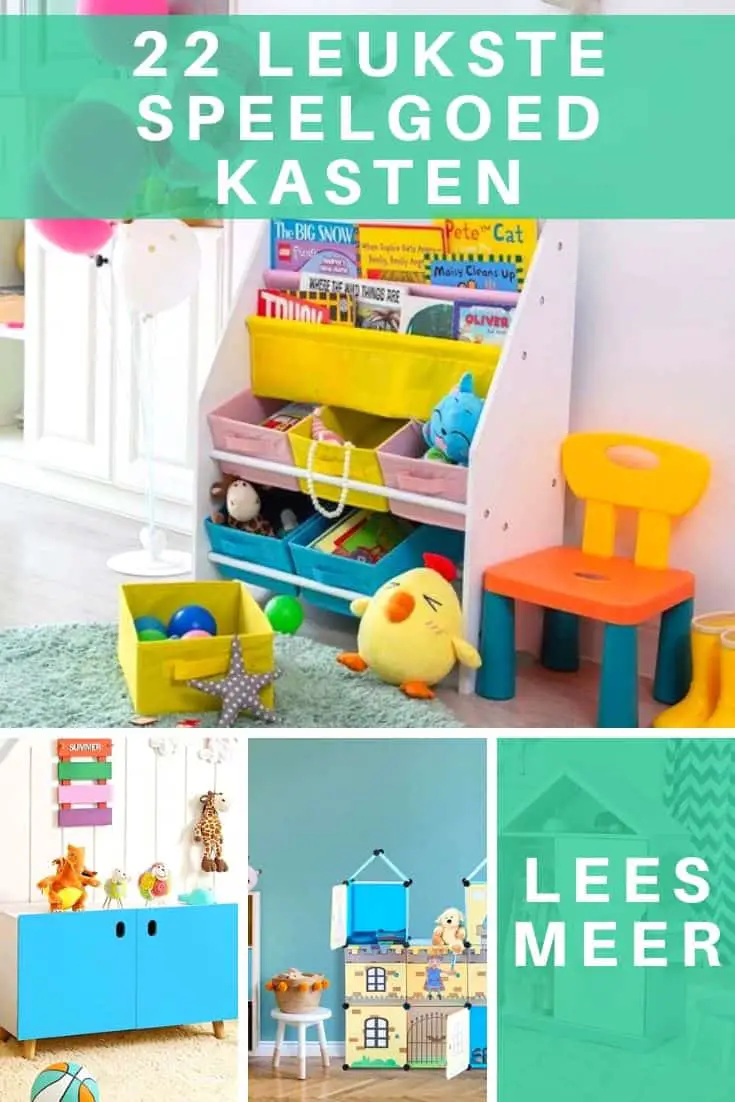 One that fits perfectly with your interior! You can find stylish cupboards for toys, with good storage compartments in all shapes and sizes. Try to think a little 'outside the box'!
A trendy closet on the outside, stuffed with toys inside; But then nice and out of sight!
I like open bins for easy tidying, which can be detached to take it to the toy rather than 10x up and down with toys to the closet. That's why I have this colorful Kidkraft cabinet at the top (trust me, you'll thank me for those loose bins).
You will get some nice ideas in this article and you will see that a toy cabinet does not have to be boring or unattractive, on the contrary!
Enough exciting and classy storage cupboards for your home!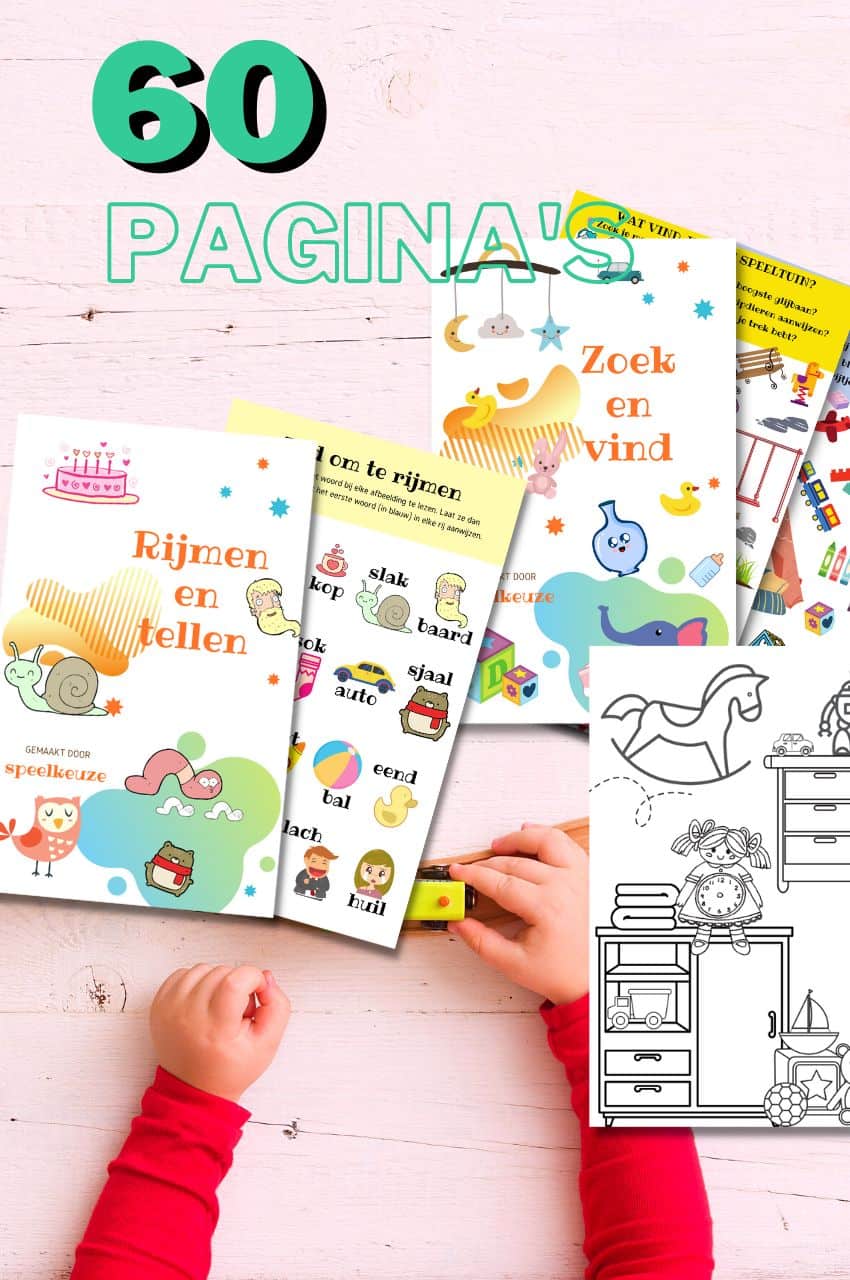 From toddler to toddler activity book collection
Educational games and coloring pages for 3 to 6 years
Your toddler and preschooler will love this e-book, along with the accompanying printables. He or she can play with it at every stage of development, together with mom and dad.
Buy at Bol.com
Best toy cabinets rated
Best toy cabinet with compartments for bins: KidKraft Toy storage unit with angled storage bins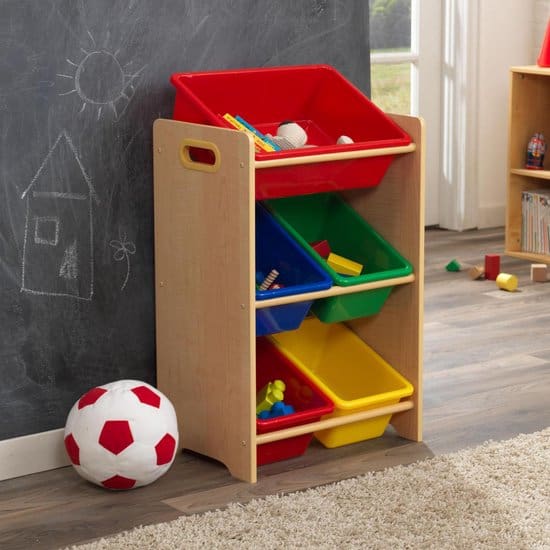 Best toy cabinet with compartments for bins In the practical KidKraft Toy storage furniture with slanted storage bins can really tidy up your little one's toys and craft supplies in the blink of an eye!
This wooden cabinet has three sturdy, angled storage racks that are easy to clean. You could possibly place baskets in it.
here late Kidkraft see the idea behind their storage units:
Your child can easily reach everything and can clean up and pick up his stuff himself. The storage furniture is easy to lift and move using the handles.
It is supplied as a kit and comes with a detailed, step-by-step assembly instruction.
Check prices and availability here
Best toy cabinet desk with drawers: Melissa & Doug Lift-Top table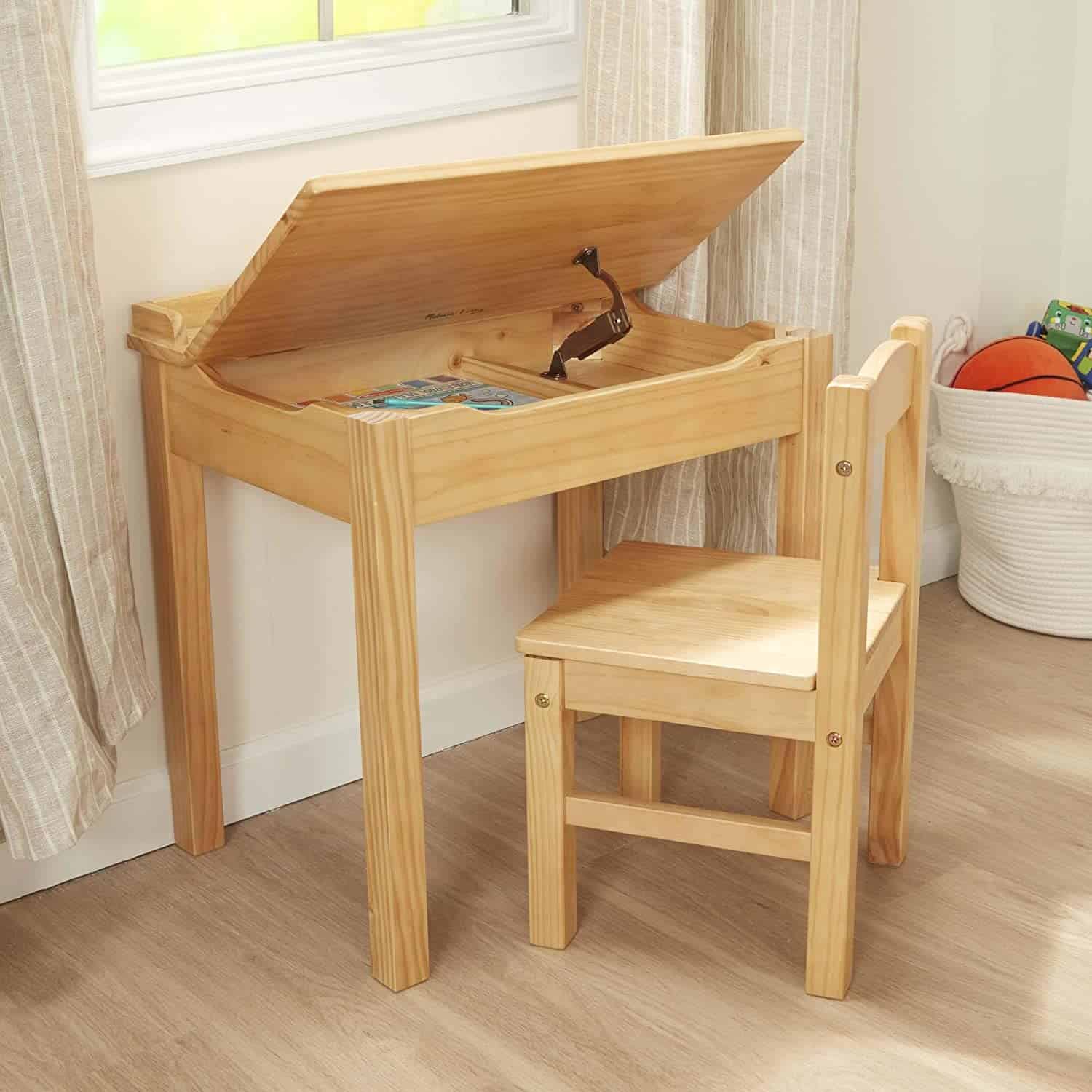 This handy play desk is really beautiful! Easy to put together and with a practical storage compartment for all your toys.
A luxurious desk, for the slightly older child, but at the same time a handy toy storage with a large folding interior.
Here it is in white:
It is so much more fun to use an 'alternative' cupboard to store toys!
Maybe not a real toy cupboard, but I thought it was too fun and useful not to mention here as a desk for your child. Plus Melissa & Doug made it in different colors to match your interior.
Check the most current prices and availability here
Best toy cabinet for the nursery: East Coast Toulouse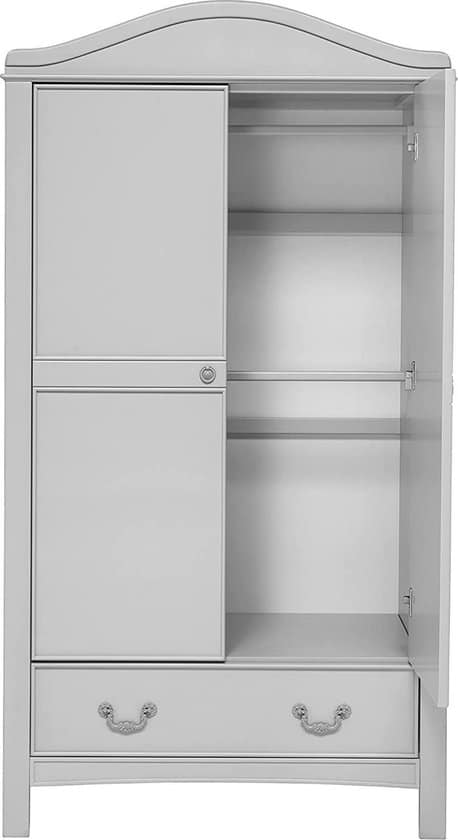 The incredibly beautiful children's cupboard Toulouse is handmade and therefore unique! The high-quality wood has a warm appearance.
This romantic closet has handy storage compartments and a hanging area for any clothing. Where you want to place this cabinet does not really matter, it will come into its own everywhere!
The advantage of a cupboard like this for the nursery is that it is nice and heavy, useful if you do not want all the neatly tidy toys to be taken out by your little junk ass!
A nice cupboard, and because of the neutral color it can be combined well with other cupboards!
Check the most current prices and availability here
Best outdoor toy cabinet: LECO Garden Cabinet Vintage Plus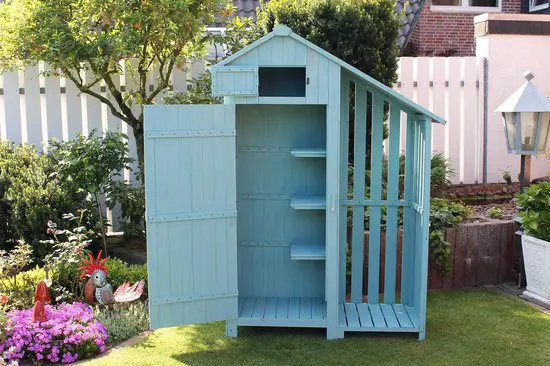 A really trendy garden cabinet, the LECO - Garden Cabinet Vintage Plus - Mint, with an extra extension!
The cupboard has three compartments, a door and a covered area where you can also stack firewood.
It is made of solid spruce wood and neatly lacquered in the bright mint color. The roof of the cupboard is finished with anthracite-colored roofing felt and comes with a one-year warranty.
Do you want an eye-catcher in you Outdoor, then this is highly recommended! Super handy and beautiful this storage cabinet for outside!
Best toy cupboard with doors: Childhome Quadro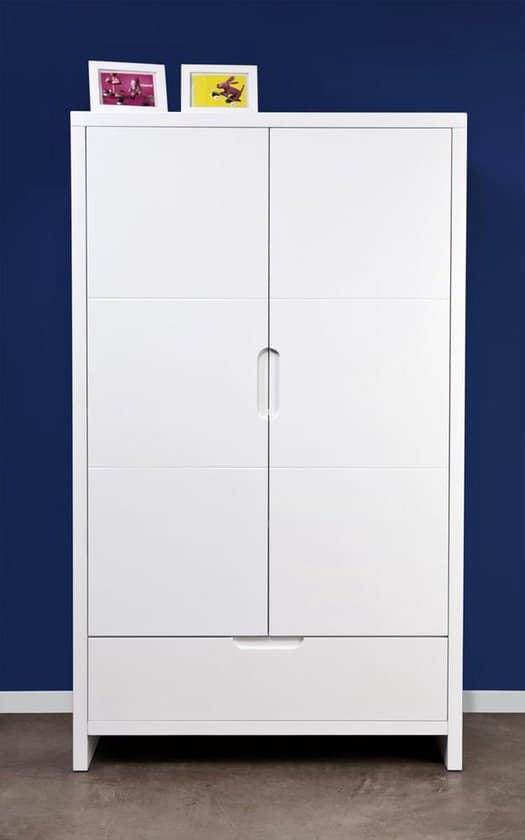 Create a sultry beach atmosphere in the nursery with the Childhome Quadro! A striking detail of this children's cupboard is the playful, cool compartment door.
The cabinet is multifunctional and can also be used for clothes, with doors, or as an open cabinet. It also looks great in combination with the 'Cabine White bed' crib.
A nice, sturdy cabinet with style!
Best oak toy cabinet: VidaXL Dresser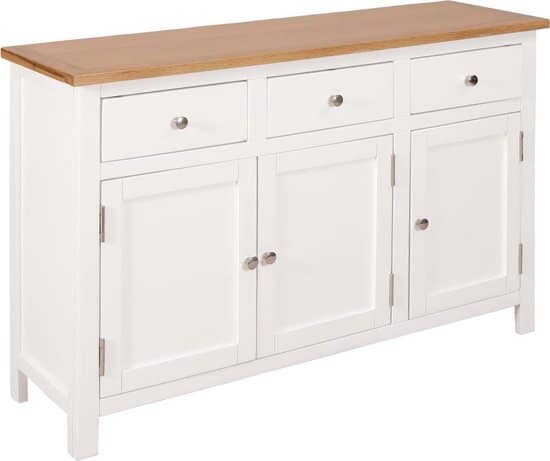 The high quality White Oak Wood Dresser will be a great addition to the nursery!
The white cabinet is made of durable solid oak and acacia wood and has a rural look.
The two drawers and doors with shiny metal knobs are perfect for storing your little one's toys! A practical, but romantic looking cupboard!
Best large toy cabinet: MaximaVida Locker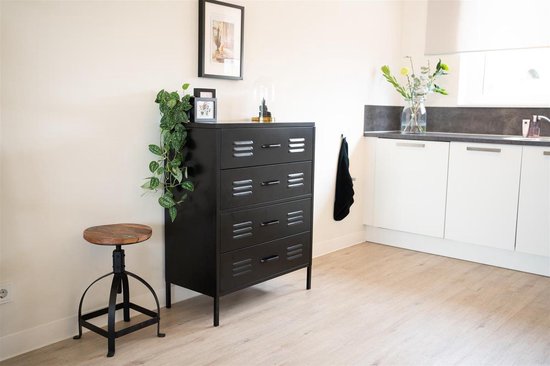 This super cool Locker cupboard - green is a unique cupboard! It is made from old locker cabinets and that is why it is so very original. A nice addition to your living room or your kid's room.
The green cabinet is made of metal and can be used very well as a toy cabinet! Also nice; The cabinet is delivered fully assembled. An absolute winner!
Best cheap toy cabinet: Decopatent storage cabinet and bookcase in 1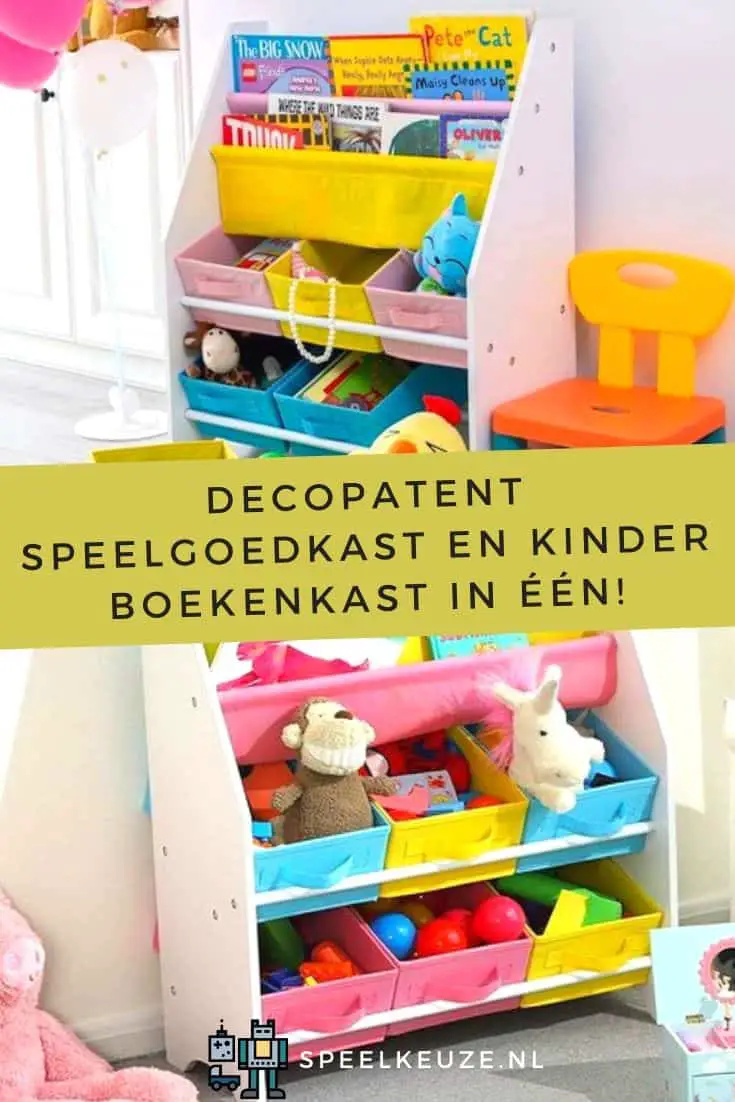 Of course your child can never have enough stuffed animals and toys, although you sometimes think differently when you need to get the mess cleaned up again!
This handy storage cabinet children and bookcase is therefore very useful in his or her room.
The colorful cupboard has many advantages, including the nine removable bins with space for books, craft supplies and other toys.
Your child will be happy to be able to tidy up and find all the toys so easily. That only increases the fun!
The assembly of the cabinet is simple, it comes with a good manual.
Best wooden toy cabinet: Camcam Harlequin cabinet gray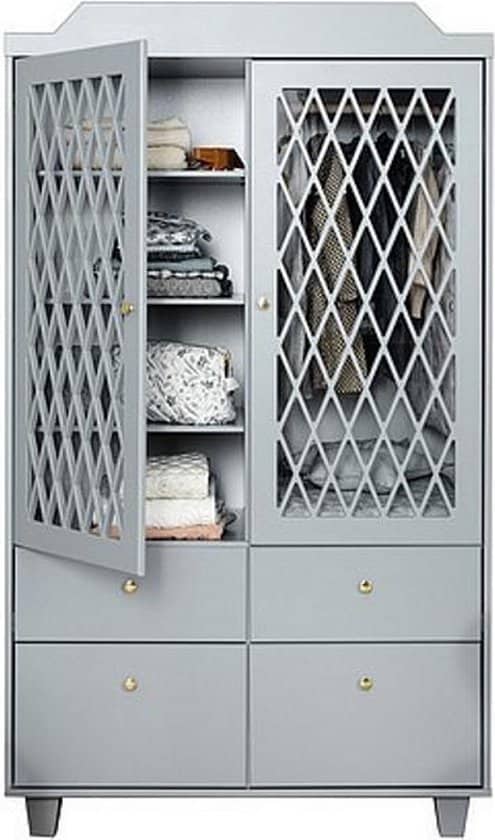 A very nice cabinet, the Camcam Harlequin cabinet gray, from the Harlequin series of the trendy brand Camcam! It has a unique design and is beautiful in combination with the Harlequin bedstead and changing table.
You can transform this cupboard into a beautiful toy cupboard for the baby and children's room! It will also certainly attract attention in your living room.
The cabinet has four drawers, four shelves and a rod for hanging clothes. CamCam is a Danish brand that delivers great quality.
The company was founded by the architect couple Sara Giese Camre and Robert Warren Paulsen.
The prices of their products are quite high, but then you also have a super nice item!
Best Tall Toy Closet: Interlink SAS Supply Cabinet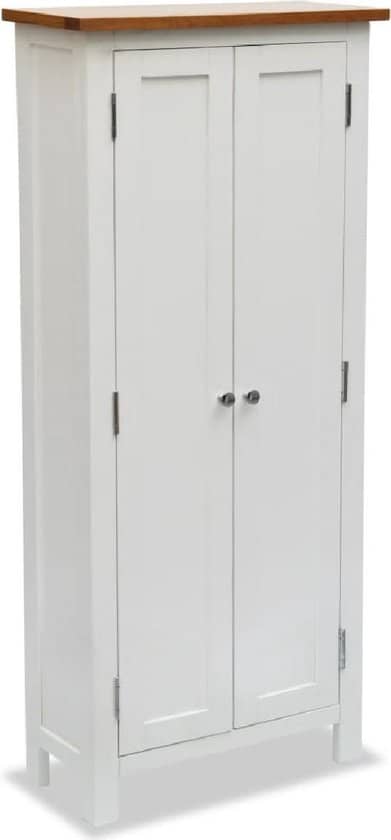 The basic, white Stock cabinet Wood is beautiful and timeless! The cabinet has six shelves, which provide more than enough space for storing toys and books, among other things.
The cabinet has a solid oak top and the rest is made of solid pine with a white finish. A beautiful storage that fits into any interior!
Best toy cabinet industrial: Vasagle storage cabinet with doors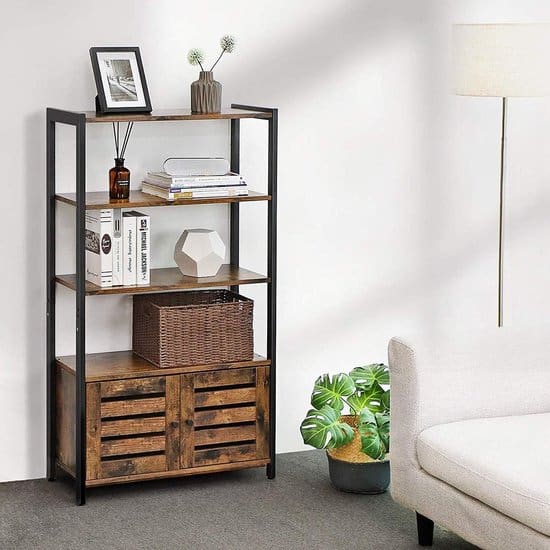 Tough cupboard, this Storage cupboard with doors, for your child's toys! Handy for anyone who cannot choose between a bookcase or a toy cabinet!
The piece of furniture has three open shelves and extra storage space in the lower part, which is closed with doors. A great choice for a cool nursery!
The cabinet doors are fitted with a practical 'soft close' magnetic closure.
Best low toy cupboard: Decopatent Storage cupboard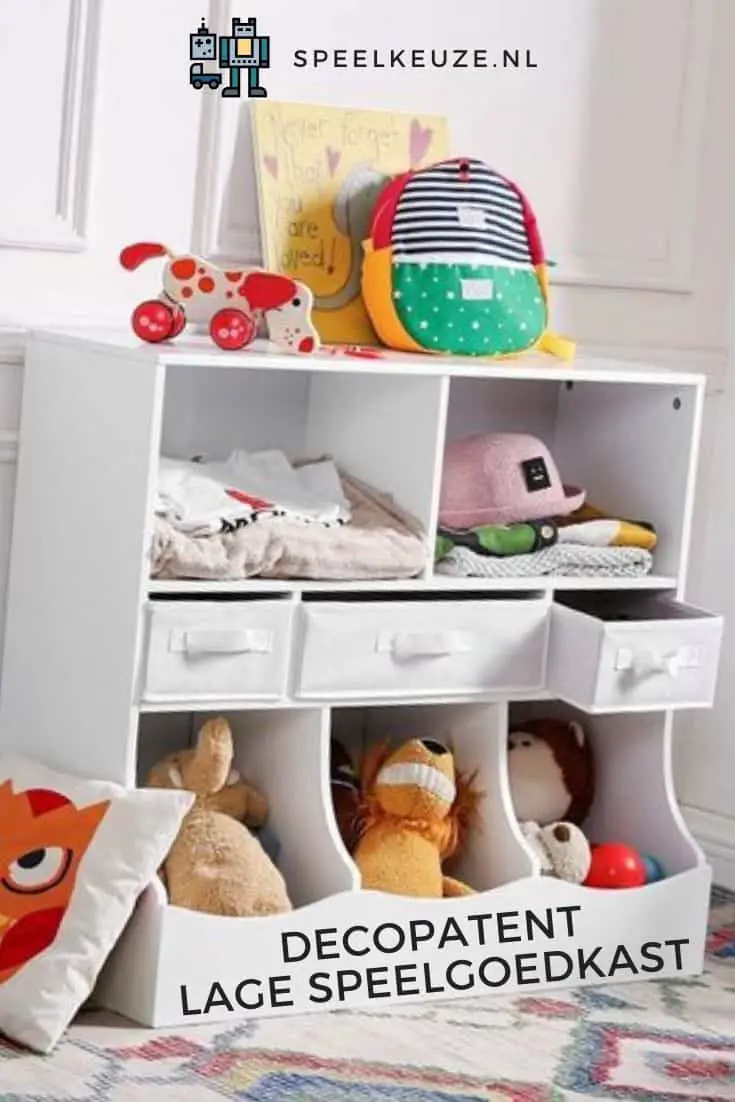 The Wooden Toy Cabinet / Storage Cabinet for children's room is a beautiful white storage cabinet with up to eight compartments, for the children's room.
It is quite low and offers enough space for all your child's stuffed animals, craft supplies and toys. The cabinet has three large compartments at the bottom, especially for stuffed animals and dolls.
Made of good quality wood and very practical to store for children, a very good cupboard to 'learn to tidy up'!
Best Country Toy Closet: Timzowood Living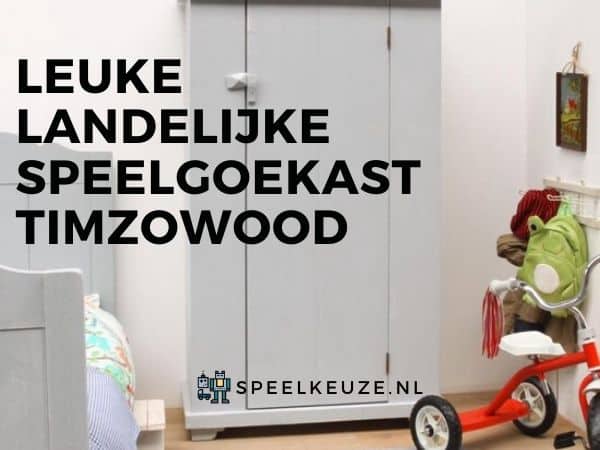 Looking for the perfect toy cupboard for the nursery, living room or hallway? Then this Country cupboard medium gray sanded through is really something for you!
The rural cupboard with three compartments probably offers enough space for your little one's toys. The pine cabinet has a beautiful gray color, is knot-free and is delivered assembled.
A great cabinet, also available in white and dark gray. Wherever you place the cabinet, every space will benefit!
Best toy cabinet with drawers: Noah chest of drawers pinewood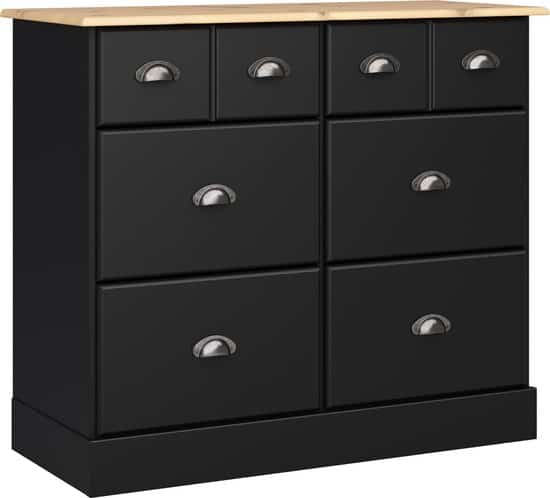 Timeless, the Noah chest of drawers in lacquered coffee-colored pinewood with 2 + 4 drawers toy cabinet! This chest of drawers has a lot of storage options.
No fewer than four spacious drawers for larger toys and four small drawers for books, for example. The color of this cabinet resembles the color of coffee beans.
The contrast with the white top is very nice. Made from strong pinewood.
Check the most current prices and availability here
Best toy cupboard with table: KidKraft Dressing cupboard and dressing table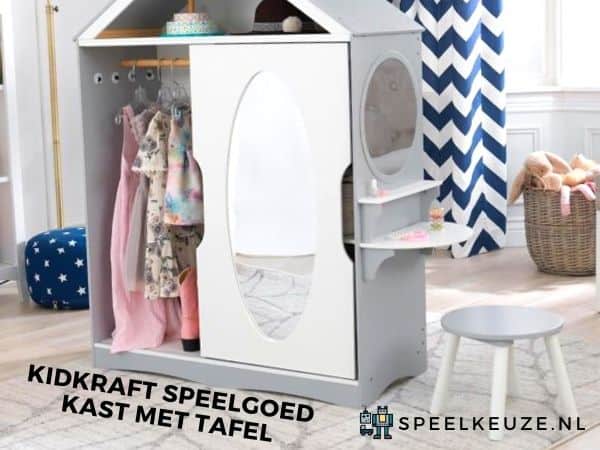 With the KidKraft Dressing Room and dressing table (or buy a separate table) can teach your child to put away all the toys himself! The cabinet does not take up much space, but has enough space to put baskets or bins with toys.
The top, open part of the cabinet can be used to put in fun accessories.
The hooks on the side are useful for hanging fancy dress items such as scarves, necklaces or hats. The seat is supplied as standard!
Your little one can make up for herself in the mirror that hangs above the table! Nice toy cabinet for children up to the age of seven.
Check prices and availability here
Best toy locker with lock: vidaXL Locker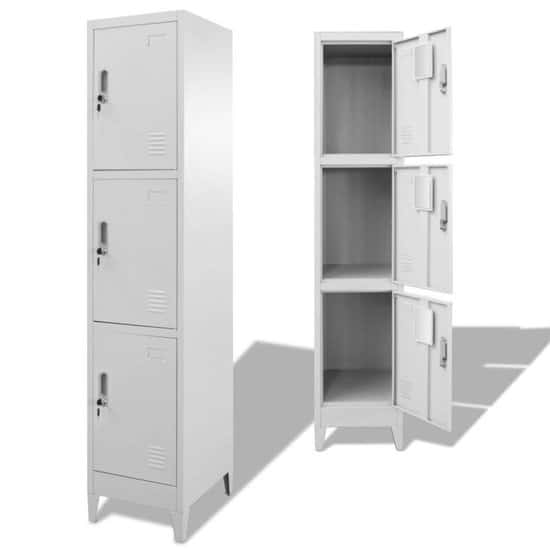 A trendy cupboard the vidaXL Locker cupboard with 3 compartments! Ideal for the nursery or in the hall or even living room. The locker has a cool, industrial look with three compartments with lockable doors.
There is enough space to store toys and the cupboard takes up very little space.
It is made of high-quality steel, which also makes it a durable item. The cabinet is very easy to clean and the assembly is simple.
Best toy cabinet on wheels: SFC Toys wardrobe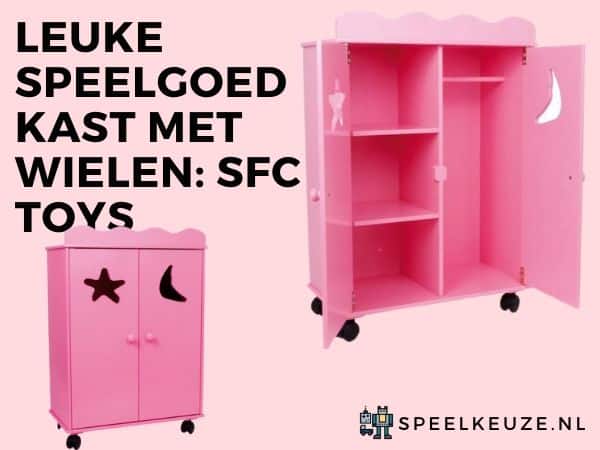 This SFC wardrobe is unique and robust and also has handy wheels! This wooden cupboard is the item if you are looking for a toy cupboard or children's wardrobe.
Handy, too, that the furniture is easy to move with the sturdy wheels. You can choose to lock the box on the brake.
also look at all the children's wardrobes we reviewed
Best toy cabinet made of scaffolding wood: Scaffolding wooden cabinet Sophie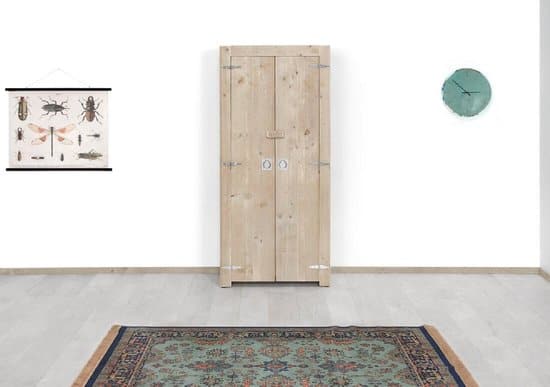 The spacious scaffolding wooden cupboard Sophie has two doors and a lot of storage space! It can certainly take a beating.
The large and super sturdy handles on the doors and drawers make this cabinet an eye-catcher in the nursery!
The cabinet has four storage compartments, two drawers and a hanging area for clothes. It is made of well-dried scaffolding wood and is supplied as a kit.
Upon request, the cabinet can be treated with a colorless coating, greywash or whitewash, but then there are some extra costs. A beautifully finished top cabinet!
Best narrow toy cabinet: Deco Noord Gas Pump cabinet made of wood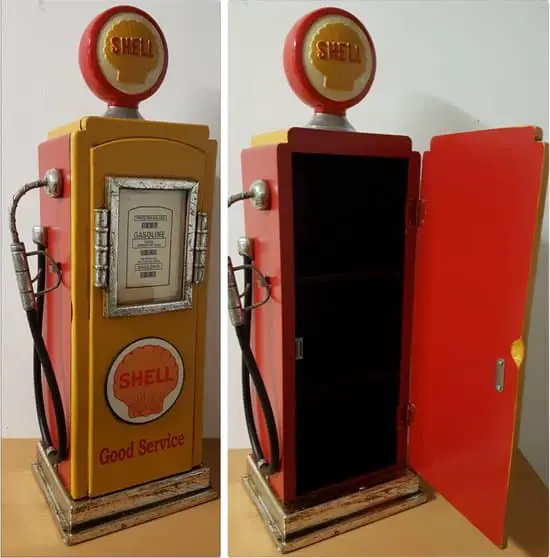 Cool! This gas pump cabinet made of wood children's room storage cabinet is original! It is a replica of an old-fashioned American gas pump in a beautiful red color.
This narrow cabinet with six compartments is a great storage cabinet for toys, among other things. Your child will love the closet! There is also lighting on top of the cupboard.
The doors can be opened separately at the top and bottom, even if it looks like a whole. A cheerful cupboard!
Best toy cabinet with sliding door: Timzowood Living Vitrine sliding door cabinet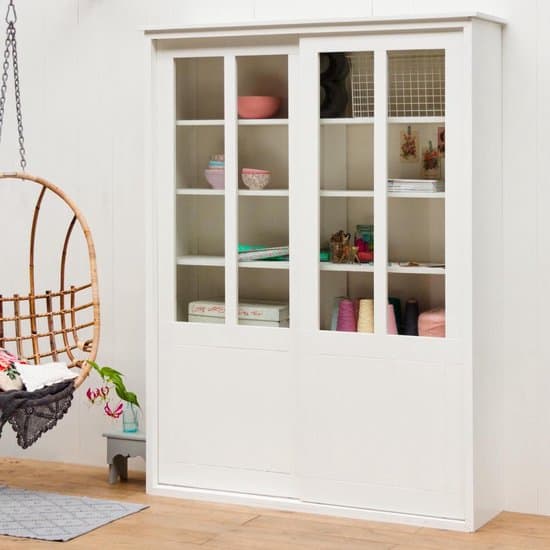 What a warm, elegant cupboard, the Timzowood Living - Showcase sliding door cupboard - White! This storage cabinet has practical sliding doors; You can store all the items that may be seen, such as a nice collection of your child, in the upper part.
The lower part is for storing games and the like. The cabinet has five shelves and it will look great in the living room or children's room!
Don't worry that this large closet won't fit through the door or the stairwell! It is supplied as a kit and is very easy to assemble yourself, by means of sliding blocks.
If desired, the cabinet can even be assembled for you for free! This beauty is made of smooth pine without knots.
Best toy cupboard for the living room: Relaxdays children's cupboard castle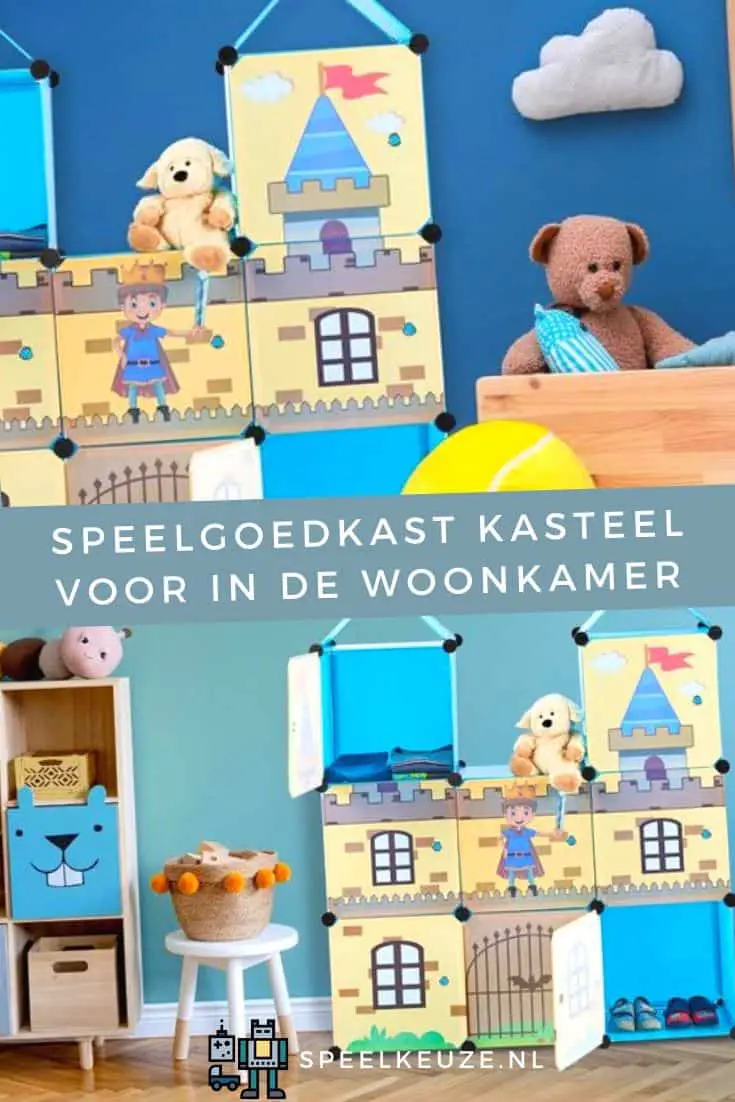 The Relaxdays toy castle castle exudes a very striking charm and is also fun with knights toys. This cheerful cabinet is equipped with a handy click system for easy assembly.
If you want to add some color to your living room or playroom, this is a very nice addition that can also participate in fantasy play. A very nice storage!
Check prices and availability here
Best cool toy cabinet: Acaza children's furniture for toddlers and preschoolers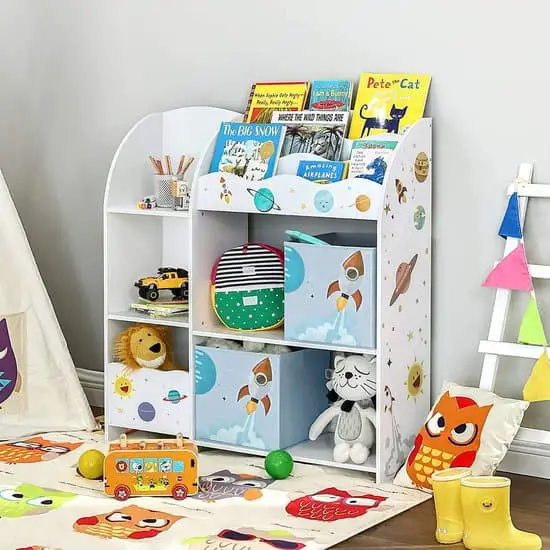 Another very cool cupboard! The Acaza toy cabinet for toddlers and preschoolers with magnetic doors.
There is a lot of space in this cupboard and will look great in any toddler or toddler nursery. If you have just passed that stage where you are always there when they play in their room, this is a very good and sturdy cabinet that will not topple over and will keep all their toys safe.
How can you properly organize a toy cabinet?
Bring order to the toy chaos by grouping items. Do not put everything next to each other, but sort the same kind of items in small groups.
Books with books, stuffed animals with stuffed animals, and so on. If you have a lot of small accessories, collect them in one basket. The use of color plays a role in an open cupboard.
Preferably sort all the items you want to show by color. Let the colors come back in different shades for a 'ton sur ton' effect. Make sure you create a 'calm' color palette.
Alternate different heights. Stacking is also a great solution to create a difference in height. You don't necessarily have to use every plank.
By leaving a compartment or part of a shelf empty, you keep the cabinet organized.
Why clean up?
Your children will certainly appreciate it if their bedroom or playroom is tidy! It gives them the peace of mind to be able to play there.
In a messy room they cannot easily find their toys and it is not pleasant to play.
Many parents say that by tidying up, their kids rediscover what toys they really like and how many they actually have.
Sometimes toys are no longer suitable for them and another child can probably still enjoy them a lot; Explain this to your child.
It is therefore very important to show your kids how 'nice' tidying up is and how they should tackle tidying up.
What do you have in your toy closet? Fun board games to play with the family?
How do you teach your child to tidy up?
Pick an appropriate time to start. Take your time and make sure your little one isn't too tired. So preferably not at the end of a busy day or just before going to bed.
A good time is possibly at the weekend. Tell your child why you are going to clean up together: If your child knows the reason, he or she will be more motivated to get started.
Offer a reward: Have a drink with a treat, play a game together or read a book.
Give you small clear and not too long tasks:
'We're going to clean up your toys together. Do you want to put all the cars in that basket? Then I'll put all your stuffed animals in the other basket '.
Compliment your child while cleaning up; "You can say that well, done very nicely!" And enjoy the result together: 'Now you can play nicely in your tidy room again!'
A tip: It is best to ensure that dangerous toys are placed as high as possible and non-dangerous toys as low as possible.
Here's child and family with a video about tidying up together:
How do you make a closet child safe?
Which child doesn't want to open a drawer or door to see what's behind or to get toys? Children like to explore and that often happens when you are not there.
Doors can close unexpectedly and your child's fingers can be caught in between. Even more dangerous is that they can get to things that they can put in their mouths, for example.
Do not take any chances and place dangerous toys as high as possible in the cupboard, or use a child lock on the cupboard doors and drawers.
By placing these locks, your child must first perform an extra action before he or she can open the cupboard or drawer.
However, the lock can be opened in such a way for adults. You can also protect the corners of the cabinet; before you know it, your child runs into it without looking.
Fortunately, there is also a simple solution for this, namely corner protectors.
Conclusion
Hopefully we have cleared your doubts and answered your questions about purchasing a toy cabinet for your kids!
You have seen that, with a little imagination, you can use most cabinets with shelves for storing and arranging your darling's toys.
There are a lot of cool, multifunctional cabinets for sale in many different styles. So there is always one in your style. Industrial cabinets and country cabinets in particular remain popular.
The industrial cabinets are often in black or pallet wood and the country cabinets mainly in white wood or softer colors. The soft gray color also works well.
Make it easy for yourself by not only focusing on 'real' children's toy cabinets! Broaden your view; You will undoubtedly make a good choice!
Also read: the best playhouses for children for indoors or outdoors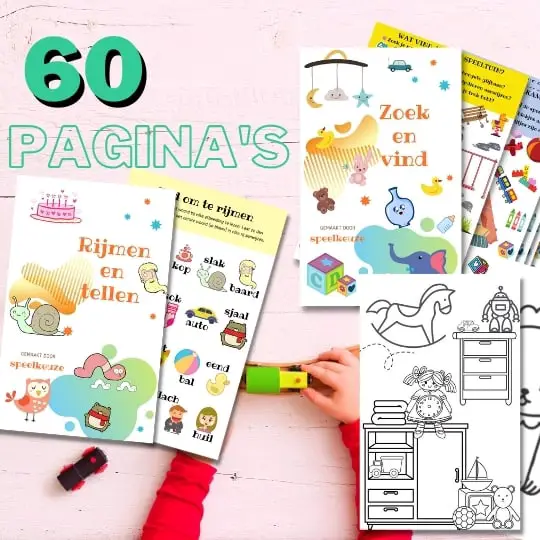 Always something to do for the holidays or rainy day?
Play Choice now has the ultimate activity book collection, with over 60 pages of fun coloring pages and educational puzzles.
Joost Nusselder, the founder of Speelkeuze.nl is a content marketer, father and loves trying out new toys. As a child he came into contact with everything related to games when his mother started the Tinnen Soldaat in Ede. Now he and his team create helpful blog articles to help loyal readers with fun play ideas.