7 best toy car alternatives for a child who already has everything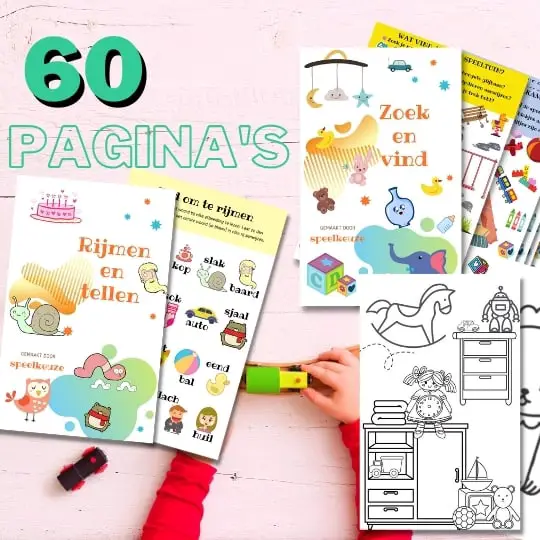 Always something to do for the holidays or rainy day?
Play Choice now has the ultimate activity book collection, with over 60 pages of fun coloring pages and educational puzzles.
I was looking for good toys car alternatives because my son loves cars but actually already has those toys.
But I couldn't find anything easily, so I decided to make this guide with the 7 best playsets.
For example, a wooden train set as this very comprehensive from BigJigs is a perfect car alternative, because it also has wheels and it's great to play with. Many hours of imaginative play already here at home.
Let's take a quick look at the top options. Then I'll go into more detail about each of these choices.
Top 7 toy car alternatives reviewed
A wooden train set is a great alternative to toy cars, because you can also drive it perfectly.
The beautiful Bigjigs Alpen train set is a good choice anyway, and our top recommendation.
Bigjigs makes very good quality, and what makes this set extra beautiful is the possibility to expand it endlessly.
Your child will not get tired of it and the toy set also lasts a long time.
This extensive train set is suitable for children from 4 years; There are a lot of detailed parts included.
The train track is a fun challenge to assemble and with the help of supporting pillars the rails even go up high.
Very spectacular, the train travels through mountains, valleys and over bridges!
A set to enjoy for a long time, ideal as a first train set for a child, and expandable with rails by means of the BigJigs Rails Expansion Set.
All other Bigjigs train sets fit in seamlessly with it. How about a Dino Train Set with its matching T-Rex tunnel?
It is very educational and very comprehensive because the train travels through different landscapes to the next station. Mountains, forest and village all come along, it is therefore a long train tracks.
And along the way, your child will not only encounter traffic signs, but also figures in various professions and vehicles.
What a pleasure to play with this train that travels over mountains and valleys!
Usually a train set only becomes fun when you buy more of it so that you can actually make some different tracks, but the Alpen set is already quite extensive.
Furthermore, Bigjigs has a lot of fun, and sometimes special (such as a pirate ship wreck, or a dinosaur), expansions that you can connect to it.
Or a pink-purple princess train set, with a bright pink bridge and a purple and pink gate to drive under: houses, trees and even a cool pink helicopter!
Give your creativity free rein and build the whole room with your child with this beautiful train set!
Magnet blocks are great to play with, and if you can also make a car out of them you kill 2 birds with one stone.
Tegu is a toy brand that makes everything from wood. Beautiful and sturdy wood.
It's durable and made in Honduras in a responsible manner, that's playing good.
It also makes the set a bit more expensive, but playing with wood gives your child much more in return than plastic toys.
The set is also just very well put together. The magnets click well and stay in place, even during heavy driving.
And that's what you ultimately want from a toy car.
This set offers less building options than the Magformers police set. But you can also supplement this with other sets from Tegu.
They all fit together. Here you get at least 12 building pieces.
A building set is great for expressing your creativity. Add some wheels and you have a perfect toy car alternative.
Everything is made of wood including a sturdy wooden case. That makes this a very nice construction set.
In addition, it naturally has wheels in the set, so that you can also build nice cars with the building pieces.
Everything is included such as a hammer, wrench, pliers, ruler, saw, screwdriver, nuts and bolts.
You can build much more than just cars using the wooden building pieces and nuts and bolts. In fact, they can make anything they can think of.
It is sometimes a bit of fiddling, but that is also very good for fine motor skills. I often had to help my son (4) when he wanted to build more difficult things.
It is made of solid wood and quite sturdy. The suitcase could have been a bit firmer, especially considering the age category for which it is intended.
The examples are also nice, but you can often only make one at a time, which was a bit disappointing.
It is technically a toy car, but it is a kit that you can assemble first.
This car is just the right size with 1:24 scale and not too difficult. This way, 8-year-olds can get started with it and maybe even a little earlier with your help.
It's the Toyota Supra from Fast & Furious and although it's quite detailed, it comes across more as a toy than a model car.
The quality is very good and just like the regular cars from Jada Toys completely die-cast. With this kit you can only build it yourself.
Everything you need is included. No glue is needed, just the small screwdriver that comes in the kit.
The screws are very small so screwing them together should definitely help if your child is not yet a teenager.
This is also a kit, just like that of Jada Toys. But this one is aimed at younger children and you can take it apart and take it apart every time.
Using
the demountable car,
4 interchangeable straps,
3 interchangeable label sets,
the screwdriver
and of course the working Bosch electric screwdriver
you can assemble the car and then take it apart again, and do it as often as you want!
All the plates can be detached, so you can actually see exactly how a car is put together.
There is also a sticker sheet with which you can give those blue parts nice speed stripes, just like a real race car.
A very nice set from Bosch so that they can learn a little about how to work with screwdrivers and also with power tools, with the wheels and everything there is to a car to get to know them a bit.
The car is not very sturdy. It's hard to play well with it.
That's why it was mainly used with us to take apart and rebuild, but never made it in our son's pretend play.
If your child really likes toy cars, a good alternative is not to buy a car this time, but toys that handle everything under the hood.
A perfect activity set for children who are very interested in engines and engine parts.
It is an official John Deere truck and it is 27 inches high (68,5 cm). With light and sound, your child is stimulated to tinker with all removable parts.
It does take 8 AAA batteries, but it lasts quite a long time with a set. The set is suitable from 3 years to about 6 years.
It contains 15 different functions with numerous parts that can be mounted, removed and replaced: the engine, spark plugs, wing nuts, wheels, radiator grille and much more.
Battery powered headlights and horn and 2 different electronic start sounds when the ignition key is turned.
The set is not super stable, so play a little wildly and it will fall over. It is more suitable for children who take it easy.
Marble tracks are a good toy car alternative because there is also a lot of movement and the marbles roll like cars.
Lots of parts in the starter set and also expandable as far as you want. Nice to really go a step deeper into marble runs and physics for children from 8 years.
Nominated toy of the year, so not only one of the best marble tracks but also simply super fun toys.
With over 100 parts in the starter set, your child is sure to have an exciting time building simple to complex structures.
It is a perfect set to take marble tracks for your child to the next level, as it allows ease of use even for slightly younger children.
Here is a good video where you can see the usage:
It is quite a bit more complicated to assemble than the Edushape because it has a lot more possibilities, so it might be better to help slightly younger children.
With catapults, loops, merry-go-rounds and sturdy bases, your child will spend hours building the tracks and watching the marbles work their way down.
Also very educational about gravity.
What's nice about it: Even only with the basic set, the Gravitrax still allows your child to discover unlimited possibilities when designing a marble track. Let him use his creativity!
It ensures that your child gradually understands scientific concepts and sharpens his problem-solving skills until he is ready for more complicated and larger sets.
This job can be completely expanded with extra sets and additions so that they can enjoy it even longer.
Conclusion
There are a lot of toy alternatives to come up with if you think about it. Hopefully there is also a nice one for your child.