8 best toy car kits to make together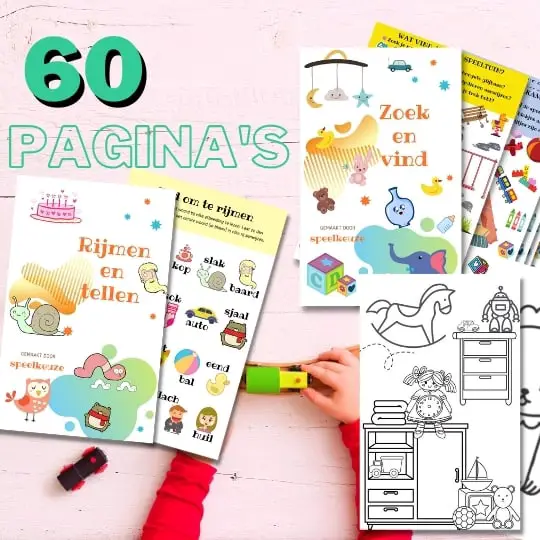 Always something to do for the holidays or rainy day?
Play Choice now has the ultimate activity book collection, with over 60 pages of fun coloring pages and educational puzzles.
If you're looking for a fun way to entertain your kids while improving their skills, one toys car building kit a great option, and fun to pick up together.
Take for example this Toyota Supra from Jada Toys. A truly classic kit for one model car. Not too easy and not too difficult and fun to build alone or together with your schoolchild or teenager.
In this article, we'll review the best toy car building kits to help you choose the best option for your child.
Let's take a quick look at the top options. Then I'll go into more detail about each of these choices.
Toy car kits buying guide
What should you pay attention to when buying toy car kits?
At least it should be fun to put together with enough parts to keep it interesting for your child's age.
That is why age is very important in a kit.
Age
I paid attention to the age
when a child can handle it
when it's the most fun to play with
until what age is it fun
Many of the packs are fun for kids of all ages, as well as adults, but on the chart I've put the age up to 16 years old.
For example, the Theo Klein set is fun from the age of 2, try it out a bit with the screwdriver.
A set like Wood Trick is suitable for adults and you could try it out as a joint building project from the age of 12.
Made By Me and Jada Toys are somewhere in between for the school children.
Sustainability
There are quite a few differences in quality between kits. For example, Jada Toys is clearly of toy quality and Revell model building.
But, with a complete die-cast car, almost nothing can go wrong and it can also be played with.
That's what I paid extra attention to when assessing the durability of the cars and components.
Quality of driving
With toy cars you want them to be able to drive well. Some may be for display only, not for play. But you still want them to roll well.
A few things to watch out for are:
the distance from the wheels to the chassis: some toy cars run into problems so they don't drive very well
the rigidity of the shaft: some toy cars are very wobbly so the wheels can move far in and out, and still rub
the quality of the wheels: is it plastic or are there really rubber wheels on the tires? Rubber rolls a lot better
the weight of the car: you may not realize this right away, but the weight of the car plays a very large role in how well it rolls. A heavier car made of die-cast or wood rolls a lot better and further than a plastic car
Replayability
Much of the car's replayability is in how well it drives, but there are other factors that determine how often they return to it.
Age also plays a part. Is it a car that stays on the left after building or can it last longer because it is also suitable for older children?
The number of extra functions also plays a role, such as the working engine of Wood Trick or the coding at mBot.
I rated each of the cars on this list on these parts on a 5-point scale.
Top 8 toy car kits reviewed
This car is just the right size with 1:24 scale and not too difficult. This way, 8-year-olds can get started with it and maybe even a little earlier with your help.
It's the Toyota Supra from Fast & Furious and although it's quite detailed, it comes across more as a toy than a model car.
The quality is very good and just like the regular cars from Jada Toys completely die-cast. With this kit you can only build it yourself.
Everything you need is included. No glue is needed, just the small screwdriver that comes in the kit.
The screws are very small so screwing them together should definitely help if your child is not yet a teenager.
Building this set is quite easy. They are solid pinewood parts that you can build together with your child from the age of 6, maybe a little earlier.
This set is mainly about pimping your own car. You get sticker sheets and paint to make the car completely to your taste.
The nice thing is that you can do it together with brothers and sisters because you get 3 race cars.
There are 12 colors and stickers such as flames to build a real race car and the cars also drive quite reasonable to play with your creation afterwards.
That is also nice in this age of about 6 years. That you make something and they also have the age to play with toy cars.
Each car is 6 inches long and 1,5 inches high (15,2 by 3,8 cm) so they pair well with other toy cars.
The glue that comes with the kit is not very good. The cars didn't hold up to play that long so we ended up using our own glue. That's smarter to just do it right from the start.
But they added child-resistant glue because it's aimed at 6-year-olds.
Revell has some great model cars, but with this kit you can assemble it yourself.
There are a total of 60 parts such as standard and custom hoods, a detailed engine, 2 types of wheels and soft black tires.
The scale is 1:25 and especially suitable for children 12 years and older.
It is a nice extra idea that you can choose your own model with the different hood and wheels. It's a shame the idea wasn't taken further with even more interchangeable parts.
There is no glue and paint, so you need to have them on hand when you assemble the package.
The car is not orange as in the picture but just white. So you have to paint it yourself with your own model paint.
You can like this, but it can also be disappointing because there are no pictures on the site where you can see that the car is white.
This is the only car on the list where you assemble the detailed engine yourself for a real driving car measuring 10,6*3,9*2,8 inches (27*10*7,3 cm)
It is powered by a mechanical rubber band motor that allows it to travel up to 9 meters (30 ft).
Maybe it's more of a 3D wooden puzzle than a model kit, but it's really challenging to put together and you learn a lot about the inside of a piston engine.
This way your child can learn the principles of mechanics as they build the 280-piece car, which will take about 5 hours.
Because you have to be quite patient, the recommended age is 14 years and older, but with particularly interested children you could start it together earlier.
It is an environmentally friendly concept without glue and very fun to build. But very difficult. You have to sand and fit and measure and work precisely yourself.
Can be a lot of fun, but also frustrating. Depends on the builder I guess.
Although these Lego Creator sets are aimed at adults, teenagers can of course also play with them. With 1471 pieces, it is quite a construction kit that will keep you busy for a while.
The nice thing about Lego is that you can combine it endlessly. This way you can pimp your Ford Mustang with different types of Lego pieces. The possibilities are endless.
Lego has also responded to this by making some adjustments such as the supercharger, ducktail rear spoiler, sturdy exhaust pipes, and nitrous oxide tank.
Make it a post-apocalyptic car with a laser turret, or just give it a wider bumper.
It is a real Ford Mustang GT from the 60s and the doors of the car really open. The trunk and hood can also be opened.
It is also quite large at 10 cm (3″) high, 34 cm (13″) long and 14 cm (5″) wide. He is very expensive though. Part of it is in the amount of Lego pieces, but also partly in the fact that it is an official Ford Mustang.
Playing with it is a bit more difficult than with other cars because you don't want pieces falling off, although it is very solidly built. The pieces on the outside keep the whole thing together very well.
Using
the demountable car,
4 interchangeable straps,
3 interchangeable label sets,
the screwdriver
and of course the working Bosch electric screwdriver
you can assemble the car and then take it apart again, and do it as often as you want!
All the plates can be detached, so you can actually see exactly how a car is put together.
There is also a sticker sheet with which you can give those blue parts nice speed stripes, just like a real race car.
A very nice set from Bosch so that they can learn a little about how to work with screwdrivers and also with power tools, with the wheels and everything there is to a car to get to know them a bit.
The car is not very sturdy. It's hard to play well with it.
That's why it was mainly used with us to take apart and rebuild, but never made it in our son's pretend play.
This is yet another approach to wooden toy cars. Now they can make something themselves to be proud of.
The best part is working on it with your child. The suitable age is from 5 years old so they also need some help. From the age of 8 they can probably do it themselves.
But by 8 years they probably won't really play with it anymore. 5 is the ideal age to get some playtime out of it too.
The kit contains pre-cut pieces of wood, plastic police parts and screws and nails. Plus there is (non-toxic) paint to finish the car.
The car itself is just play worthy. It's not the best quality, but at least the wheels roll. The doors can open so that is a nice addition.
But you really should see this mainly as a joint construction project.
This one falls between the Jada Toys and Wood Trick in terms of age, a great building kit to set up together.
But in the end, this toy is more about the robot you built. This Ranger is actually 3 robots in one.
That also makes building a bit more replayable than the other sets. You can always swap parts and make it back to another version.
Land Raider is a tracked robot that can run over just about anything
Nervous Bird is a balance robot that can balance itself
Dashing Raptor is a three-wheeled racing car
It is remotely controllable through the app and it is also suitable for outdoor use.
It also teaches coding basics in that you can use Scratch to program it, the Makeblock app can help with some suggestions.
This is of course STEM toys par excellence with robotics, engineering and coding in one toy and they can get started with it from the age of 8.
In addition, mBot is expandable with different kits so that you can build and experiment even more.
We've also written about mBot before in our article on the best robot toys.
The batteries are a bit of an issue. They are difficult to charge and you cannot reach them when building the cars. To charge them you first have to take the robot apart again.
Conclusion
You see. A lot of different sets, but there is something for every age. Whether you want to build a first project with your toddler or want to build a real working car with your schoolchild or teenager.
Also read: these are the best toy cars rated